Custom 1973 VW TYPE 4 412 WAGON
"The Country Square"

---


Our 412 project car from a few years back!

The 412 has long been the forgotten son of the VW family
and it's high time someone built one worth checking out ... so we did it!

.
One of the key components to the construction of the car is the fully adjustable ride height
controlled by an Air Ride Technologies air bag system that allows the car to be raised or lowered at the flip of a
switch. Each corner can be controlled for all sorts of wild positions.
Driving wise, the top setting is best, but park it and flip the switch and the body sets right down on the ground.


Here's the bottom setting... "in the weeds".
This car has just been finished and the response to it's unveiling at the 2002 VW Classic
was nothing short of phenomenal.
Several worldwide VW magazines have shot photos of the car and are planning features
including the following...
Super VW (France) ~ Cover Car!
Volksword (England) ~ Feature
VW Trends (USA) ~ Feature
VW Speed (Germany) ~ Feature
Lets Play VW (Japan) ~ Feature

Here's a detail shot of the front trunk and the airbag system.
Design and installation of this sytem was handled by the pros at
RUSTBOX
The installation is very sanitary... lots of time and effort.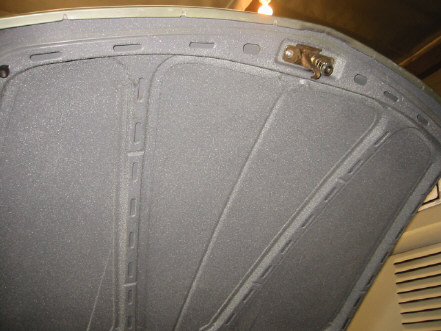 Bottom side of hood sprayed with a zolotone speckled finish to match the trunk.

The color (1968 Ford Lime-Gold Metallic) is accented by woodgrain panels
to give it that 70's "Country Squire Wagon" look.
4-lug 4 spoke BRM wheels in grey give it some flash.
Wildly smoothed out body with numerous modifications.
The paint quality is good, but not perfect.

Custom made natural fiber coco mats were made for the front and rear of the car.
Headliner done in a natural loose fitting burlap material to further give it a "beach quality".
Personalized California plate "VWOODY"


Dashboard features matching woodgrain, color matched early steering wheel,
White faced gauges (from a Studebaker...and they are accurate!).
Automatic transmission with an extra tall shifter.
Headlight switches and other knobs relocated to the glove box for a smooth look.


Front seats are from an older BMW sedan.
(these do show a little wear)

Another front seat shot.


Rear seat (a little dusty in the photo)
Two patch spots on this seat, small and you gotta look very close.


Headliner done with a natural weave material.
Metal bows painted with a hammertone finish in silver.
Surfboard shaped rear view mirror.


Tiki door lock knobs.

Natural sisal mats custom made throughout the car.


Stock Type 4 1700cc engine with fuel injection.
Runs well, looks clean, does have some miles on it though.
Nice tuck away custom exhaust.


Frenched in taillights, custom bumper blades front and back.


Front end shot showing custom bumper.

Vinyl graphics wrap just into the edge of the door jam.


4-Lug 15" BRM Wheels in silver grey with polished edges.
Speedwell logos on the center caps.


Hot rod peep mirror mounted to the edge of the hood.


Chrome 3 spoke bullet headlight trims.


Great comic surf trog decal in the rear window.


California plates "VWOODY"
Car is currently registered and has a clean title.
~~

The bodywork and construction of the car is quite extensive...below are a series of photos
taken during it's construction...



Here's the car nearing completion at our shop in Brea
1968 Ford Lime-Gold Metallic paint applied complete with woodgrain sides


4 lug BRM wheels, completely re-vamped airbag system, new frenched in taillights, etc.


---

Here's a photo of the car as first found by TVA's owner Randy Carlson
Below are several photos of the car when owned by the car's previous owner Sven Jecker
(a Swedish Hot Rod builder)
Needless to say it has changed significantly.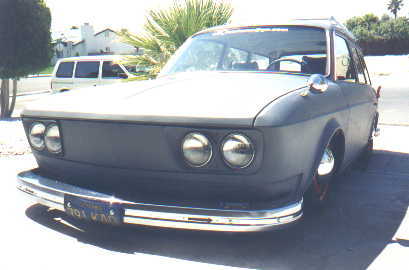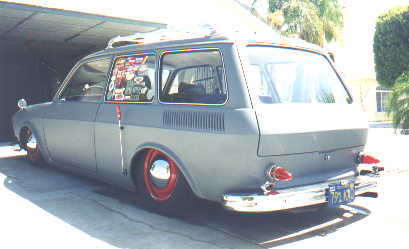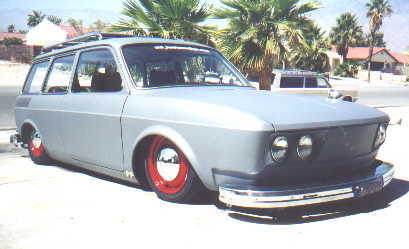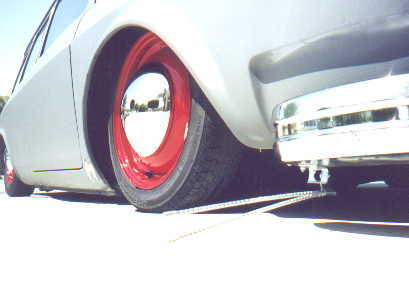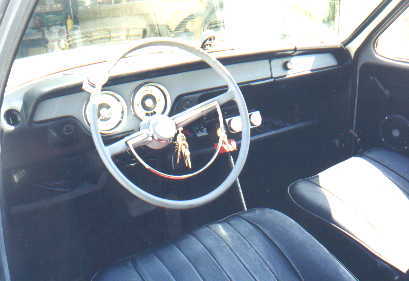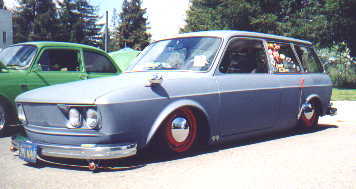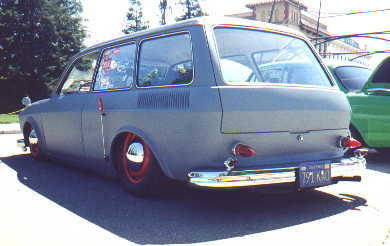 These are a bunch of assorted photos of the car prior to our aquisition.
It's come a long way baby!

---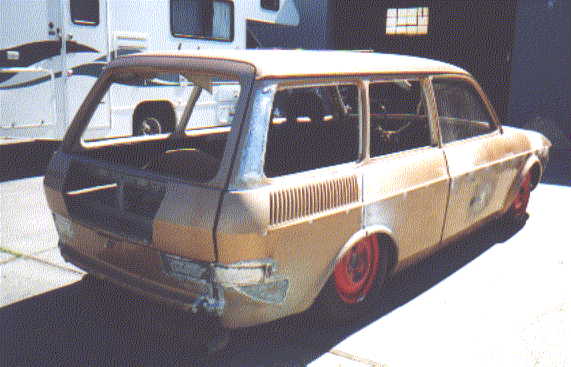 An "in progress" photo...truly an amazing amount of work went into this car.
Here's photo of a stock 412 for comparison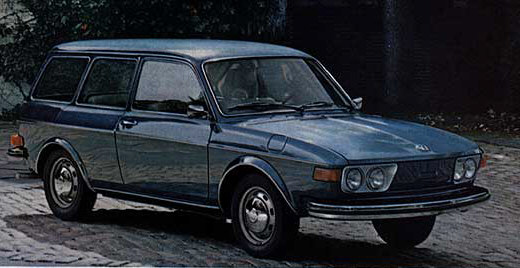 Before...

After...
Now the finished product...a long road to this glorious end.
If you are interested in owning one of the world's most unique custom VW's
this may just be the car for you.
With it's upcoming magazine features, it will soon be famous around the world.

Here's a peek at the Volksworld Magazine Feature from England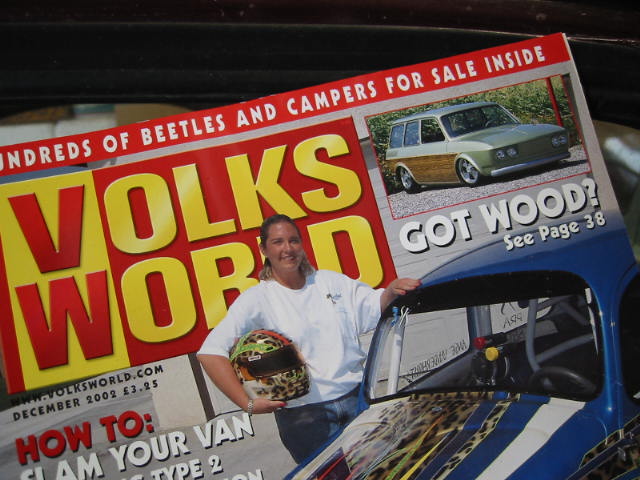 Even made a part of the cover!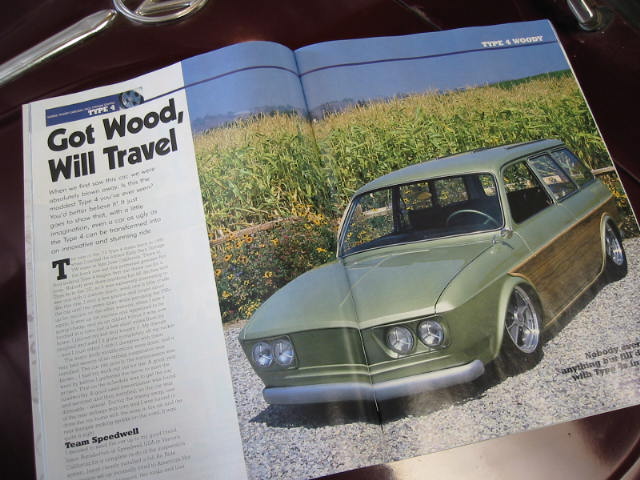 .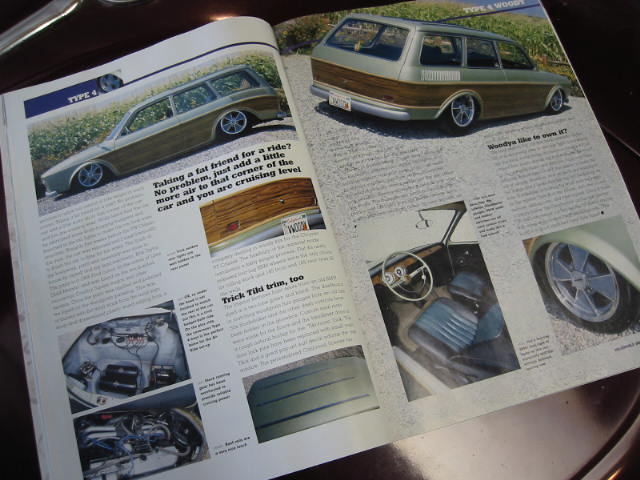 Awesome 4 page full color spread!

Pics of other magazine features will be added as they are released.
It's a very unique machine with a very attractive look.
Despite it's glamorous looks, it is not a top end mega-buck show car.
On a scale of 1-10, 10 being flawless, I'd rank this as a 7.5 to 8.
It has it's minor flaws, the paint is not "perfect" and neither is the interior
but it truly draws a crowd at any VW event and is just plain cool as heck.
---
For More Info...CALL
714-290-0947
Or Email Oldbug.com
---
Interested in having TVA build a car for you?
Our knowledgeble staff and skilled hands can make your automotive dreams come true.
Our creativity knows no bounds.