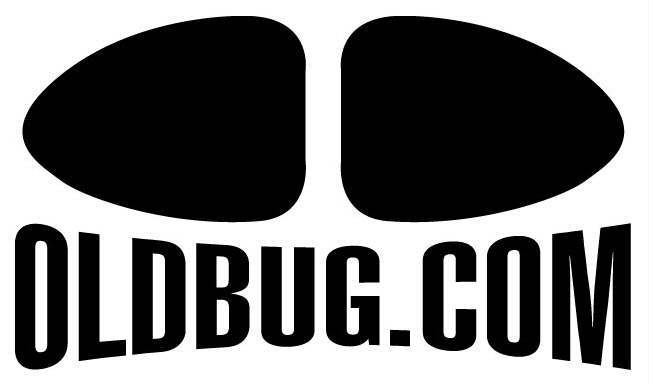 1967 VW Double Cab Transporter For Sale
---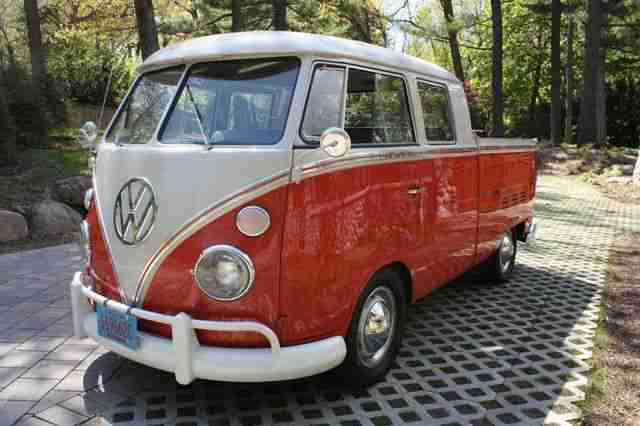 This is a very very clean fully restored 1967 Double Cab.
The restoration was done in 2007 by VW specialists, Vintage Auto in New York.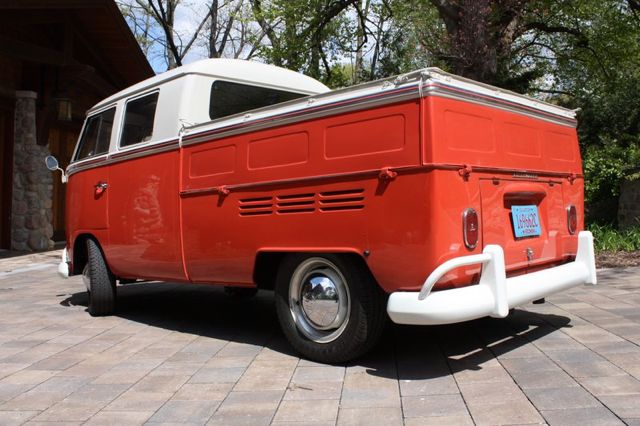 The truck is a stunning machine with mild diversions and upgrades from stock
but still with that very classic look.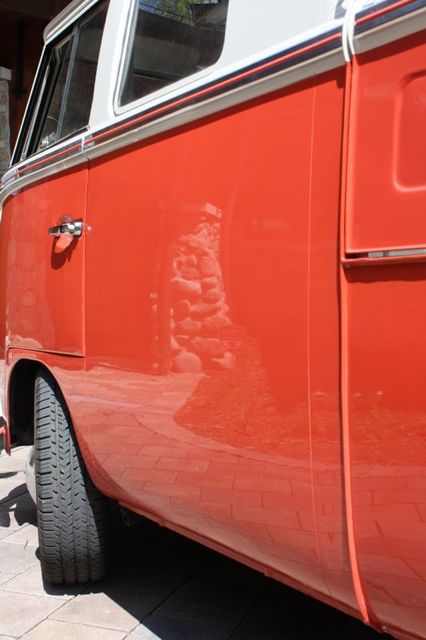 The Sealing Wax Red and Beige Grey paint colors are very bright and attractive.
The addition of the Deluxe Bus model aluminum trim on the body gives it a little more flash.
Paint quality is excellent...very glassy smooth down the sides.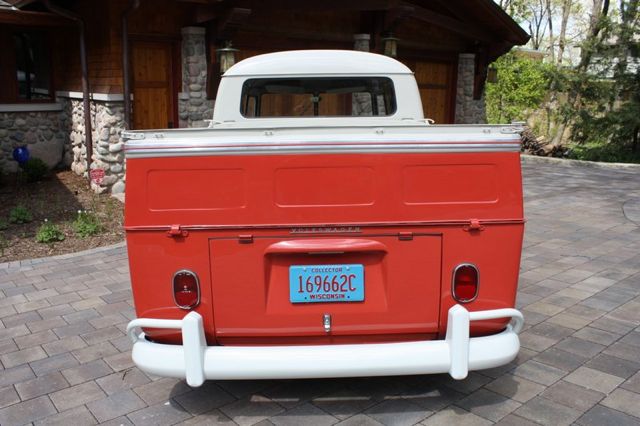 The truck is currently located in the state of Wisconsin in the hands of it's owner.
1967 was the final year for production of the classic V shaped nose and split windshields
and it is thought by many to be the very best year of the model.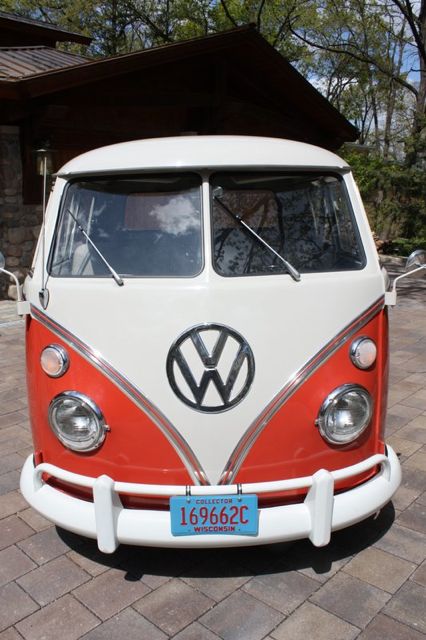 This one is obviously clean on top...but lets look below and see what it is really like!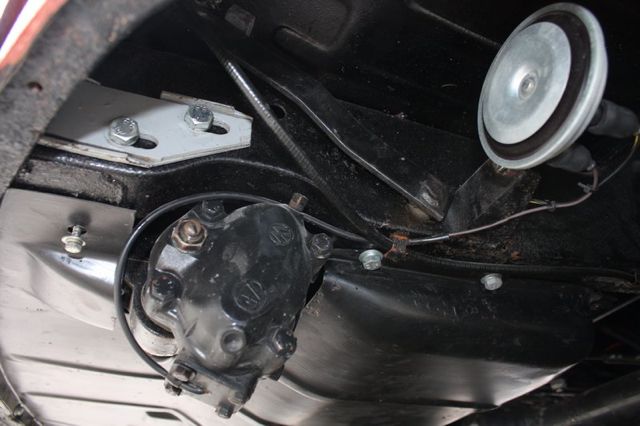 Wow...looking pretty clean under here!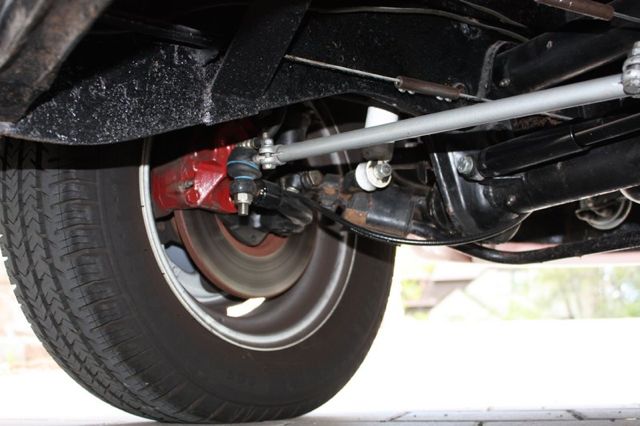 Disc front brakes is a fantastic safety upgrade!
Everything looks quite new under here...tie rods, shocks, etc.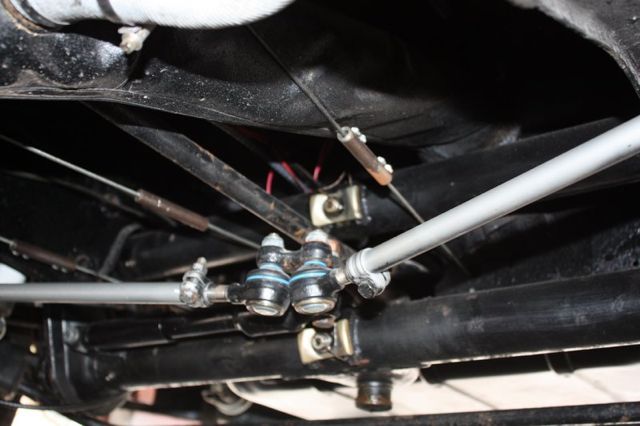 Very clean!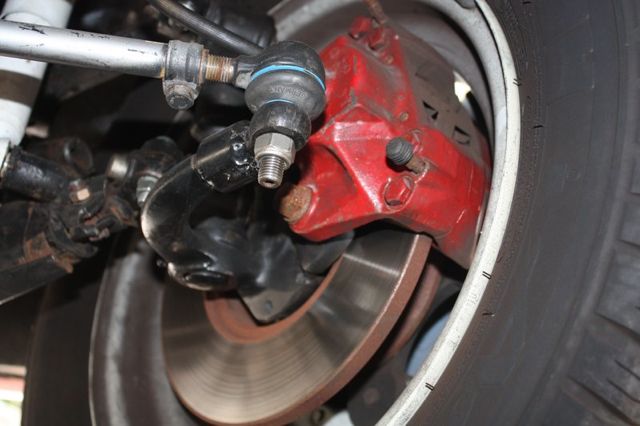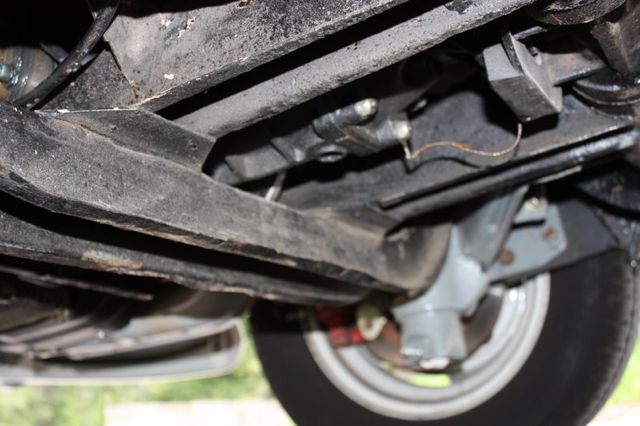 The transmission was fully rebilt as was the engine at the time of the restoration.
The factory gear reduction swing axle transmission was swapped out for a more modern IRS
set up in back that allows for much more stability as well as much better gearing for use on today's roadways.
Disc brakes on the rear wheels as well.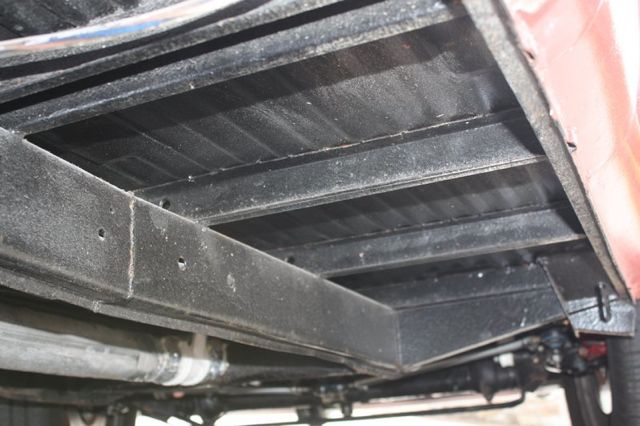 Very solid underneath!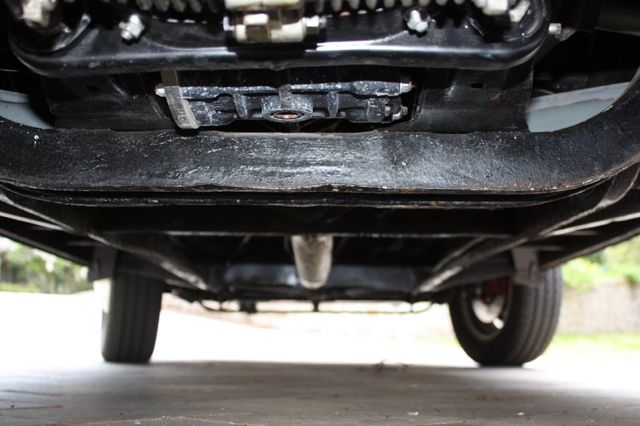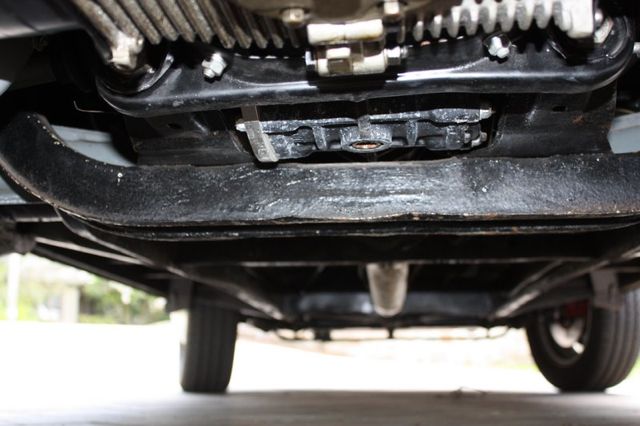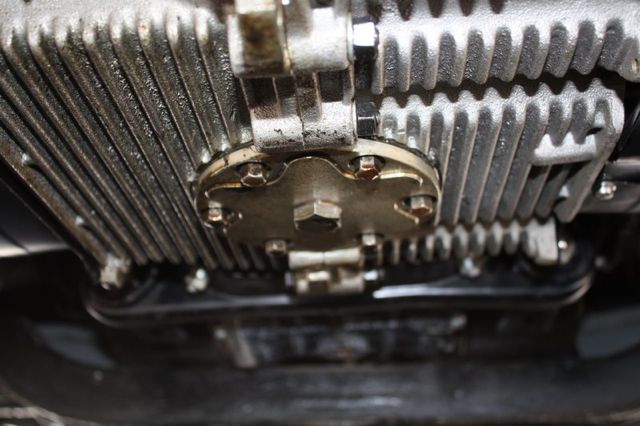 Underside of the engine is clean as well.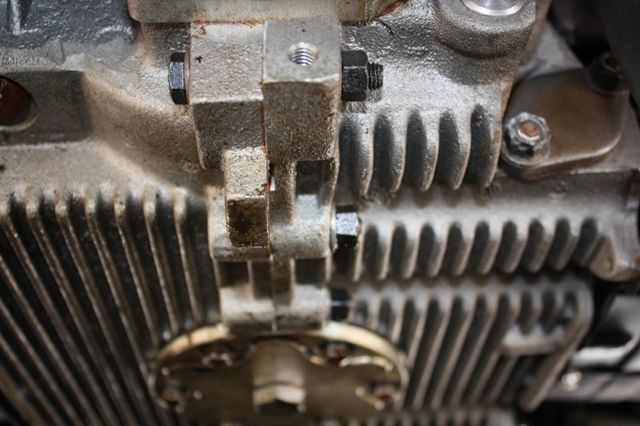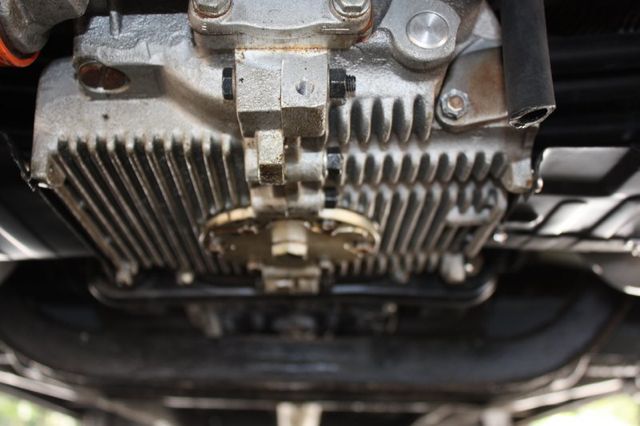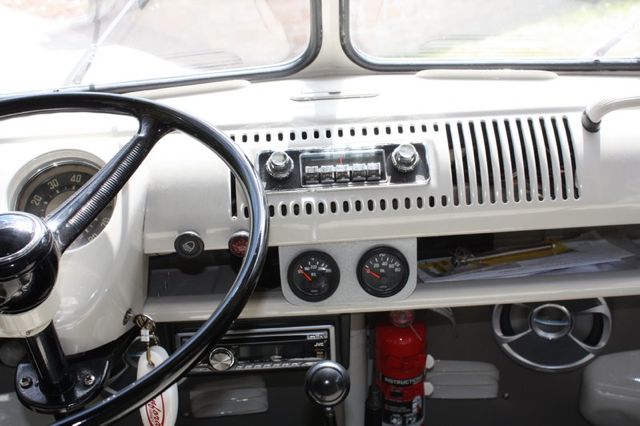 The interior of the Bus is excellent as well with a few nice upgrades such as added instrumentation as well
as an 8 speaker modern audio system with connection for yout iPod!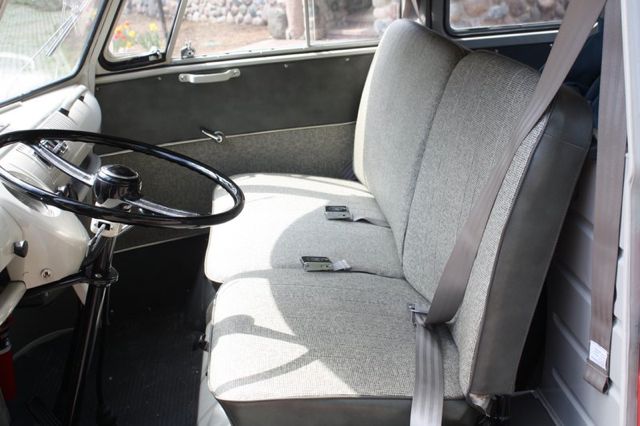 The seats and panels are all in the classic salt and pepper/ grey vinyl.
Door panels in two tone with the chrome trim.
Modern 3 point seat belts installed up front.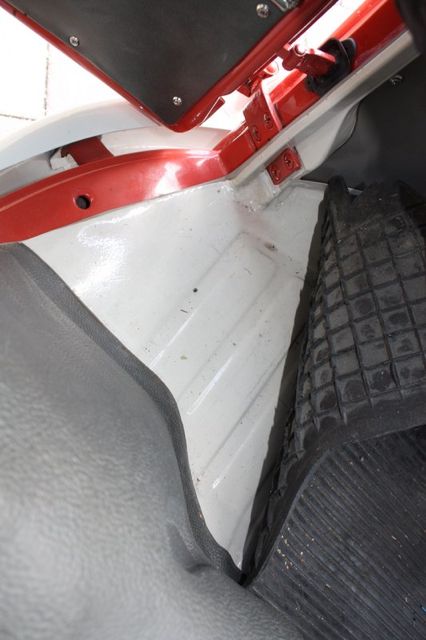 Floors are superb, door jams and such are very clean.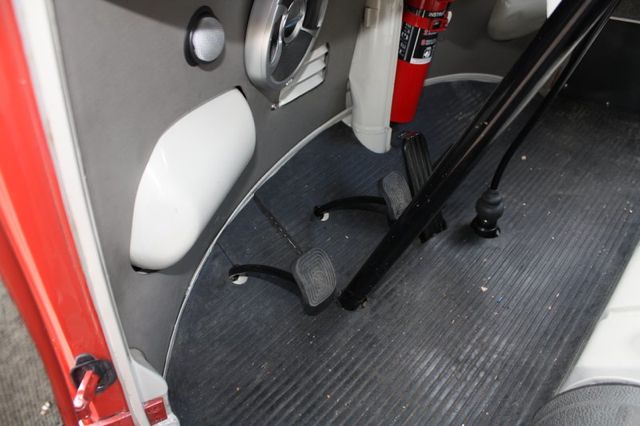 Factory style floor mat up front.
Controls look very clean.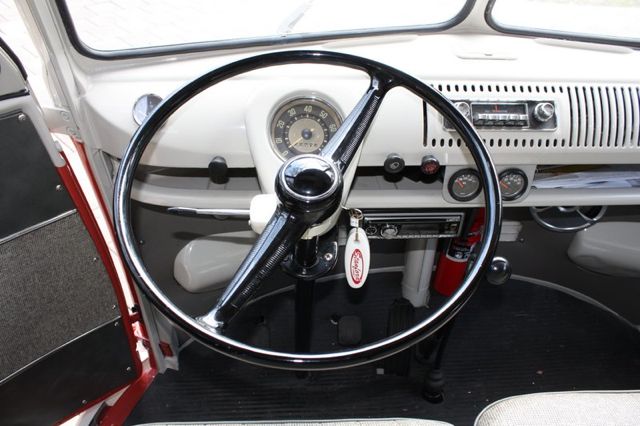 Steering wheel is excellent...dash knobs are the proper 1967 only models.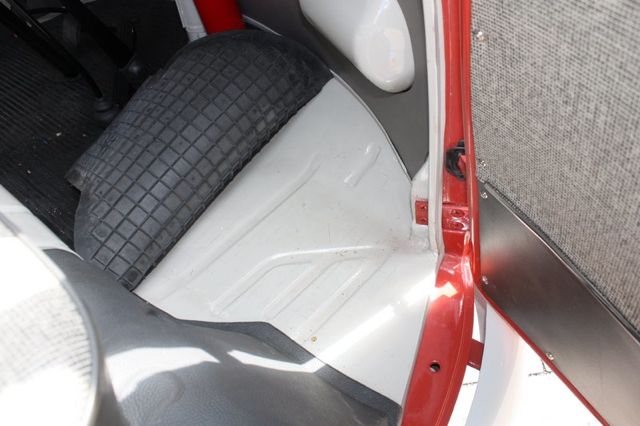 Very nice attention to detail with this truck.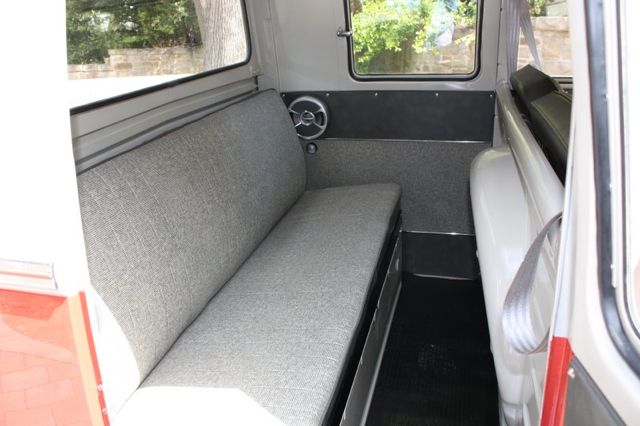 Rear seat is very well trimmed as well.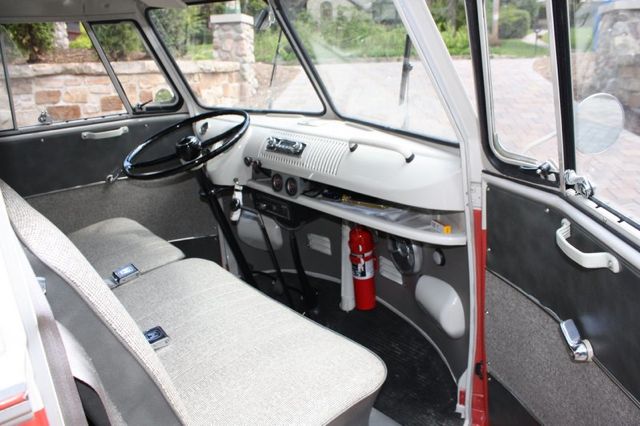 Super clean!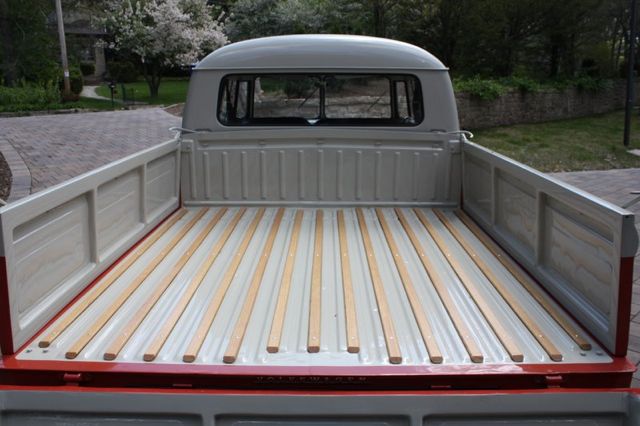 The bed of the truck is wonderfully straight and smooth and the wood slats
make it stand out very nice.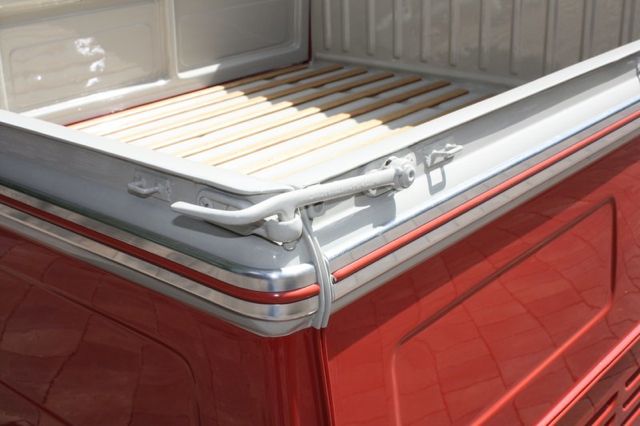 The aluminum trim is very well fit and looks great.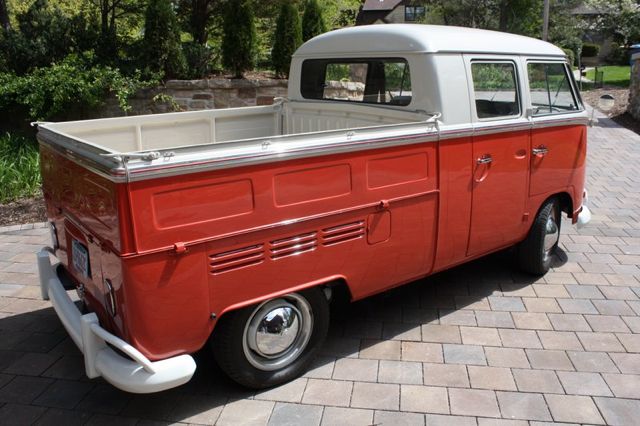 Super clean machine!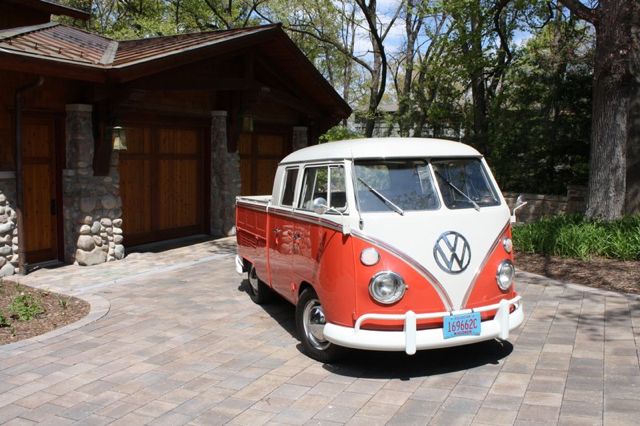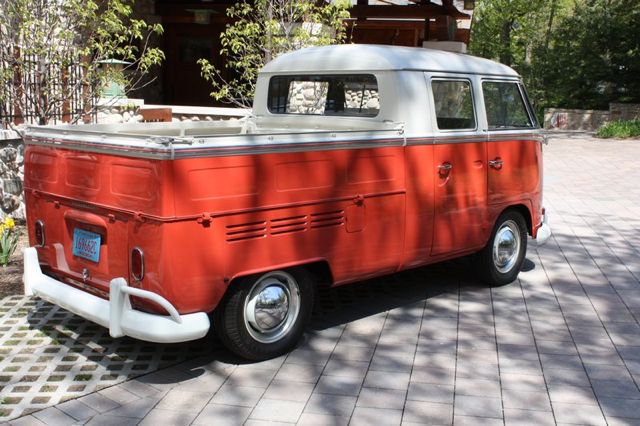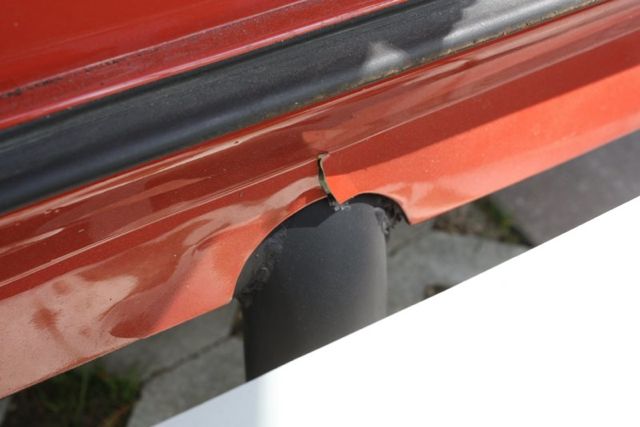 Here is one paint flaw on the rear apron just above the exhaust...perhaps the heat has cause this failure.
Fortunately the apron is a part that is easily removed for repair.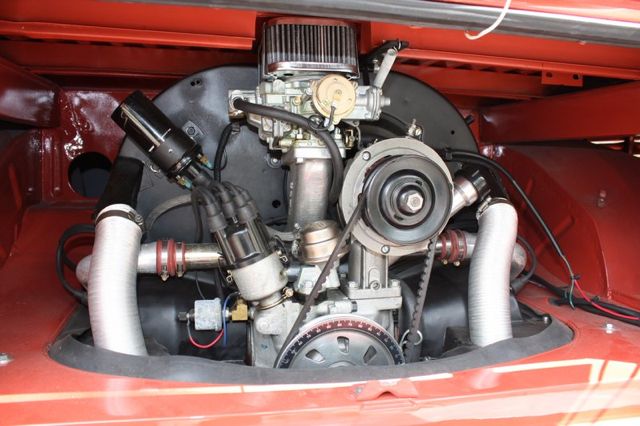 Now this engine is not your stocker...this is a 2110 cc power plant with all the hot details.
Starting with a CB Performance Aluminum "Super Case"
Counterweighted crank, I beam rods. Engle cam. Electronic ignition two barrel carb.
This is a very strong running engine that gives the truck plenty of power to keep up with traffic
as well as surprise a few folks at stop lights.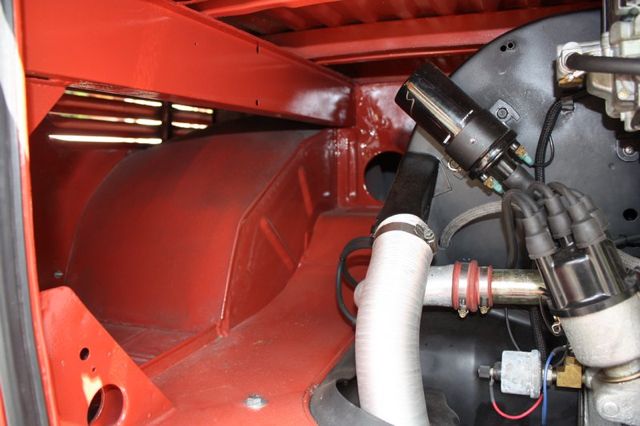 Engine room is very clean.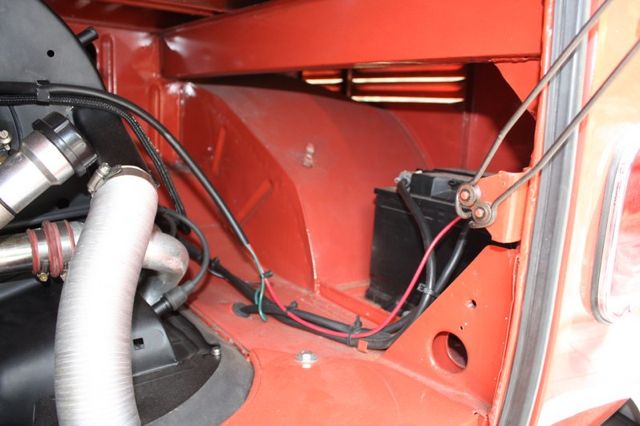 12 volt electrics of course.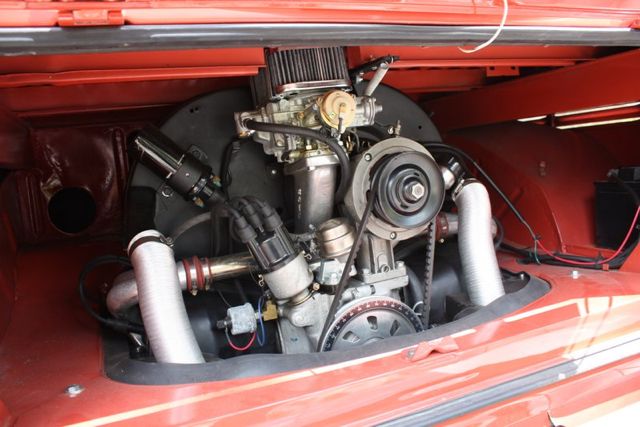 The heating system is fully functional on this truck and has been upgraded
with a heater booster unit!
Very tidy.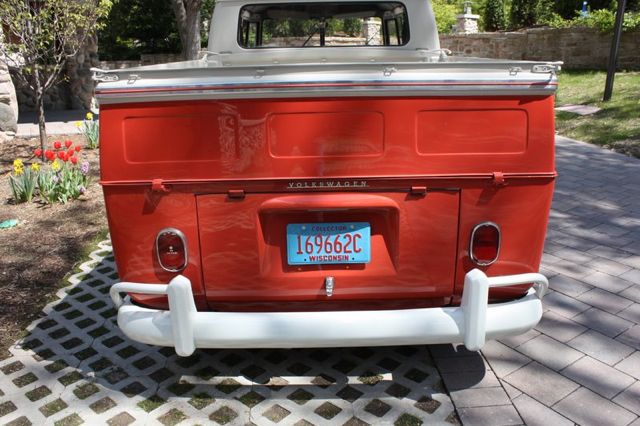 Exhaust is well hidden so the truck retains a stock look.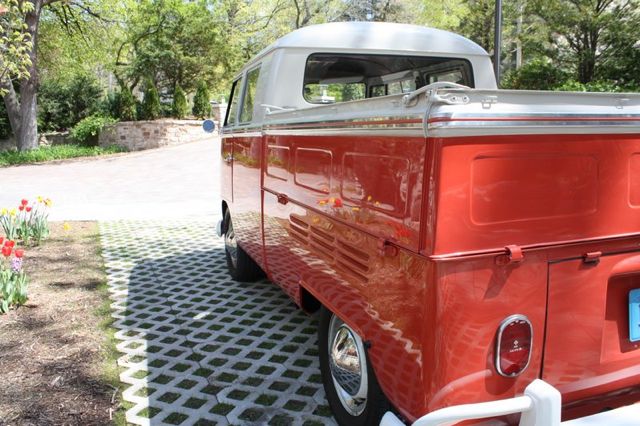 The wheels on the truck are early model Bus 15" wheels with stock caps
and Lemmerz aluminum trim rings.
Tires are high quality Michelin light truck radials.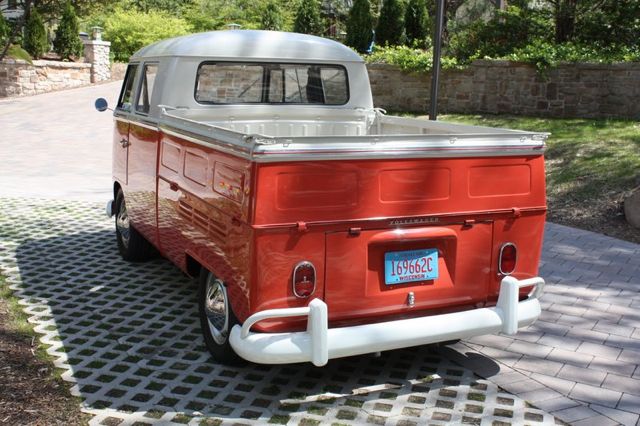 Great truck!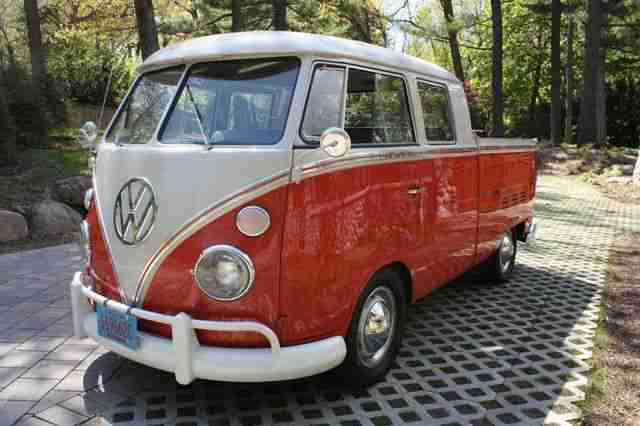 This is one of the most popular models of the VW Bus line and they are in very high demand.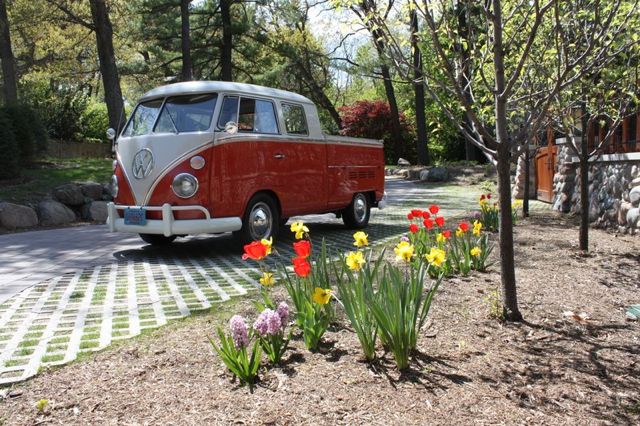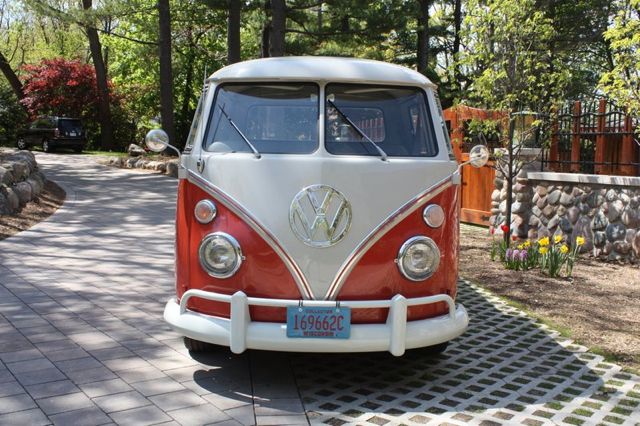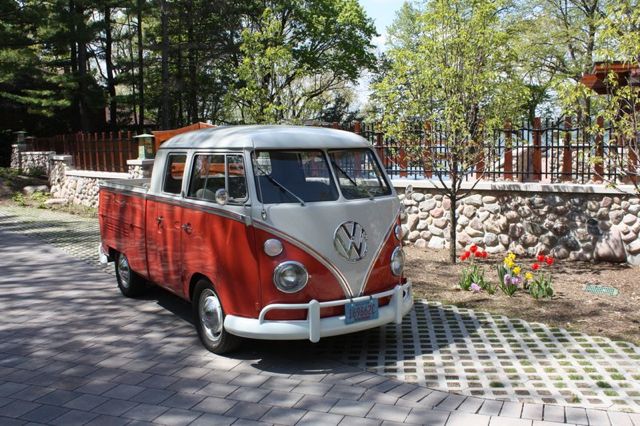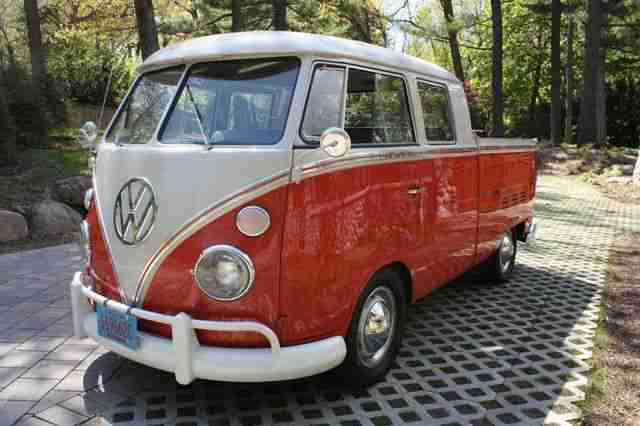 In closing this is a very very nice example that was done professionally and the quality is obvious.
It is an excellent runner and driver and is something that you can simply turn the key and enjoy.
One of the cleanes Double Cabs we have had on the site!
SOLD!
But
CLICK HERE
for all current listings!
---
For More Info...CALL
951-767-1600
or email
oldbug@earthlink.net
---