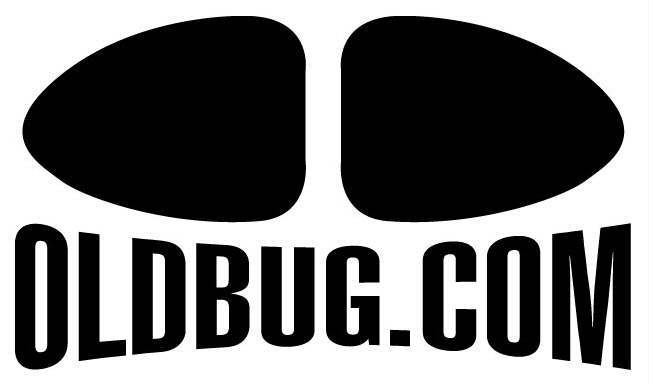 1973 VW Thing For Sale
---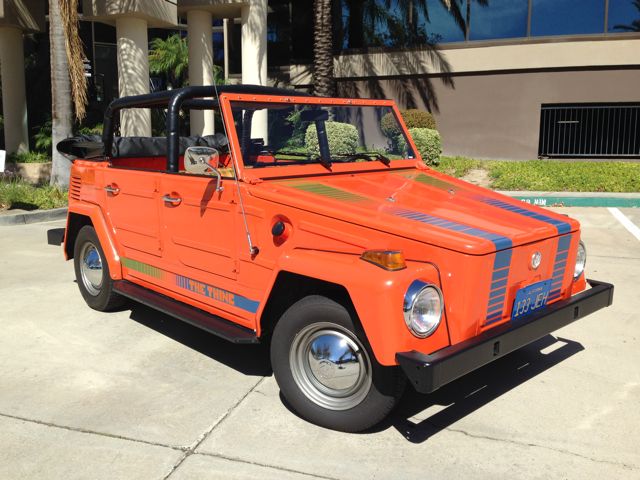 Hey...this guy's Thing is awesome! Look at it!!
Look at this Thing!!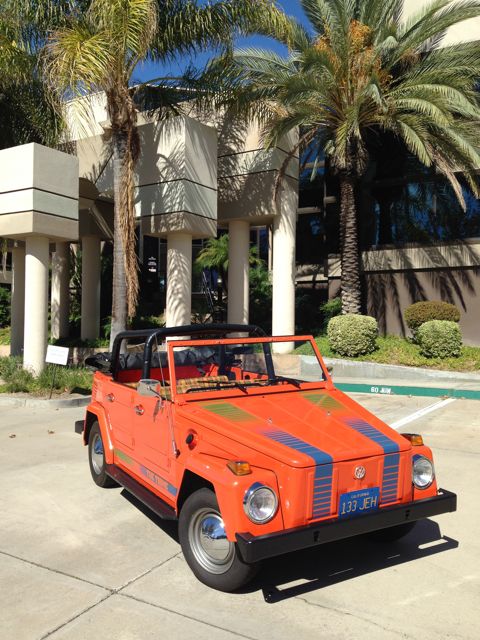 The VW Thing is really a fun car and throughout the automotive world there is really nothing quite like it.
No matter where you are with it, it is a stand out.
Car shows, on the highway, at the mall... it gets a ton of attention.
And THIS Thing...being as clean as it is...gets even more.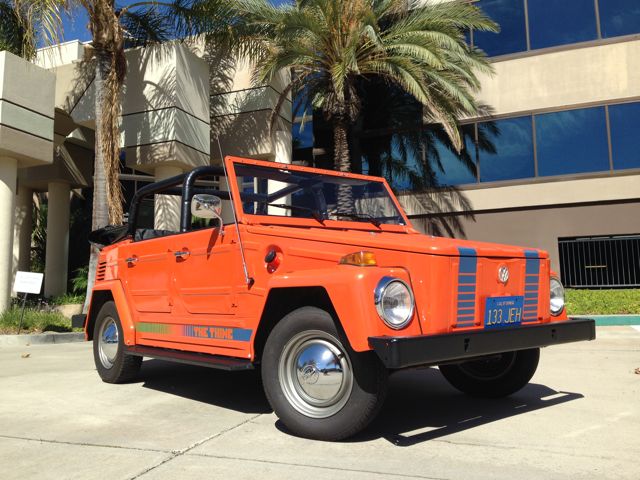 The car has always been in California up until last year and has never been rusted or wrecked.
Underneath the fresh paint and interior, it is as solid and clean of an original car as you would ever dream.
A lot of these Things have been used and abused, wrecked and rusted and patched back together...
Not this one! This is a fantastic example.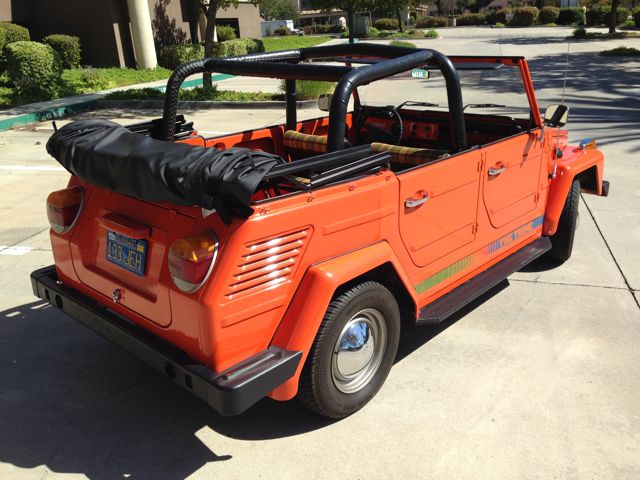 The VW Thing in the Us was only sold for two years, 73 and 74.
The 73 model is a bit cleaner looking as it has the open vents here on the side instead of the big air box things.
There are a couple of other minor differences I am sure between the years.
In Europe this model was called the Trekker, and in Mexico and other marts of the world it was built and sold
for military as well as civilian use. But here in the US...it was all bright colors and all for fun!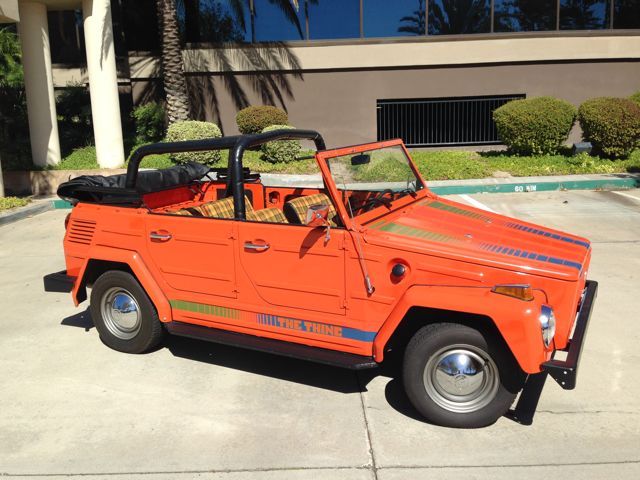 Being a very simple and durable vehicle, these have been popular with the off road crowd and a very large number
of them have been modified for heavy off road activity.
As you look around at the Thing market, you will see that there are very few like this that are totally stock and unmodified.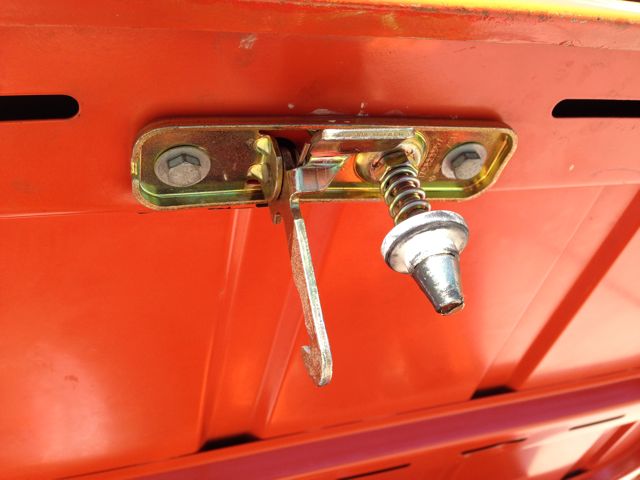 As you look closely at this one you start to see the details that make it stand out from the sea of others that are for sale.
The brightness of the original hardware, and just how solid and clean it is.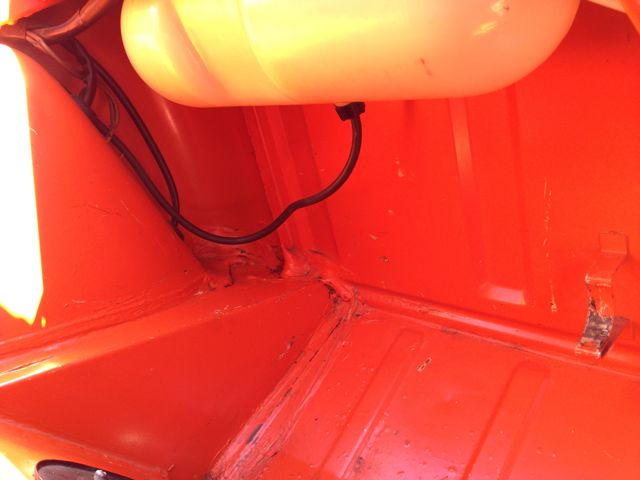 No signs of any accident damage or repair.
When these cars get tapped up front, they are nearly impossible to get "right" again it seems.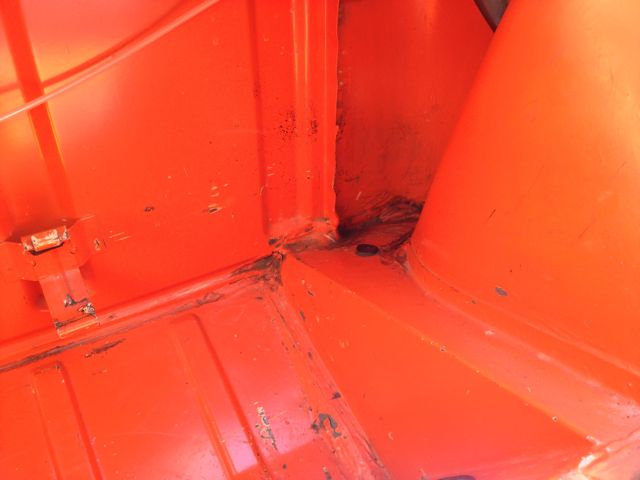 Superb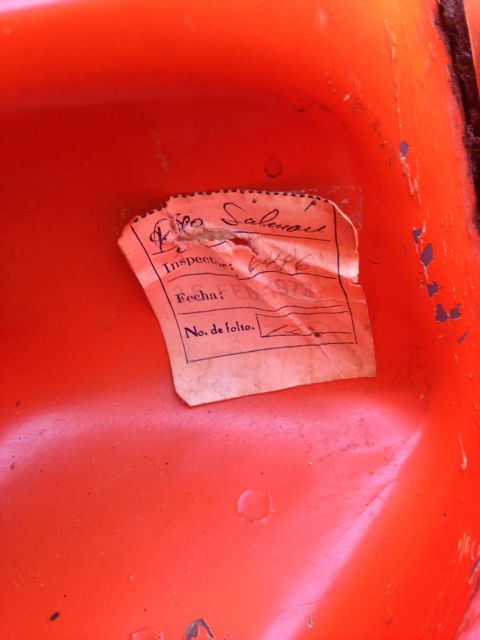 Original inspectors tag under the hood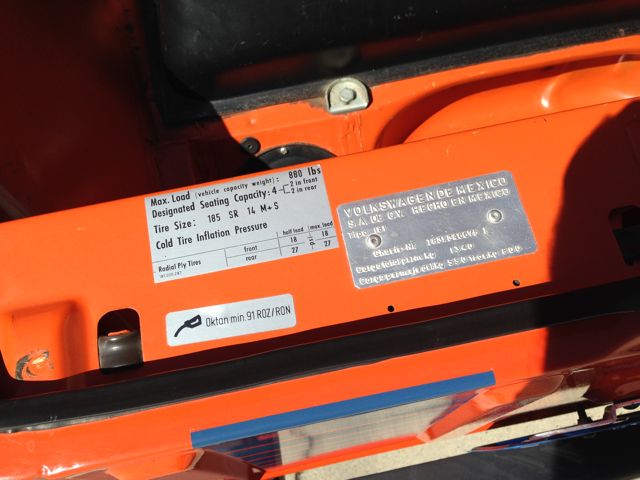 All the decals and tags are intact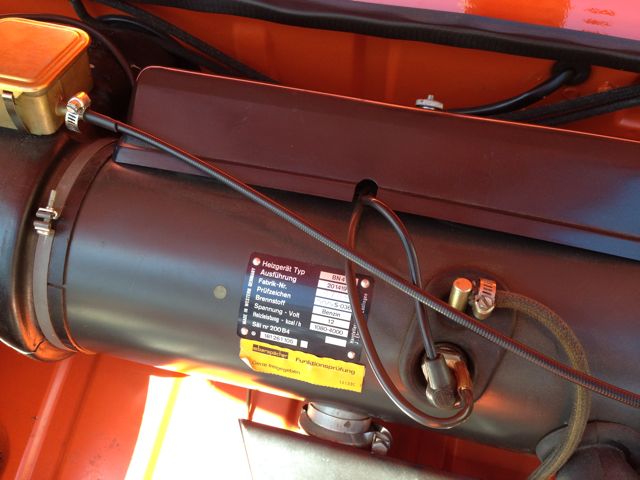 Factory gas heater works and is in beautiful shape.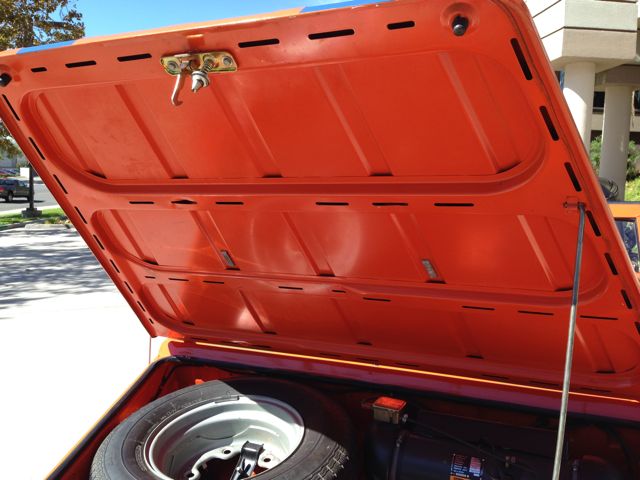 Original finish under here...and it is nice!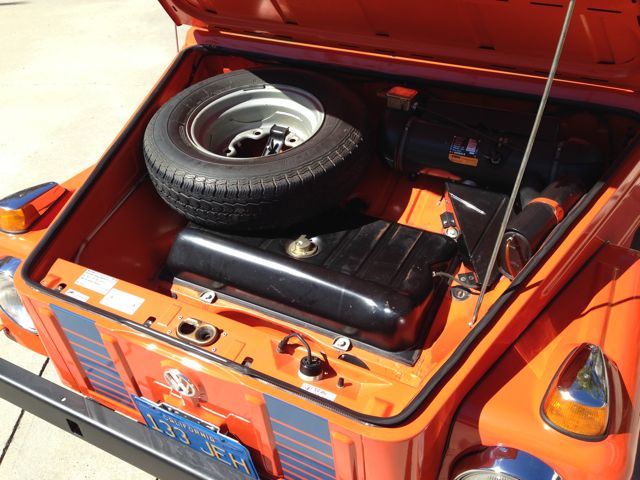 Super clean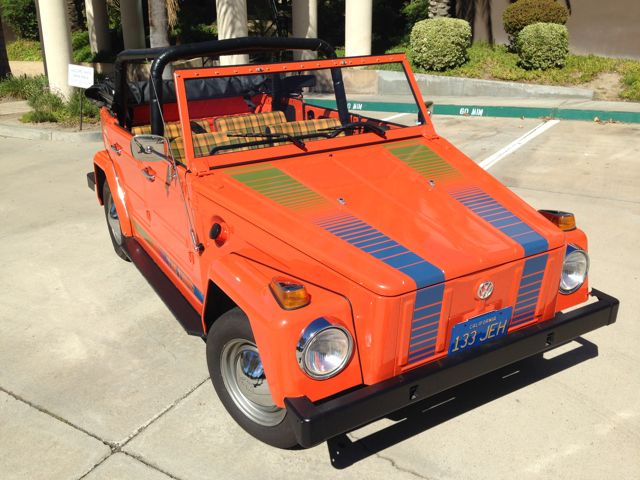 The stripe kit is a dealer accessory kit that was available when the cars were new.
It is done in vinyl and could be removed if desired, but I think it really looks fun on the car and makes it even more unique.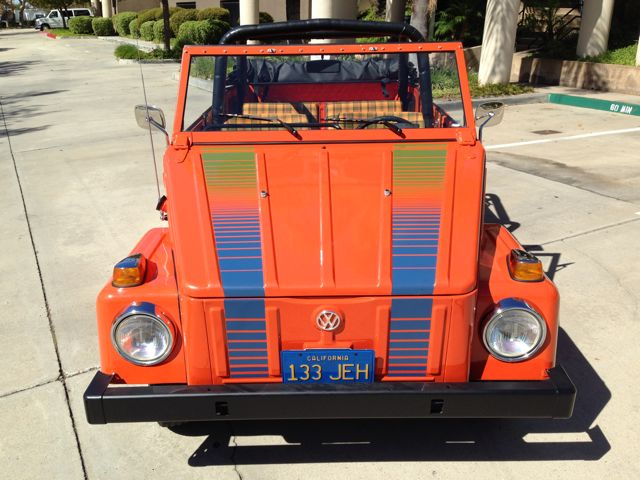 Blue California plates were on the car since new until the sale last year to the current owner in Washington state.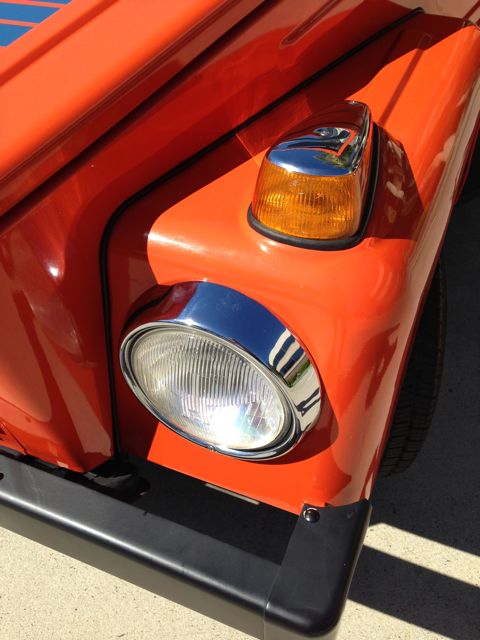 Chrome is excellent, all the rubber seals and gaskets have been replaced and are in good shape.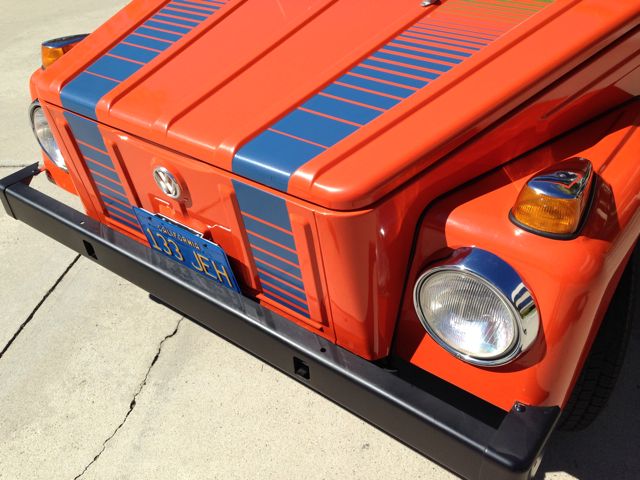 Bumpers are clean and straight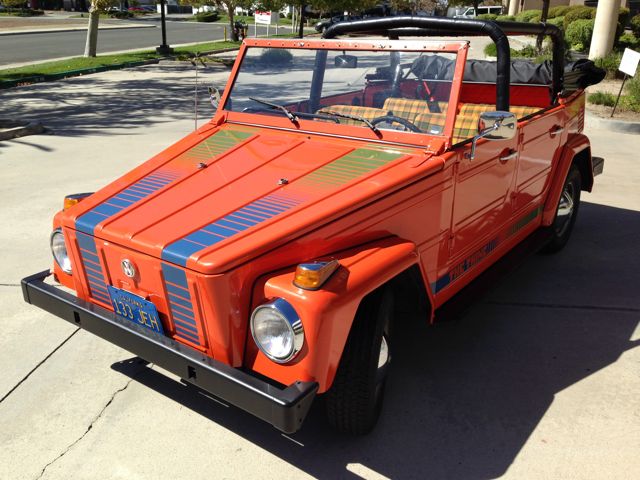 Good looking ride from all angles.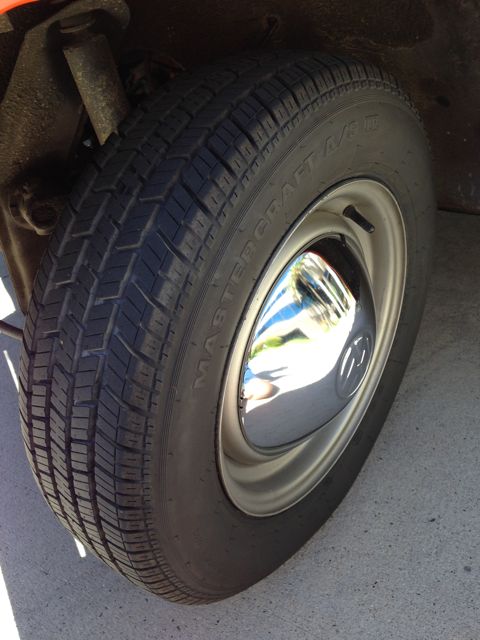 Tires are excellent and are on the correct VW Thing wheels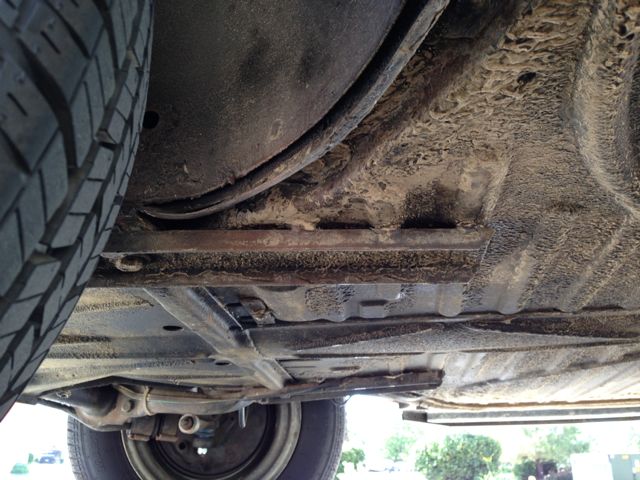 Extremely solid original chassis.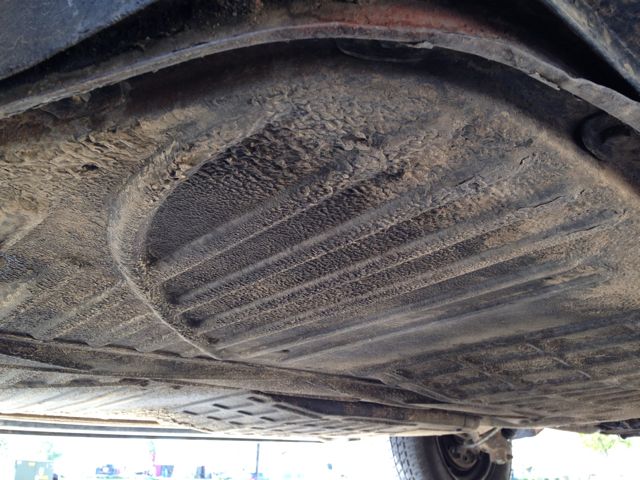 This is all original under here...no welding needed.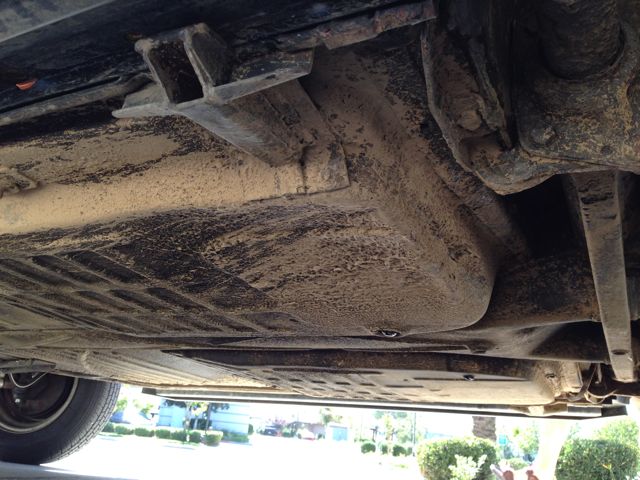 Always solid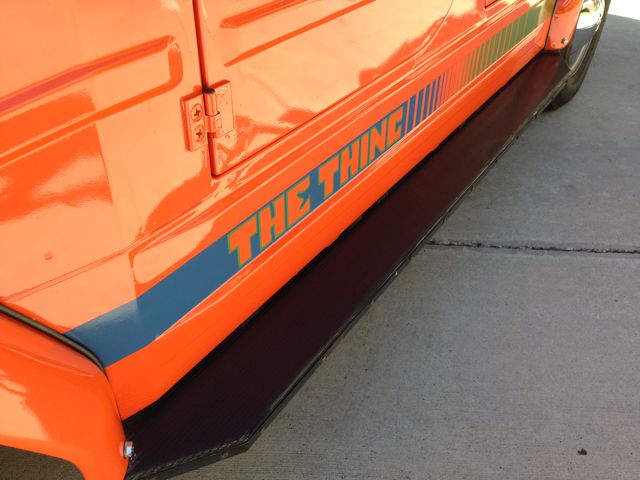 Optional runningboards have been added. I love the graphic stripe...again, this is an original accessory.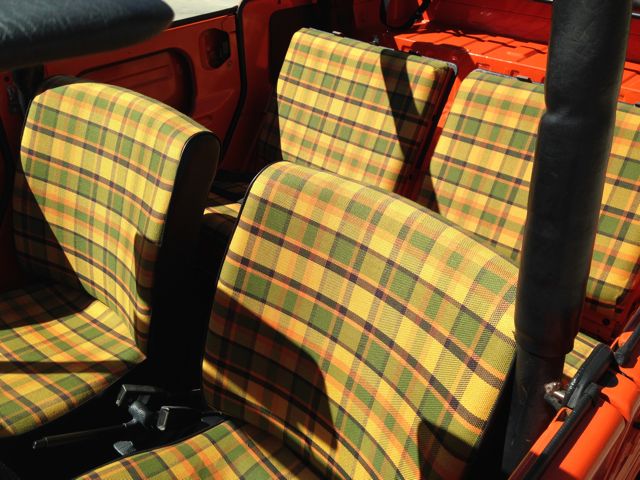 The seats have all been redone with a period Volkswagen fabric...originally this would have been
black vinyl in the car, but the owner had the seats redone in a plaid cloth that was used in the VW Campers of the era!
Much more comfortable to sit in on a hot summer day!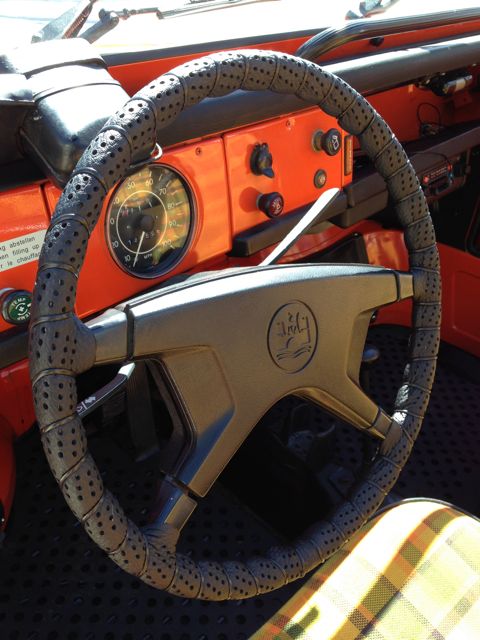 Steering wheel is in great shape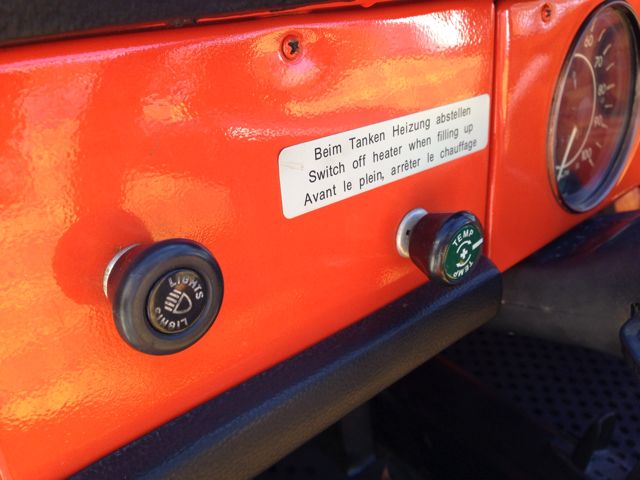 Dash is superb and all the proper tags and knobs are present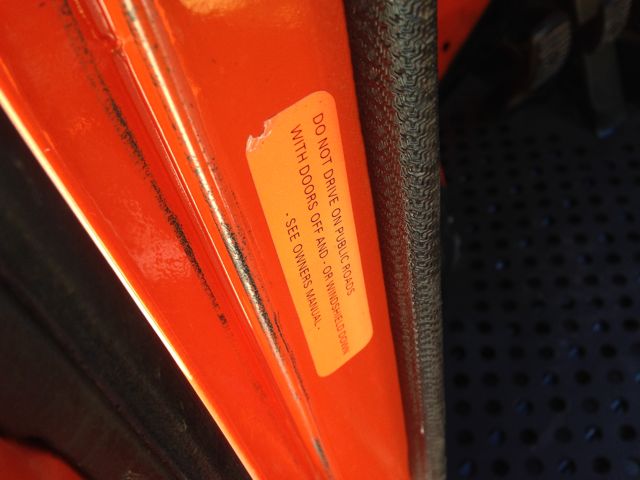 A sticker to ignore ;)
The padded roll cage is a bolt in unit that adds some safety factor.
It fits nicely under the stock convertible top.
Factory side curtains and a "bikini" top are also included in the sale.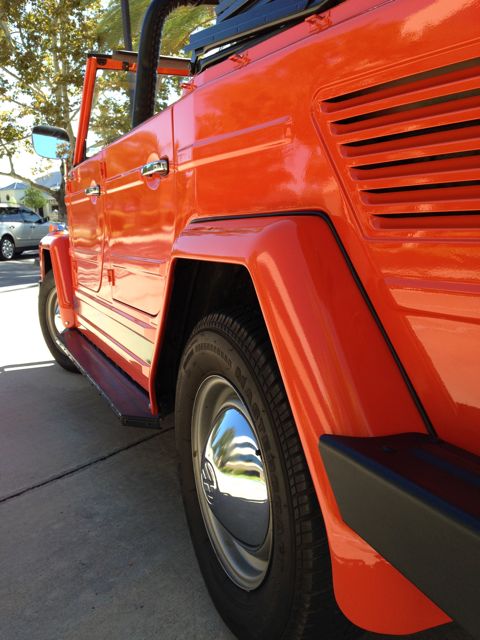 Super straight down the sides!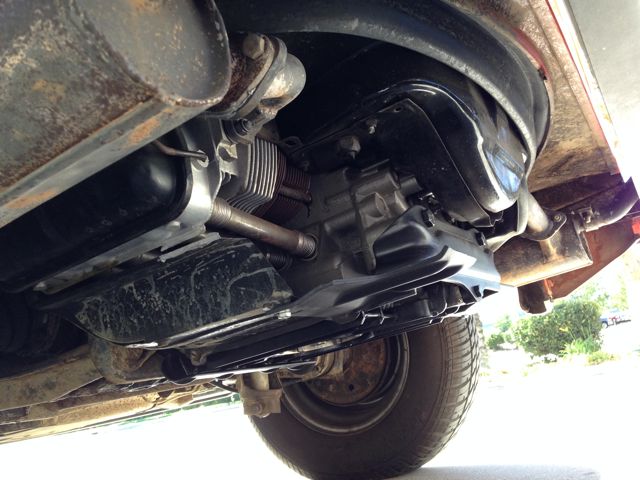 Engine is a fresh rebuild that runs fantastic!
The correct VW Thing exhaust system and case guard are in place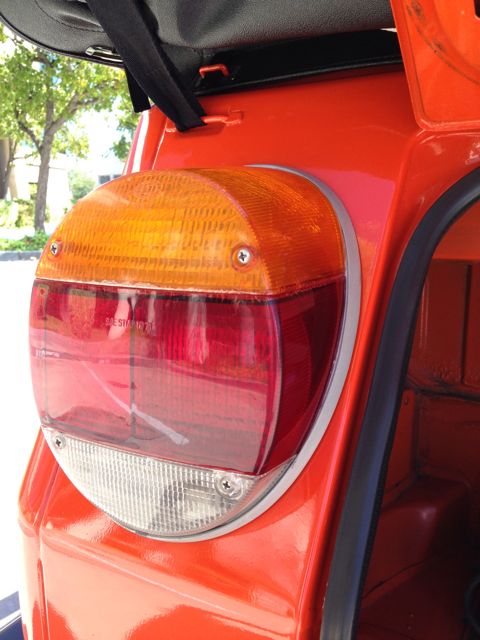 Taillights are superb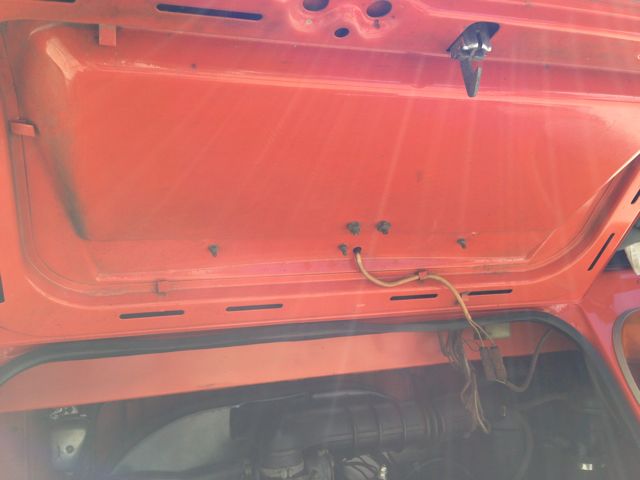 Very clean original paint under the lid.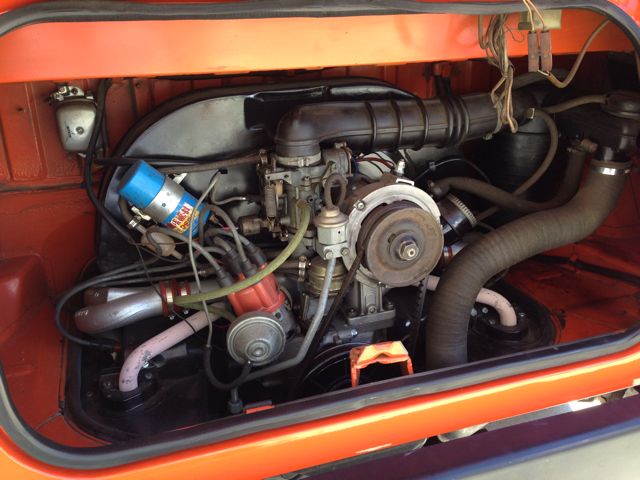 This is the original numbers matching engine by the way, and it has been rebuilt and it runs perfect.
All the proper parts and bits are present including the stock aircleaner and distributor.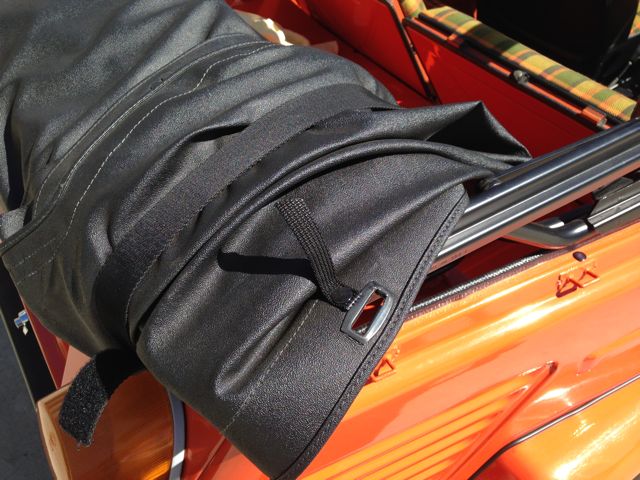 The top is new and in great shape...the frame was fully restored and all new trim and seals.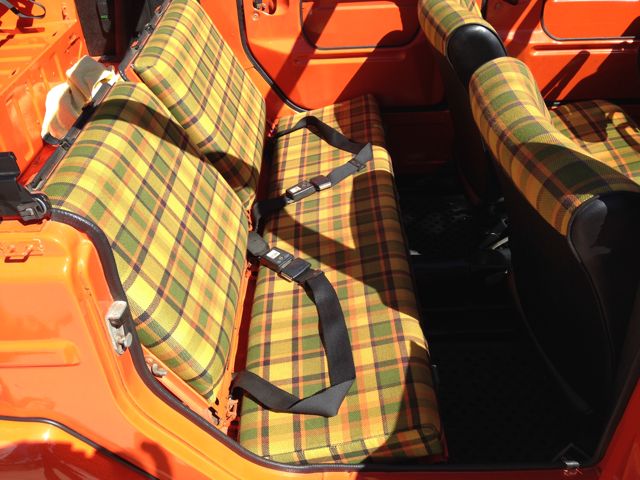 Seats and seat belts.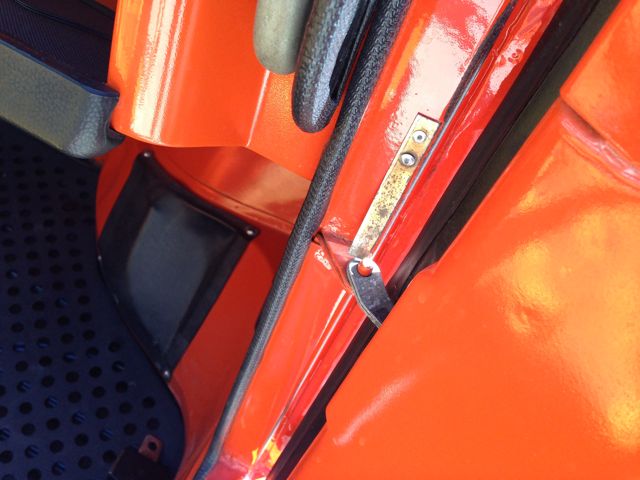 Door jams and hardware are all nice and clean.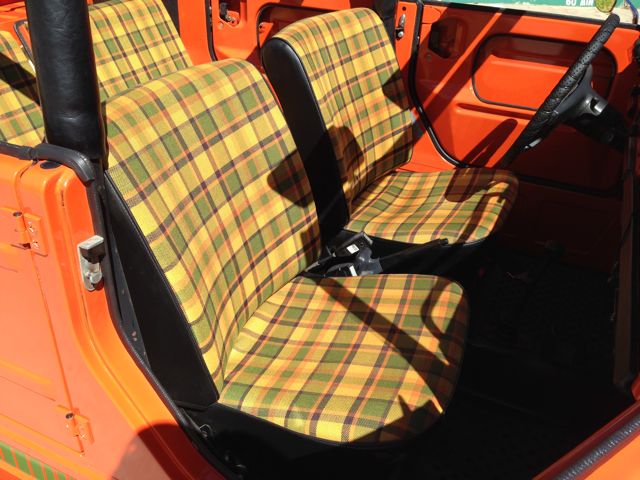 Love this!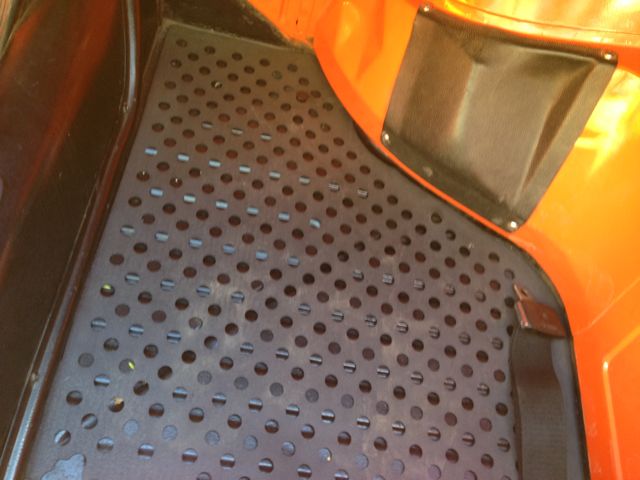 Floors are excellent and are covered with the factory Thing rubber mats,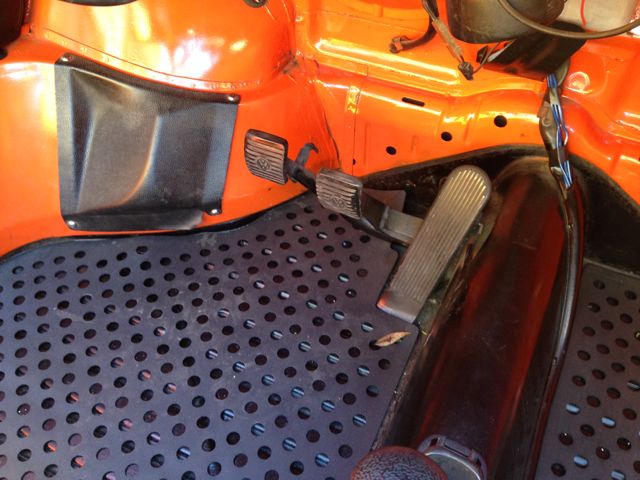 Very nice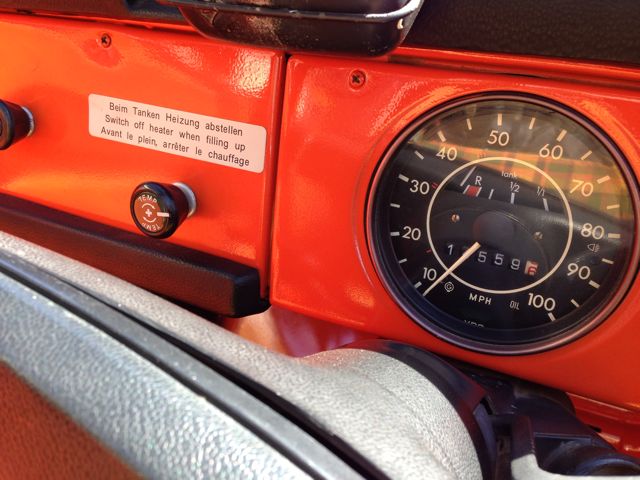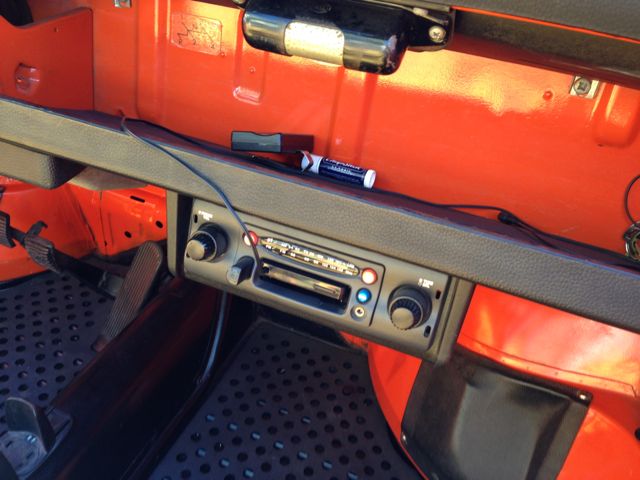 Modern radio under the dash.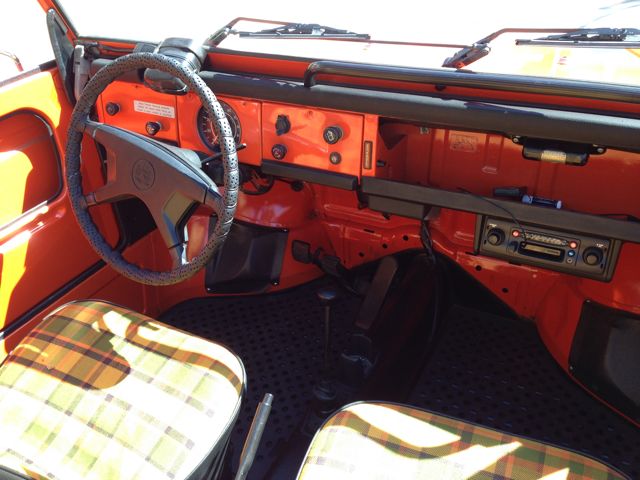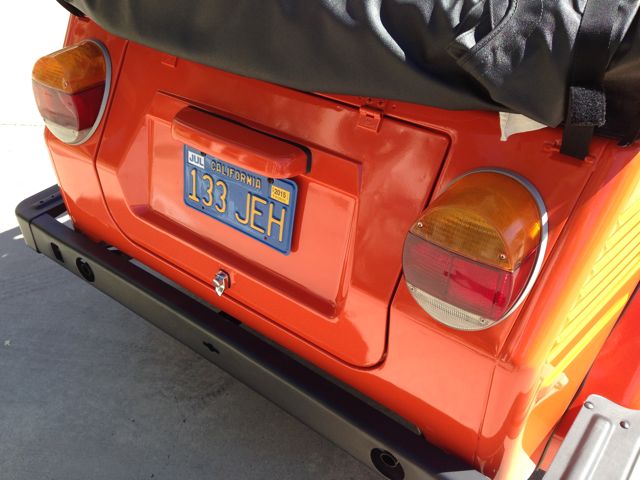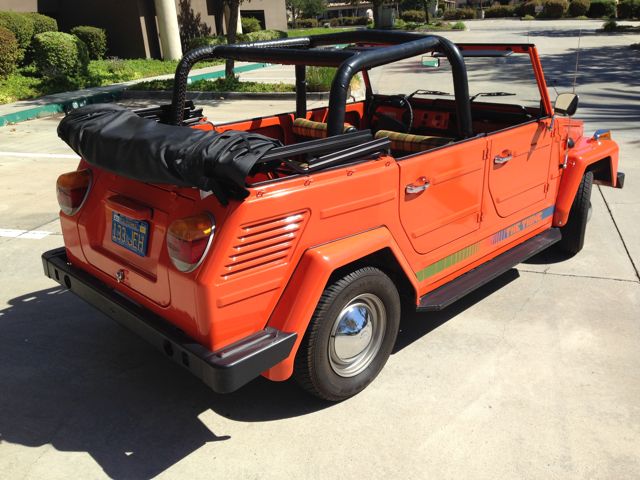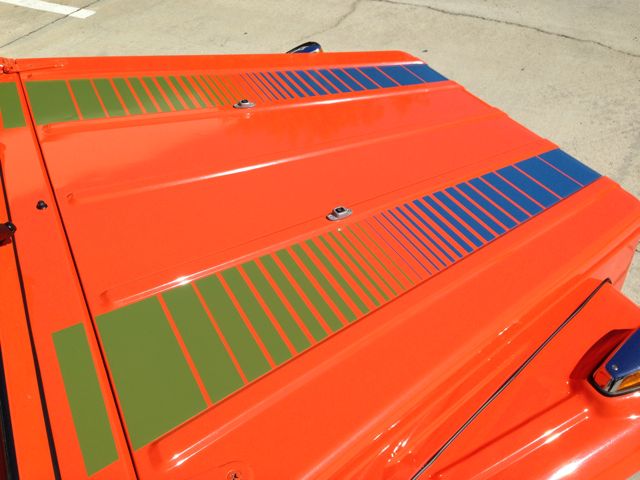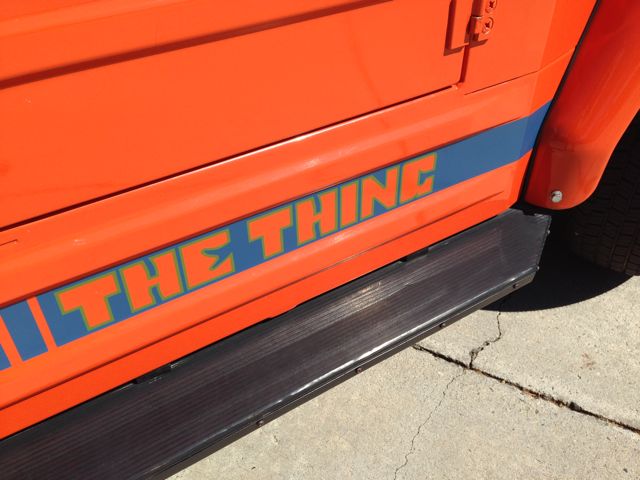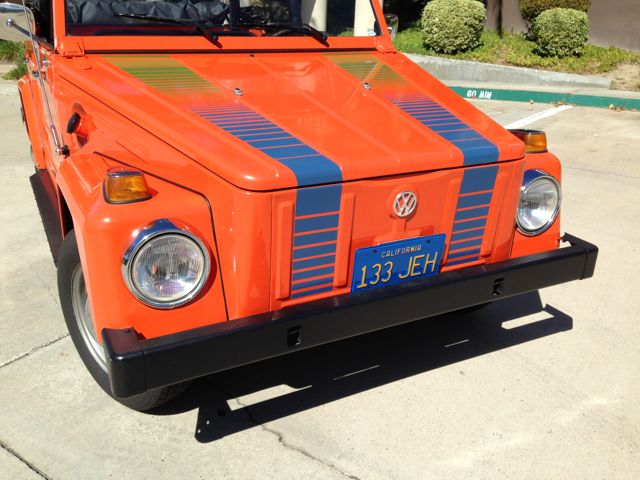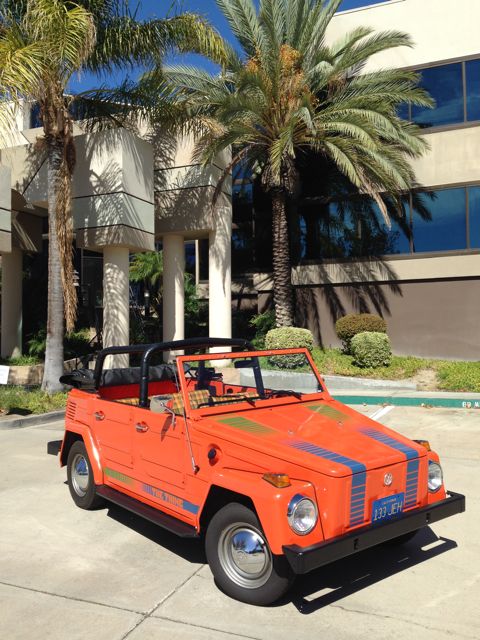 Its a beautiful Thing...don't you think?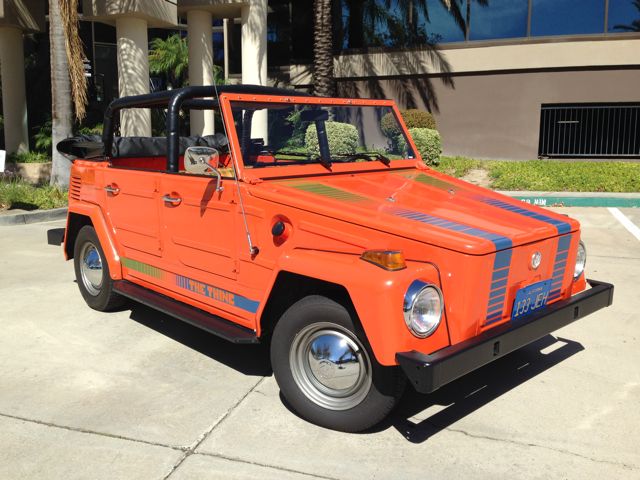 In closing I really like this one.
It is a car that I personally have seen and photographed and the more I looked at it, the more I liked it.
Its as honest and virgin of a car as you could ever hope to find and the quality and accuracy of the restoration work done is commendable.
Is it "perfect" ? Well..no...nothing is perfect... but DANG it is a nice one!
Really sharp indeed.
Car is located in Washington State.
SOLD!
Click HERE for all Current Listings!
---
For More Info...CALL
951-767-1600
or email
oldbug@earthlink.net
---