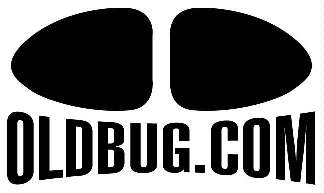 ---

Here is simply one of the RAREST VWs in the whole USA
Which was a prized part of the Oldbug.com Collection...
(now sold to a Mid West Collector-Dealer)
RARE 1976 Volkswagen Brasilia - Incredible 46,000 Original Kilometers
(That's 28,000 Original Miles!!!)
Original paint and interior...a Museum Quality Car.
VW Trends Magazine Feature Car
December 2001 Issue

I know what you are thinking..."What the heck is this?"
Well...let me fill you in...
This is a called a Brasilia, these were built by VW of Brazil from 1973 to 1979
and are based on a standard Type 1 Karmann Ghia chassis and are powered by an air-cooled upright 1600cc engine
(type 3 style case, with short VW Thing style fan shroud) with dual Solex carbs.

Swing axle rear end, ball joint, disc brake front end, etc..
The Brasilia was never exported to the US (or Europe for that matter) and were sold primarily in Brazil,
South Africa, the Phillipines, and a few wandered into Mexico and Portugal from what I hear.

The front end has some resemblance to the Type 4 cars (411-412) but the rest of it's styling is all unique.
(some say it looks like a VW Rabbit prototype or something)
Many parts used to build the car look to be off the parts shelf for other models...

The interior is all unique to the model but features many recognizable parts from other VW models
(note the early Type 3 shift knob, 70's model Beetle door handles and window cranks, etc)
A strange but cool accessory is the factory fire extinguisher in the passenger side footwell.

A photo of the engine, a familiar heart in strange surroundings.

This particular example was brought into the US by the original owner (a professor) in 1979.
It was driven occasionally and then stored in his garage until a few years ago when it was discovered by a local VW fanatic.
It has just 46,000 original kilometers on the odometer (roughly 28,000 miles) and still has it's original paint and interior.
The paint and body are in excellent condition and there is no signs of "demon rust".
New tires, fresh brakes, it runs and drives excellent.
(note the original Brasilia wheels in this photo)

It's a small car with nice clean angles and balanced styling.
When designed, this was planned to be the replacement for the Beetle.
It sold in healthy numbers but never reached the popularity of it's legendary predecessor.
.
\
Rear emblem in classic 70's VW script.
Area between taillights has had paint touched up, the rest of the car is all original.
One of only two known to exist in the United States.
(have you ever seen another?)
The VW Museum in Wolfsburg doesnt even have one of these!

Suitable for daily driving or as a museum piece.
Look for the full feature on this car in VW Trends Magazine on news stands NOW!
(also photographed for Lets Play VW's magazine in Japan)

Own one of the most unique VW's in the USA
SOLD!!
---

For more information
Call 714-792-3975
or email Oldbug.com
Worldwide shipping is available!
Dont miss this opportunity...place your bids.