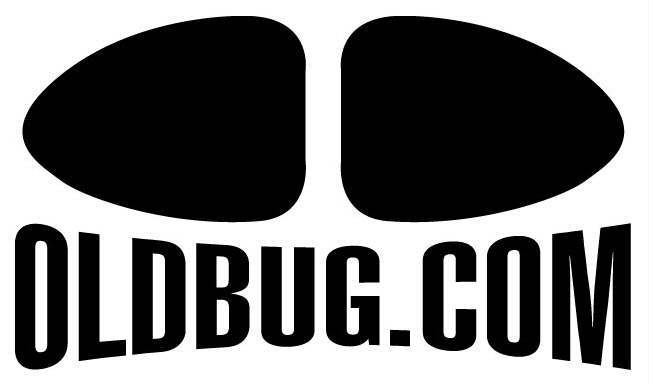 1963 VW 23 Window Microbus For Sale
---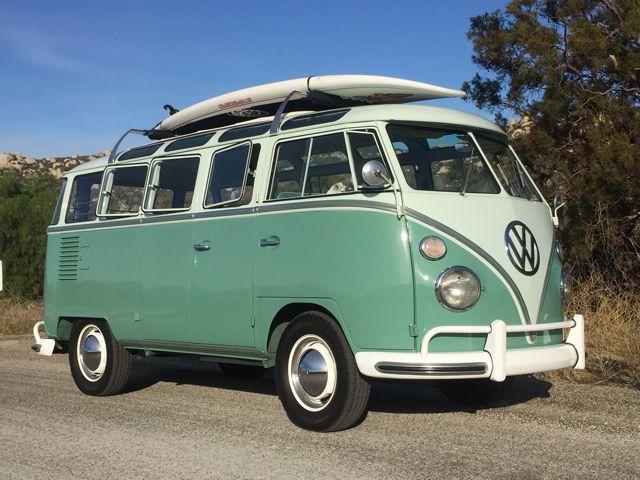 This is the dream machine, the iconic 23 window Microbus
with the very desirable walk thru front seats and in the absolutely gorgeous color scheme
of Turkis Blue and Blue White.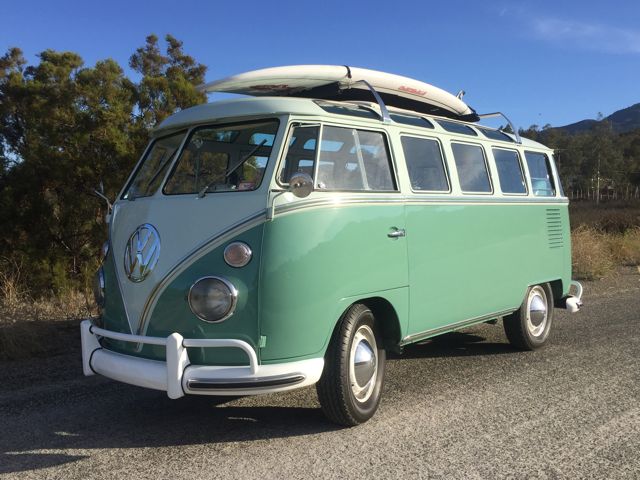 Gorgeous restoration of a very very solid and clean West Coast Bus.
This Bus is truly show worthy as well as being the most enjoyable vintage Bus I have ever driven.
This one has been upgraded for the "real world" while retaining that all stock original look.
It is fantastic!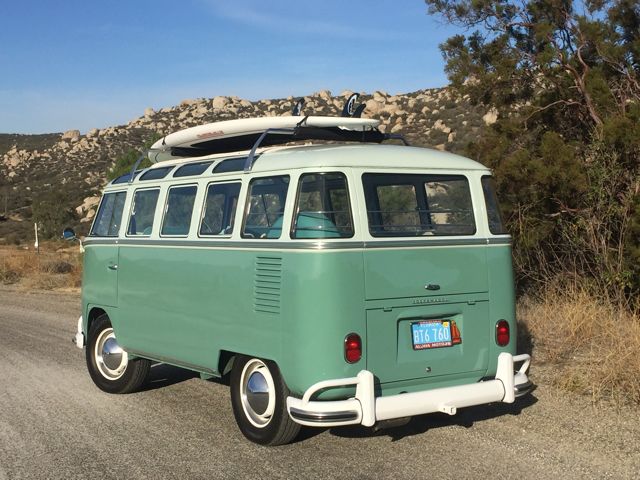 Very well done and extremely well kept, this Bus is a dream.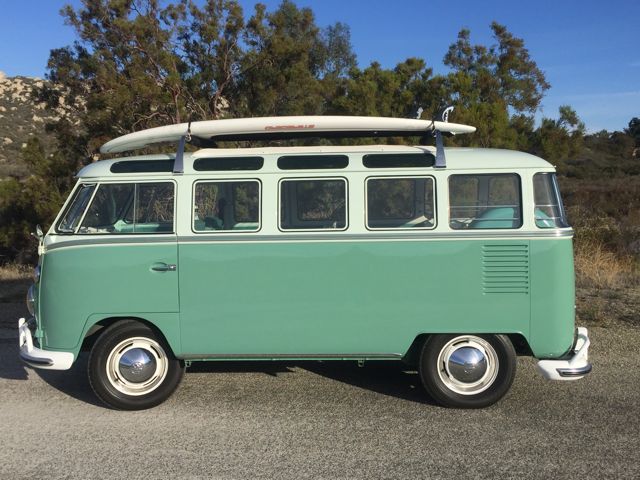 The Bus is located in Florida at the owner's home along the coast.
Always garaged while there and used for runs along the beach front and to beautiful spots for
stand up paddle boarding.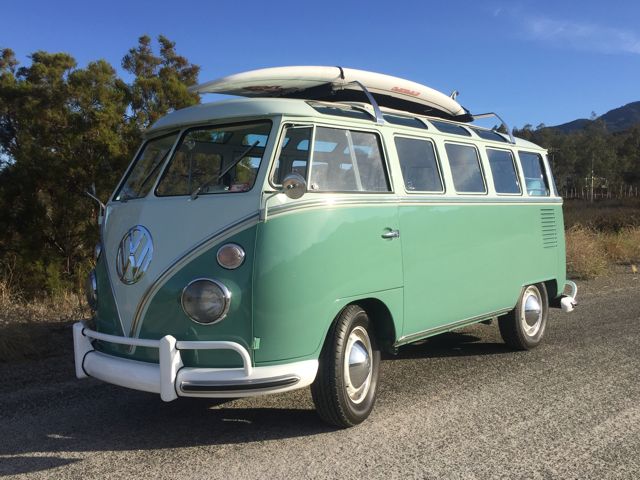 Prior to his ownership the Bus was in Washington State and was fanatically restored by its owner.
A very prolific award winner and his true pride and joy.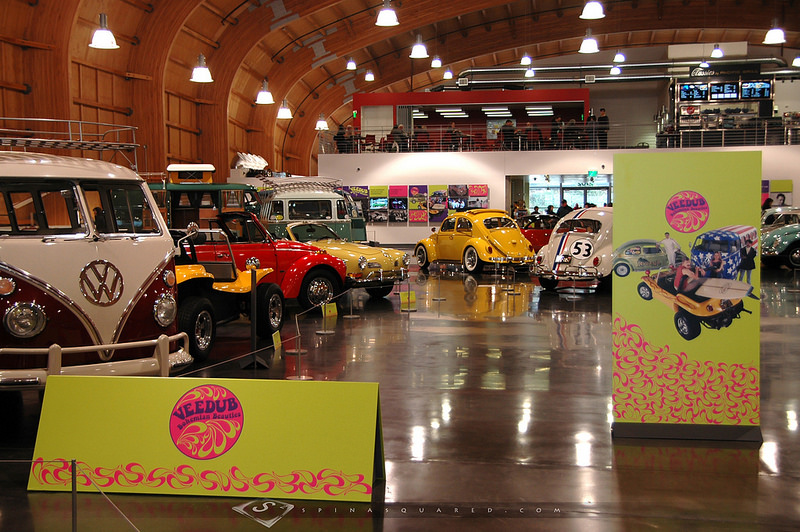 The Bus was a part of the fantastic VW exhibit at the LeMay Museum early in 2014.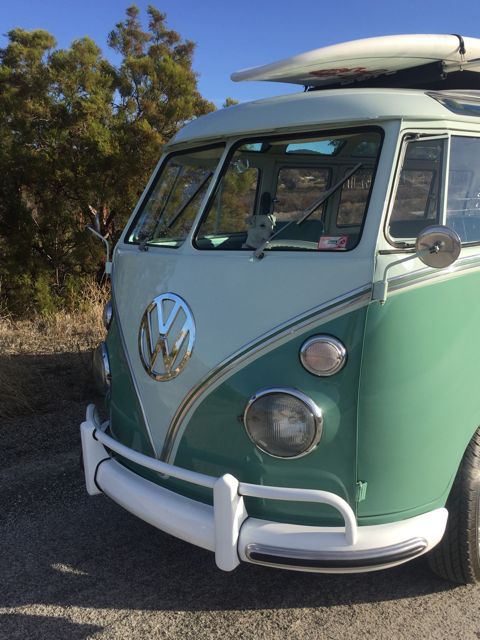 The Bus remains extremely clean and display worthy.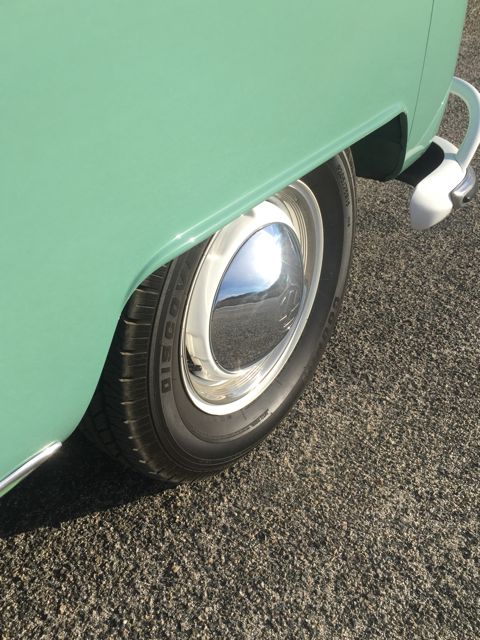 Excellent near new tires on the proper 15" wheels with stainless trim rings.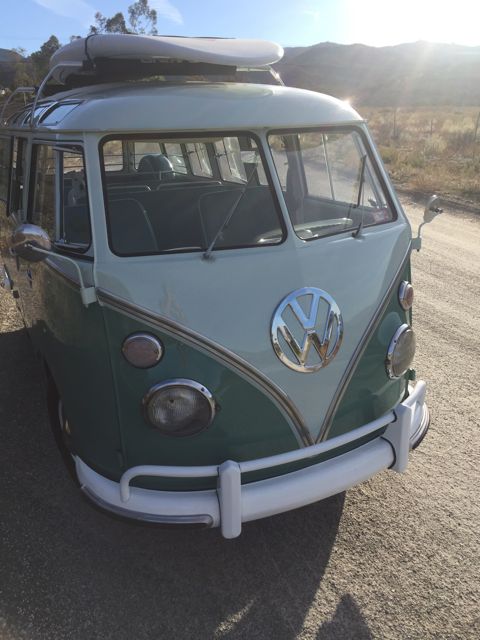 All the correct exterior trim is present, and it is all the original material not the reproduction stuff.
When the builder did the restoration, he went with only original German parts or the very best replacement items available.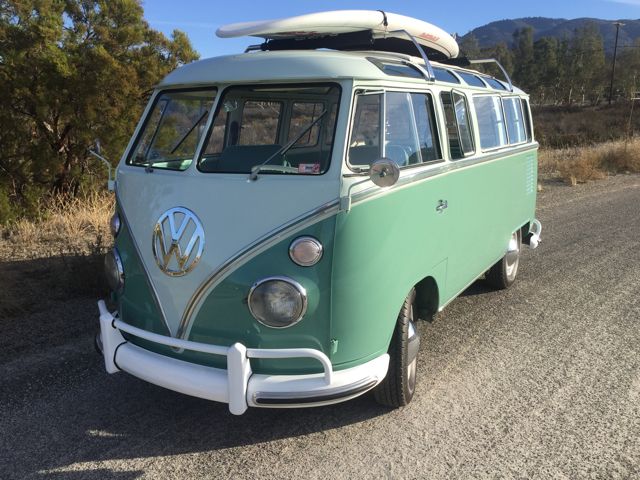 Fantastic color combination.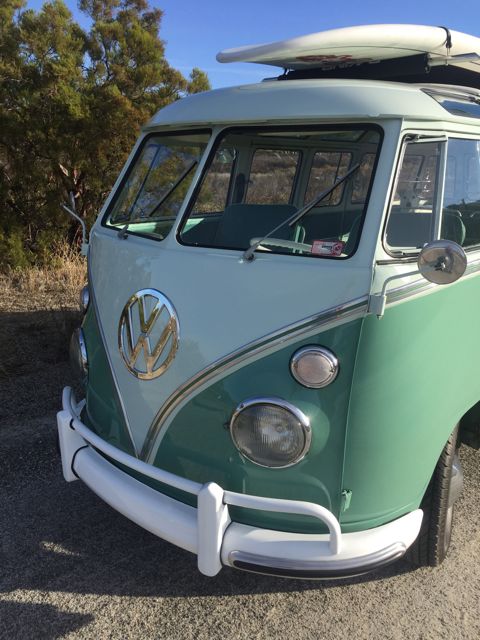 All the proper body trim and bumper trim is present.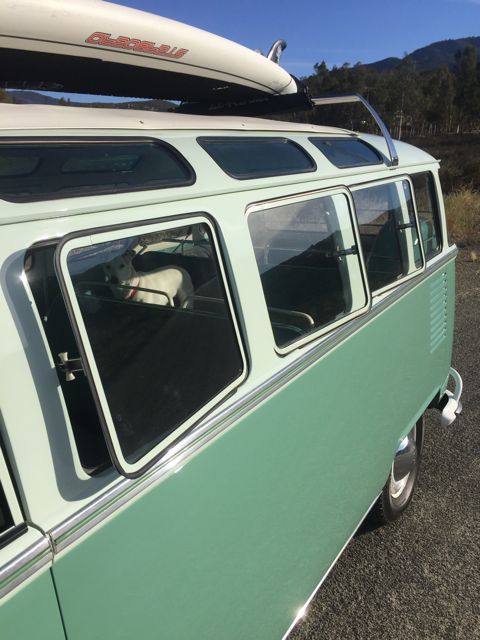 All window rubber and glass is in excellent shape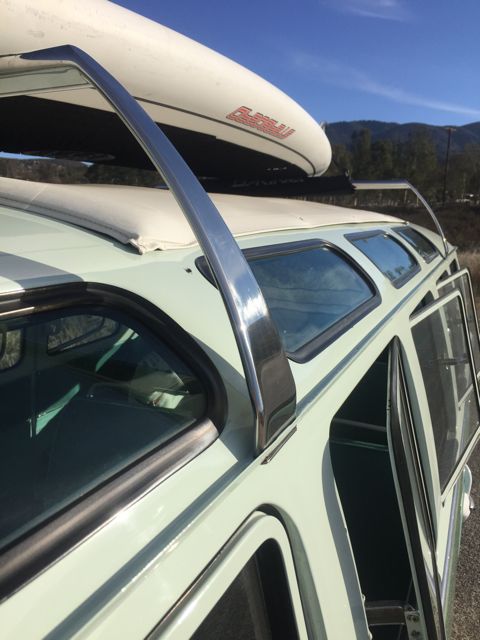 One off polished stainless steel surf racks are a true work of art, commissioned by
a California fabricator that normally works on high end yachts.
They are so slick!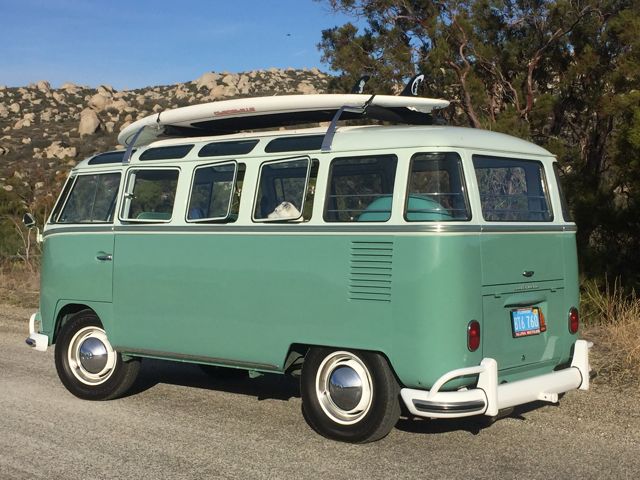 Also very cleanly installed is a slim receiver hitch on the back bumper for use
with a slide in bike rack or even a small vintage trailer.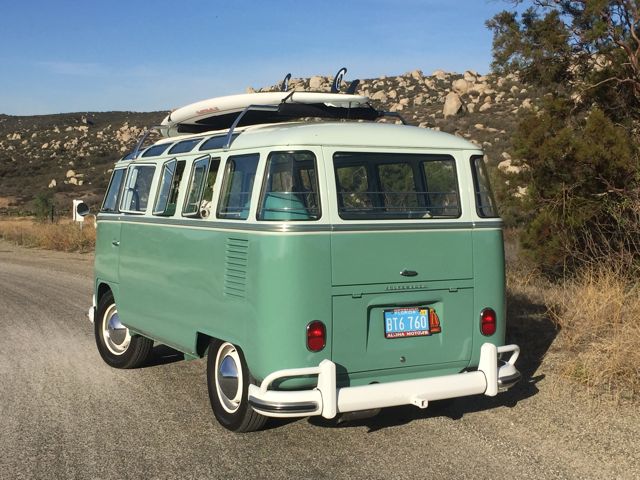 1963 was the final year for the 23 window model...in 1964 the rear hatch became wider
and the rear corner windows were deleted.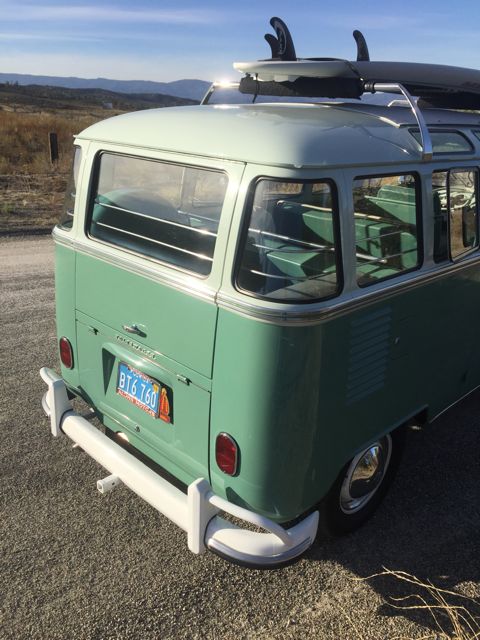 All the correct jail bars and seat rails are present in this Bus.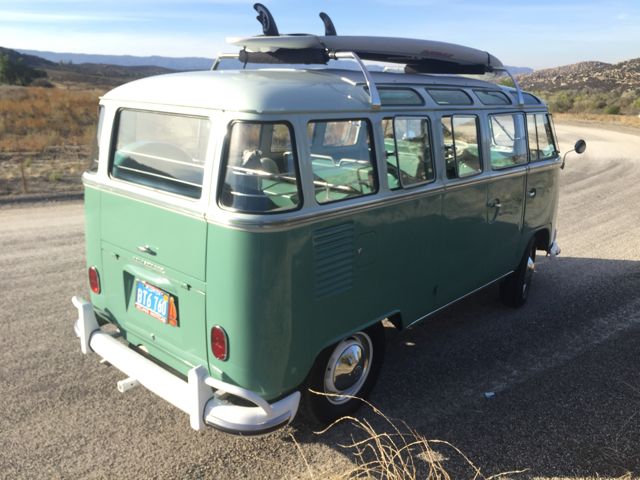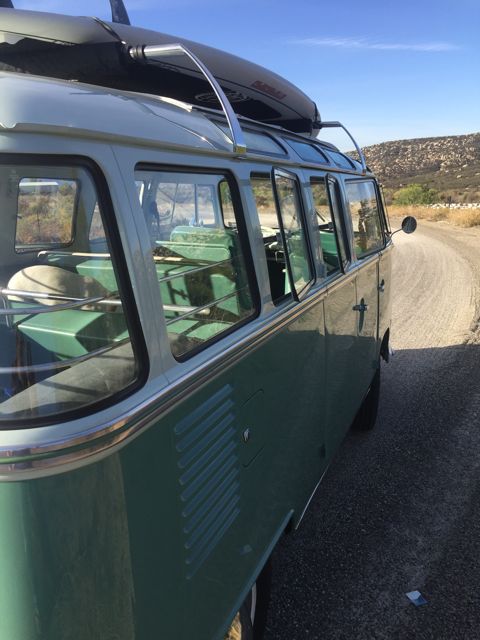 Body is very very straight and the paint is very glossy and smooth and shows beautifully.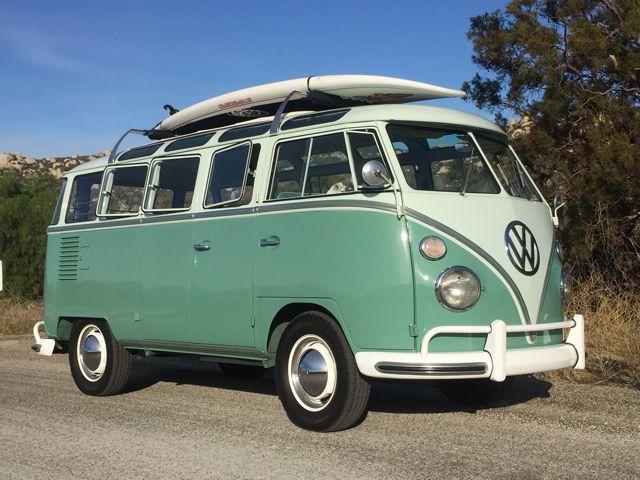 Gorgeous!
Body is very smooth and straight and fit of all panels is very nice.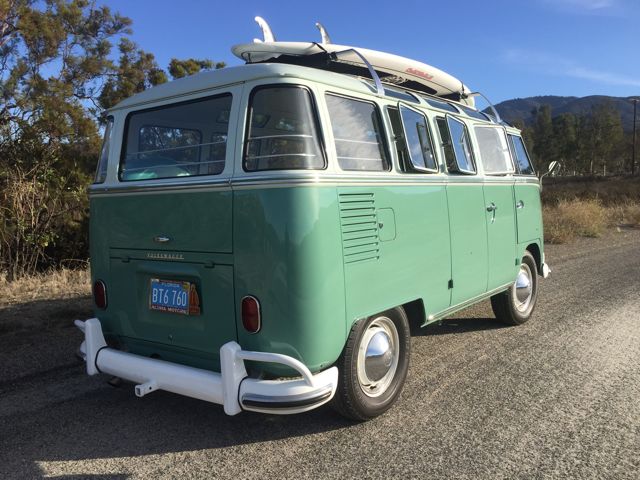 Stock suspension height, not lowered or cosmetically modified like so many out there these days.
If the rear hitch is not your style, this can be removed and exchanged for a bumper without the receiver.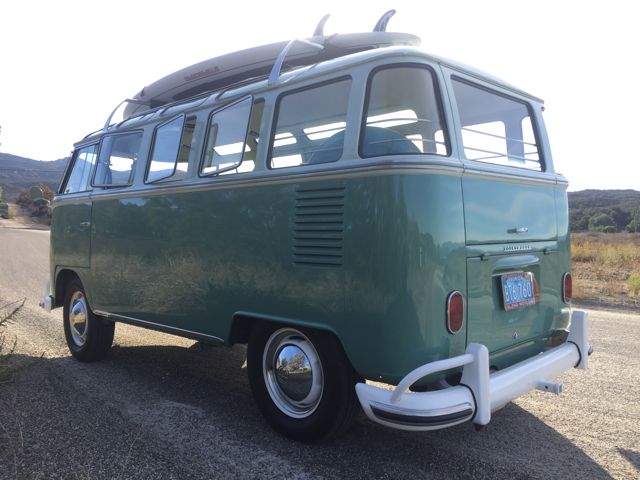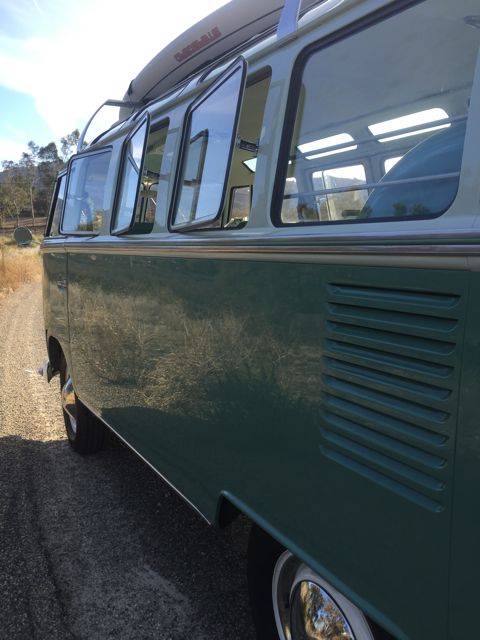 Super clean down the sides!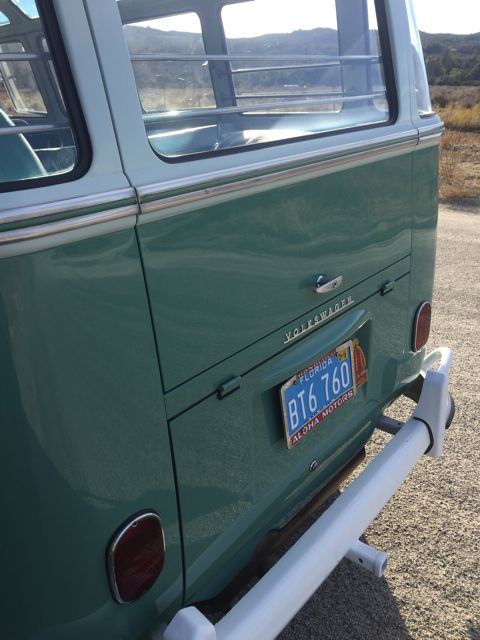 Very nice fit to all the doors and hatches.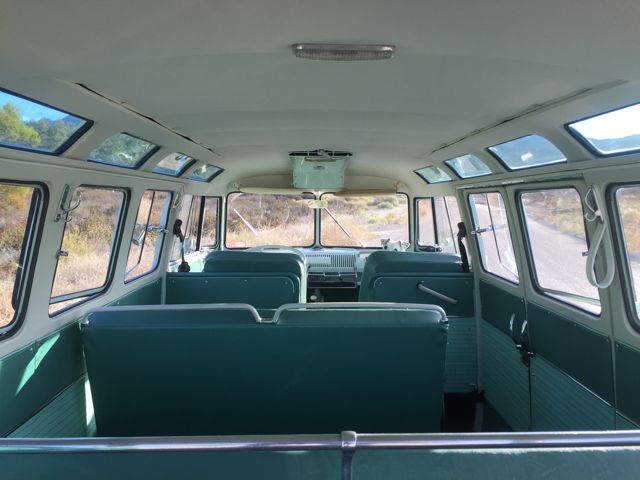 Interior is excellent, headliner is new and fits superb.
Very desirable walk thru front seats!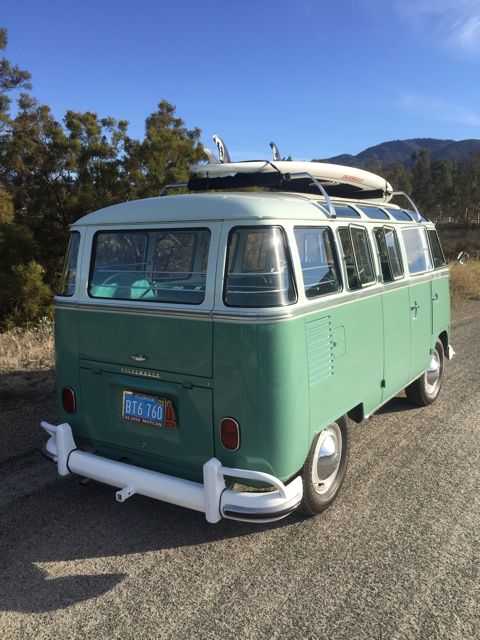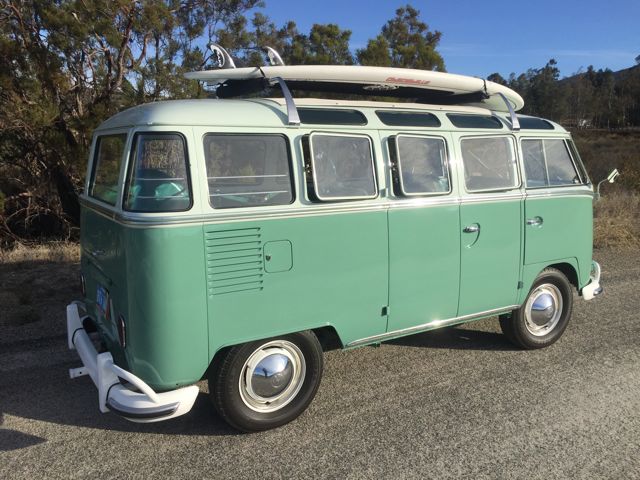 Correct 15" wheels with excellent tires.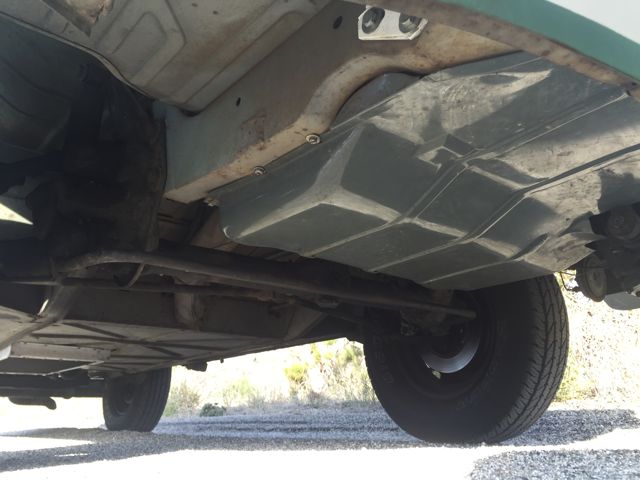 The underside of the Bus is extremely solid.
It is not show-detailed, but it shows the solidity of the body very well.
This is one of the most solid 23's I have seen in years...fantastic!
Rocker panels are excellent as are the jack points, outriggers and belly pans.
The white unit here in the center if the chassis is a part of the amazing air conditioning system
that was custom built and installed in this Bus! Adapted from a unit designed for use in the modern
Mercedes Sprinter vans, this system has no problem keeping the passengers cool on even the hottest of days!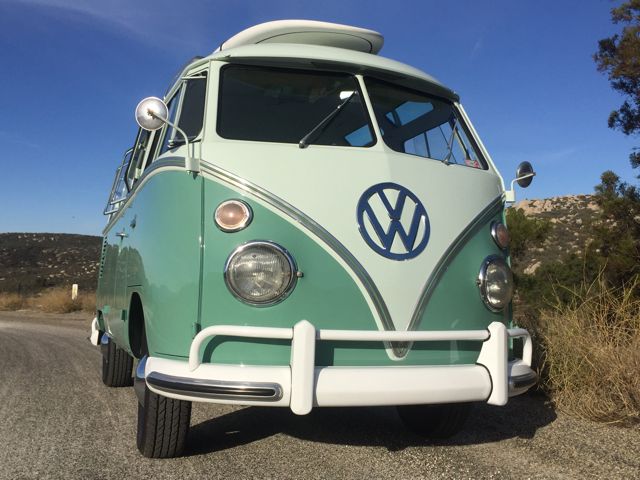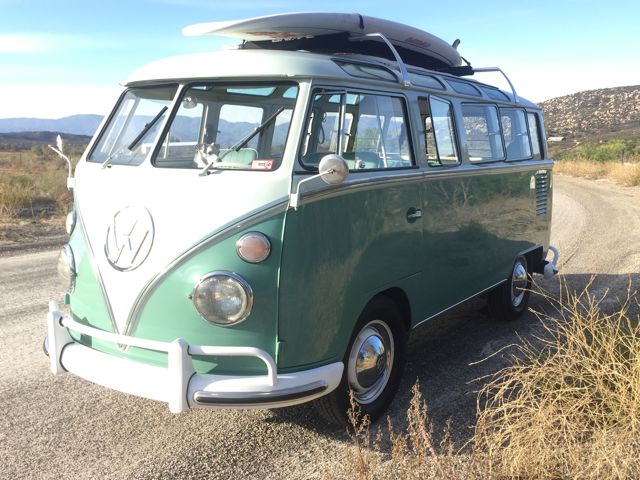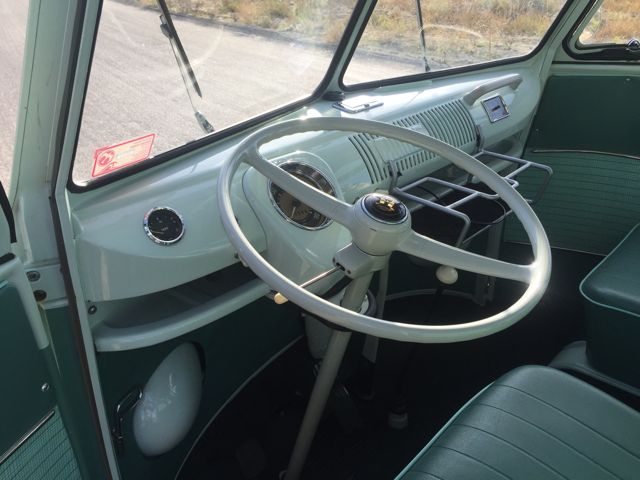 The dash is super clean an unmodified.
The drink holder shelf simply slips into the dash vents and pops off without leaving a mark.
Controls for the A/C system are extremely well concealed and the audio system as well is very non invasive.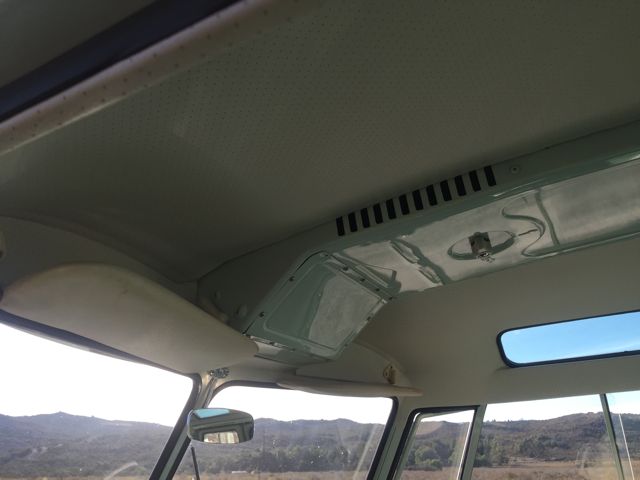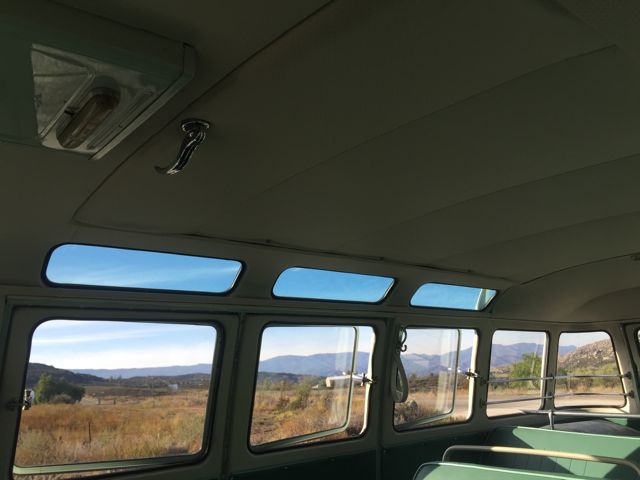 Headliner is excellent and the sunroof works well.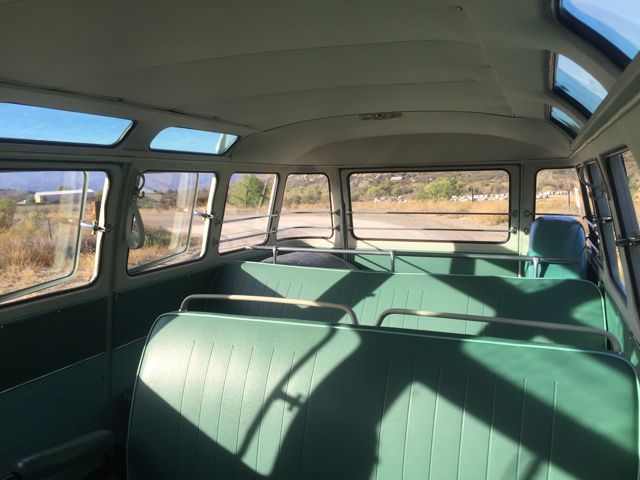 Floors are gorgeous!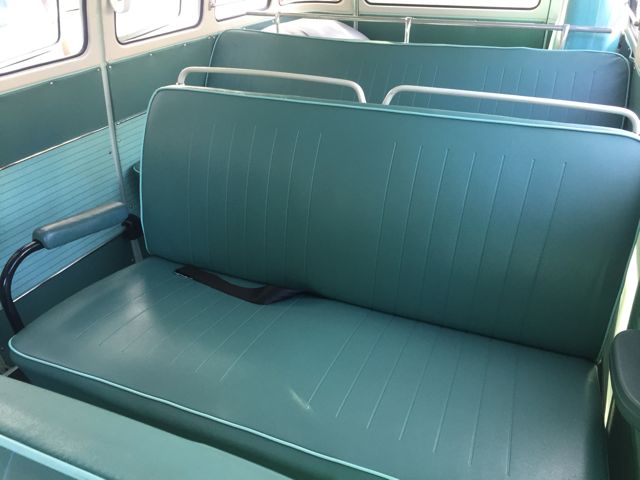 Correct seats and beautiful upholstery.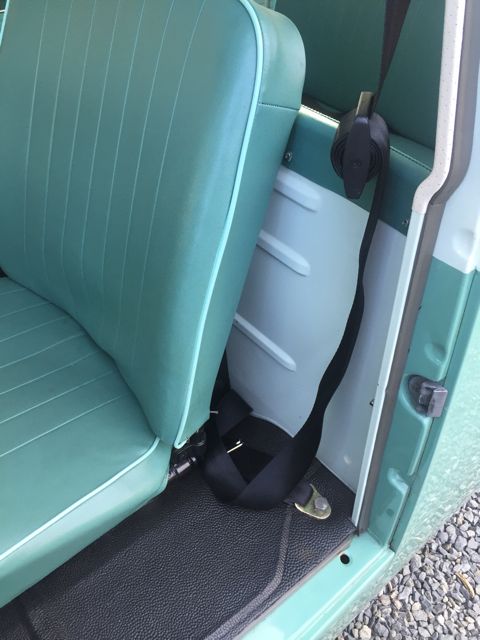 Moder seat belts with shoulder mounts have been cleanly installed up front for safety.
Here is the control for the A/C...that's it, one knob tucked under the dash.
Give it a twist and you can be as cool as you look when driving down the highway.
Ive gotta say, the experience of driving this Bus on a 90 degree day without breaking a sweat was pure magic!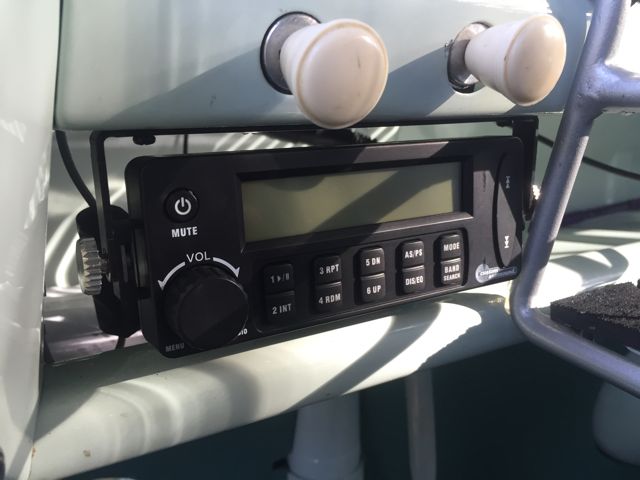 Very small audio control unit allows for use of your ipod or other modern electronics as well as radio
and satellite service!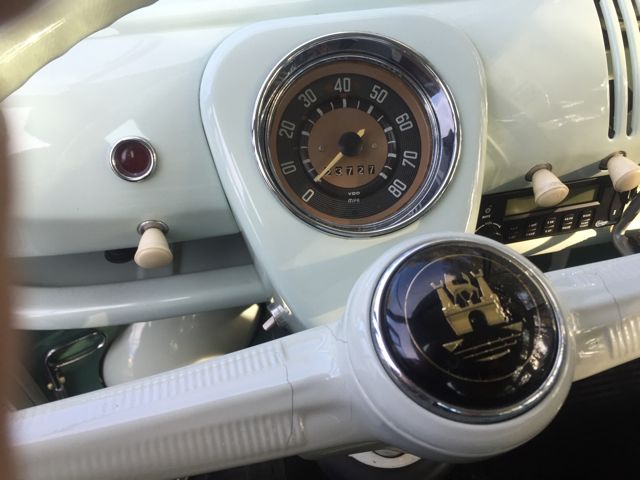 Very light hairline cracks starting on the steering wheel.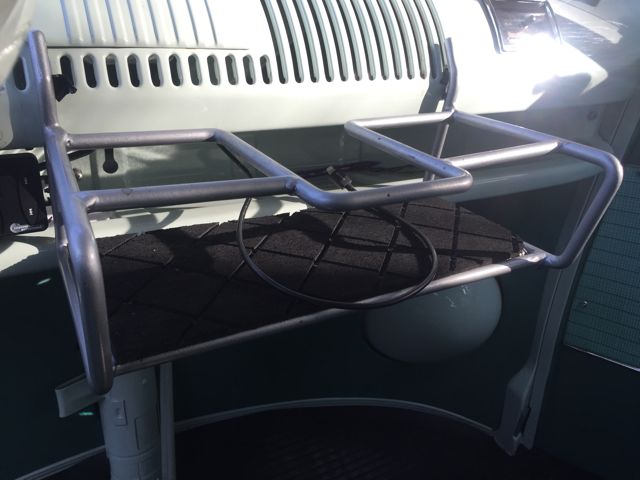 Custom built drink shelf is a perfect spot for you to set your phone and whatever else you like.
This simply lifts out when you want to look all stock.
No screws or holes.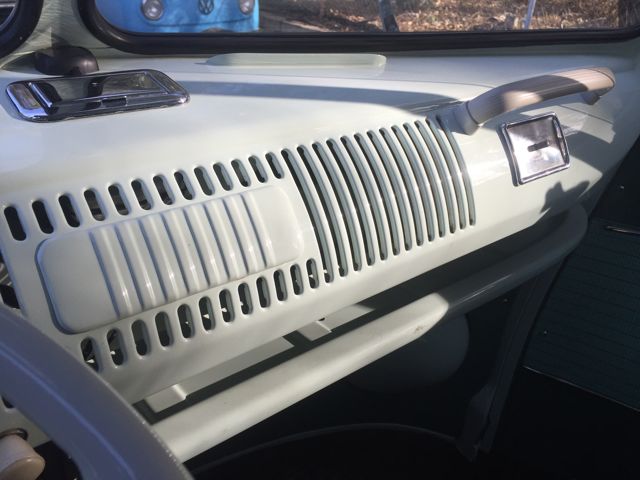 Smooth dash.
Correct chrome ashtray and dash clock.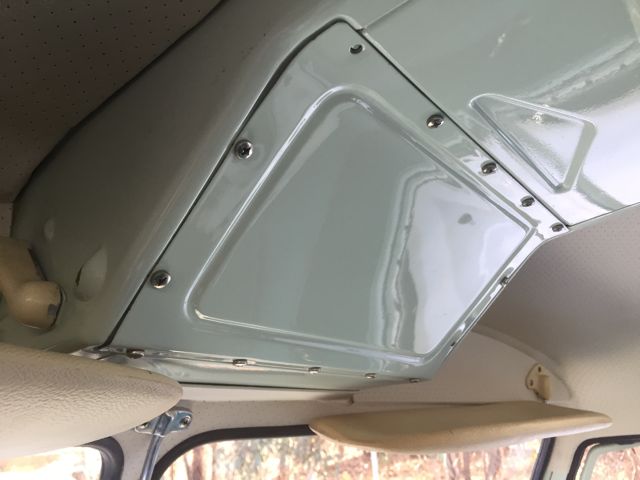 Fresh air box looks very clean.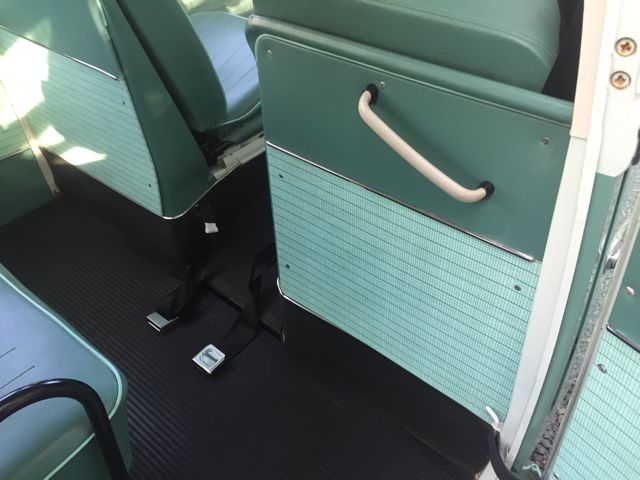 Very clean interior and the walk thru front seats are an extremely desirable option.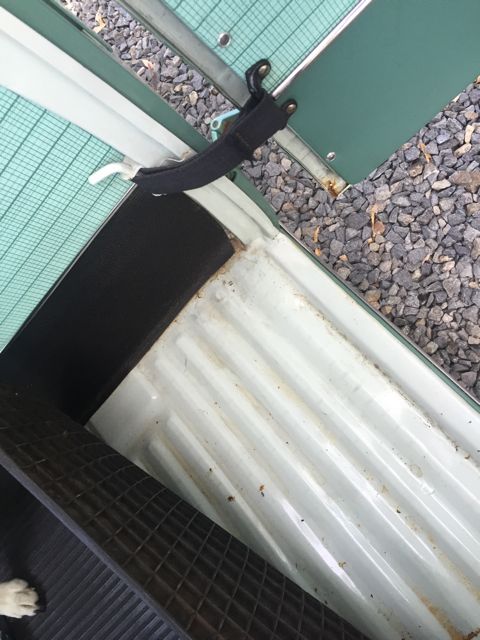 Rear floors are extremely solid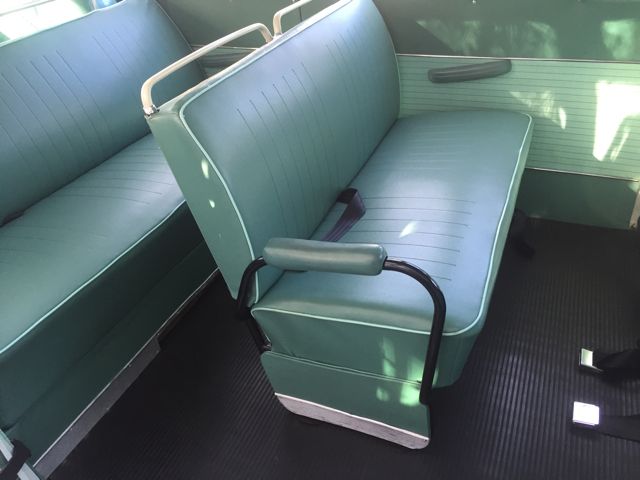 Correct seats with the original trim panels below and correct grab handles and luggage rail.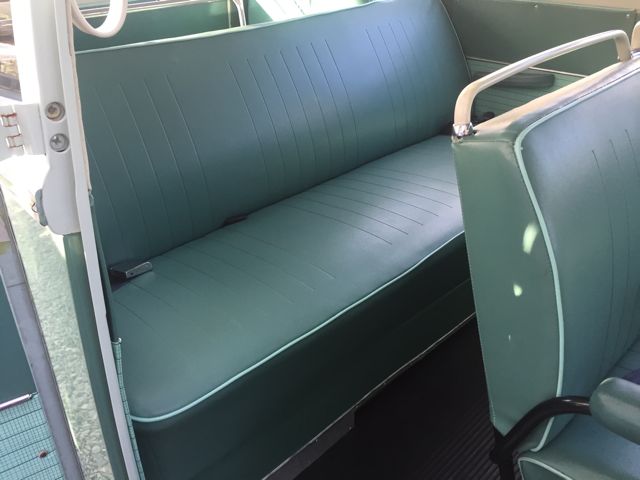 Seat belts installed at all points so you can safely haul your friends around.
Under sseat trim panel has the correct original aluminum trim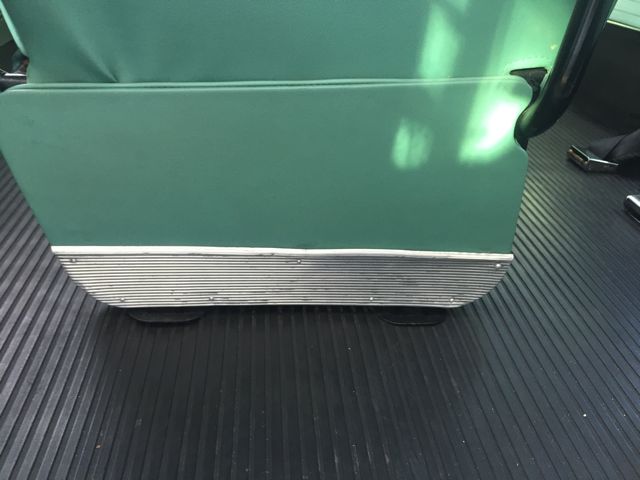 Side panel on the center seat as well.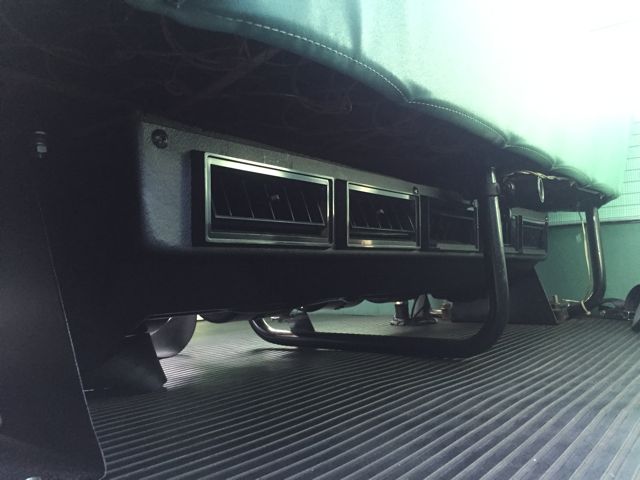 Here is the real magic...under the center seat is mounted the A/C vents.
Being a walk thru, the cool air makes its way up front with ease as well as cooling the whole back area.
The unit is perhaps a little overkill for the Bus as it is designed for a space about double the volume of the VW
but after experiencing it personally, I can say it feels so incredibly good.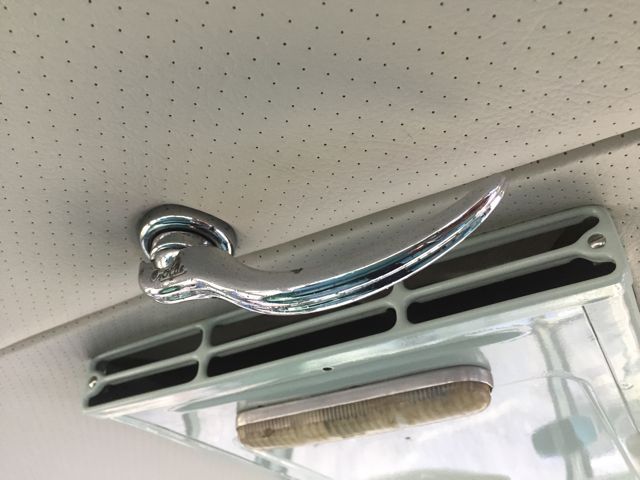 Correct original Golde sunroof handle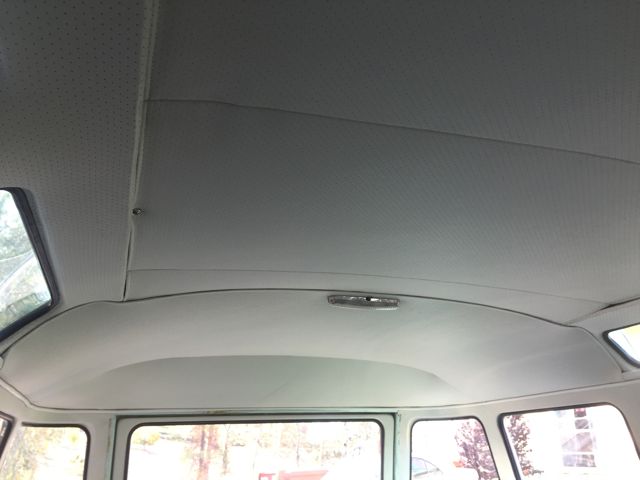 Very tight fit headliner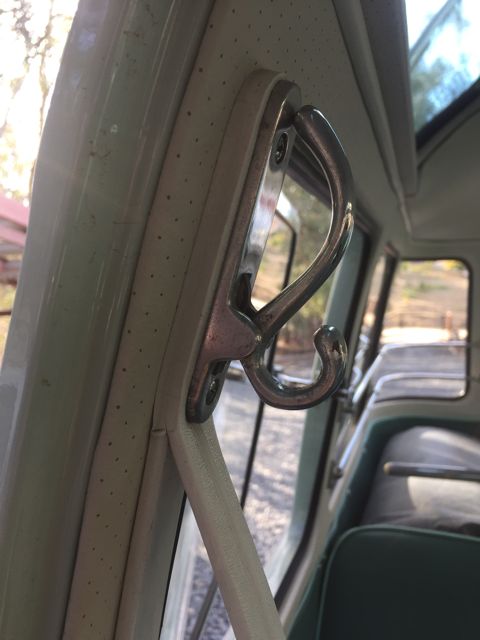 Correct grab handles and coat hooks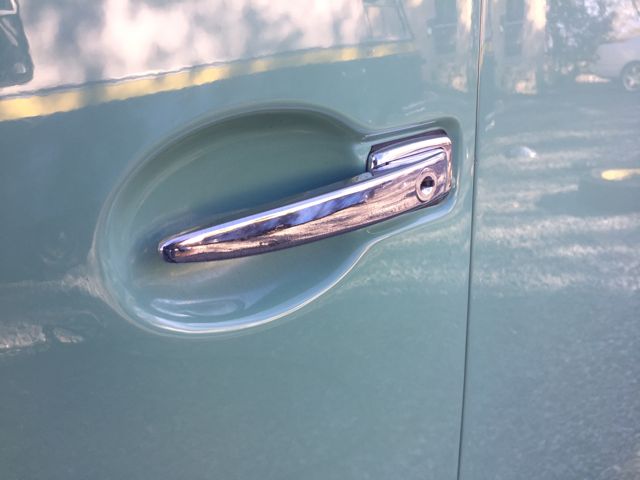 Ice pick door handles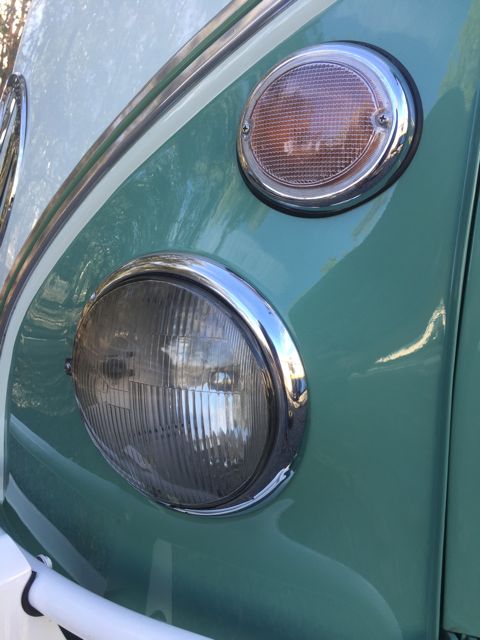 Euro style headlight lenses and excellent turn signal lenses.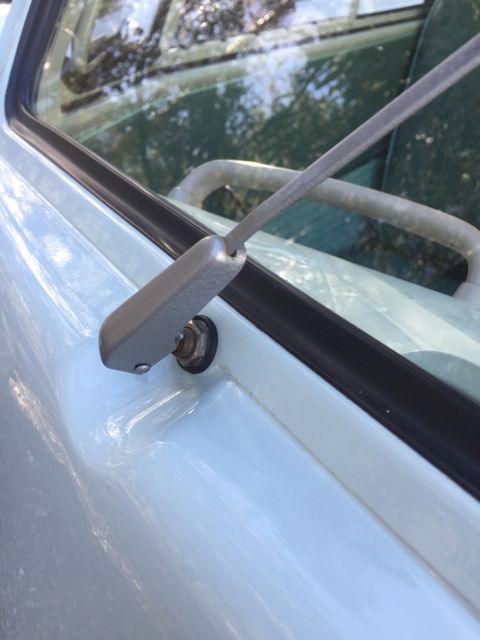 Wipers and windshield edge are extremely clean.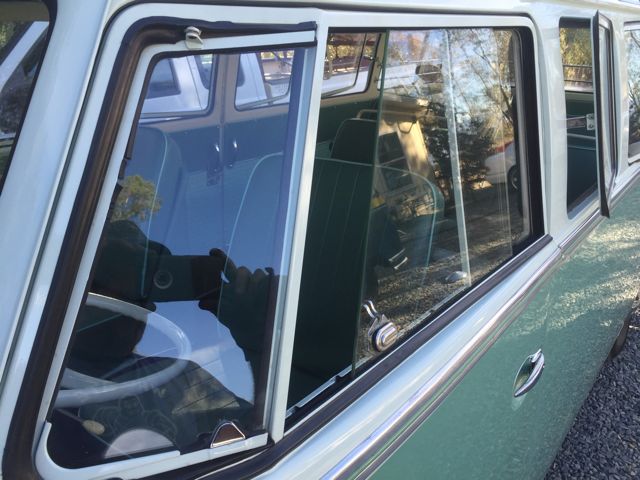 All window rubber and felts look fantastic.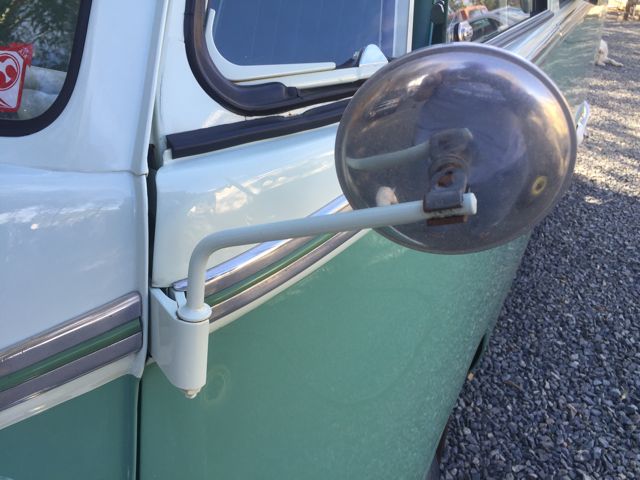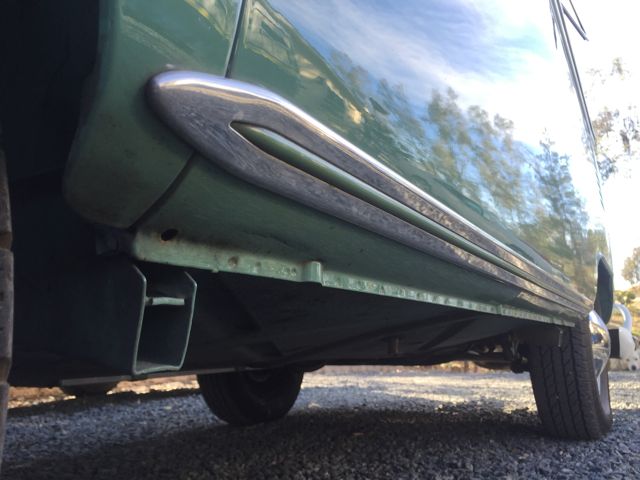 Look how perfect the lower seam is with all the proper spot weld dimples.
Lower trim is in amazing shape as well.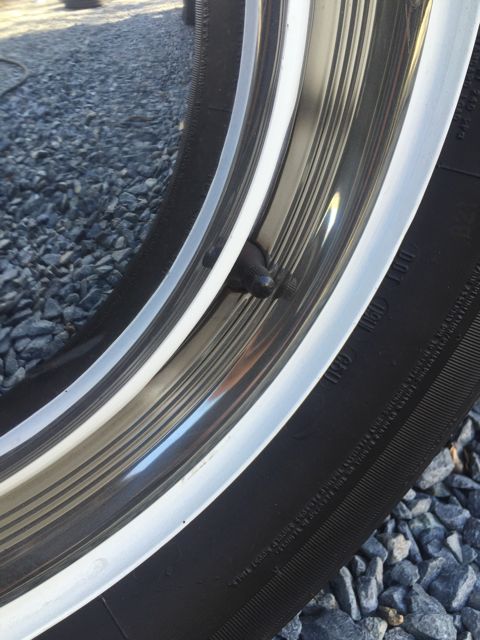 The grooved stainless wheel trim rings are fantastic.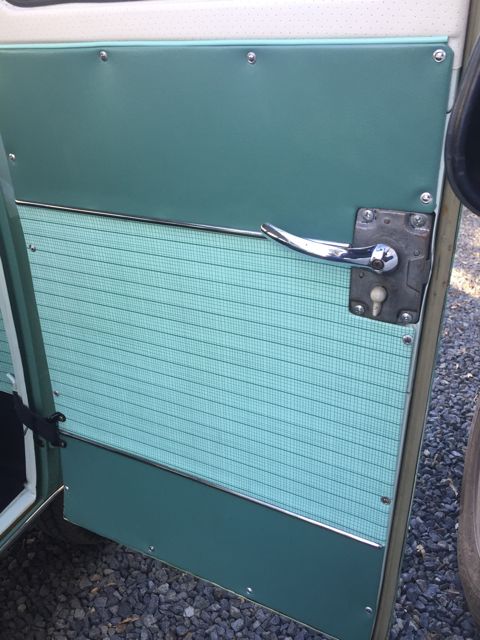 Door panels are all like new and are in the correct materials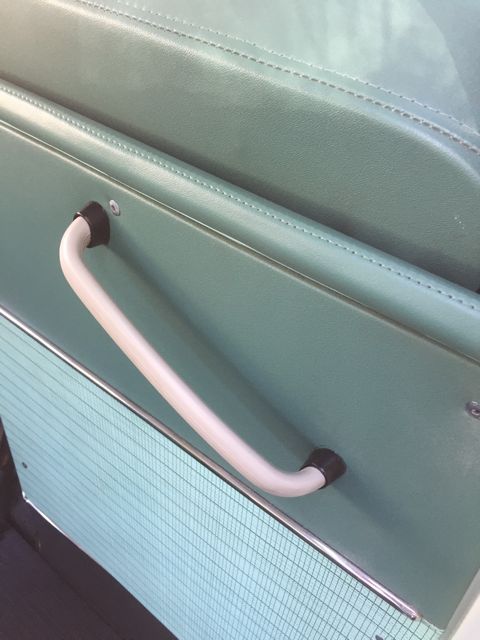 Fit of the material around the seat stands is fantastic...nice straight seams.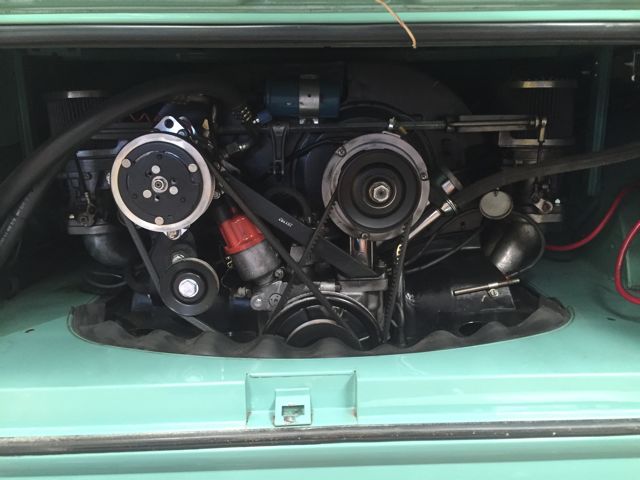 Out back the magic continues with a mild performance engine that gives the Bus the horsepower that
it needs to keep up in the real world. This is not a Bus that traffic will pile up behind as you go up a hill!
Plenty of power and proper gearing.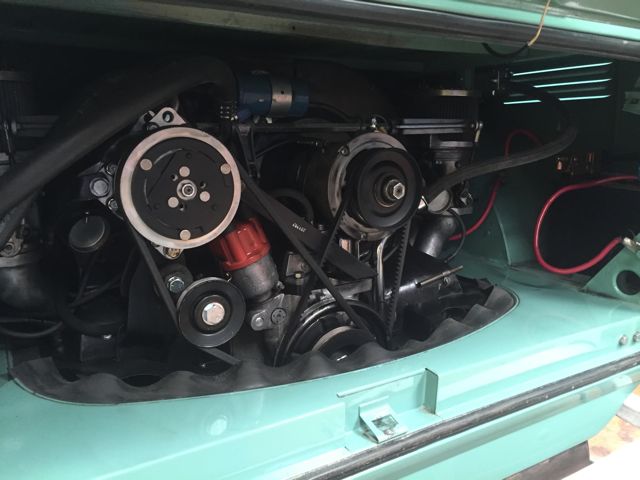 The engine has less than 20k miles on it since being built and it is a fantastic runner.
Horsepower increase over stock engine is about double!
I feel that this is probably one of the biggest issues that owners face with actually using these vehicles
in today's traffic...there are even bumper stickers out there that say "Never get stuck behind a VW Bus!"
They are old and slow...which is charming in its own way, but being able to actually pull the big hills
at speed and not annoy all those behind you is a real treat.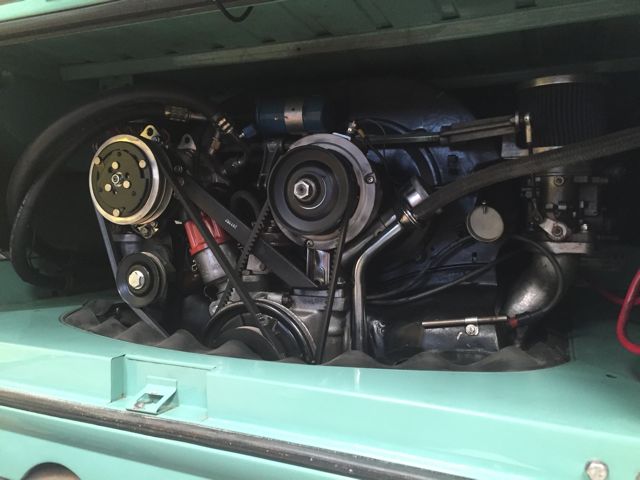 12 volt electrics with alternator.
Weber 44 carbs on matched manifolds with firm hex bar linkage.
Extra oil capacity and cooling over the original.
The Bus runs smooth and strong and is a delight to drive.
The A/C compressor is all modern age technology.
Very efficient and a low draw on the engine and electrical system.
Massive improvements over the old dealer installed systems from back in the day.
This works and works well...plus the install is pure magic.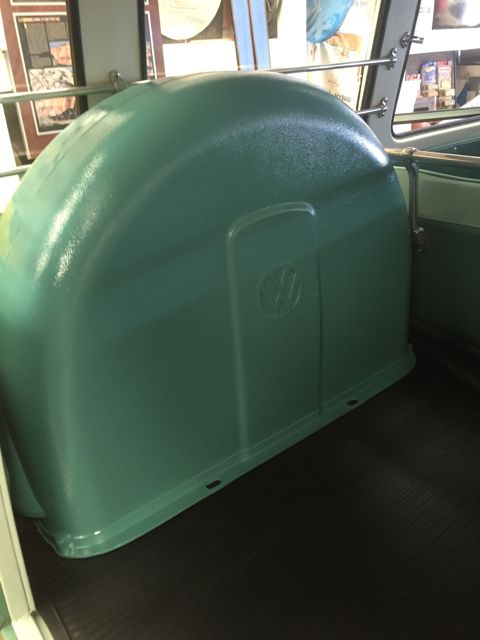 Color matched spare tire cover.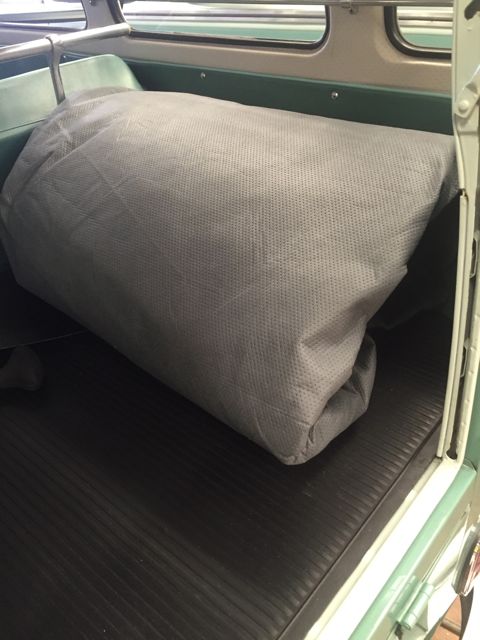 Custom car cover included.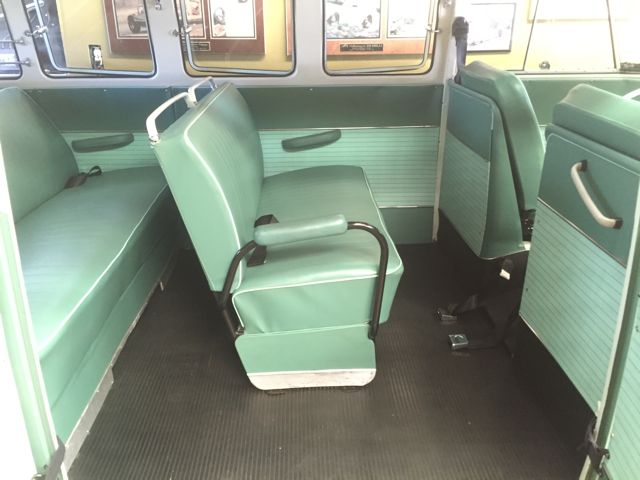 Lots of room for family and friends!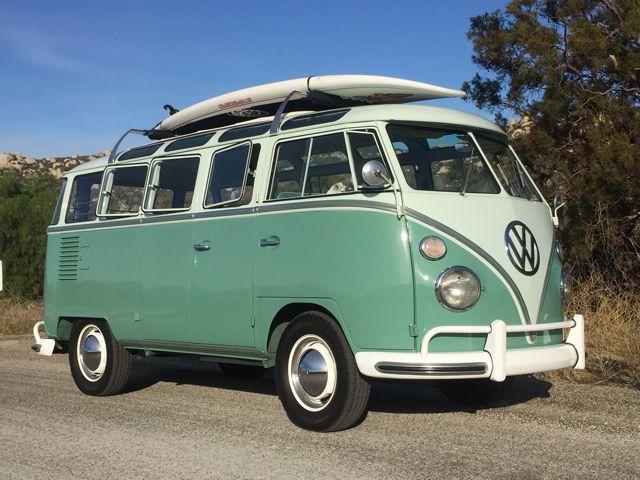 In closing this is a great Bus.
Well built and restored. Extremely tasteful and enjoyable upgrades.
The best of both worlds with the classic style completely as it should be
and unique upgrades that make it a very special find indeed!
Asking
$135,000 obo
---
For More Info...CALL
951 767 1600
or email
oldbug@earthlink.net
---