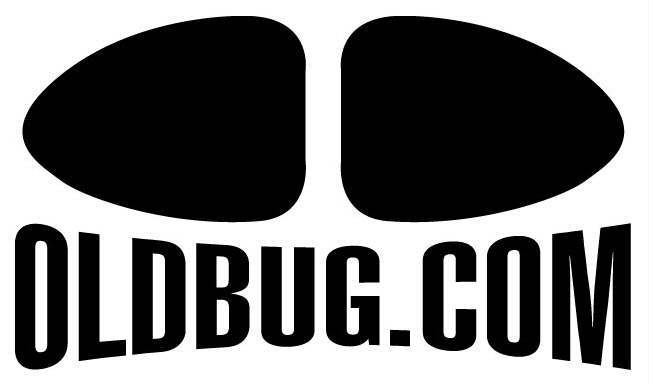 1963 VW Manx Style Dune Buggy
---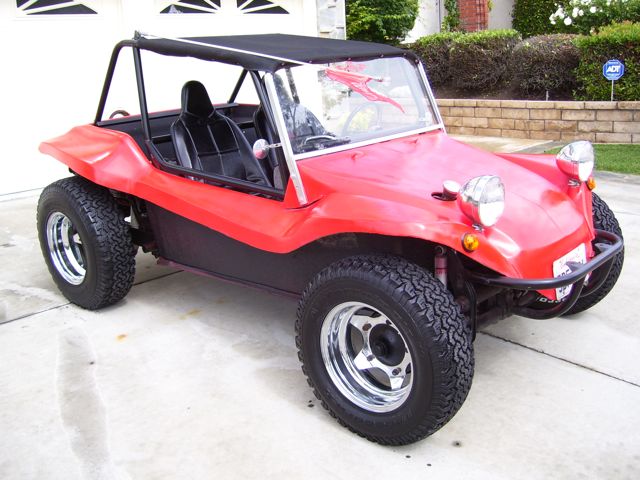 This Southern California based 63 dual purpose Buggy is a great little ride.
A lot of work dont to it just recently including a rebuilt engine less than 500 miles ago!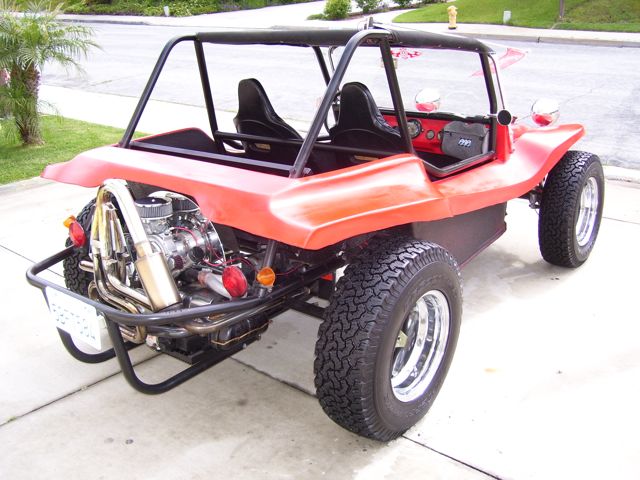 Its a very fun machine...streetable and off-roadable...really a blast!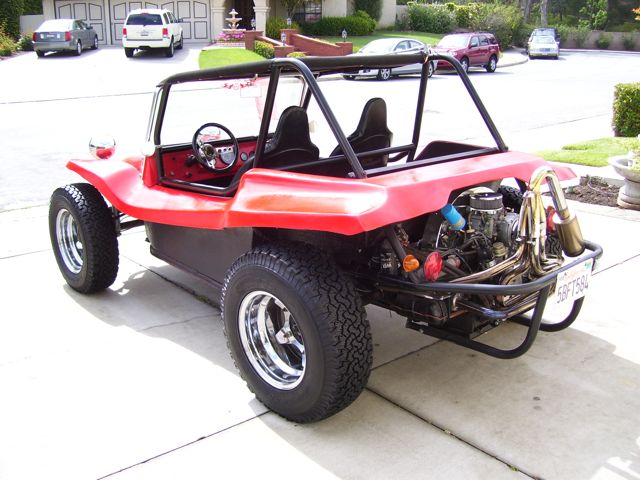 This one is built for go...not for show, but it is still quite clean.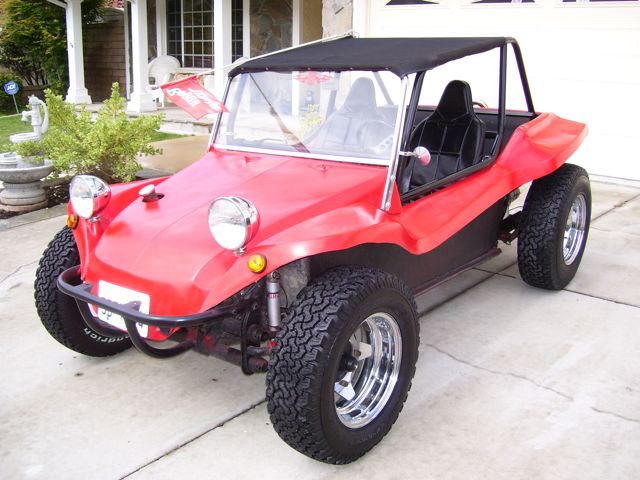 The paint is not phenomenal but the color is right!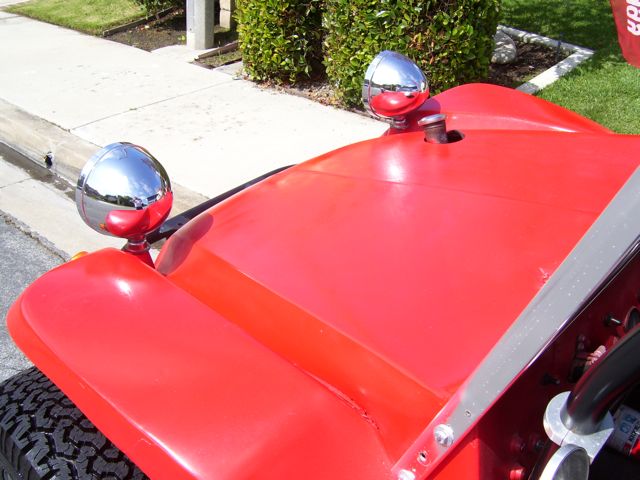 The finish is not overly glossy, but the bright chrome and trim catch your eye.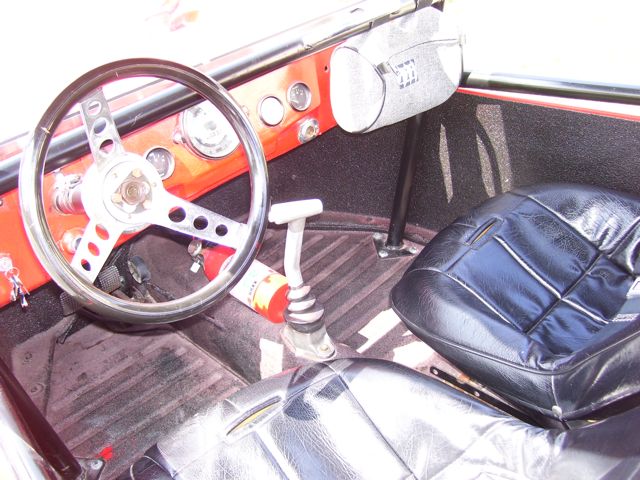 The interior is basic with a Rhino Lining coating inside that is super durable.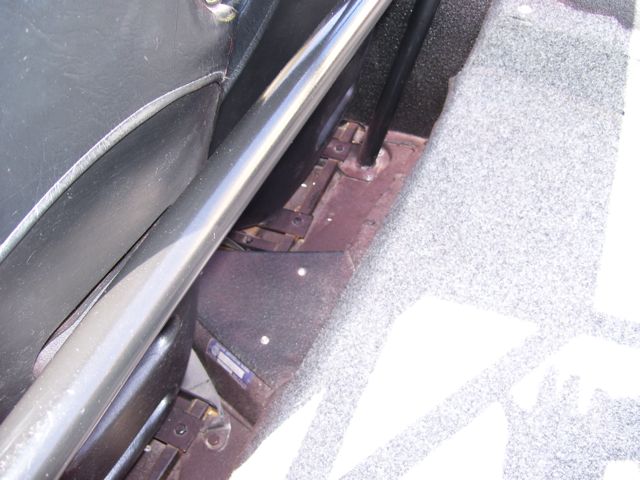 The chassis is solid and the car is well built.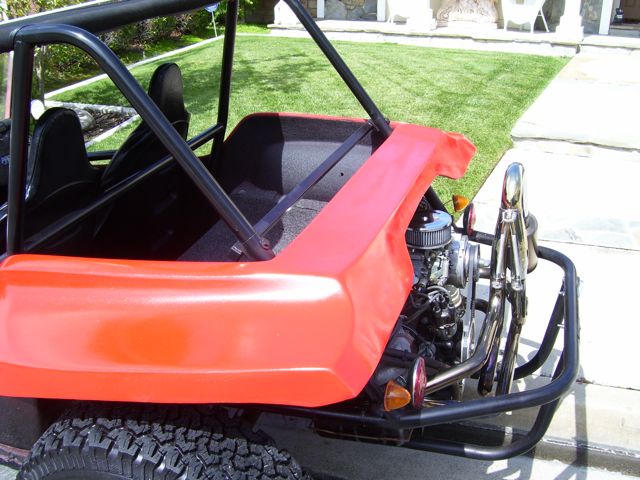 The exhaust is a Tri-Mill with a Camco SST slip on muffler.
The 1600cc engine is very fresh.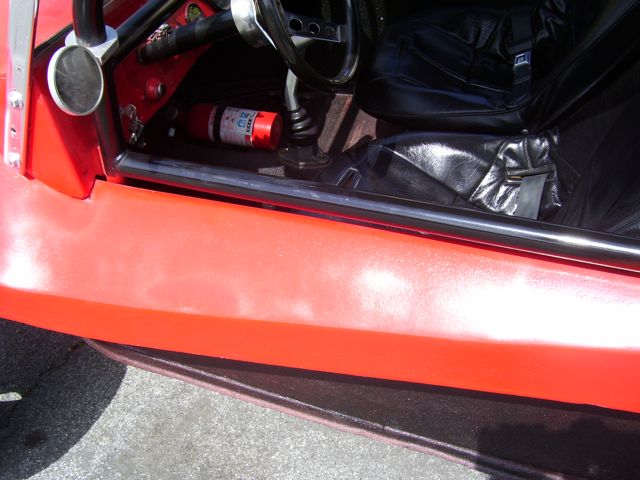 The buggy has a very well built full roll cage in it that is quite impressive.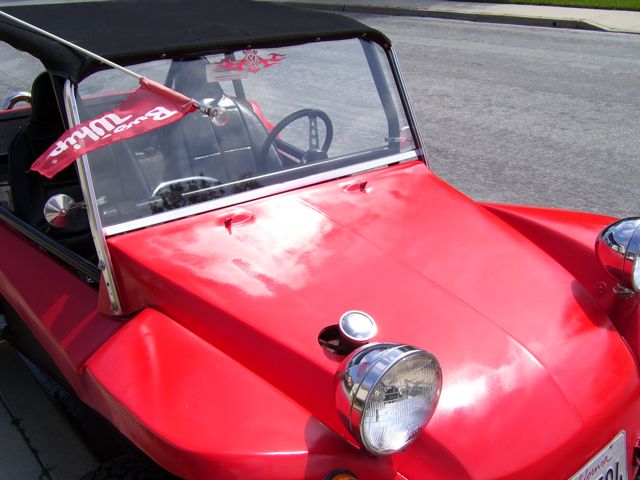 Custom canvas top...it has a Buggy Whip with flag that is a must-have for tromping through the dunes.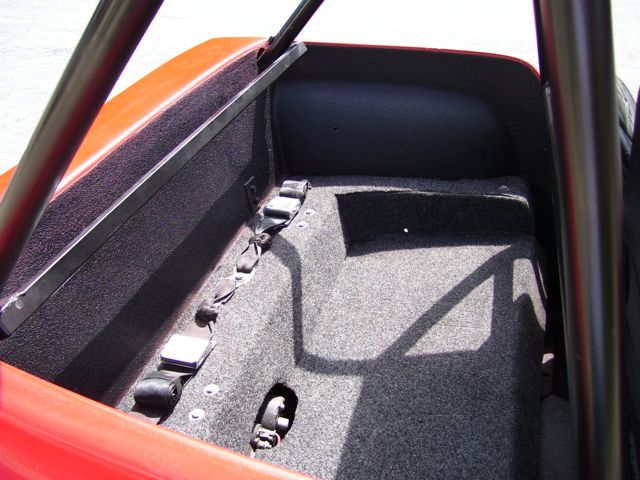 Rear area has a bit of carpet and there are seat belts in the back as well.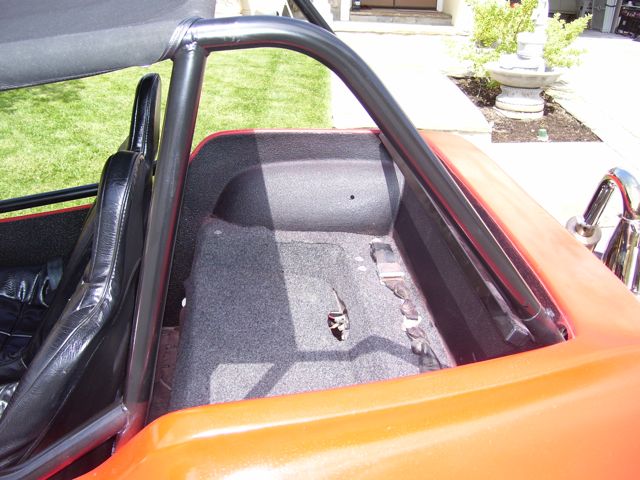 The cage is really nice and stout.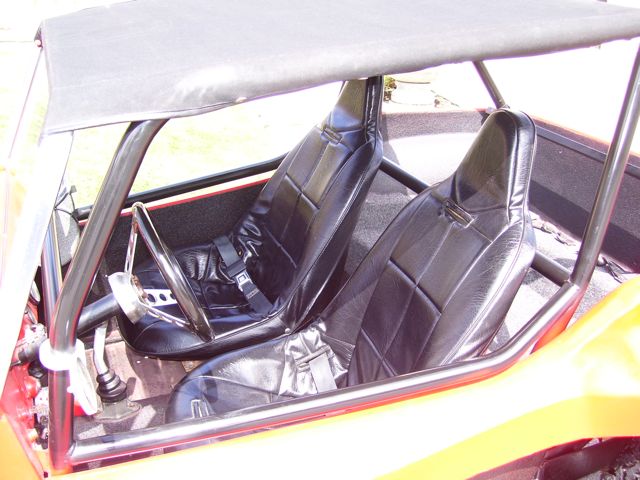 The high back buggy seats have nice covers on them.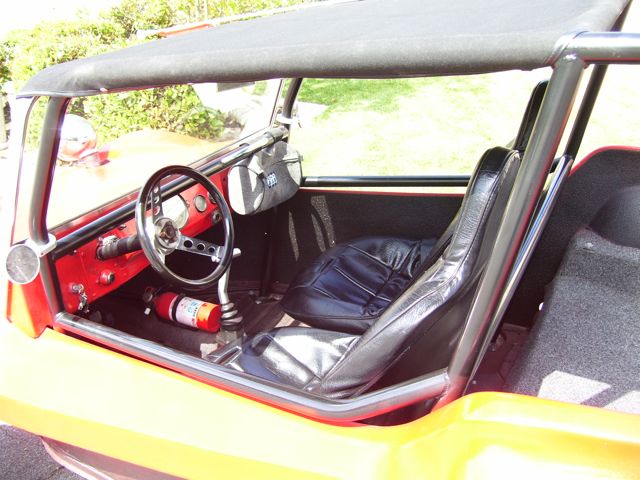 I like the roll bar clap style mirror and the "glove box" bag on the dash.
Nice to see a fire extinguisher in there for safety.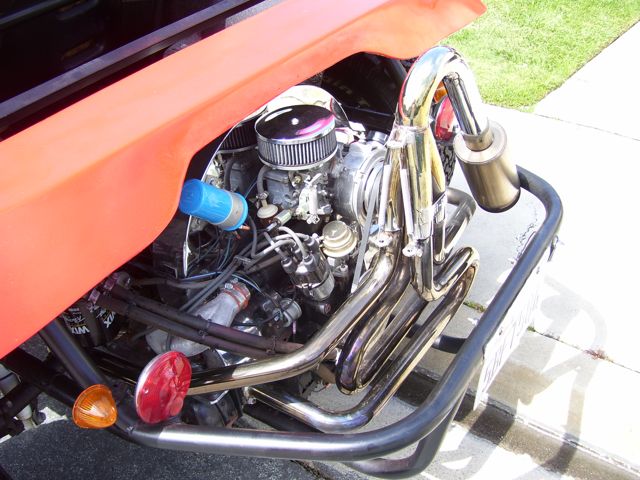 The wiring is all new on the buggy and there is a new Odessy battery.
New chrome dog house fan shround and Scat oil sump.
The clutch is new as well.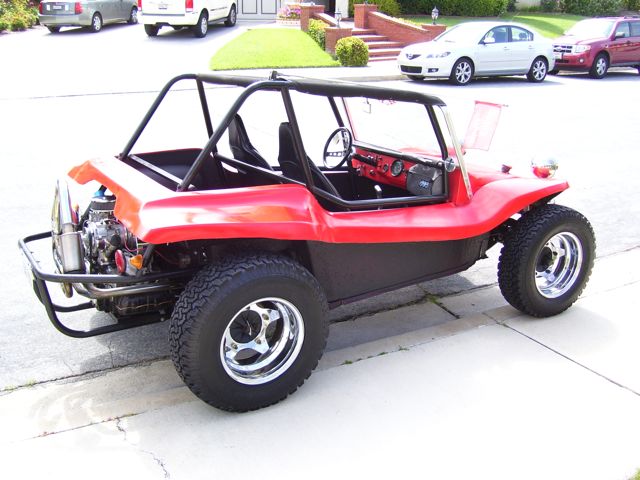 BF Goodrich All Terrain tires on all four corners with about 90% tread remaining.
The chrome wheels look great.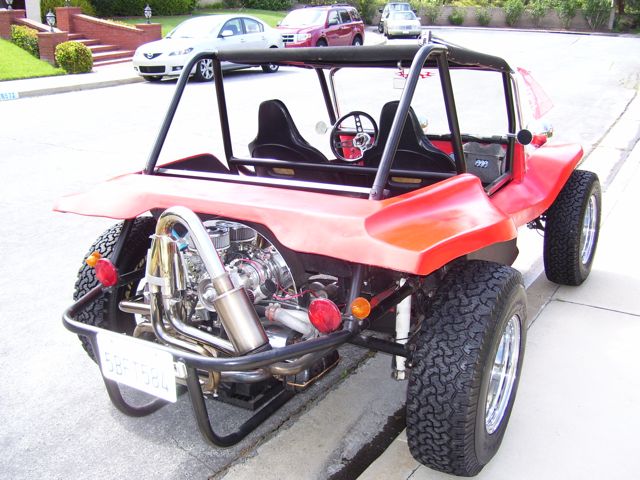 The car has a clean California title and is currently registered and insured.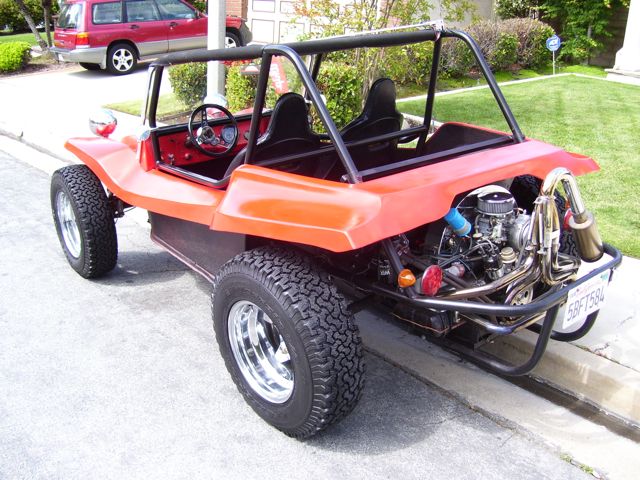 A heck of a lot of fun!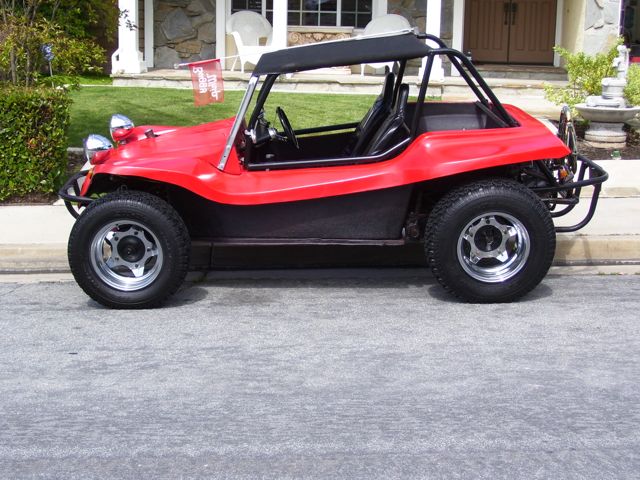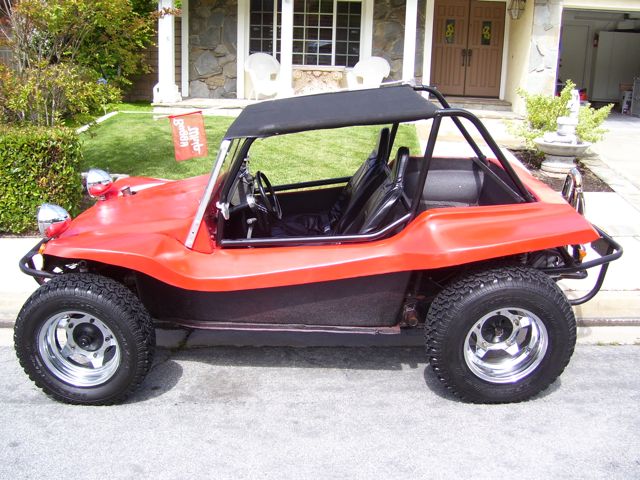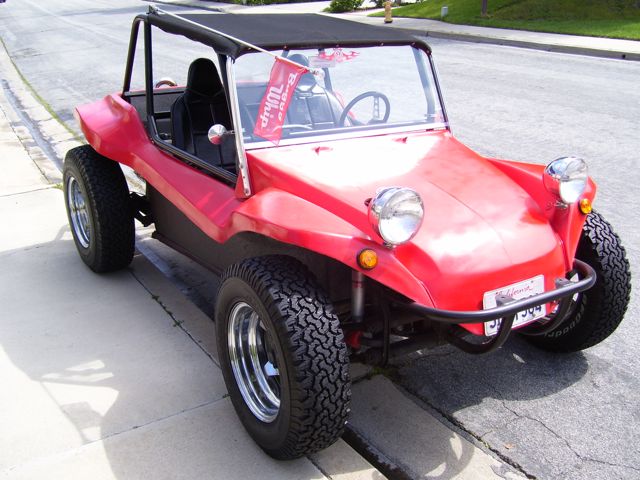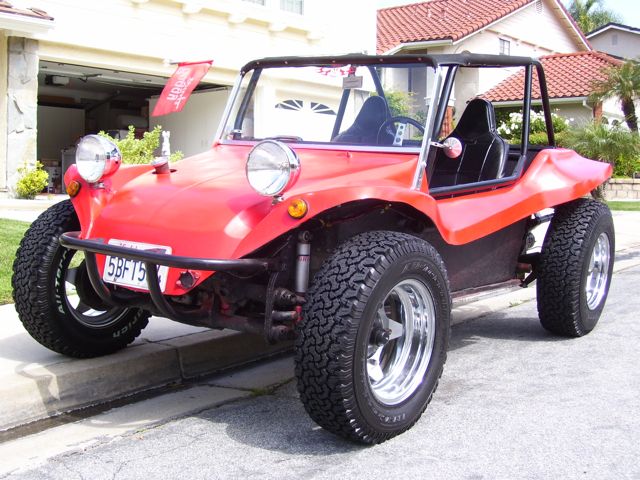 The seller has a custom tow bar for the front that is included in the sale...just hitch it up to your truck and aim for the hills!
And since it is street legal, you can drive it anywhere!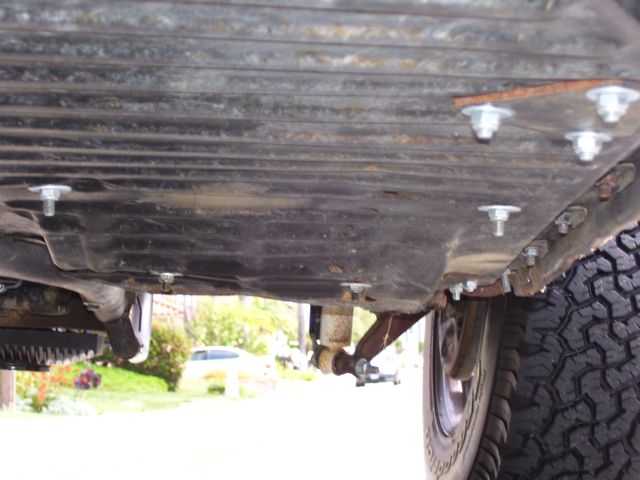 The floorpan looks OK.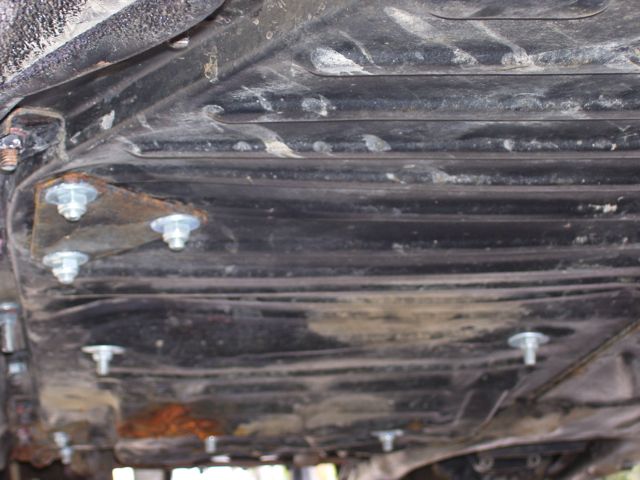 I do see what looks like a little rust in the back edge here...but I dont think it is terminal.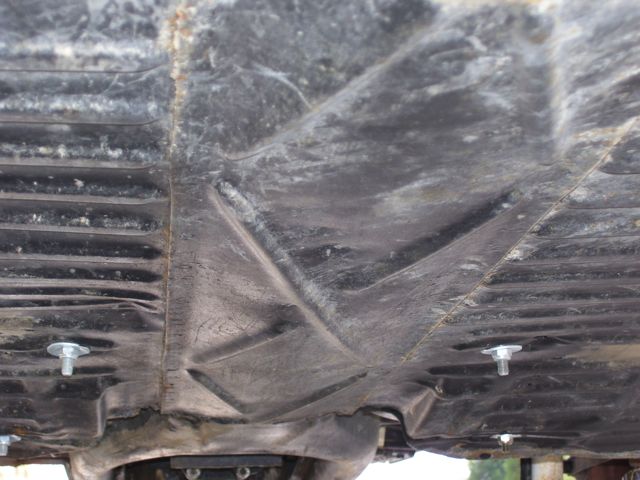 Center tunnel is sound.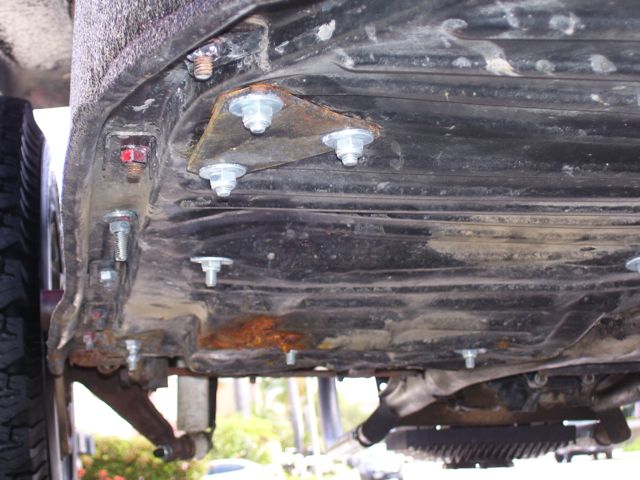 Just looks like surface rust here...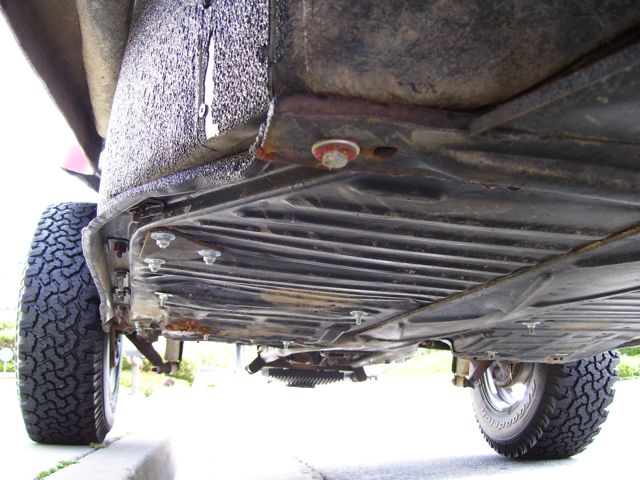 Nice up front.
The sides have been Rhino lined.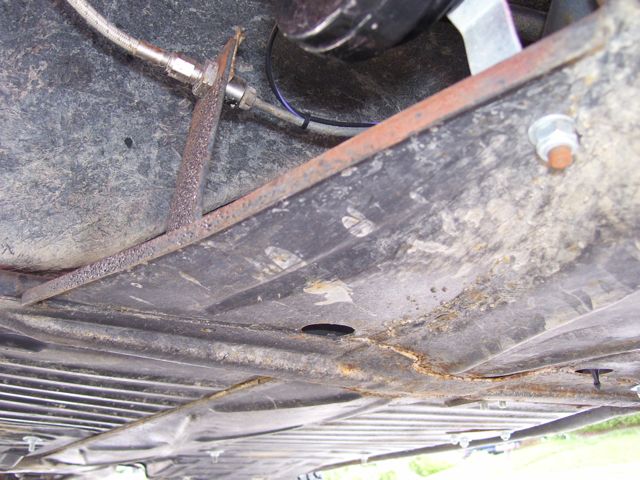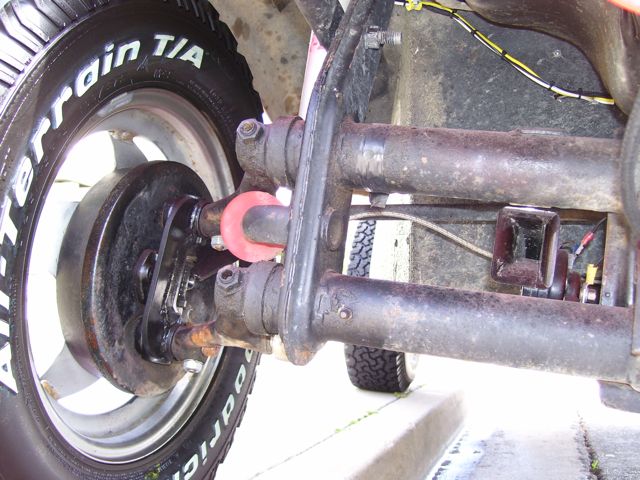 Beefy spindles, stock drum brakes all the way around.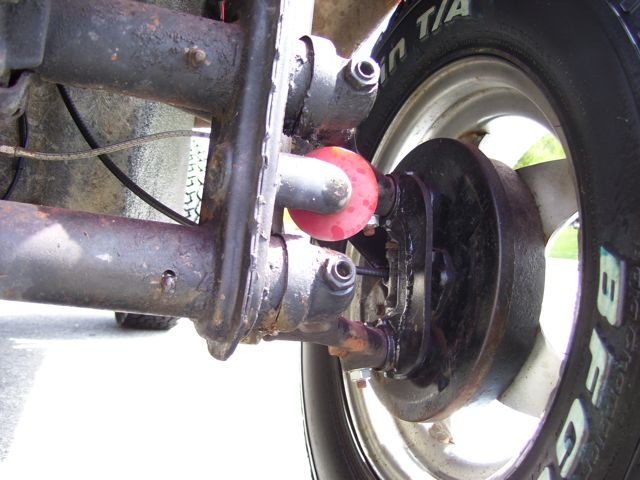 Clean...no big grease build up or mess under here,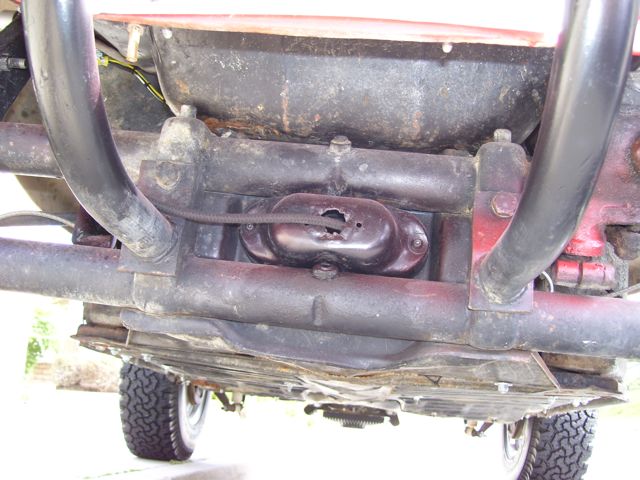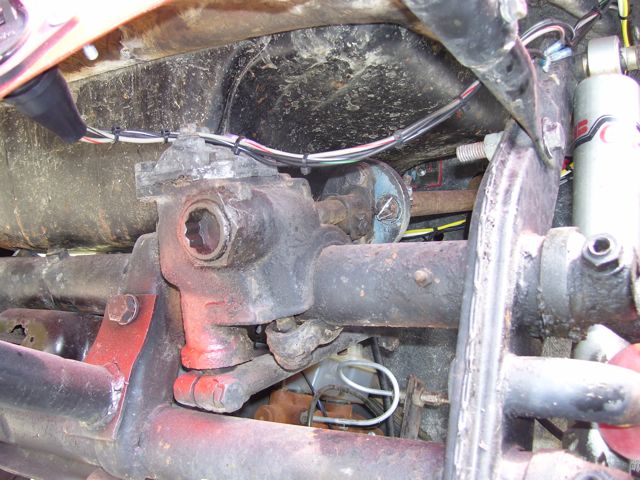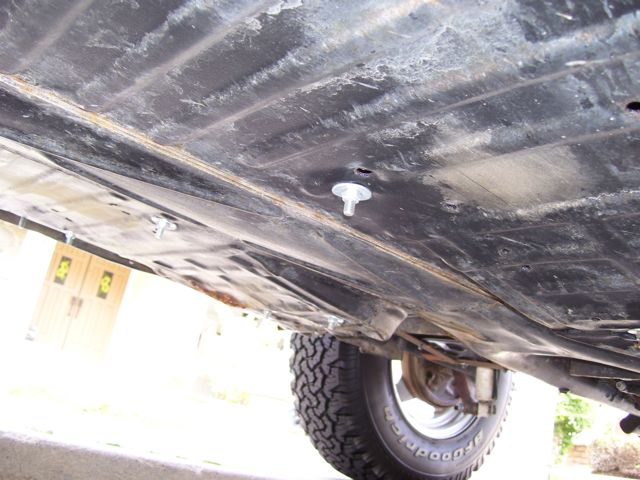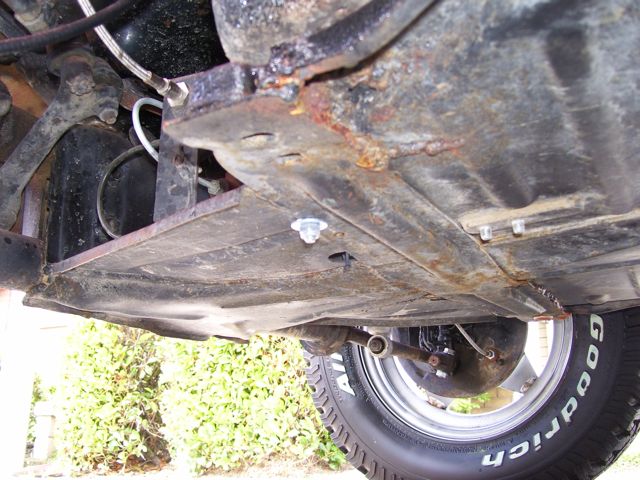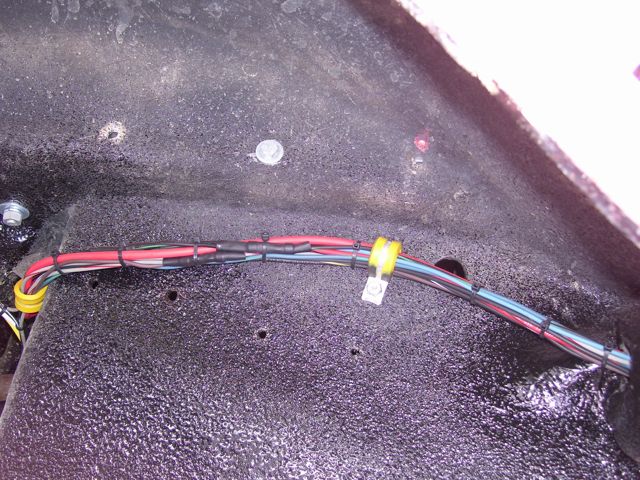 New wiring harness from end to end.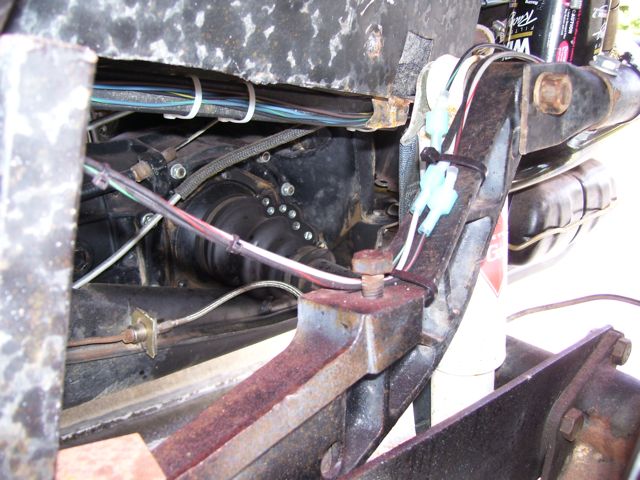 Looks like recent axle boots.
Owner states that the transmission was recently serviced.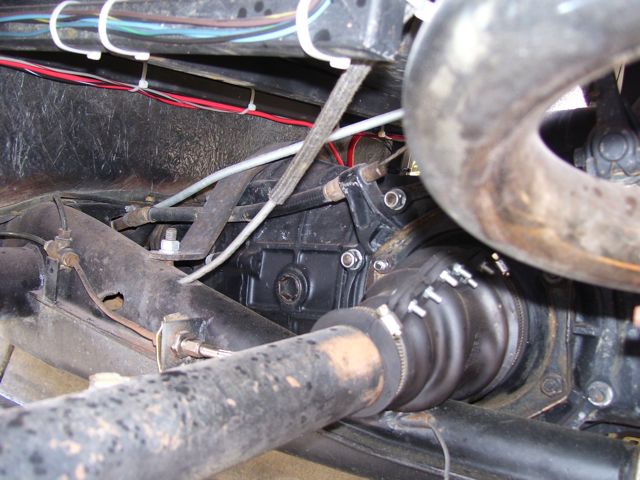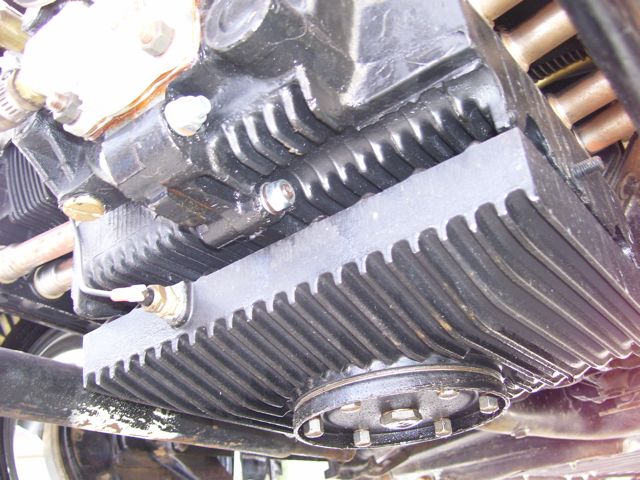 Nice deep oil sump.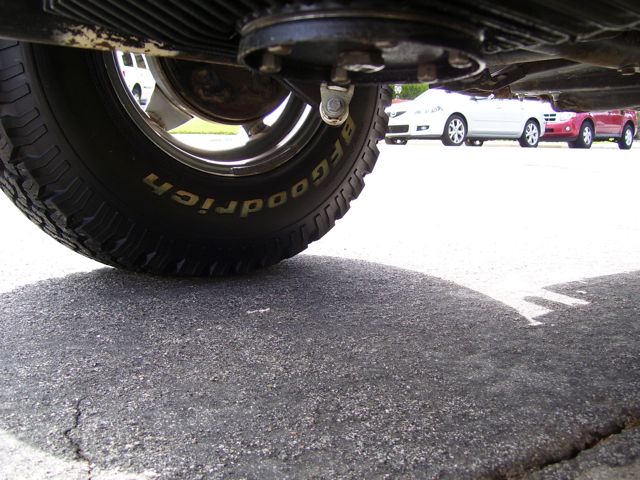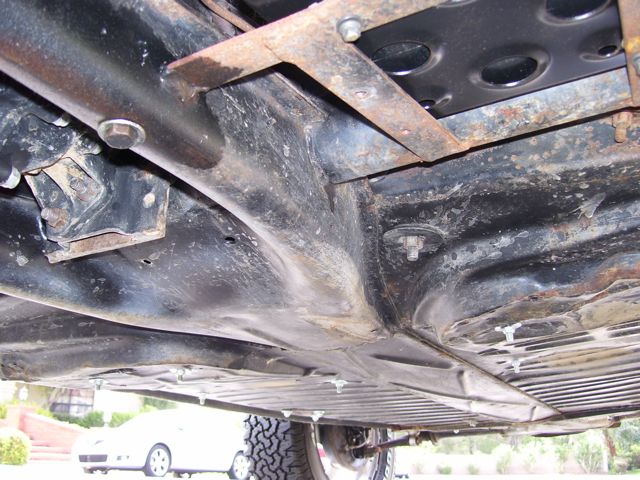 The back edge of the pan looks solid in these photos...just a little banged up from off roading.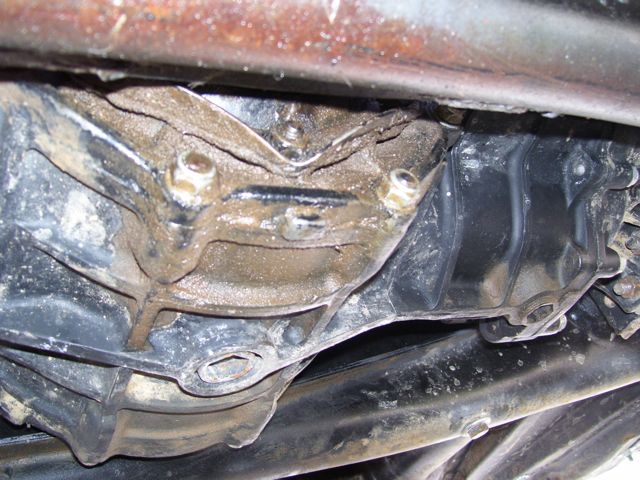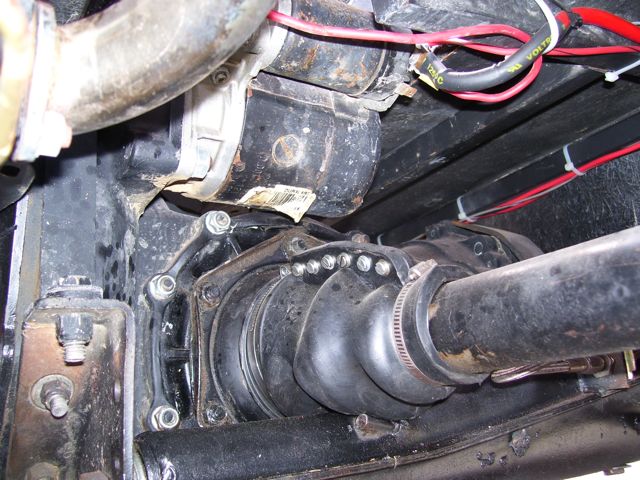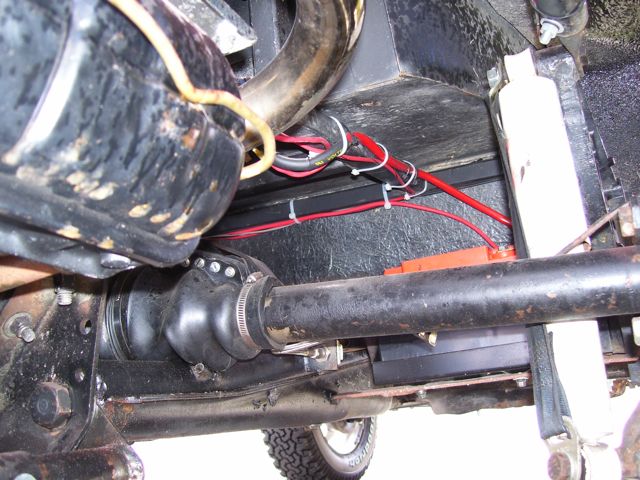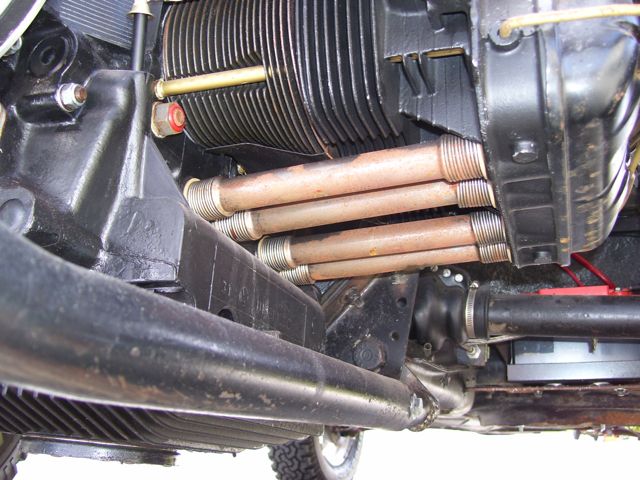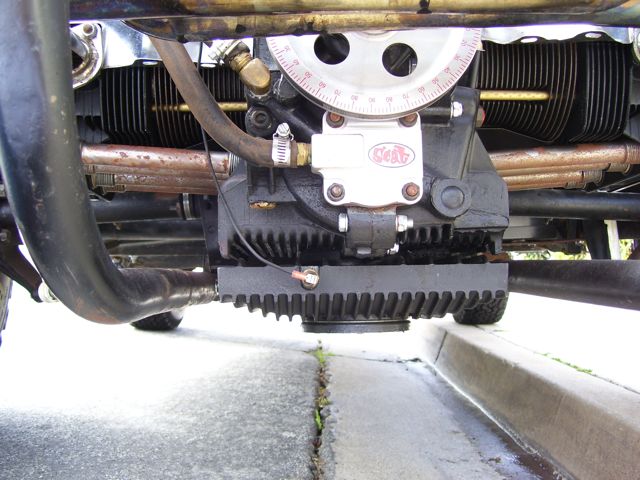 Scat high volume oil pump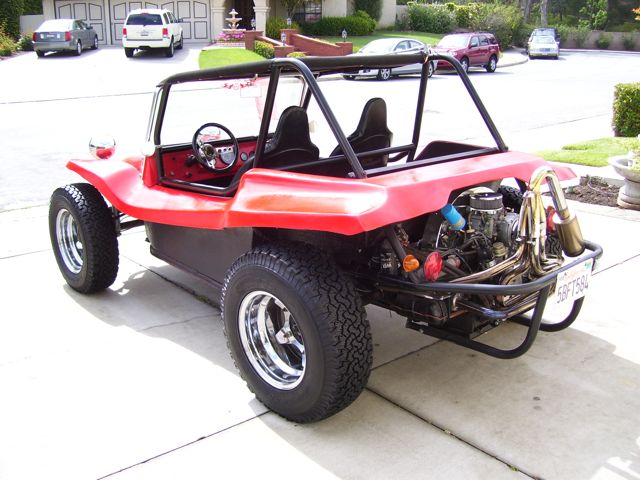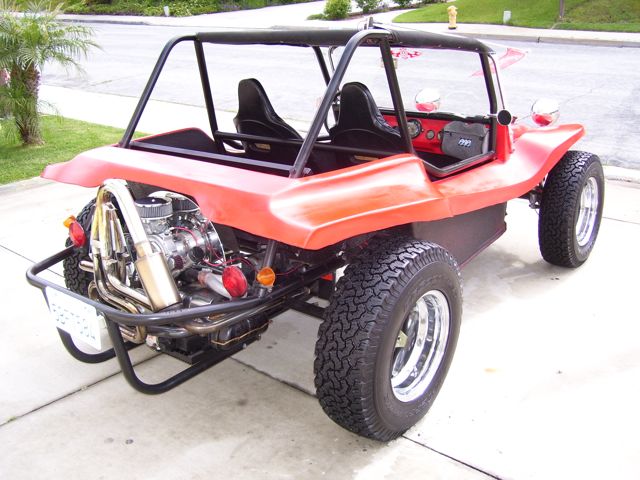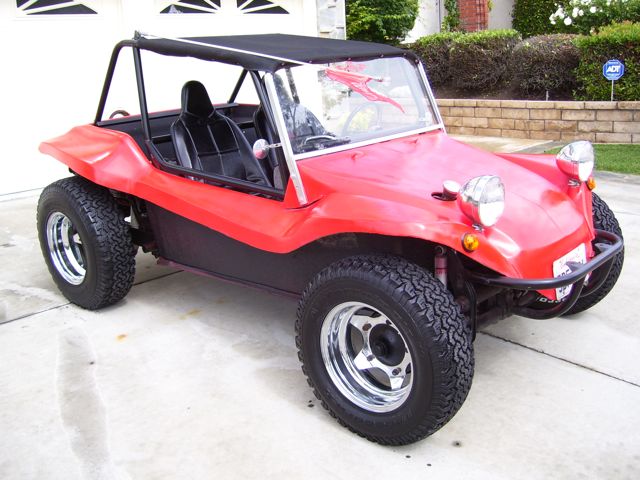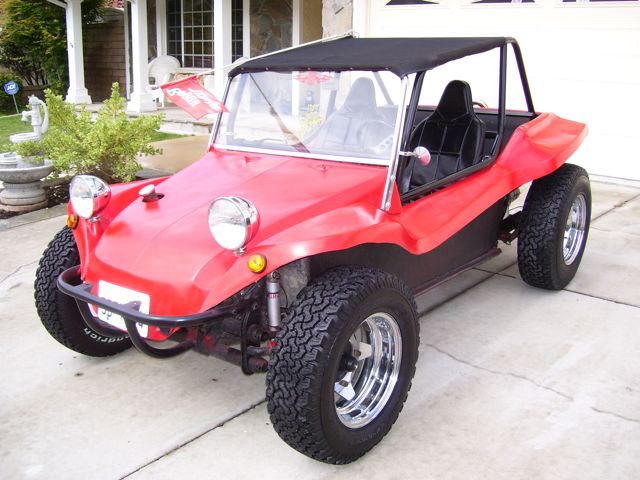 Good looking rig.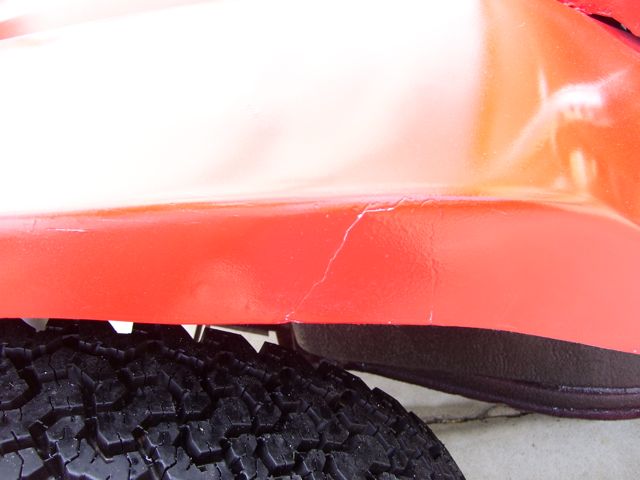 Now when you get up super close you can see the flaws in the paint.
Little stuff like this...it has had a quickie spray and that is OK.
If you plan to take this Buggy out and have some serious fun in the dirt you certainly
dont want to have to worry about scratching it up.
With a finish like this you dont have to worry too much about it.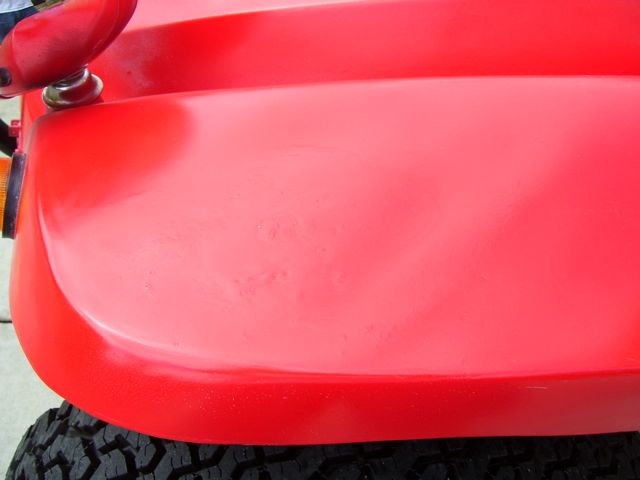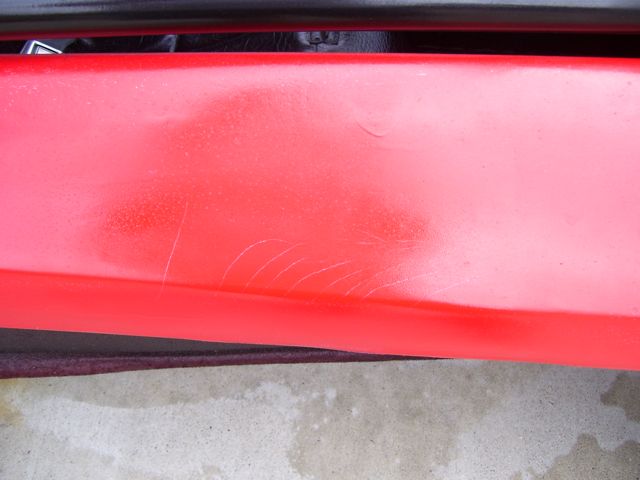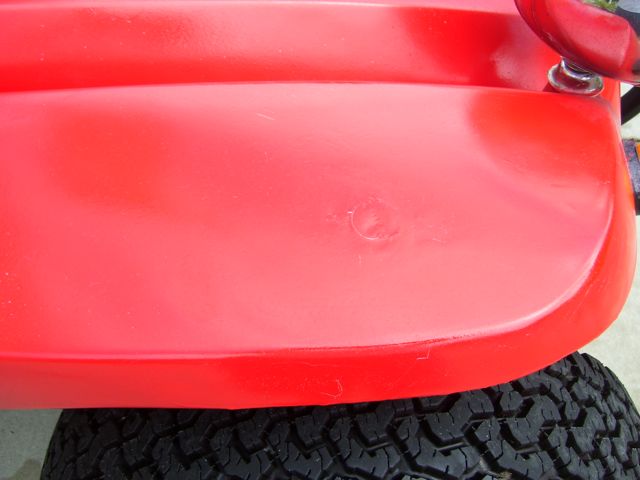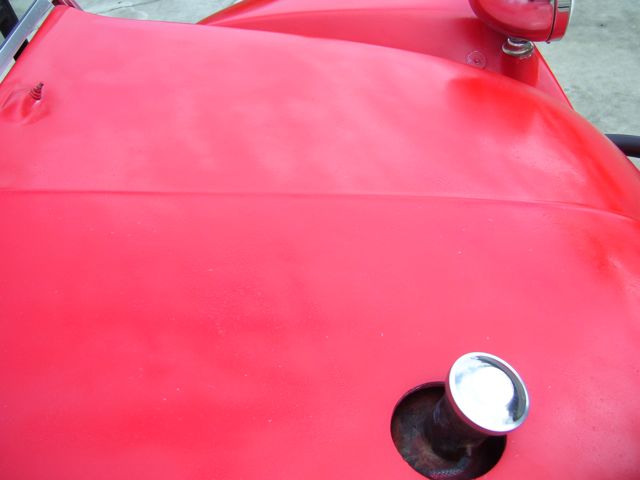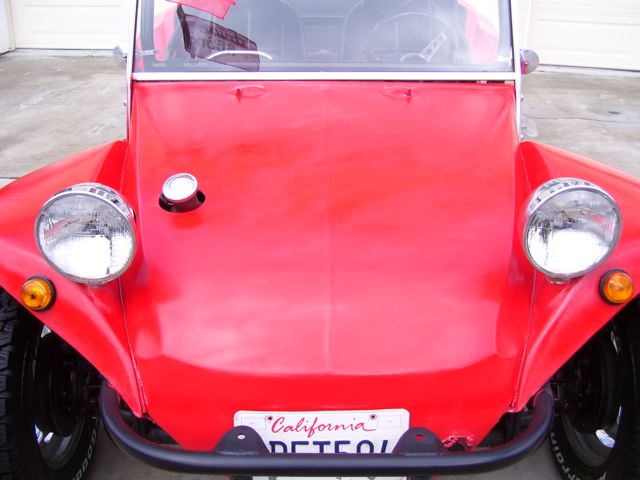 The front bumper has mounting tabs for off road lights.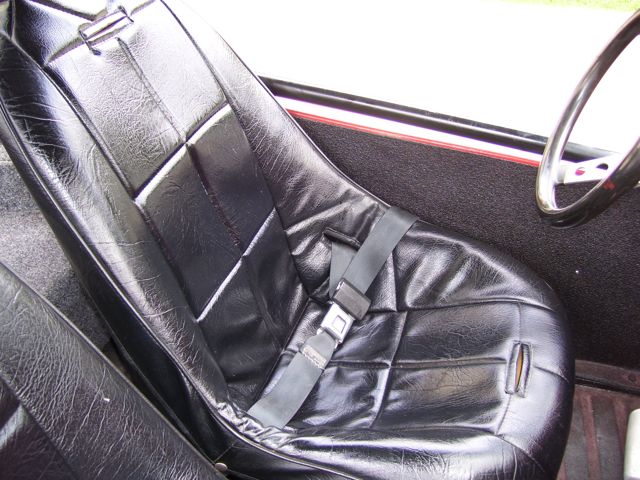 Seat covers are very nice.
Standard lap belts up front.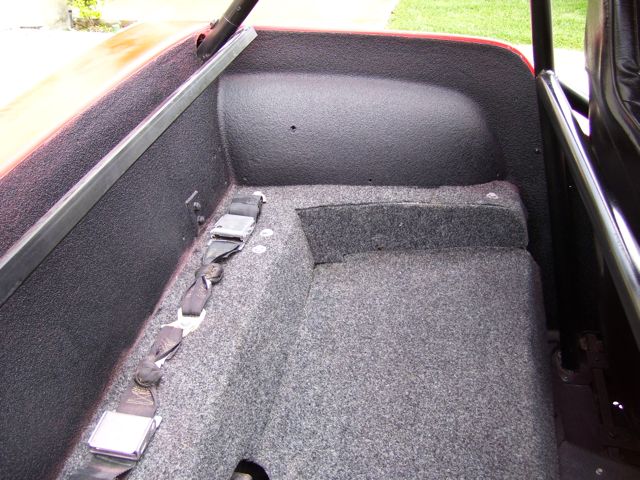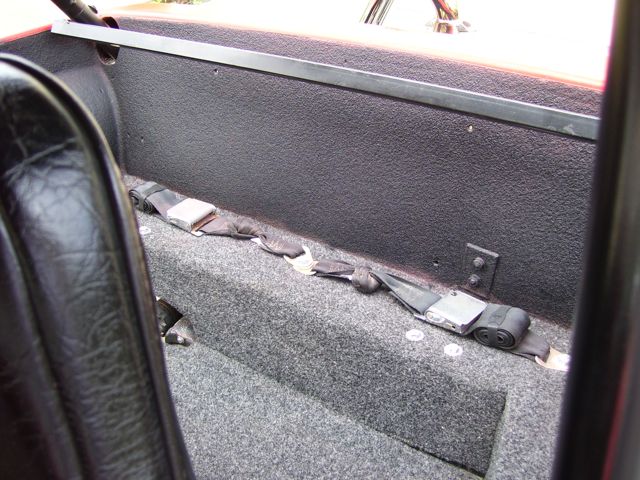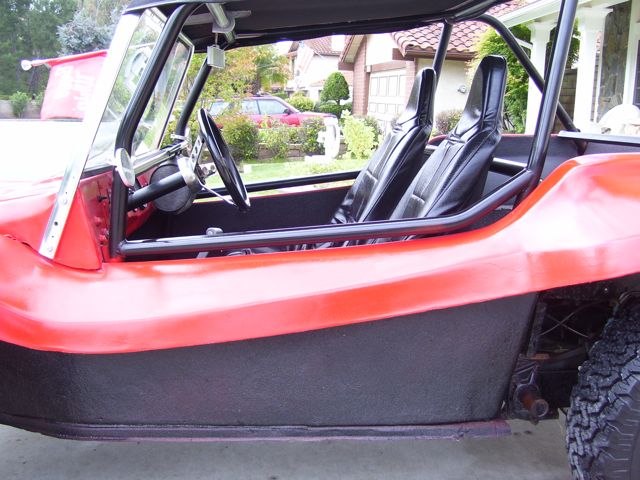 Here you can see the roll cage pretty clearly...nice to have this sort of protection out on the road or trail.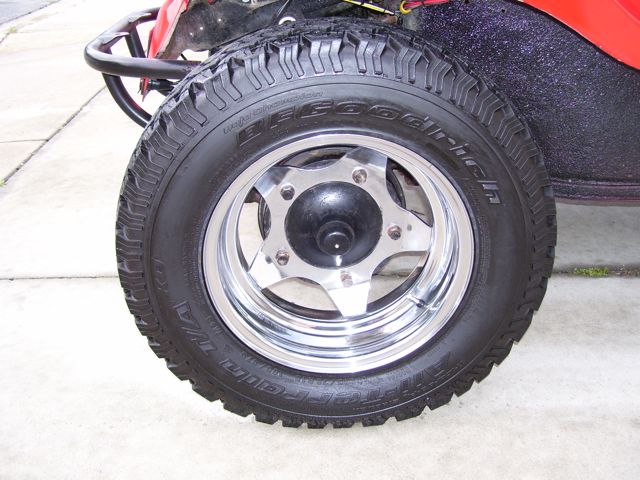 Tires are excellent.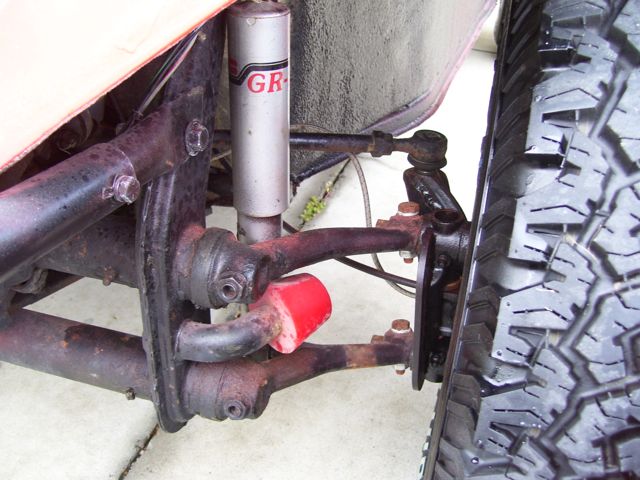 KYB GR-2 shocks.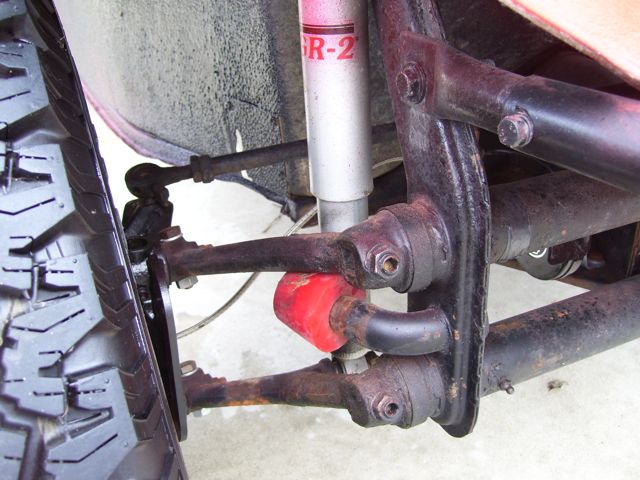 Urethane snubbers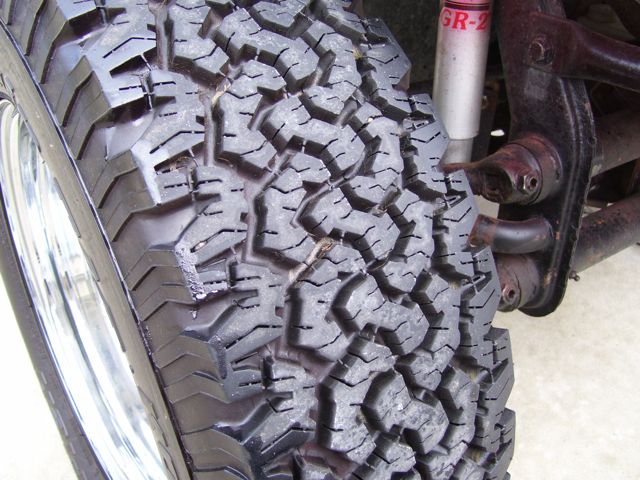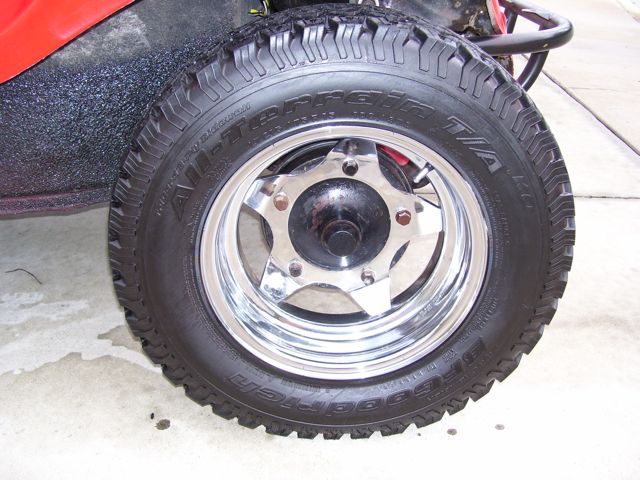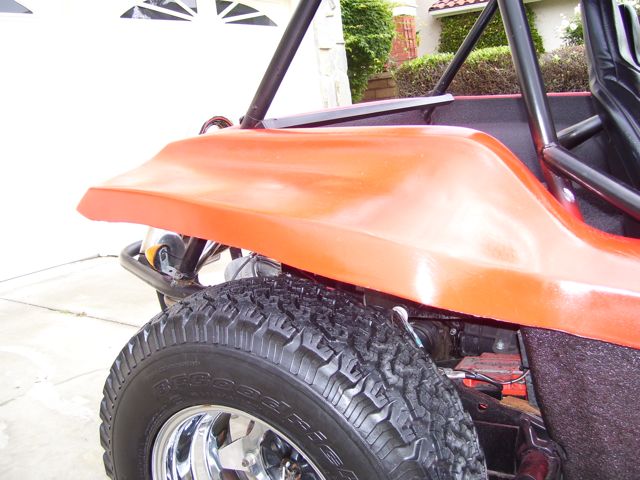 Nice clearance fender wise.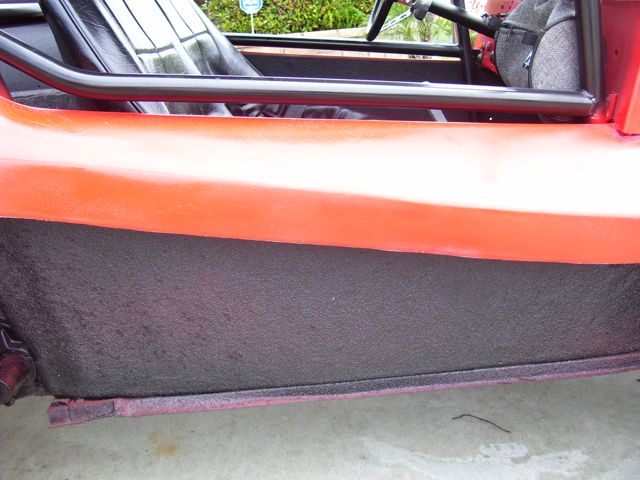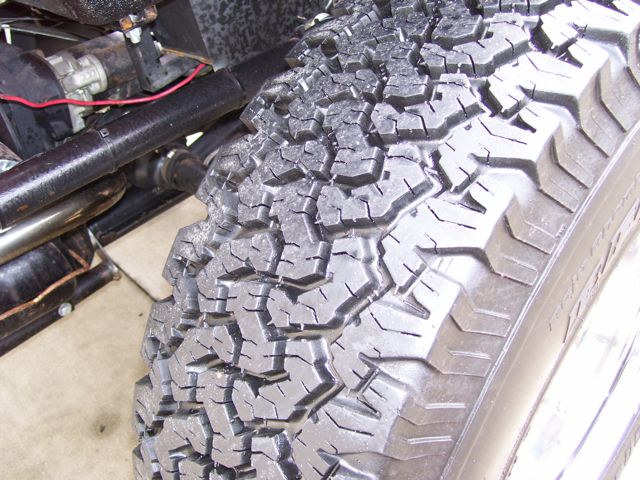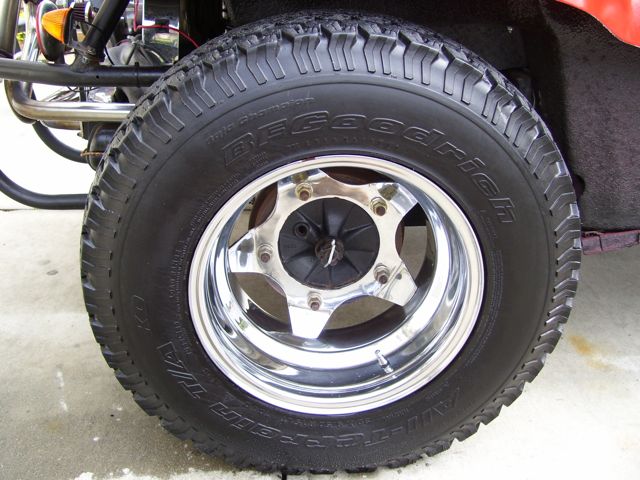 Wheel studs and nuts in back...standard lug bolts up front.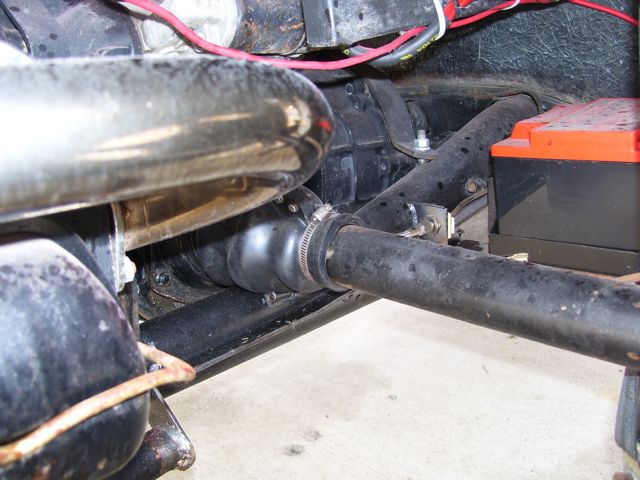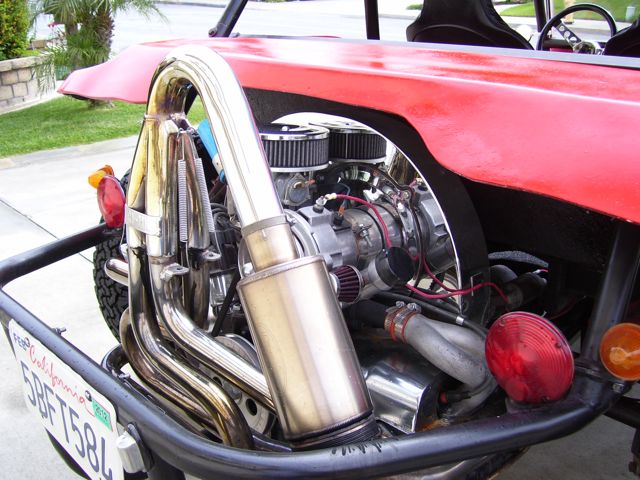 Nice exhaust and lots of chrome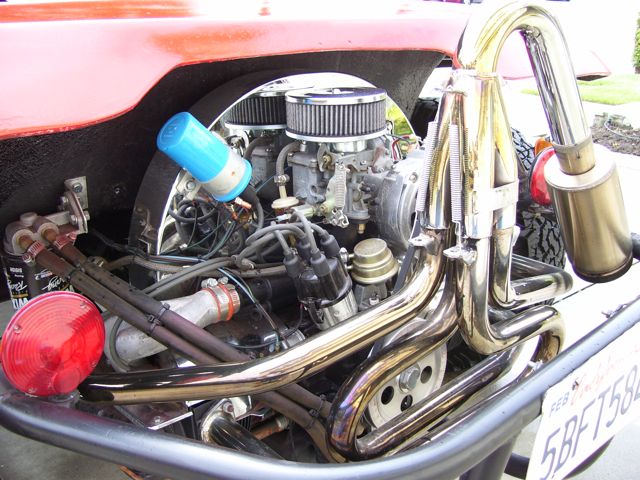 Dual port 1600. 12 volt electrics.
Remote oil filter.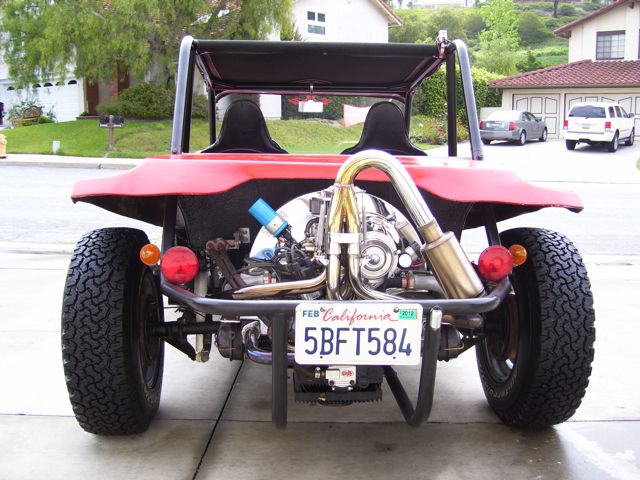 Lighting is all legal with functional signals and plate light.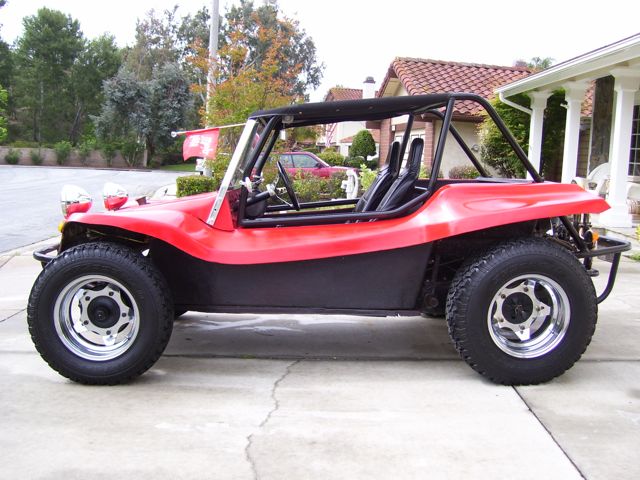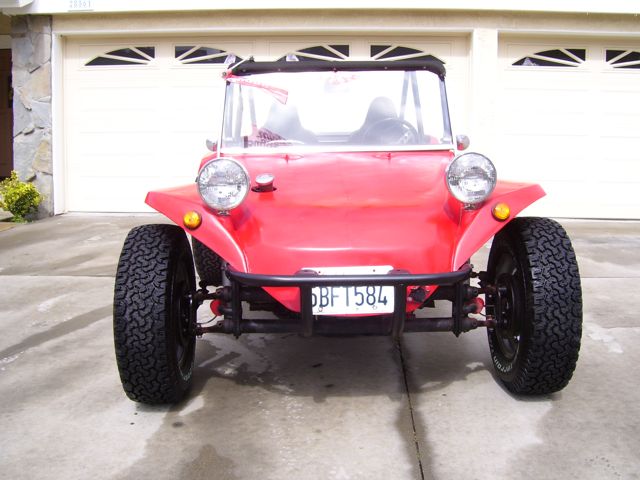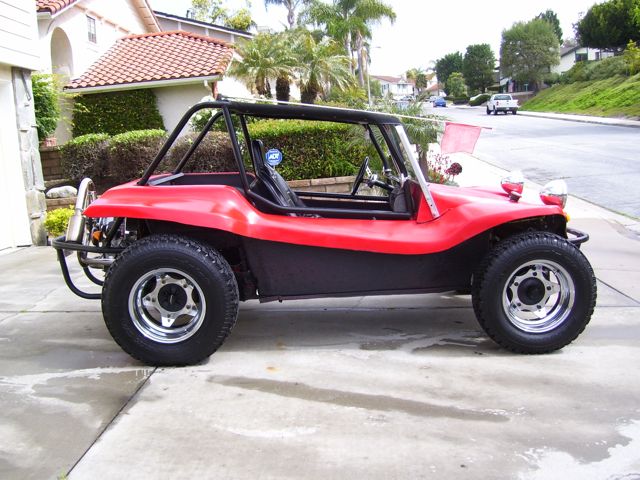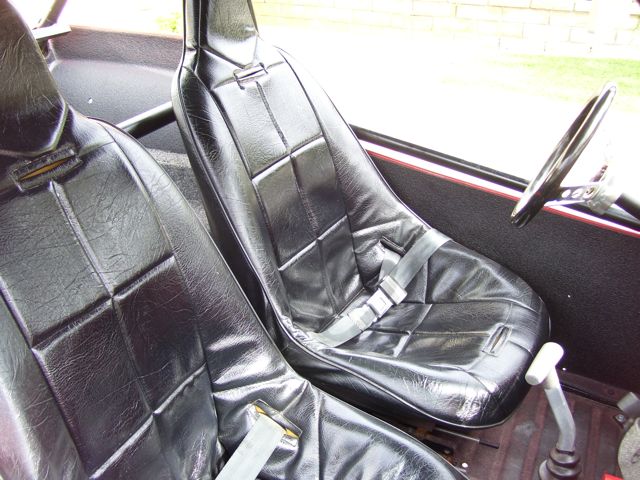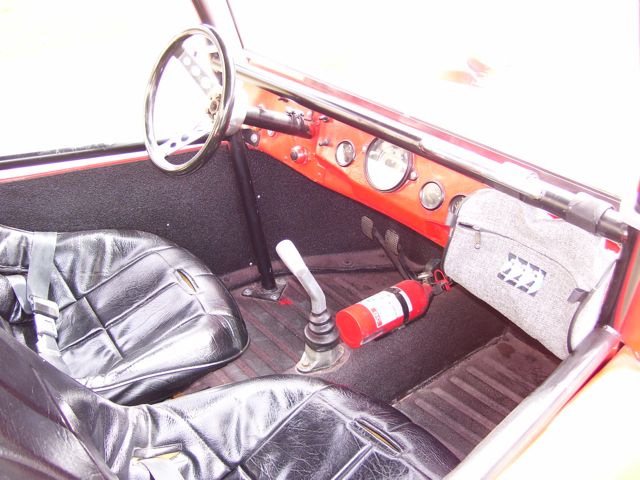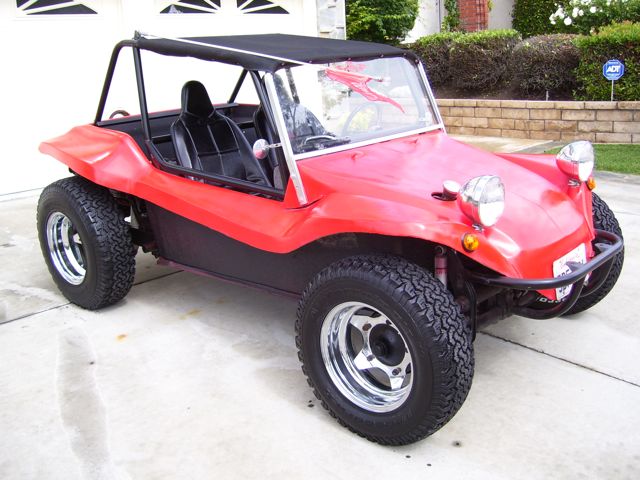 In closing this is a neat little car.
Ready for a lot of fun off road and on.
It has been very well sorted out by a well known and respected shop in So Cal
and it is a turn-key, ready to go machine at a reasonable price!
SOLD!

(Click here to see the other VWs For Sale)

---
For More Info...CALL
951-767-1600
or email
oldbug@earthlink.net
---