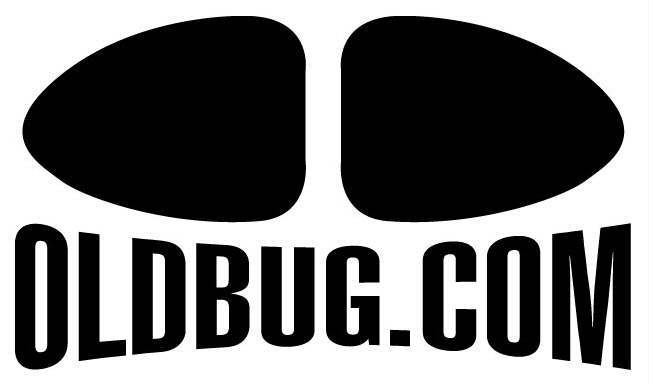 Introducing...the Dub-Box...the coolest travel trailer ever!
---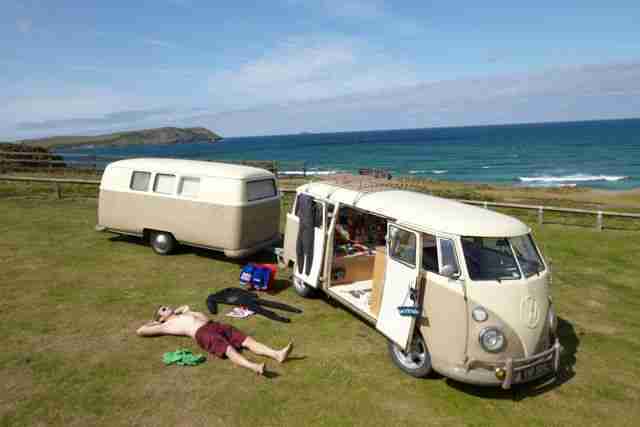 If you have ever done any camping in your VW Bus, you have experienced the desire for a little more space.
But the cool factor of driving a vintage vehicle makes it a challenge to "expand" without ruining the
whole look and feel of the experience. Plus...thse old VWs are not known to be the most powerful
vehicles on the planet and most trailers are pretty heavy... but now there is an option...the Dub-Box.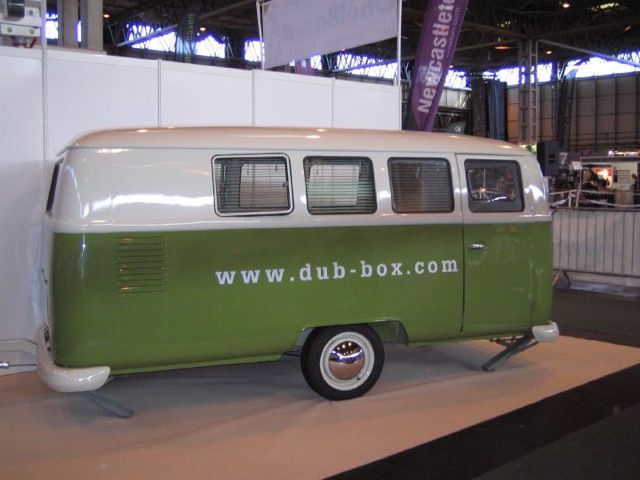 These first popped up in the UK a couple years ago and now a firm here in the US
is taking it on and will be building them in the good ol USA.
The construction is lightweight and obviously cool. They can be built to your specs
and painted to match your Bus. Camping versions as well as utility versions are available.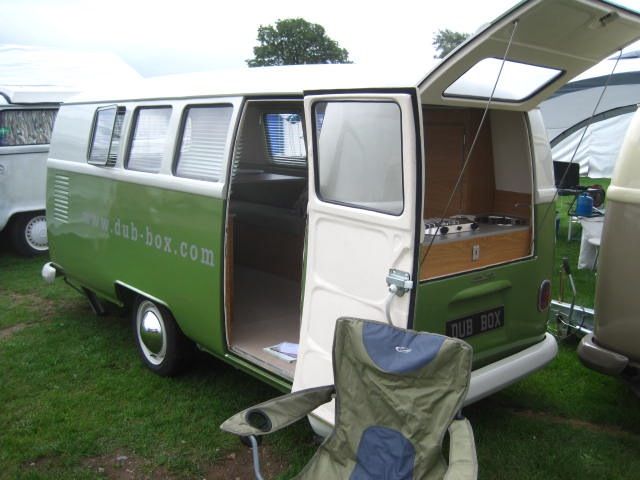 The body is lightweight fiberglass, the frame is steel...the design...fantastic.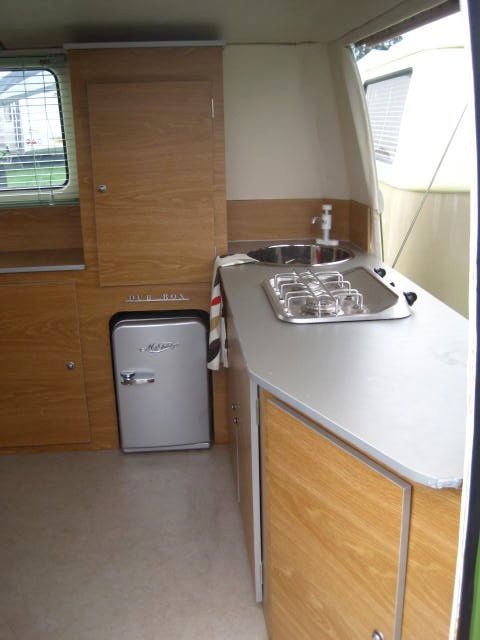 The camper version comes fully equipped and is wonderfully laid out.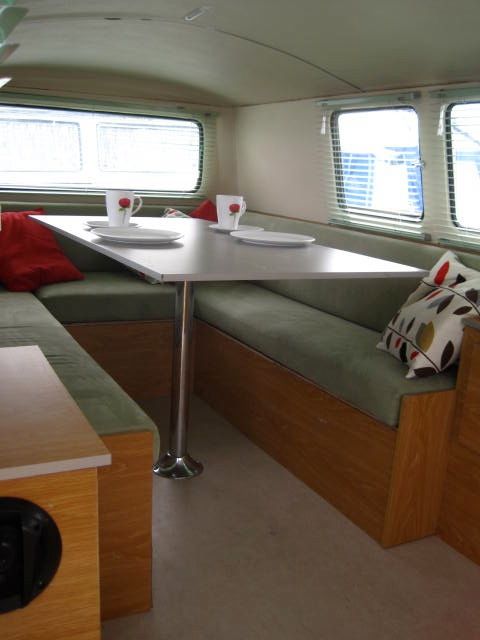 Comfy and pretty seating area converts to a nice wide bed for sleeping.
Materials can be chosen to match your desires. Each one unique and tailored to suit.
Specifications:
You choose color and finish options on:
Seating area fabric
Flooring
Aluminium Venetian blinds
Work surface, cabinets and table top as well as
External color
As standard your Dub box has a ten year body shell water ingress guarantee and is fitted with:
A two-ring gas burner
Stainless steel sink
Pump action tap
Retro style fridge
CD player with personal MP3 player with charger and dock
Stereo speakers for excellent sound quality
Leisure battery
110 volt hook up
12-volt power distribution board
LED lighting
Smoke alarm
Internal double plug socket
Premium quality fixtures and fittings
Optional Extras


We at Dub box want to ensure that you receive exactly what you want out of our camper, so if you have any special requirements,
a taller wardrobe, an even longer or shorter bed, or a wider cabinets for a specific item that you take with you on your travels
then let us know and we will do our best to accommodate you.
We have only a few optional extras, as we believe that all our camper should be at the highest standard,
with the same excellent fixtures and fittings, however for those who do want something extra…
Pop-tops: Made from fiberglass these wonderful additions are available in an array of bellow colors and give extra head height in the kitchenette.
Business opportunities: Don't forget to ask us about our retail and food cart design. Great for a business that can travel!
Heating: For all year round travelling comfort, we can install a hot air heating system that will keep you toasty warm.
Alloy wheels: For anyone into bling rather than the retro dome 'thing'.
Shock absorbers: Inboard shock absorbers for a super smooth ride.
Safari windows: Safari windows front and rear- wow how fantastic would that be.
Upgrades on Hand pump to an electric pump tap. Larger fridge. Alternative gas burner. etc.
When it comes time to order yours we can discuss all the options and get it just the way you want it!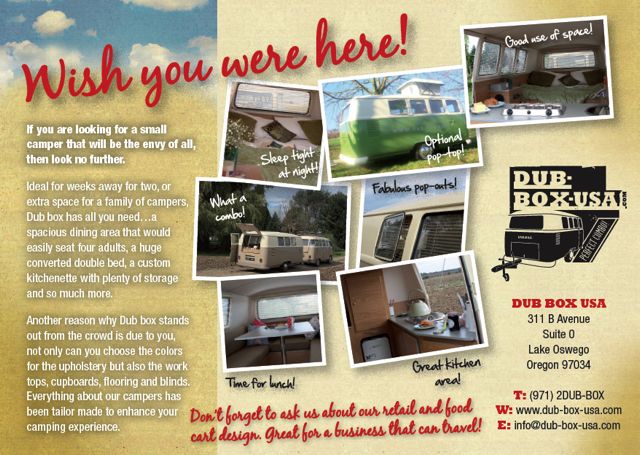 If you are looking for a two-person camper that will be the envy of all, then look no further.
Dub box draws its inspiration from an infusion of classic American campers and vintage campers and has evolved into the pinnacle of cool retro styling.
Dub box has been specifically designed to be accessible to all, the aerodynamic dimensions ensures that it tows like a dream,
the lightweight fiberglass body eliminates the need for an additional trailer license and it can be towed by a small car!
Ideal for weeks away for two, or extra space for a family of campers, Dub box has all you need…
a spacious dining area that would easily seat four adults, a huge converted double bed, a custom kitchenette with plenty of storage and so much more.
Another reason why Dub box stands out from the crowd is due to you,
not only can you choose the colors for the upholstery but also the work tops, cabinets, flooring and blinds.
Everything about our campers has been tailor made to enhance your camper experience.
Right from when you choose your external colors, we at Dub box want you to feel the freedom to express yourself.
Don't be restricted to a white shell and beige seats; choose colors you enjoy, after all Dub box is part of your holiday, part of your fun in life.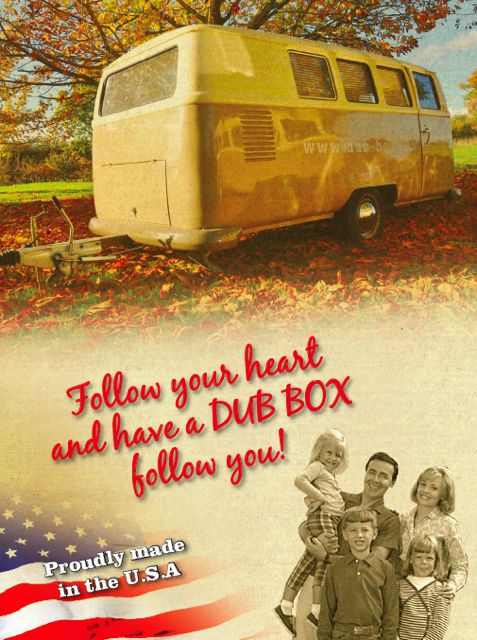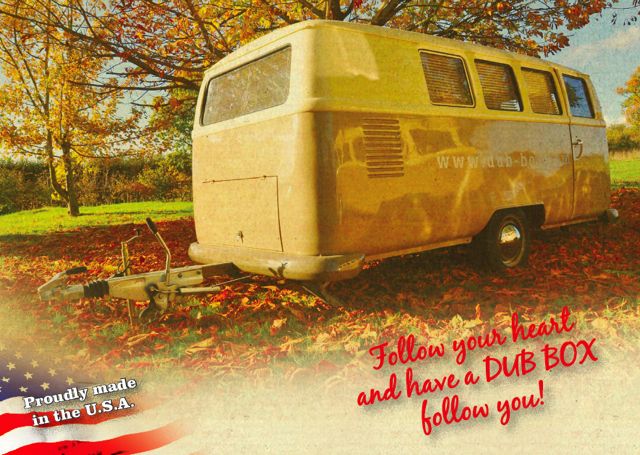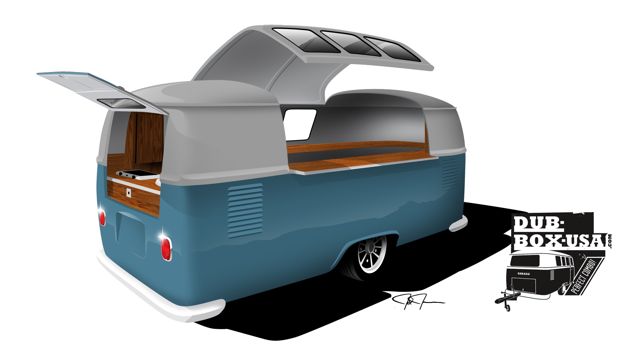 A Vendor Version is available as well!! How cool would this be at the next show???
---
Technical Info:
Completed campers:
Price: Starting @ $17,990
Overall length including towing frame 16'(Towing frame can be adjusted to fit into standard size garage)
Body length including bumpers approx 12' 3"
Overall width including bumpers approx 5' 8"
Overall height approx 6'
Internal head height approx 4' 4"
Internal head height with pop top approx 6'
Technically admissible maximum laden mass 1,950 lbs
Unladen weight approx. including spare tire, battery and gas bottle 1,323 lbs
Maximum personal payload approx 627 lbs
Tires 165/65 R14
Double bed size approx (5'2 x 6'2)
Number of lights 12 volt 2
Number of electric plug sockets 2
Internal panel thickness approx 1.35"
Floor panel thickness approx 2.5"
Insulation to ceiling and floors Insulating reflective sheeting
Insulation to floors approx 2" high density insulation
Chassis and running gear Galvanized chassis with braking system
Windows Glass or polycarbonate
DIY Trailer packages: $8,990
Includes - Shell ready to paint, chassis, wheels, tires, basic flooring, hitch and window package with hardware and rubber. This is a rolling shell.
Food cart/retail trailer: Starts at $14,990 - $23,990
---
Frequently asked questions:
Can I have a Dub box in any color I want? YES Choose your favourite color, or give us two paint codes and we'll do the rest.
Can I tow Dub box with a small car? YES Not to go on about it but being light weight does solve a lot of problems,
anythingfrom a from a Jetta to a Camper should be able to tow Dub box, if in doubt checkyour vehicles manufacturing handbook.
Will Dub box fit into a standard size garage? YES If necessary the A frame can be adjusted to reduce the length.
Is Dub box easy to hitch/unhitch? YES With an unladen nose weight of 81.5lbs, maneuvering Dub box isn't a problem.
Does Dub box come with a manufacturers guarantee? YES A two year manufacturers guarantee comes as standard.
Is the glass fibre body leak proof? YES We are so confident of that, we have given it a ten-year body shell guarantee.
Is Dub box insulated? YES The floor has the deepest insulation of any U.S. camper manufacturer, and theceiling insulation was initially designed by NASA!
Does Dub box have 110 volt hook up as well as 12 volt power supply?
YES Dub box is set up for mains hook up as well as having a leisure battery that will happily run the lights and CD player for a few days.
Is Dub box the coolest two person camper? YES We think so!
---
Contact:
Shane Medbery
Dub box USA, Inc.
311 B Avenue
Suite O
Lake Oswego, OR 97034
Call: (971)2DUB-BOX
or email
info@dub-box-usa.com
(Please...when you call...
tell him Oldbug.com sent you
!)
---