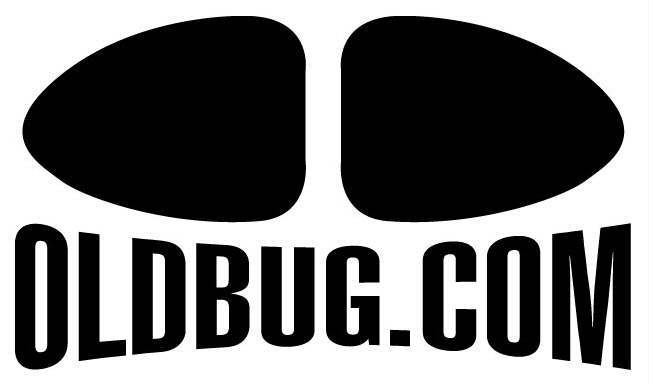 1960 VW Beetle Sunroof Sedan For Sale
---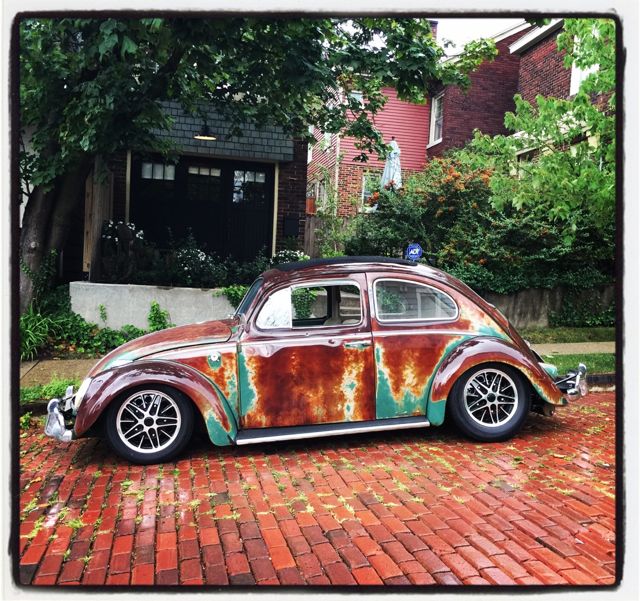 This is a very unique and special car.
This 1960 sunroof Beetle spent many many years baking in the hot Texas sun
with Mother Nature giving it her touch.
A couple years back it was rescued by a VW nut and the transformation began.
The aging exterior was encapsulated under several layers of automotive clear
and everything mechanical was gone through and updated to make it a fresh car again.
It is a wonderful blend of preservation and restoration sets it far apart from the normal sea of VWs out there.
Its a show stopper!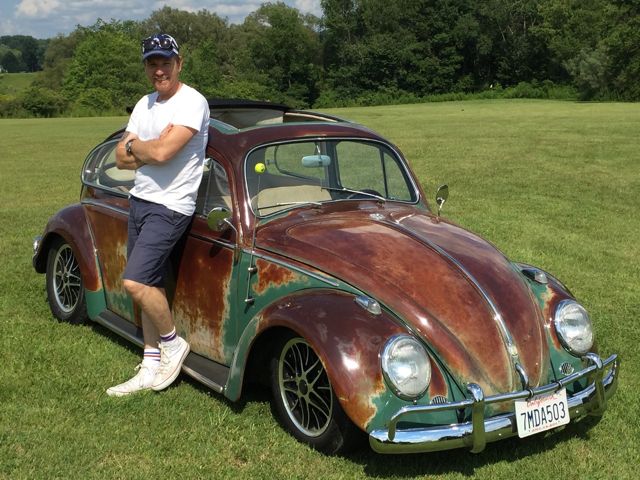 Photos of the car under construction floating on the web caught the attention of
actor and VW nut Ewan McGregor who negotiated to buy the car from the builder.
Once it was completed it was delivered to Pennsylvania where he was directing a film
and the car was used as his daily driver to and from the set. After filming it was shipped to
his home in California. A new four wheel toy is incoming and something has to give...so the Beetle is now up for sale.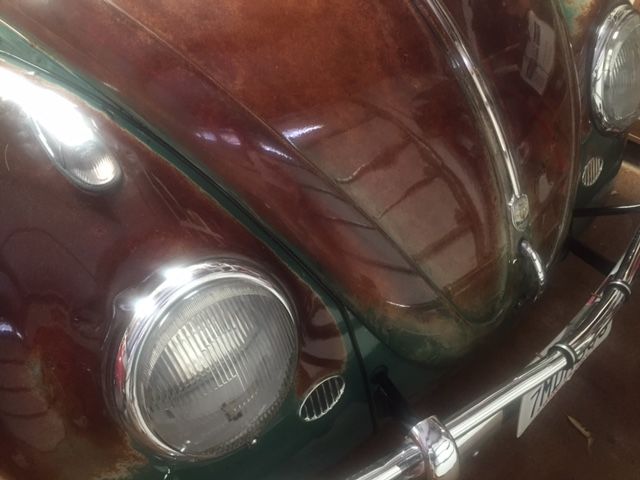 The finish is really interesting and is very artfully done.
The whole body of the car except for the front hood had that consistent amazing sun burn
so the hood was impressively matched and blended. The clear coat shines like crazy while the
rust and weathering is hidden below. It really messes with people's heads, especially in low light conditions where
the colors are obscured...it looks like a fully restored car (and it is) but that killer patina gives it that great
"farm find" look and feel.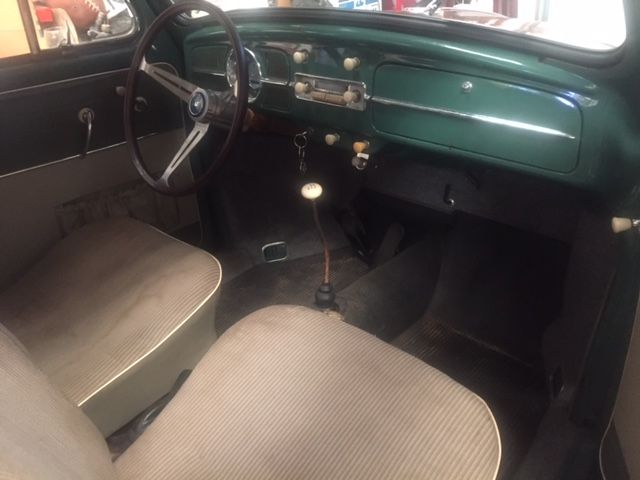 The interior also s a blend of old and new.
The seats and panels are well preserved originals with minor wear and aging,
but the window rubbers and body seals are all new.
The headliner and sunroof are new as well.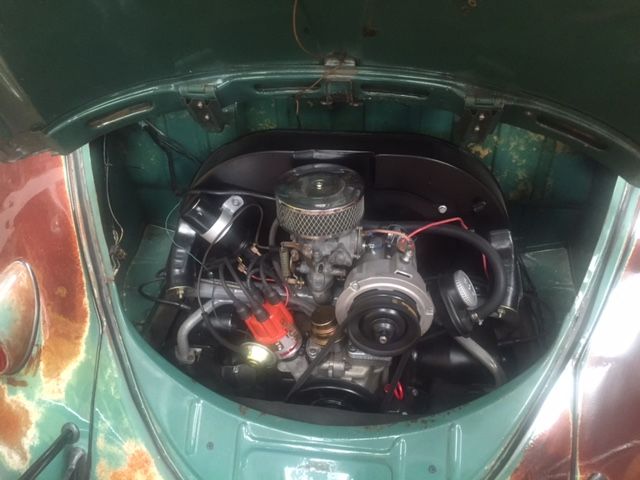 Out back is a freshly rebuilt 1600cc single port engine with 12 volt electrics and runs fantastic.
Brakes, shocks and suspesion have all been rebuilt and are fresh with minimal miles.
The car is totally solid underneath with no rust issues and a very clean and solid pan.
In short...this is a fully restored car in many ways...just kept with that wonderful aged look.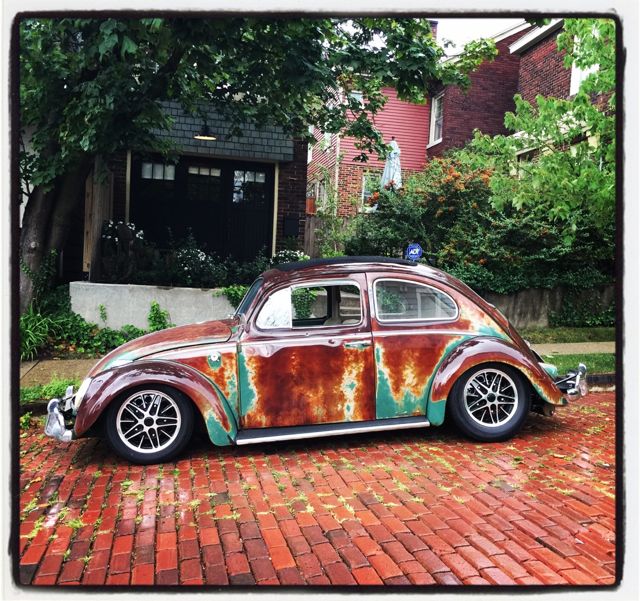 It really is a fantastic looking machine , such a unique approach.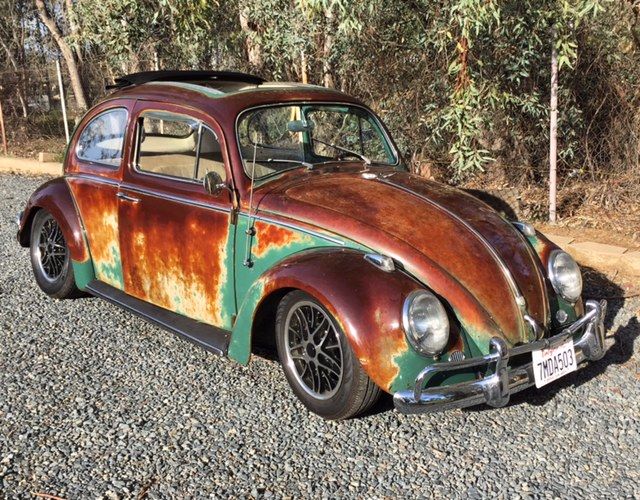 You will definitely stand out from the crowd with this ride!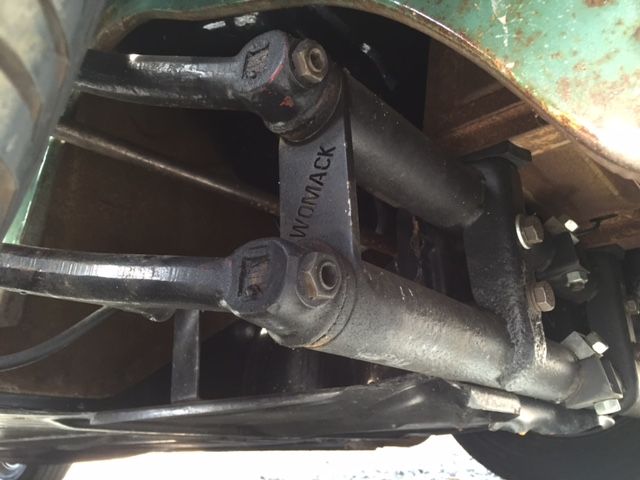 Despite the ratty looks, this car has been fully rebuilt underneath and fitted with
all new stuff. This Womack lowered front beam as an example...fully adjustable and narrowed to allow for decent
wheel clearance in the fenderwells.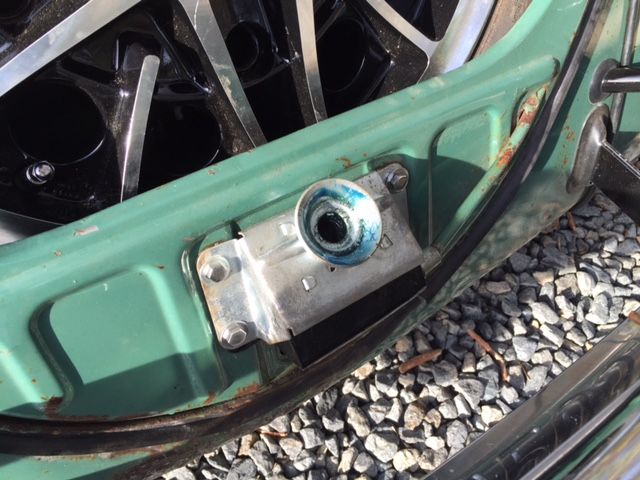 New hood latch and hood seal.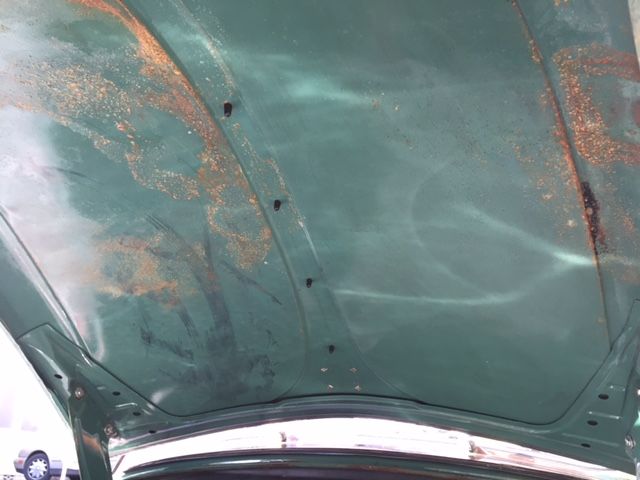 Underside of the correct "four tab" hood has a patina to match.
Check out the new hardware on the hinges and the trim clip boots...nice attention to detail.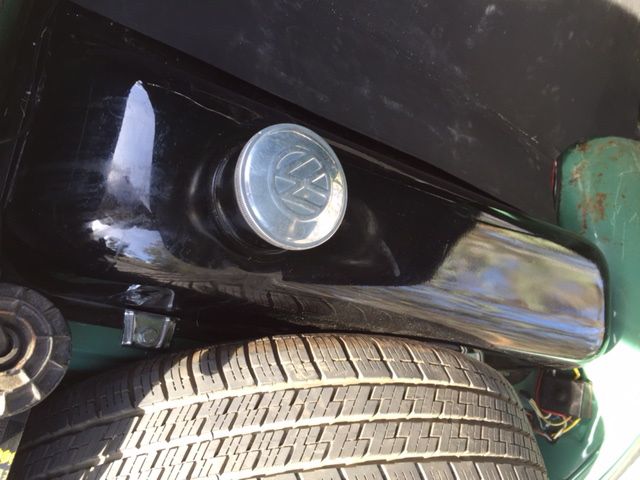 Fuel tank has been cleanly painted and attached with clean hardware and a polished cap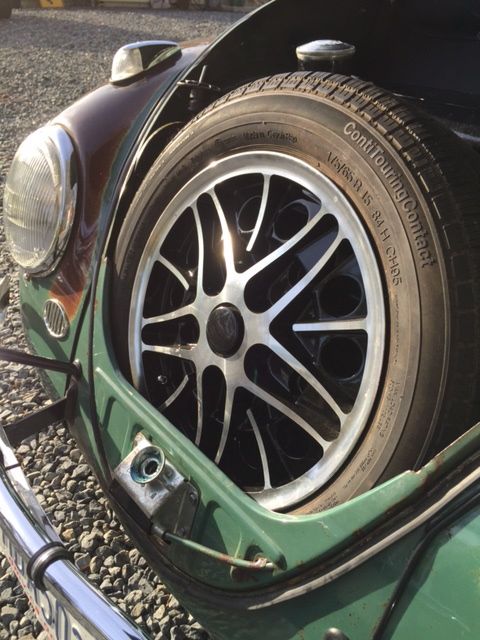 Matching spare wheel and tire as well as factory jack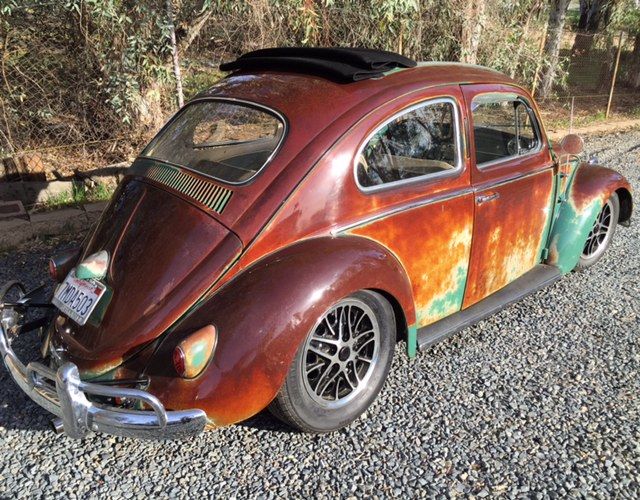 Agressive lowered stance gives it some definite attitude.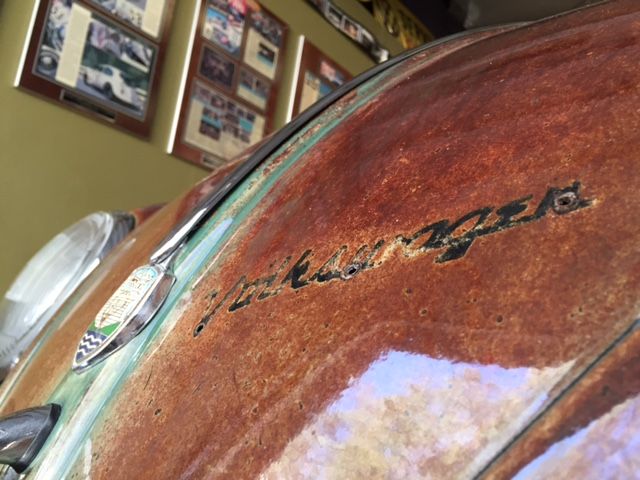 I love the details of the age...check out the ghost of the VW emblem on the hood... very artfully done!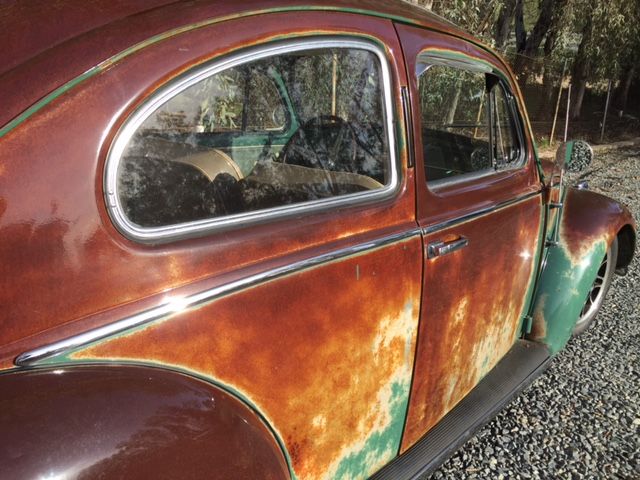 Pop out quarter windows, all new fender beading, running boards and window felts and scrapers.
Body trim is new high quality stainless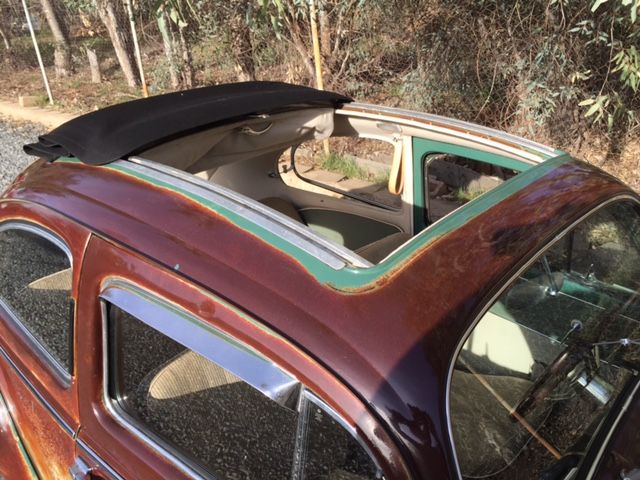 The factory sunroof works well and has a new black canvas cover.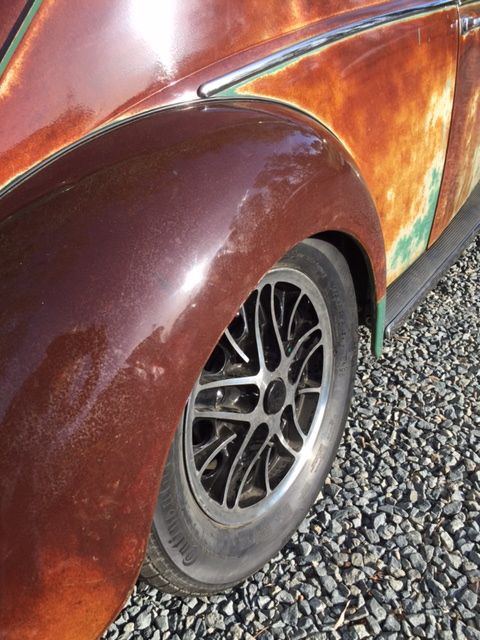 Nice beefy tires out back wrapping the aluminum "Cosmic" wheels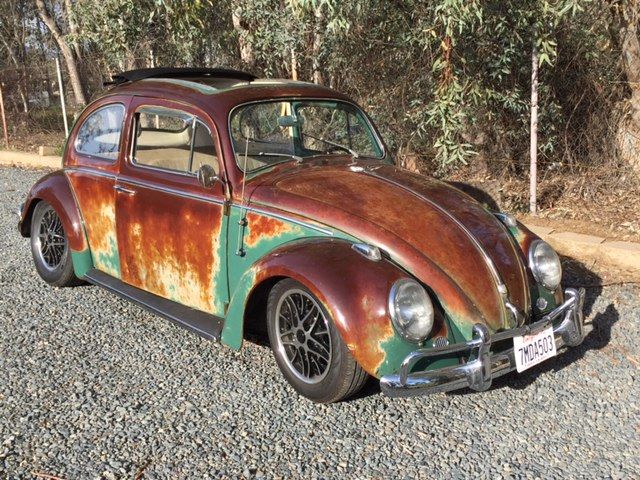 New bumpers with excellent chrome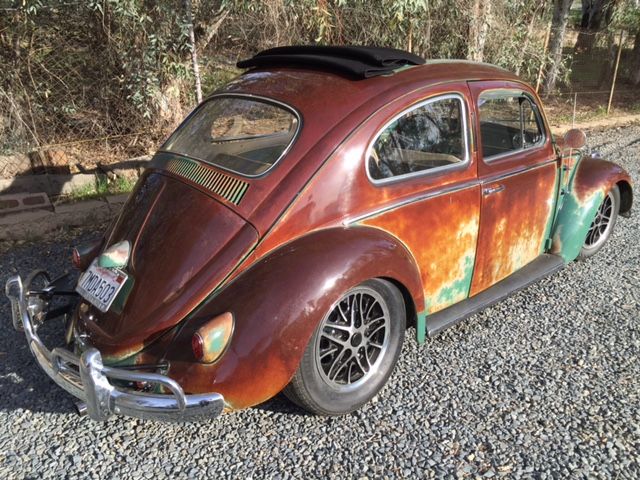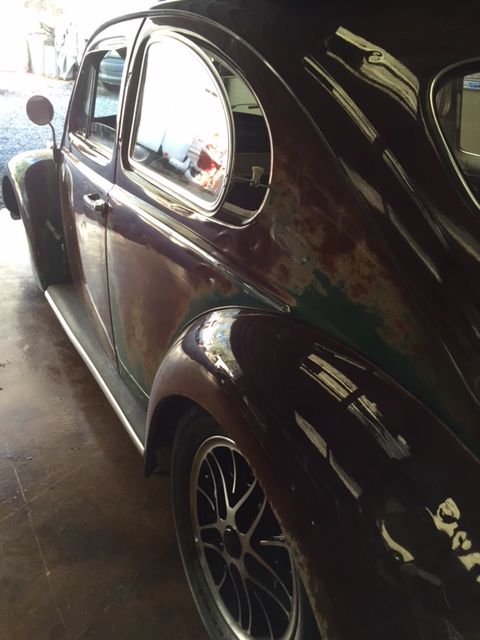 In low light the shine of the clear finish takes over and it looks super smooth and slippery.
There are quite a few dings, dimples and ripples inthe fenders and body, but
no major damage of any sort.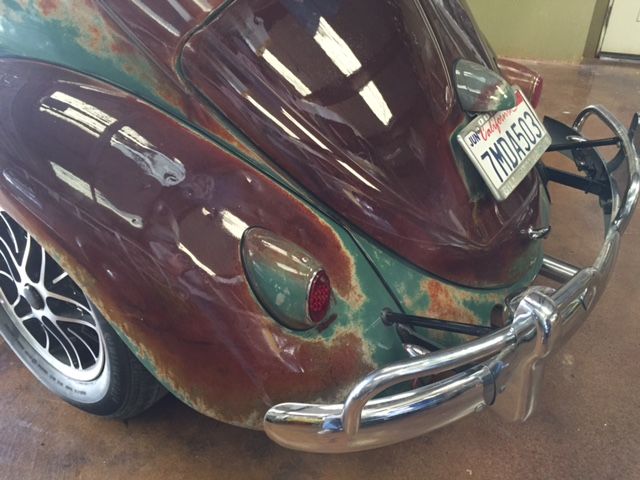 Bumper irons are all freshly painted and detailed, new seals installed all the way around.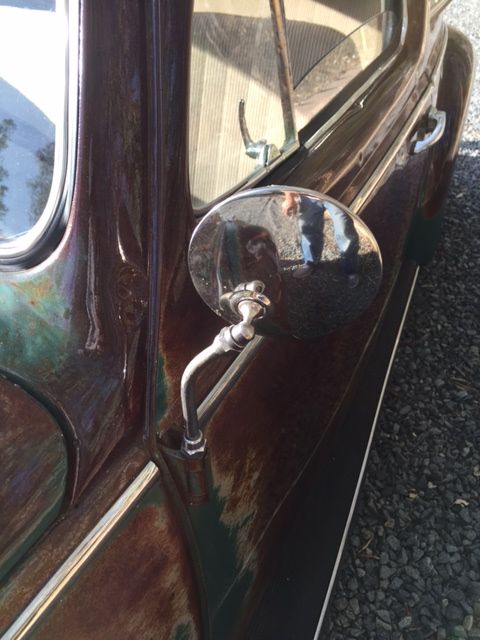 Single side view mirror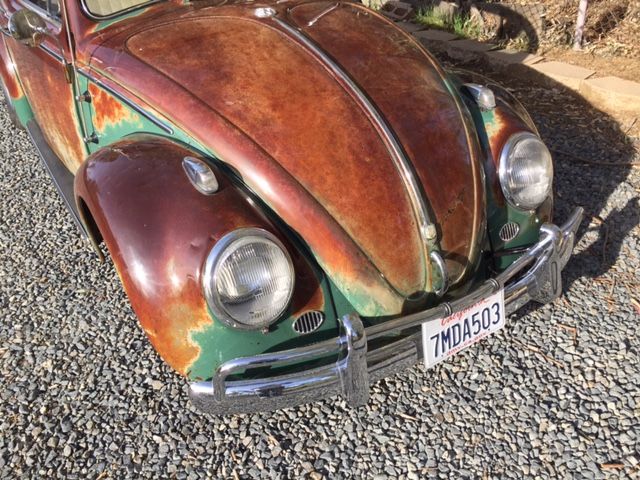 Euro headlights look great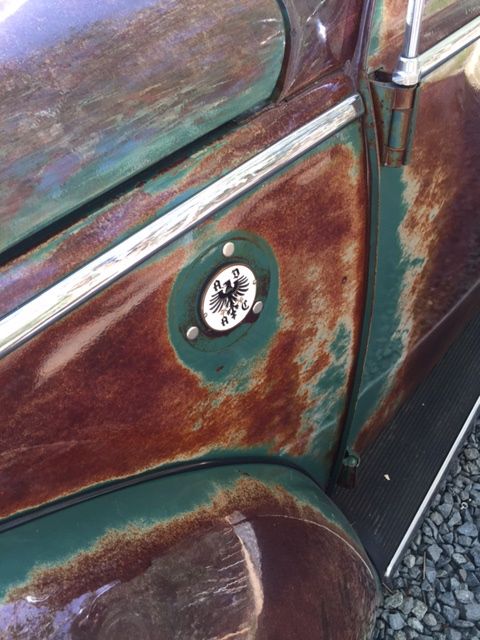 German auto club badge on the front quarter panel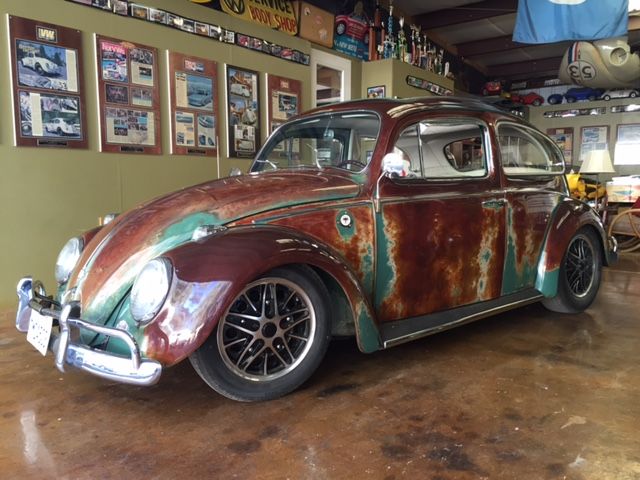 Nice!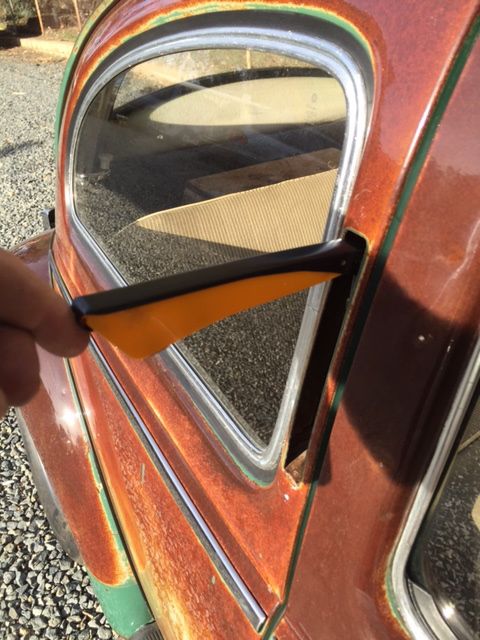 This is a factory semaphore car and new 12 volt semaphores have been installed, yet have not been hooked up yet.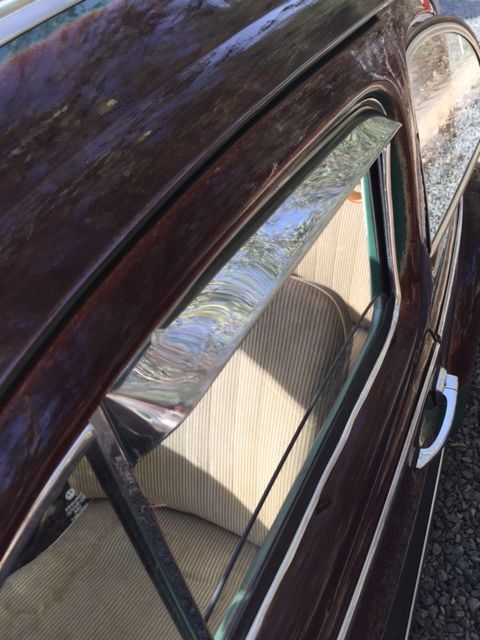 Stainless vent shades are a nice accessory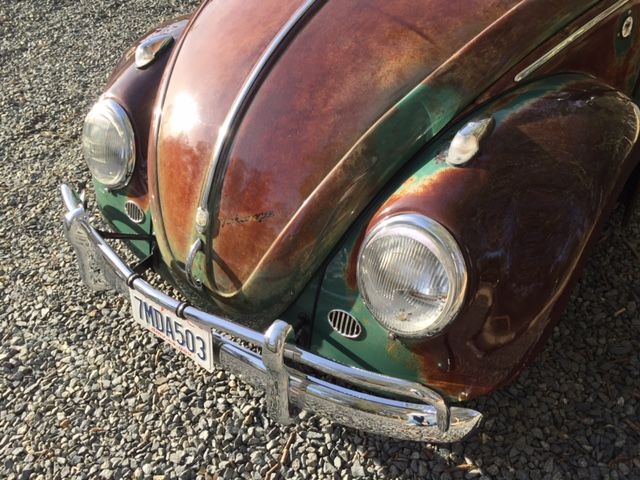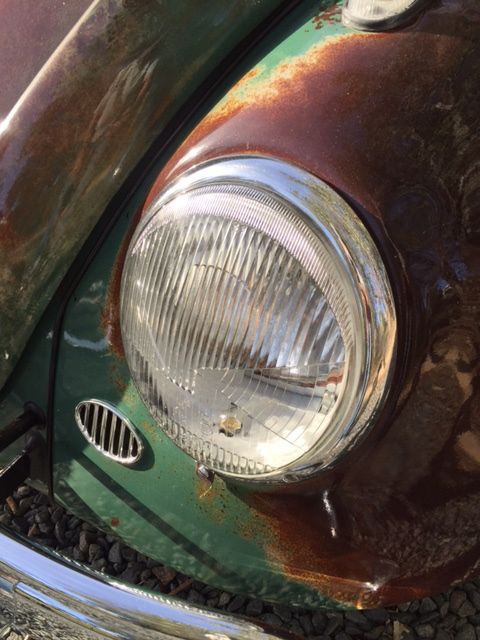 Headlights are like new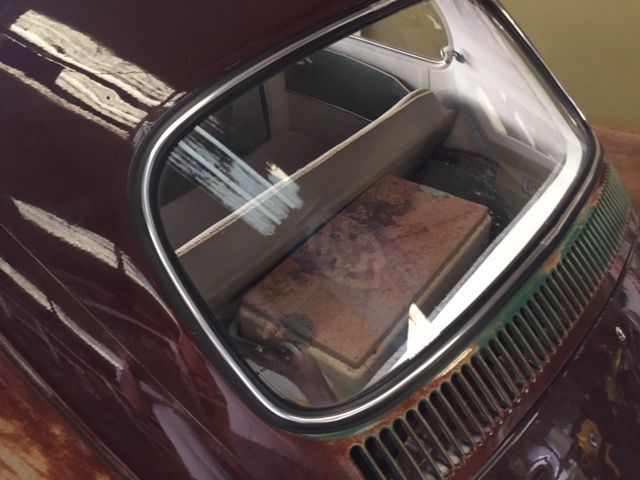 Window seals are all fresh and have the proper trim.
A vintage ice chest with matching patina comes with the car.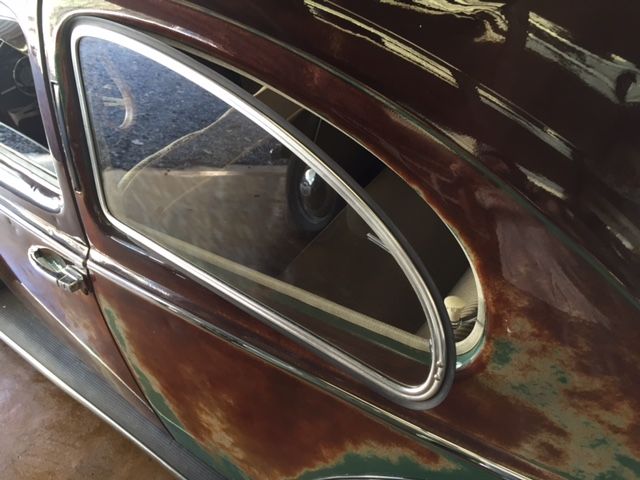 Love the pop outs with a sunroof car!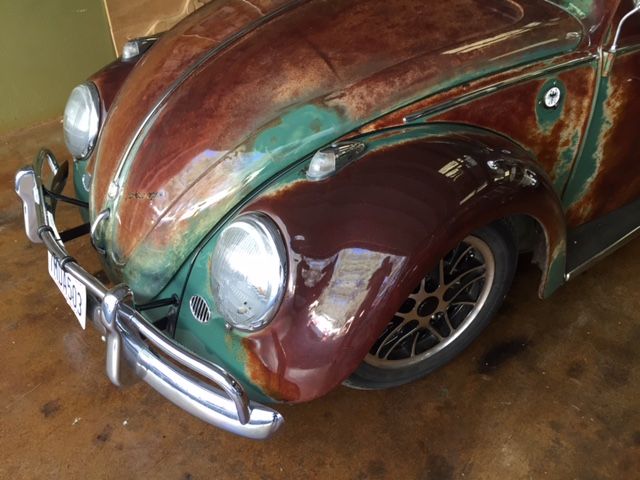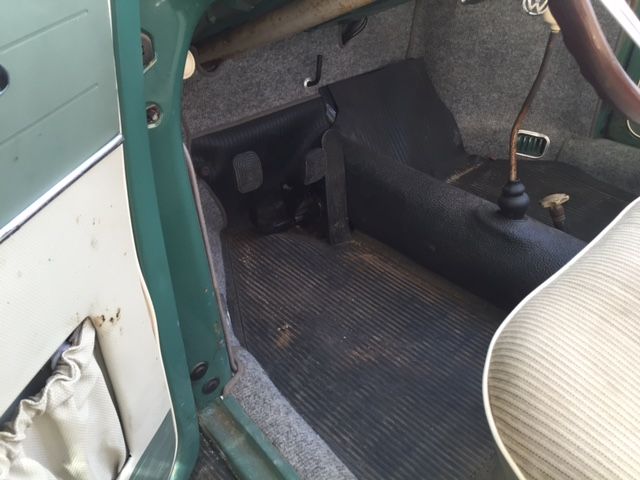 Interior is a great blend of new and old.
The carpet, floor mats and headliner are all new, yet the seat upholstery and door panels are
very rare originals with just the right amount of age to them to match the car perfectly.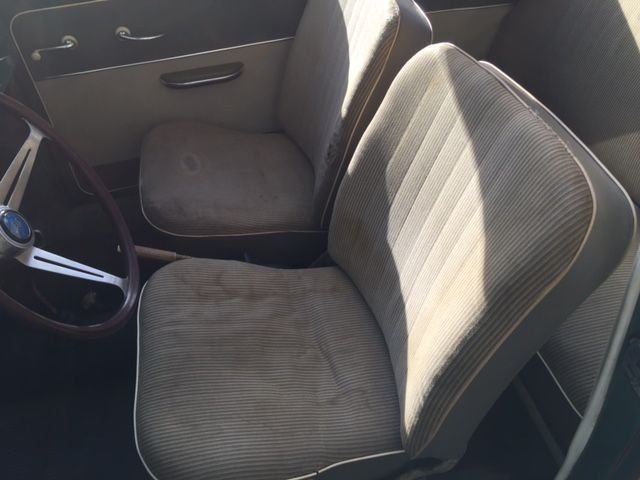 Padding is all excellent and seats are very comfortable.
The German striped cloth has held up impressively well.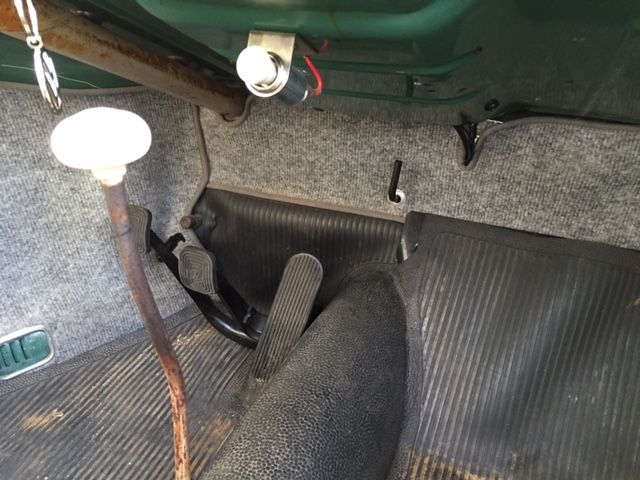 Pedal assembly has been fully restored, new pedal pads installed.
A 12 volt ouwer point has been installed for charging phones and such.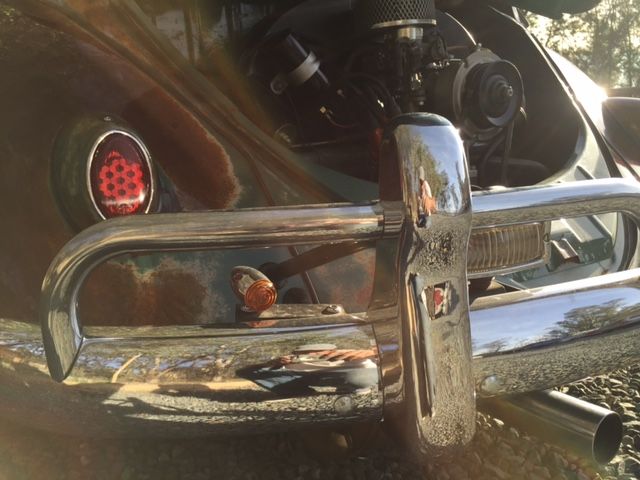 Turn signals have been mounted on the bumper for safety.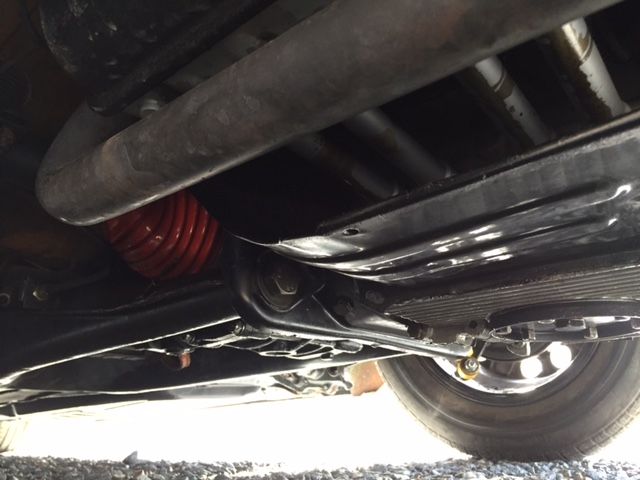 Underneath she is all new!
Freshly rebuilt engine and transmission, clutch and brakes are also all fresh with less than 1000 miles on them.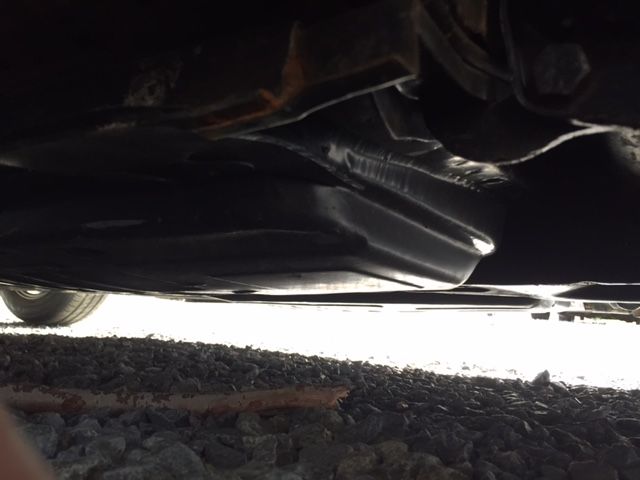 Chassis is very clean and restored underneath, super solid floor pans.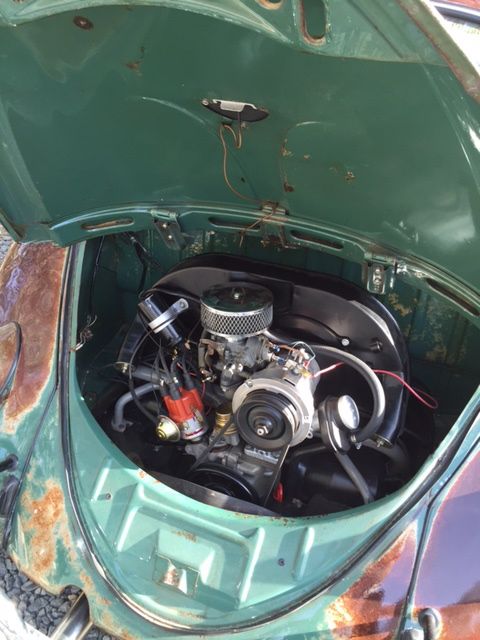 Out back is a freshly built 1600cc single port engine that runs like a top!
Very reliable and when matched to the fresh gearbox with gearing set for the modern world,
it keeps up with all levels of traffic on back roads as well as the freeway.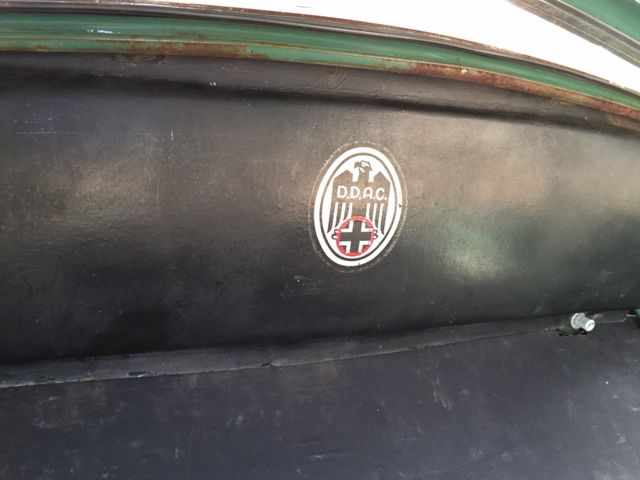 German auto club sticker on the wiring cover.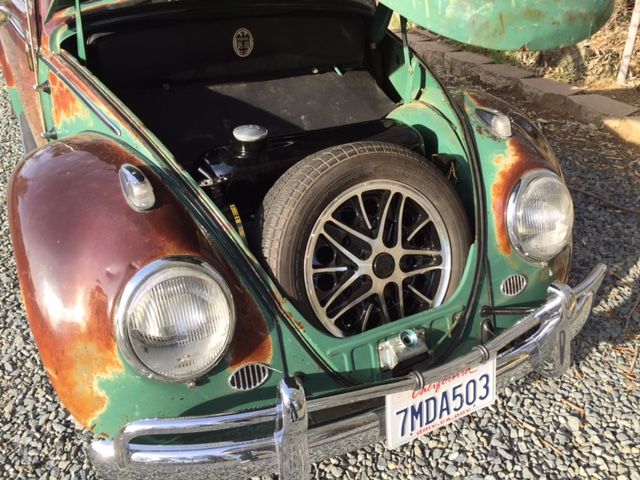 Trunk is clean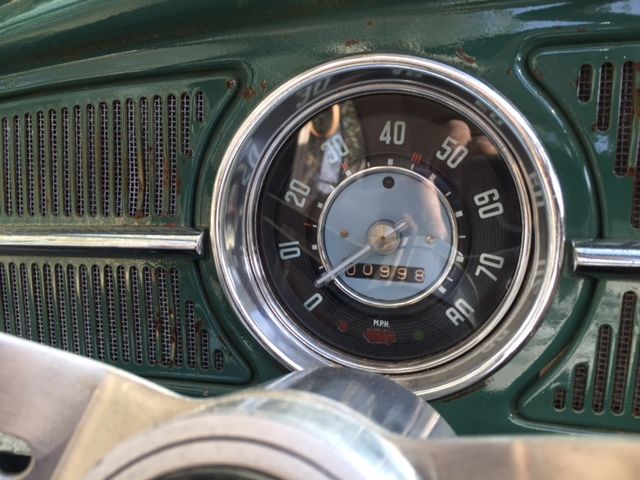 Speedometer was rebuilt and restored and the odometer was reset to zero
during the built. As of the time of these photos, the car has just under 1000 miles on it since completion.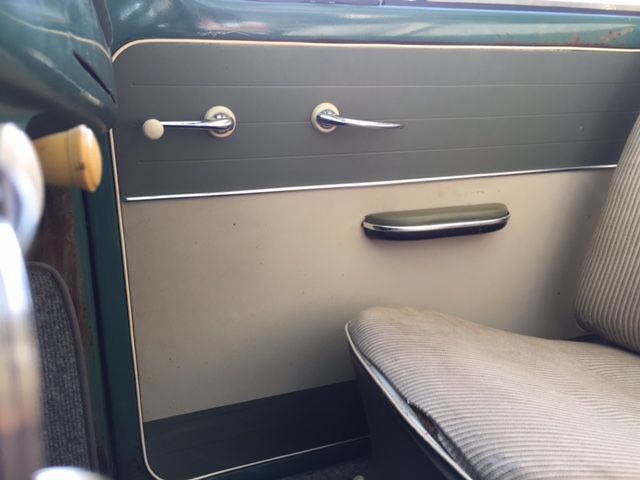 These original door panels are awesome...this is not a color or material pattern that is available today
from the aftermarket suppliers.!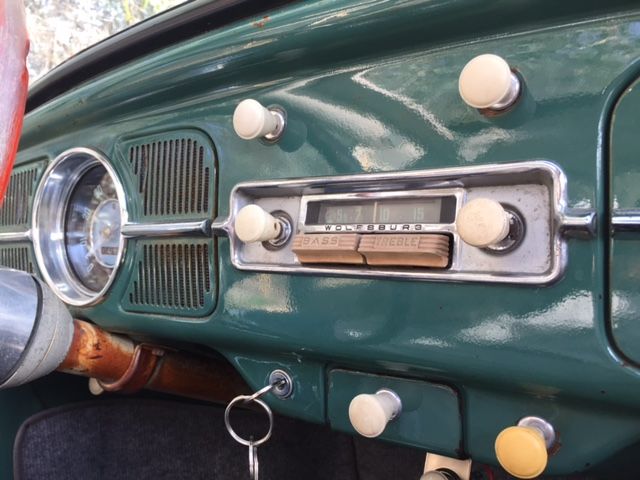 Killer Wolfsburg two button original radio in the dash.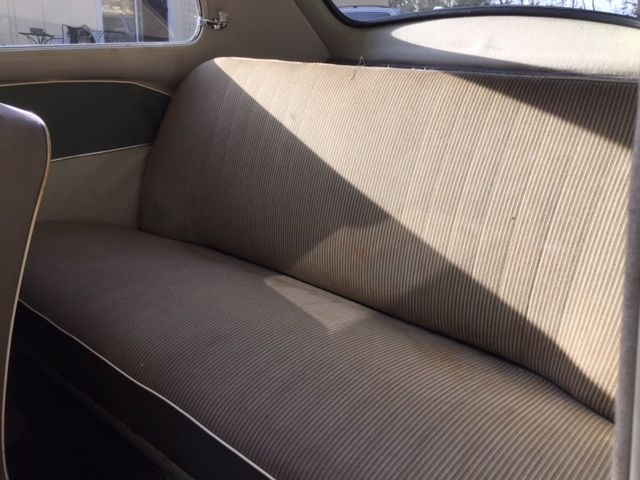 Rear seat looks great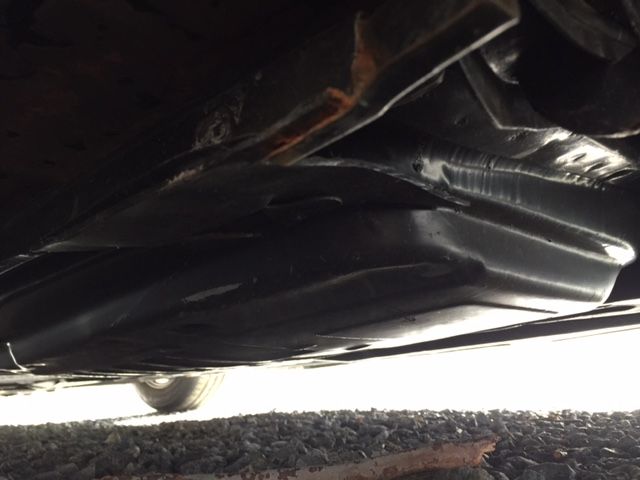 Another underside shot
Oh...and the stainless performance exhaust gives that 1600 a pretty beefy sound!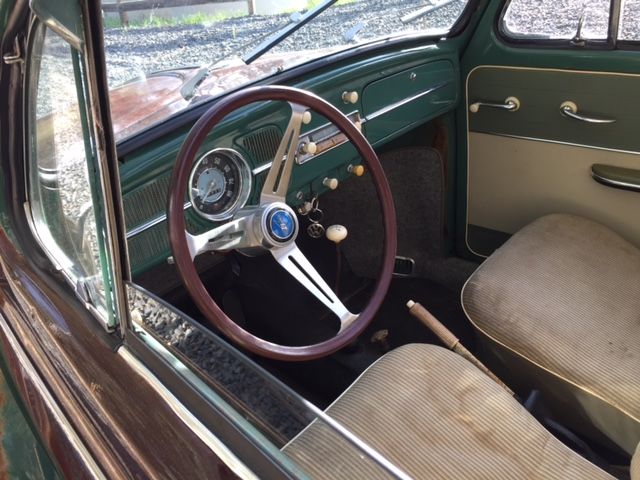 The wood rim GT steering wheel is a nice touch as well!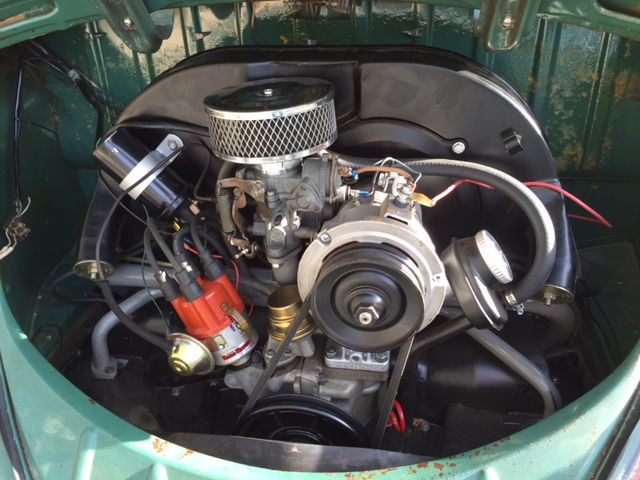 Close up of the engine...very clean and it runs fantastic.
Electronic ignition, 12 volt alternator.
Plain and simple and wonderfully reliable.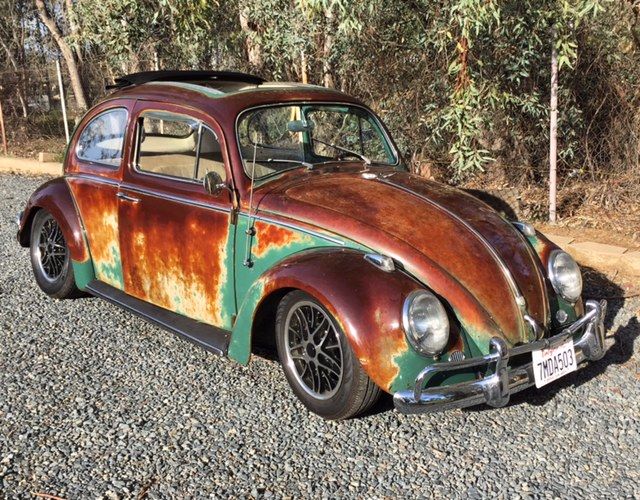 This all wraps up into one very cool ride and something that is really unique on the road.
Its pretty awesome.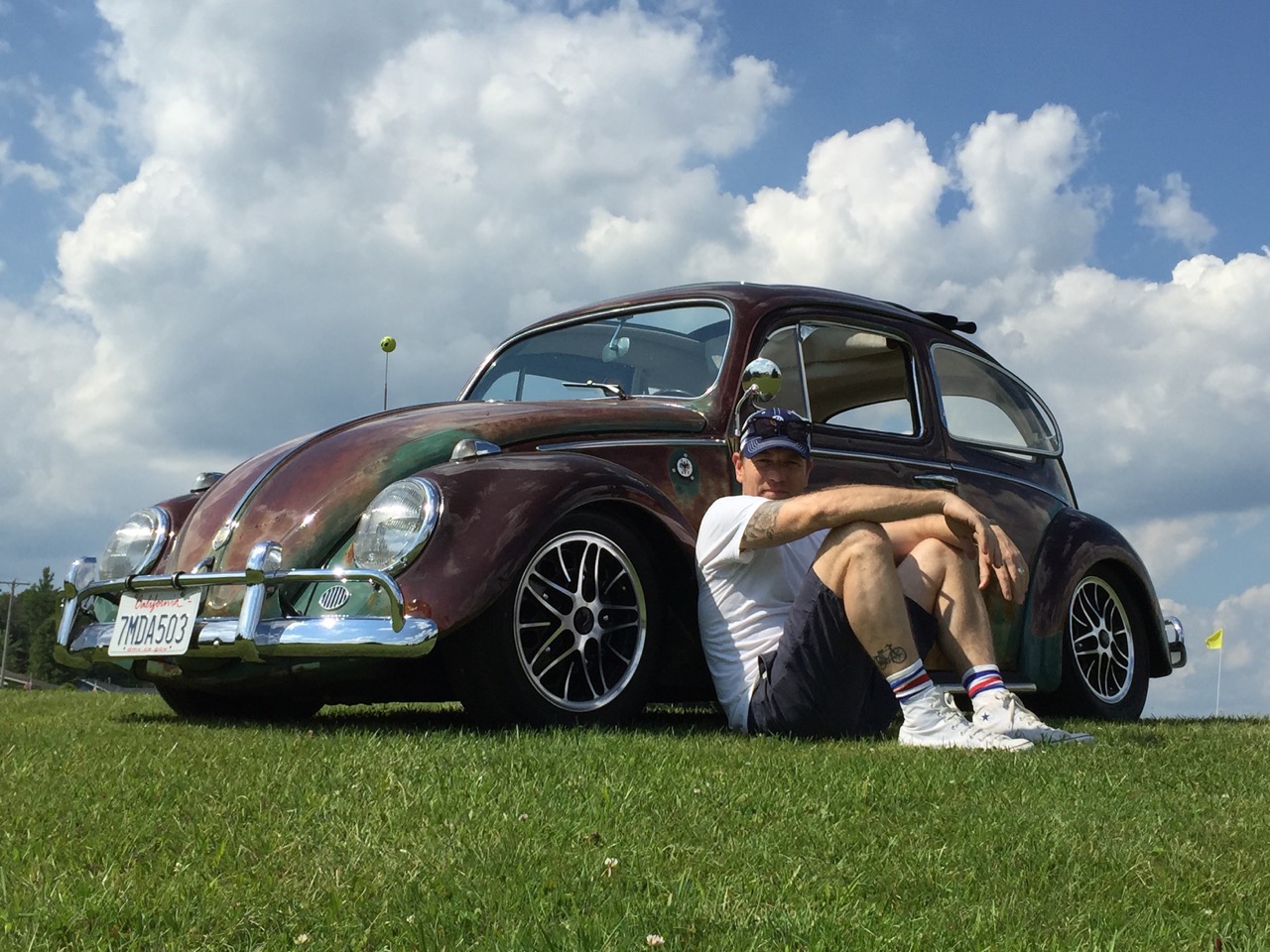 Add to the cool factor of the car is the current owner, Ewan McGregor.
He is not only a very successful actor and now adding director to the resume, he is a genuine
hard core nut for cool machines. Sure...the man could afford to drive anything he wants,
but what he wants are machines with some soul, ones that make you a part of your surroundings... not shield you from them.
This humble Beetle fit the bill perfectly, but a shortage of garage space in LA makes it hard to keep em all.
A new fun toy is on the way and somethings gotta give. He is a bit sad to see it go, but hopefully it will find the perfect home!
Dont miss your chance to put this one in YOUR garage!
Asking
$25,000
---
For More Info...CALL
951 767 1600
or Email
oldbug@earthlink.net
---