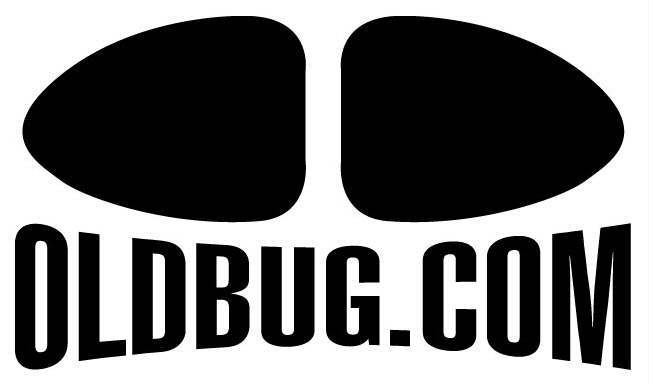 1960 VW Beetle Convertible For Sale
---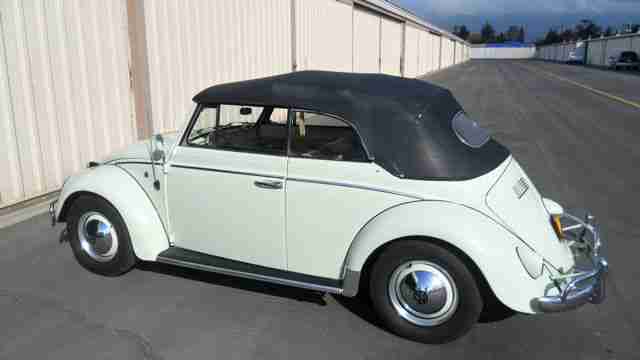 This 1960 Beetle Cabriolet is a pretty impressive car.
The condition of the car is excellent inside and out which is great in its own right, but what is even more
amazing is that the restoration was done in 1982 and it still looks this fresh!
This is a fantastic testament to proper care and a car that was restored well!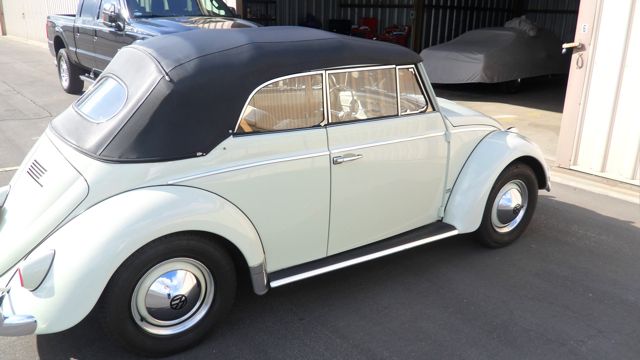 The car is located here in Southern California and it has been it's whole life.
It was owned by an actress in its early years and she kept it until the early 80s when it traded hands and was restored.
It was a professionally done job and that seems pretty obvious by the way it has lasted.
Being as it was done in the 80's there are a few minor variances from original due to materials not being available that are now
but there is no denying how pretty it is and how solid it is.
The original engine is very clean and runs superb!
This is the matching numbers motor from what I am told and it has been recently tuned and serviced
by a well respected VW mechanic locally and it is ready to go. The brakes have been serviced as well.
The car reportedly has just over 106,000 original miles since new.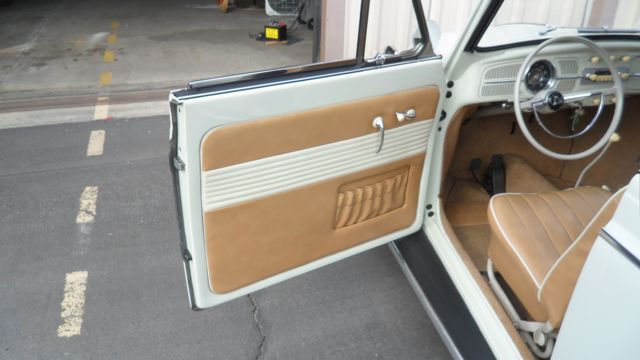 The interior is the one variation from original materials.
When it was restored the reproduction panels and covers that we have now just didn not exist, so restorers did their best.
The color choice is excellent and the tan against the factory Pearl White paint color is just great.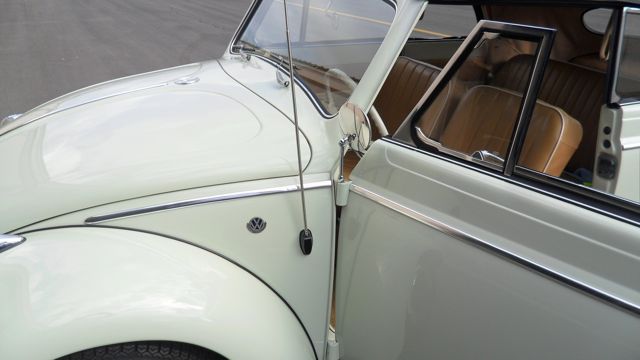 The body trim and details are all very nice on the car...and it is really hard to imagine that the restoration
is over 30 years old! Borders on miraculous in my book, but that is one of the things that makes this car so special.
I would much much rather have a ar like this with a little time and use on it than one that was just restored last month!
Paint work quality shows itself over time...done right...it will last...done wrong and you will see it!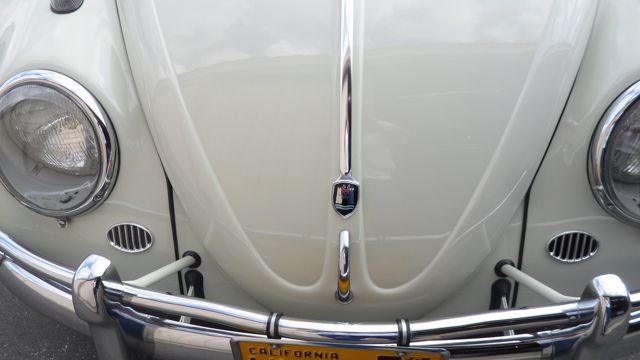 Nice fit and finish...totally stock and proper.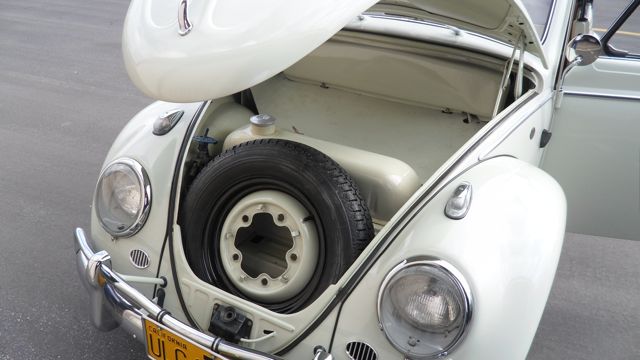 Under the front hood is cleanly finished and all is straight.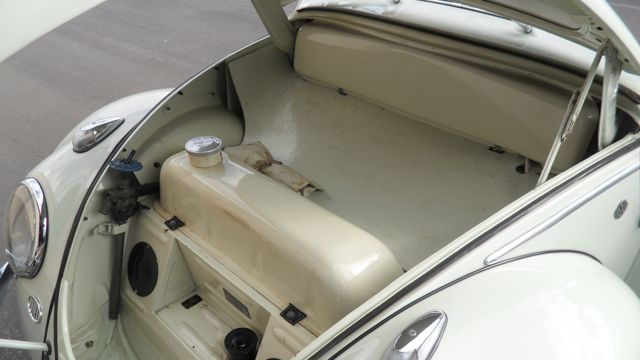 Very very nice in here...I like the original jack and tool roll and it looks like the nose is very straight with no
sign of damage or repair. Both aprons front and rear are original.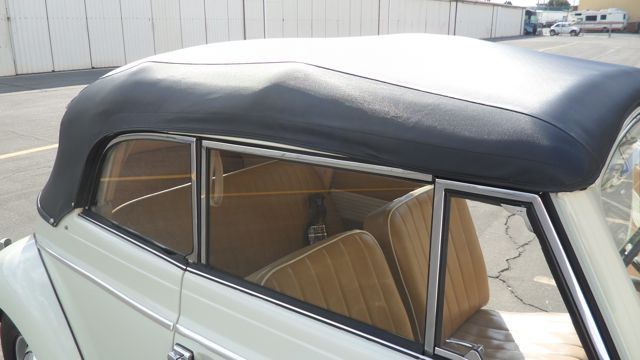 The top is in very good condition with no rips or damage.
This was obviously stored indoors and kept out of the elements.
The dashboard is very clean and totally stock.
I like that original Bendix big buttom radio and the accessory cigar lighter.
Door jams look very clean and the rubber seals seem to be holding up very very well.
Carpet remains clean with only the most minimal wear.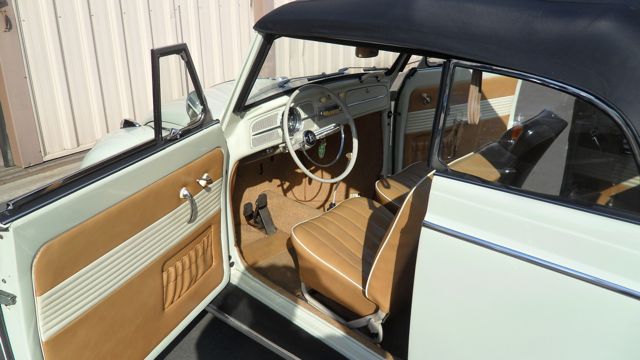 The owner is working on some photos of the underside for us here but he states hat it is very very solid and all original sheet metal
I have been told there is a very small spot directly under the battery where the metal has thinned due to corrosion, but
the battery is still well supported without the need for any help...so it must not be that much of an issue.
Hopefully owner provided images of this area will be to us shortly so we can see just how solid it is.
The owner states that the chassis and support rails are excellent overall, so this is a very solid example in all the spots that count.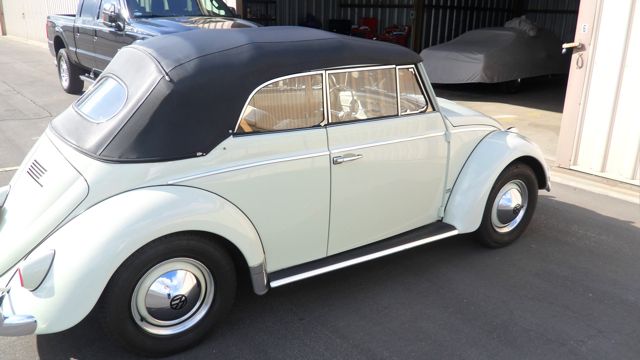 Another detail I see on this car that grabs me is that it has all of its original aluminum trim rings on the wheels.
These are as rare as hens teeth these days and to see them on a car is a rarity for sure.
The centers of the hubcaps being painted as original is another nice detail that grabs me.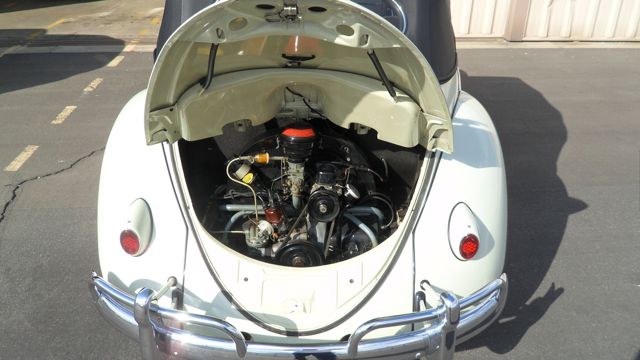 The engine compartment is very very clean and the paint on the underside of the lid looks nice as well,
The rain tray in place as it should be...firewall is clean and smooth and all of it very nice.
The bumpers look to be the proper original German units and the chome appears bright and clear.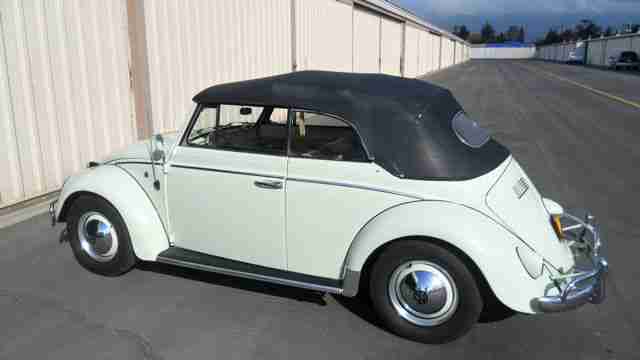 In closing this is a pretty impressive find.
A fully known history to day one, all of it here in Southern California.
A professional restoration done many years ago that still remains fresh in appearance.
A fine example of an early Cabriolet that will make a great weekend toy or addition to any collection.
Asking
$25,500 obo
---
For More Info...CALL
951-767-1600
or email
oldbug@earthlink.net
---