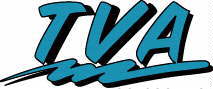 The Wrought Iron Bug
---

The history of the Wrought Iron Beetle is a bit mysterious.
From what I have gathered, the first one built was made in Mexico in around 1967-68.
Apparantly two of them were displayed at the Olympic Games in Mexico City in 1968 as a part of Volkswagen's sponsorship of the events.
Sometime after the games, Volkswagen of Mexico comissioned several more to be built for use as advertisments for dealers in the US and Mexico.
They are also known in the VW circles as "The Wedding Car", as many of them have been used in weddings (I guess)
From what I have found, there were approximately 12-20 of these cars built officially by Volkswagen (or at least at VW's request).
There have also been a a couple hand-built examples over the years from other sources.
We are actively searching for more information on these cars...if you know something...please share!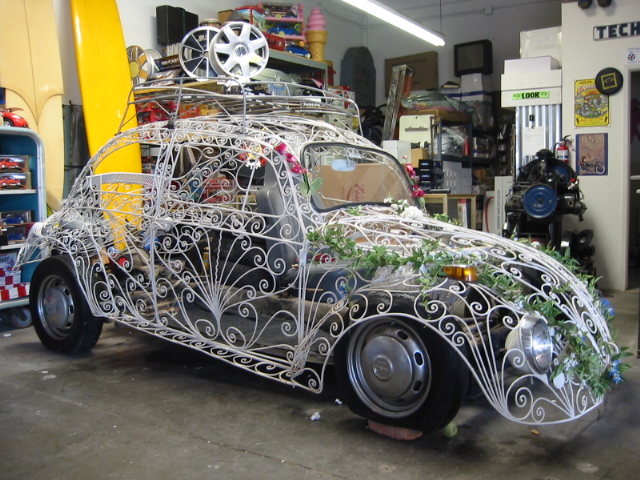 Here is our genuine VW Iron Beetle.
This was purchased from an elderly Mexican man who found the body of the car back in the 1970's
abandoned just outside of Puerto Vallarta Mexico.
He and his brother managed to drag the body back home and then started to search for it's most recent owner.
They tracked it down to a local doctor, who had owned it for several years and had apparantly bought it from someone
who verified that it was one of the two original cars displayed at the 1968 Olympics.
The car had been stripped of it's drivetrain and chassis, but was still in fine shape.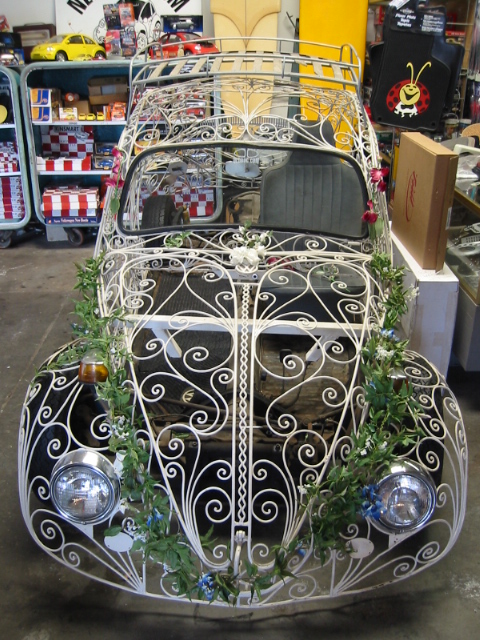 Several years later when the man moved to California, he lashed the body to the top of his motorhome
for the drive. Once re-located in California, he set out to make the car run and drive again.
He fitted the body to a cut down Super Beetle chassis and drove it around a little.
He called it "Cinderella" and the car obviously meant the world to him.
We came to be the next owners after seeing the car listed up for auction on Ebay.
I picked the car up from the man personally and he told me the car's story.
He was truly near the end of his life when I met him, and I am sure that he has now gone on to greener pastures.
I promised him that Cinderella would get a fine home and I towed it back to our shop in Brea.

Once here, we carefully removed the body from the incorrect chassis and located a proper 68 model chassis and drivetrain.
The car spent some time on display in our showroom and was eventually sold on to another collector in Ventura California.
We have located a handful of other examples of this oddity as well.
There is one at the VW Museum in Michigan
(pictured below)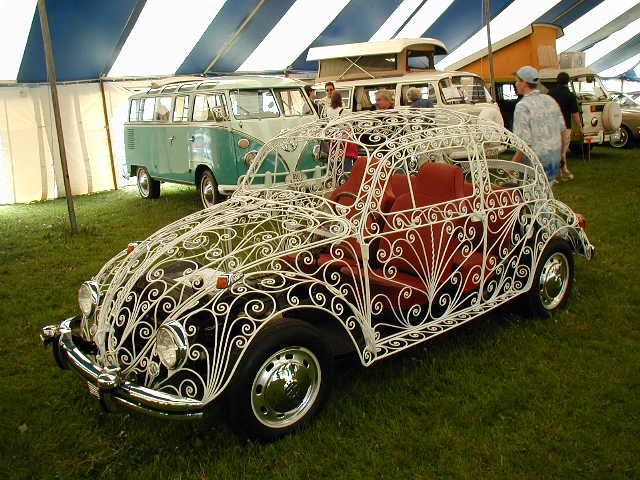 There are also other original examples in the following collections around the globe.
(please add to this list or correct me if I missed anything)

West Coast Metric- Loren Pearson- Los Angeles
Vintage Parts- Burbank California
Flat 4 Collection - Mr Komori - Japan
Volkswagen Museum in Wolfsburg Germany.
In addition there are two hand-built examples known to exist.




The first being a hand built 70's model "Super Beetle" look example
built in Santa Barbara California
(and once a part of the Oldbug.com collection!)
This one is wildly ornate and is a running driving example that we located in Northern California
in Feb of 2004. It was built by the same fellow who built the "factory" wedding cars and it was displayed ouside a Mexican Restaurant
called "Casa Linda" for many years. We owned it for a few years as well and now it is a part of the Tajmagaraj collection in Ohio.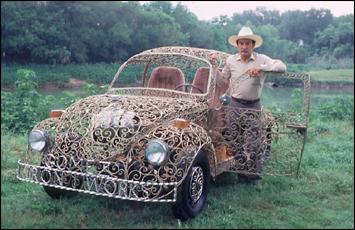 The other being built by Joe Gomez of San Antonio Texas.
Mr Gomez built the car after a dream he had one night.
He chose the VW as the platform so any engine fumes would be behind him.
He used the car for advertising his Gomez Iron Works business
and it brought in the customers like crazy.
.
Contact us HERE
---
Back to Oldbug.com