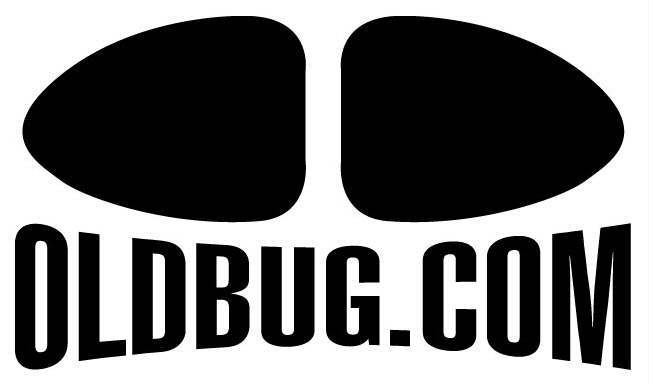 1970 VW Pop Top Camper For Sale
---
This wonderful looking rig comes to us from Spokane Washington.
It is a very attractive and unique camper that I think is going to make it's new owner VERY happy.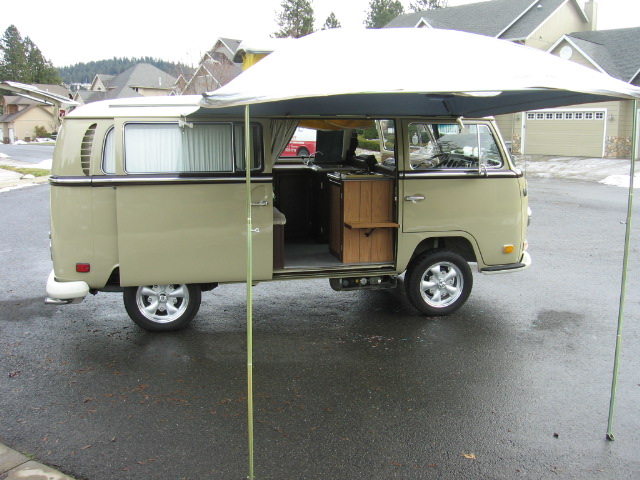 The van was built feb 6th 1970 and left the factory Feb. 11th 1970 and was first shipped to san Antonio Texas.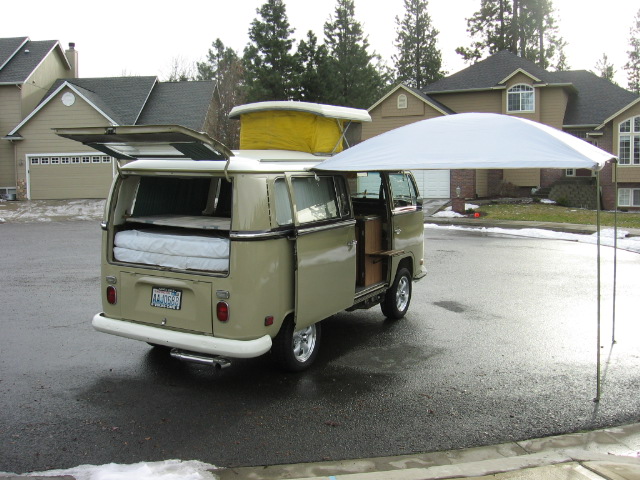 Current owner has owned it since April of last year and purchased it from a well known local Vw family who professionally sold Vw parts and complete restored cars for over 30 years.
This van belonged to the owners daughter for 10 years and was used for 1-3 camping trips a year, only with a few concert camping trips 2 hours from Spokane WA.
The poor thing sat along a house and after some kids stole the speakers out of it they decided to sell it.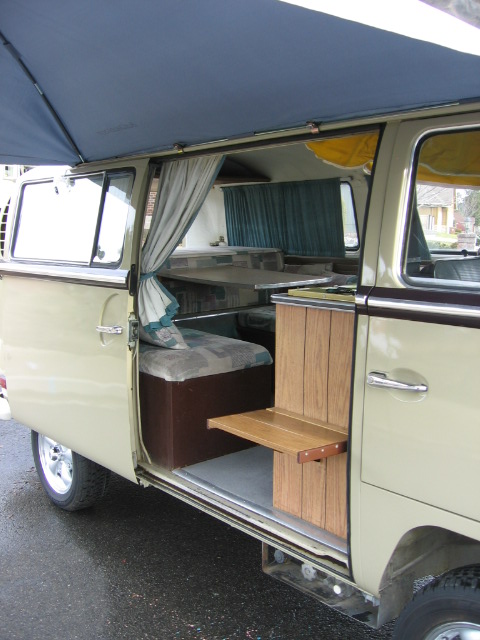 Brand new paint PPG Savanna Beige with Cloud white top. Cream bumpers.
Very very rust free bus…only a little surface rust on front floor. Treated with rust mort but left alone for viewing.
There was four rust spots under side window. Mainly surface and treated and of course grounded down then treated.
There was small blister by the grey water house on drivers side…again treated. Was originally going to spot paint but decided easier to paint whole van.
Nice coco browns strip to doll it up mid-belt line.
Paintless dent professional used to remove several small and large dents! Some bondo on drivers rear tail light area, old poor repair redone correctly.
All door rubbers full round replaced plus new front windshield and cal-look rubber!
Brand new Ezy-Awning from Bus depot! Homemade roof rack and side ladder included.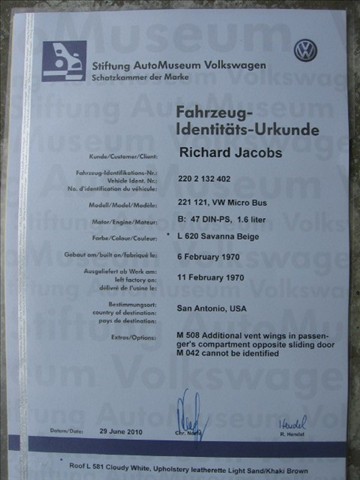 Birth certificate from Wolfsburg comes with the Bus!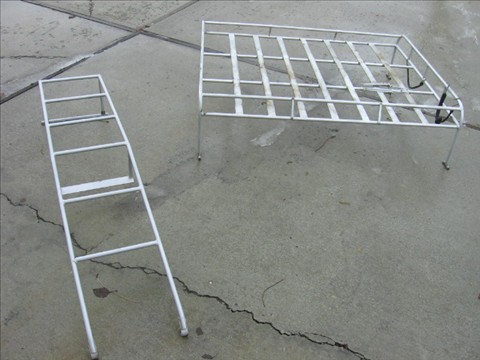 Home made but fully functional rack and ladder included!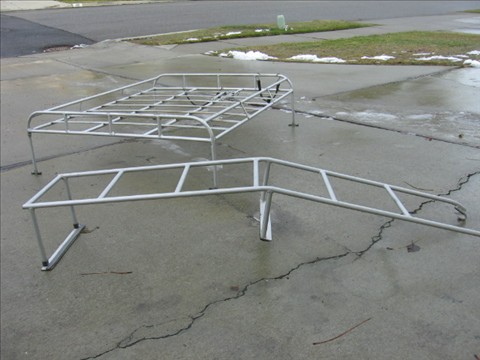 Looks pretty nice to me!!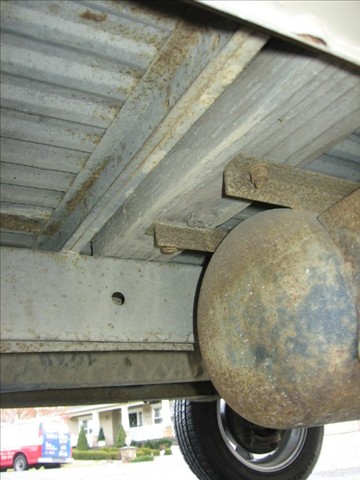 Underside is super clean and dry and totally original.
I dont think the wood mount for the camping gas tank came from Germany...but
perhaps it was actually put in here when the camper conversion was done?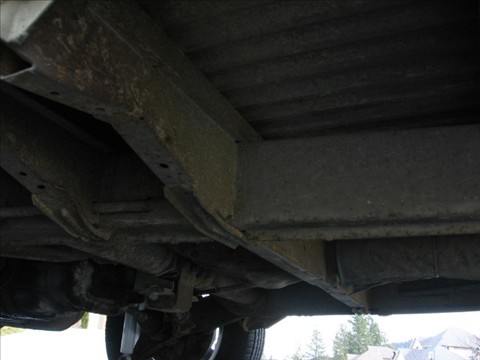 VERY dry underneath.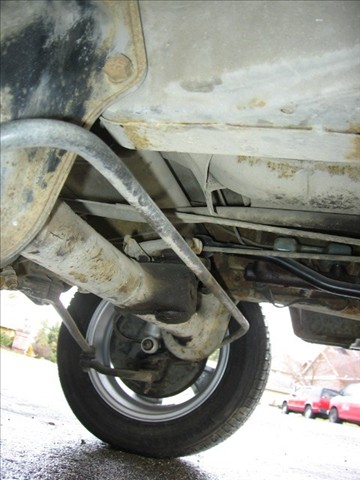 Underneath of car has not been touch or washed so not to hide anything!! Looks very dry and solid underneath!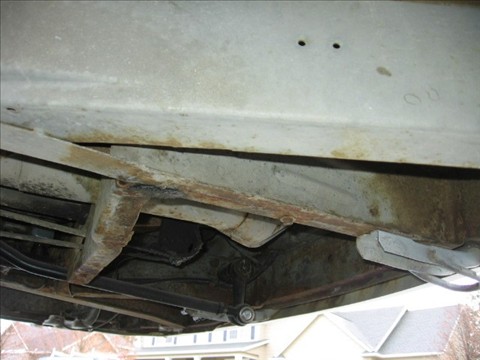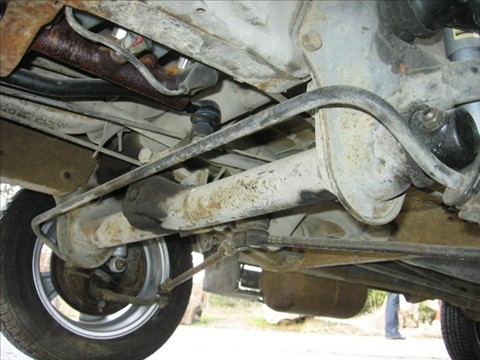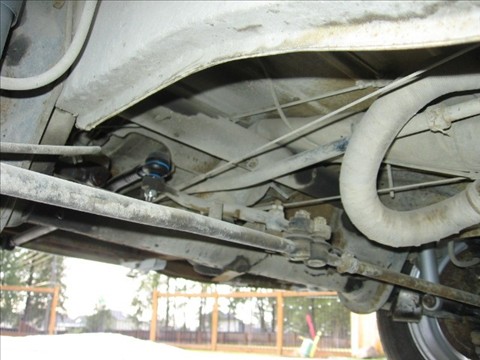 All new KYB shocks, Drag link and ALL new ball joints.
Newer steering box…beam regreased.
Brand new Empi 5-spoke wheels with 185/65 Kumho Ecsta LX Platinum tires…very smooth and quiet and handles nice!
Brakes serviced and flushed. Brand new ATE master cylinder.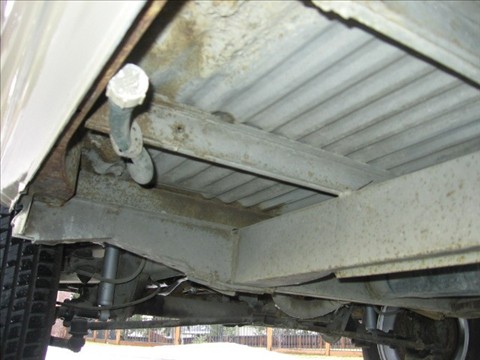 Nice.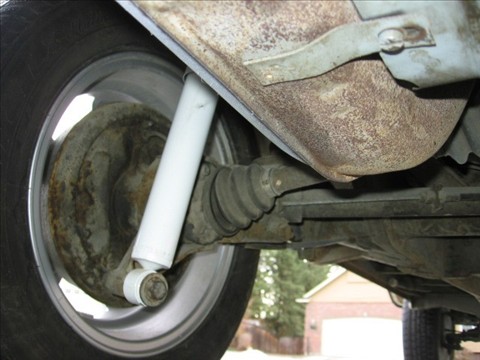 New shocks!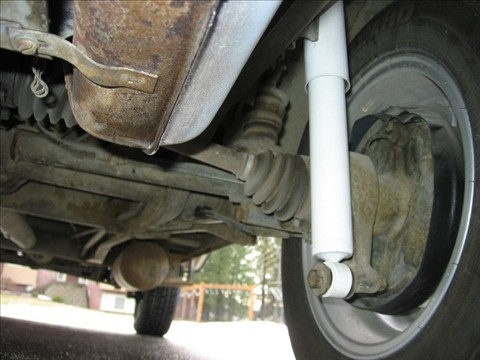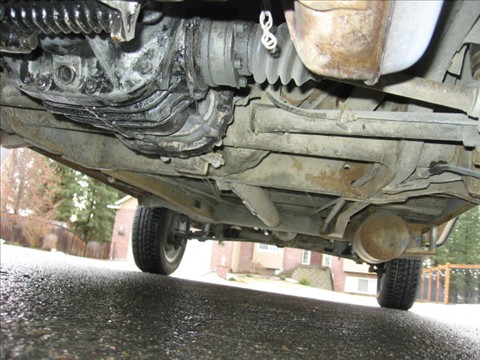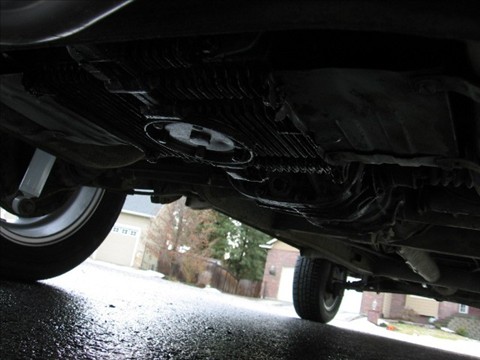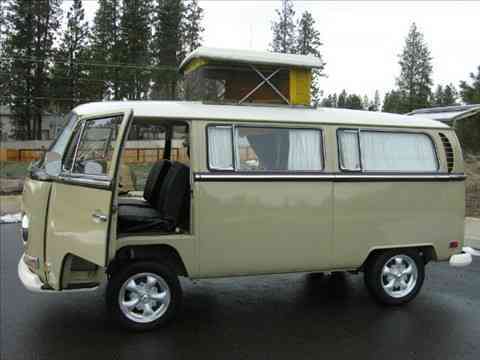 Really a great color combo...the beige, brown and white look so cool!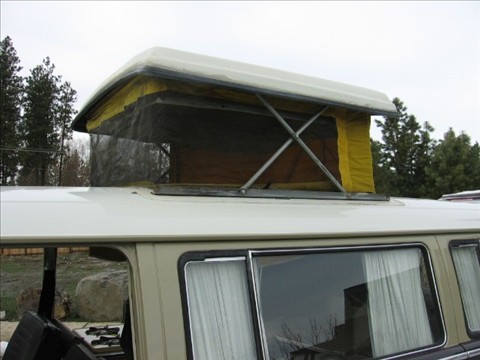 Small pop top is more often seen on earlier models and this one has a bit of a custom
canvas with larger screen viewing areas.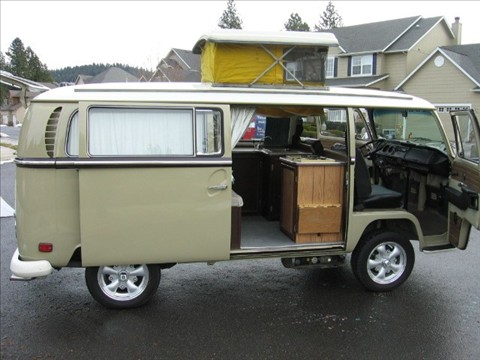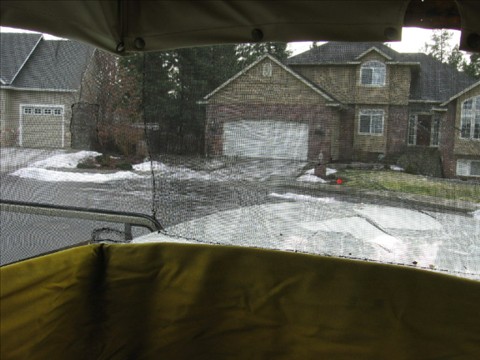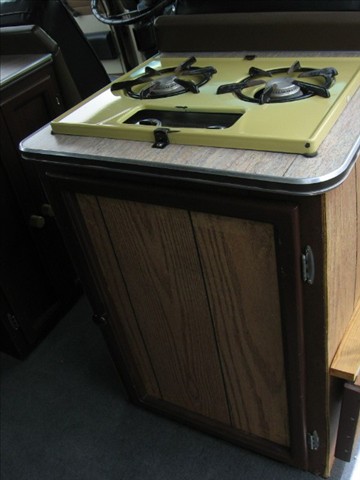 Great period camping interior.!!
Drivers seat was repaired, rear seats and folding deck/double bed reupholstered by owners wife who is a seamstress…very well done.
Stove works but is low on fuel, needs updated valve to refill!?
Sink pump works and has storage tank under real seat. Headliner is clean with a few holes.
Fluorescent light for front. Bug screens were repaired and show no holes.
Pop top canvas all there and in good shape. Bug screen snaps on rear hatch when open.
Front Poncho material curtain snaps across inside front window for camping.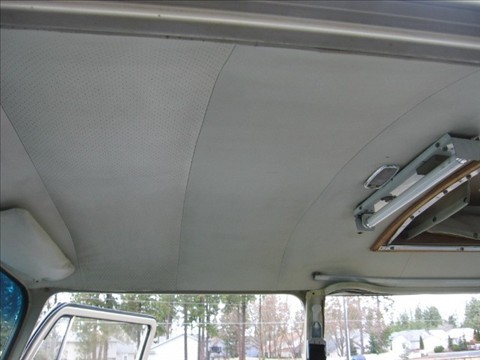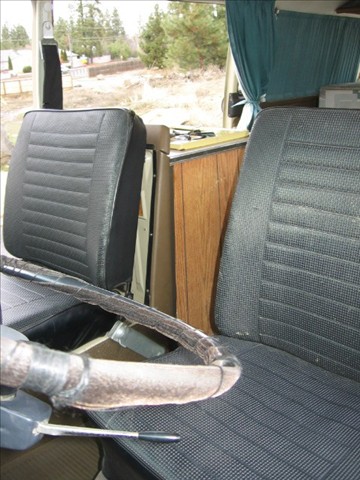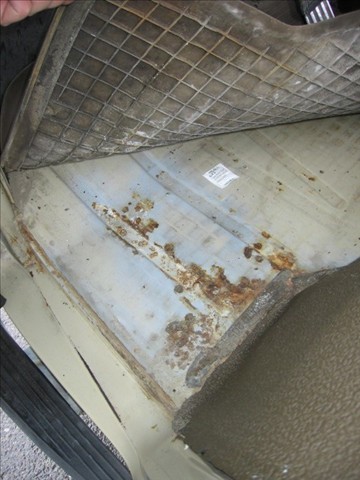 Fantastic floors!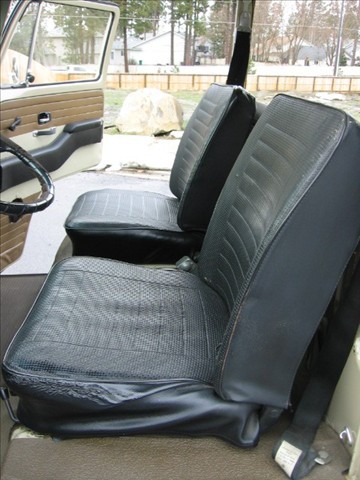 Seat material is a little wrinkly on the drivers seat perhaps...but Im being picky here.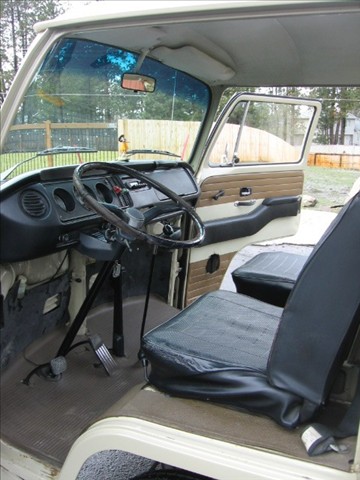 Check out the original rubber mats...NICE!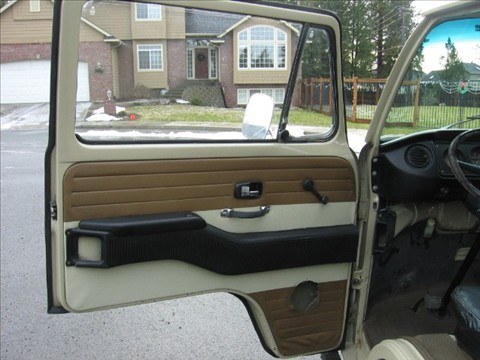 Original two tone deluxe door panels.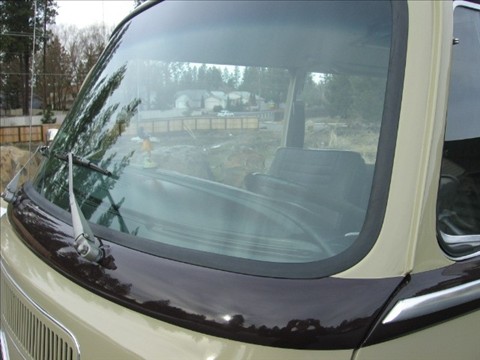 New window seals!
Glass is excellent.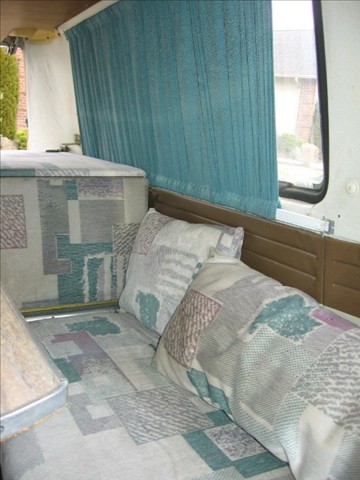 Cushy interior.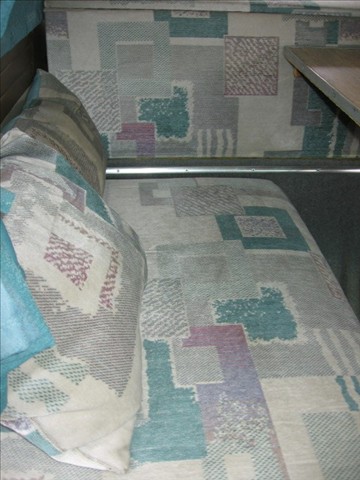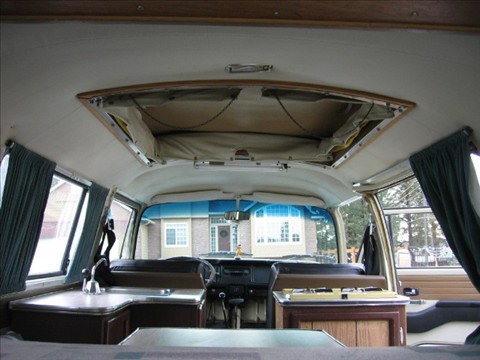 Mattress stores under the rear deck.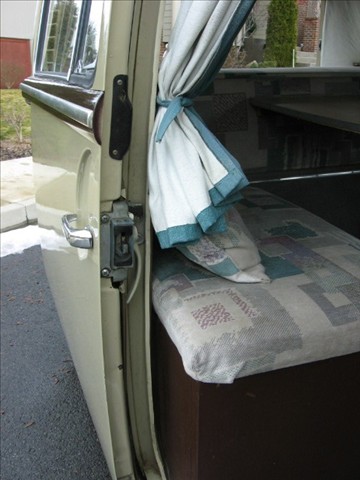 Latches and such look clean.
Cool table.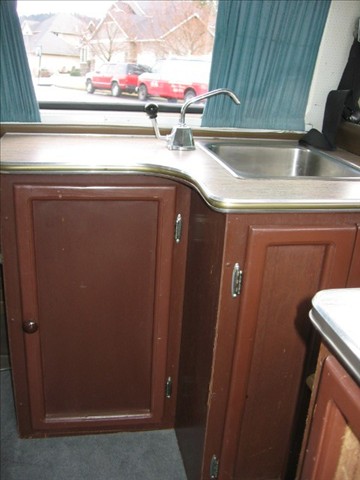 Sink and cabinets...interesting layout inside.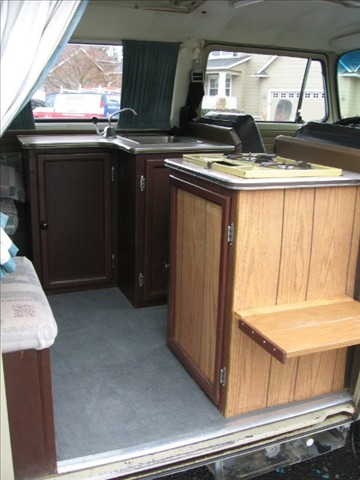 Wood on the stove base does not match the rest.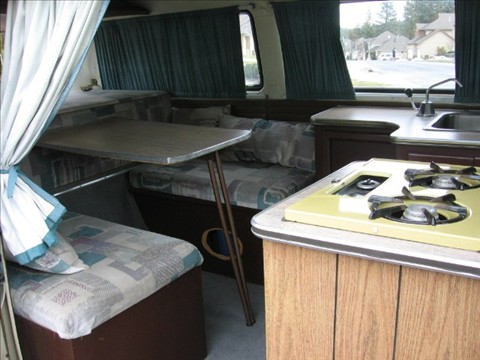 Ultimate party pad!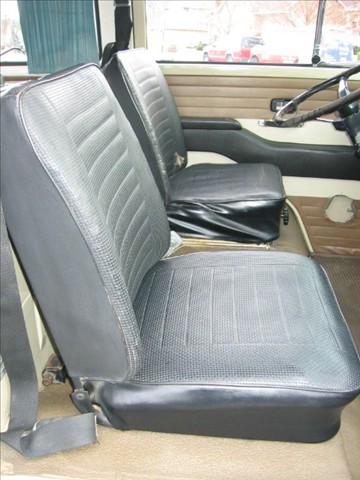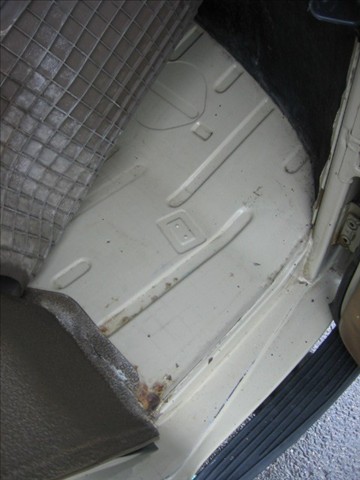 Dreamy original paint on the floor.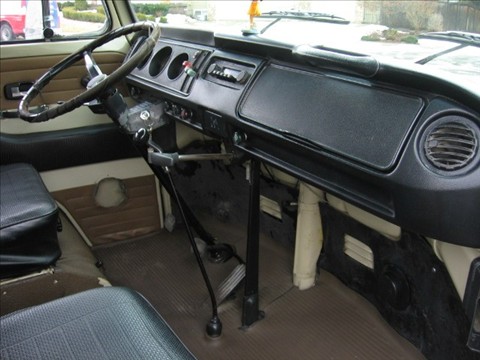 Nice dash.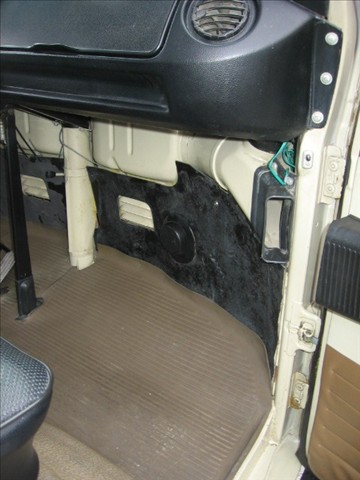 Clean.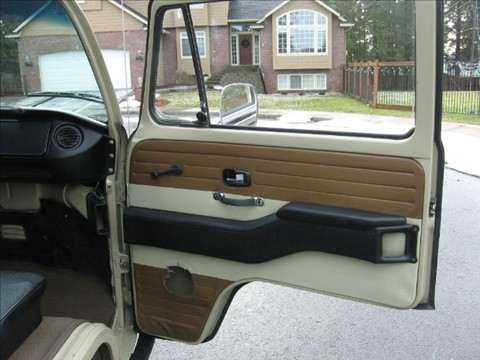 Needs the speakers replaced...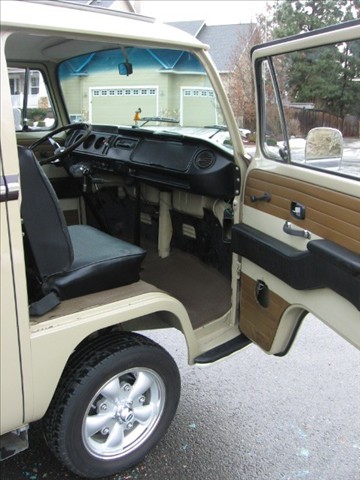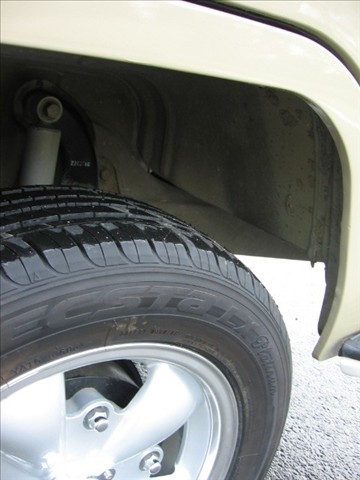 Excellent tires...new new new!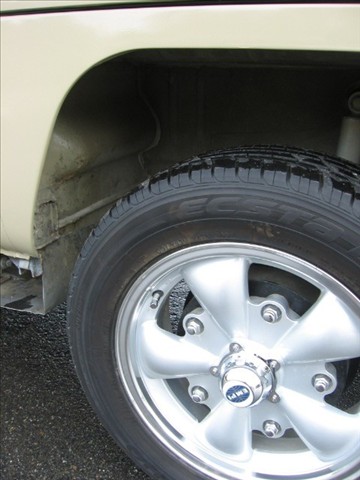 Nice new wheels, very solid fender arches.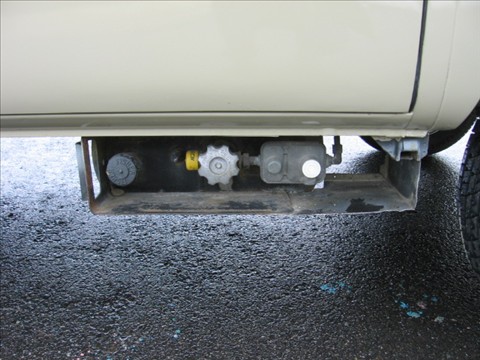 Propane tank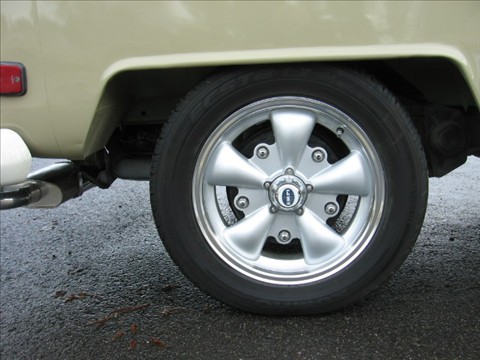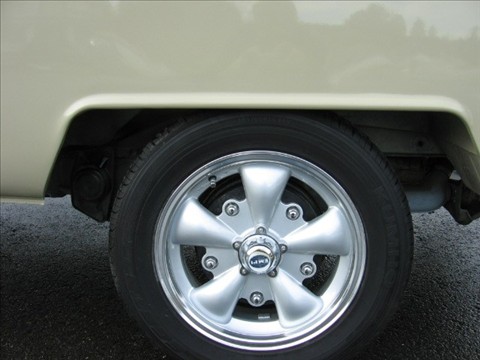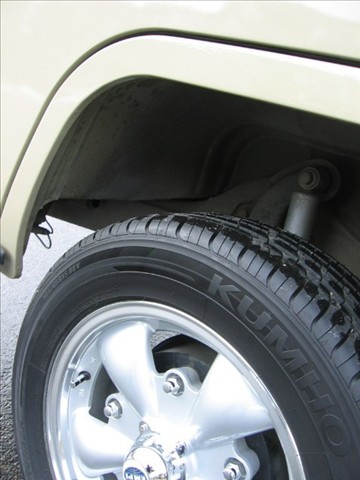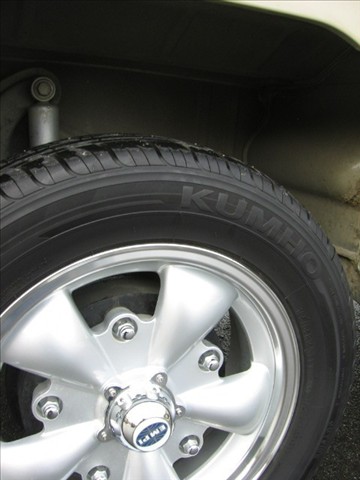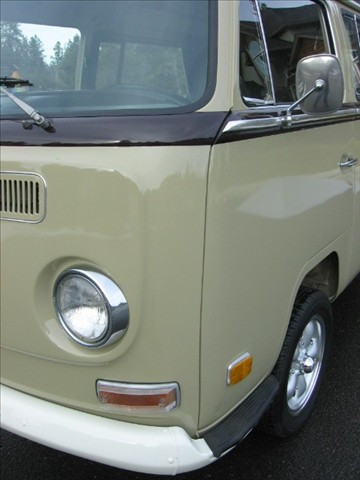 Deluxe body trim and the paint colors again...very pretty.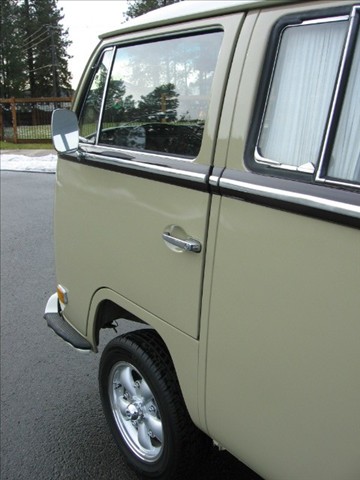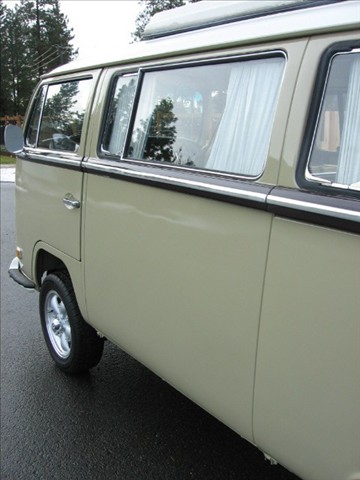 Body looks very straight.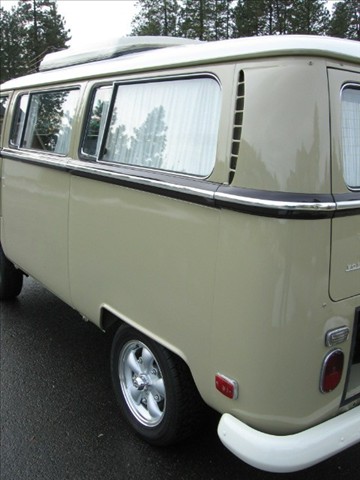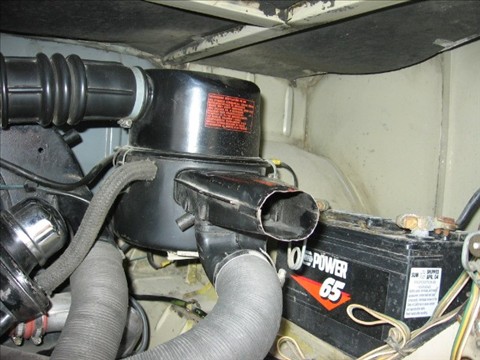 Engine compartment is quite clean.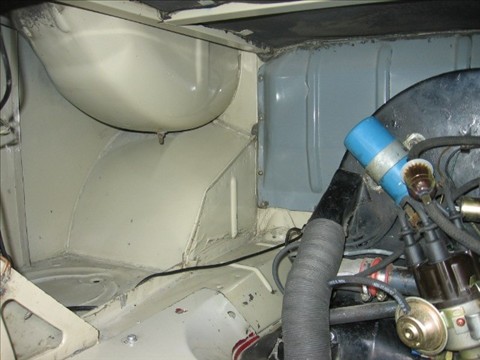 Nice!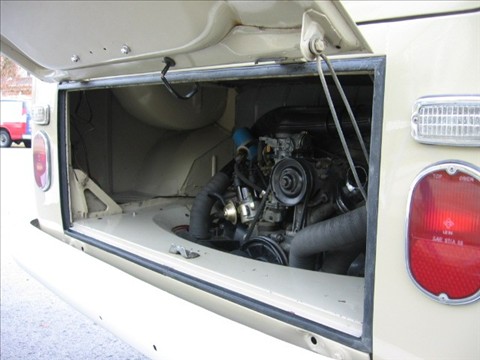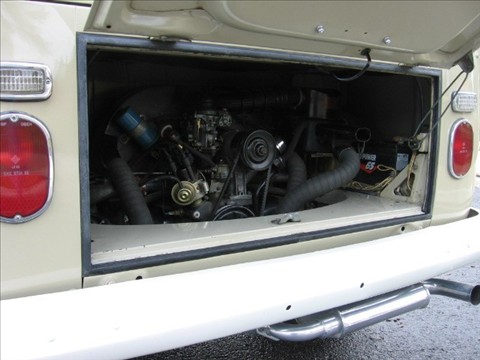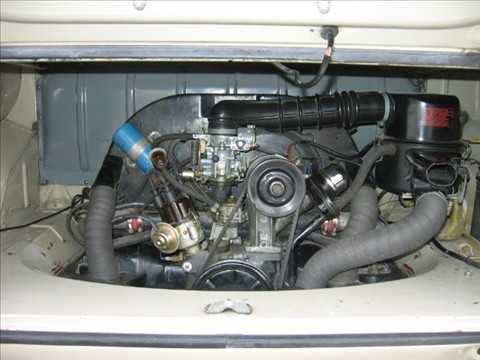 1600 dual port but pulls and runs hard…feels like a 1650??
Appears to be a "big-box" rebuilder long block replaced 9 years ago.
Block is all black with "don't tap or warranty void" on oil galley by distributor.
Engine runs very very smooth…feels balanced. Full tune-up preformed and new AJ Simms
Bosch vacuum/mechanical distributor installed (much more drivable).
Brand new Kymco ceramic header system installed plus new wires etc.
Stock carb rebuilt. Tranny fluid replaced with Lobro synthetic…shifts very smooth and quiet! Shows 22,483 on speedo.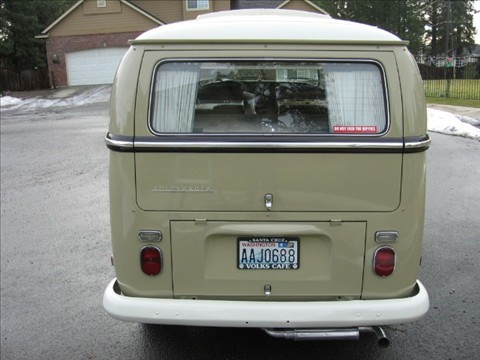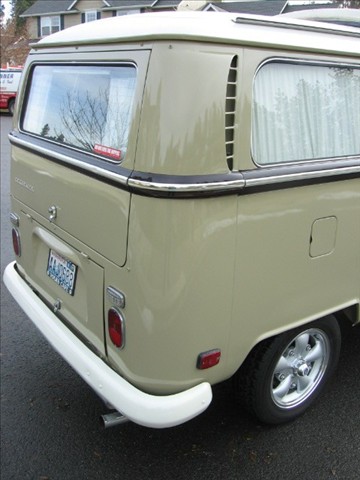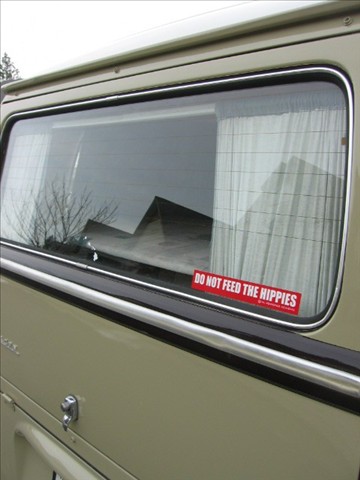 Do Not Feed The Hippies!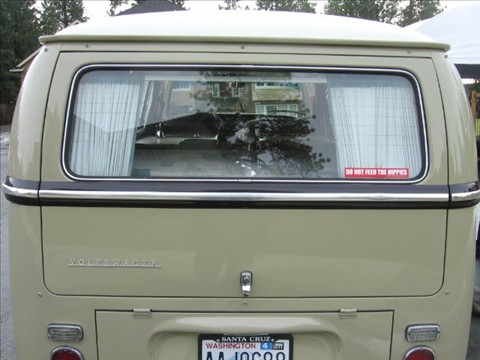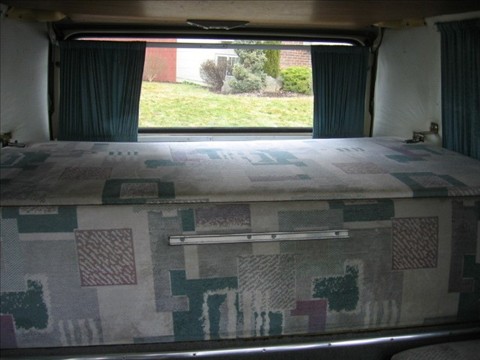 The big box in the back comes down to create the bed platform.
When up, the mattress stores below.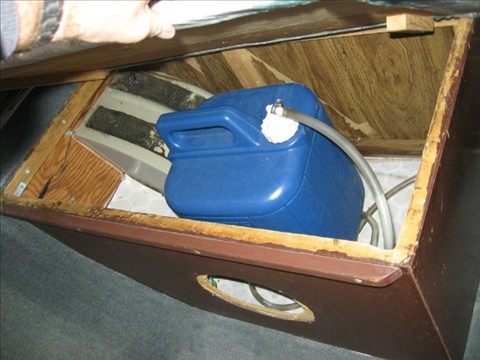 Water tank under the seat.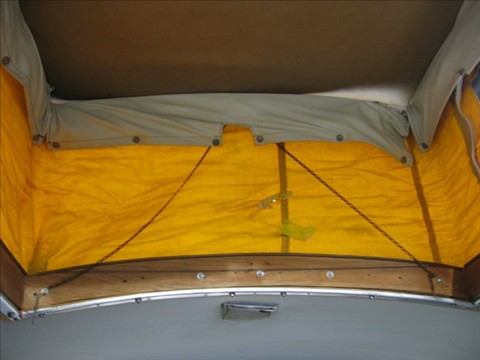 Pop up top from inside.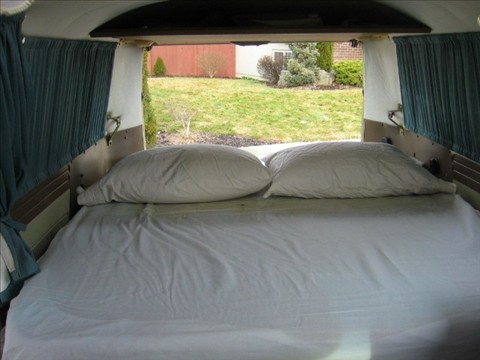 Bed laid out and ready for nap time!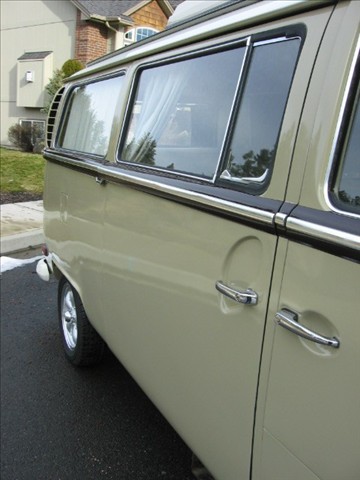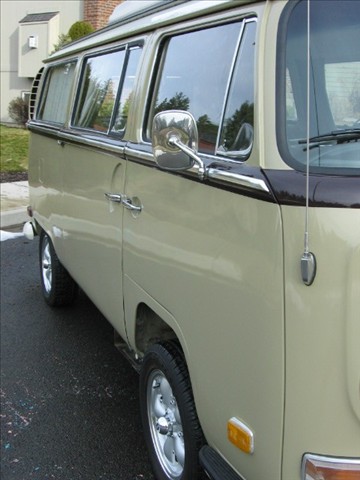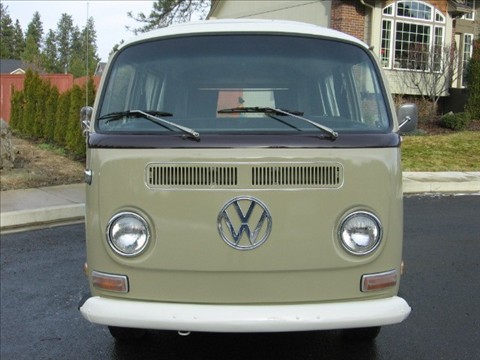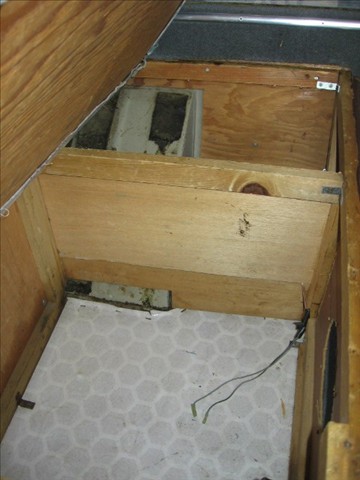 Plenty of storage.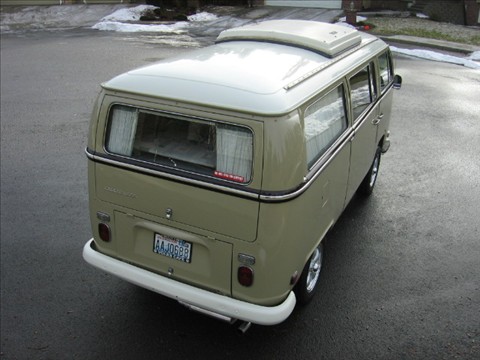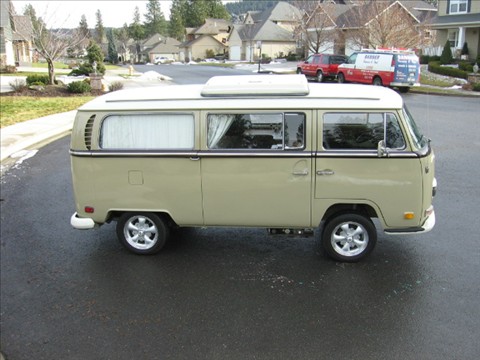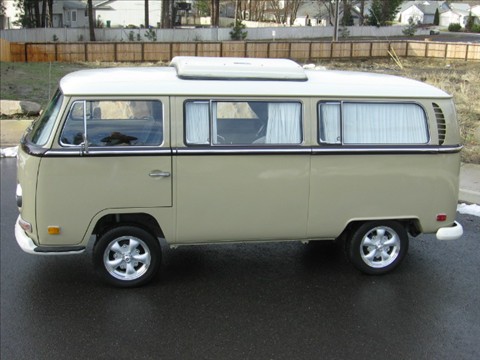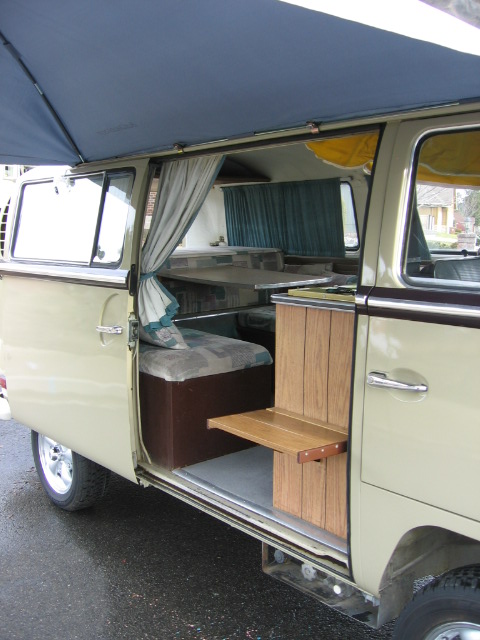 Canopy in place...all set up.
Awesome!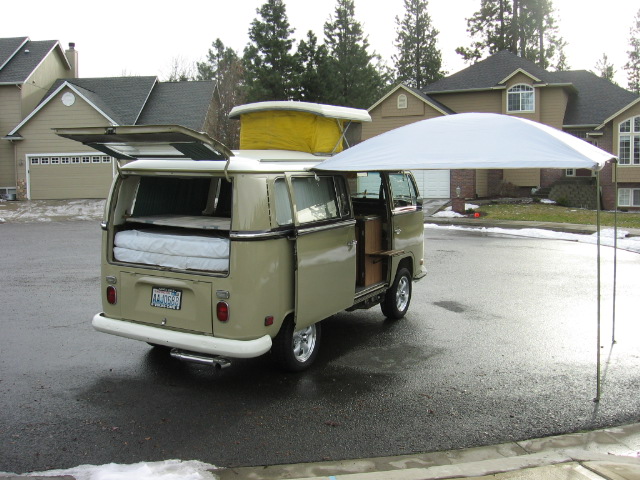 How cool is this??
VERY cool!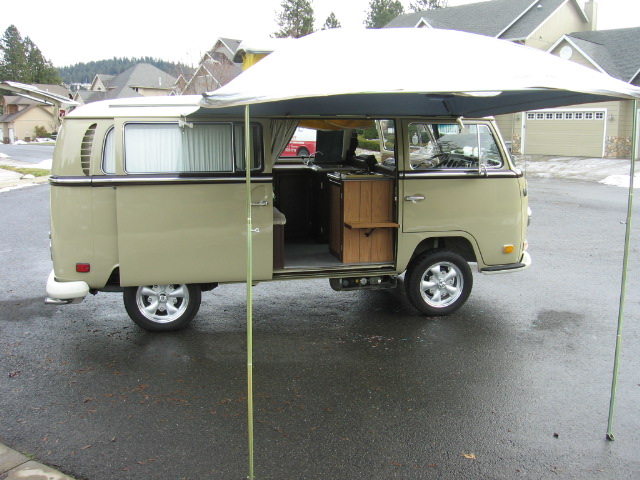 This is a great Bus and a great buy.
Very well done, extremely solid and original underneath.
Good mechanicals, excellent looks...what more could you ask for?
Asking
$11,500 obo
---
For More Info...CALL
951-767-1600
or email
oldbug@earthlink.net
---