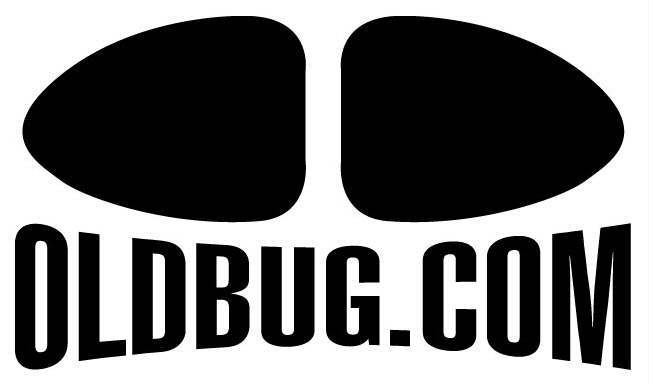 1969 Karmann Ghia Coupe For Sale
---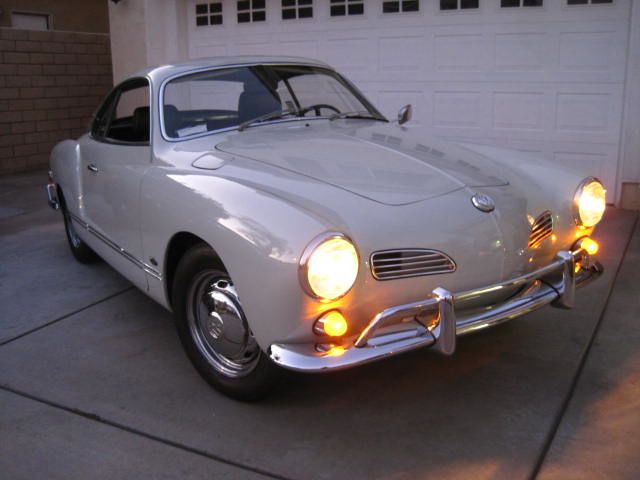 I find it odd that we dont get more Karmann Ghias listed on the website, but when we do, they seem to sell quite well.
And this white 69 in the photos here is really a wonderful example...in fact it is really quite exceptional in many respects.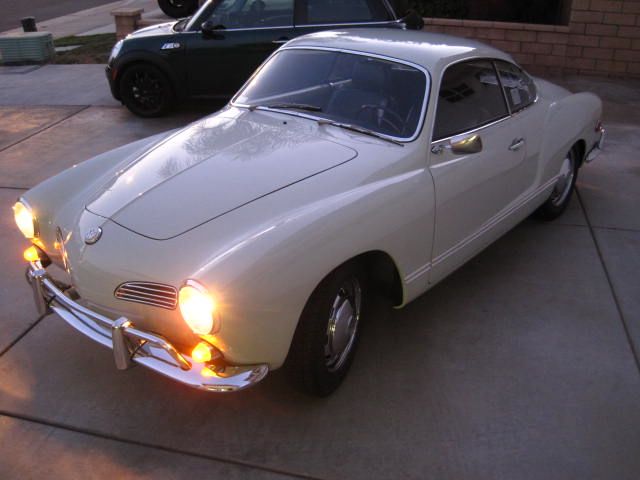 The car is located here in Southern California and is in the hands of a gentleman who bought it at one of the famed Barrett Jackson auto auctions.
Through the auction process it seems some of the history of the car gets lost as the buyer and seller have no communication with each other.
(which strikes me as very odd...but whatever)
So the story behind it is all a mystery...where did it come form? Are the 25,000 miles on the odometer original?
There are a lot of questions gone un-answered...if someone out there knows where it came from
please contact us!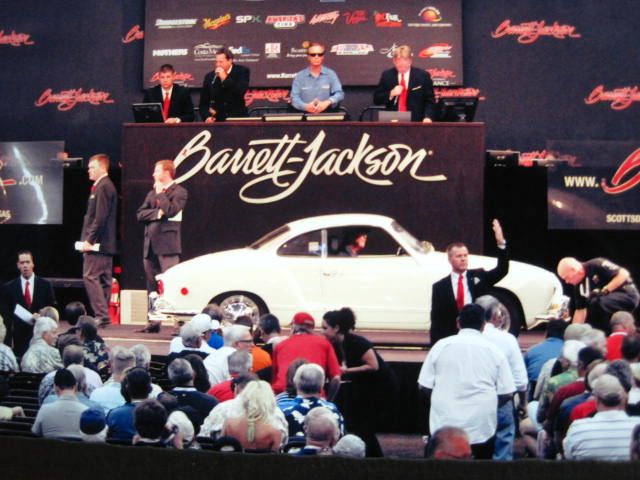 Here it is rolling across the auction block.
These auctions are really great fun and the excitment level is very high.
Sometimes the prices get quite high as a result and it is really a spectacle to watch.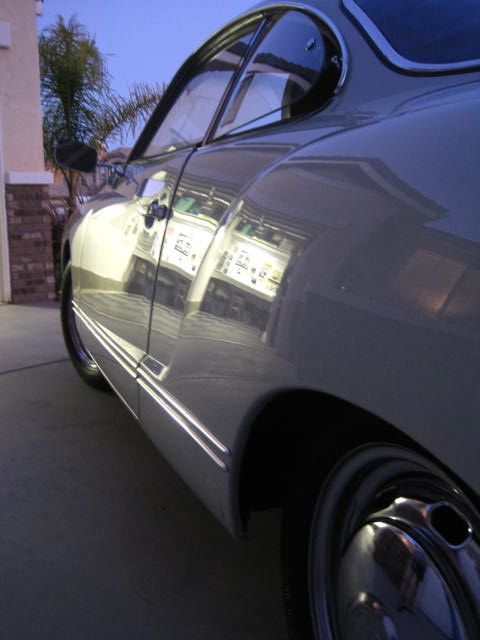 Now back in the new owner's garage the reality sets in and the opportunity for a really close inspection
occurs. In this case, the owner did well and the car is truly a jewel. There were some mechanical issues
that he needed to deal with, but now those have all been sorted and the car runs and drives as good as it looks.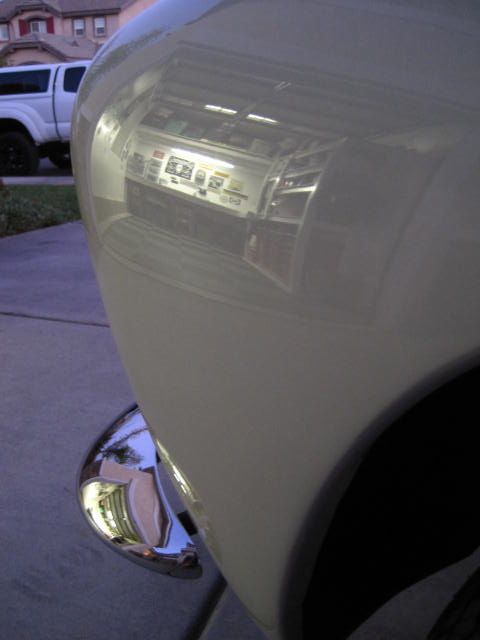 The one thing that really strikes me about this car is the quality of the paint and bodywork.
This finish is very smooth indeed.
The car looks like it was a wonderful low mileage base car to start with
which helps, but the finish quality and polish is excellent.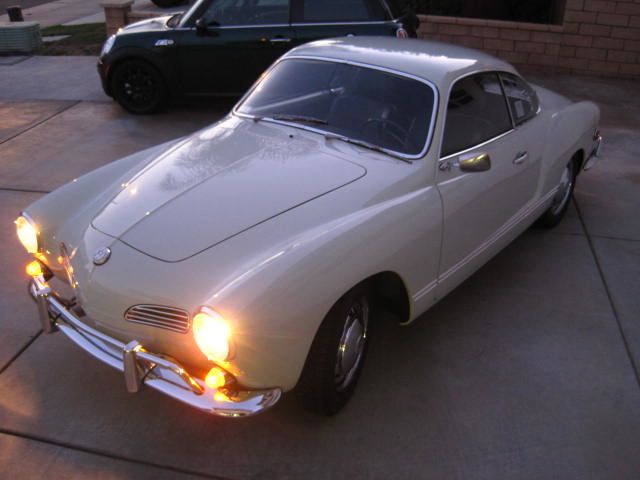 Its a very clean machine indeed.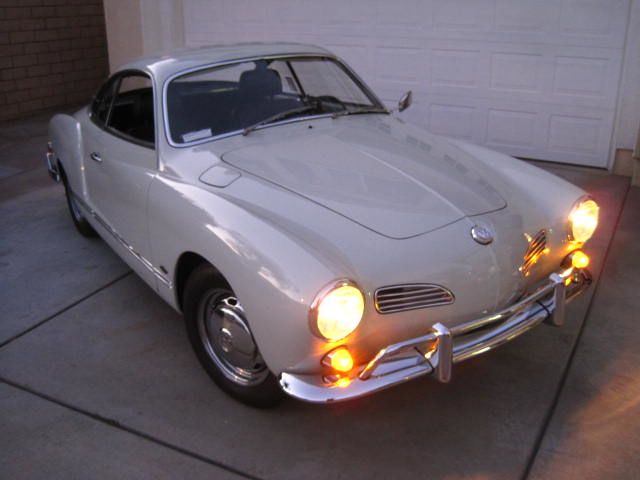 Chrome is superb, rubber all looks good, trim and accessories are excellent,
wheels and tires too... pretty cherry.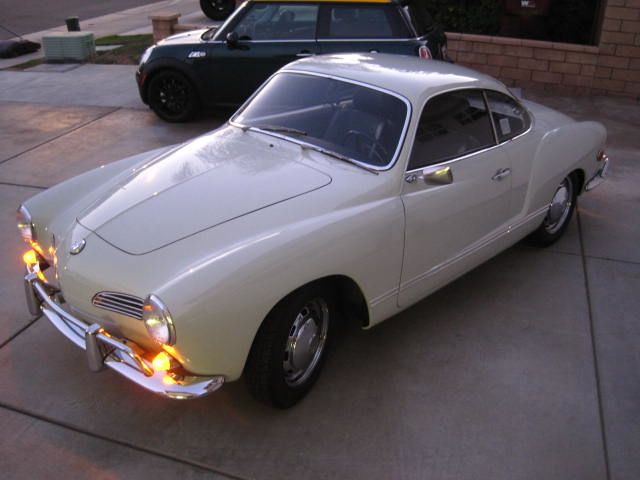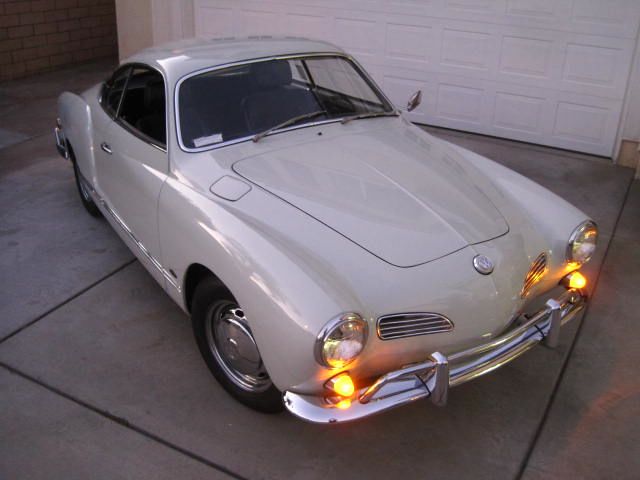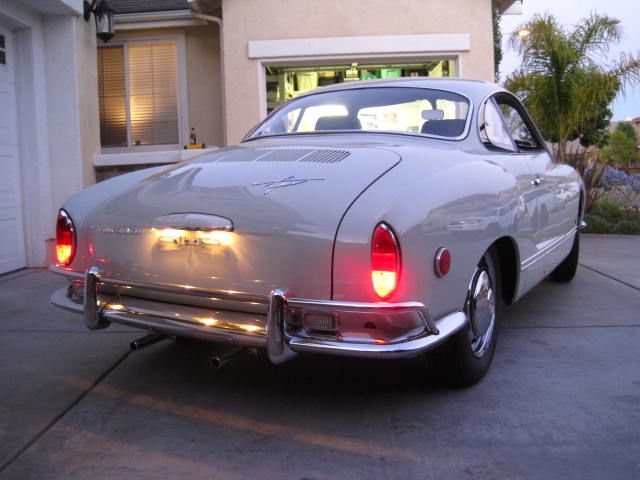 All the electricals work properly (except the clock I am told)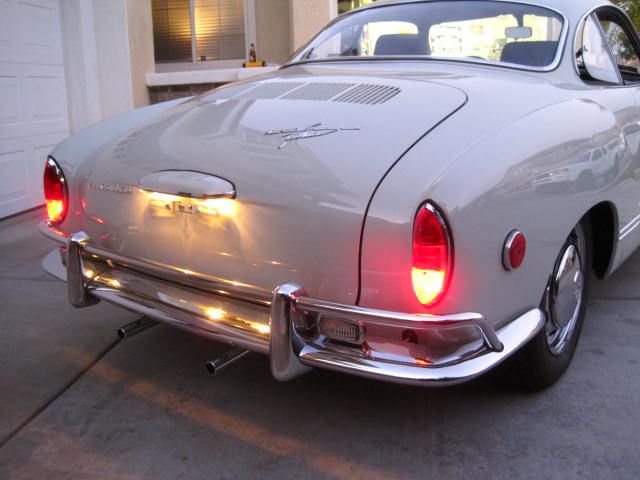 Good gaps and shut lines.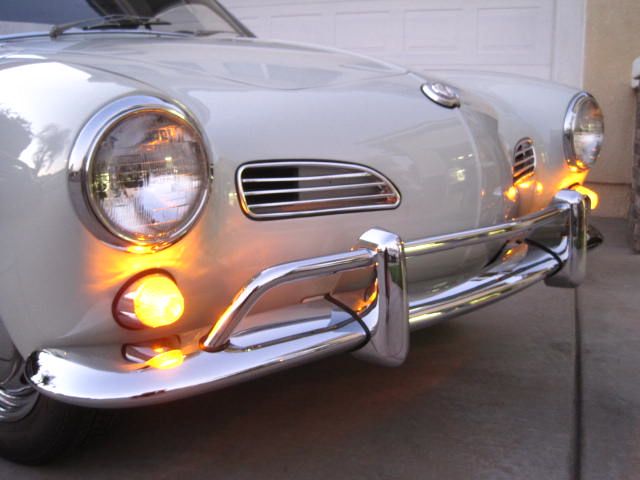 Bumpers are excellent, nose is properly smooth and straight.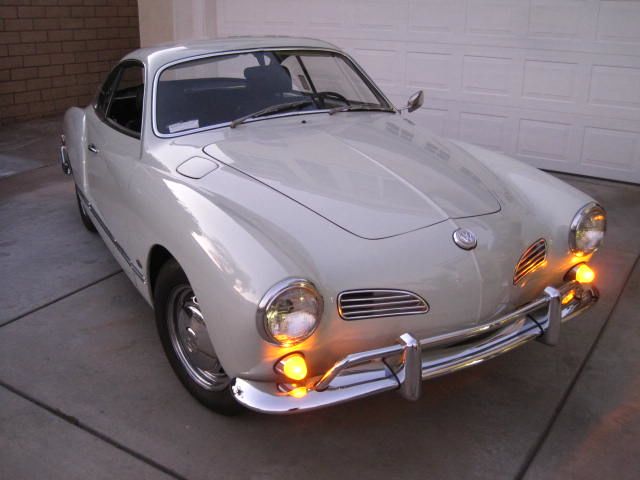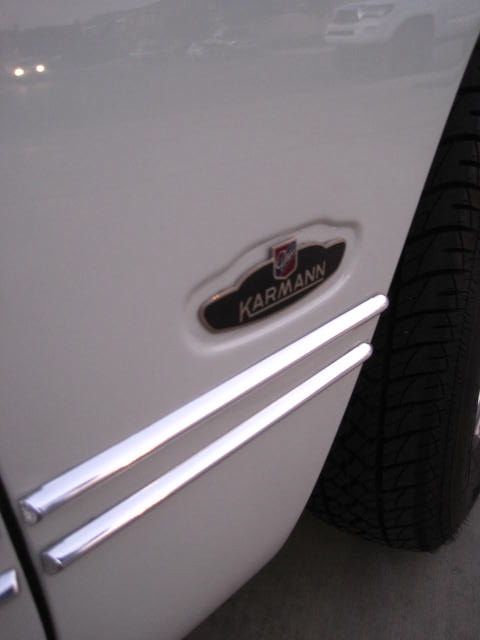 Body trim looks new...Karmann badge is excellent.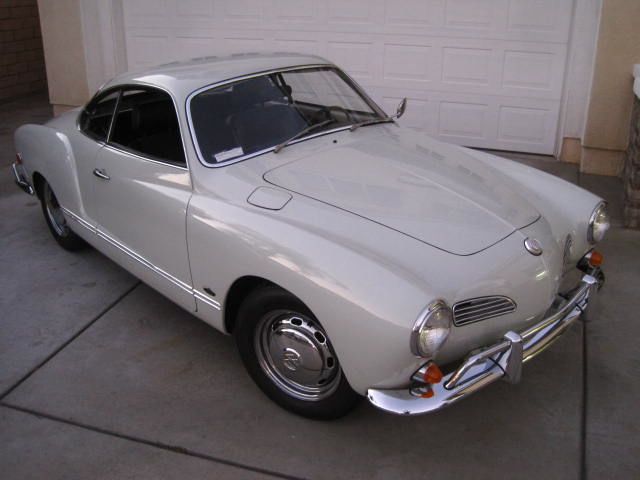 Chrome wheels add a little more flash.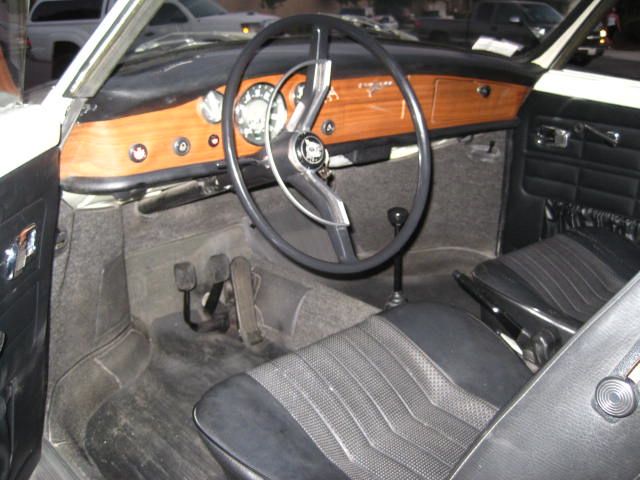 The interior is all original, or so it appears.
This is where some of the questions about history come up.
It looks to have never had a radio installed, the carpet, headliner and seats all look original and
in impressive condition for their age, and the odometer reads just 25,000 miles.
Without any documentation to back it up, it is all a guess!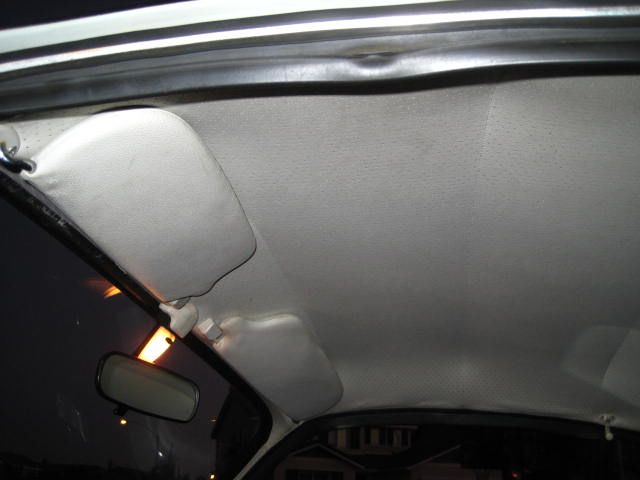 Headliner is in excellent shape and appears to be original.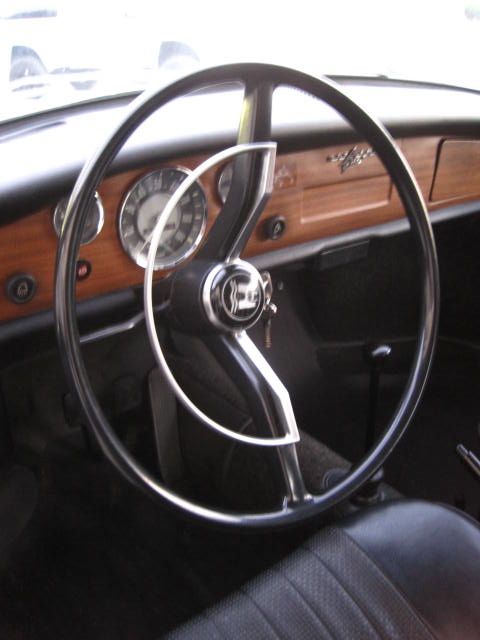 Steering wheel is super clean.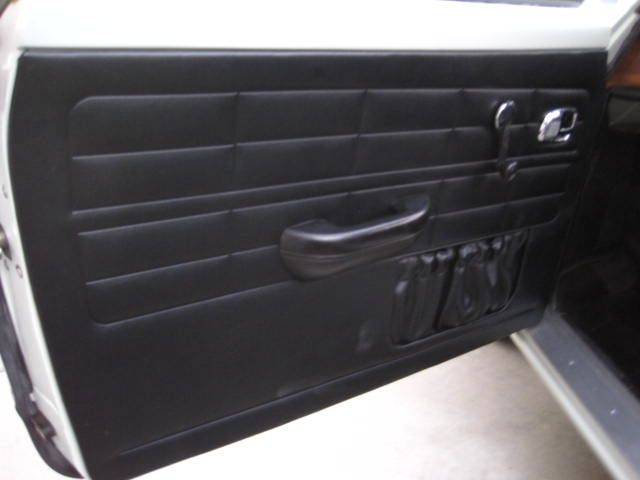 Door panels I am not 100% sure on...they look like new ones to me...but with the rest of the interior
being original...Im not so sure.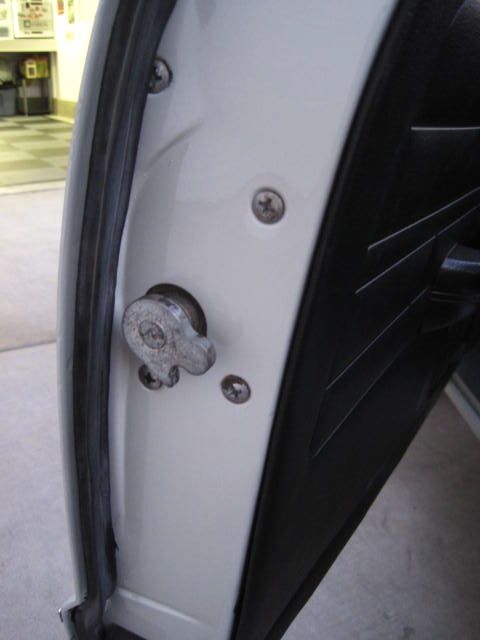 When the respray was done they did a fantastic job of painting the door jams and such...super clean.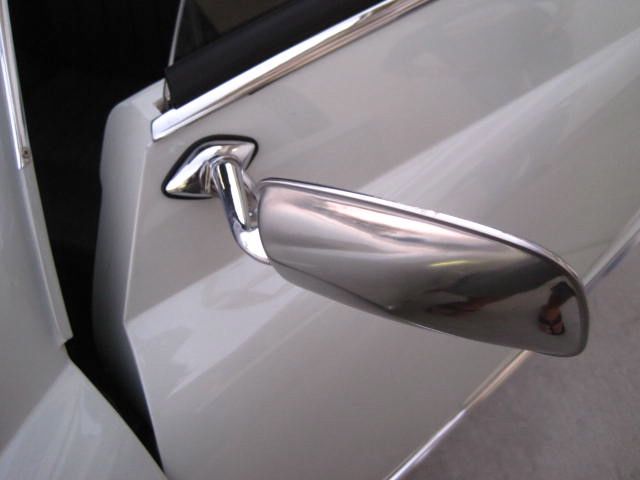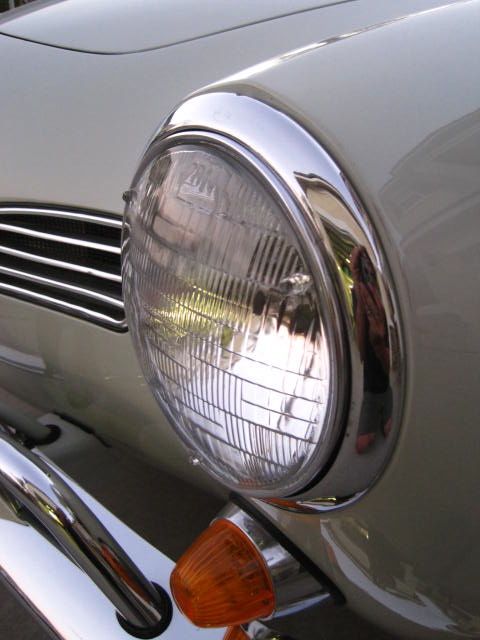 Headlight rings look like the originals with the Hella logo on the top.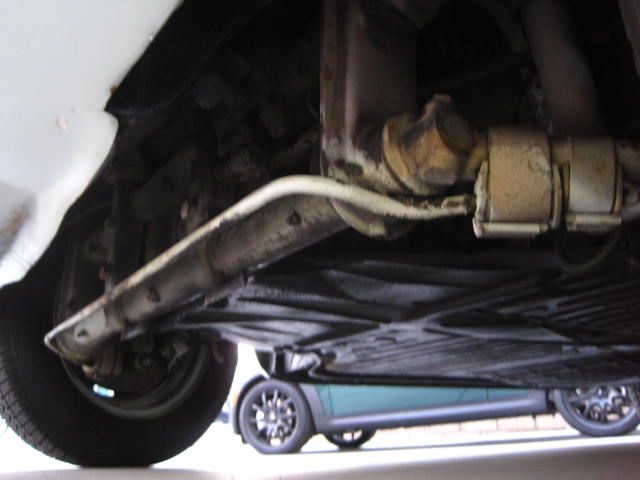 Underside is very clean but I do see overspray on the beam here and most everything has been undercoated.
What strikes me as a clue to the mileage is that the suspension up here is not caked with grease.
Under side of the nose is excellent!
Chrome is superb.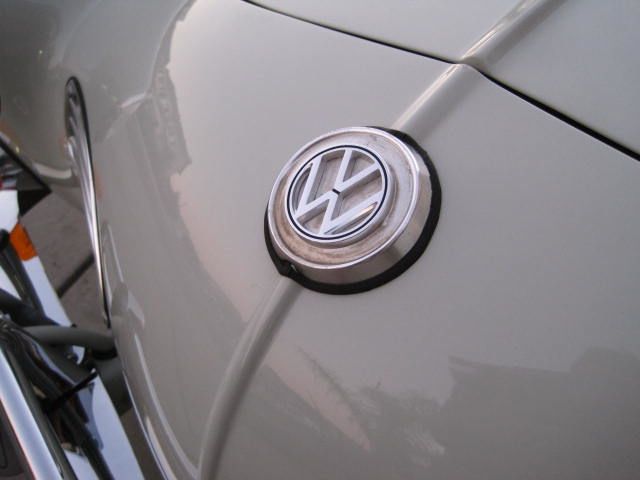 Hood emblem looks original...nose is excellent.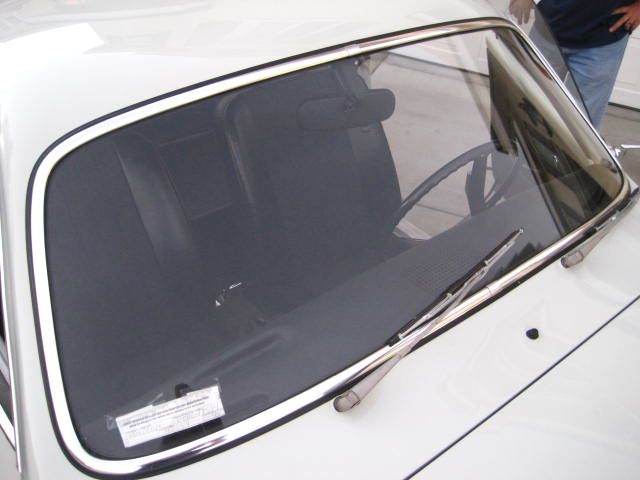 Glass is all good, window rubbers all look fresh.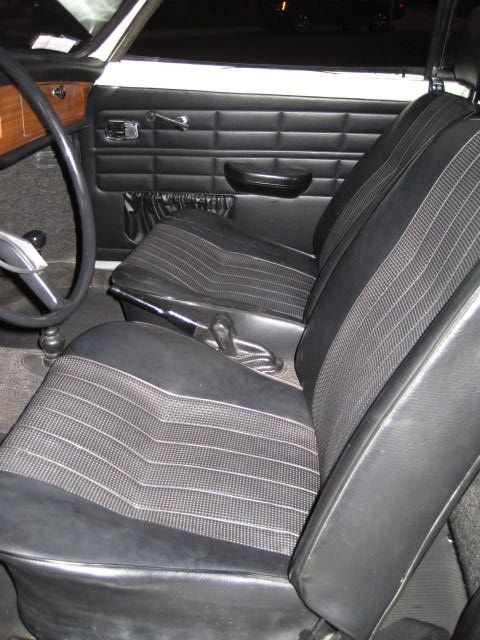 The seats look totally original to me and in really impressive shape.
On the passenger side there are a few marks on the seat bottom...looks almost as if it was stored
with a basket or something on the seat that left it's mark after some time.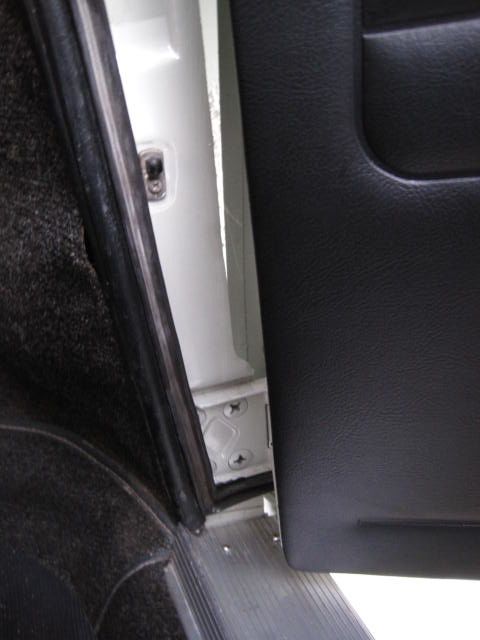 Clean jams.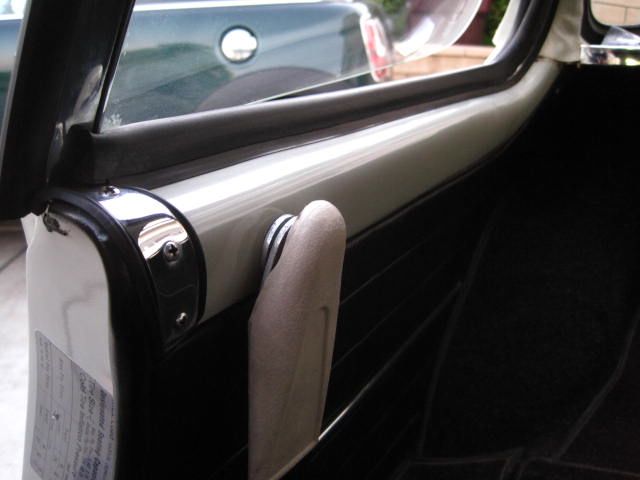 Nice.
Rear parcel tray vinyl has wrinkled up just a little with age...could possibly be stretched and re-glued.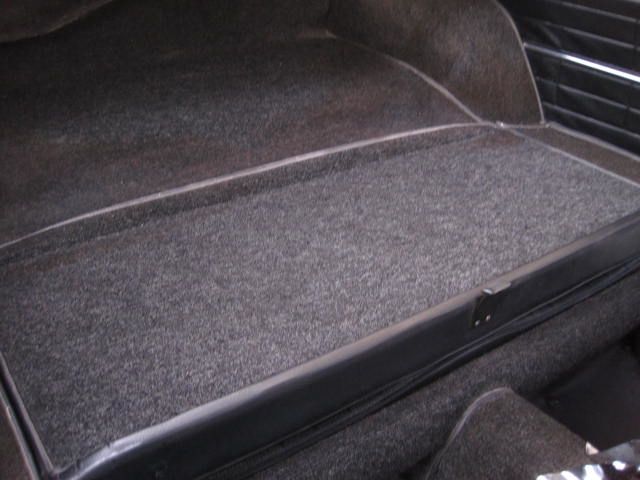 Carpets all look original...some minor discoloration in spots but still really nice.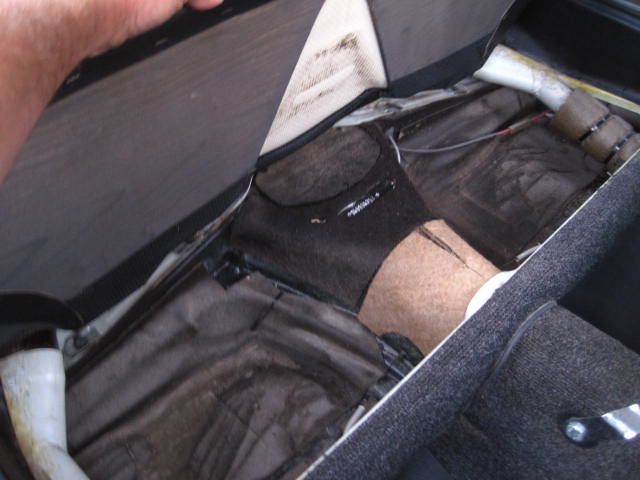 Under the back seat is very clean!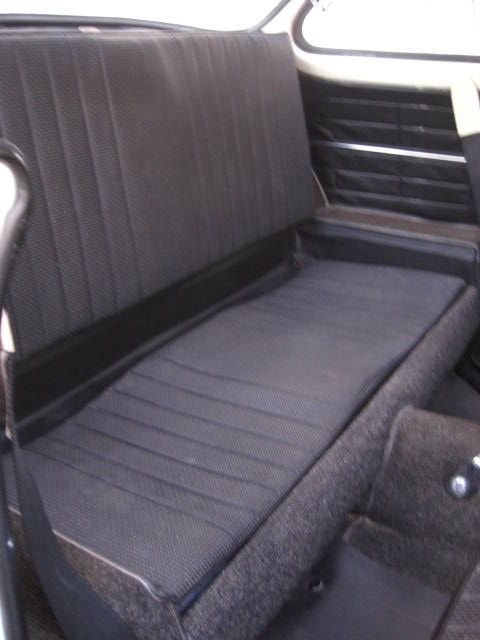 Rear seat is excellent.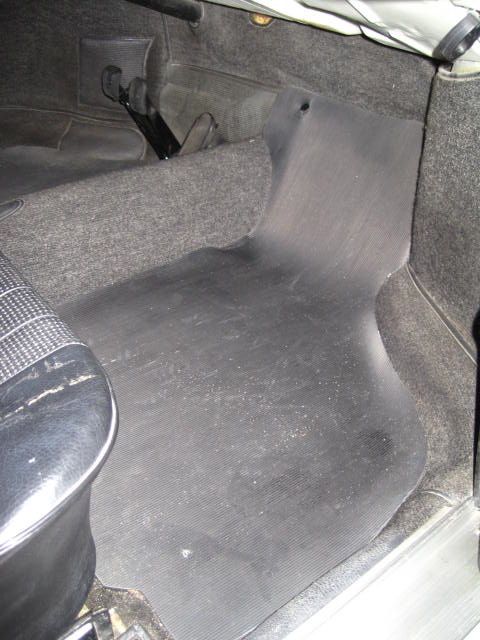 The front floor carpet has been replaced with rubber mats. I can only assume they were owrn or stained and then were removed.
The ribbed rubber mats are well fit, I think some coco-mats would look fantastic in here.
original carpets on the sides and tunnel are all quite nice.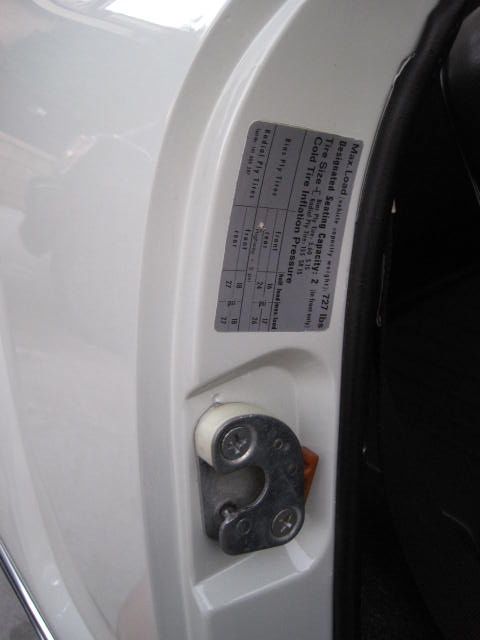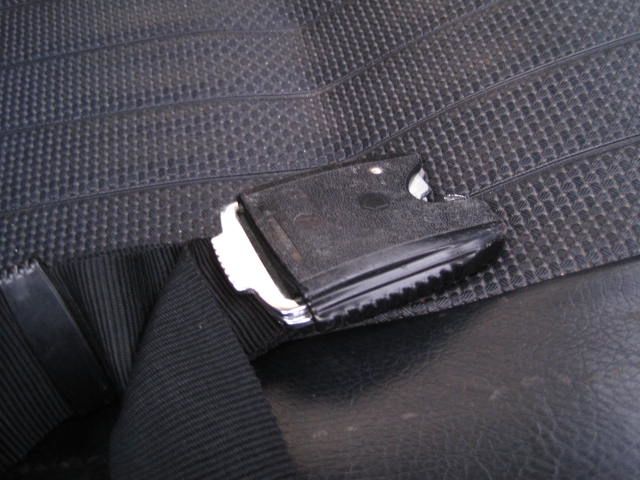 Original seatbelts.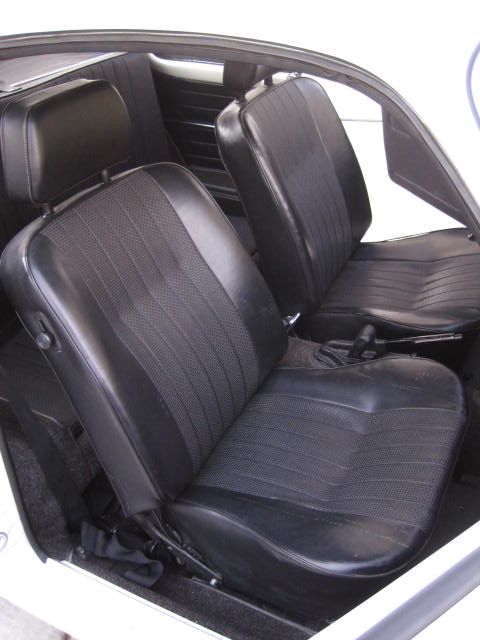 Seat are really nice and clean!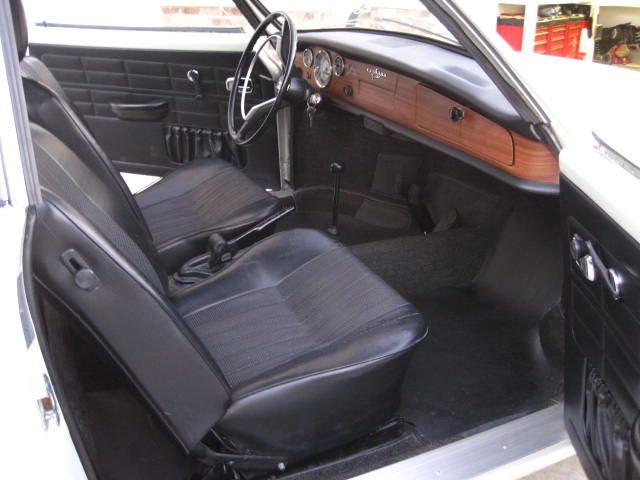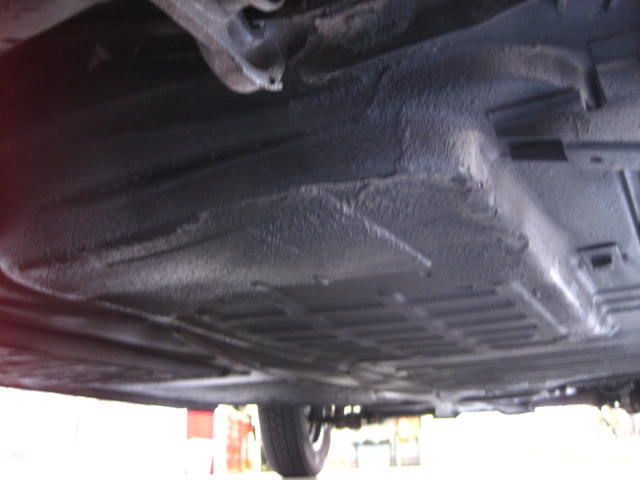 The car looks to be a very very solid example...no rust under here and a fresh undercoat to keep it that way.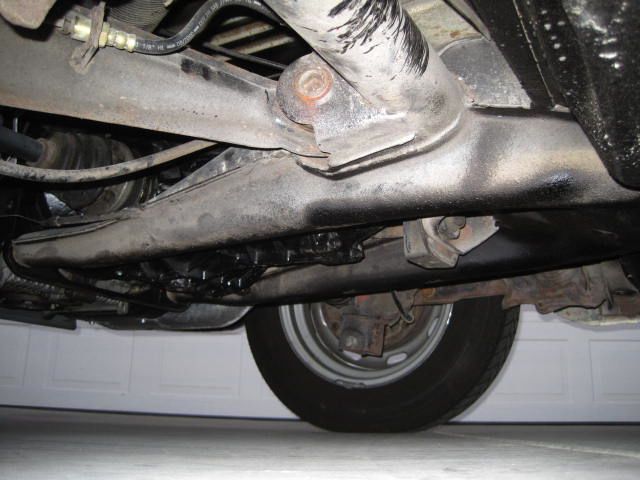 The transmission in the car has just been replaced. The original seemed to have a fair bit of grit inside
that we figure may have come from when the engine compartment was media blasted
during the restoration...there was quite a bit of sand around in there and the mechanic suggested
a rebuild...so the owner had a brand new trans put in!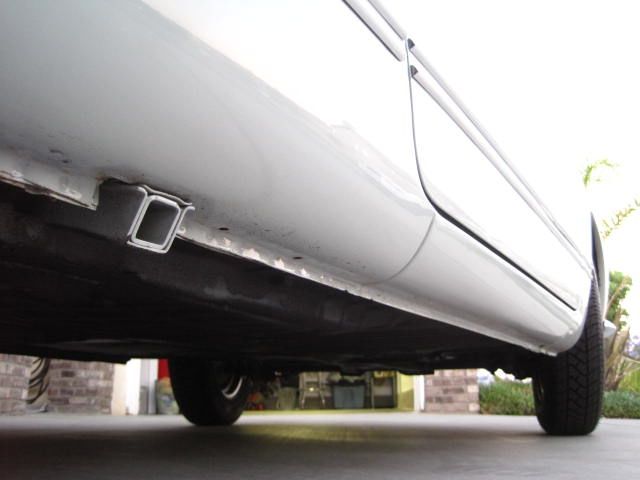 Rockers are super smooth and solid!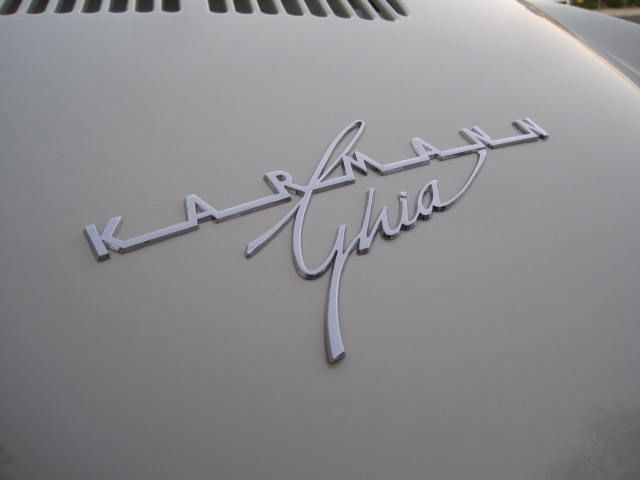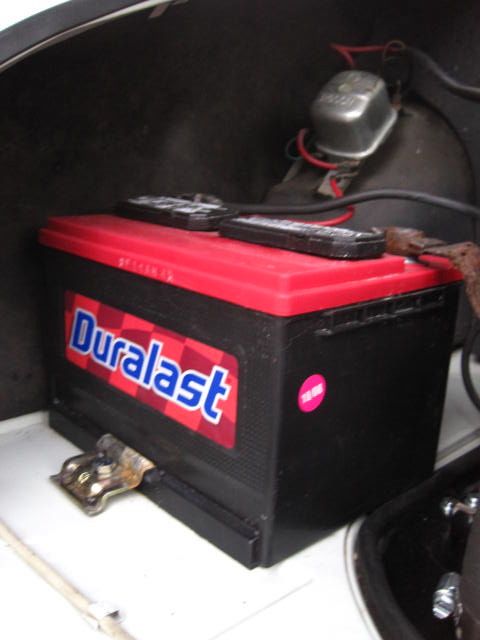 New battery.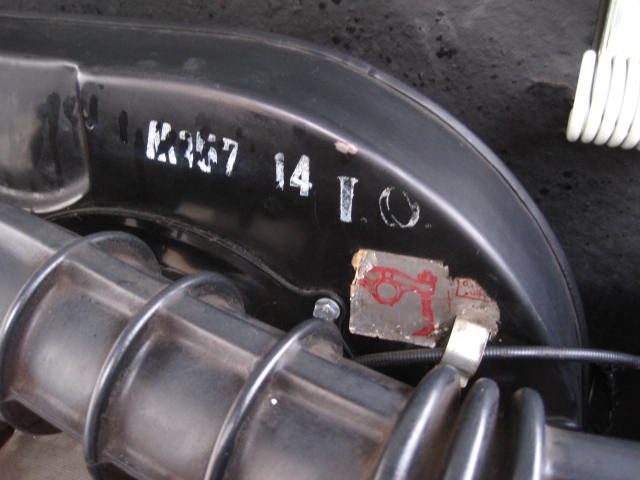 The engine has a lot of original details that also make me wonder about the original miles.
Check out the inspection stamps and the valve adjust sticker.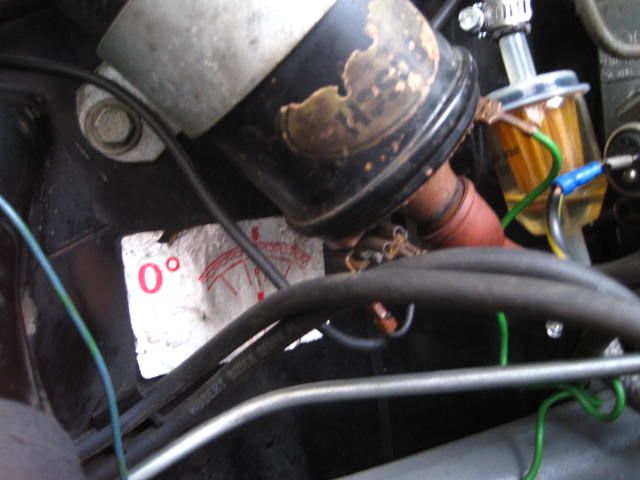 Timing mark sticker and original coil.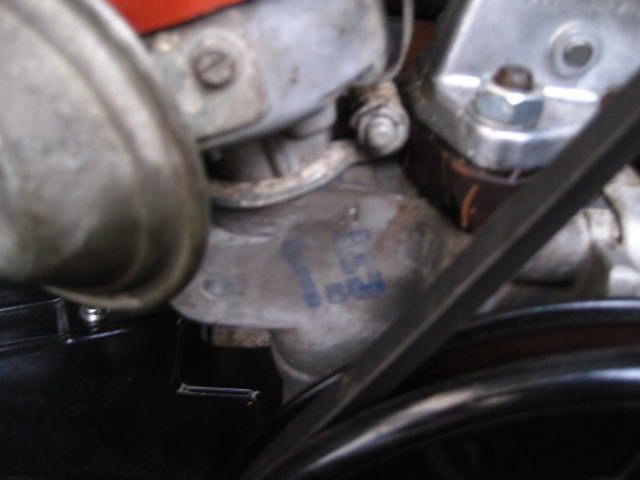 Inspection stamp on the case as well!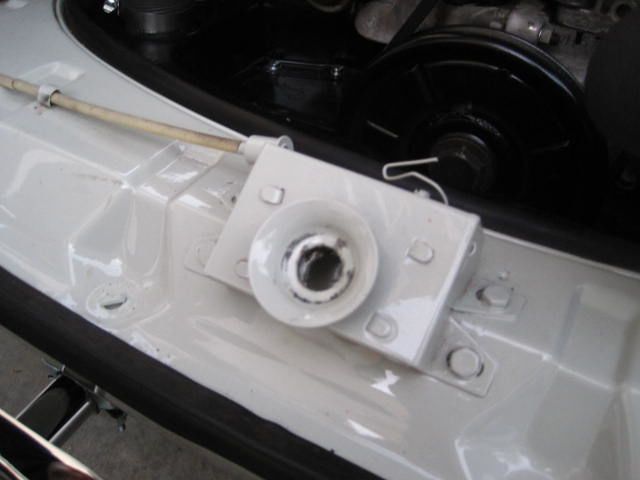 They painted over the latch in the engine room...this is the only thinkg paint wise that I shook my head at.
four bolts guys... oh well...that is just me being an anal goof...I digress.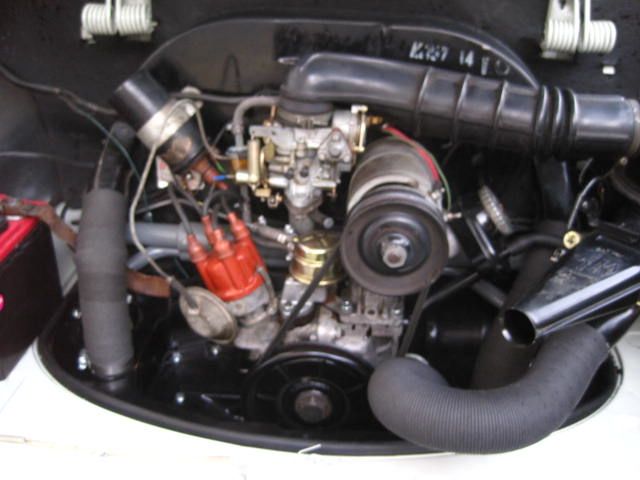 Engine is very clean and it runs excellent!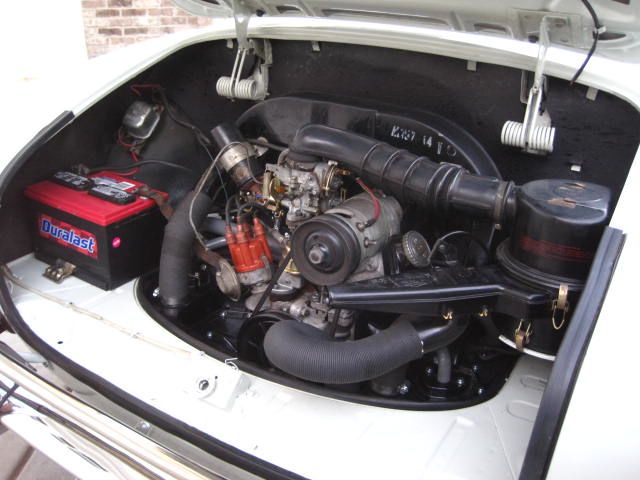 !
Really clean overall look to the engine room here!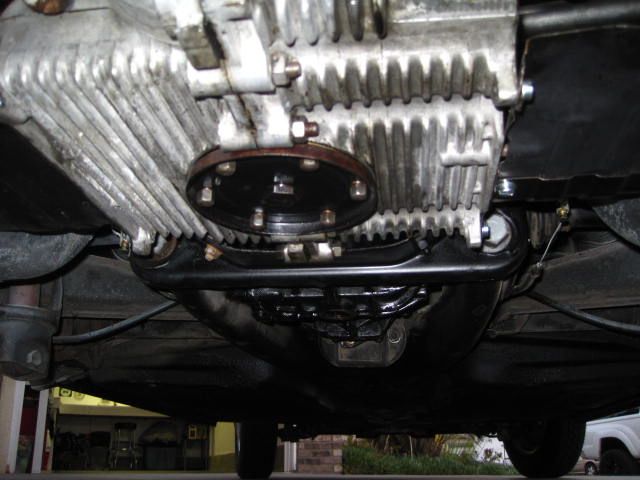 Underside of the engine is clean and dry as well.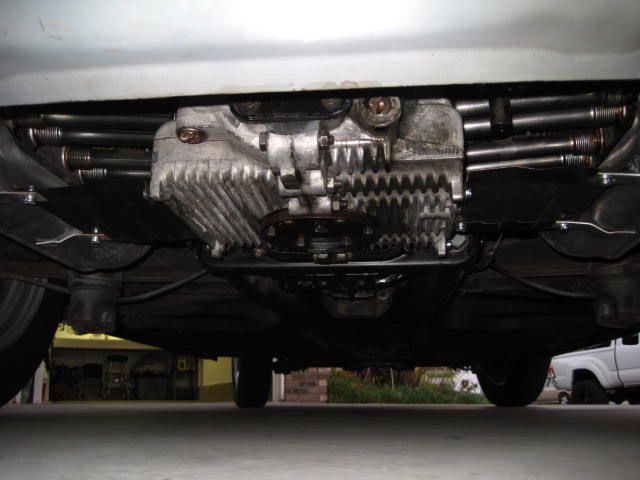 Looks like the engine has had recent service with what appear to be new push rod tubes
up in there, new tin screws as well.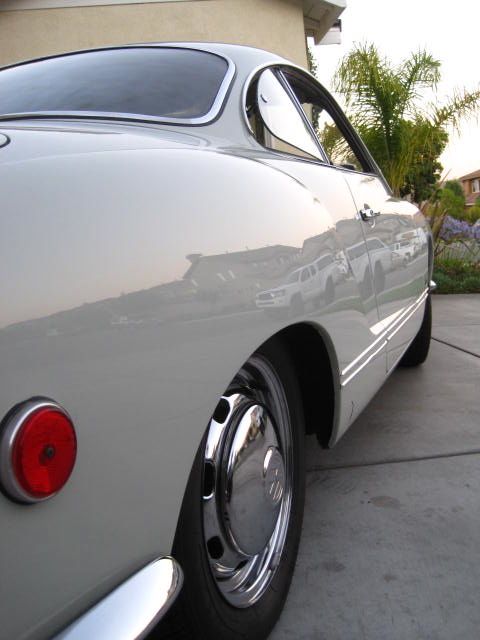 Really straight and glassy smooth down the sides.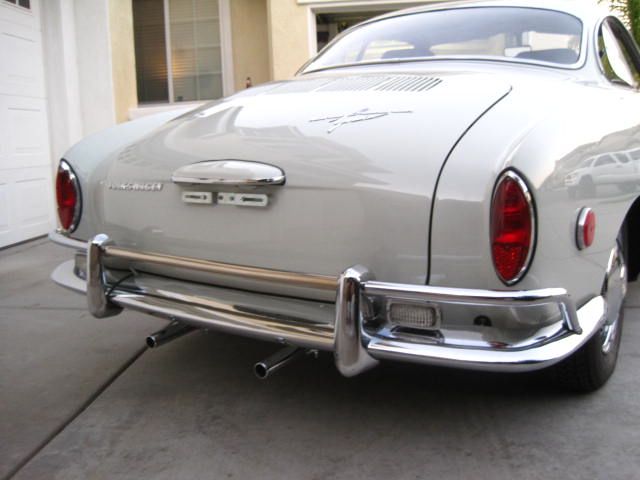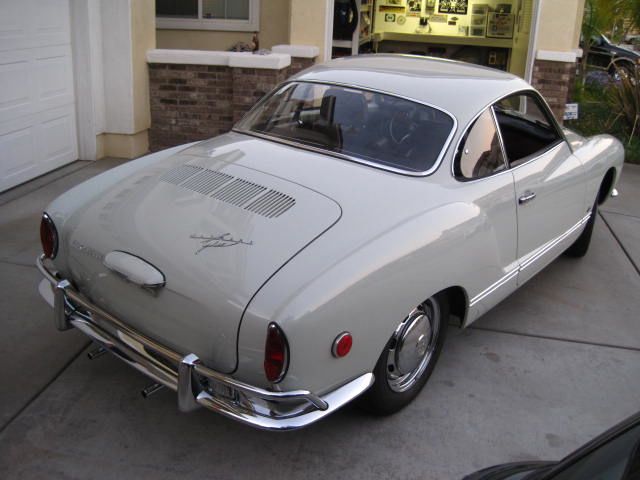 Showroom appearance!!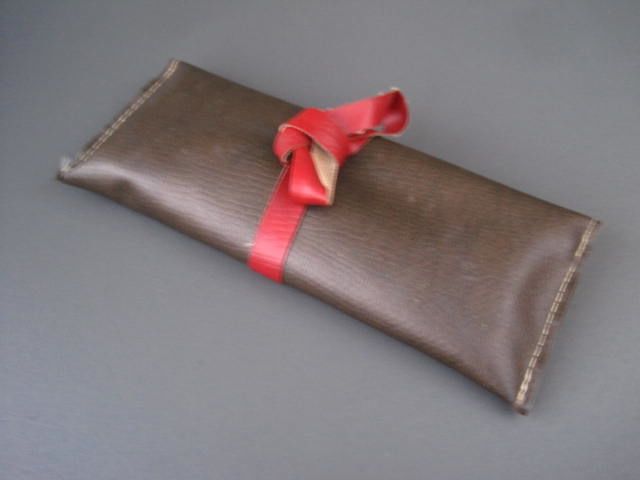 Original tool roll.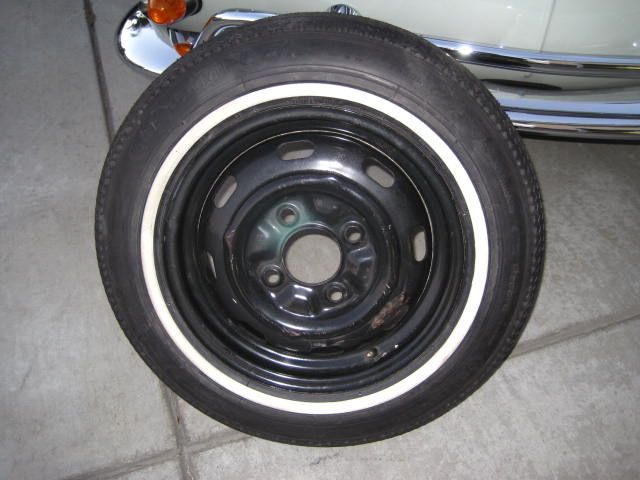 Original spare tire and wheel.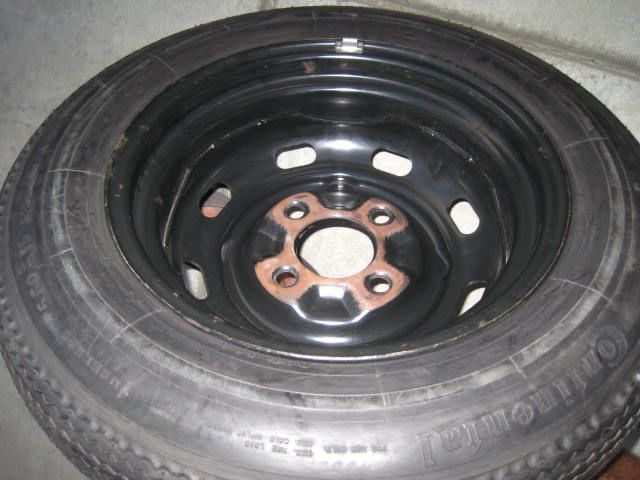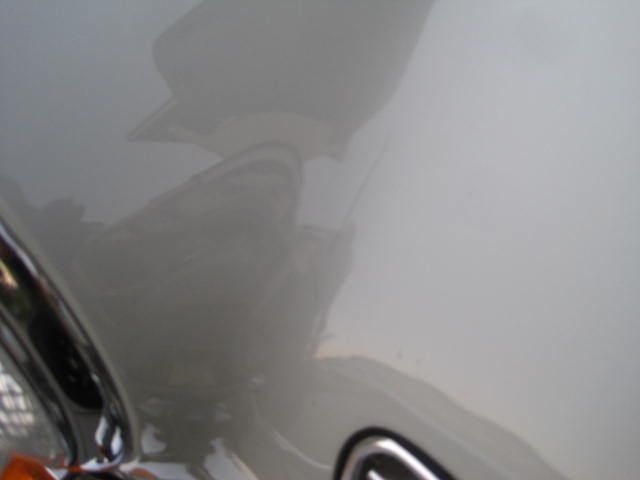 I saw one paint flaw here on the nose just inboard of the passenger side headlight.
A very thin hairline crack starting...you can just barely see it, but it is there.
The rest of the paint looks fantastic.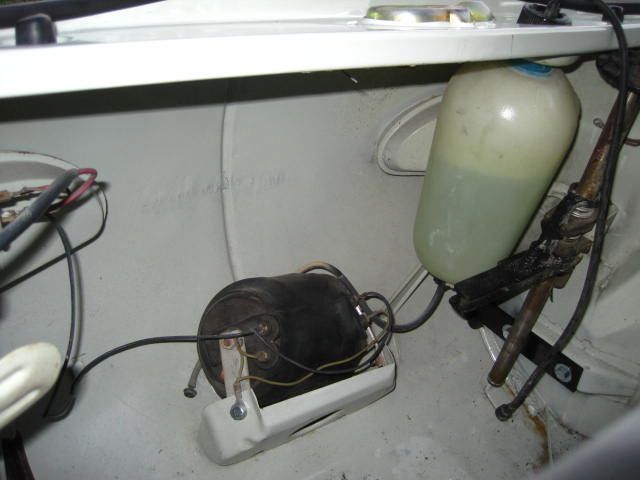 Inside the nose you can see a little hammer work to repair a very small overrider bar ding in the nose.
Well done repair and from the outside you can not see it at all.
This appears to be the only body damage that the car has had and if that is all...that is nothing!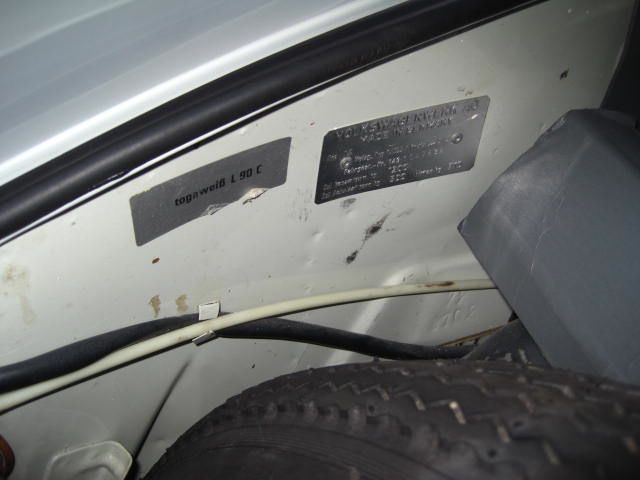 Original paint code sticker in place... Toga White !
("Toga Toga Toga"...insert image of Belushi here)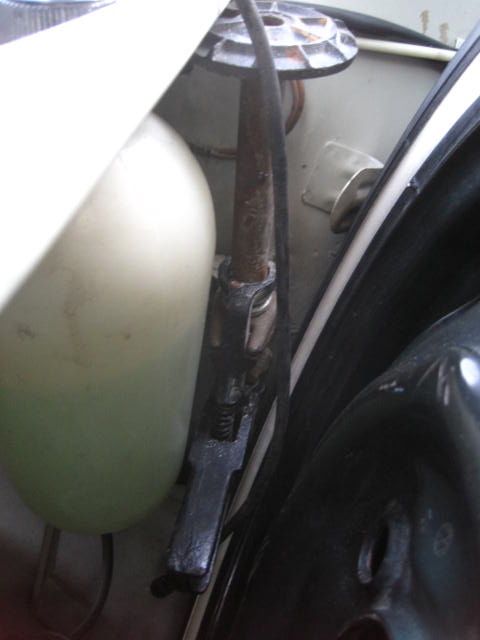 Jack looks nice.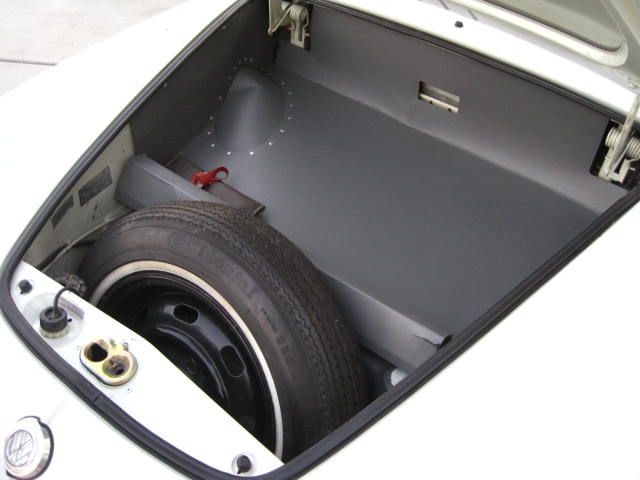 Trunk liner looks new to me.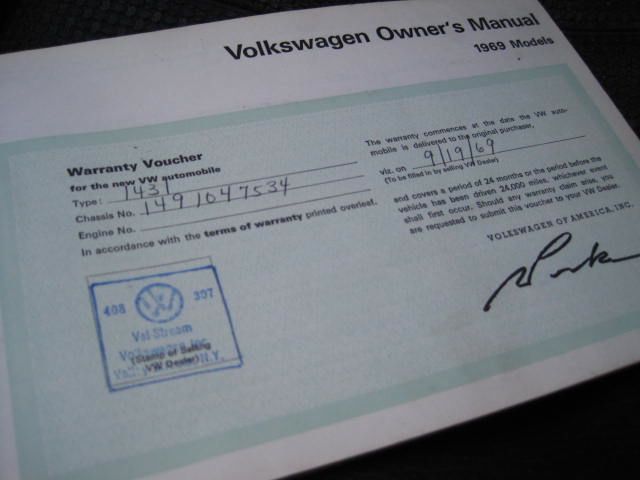 Owners manual shows a New York delivery when new.
This again brings up the question of mileage and history.
For an East Coast car, this car is phenomenally solid and clean...which leads me to imagine that
it may have been stored away for many years somewhere and then pulled out and revived...and then cosmetically
freshened up with the paint and rubber and such. Who knows?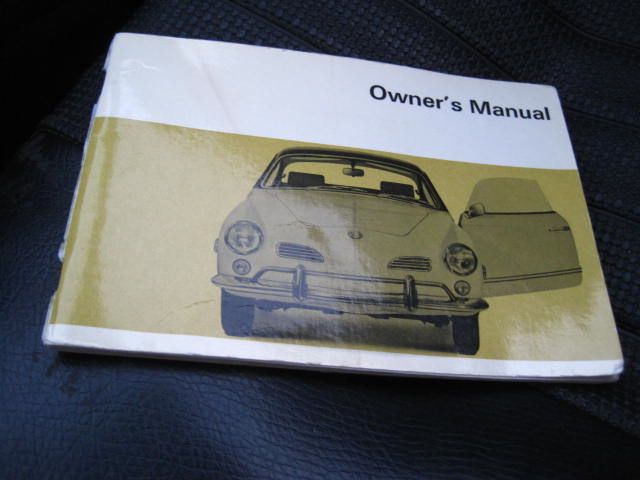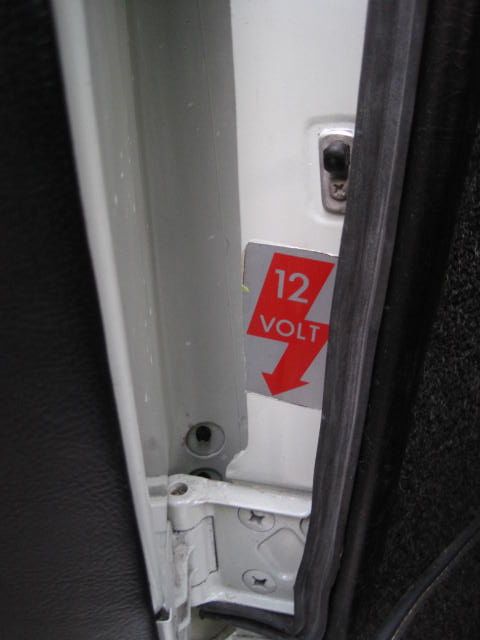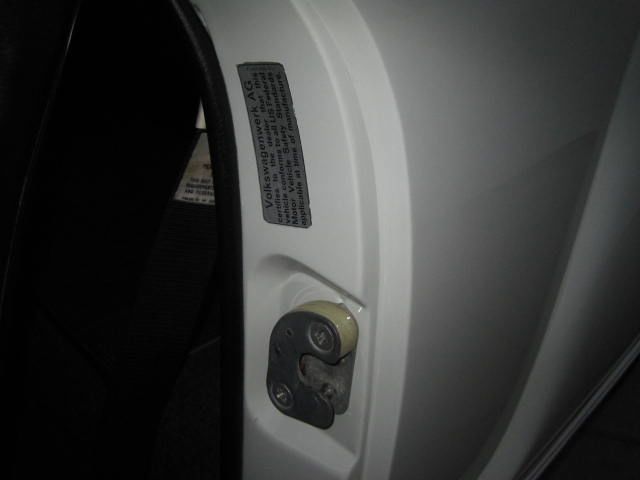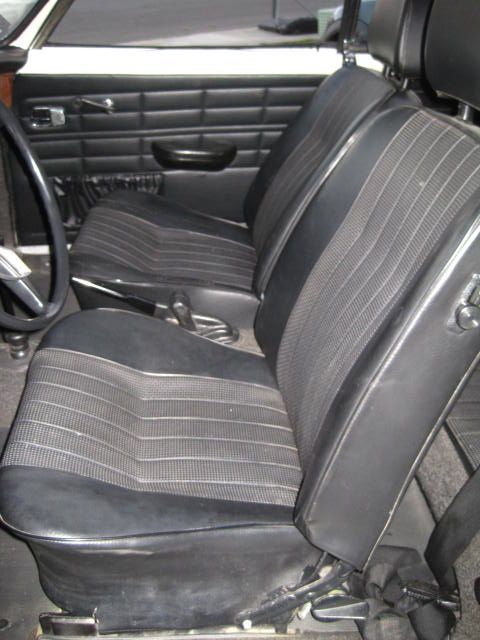 Those seats sure look nice and they are quite firm...not a whole lot of butt has been in this seat
to retain the shape it has...the padding always seem to break down with use over time.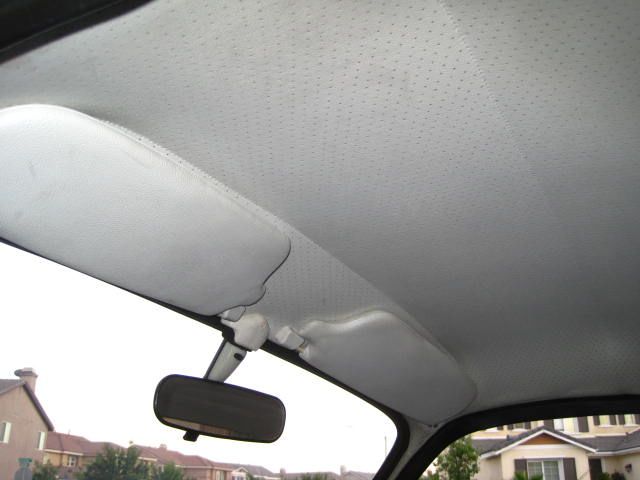 And that headliner...really sharp for original material.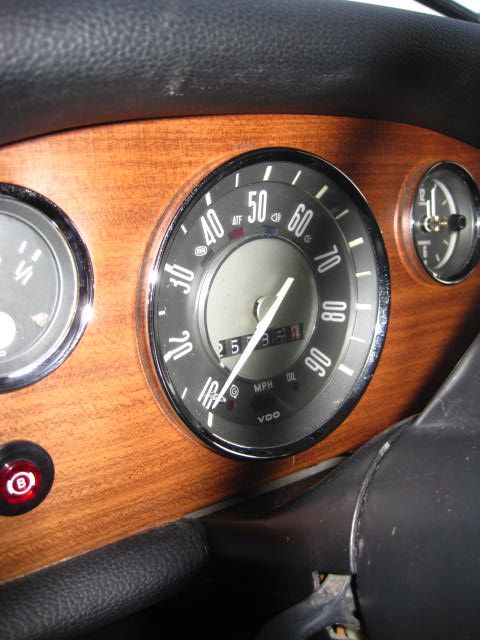 Odometrer reads just over 25,000 original miles...could it be?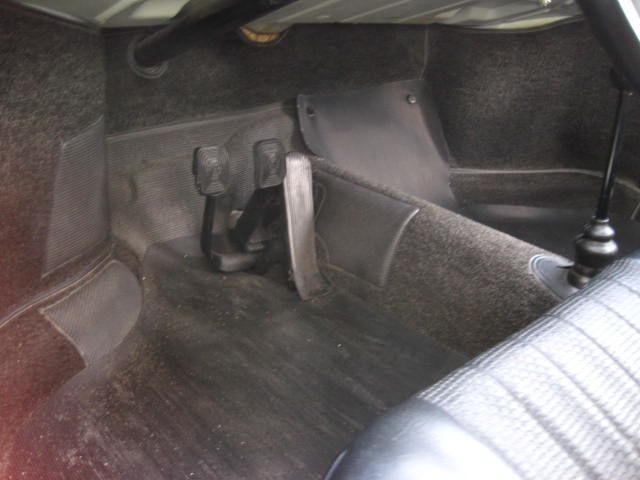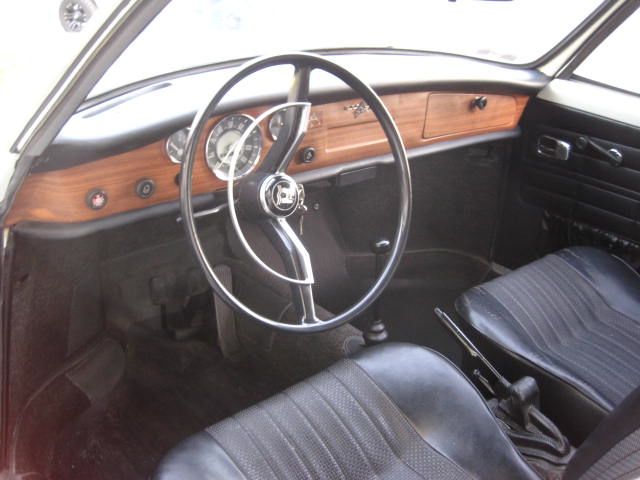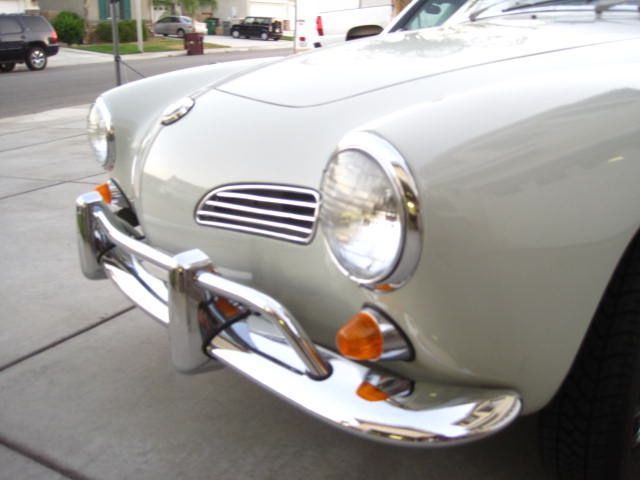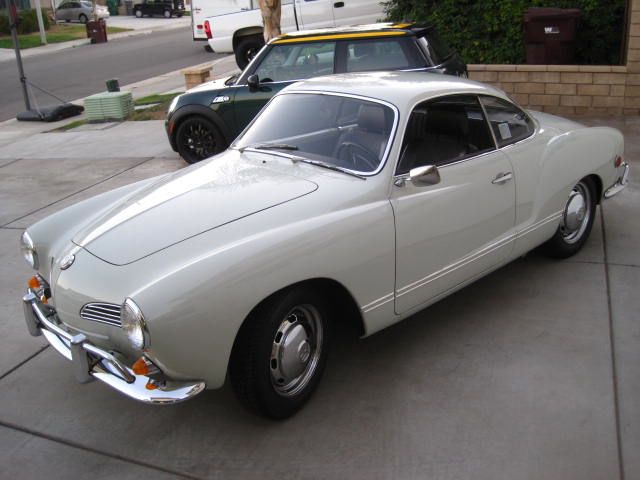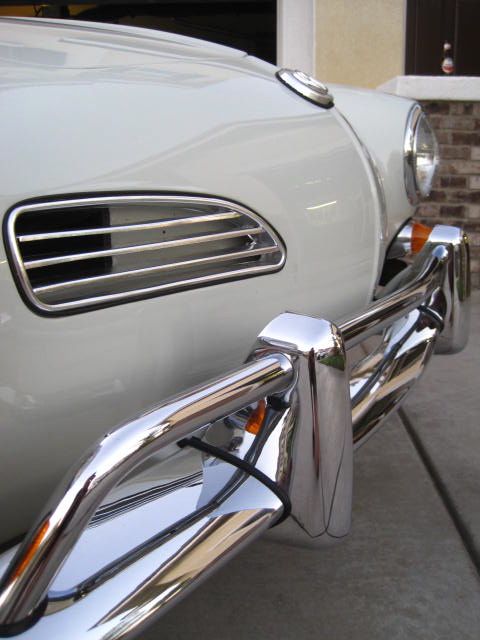 My favorite photo of the shoot here.... the chrome, the cleanliness of it all in the grilles.
Nice car!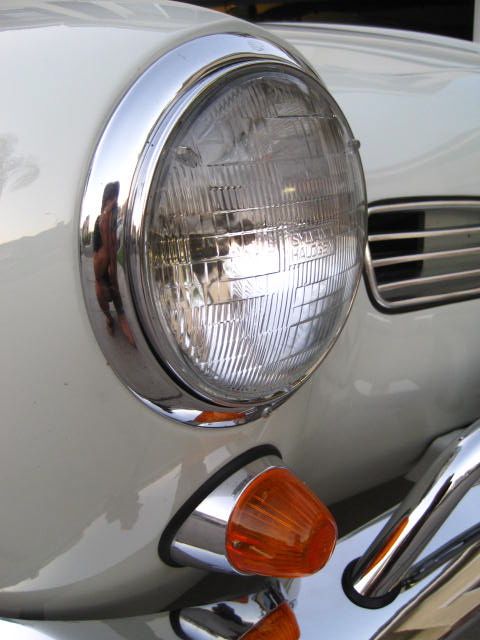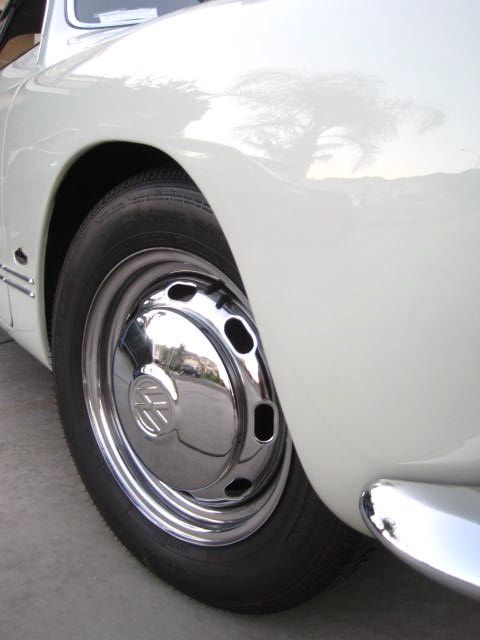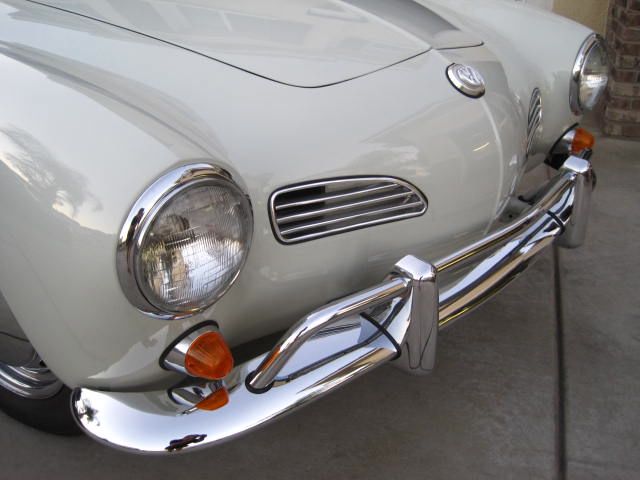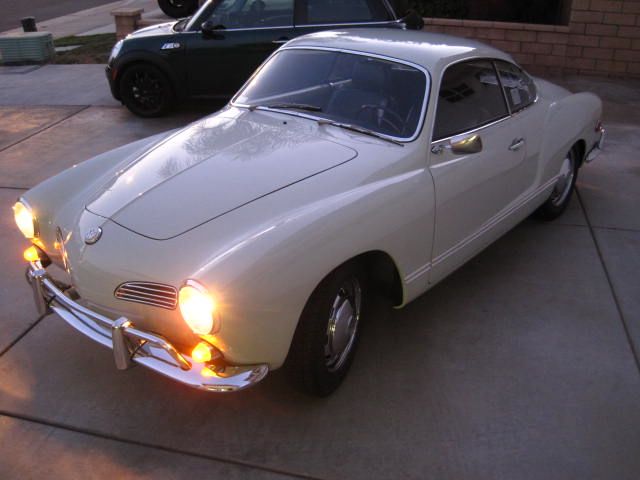 OK...I think I have gone on enough about this one. It is really sharp.
An interesting blend of restoration and preservation, no matter what the story behind it is, the car
looks great and it will draw compliments at any level of event and would look right at home on a dealer's showroom floor.
Good car.
SOLD!

Please CLICK HERE to see the other VWs we have available!


---
For More Info...CALL
951-767-1600
or email
oldbug@earthlink.net
---