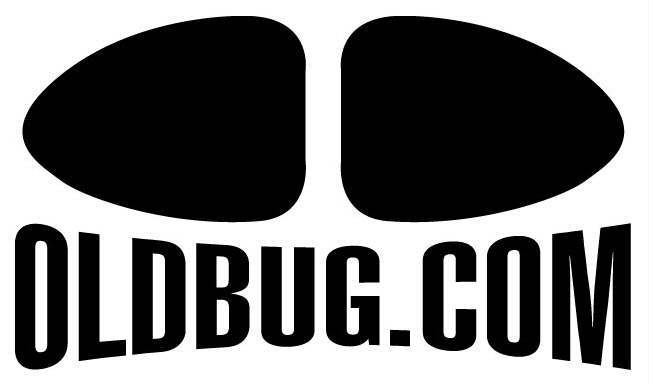 1964 Type 3 Notchback For Sale
---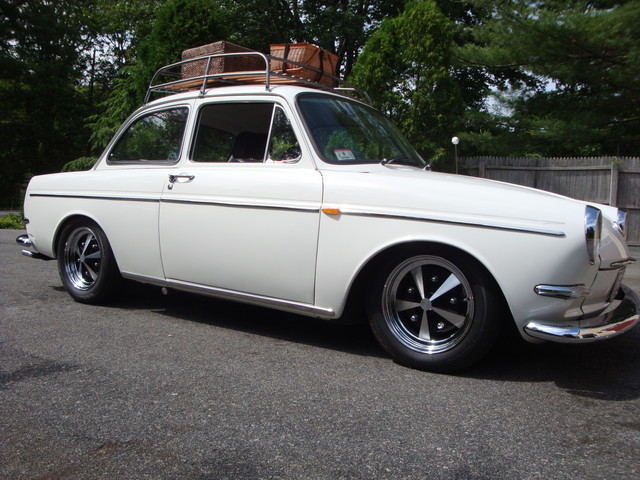 This is a really super clean 64 Notch with air ride suspension, a lot of show detailing
and a whole host of upgrades.
The car was built to a high standard and there are many many mild changes and upgrades done that would not
normally be noticed...I hope to point some of them out to you.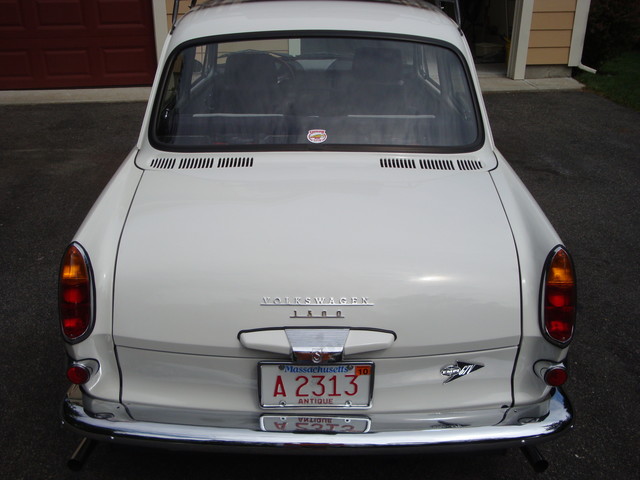 Amber topped flat Euro taillight lenses are great...this is a deluxe model... the "S" as noted on the plate light.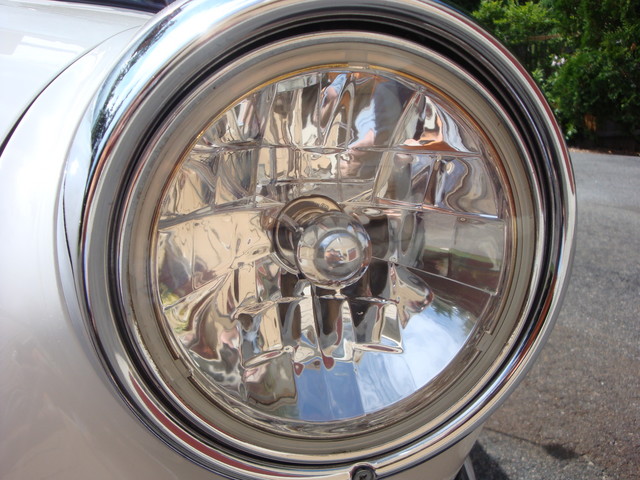 Very cool headlight units!!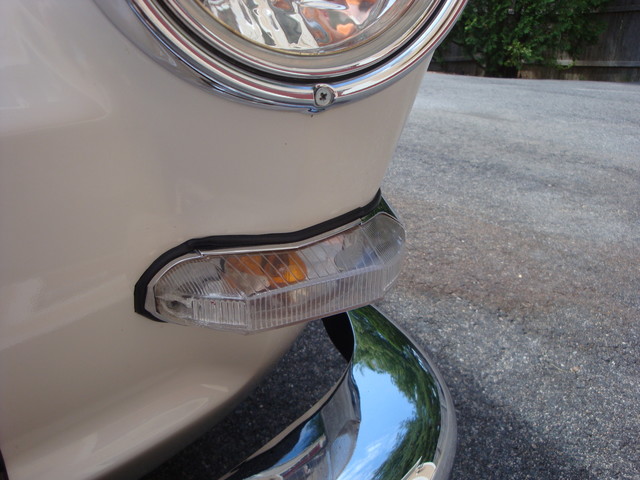 Clear marker lights.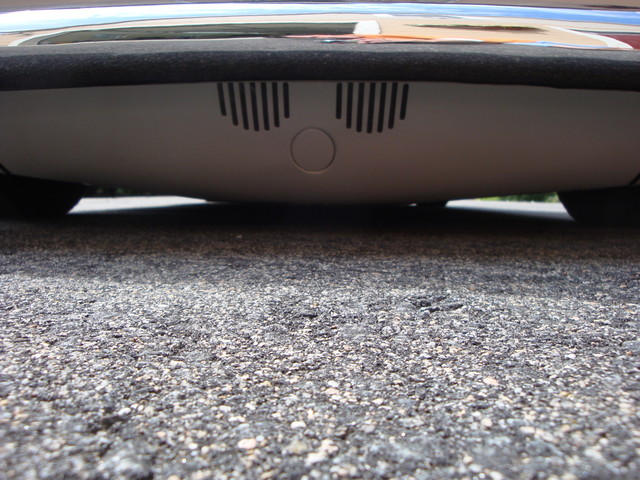 Yes...it is low!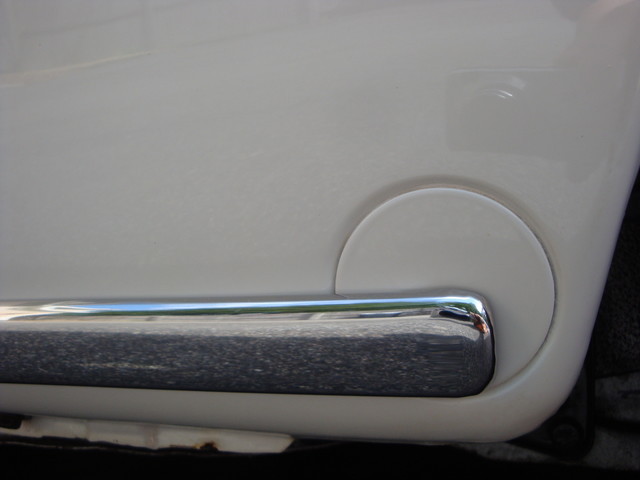 Trim and chrome is excellent, paint quality is very nice.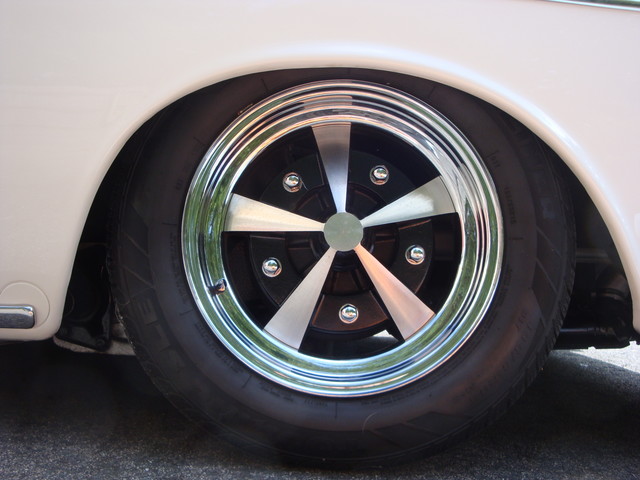 The Randar wheels are awesome with the chromed outters and aluminum inners.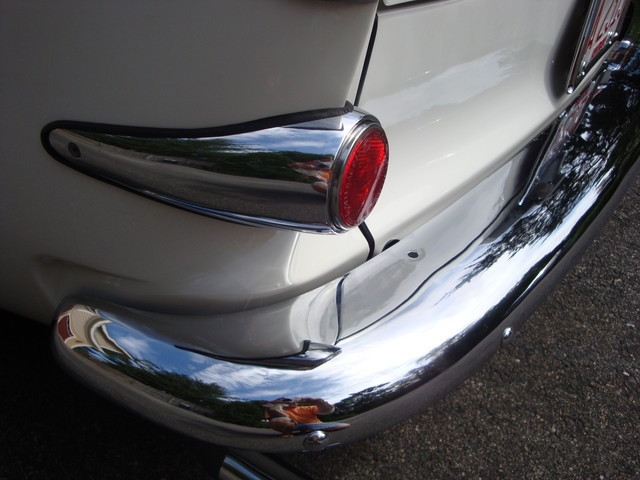 Beautiful chrome, all the rubber seals are nice as well...very very clean.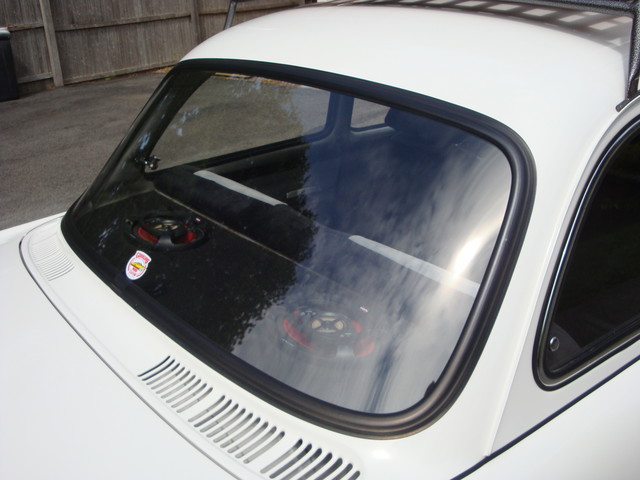 Glass is excellent, rubber is all as-new.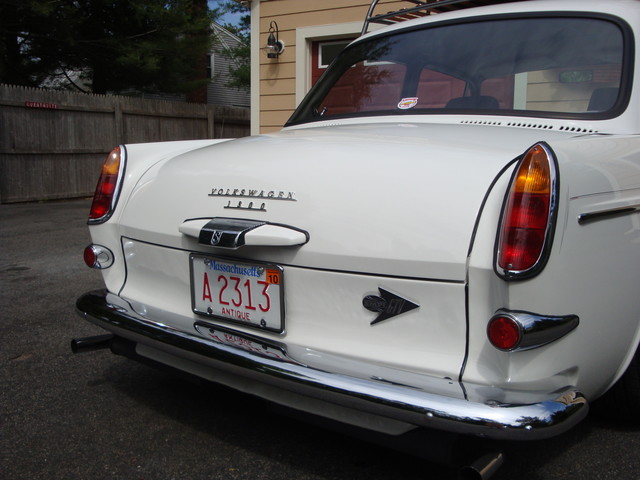 I dont know about you...but this view of a Notchback really does it for me!!
These are such cool cars!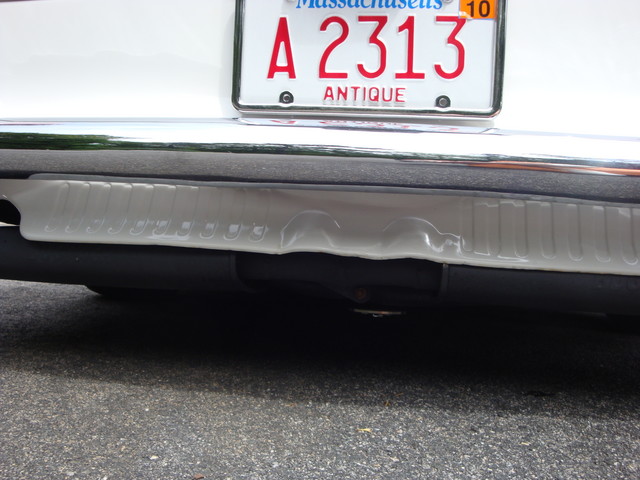 Rear apron looks clean...these are often really beat to heck.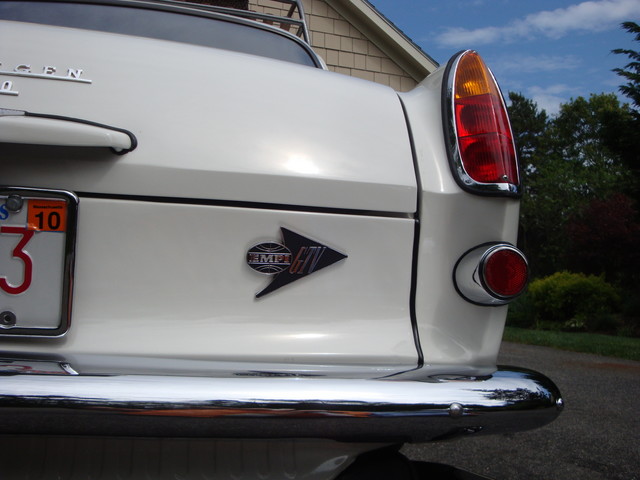 Nice even shut lines and everything really looking "right"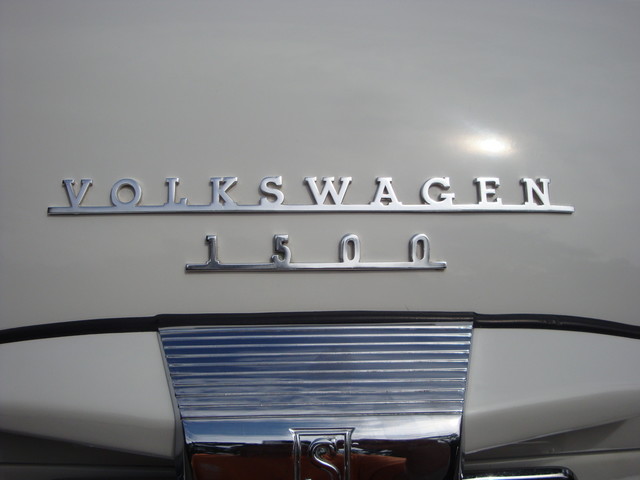 Rear trunk area is very clean and carpet well fitted.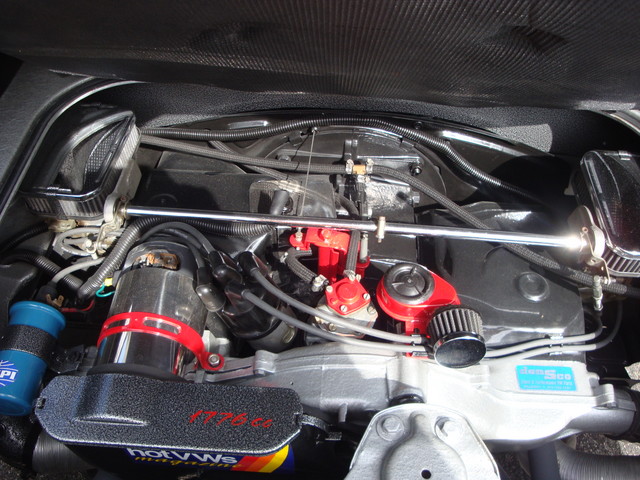 1776cc mild performance engine is very well detailed and it runs fantastic.
Everything was done at the time of the resto...no stones left unturned.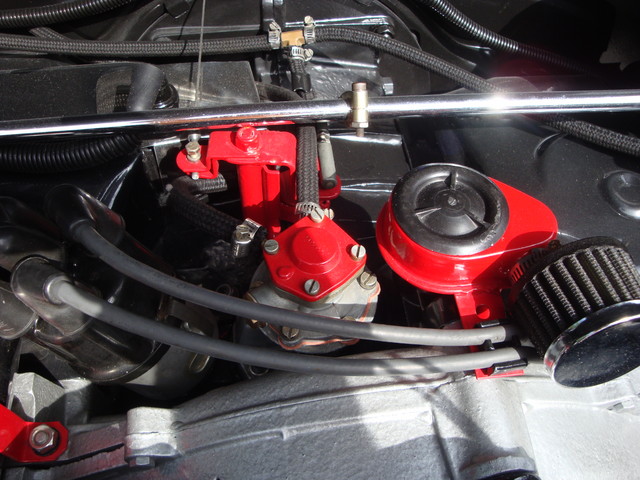 Super clean and nice little paint details everywhere.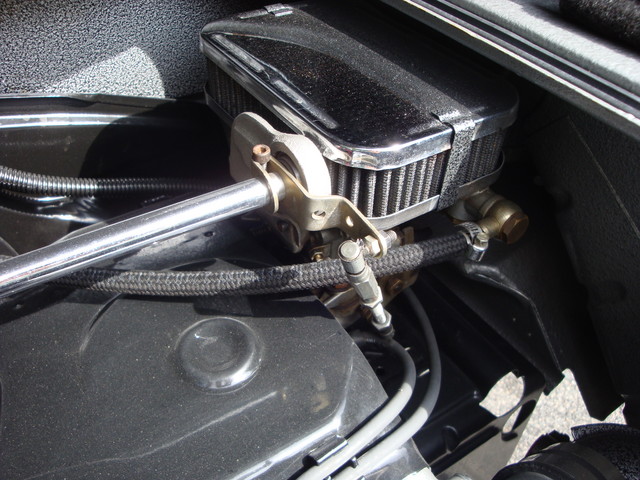 "baby Weber" dual carb set is very well fitted on short manifolds and flat filters.
No cutting or modifications to the body as I have seen on others out there.
The engine compartment is clean even in the deep corners.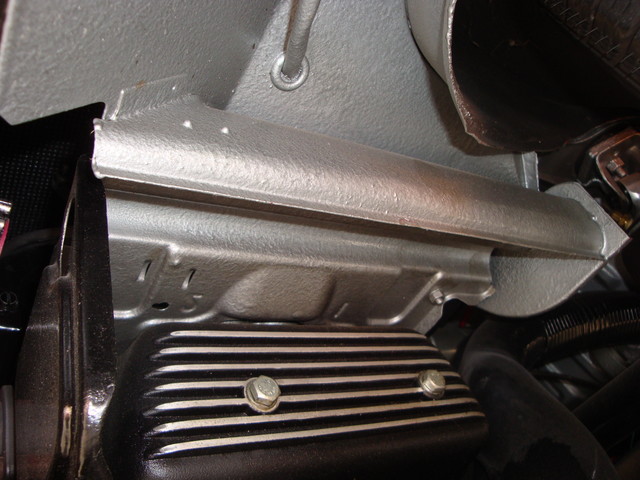 Nice!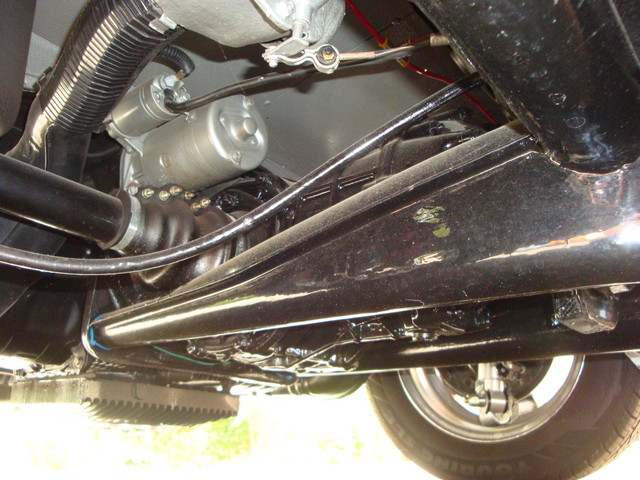 Under the engine and transmission.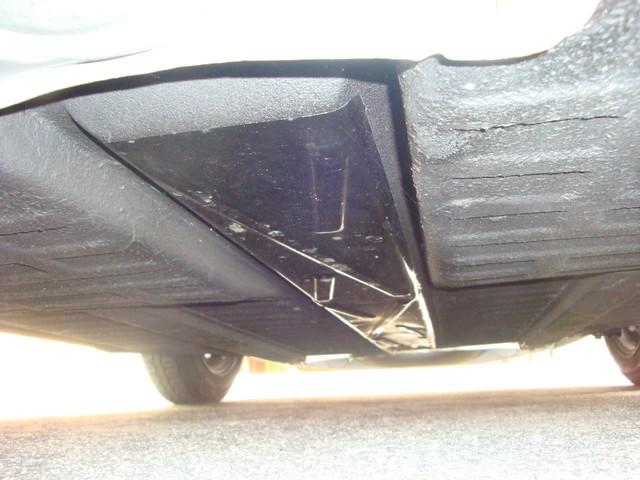 Lower sections of the chassis were undercoated, while parts above are detail painted.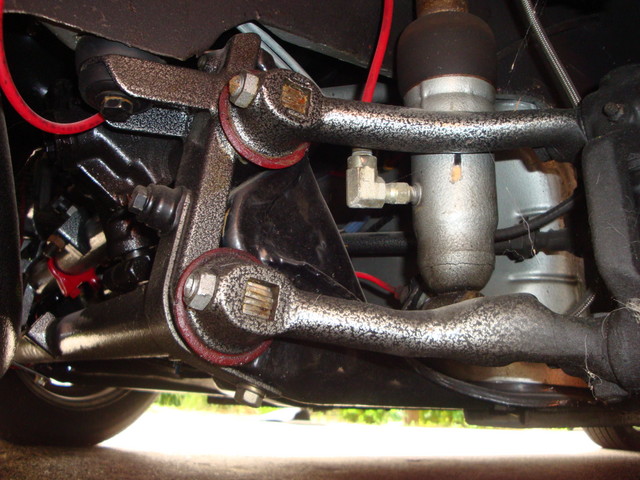 OK...back to the photo towards the top of it almost resting on the ground...
this was accomplished by air ride suspension that you raise back up for driving.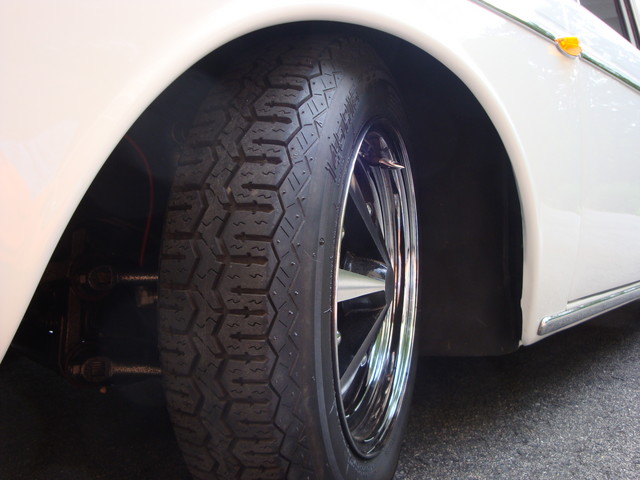 Excellent tires on all four corners.
Beautiful car!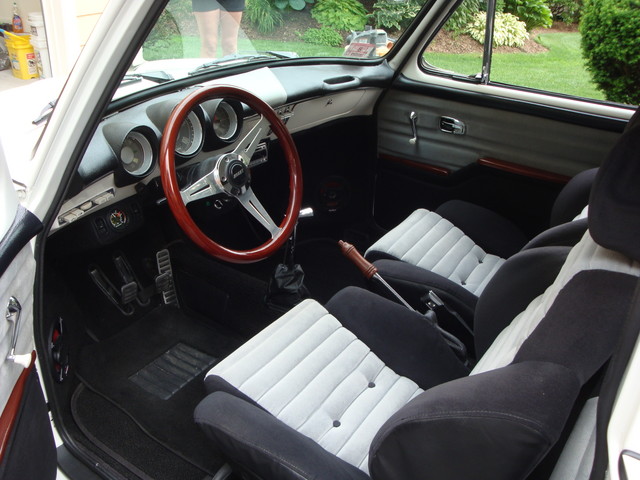 Interior is a blend of old and new and it is all is excellent condition.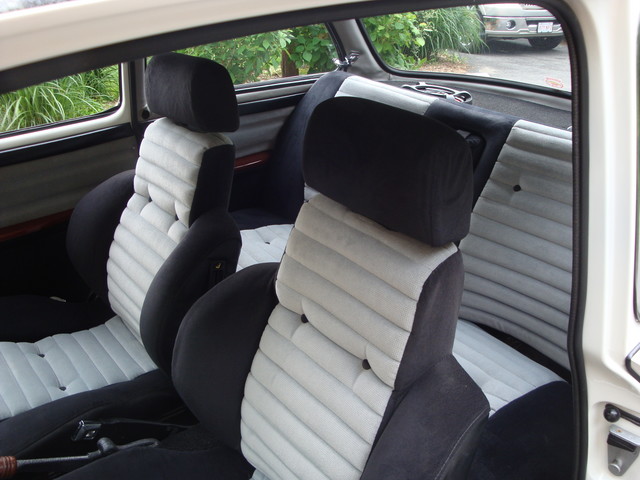 Custom front seats are very comfortable.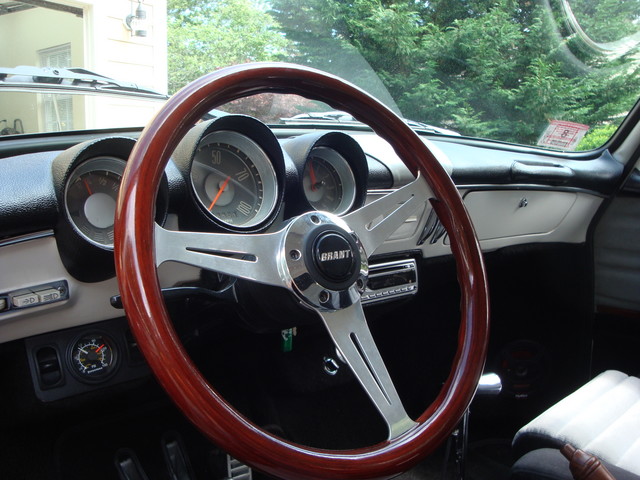 Wood rimmed steering wheel by Grant...nice touch.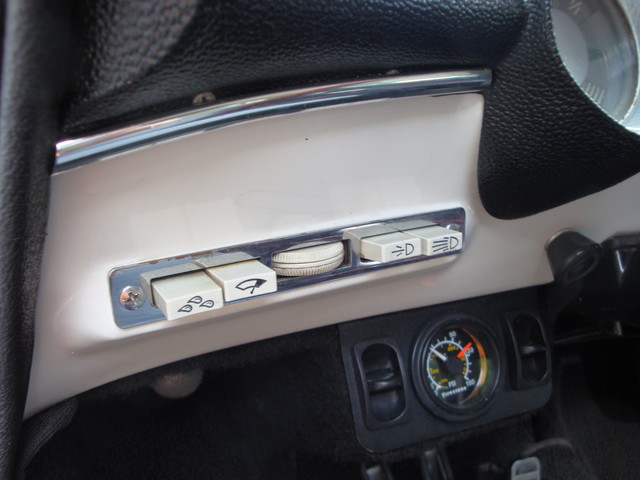 Early Type 3's have the "pushbutton" dash that is quite desirable.
Note the controls for the air ride below the dash.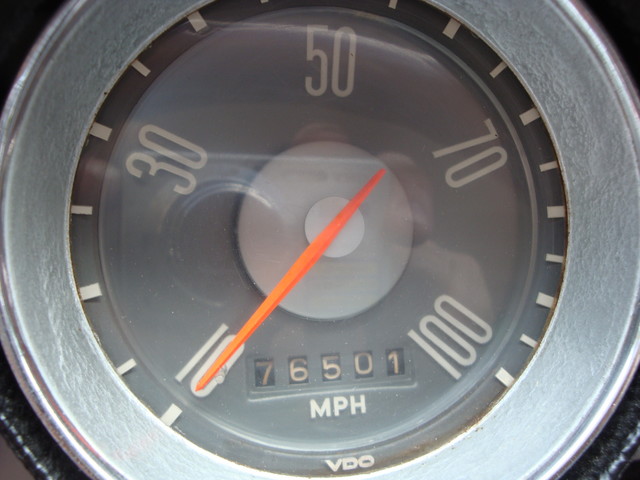 Odometer reads 76501 miles at the time of these photos.
The car has been driven minimally since completion and everything appears quite fresh.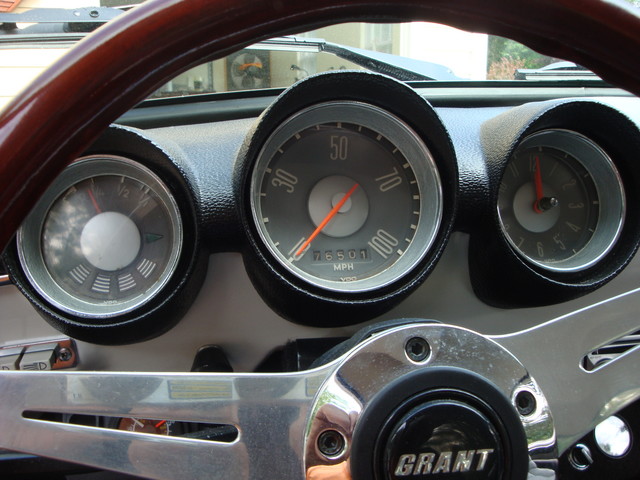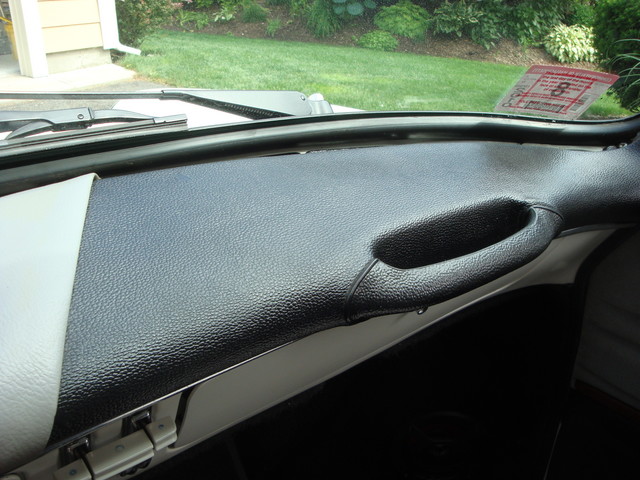 Dash pad in nice shape.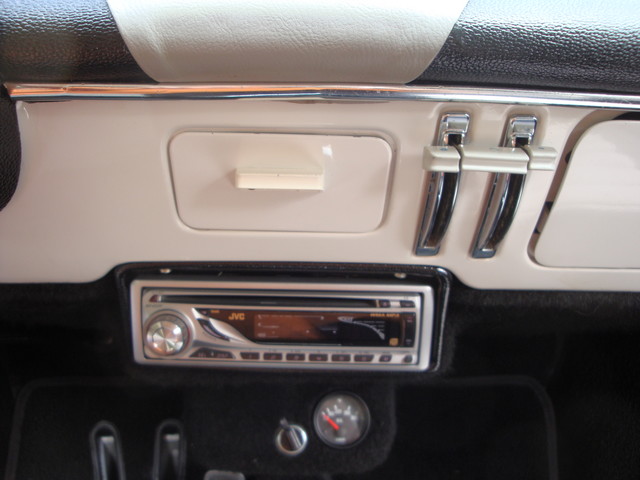 Center section of dash pad is trimmed with grey vinyl to cover the factory speaker hole.
Modern audio system is installed below the dash.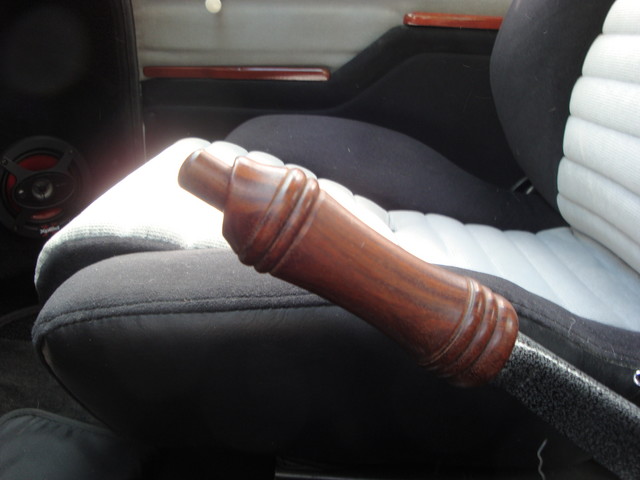 Wood handbrake handle cover brings in a little more color to match the steering wheel.
If you look beyond it in the photo you can see the custom wood armrest trims that also
do a great job of continuing the color theme throughout the car.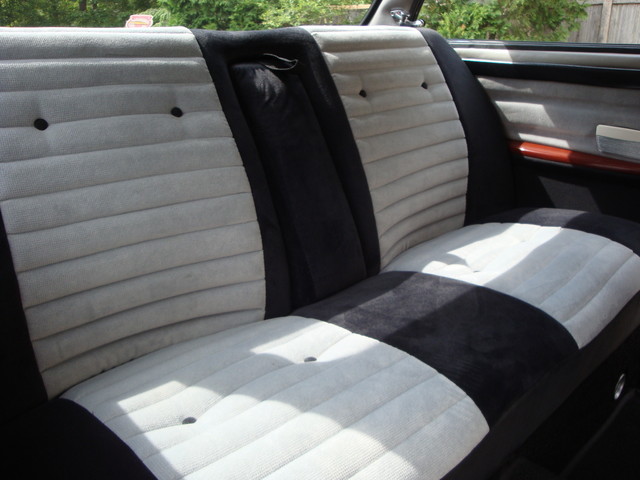 Rear seat upholstered to match.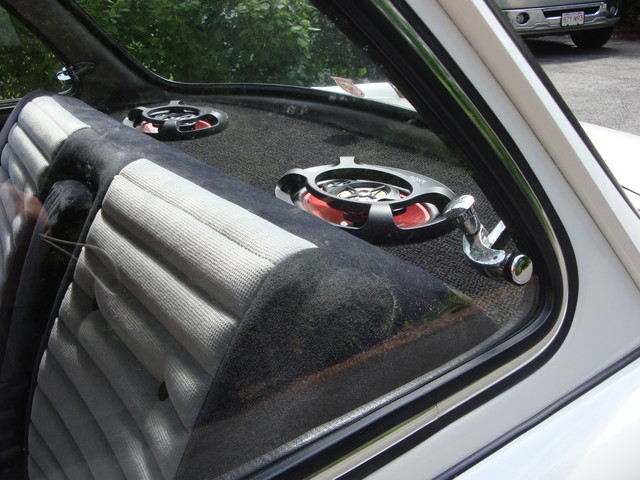 6 X 9 speakers on the rear deck.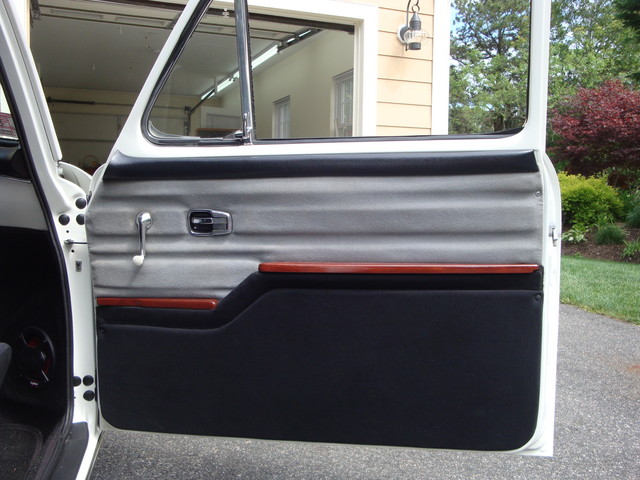 Door panels are pretty slick.
Here is one of the details that you would not notice unless I pointed it out... no door seals on the door!
Look at the inside edge of the door opening and you will see
the custom made seal that keeps it all tight.
This is a really trick set up as it keeps the door itself looking totally clean.
The stock door seals are pretty messy looking, so this is a great concept.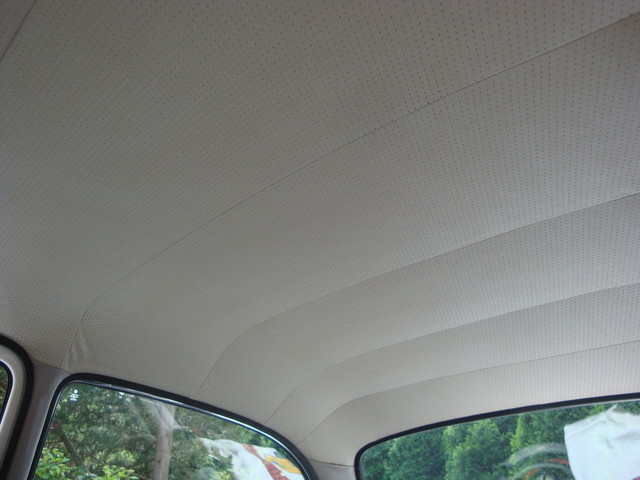 Headliner is done in stock vinyl material.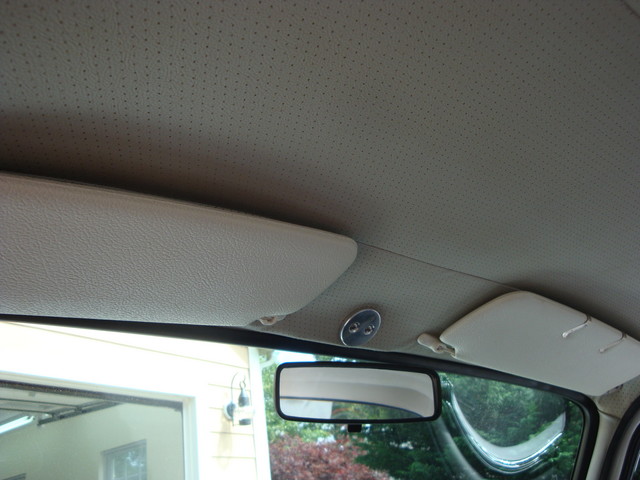 Rear view mirror is another custom touch as it is mounted to the glass instead of the roof.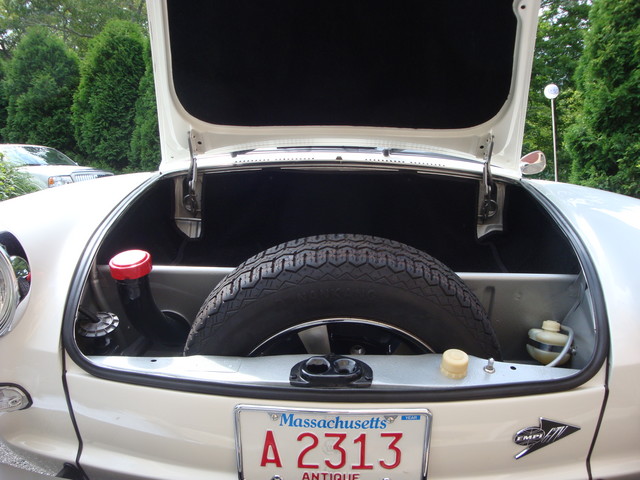 Front trunk is wonderfully detailed as well.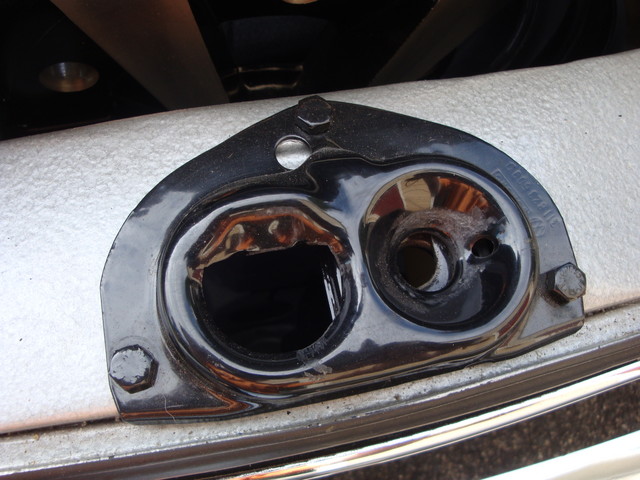 Hood latch.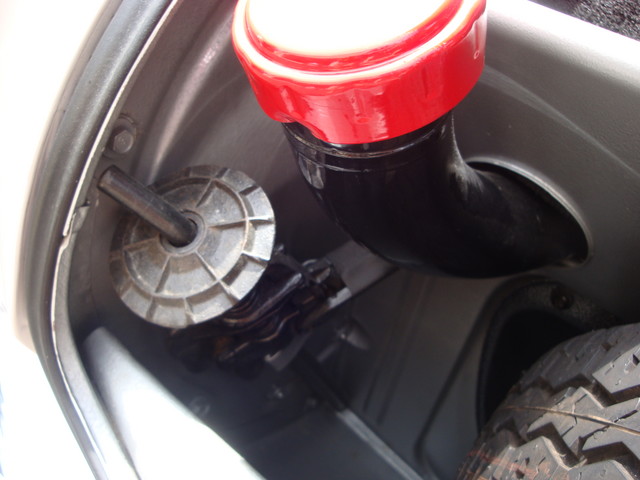 Original jack is still in place and is very clean.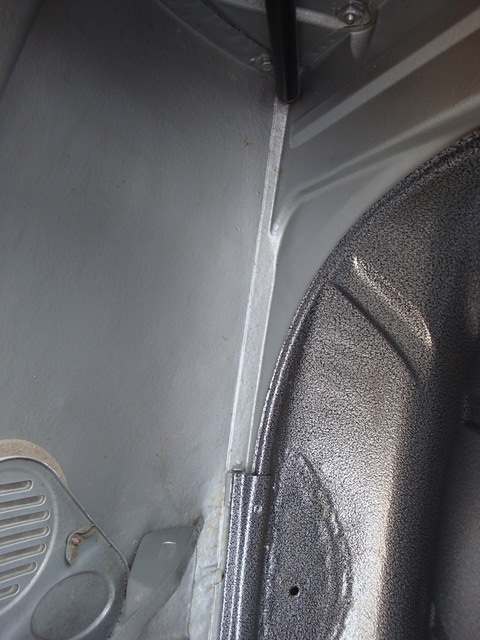 Nice and clean in the spare tire well.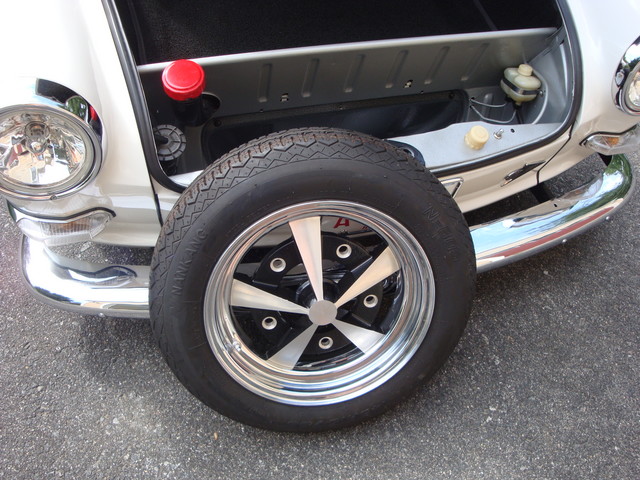 Matching spare wheel and tire.
In closing this looks to be a very sweet ride indeed.
Not your average "driver", this is a sweetly done show car that is fully functional and ready for cruising.
Nice car !! Car is located in Massachusetts.
SOLD!
But we have others!
CLICK HERE
for all current listings.
---
For More Info...CALL
951-767-1600
or email
oldbug@earthlink.net
---