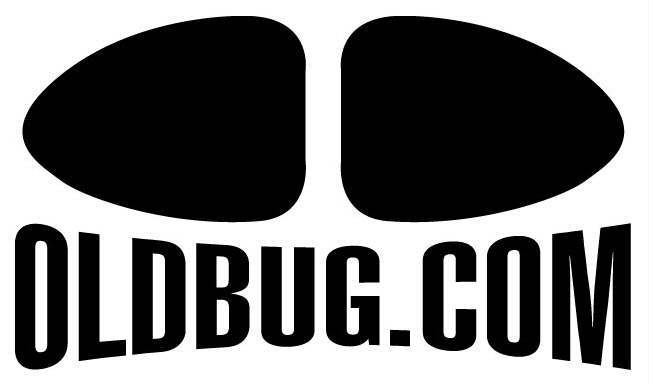 1969 VW Westfalia Pop Top Camper For Sale
---
SOLD! Please CLICK HERE
For All Current Listings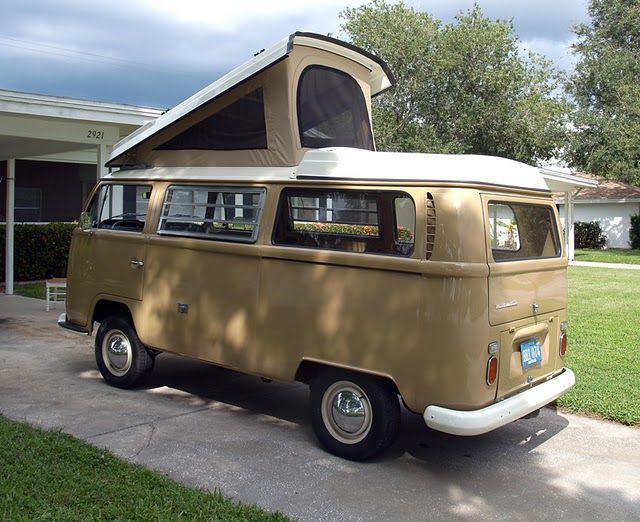 This is a gorgeous restored 1969 Westy Pop Top that has been a labor of love for it's owner
and it really turned into a womderful machine.
Located in North Carolina, the restoration was done in Florida by the owner
and with help from the folks at "Rare and Unique". It was a full and complete job
and was done to exacting standards with many custom touches that make it truly unique!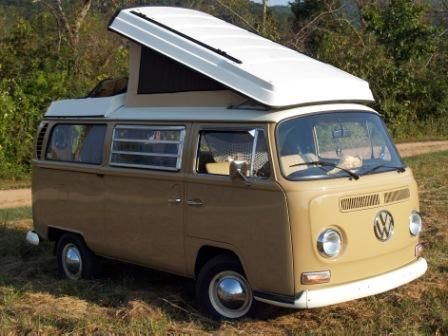 Very stock and proper in appearance on the exterior.
All clean and shiny...a classic example of an "Early Bay" Westy.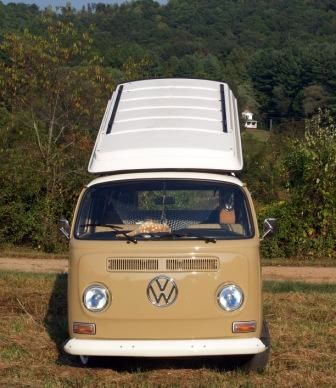 The restoration was completed about a year ago and it has been well kept since.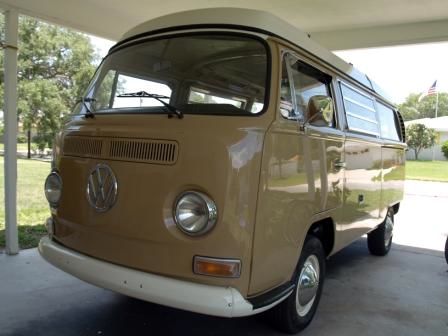 Very glossy paint finish and smooth bodywork.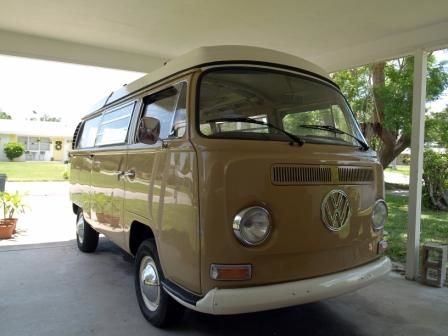 She's a beauty!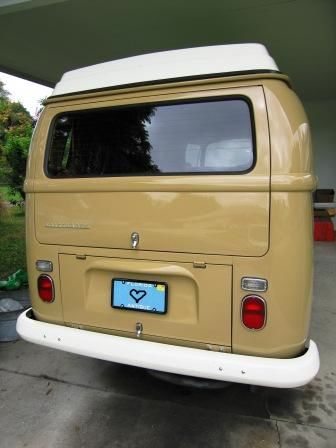 Clean Florida title and registration.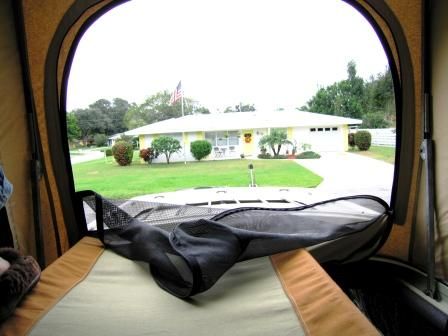 New pop top canvas and cot material...the "tent on wheels"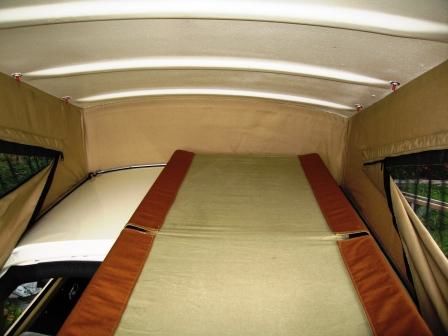 Makes me want to curl up for a nap!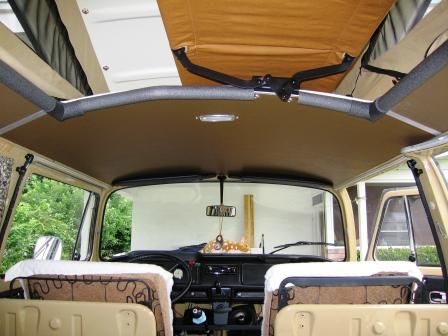 A few of these photos are "in process" shots...so bear with the missing bits in the images.
The Bus is completely finished right now...no worries there.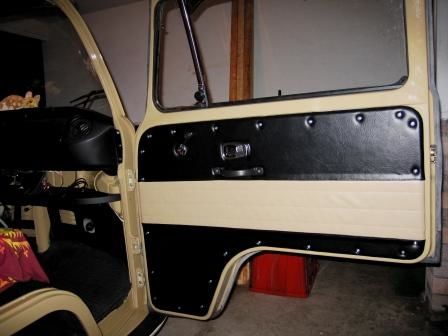 Custom door panels,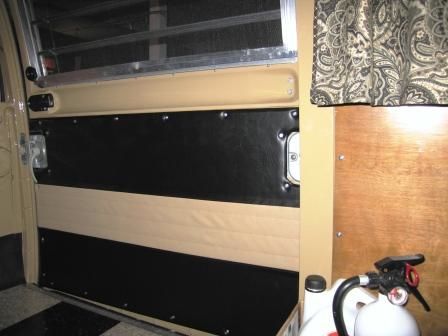 Very nice, and excellent wood work in the back.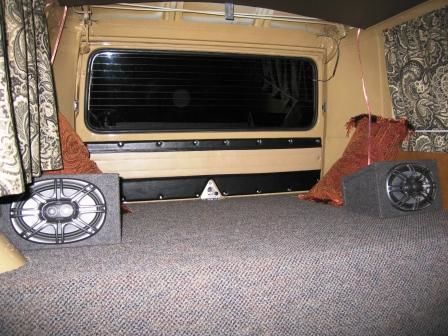 Carpeted read deck...nice curtains.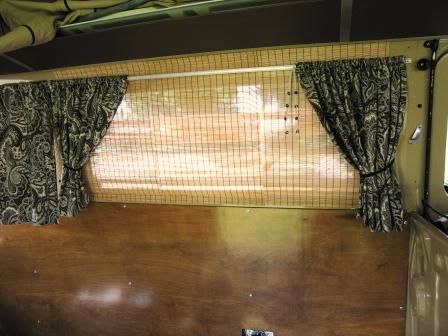 Matchstick blinds add an island feel to the interior and are held in place by magnets...quite creative.
Dash is super clean. Nice modern audio system, cool under dash parcel trays,
tachometer and clock and 8 ball gear shift knob.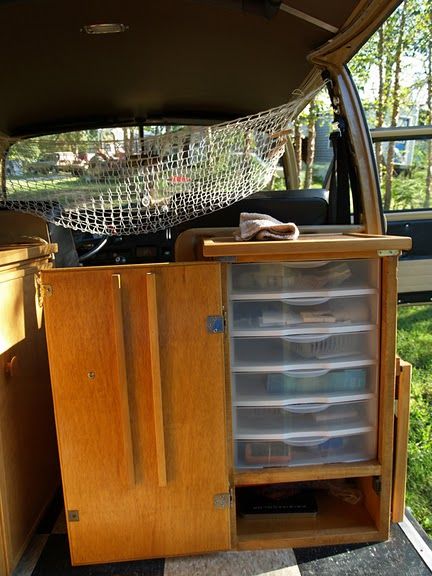 Inside the cabinets features modern organization in the form
of nice clean plastic drawers!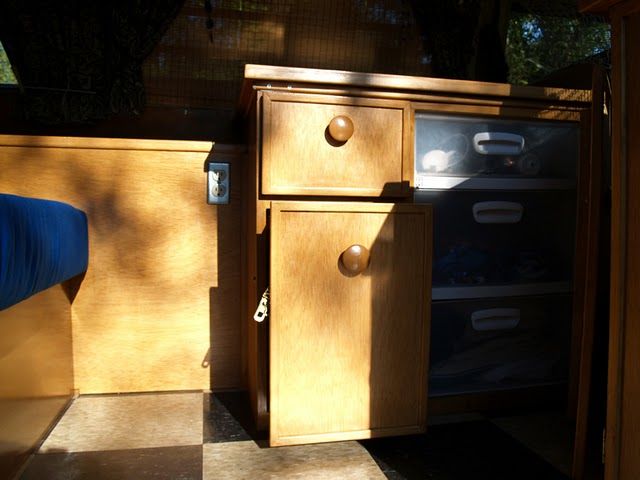 Woodwork is beautiful in this Bus!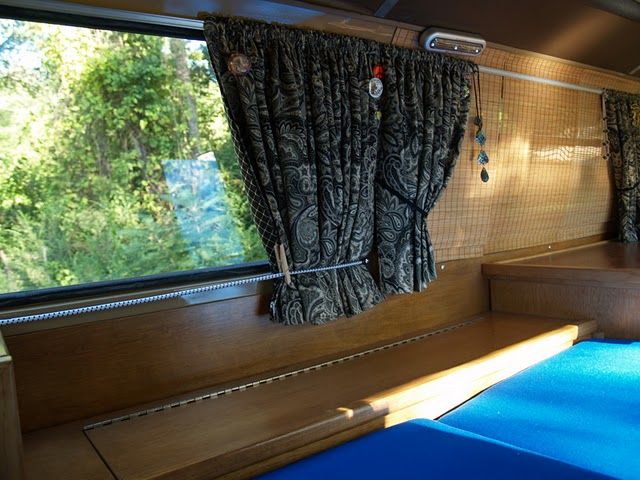 Check out this nice big long cabinet next to the bed, and the modern lighting in back.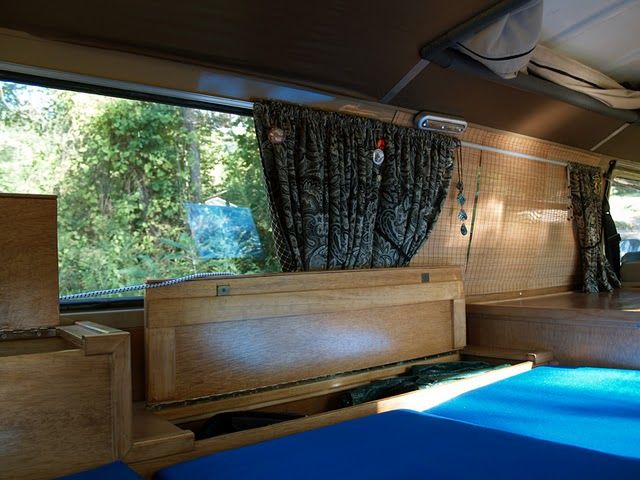 Great storage everywhere!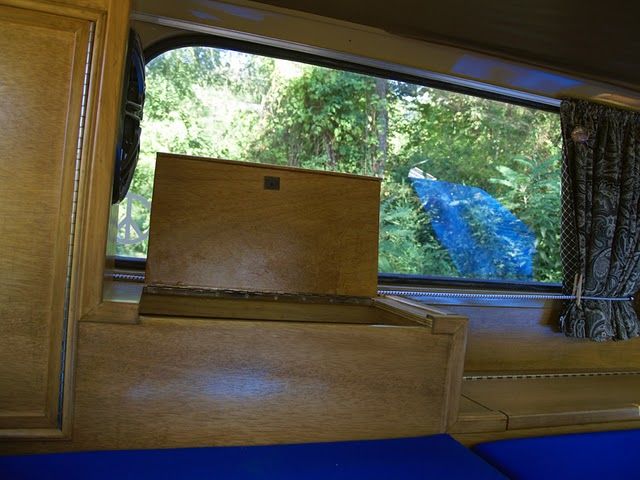 Really nice layout !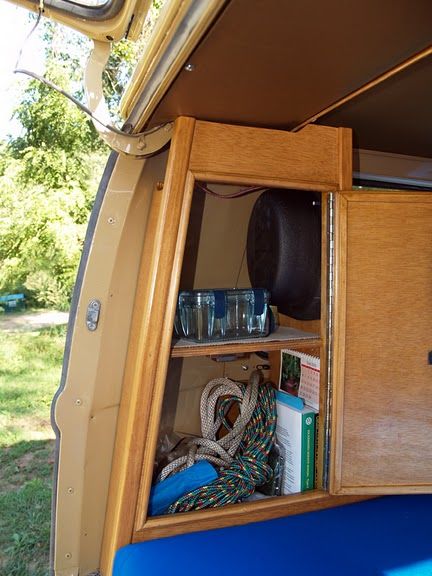 Small wall cabinets at each side in back.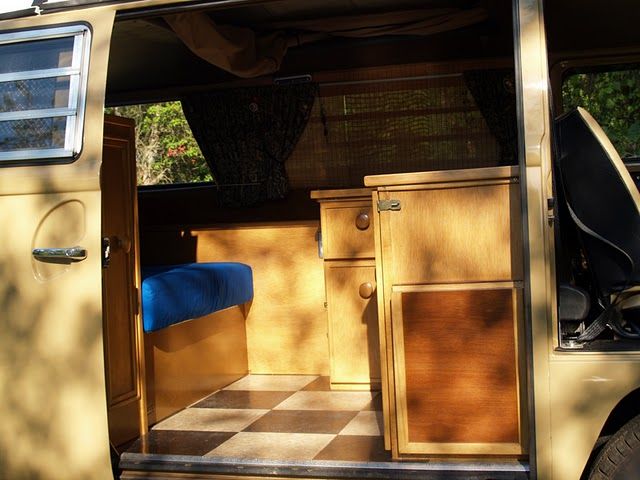 Beautiful interior...the photos truly do not do it justice.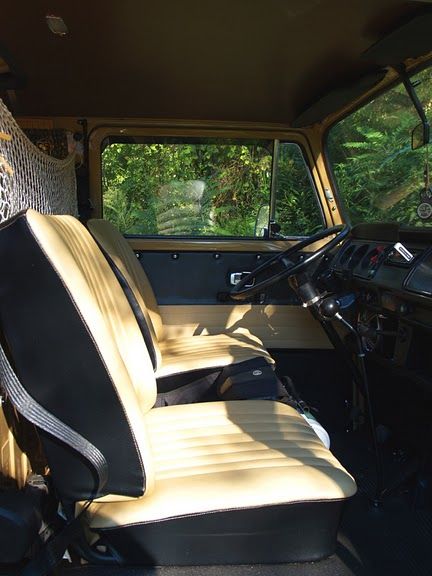 Front seats are nicely redone in two tone vinyl.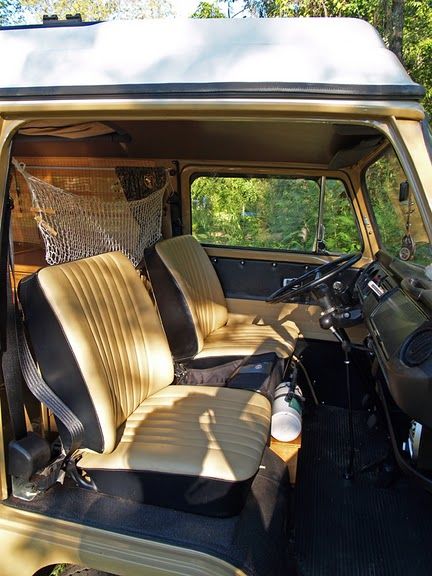 Sweet!!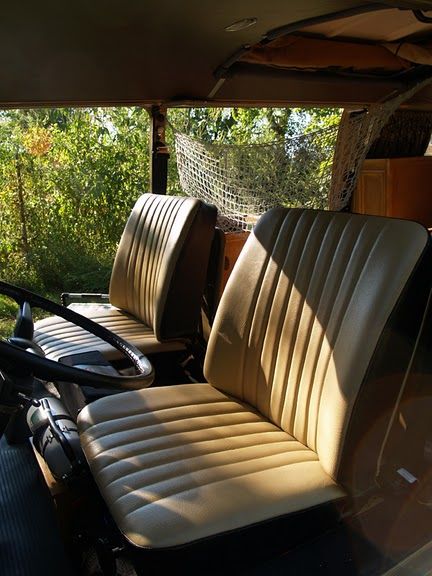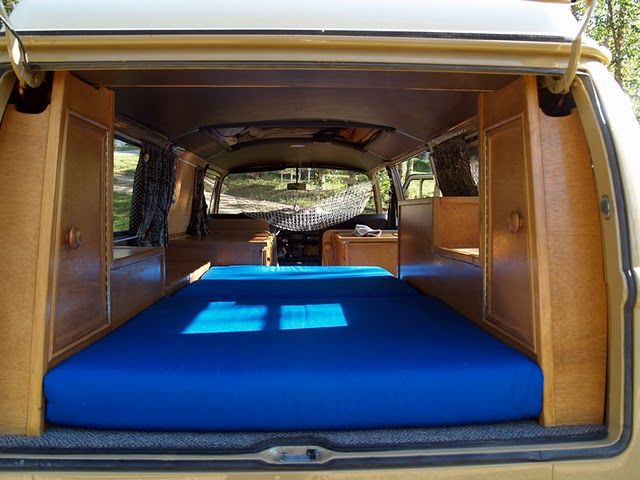 All very clean and well layed out...one of the nicest custom camper interiors I have seen yet.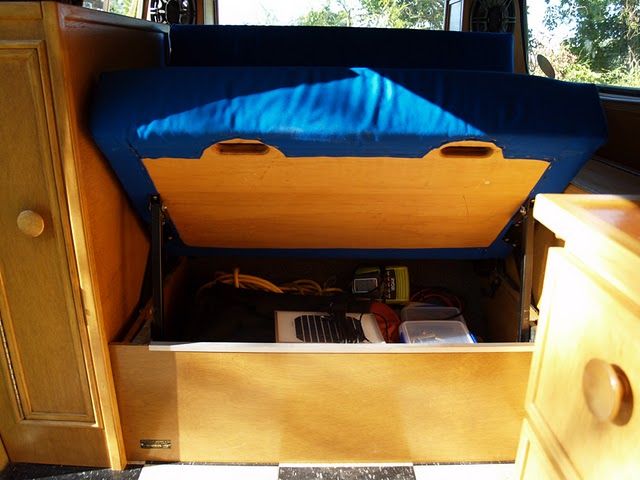 Great storage...nice to see the Westfalia tag re-used at the bottom of the bed.
Nice touch!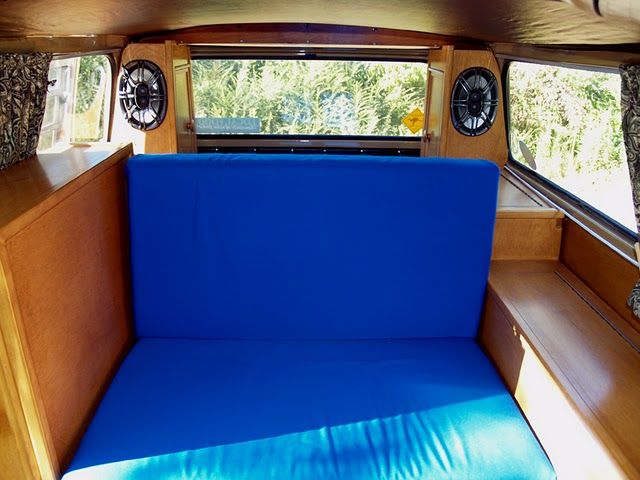 Speakers fitted on the back cabinets keep the theme music flowing.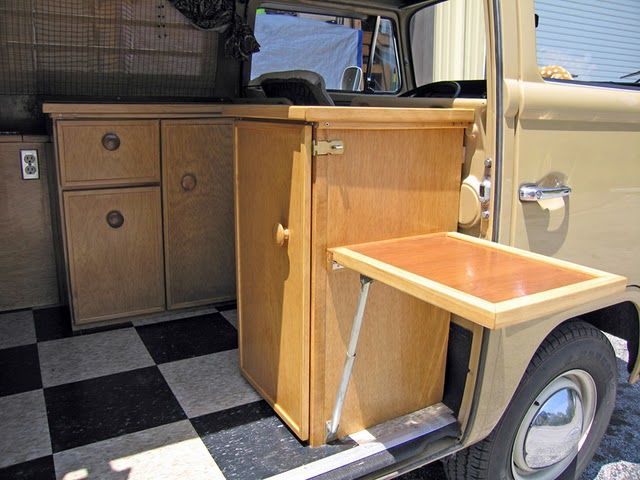 The "fridge" cabinet is not a fridge any more, but the added storage is a big plus.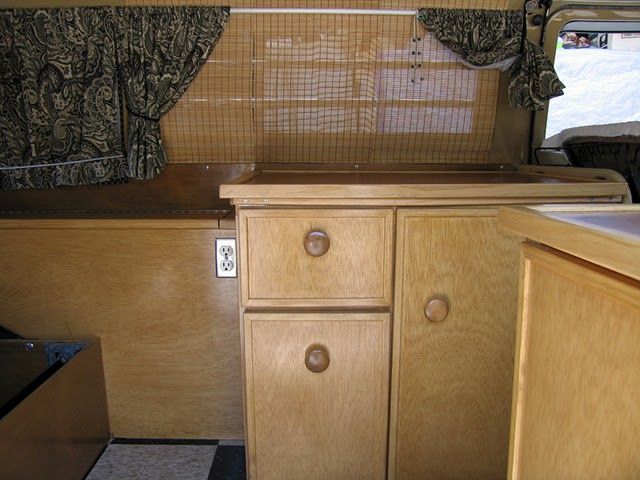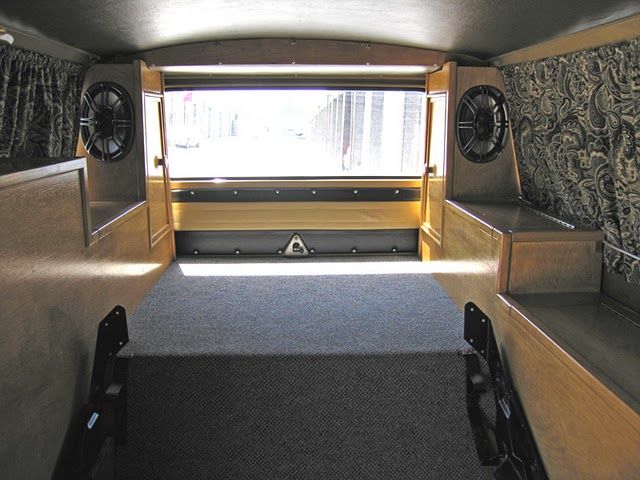 Here is a shot with the bed removed... and below are some great shots documenting the restoration...sit back and enjoy these...
it's a fun trip!
**-----------------------------------------------------------------------------------------------------------------------------------**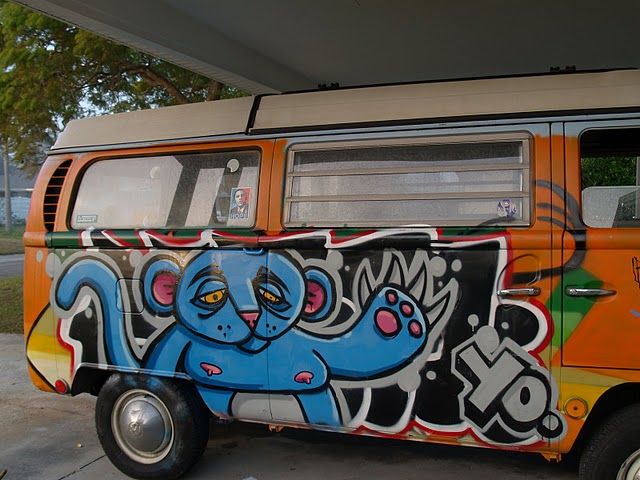 Here is a "before" shot... layers of paint and artistic graffiti.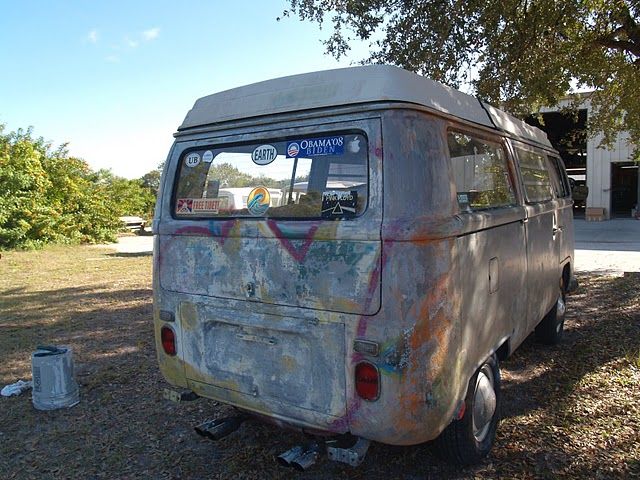 The paint was all painstakingly stripped off, down to bare metal.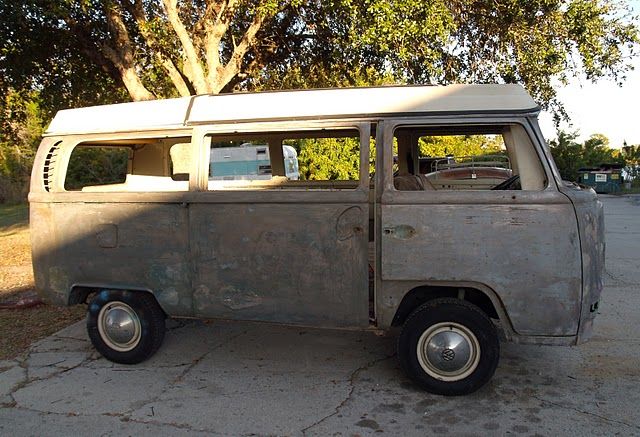 Here she is all "naked".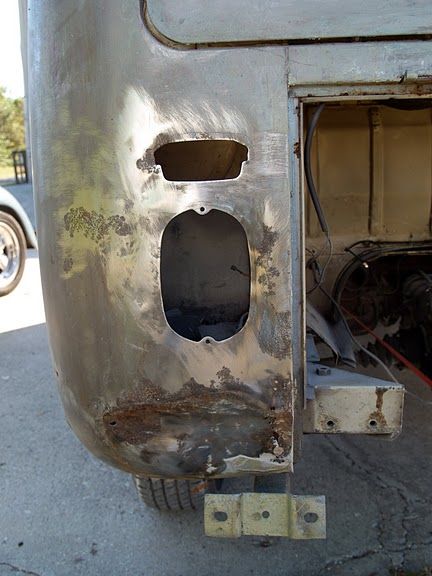 A few issues were uncovered, but the body overall was pretty decent.
Everything was professionally repaired and done properly.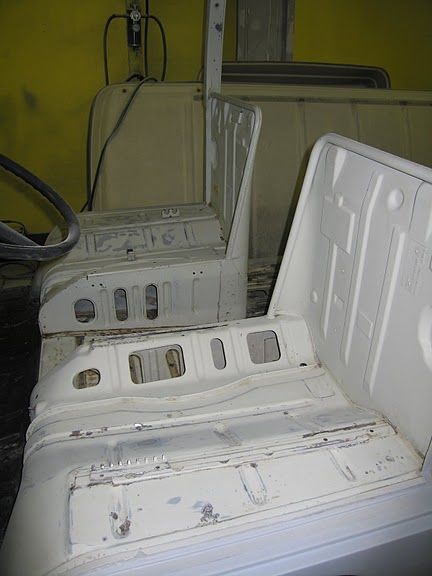 Interior surfaces were sanded down prior to paint .
Even the spots where nobody will ever see.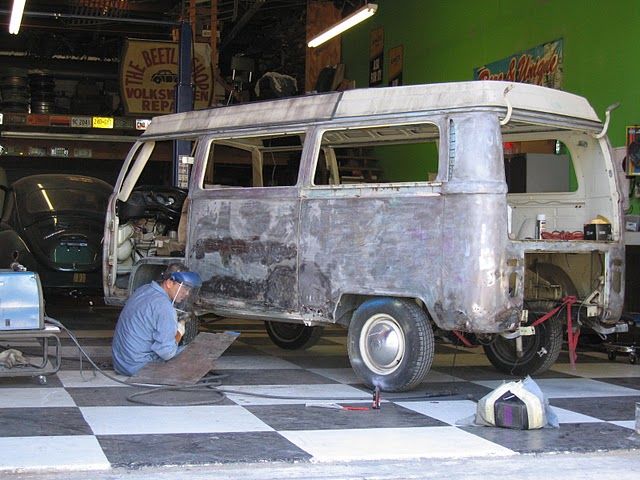 Metal work in process.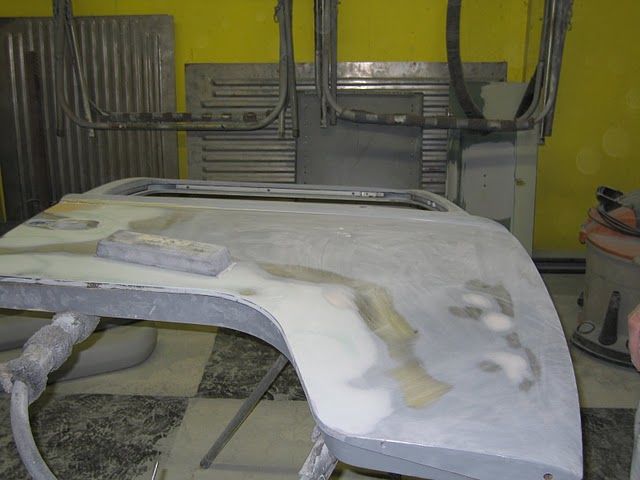 Each panel worked and finished.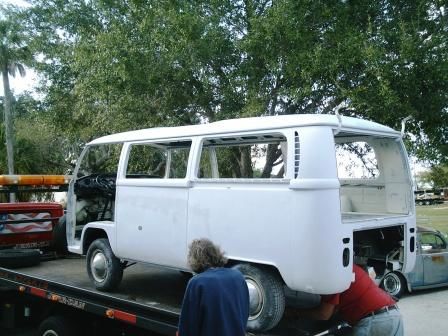 In primer and off to the bodyshop for final finish.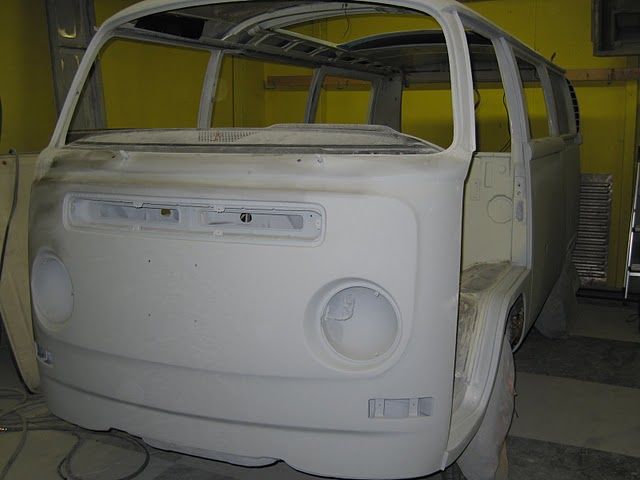 A primer sealer coat.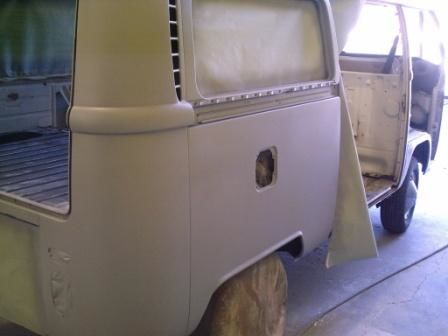 Ready for the base color.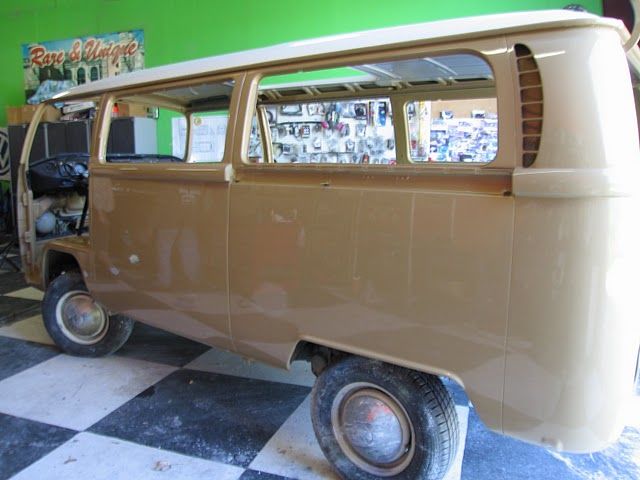 And here it is, fresh from the paint shop...very nice.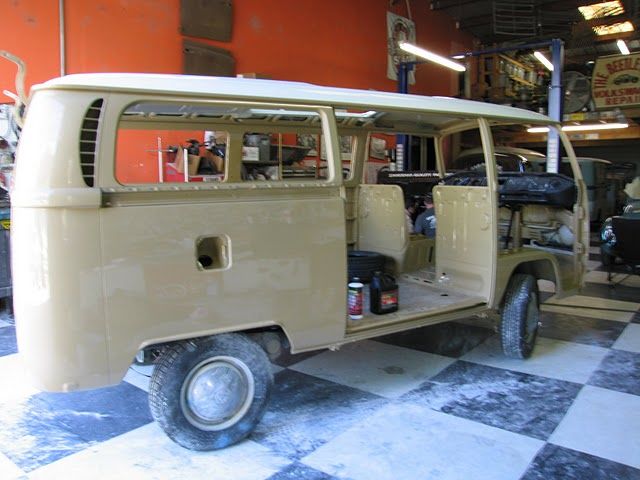 Ready to start the re-assembly!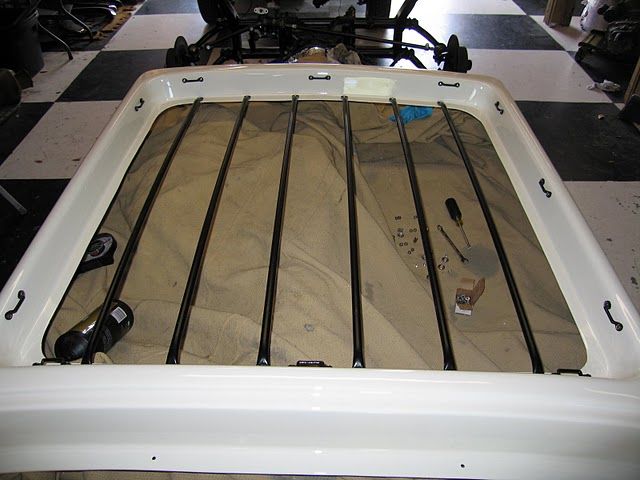 Check out the nice detail to the roof rack section...really nice work.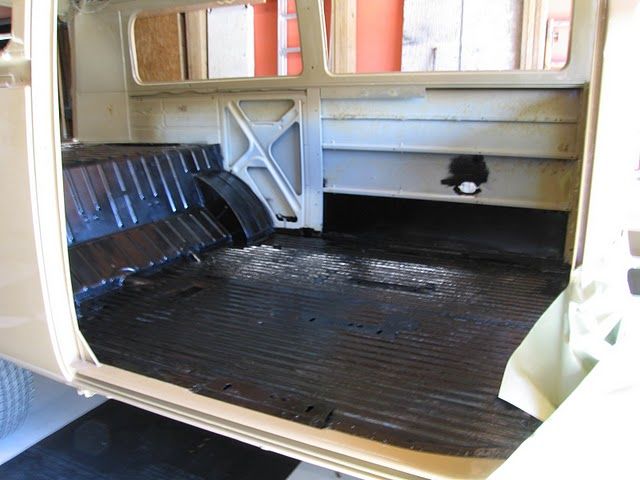 Interior floors were treated with Por15, one of the best rust inhibitor coatings around.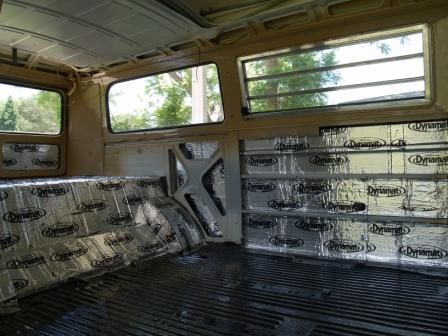 Dynamat sound barrier was installed throughout to keep road noise to a minimum.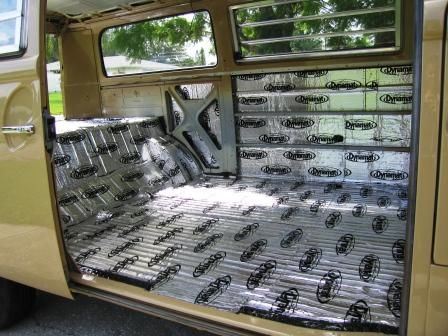 Floors too!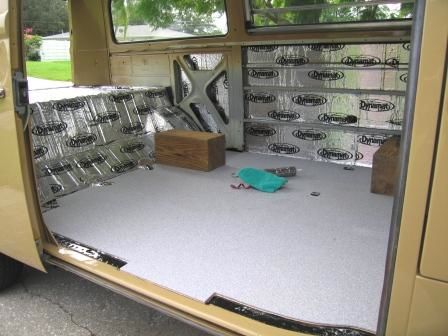 Subflooring in place.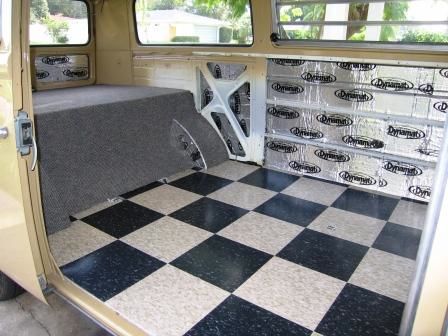 Nice tile!
And carpets!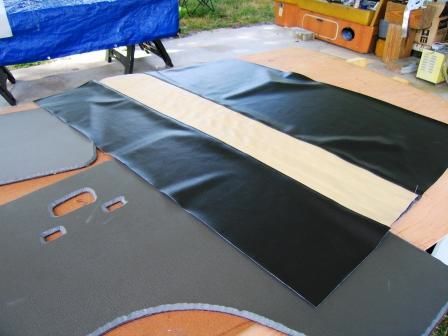 Interior panels under construction.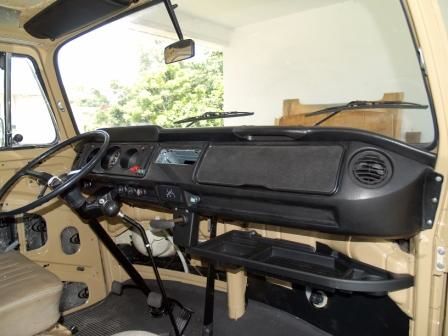 Dash coming together.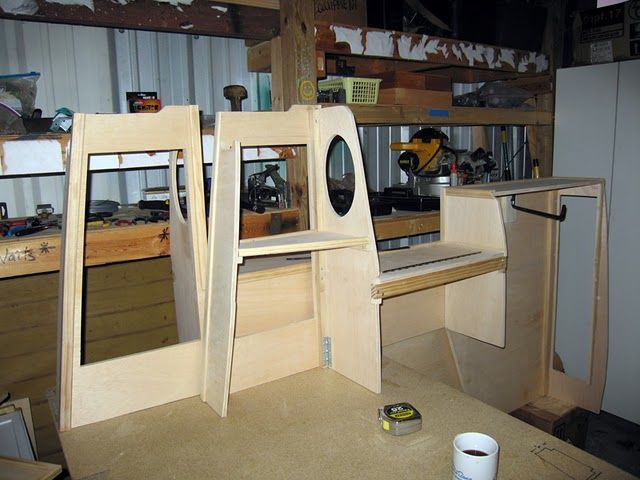 Custom cabinets being built.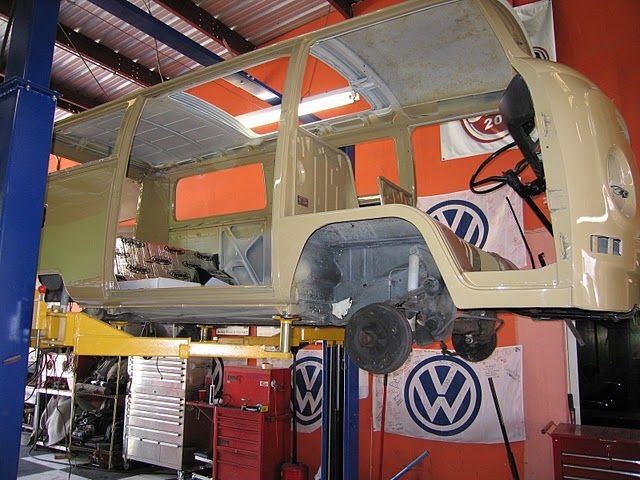 Up on the rack for mechanicals.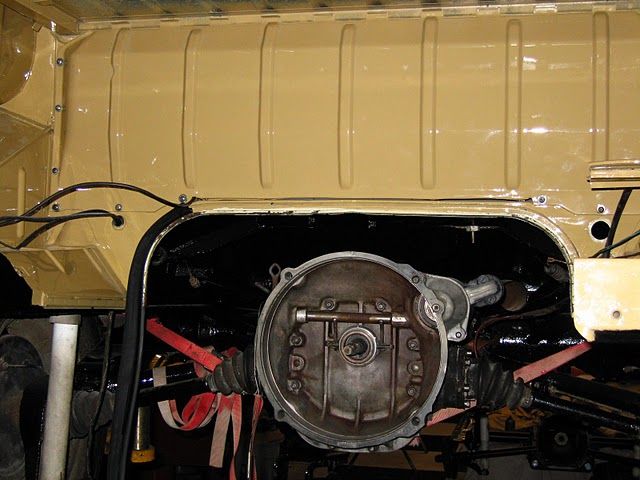 Nice and clean.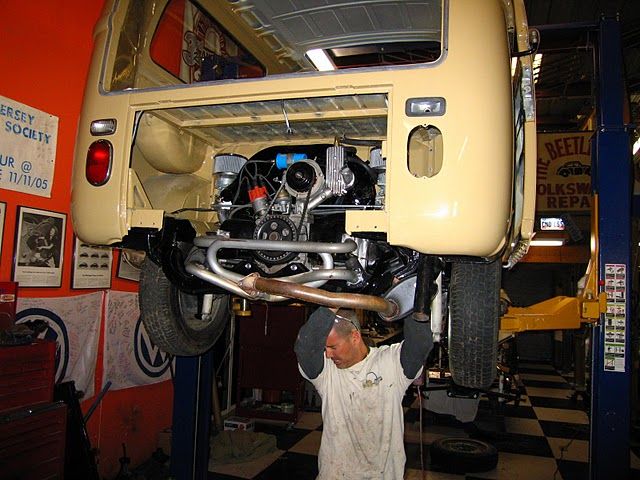 1776 cc engine being fitted...she's a great runner!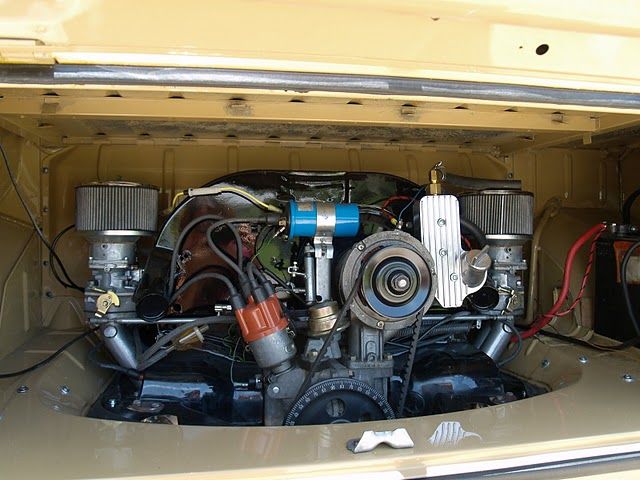 Really great engine package here...more power than stock but not over-carbed
or too big to cause poor mileage or longetivity.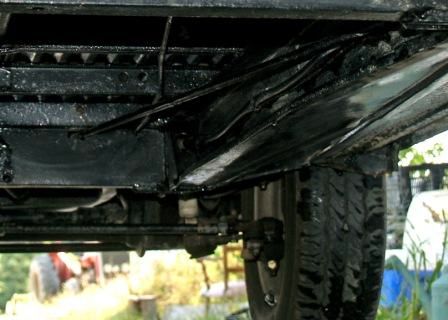 Undercarriage also treated with Por 15.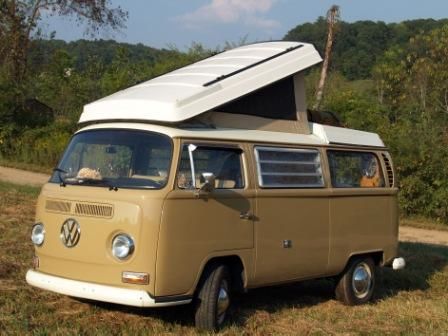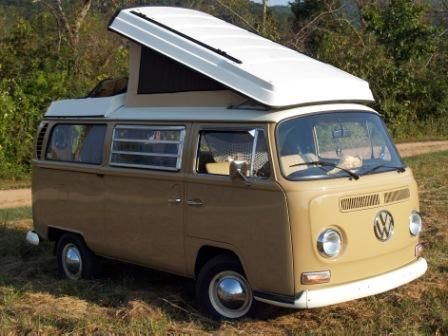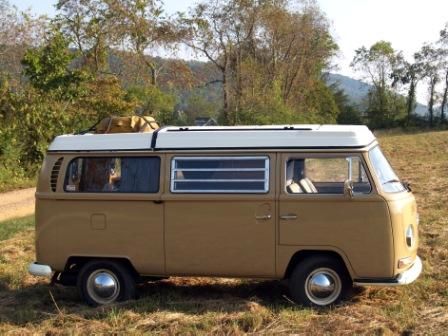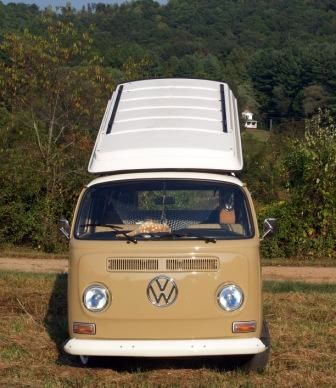 In closing this is a very nice Bus.
Miles ahead of many of the "quickie" restorations that I have seen out there on the market.
This was built well and features a fantastic custom interior, a great drivetrain and retains the classic style
and adds to it with some nice trimming.
Whoever ends up with this one will fall in love!
SOLD! Please CLICK HERE
For All Current Listings
---
For More Info...CALL
951-767-1600
or email
oldbug@earthlink.net

---