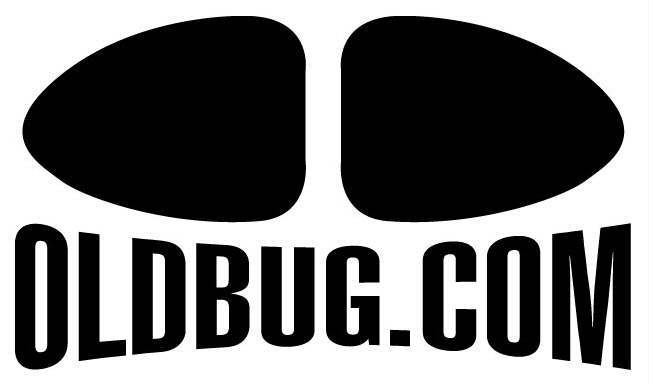 1950 Volkswagen Beetle For Sale
---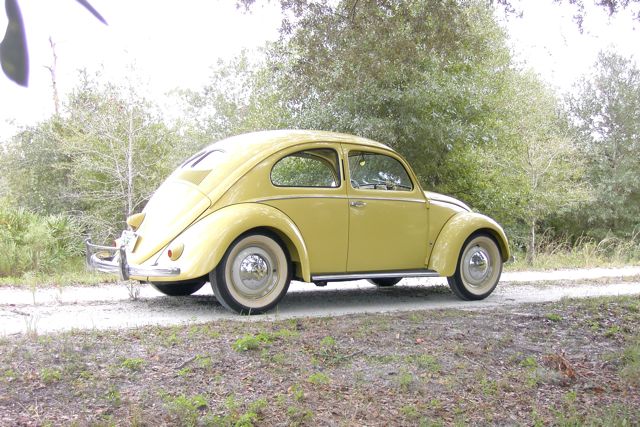 A Split Window Beetle is the dream car of many VW nuts out there and it is easy to see why.
Its the start of it all and the charm of the earlier models is hard to match with anything newer.
This Florida based 1950 is a sweetheart of a car that has had a very full and complete restoration
by it's owner. It is nicely done, perhaps not 100% correct in colors and materials
but still a very attractive little Beetle.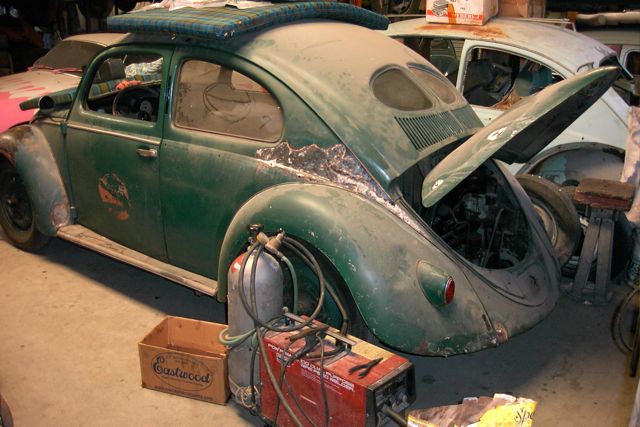 These cars are rarely found in perfect condition these days so more often than not you need to start with something rough.
This photo shows this car prior to the restoration.
Fortunately it was quite complete and the body and chassis were impressively solid.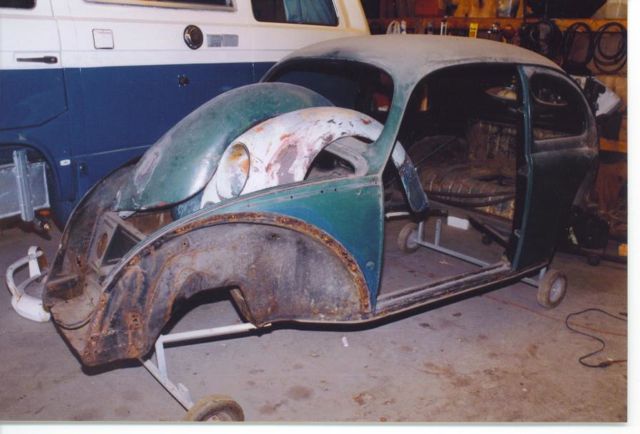 The car was fully dissassembled down to the frame...no nut or bolt left unturned.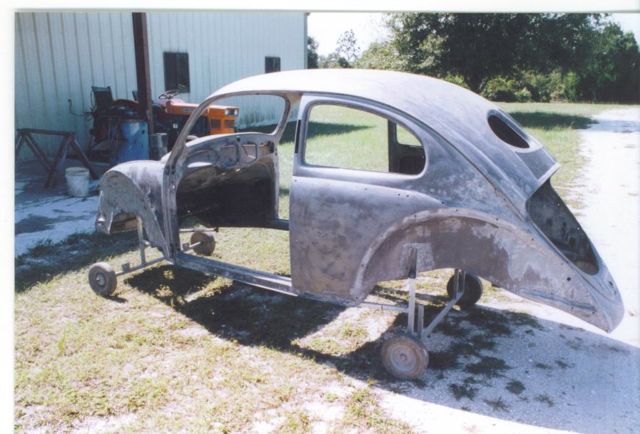 The body was stripped down to bare metal on all surfaces and as you can see it was really rust free!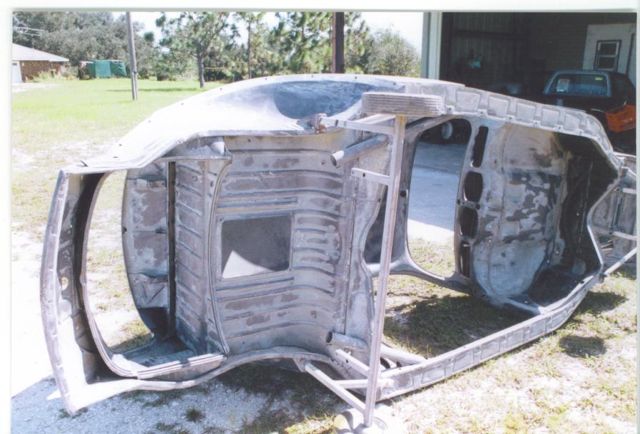 Check out this underside shot and how solid those heater channels were...WOW!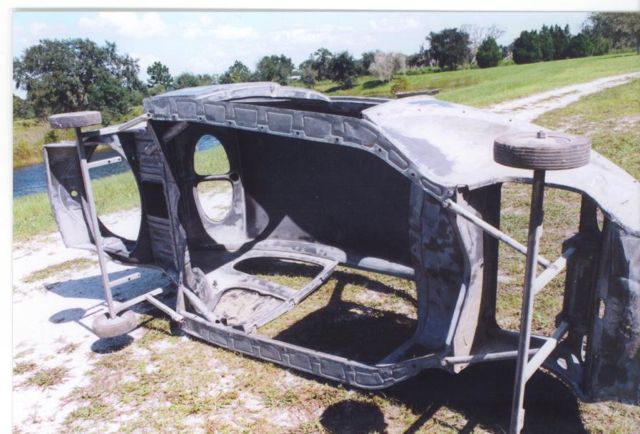 This is a rarity for sure to find one so solid to start with, and it is very confidence inspiring to see these photos.
Its nice to know what is UNDER the paint!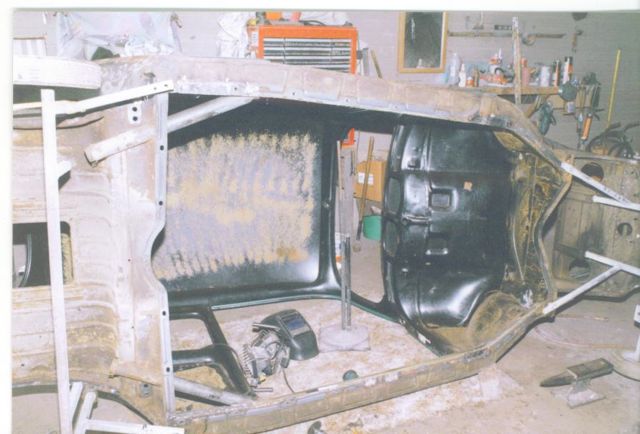 Here is a photo of the body prior to blasting...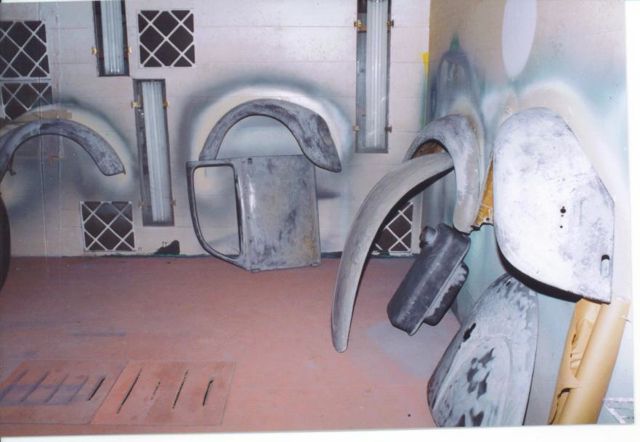 All body parts were treated to the same level of attention.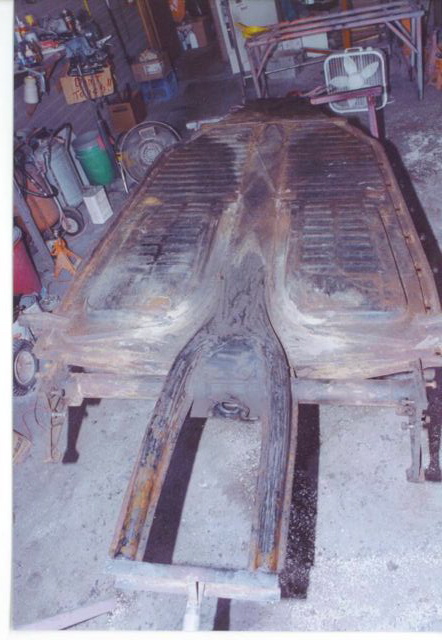 Here is the floor pan prior to blastic...really nice and soild!!
Now blasted...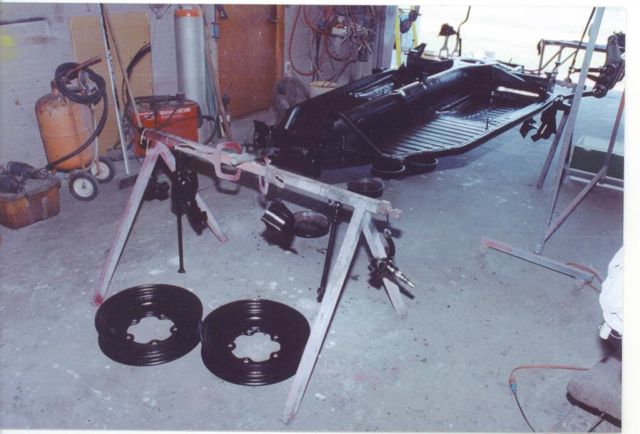 And now painted..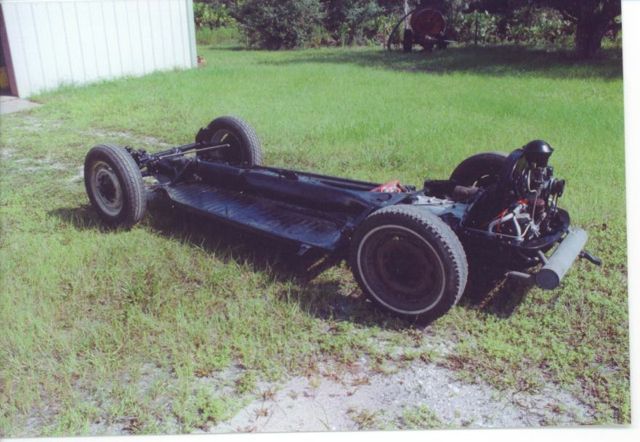 Engine and suspension re-fitted.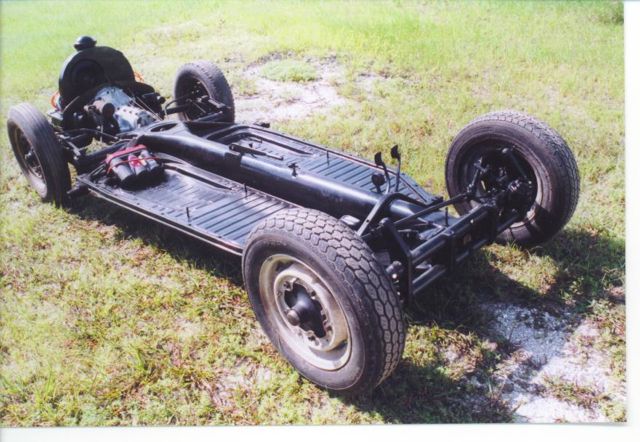 Roller wheels and tires on it just to move it around.
Now with the painted wheels and whitewalls and seats set in place for fun.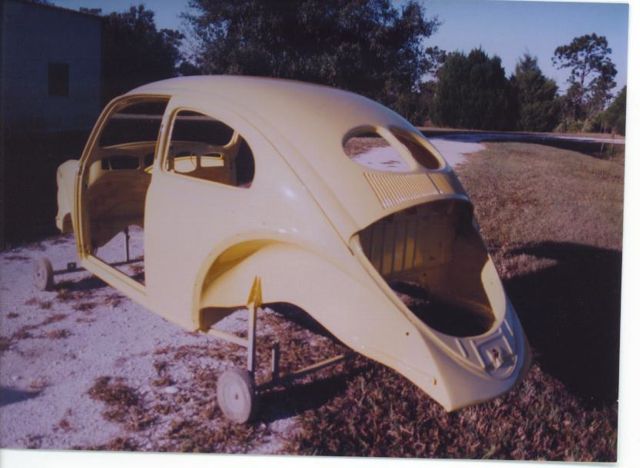 The body received its finish bodywork and several layers of German Postal Yellow.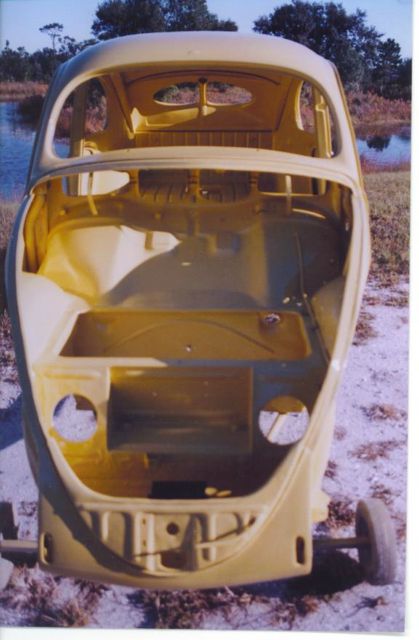 All surfaces covered.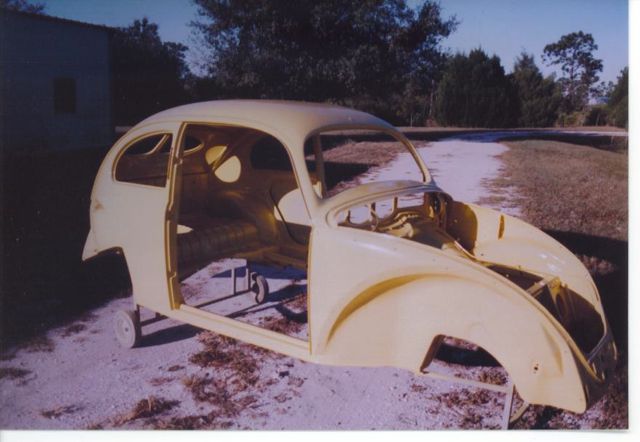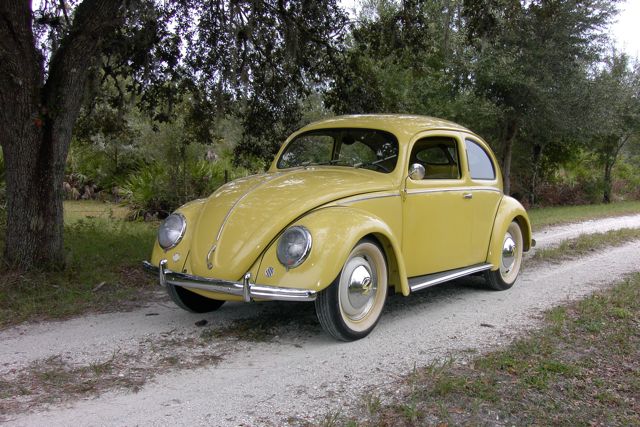 And a shot of it today all together and shining on a country road.
It has come a very long way, but it is so fun to watch the process...thanks to the owner for sharing those photos
with us!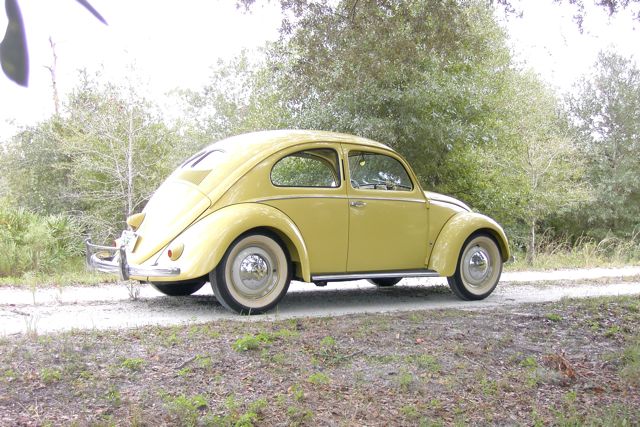 The car is very clean and cute, like a big happy face on whitewalls!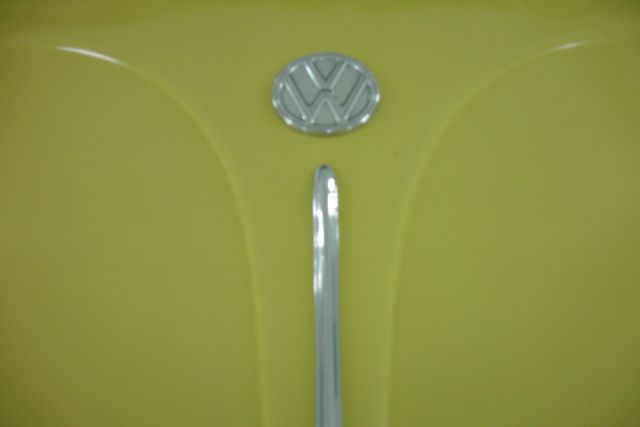 The details on the car are all there as well.
Things like the grooved body trim and the solid backed VW logo.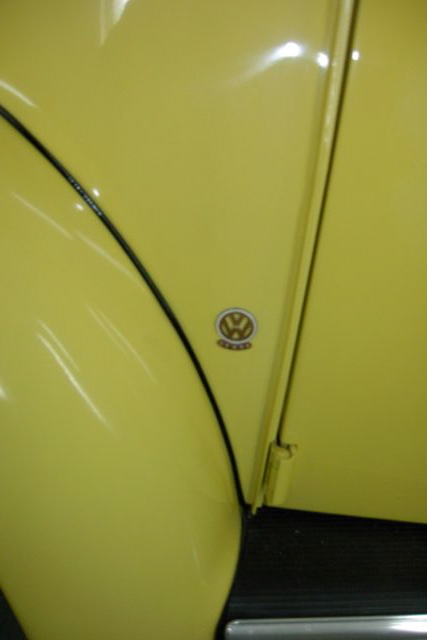 VW importer tag is a nice touch on the drivers side front quarter panel.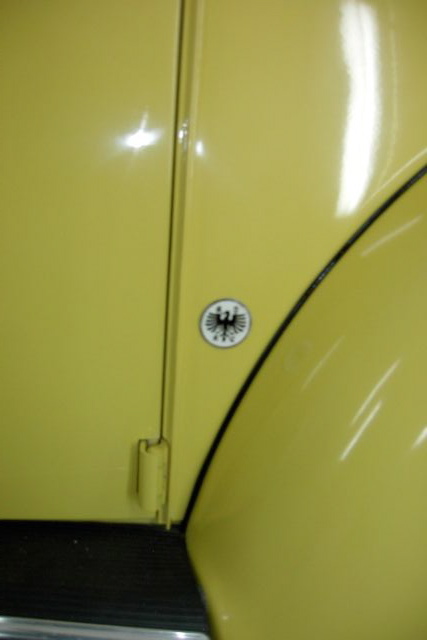 ADAC badge on the passenger side quarter.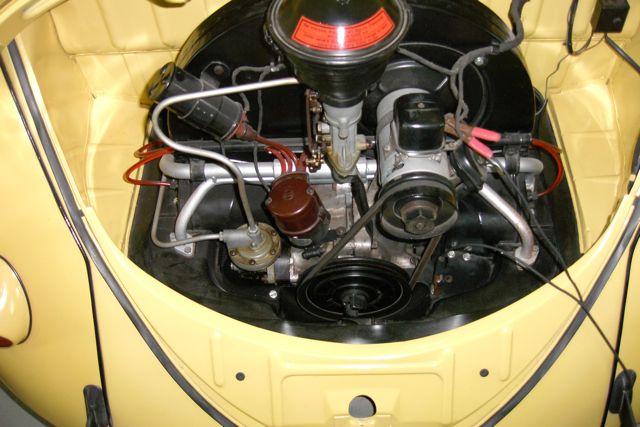 The engine compartment is very clean and the little motor runs great!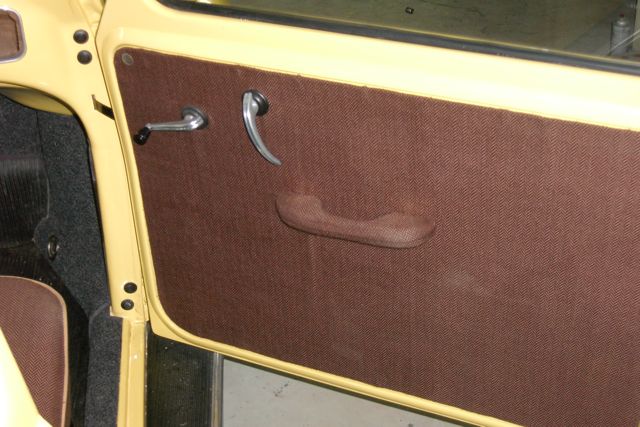 Interior was done in a cloth similar to the original.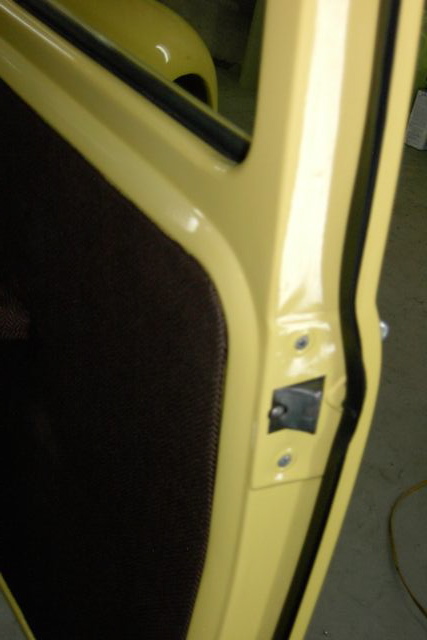 All corners are clean and detailed nice.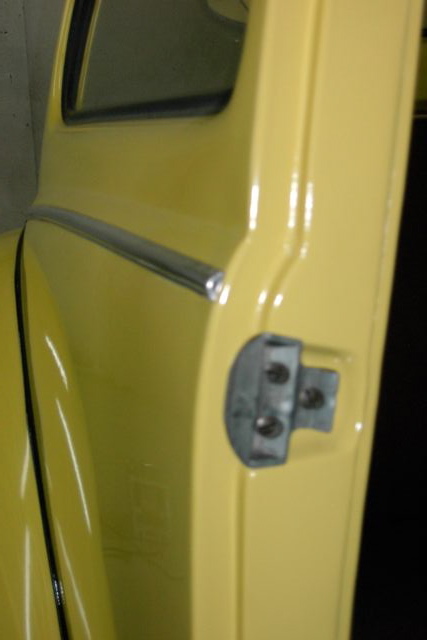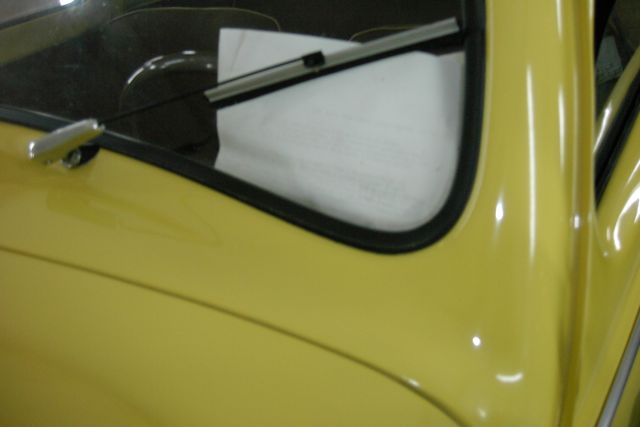 Hard to see in this photo but all glass including the windshield are originals.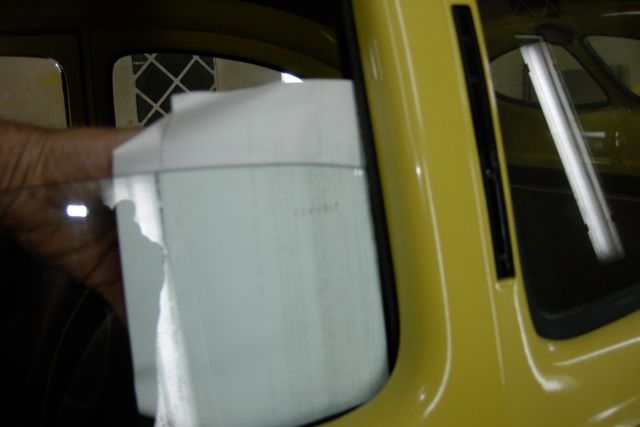 Here you can just make out the large SEKURIT logo etched on the glass.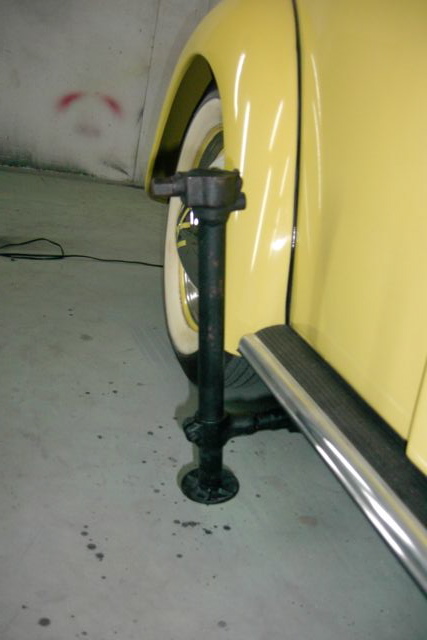 The original jack is present and included in the sale.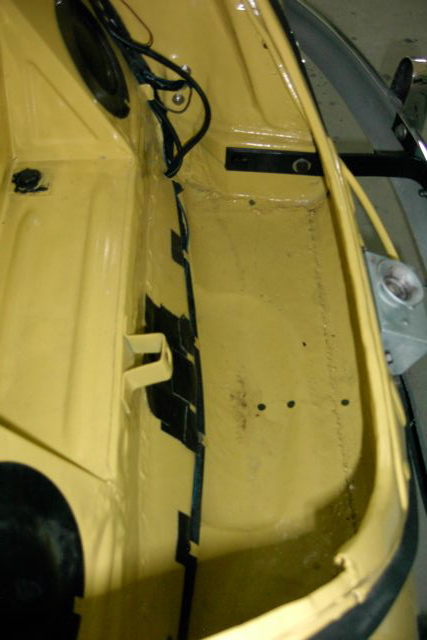 Spare tire well shot...clean in here too.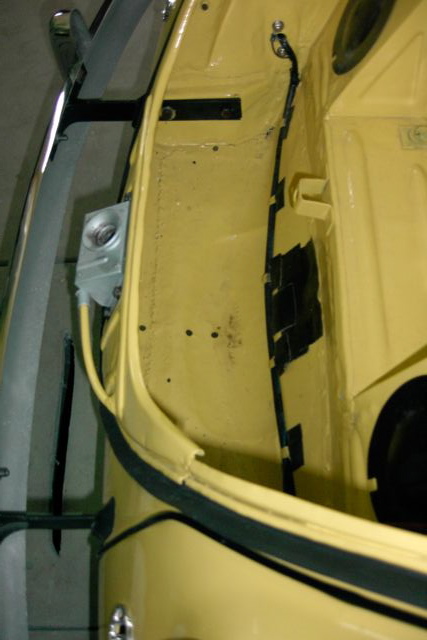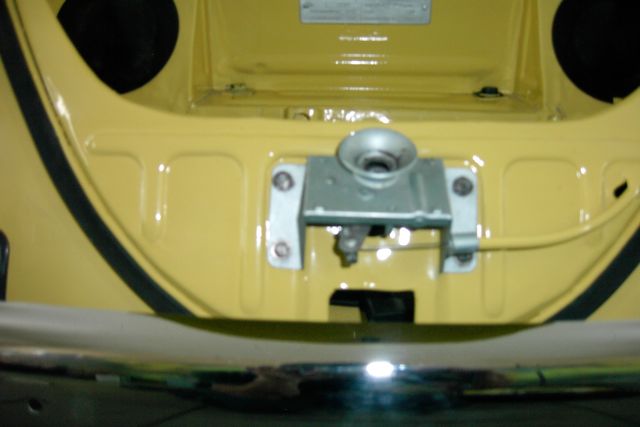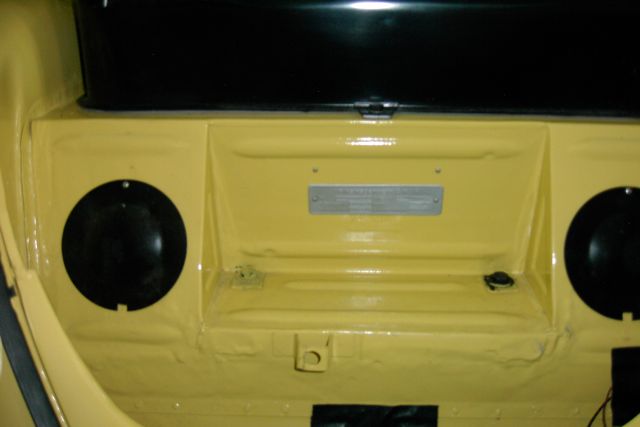 The front end looks like it has had some work done as the panels are a slight bit lumpy down behind and under the spare wheel.
Not horrible, but not perfect either. What the builder did was a pretty serious bit of work.
The front end was slightly bent from a light collision. Rather than replace the original metal with aftermarket or later model parts,
he carefully drilled out the welds that held all the panels together and worked each bit of metal back into shape
and then welded them back together. So while you can still tell that there was some work done, it looks miles better
than it dod when he started and best of all...it is all the original metal!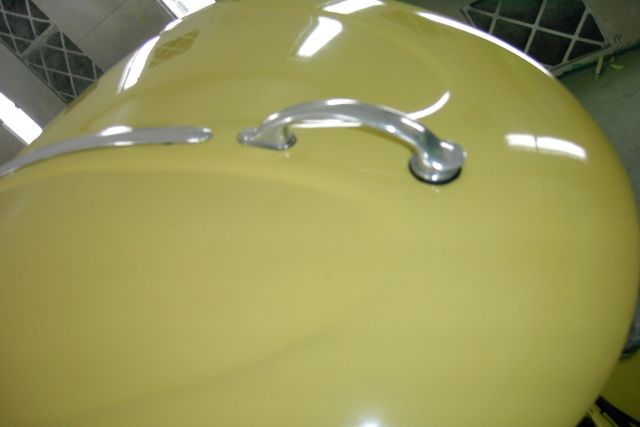 Hood has the proper early aluminum handle.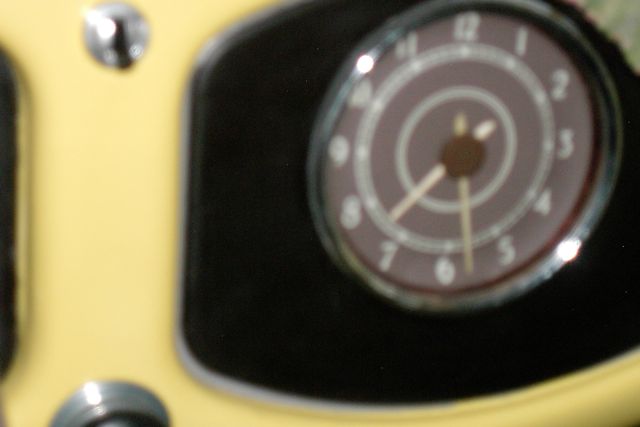 Clock looks very nice.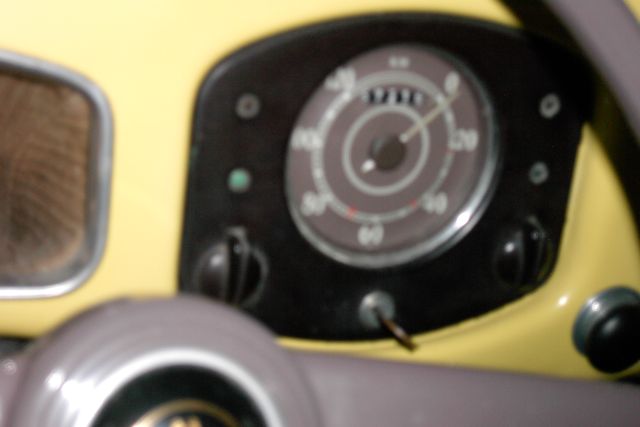 Speedometer too.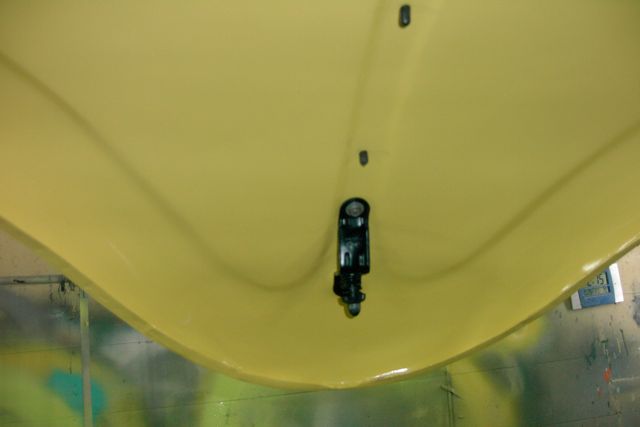 Backside of the hood.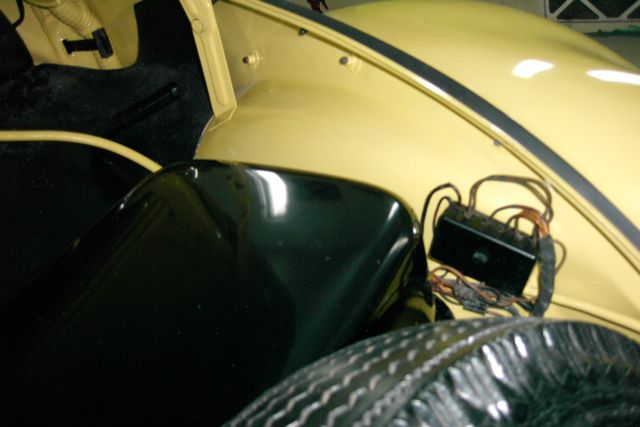 Inner panels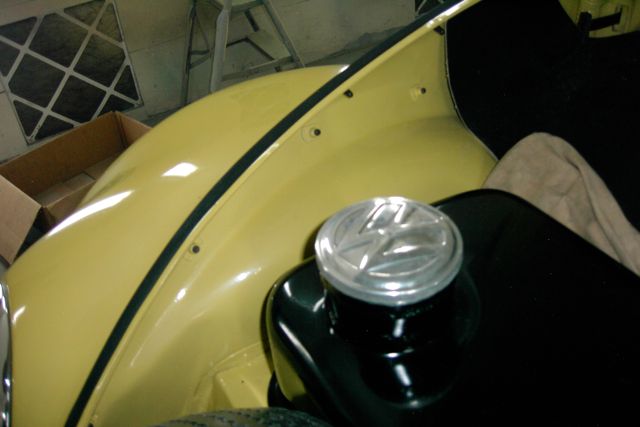 Large mouth gas tank.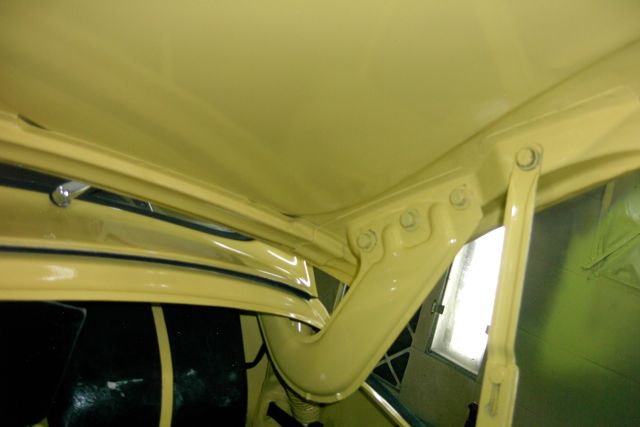 Proper early three bolt hinges and early hood.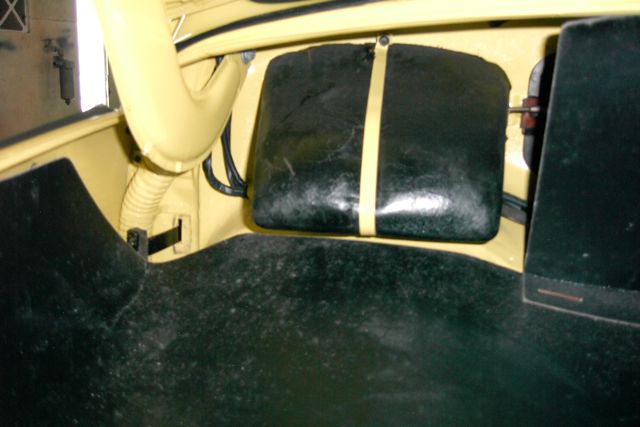 Glove boxes are originals that are in pretty nice shape.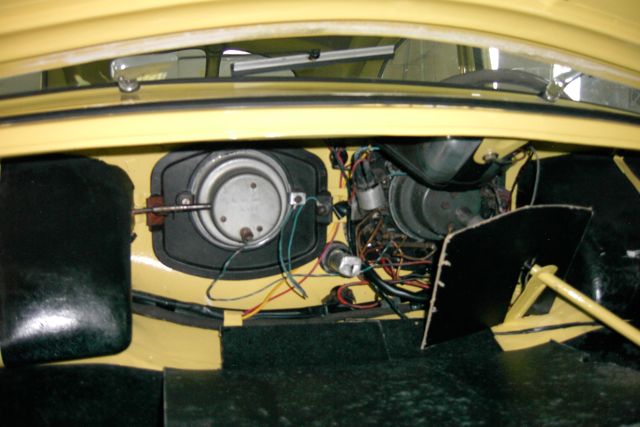 Wiring is tidy.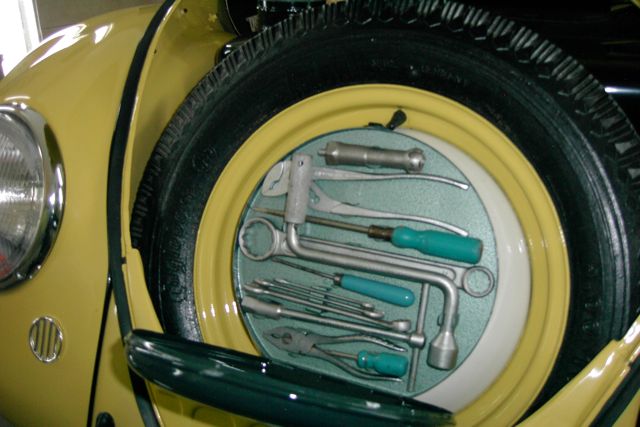 Spare tire tool kit is included.
Correct early wiper arms and blades.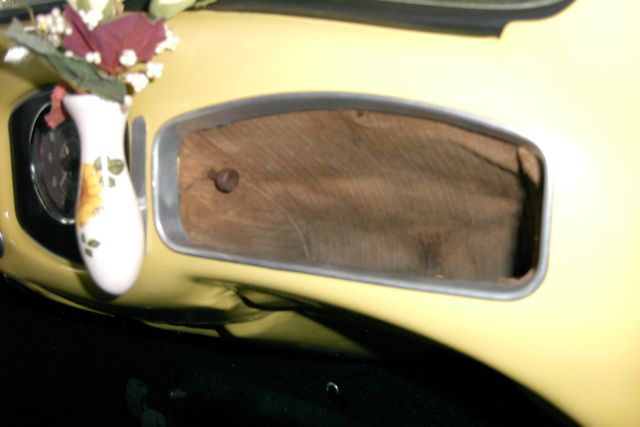 Inside of the glove boxes feature the original fabric.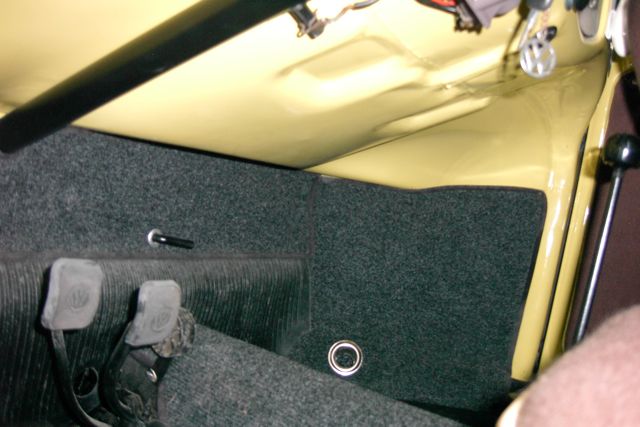 Carpets done in grey.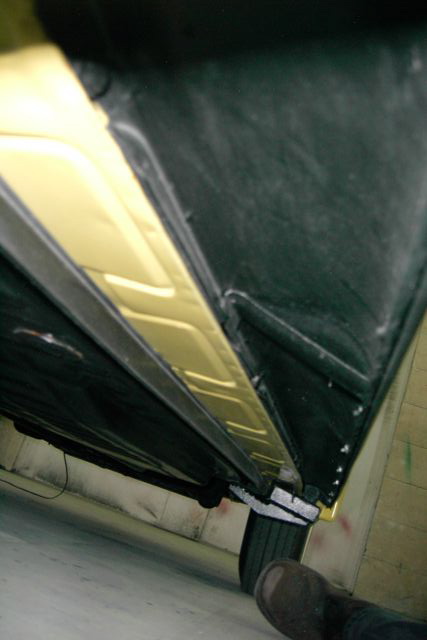 Underside is cleanly detailed.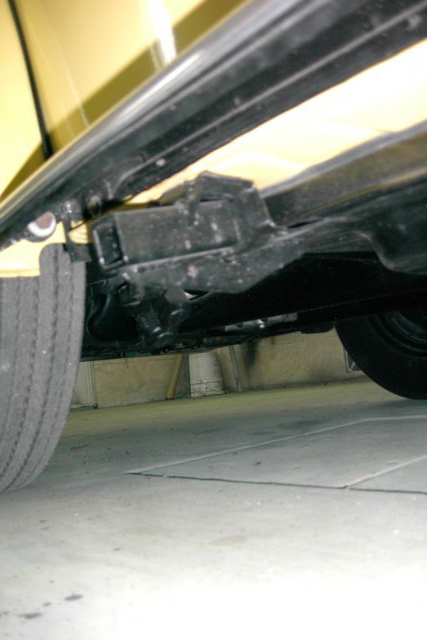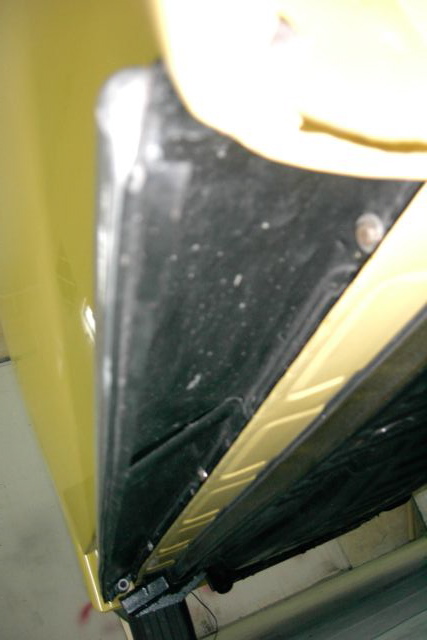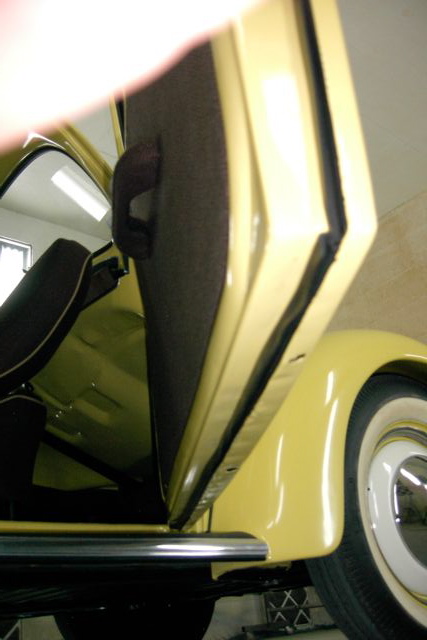 Detail of the bottom of the doors.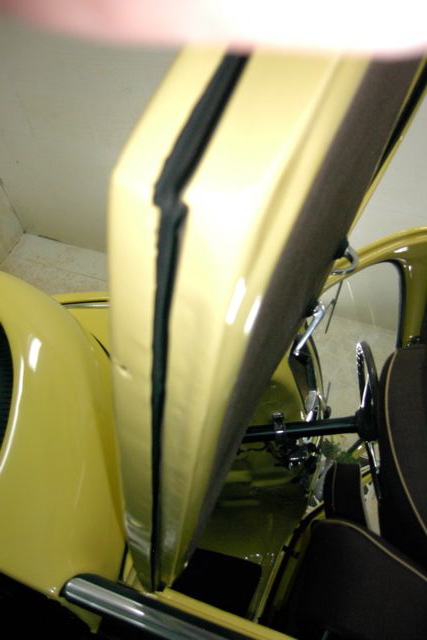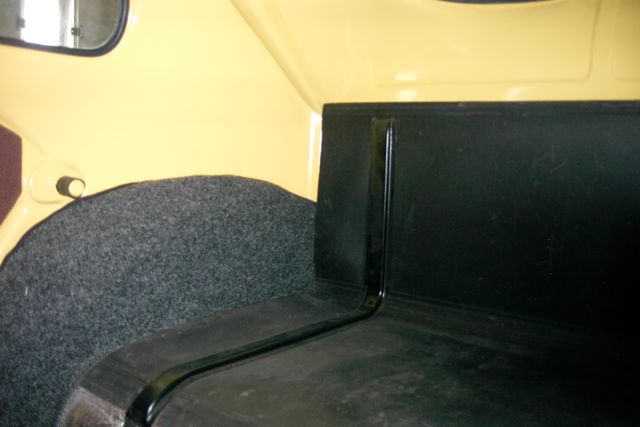 Luggage rails in the back compartment as original.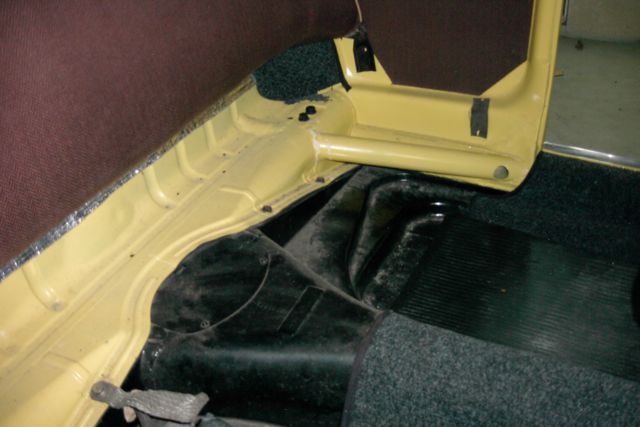 All solid and clean under the seats.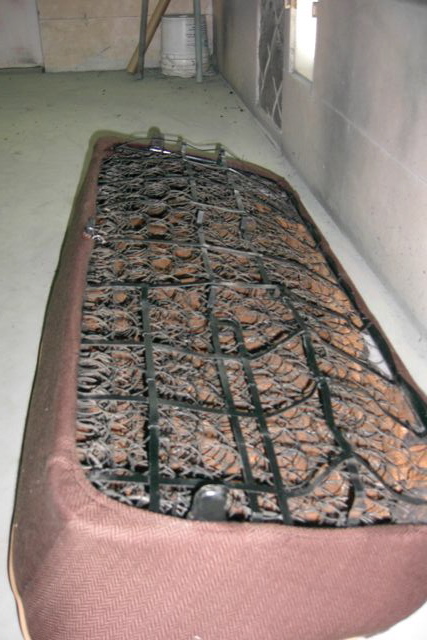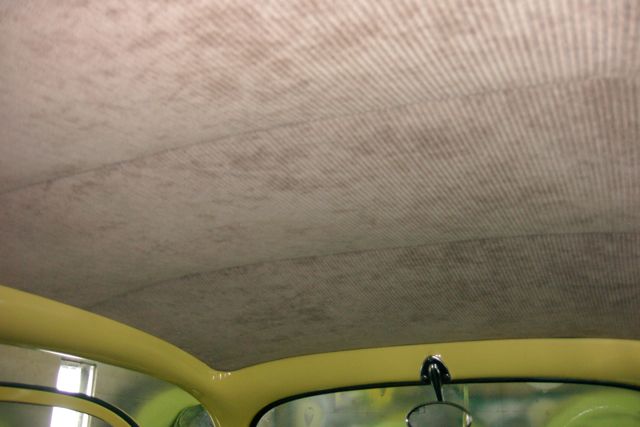 Headliner done in a cloth material.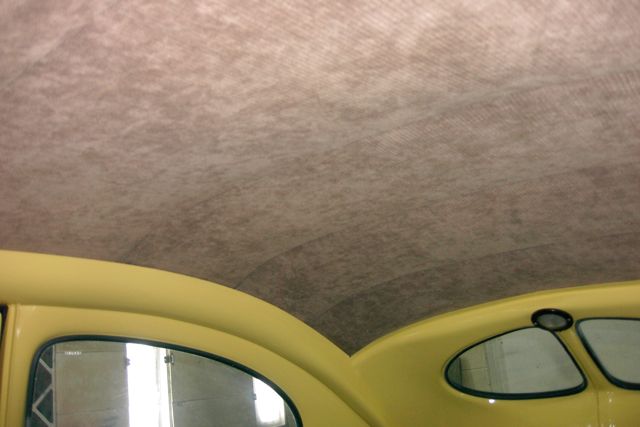 Well fit and looks nice.
The real hardcore "Vintage Purists" will mark the car off point wise
for the paint color and the materials used inside as they are not the exact original stuff.
But as you can clearly see, it is all in wonderful condition and is well installed and done.
Its a nice car that will draw a crowd at any event!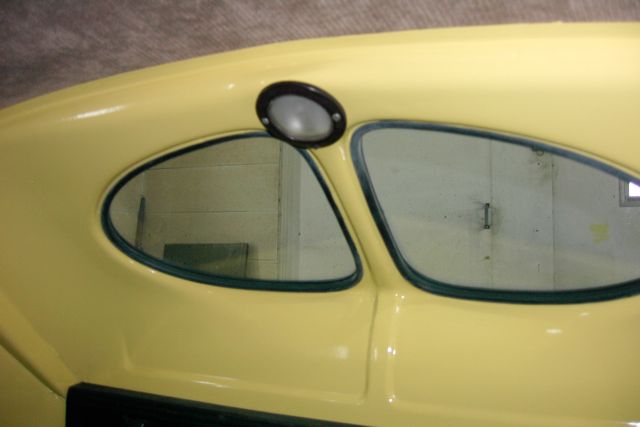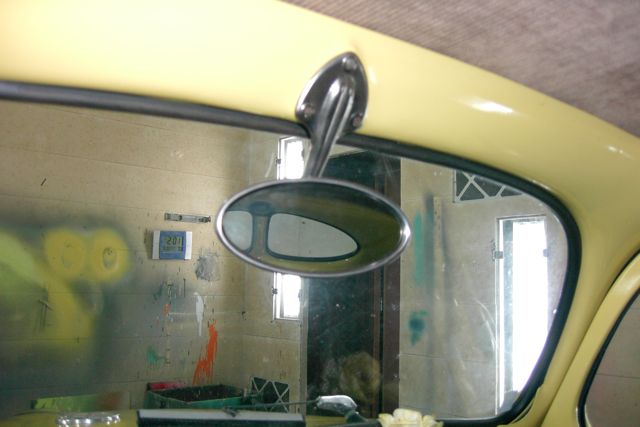 Football shaped mirror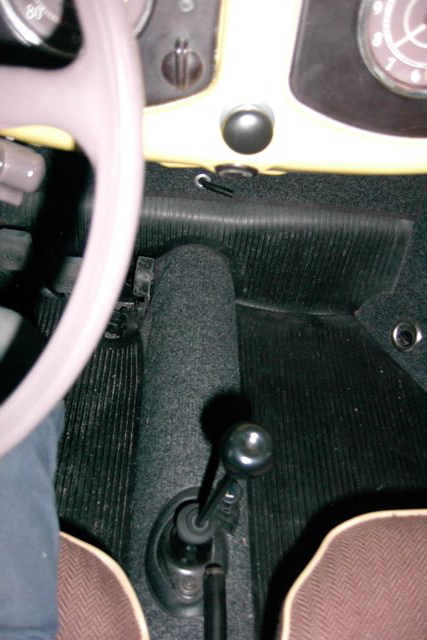 Dimpled shift knob is an early item as is the "L" floor mounted choke knob.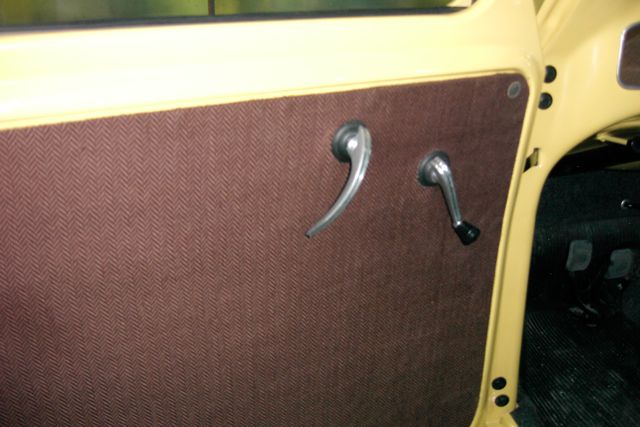 Handles are the correct grooved design.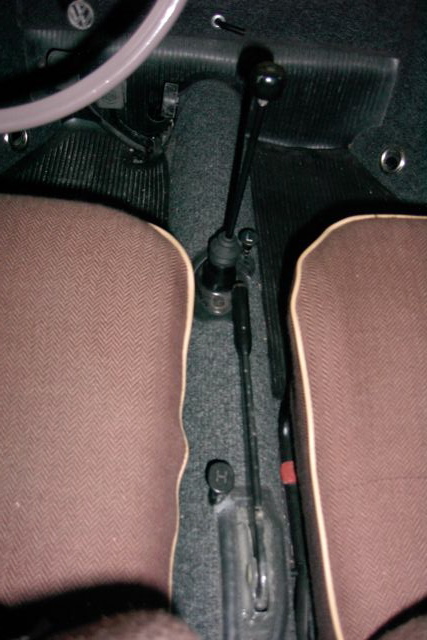 Handbrake handle and heater control.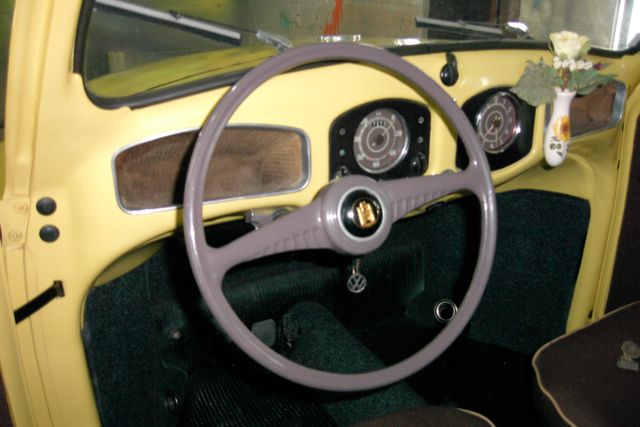 Bat wing steering wheel
I like the flower vase as well.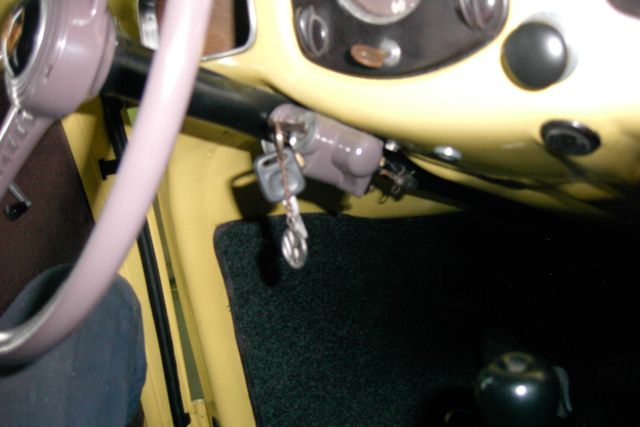 Locking ignition and steering lock is a rare item.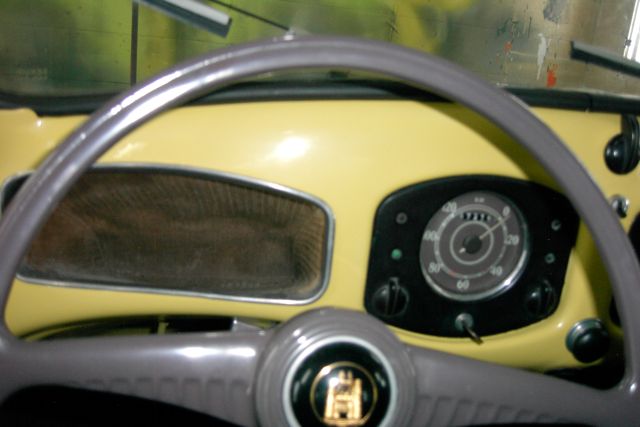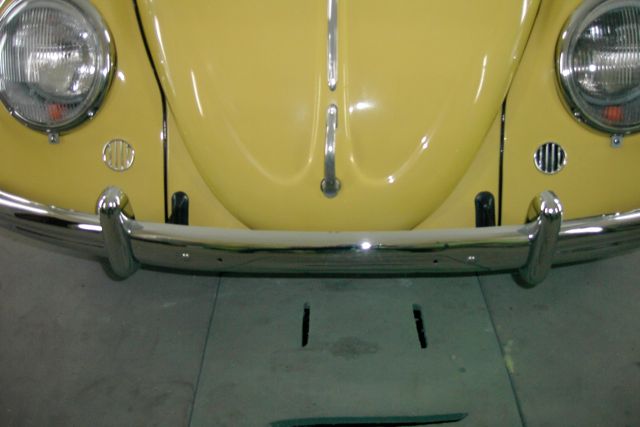 Bumpers are the proper grooved design with nice quality chrome.
Headlights are sealed beam US style units with the fluted lenses.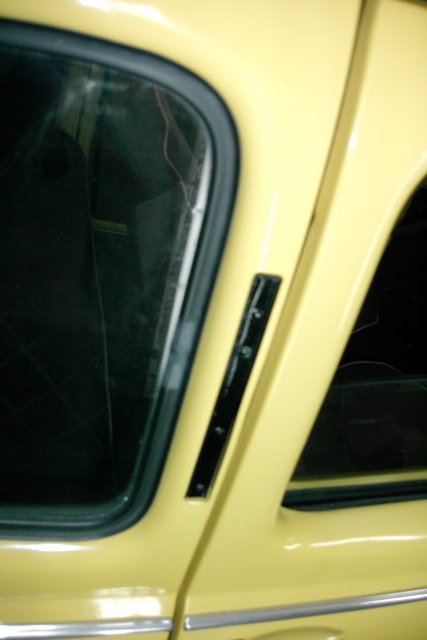 Grooved semaphore signals.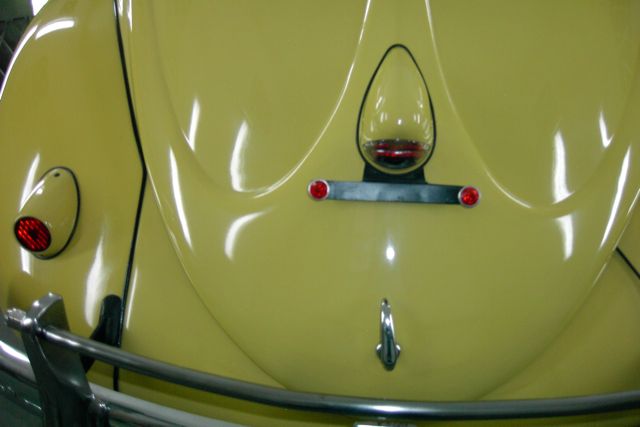 Popes Nose license plate light and early style deck lid handle.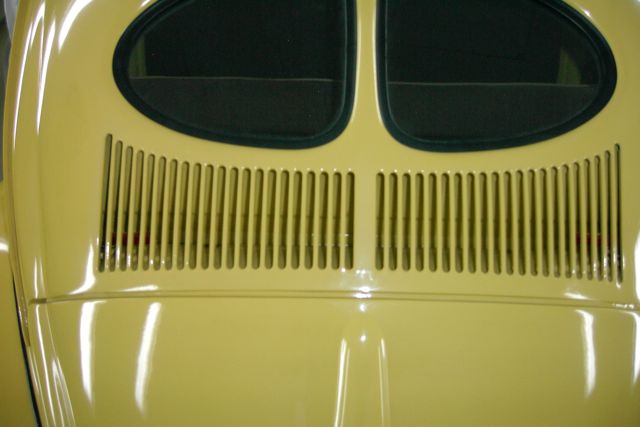 Gotta love that split rear window!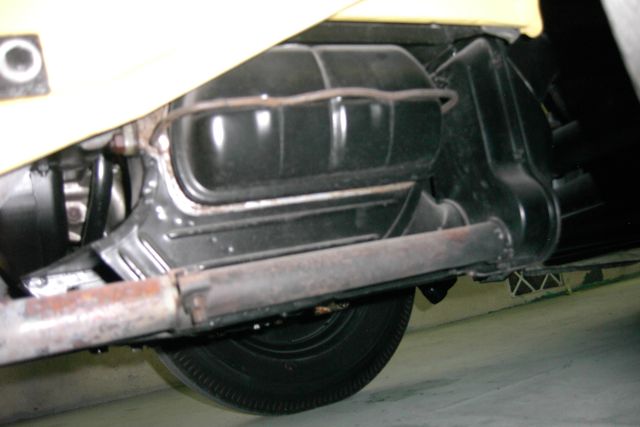 Underside of the engine is quite clean and dry.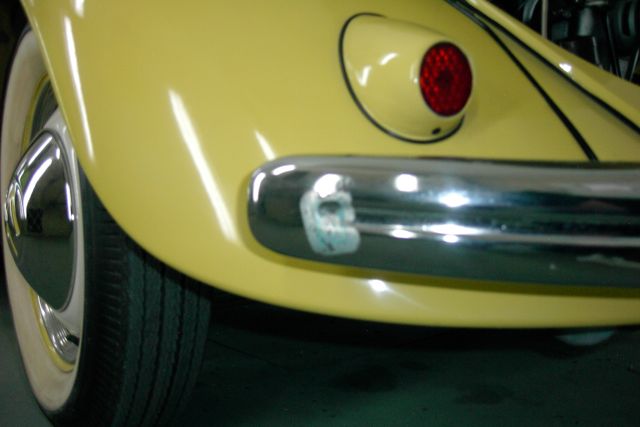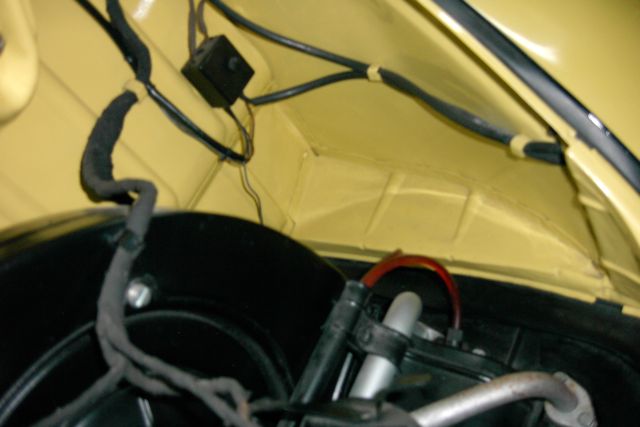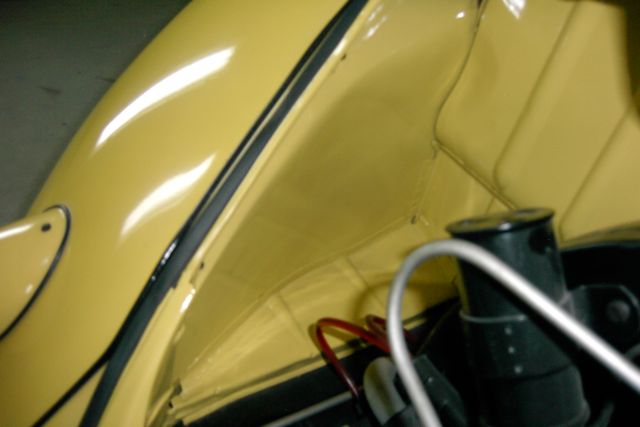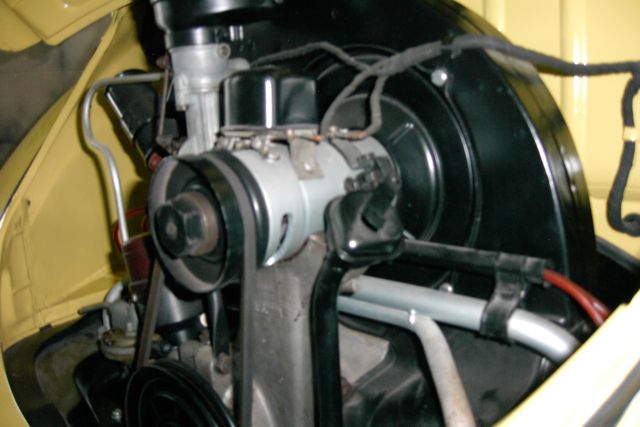 The engine is a 25 horse that internally is filled with 36hp bits...so it has the look of the proper
unit with the slotted generator, star coil, seamed fan shroud and all...but it has just a wee bit more power.
The builder opened the motor up and checked it all out before re-assembly.
So it is not a complete rebuild but it is certainly a good runner with lots of life left.
The engine number does line up with the proper era for the car by the way.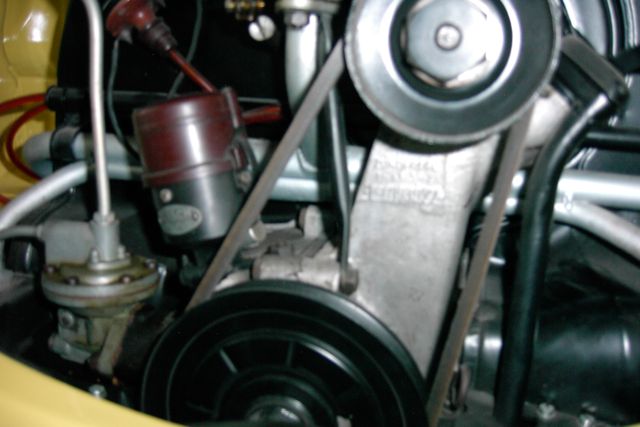 Note the flat top distributor and the big nut on the generator.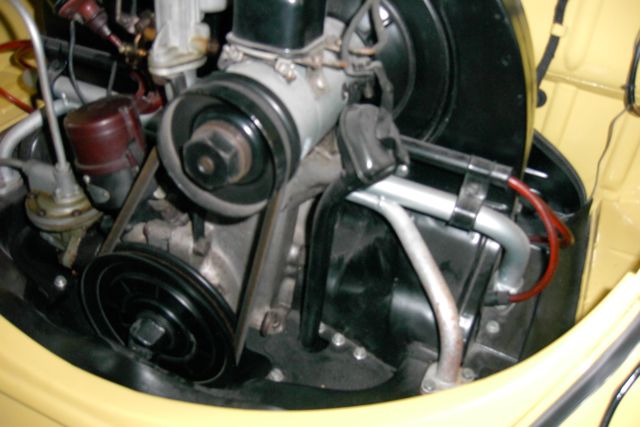 Crank start nut and tins...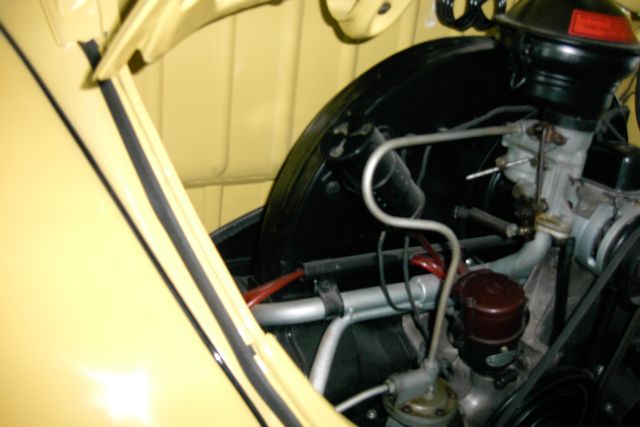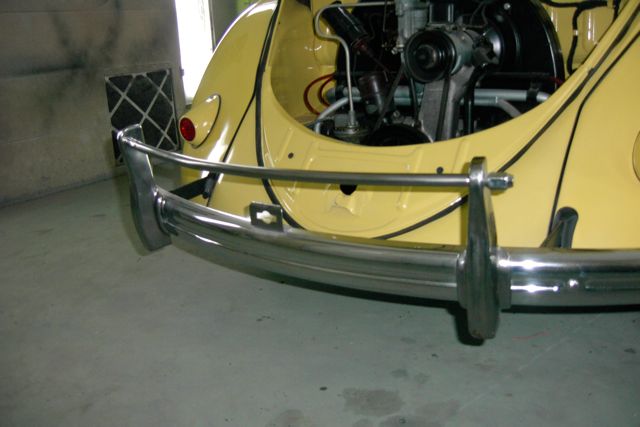 Bumper has some very interesting guards on the back with an overrider bar...I have never seen this before and dont know the origin
but I think it looks pretty cool. I like how the garads match the bumper blade design wise with the grrove in the middle...pretty cool!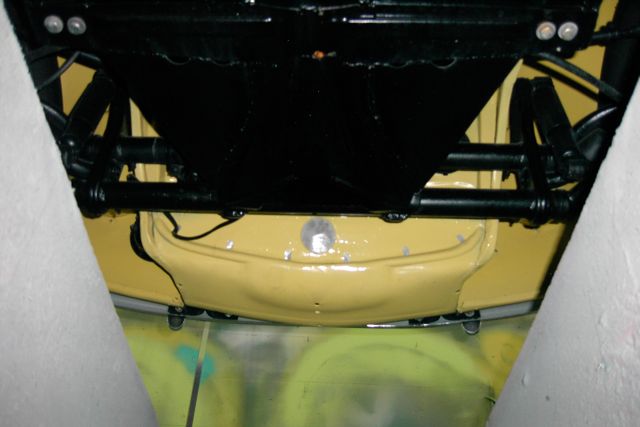 Underside shots...now a few of these photos are obviously done during contruction of the car.
But talking with the owner he would be surprised if the car has over a couple hundred miles at most since completion of the restoration three years ago.
It has been kept indoors and properly treated so the underbelly and overall condition is still fantastic.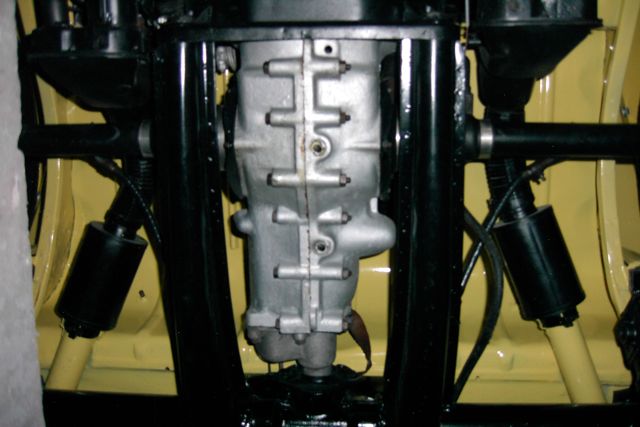 The correct split case transmission is very clean as well.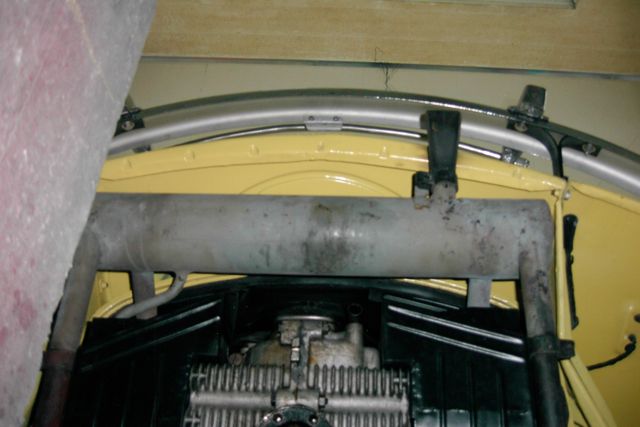 Single tip exhaust.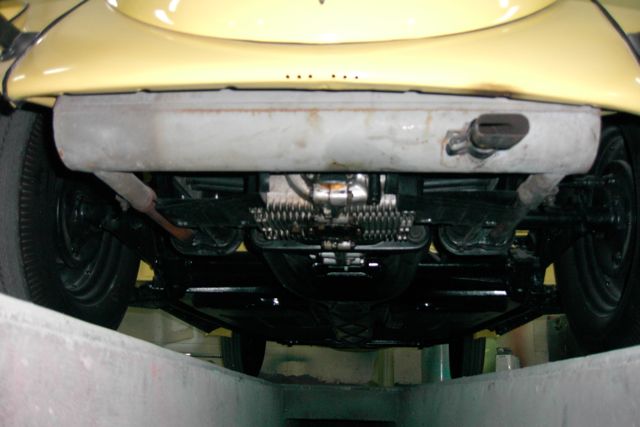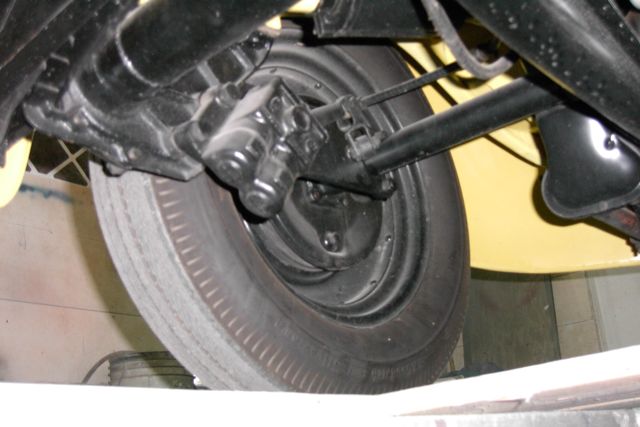 Early style lever shocks as original...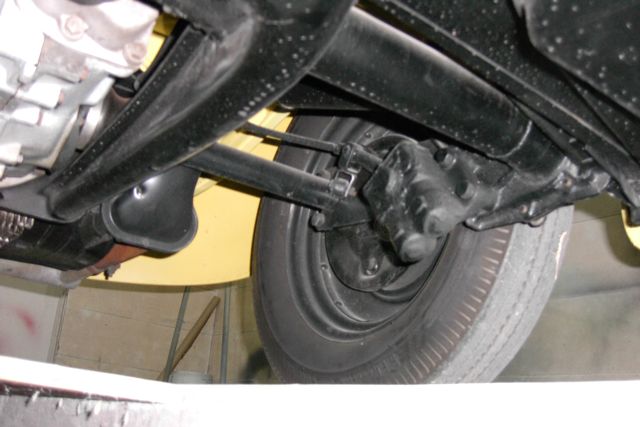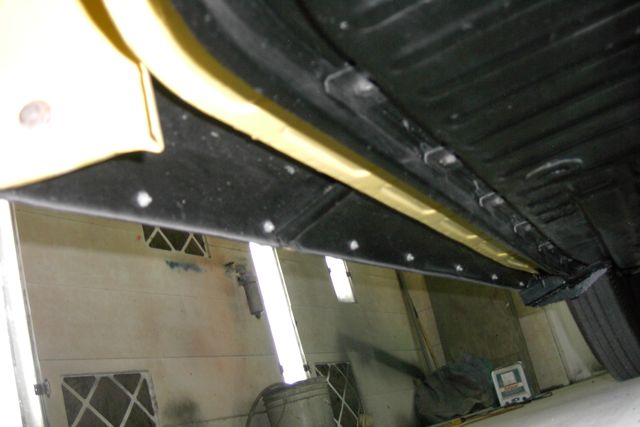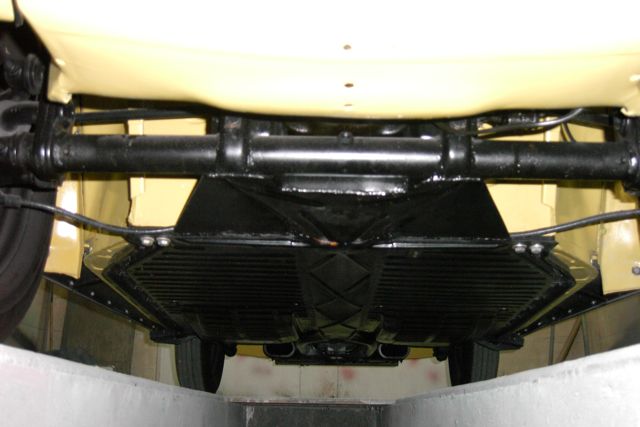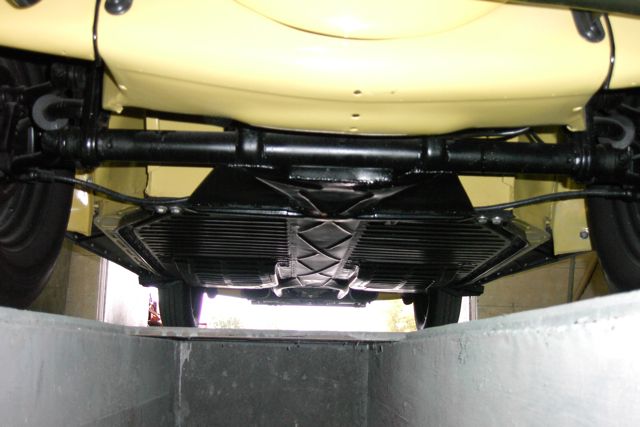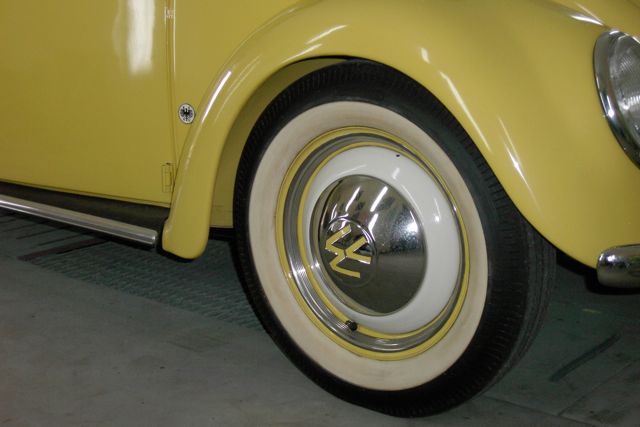 The 16" wheels are the original rivited style and the large logo hubcaps look great.
The trim rings add a little more style as well but looking at the profile I dont believe they are original VW items.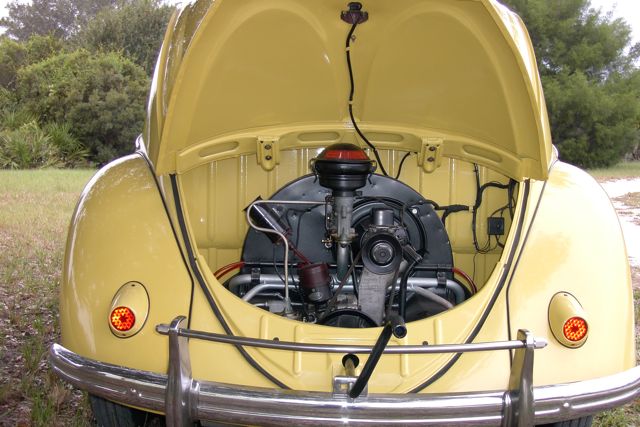 Crank start handle is included...there is nothing cooler than firing up one of these by hand at a show!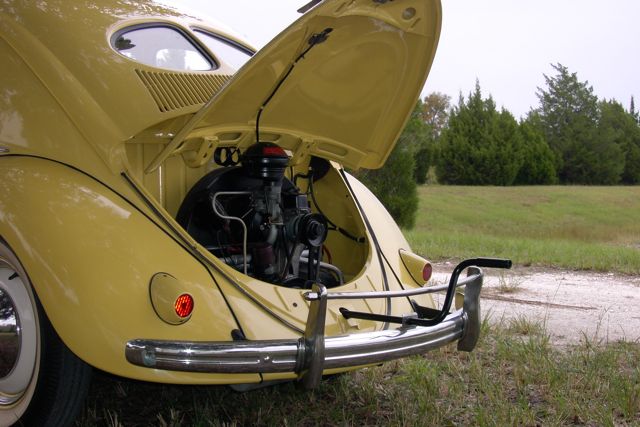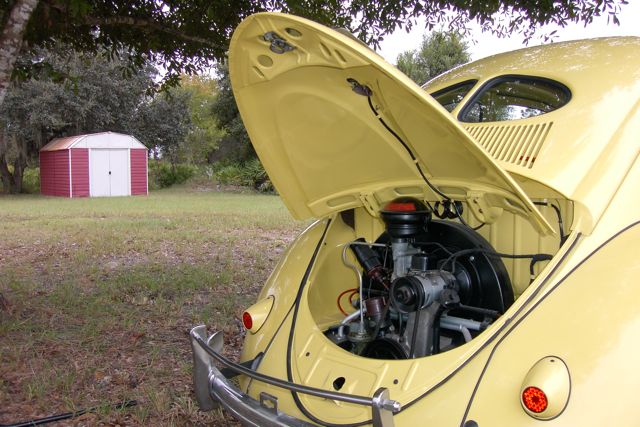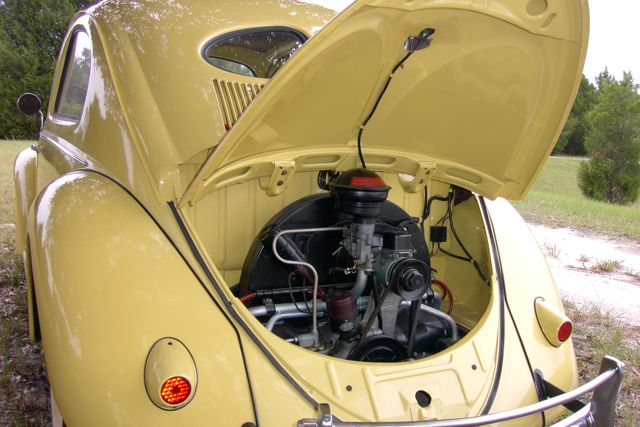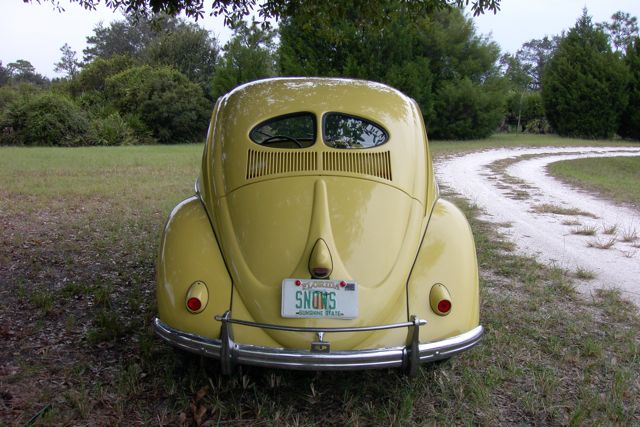 So sweet!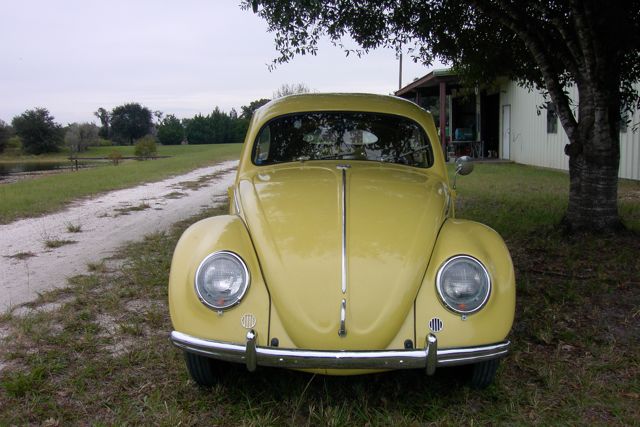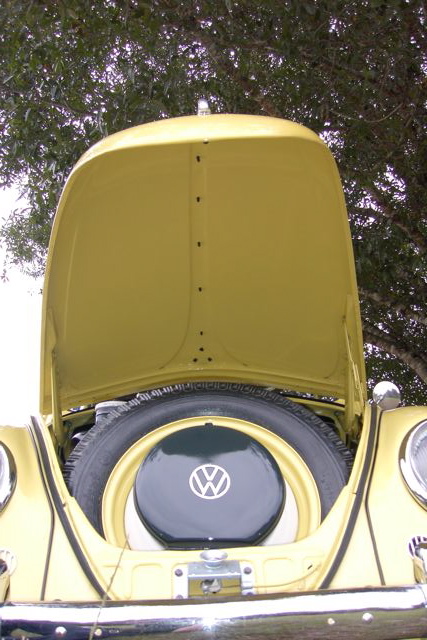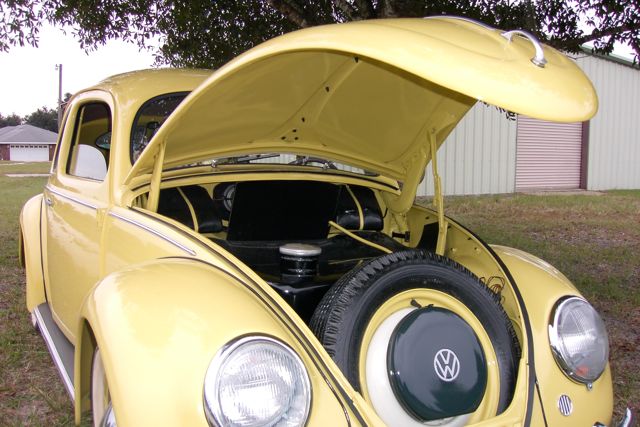 The car shows very well and in a sea of standard colored black or grey splits this one stands out like a ray of sunshine!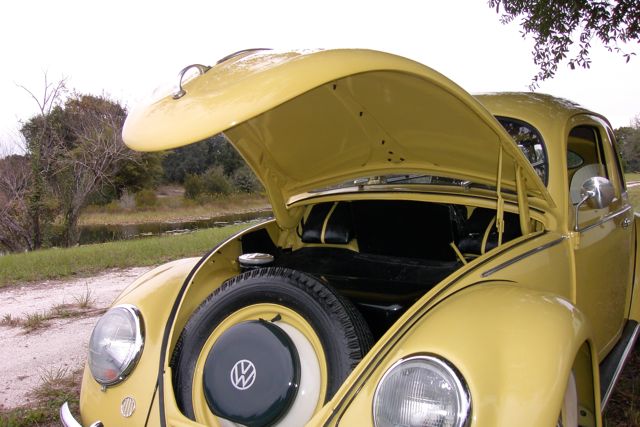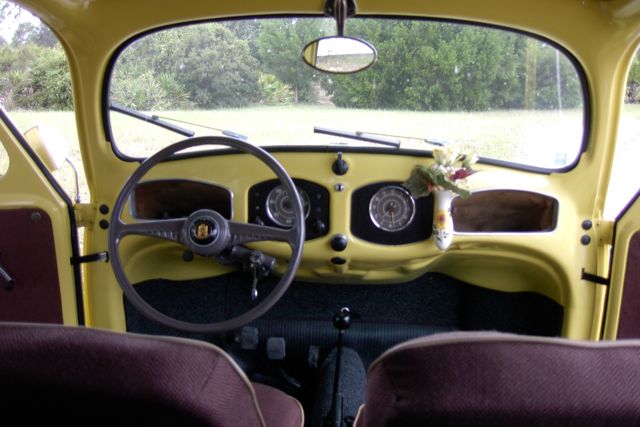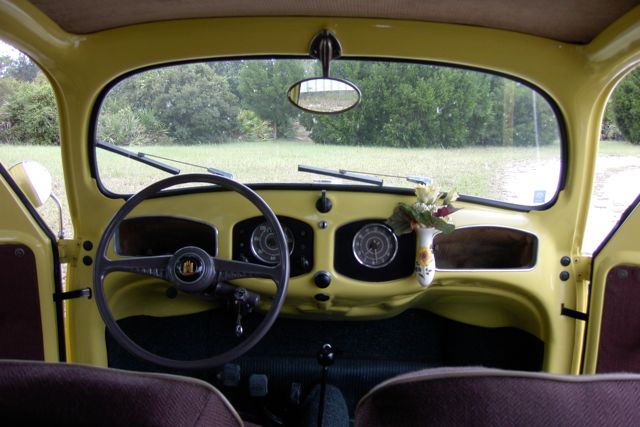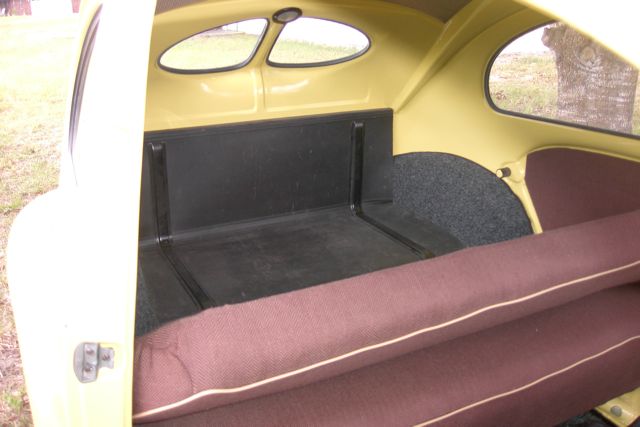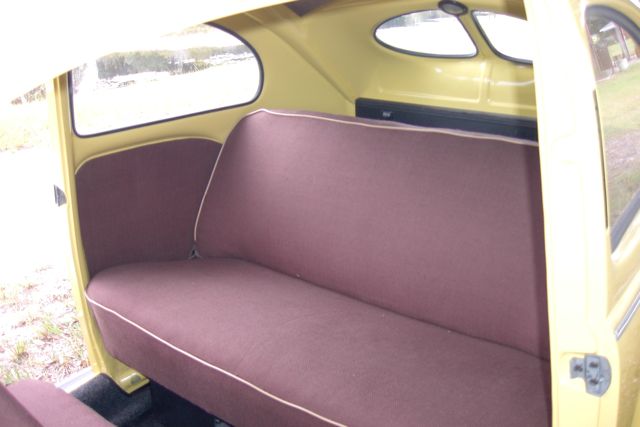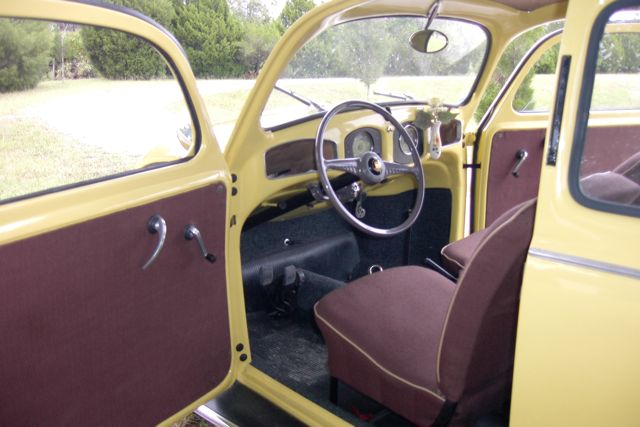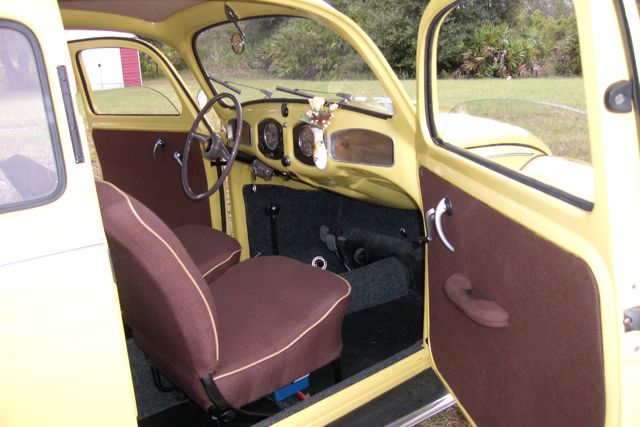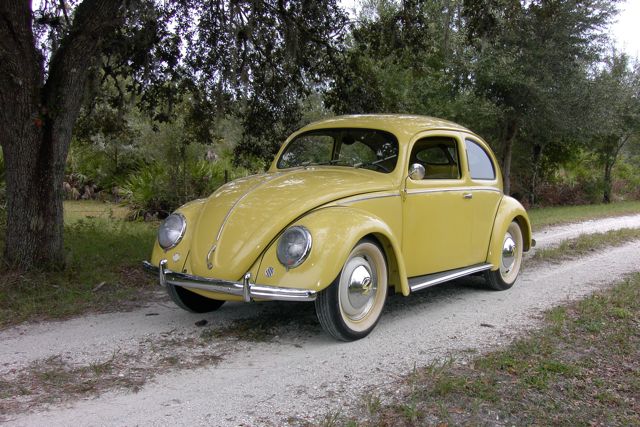 I love these country road shots...it seems so at home here.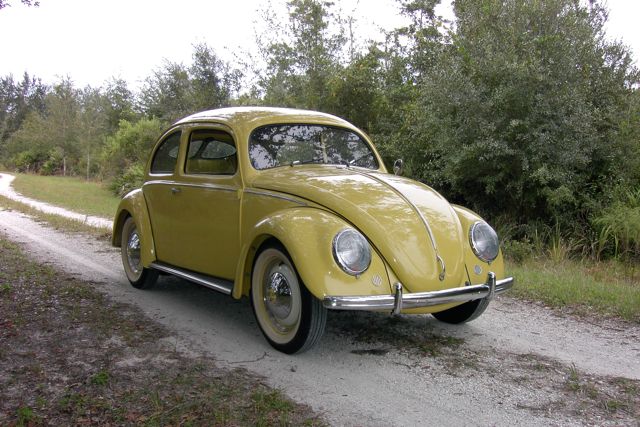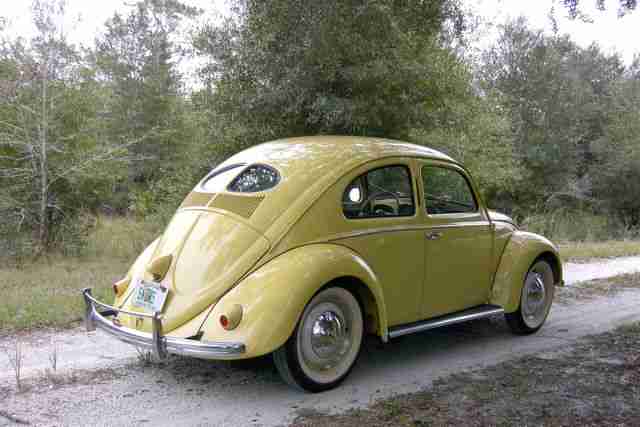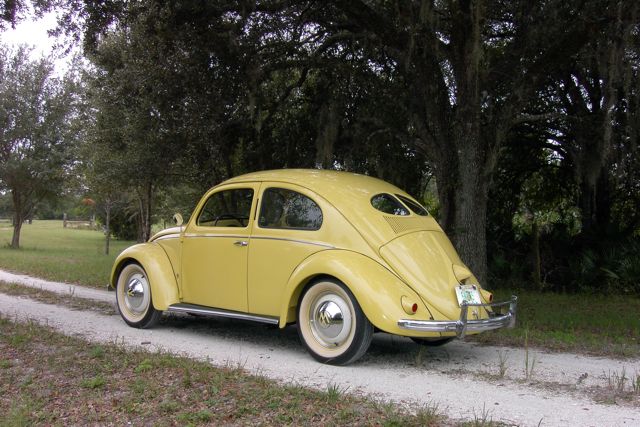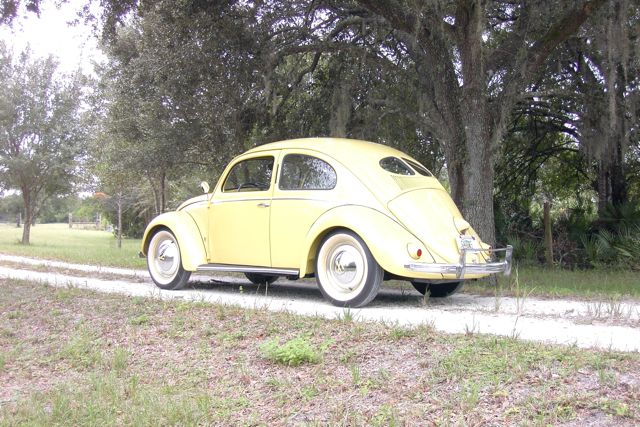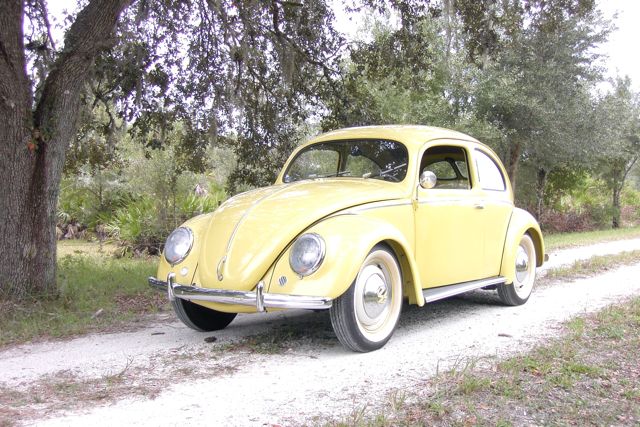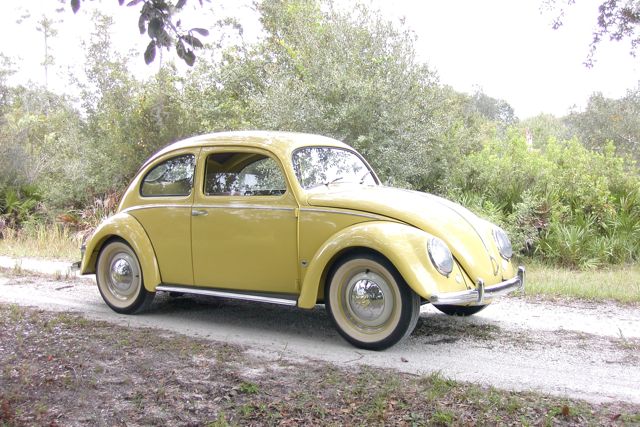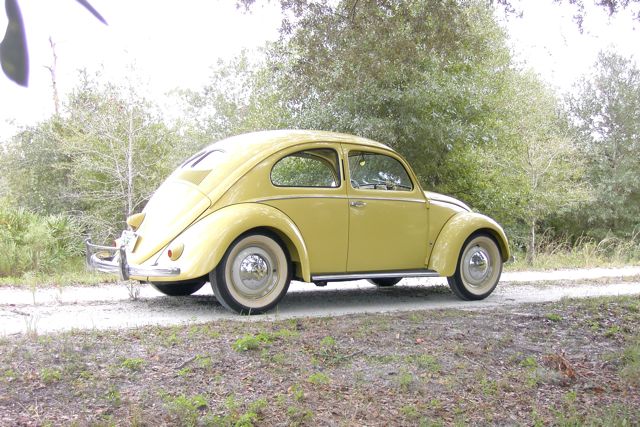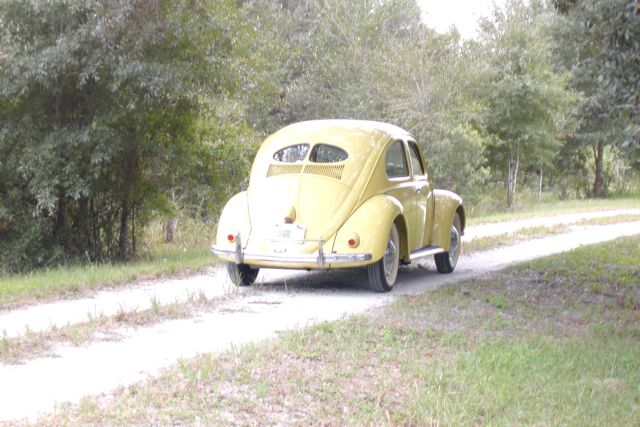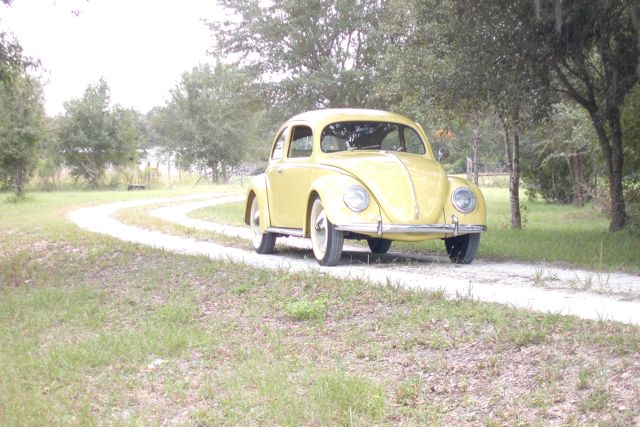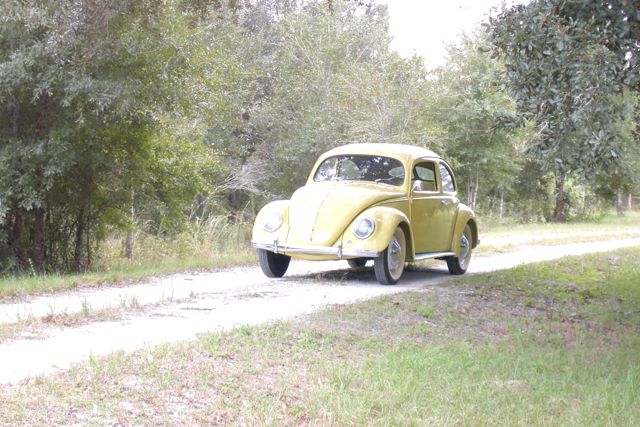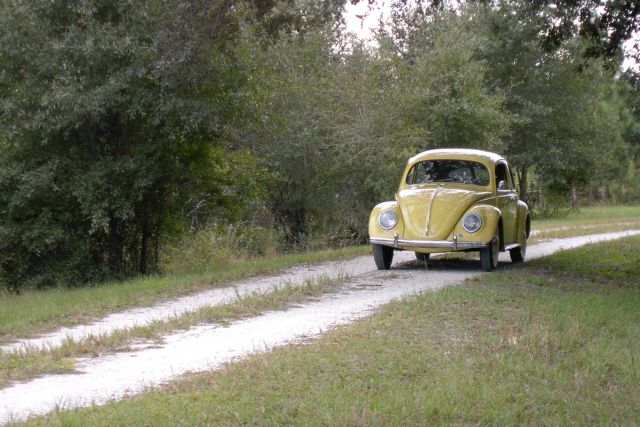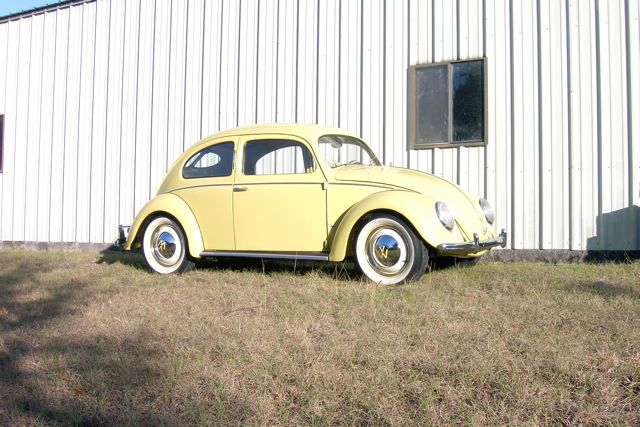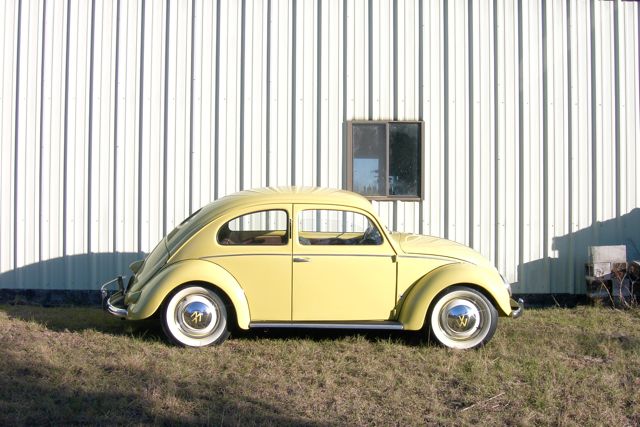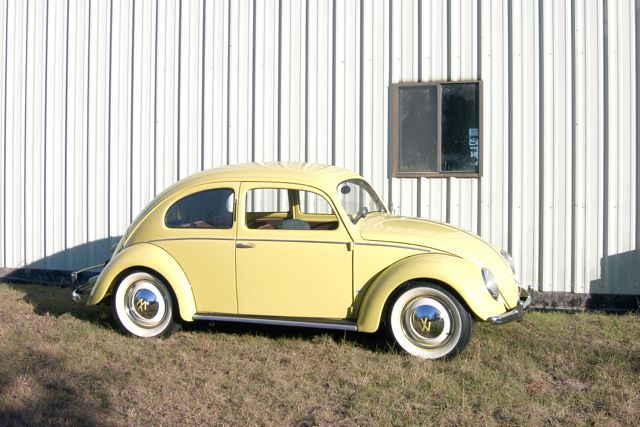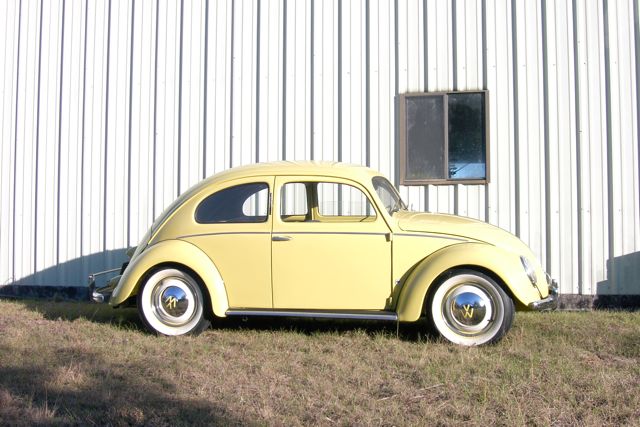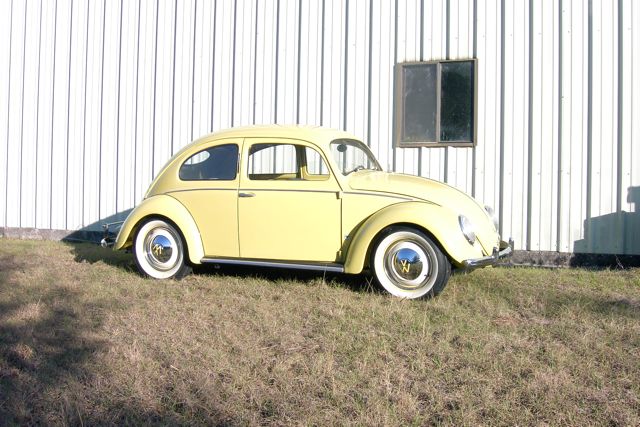 What a jewel...
And to think it started out like this...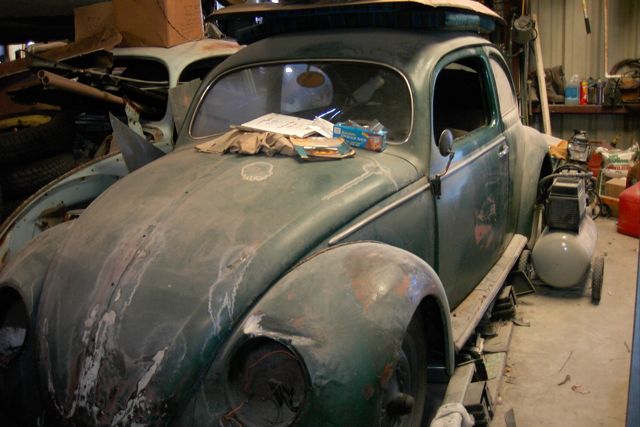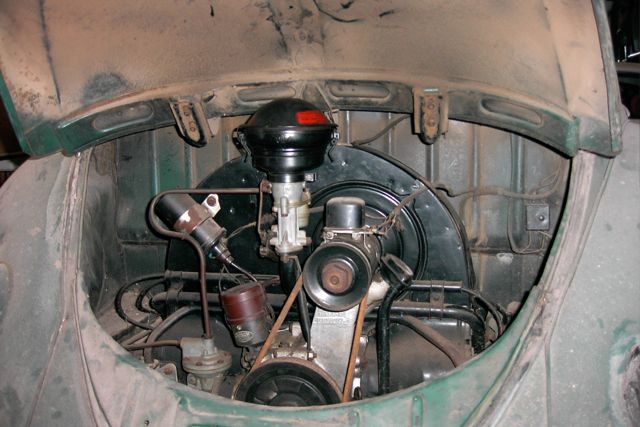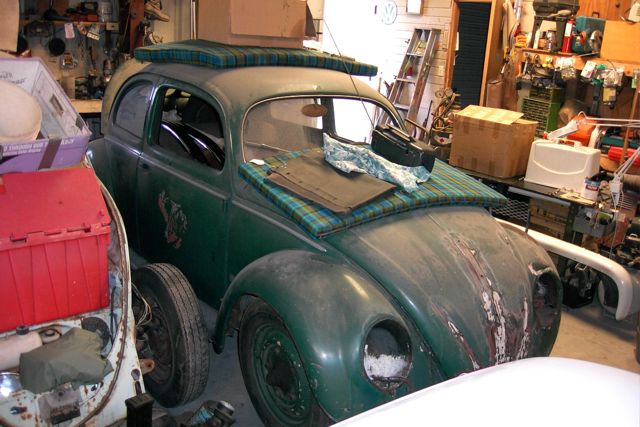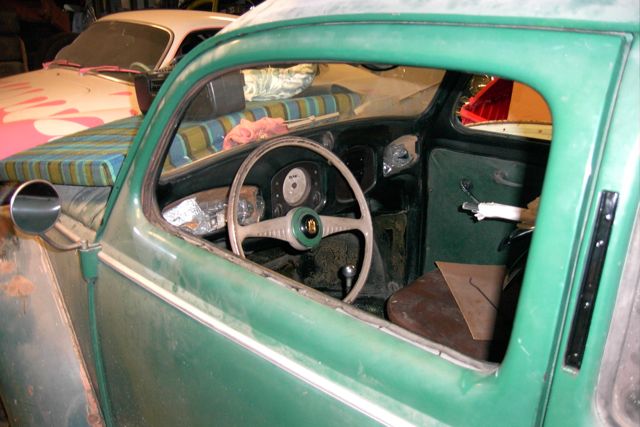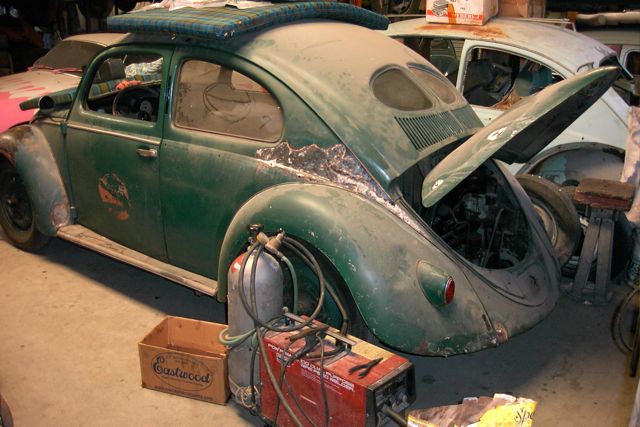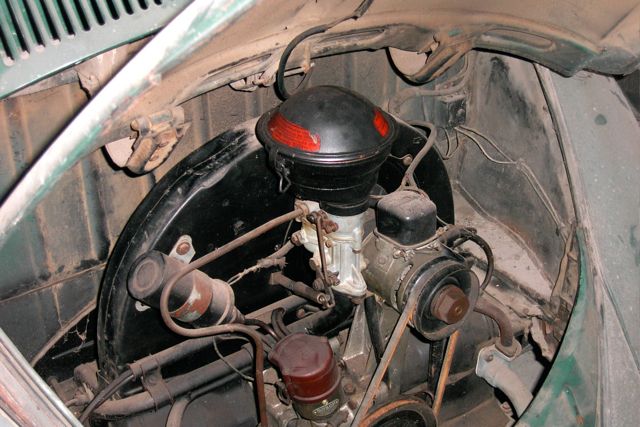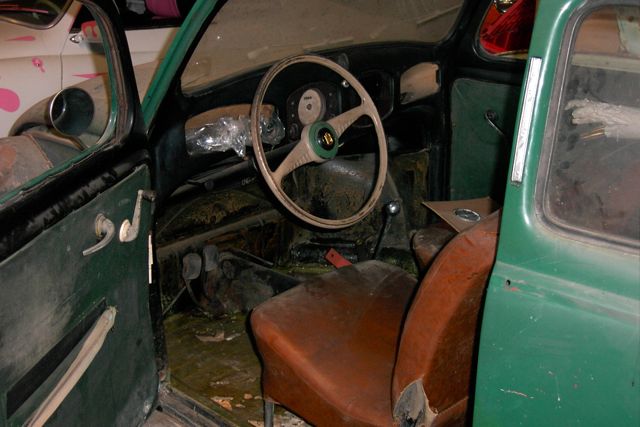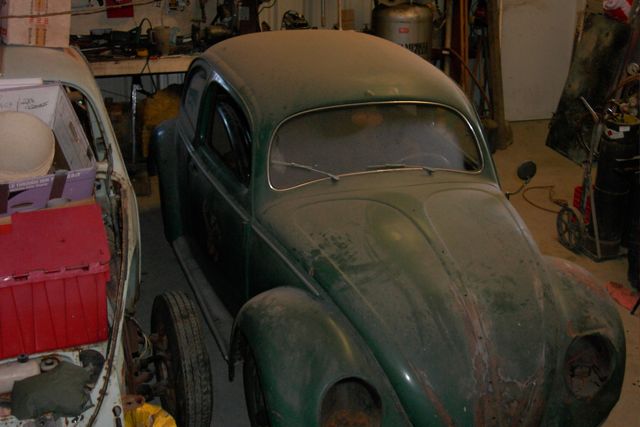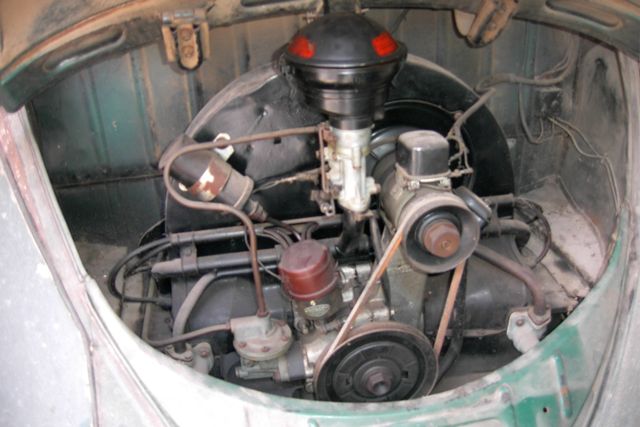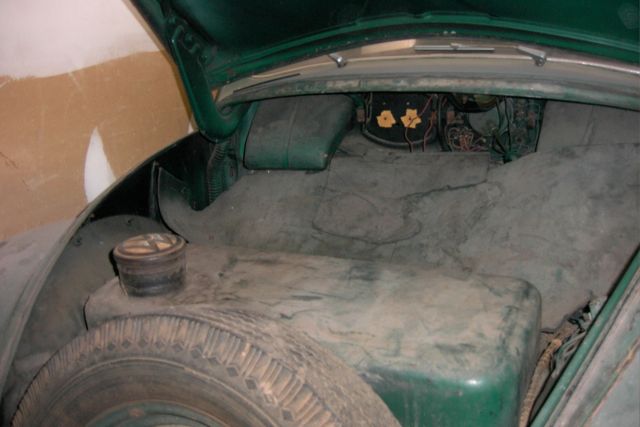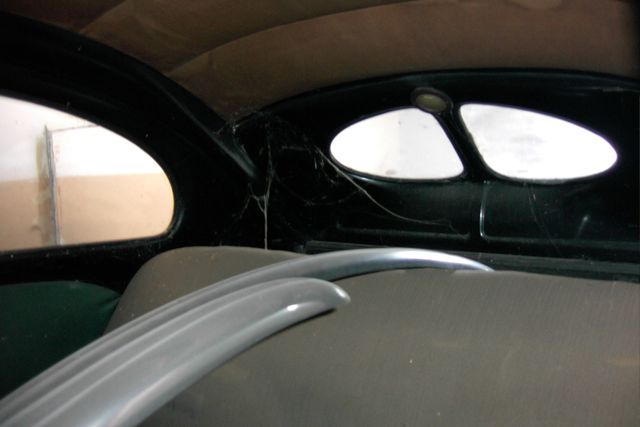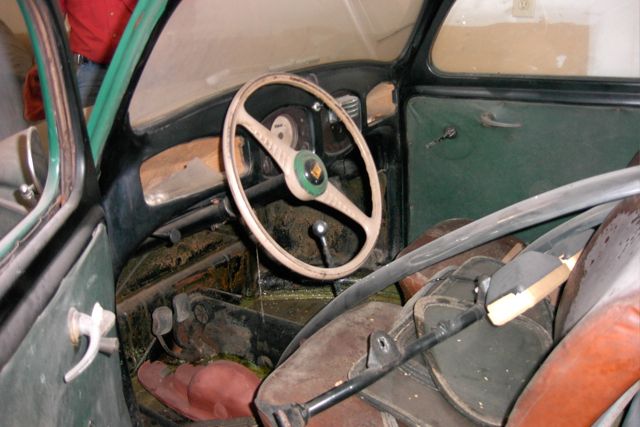 As far as a base car to start with it would be hard to find anything nicer than what this was to begin with.
Oh sure it was repainted at some point and had a few little issues, but the solidity of the structure was amazing
and the car was very complete. The builder removed the glass to find the original paint under the seals
and wih all the original logo glass in place...he knew it was the first time they had been out.
Cool car and a fun build...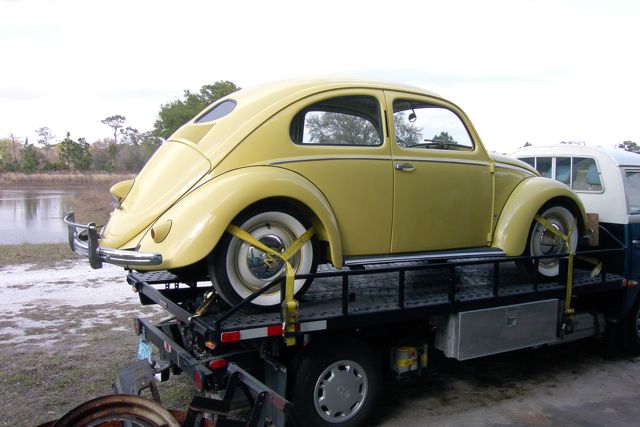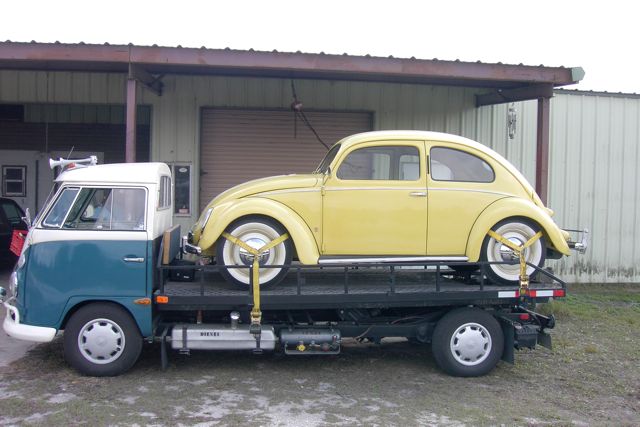 Now even cooler is this guy's car hauler!! How fun is that??
The builder has a long list of VWs he has restored over the years and a list of references
for customers he has worked with that keep coming back for more.
This car was a car for him to play with personally, not something built for anyone but him,
but its not getting much use since completion and he feels it is time to send it on and get busy with the next project.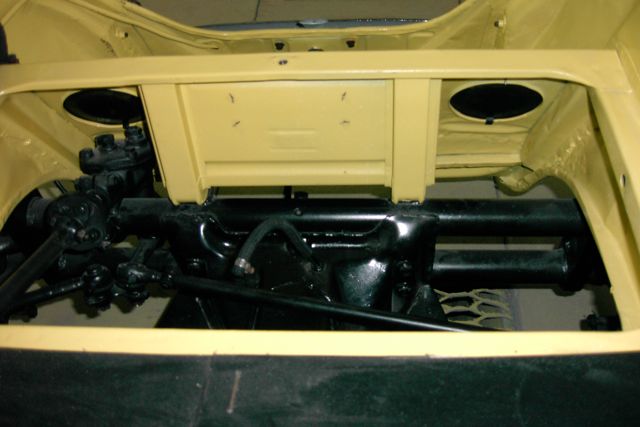 Some more process shots...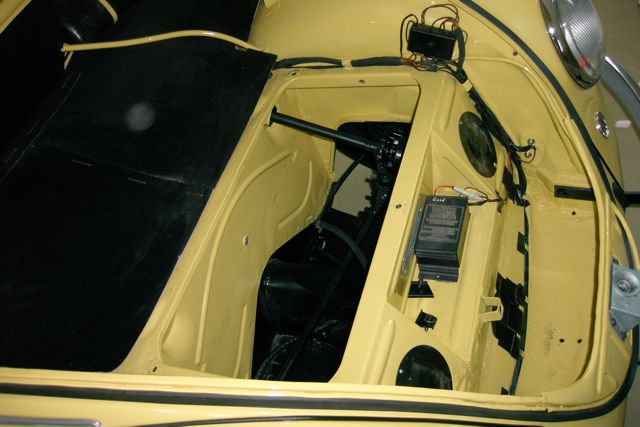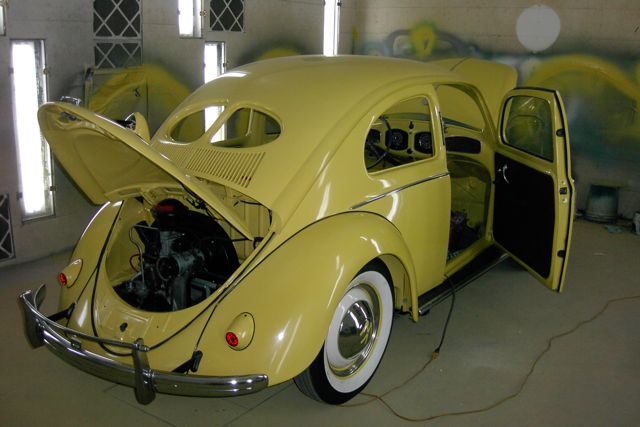 I love these booth shots as it is coming back together...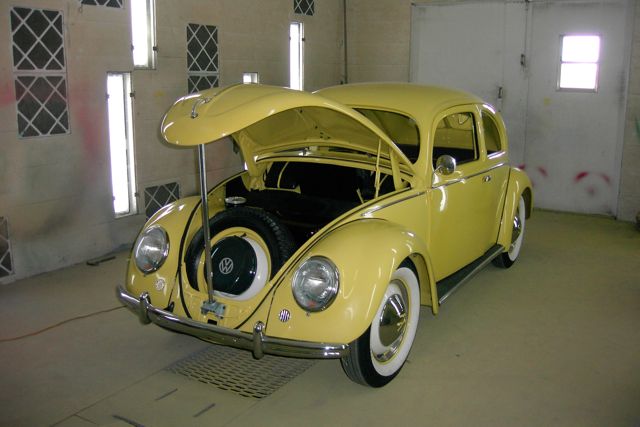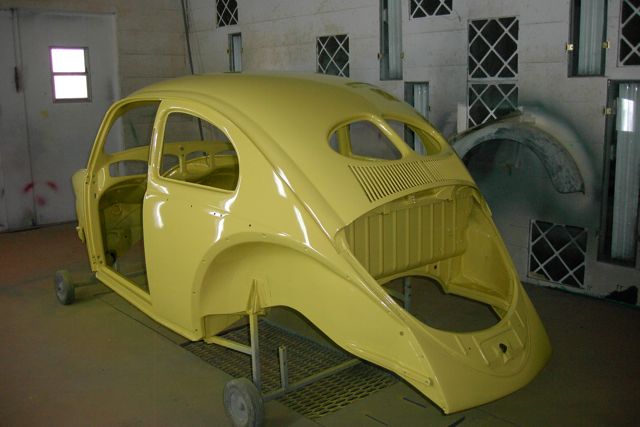 And it is so fun to see them when they have that fresh coat of paint and are ready to put back together.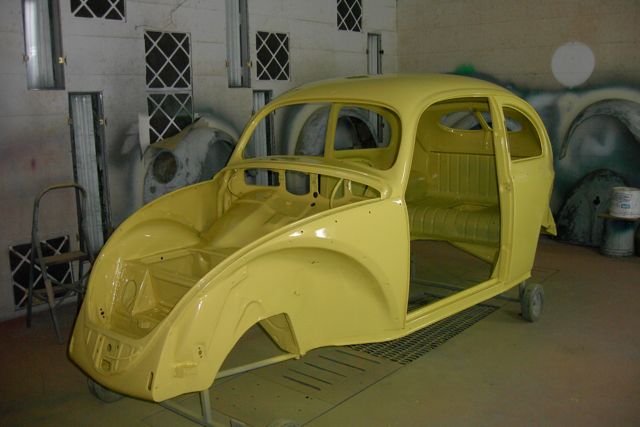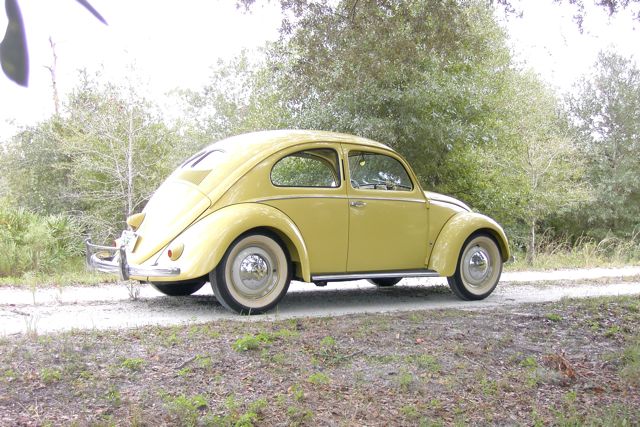 In closing this is a nice little car.
Well done from top to bottom and a crowd pleaser anywhere you take it.
A super solid car underneath all the shiny bits and he has it priced at a reasonable level so the next guy
(or gal) can have some fun without breaking the bank.
SOLD!

But we have others!... Please CLICK HERE for all current listings

---
For More Info...CALL
951-767-1600
or email
oldbug@earthlink.net
---