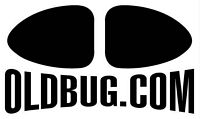 1967 VW Beetle Convertible For Sale
---
Tis is quite the find, an all original US spec 67 Convertible in Poppy Red!!
62,000 original miles since new!!
Even the top is original!!!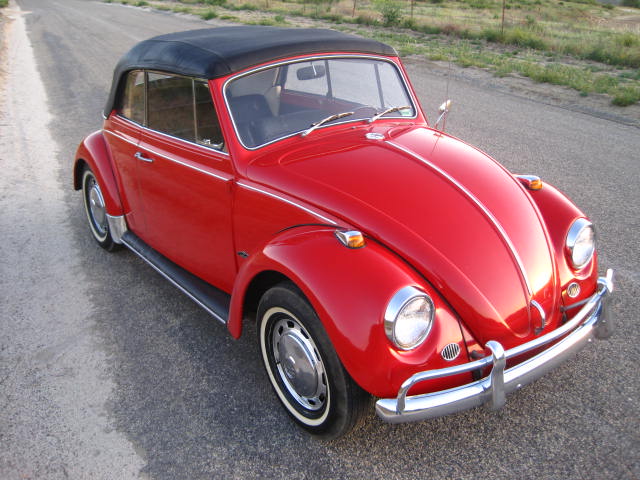 The car is remarkably well preserved and it shows very well.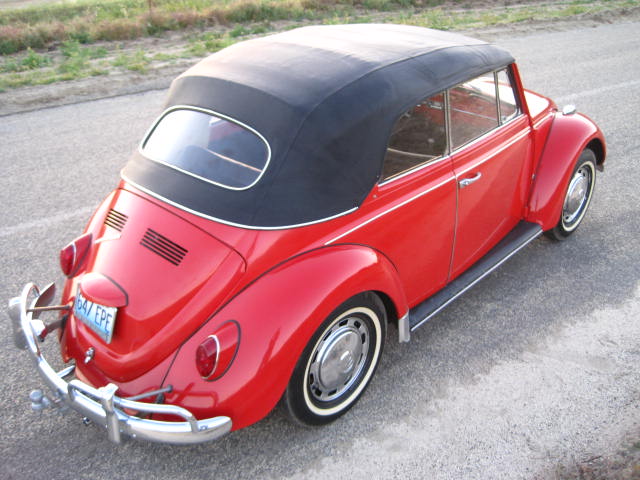 Truly proper and original in all respects...never modified and messed up...good solid history since new.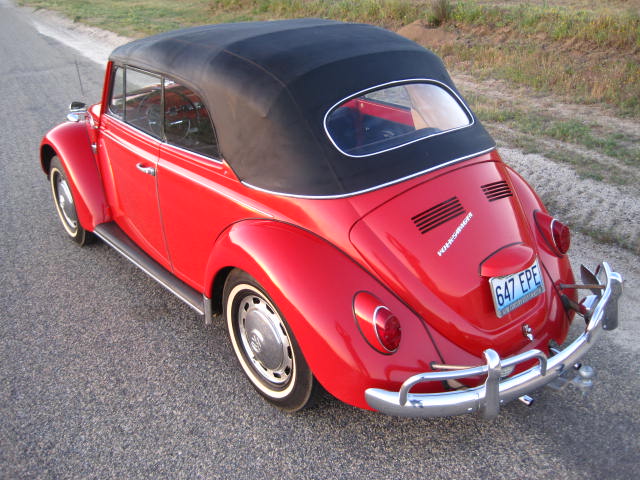 The top appears to be the original and this has been verified by several professionals.
It looks like the rear bumper may have been replaced, but everything else looks untouched.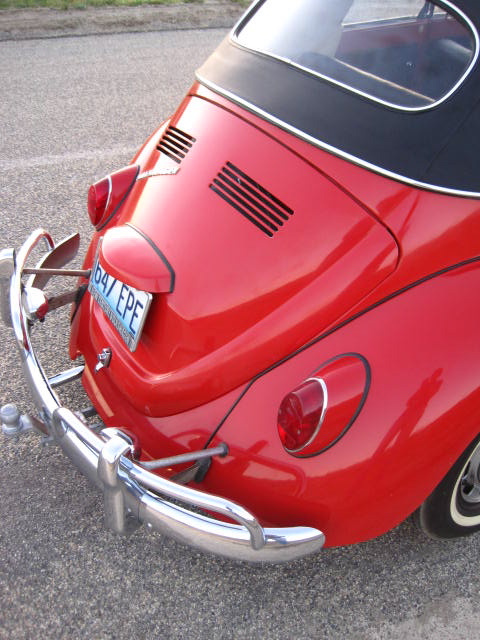 Paint is very nice considering the age. The paint on the body itself is all original, the fenders and front hood
quite possibly have been repainted, but it is very difficult to tell for certain. I dont see overspray or any paint lines
that would tip me off to that, but in certain light (very bright direct sun), there seems to be a very slight color variance,
but in soft light it is not apparant.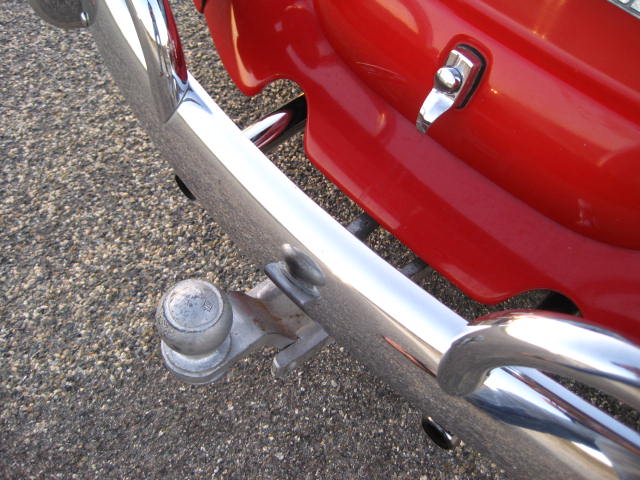 Chrome is excellent, accessory trailer hitch is a unique and very rare addition.
Hella revers lights are functional.
Original Hella taillight lenses.
The numbers-matching 1500cc engine runs well.
The car has just over 60,000 miles since new.
Clutch and trand and brakes and steering are all very good.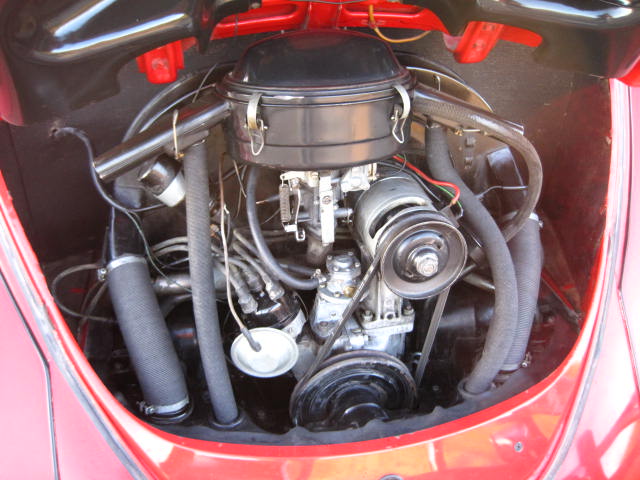 Quite clean in here and all of the original proper equipment is present.
Engine number is consistant with the year and model and is the original one to the car.
Small details such as these original German hose clamps make it stand out as being a pretty amazingly un-altered car.
Correct vacuum advance distributor.
Rare and original accessory trouble light has a mercury switch that turns it on when the lid is opened
(and the ignition switch is on).
Very clean and siny original paint finish in here.
All the metal on this is the original and there are no signs of collision damage or repair of any sort.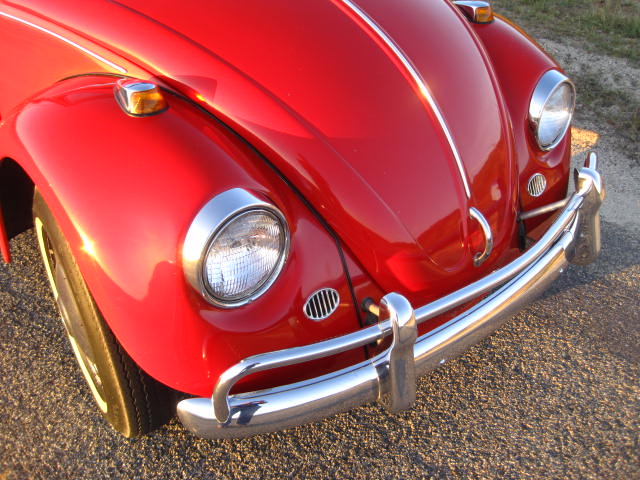 The 1967 model year was unique here in the US as it was the first year for the upright headlights,
and the last year for the overrider style bumpers.
Under the front hood is amazingly untouched and original.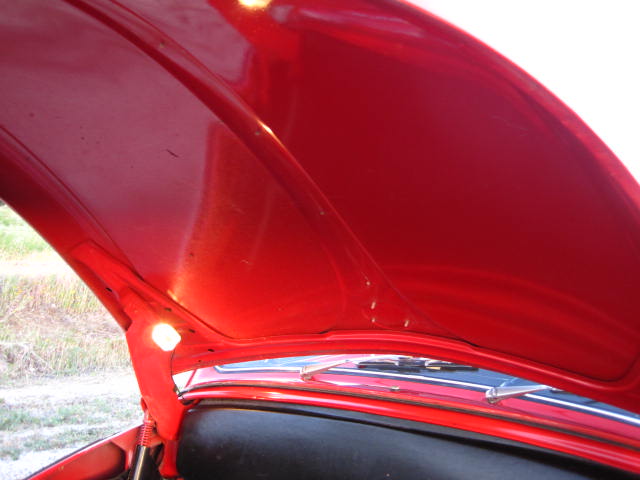 Paint under the hood is definitely original and there are no signs of any damage or repair.
Matching mercury switch accessory light under the front hood.
Looks excellent.
Original jack in the holder.
This is all original finish up here!
A little paint damage from spilled brake fluid over the tears, but otherwise quite amazing.
Original body tag and paper paint code tag are in place...
Mohnrot L54 is a very uncommon color for a 67 Convertible, and I must say it looks fantastic on the car!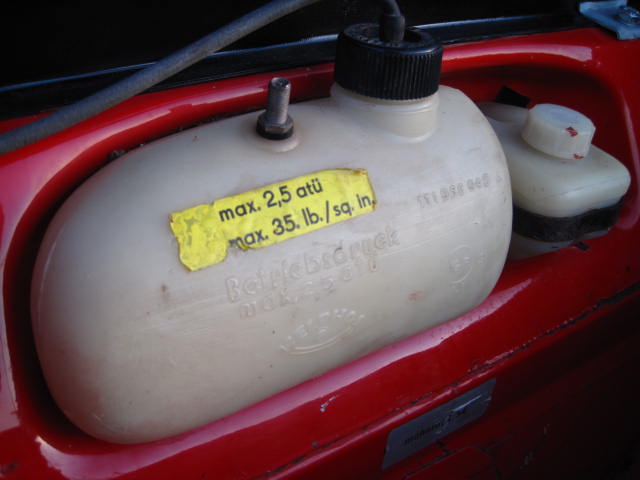 Water bottle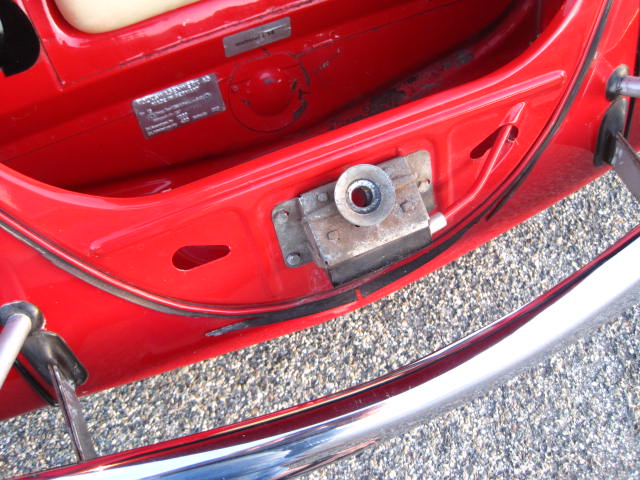 Front apron is superb with no damage or repairs.
The thin whitewall bias ply tires have great tread on the and they fit the look and period of the car perfectly.
The tires are a bit old perhaps with minor sidewall cracks but they look so sweet on it I would never dream of swapping them
unless the plan was to do serious long distance travel with it, in which case some nice modern radials would improve the ride and handling.
The trim rings are the original heavy chrome steel versions, not the aftermarket aluminum ones commonly seen.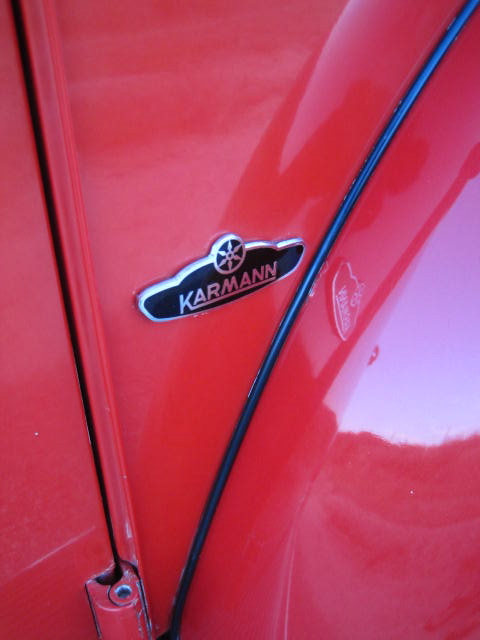 Karmann body badge.
Body is very straight and smooth.
Top down and ready for the drive!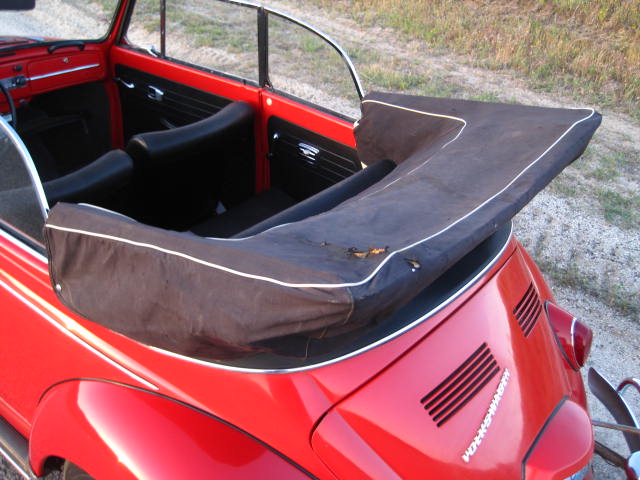 The original canvas top boot is present but does have a little storage damage as visable here.
Headliner is original too and has some minor age related discoloration...just a little dirty.
Here you can see it a little better. It may clean up with a little effort but you would want to be careful and not damage that original material.
No holes or damage...just a bit of dirt.
Interior is also original and untouched.
In this photo you can see a seam split on the edge of the drivers, seat, but this has since been repaired
by a professional shop, the original material was preserved, just the edge re-stitched.
Original parcel tray, carpet and rubber floor mats!
Some wear along the door opening corners.
Quite rare accessory shift knob with shift pattern!
Original tissue box is a heck of a find as well!!
The original mats here were alsways covered by a second set of floor mats...so the condition is quite impressive.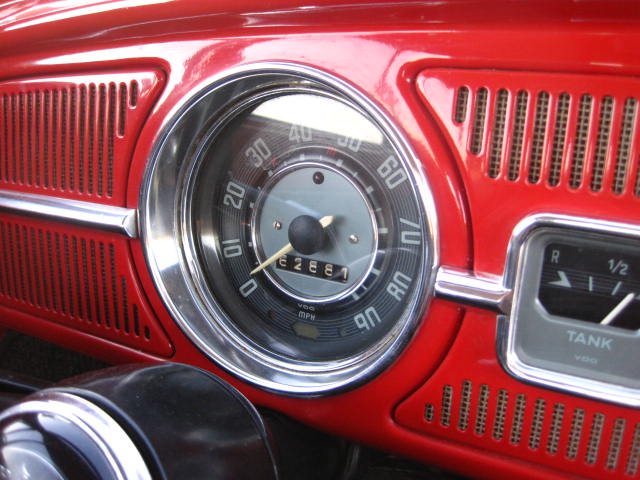 62,000 original miles since new!
Original AM/FM radio with the proper 67 only knobs...this stuff is extremely hard to find these days!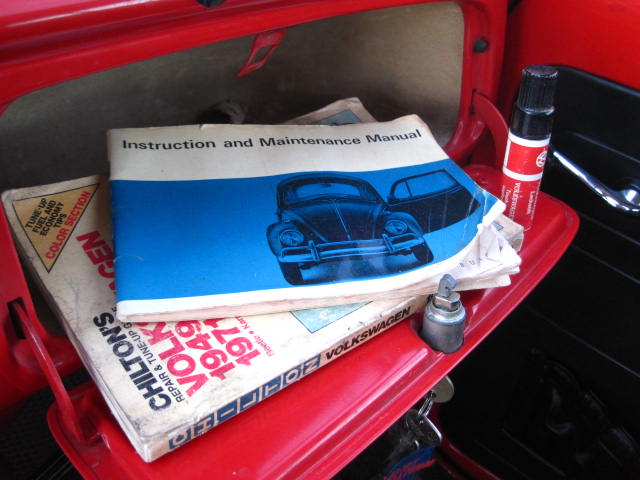 Original owners manual and touch up bottle in the glove box.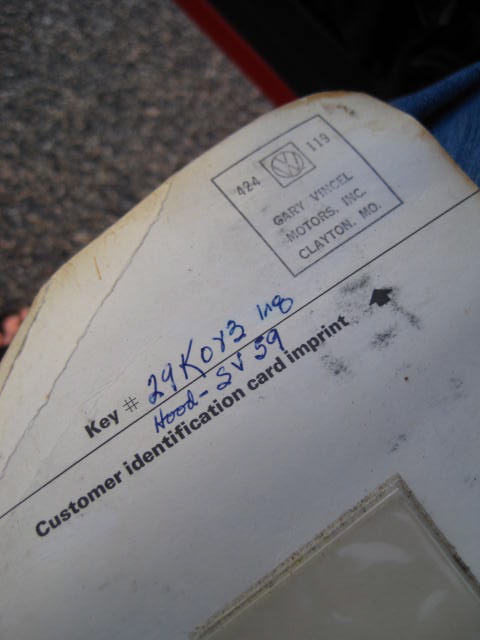 The car has spent it's whole life in Missouri, where it has had only two owners since new.
Recently it was bought by a California based collector and it is now located in So Cal.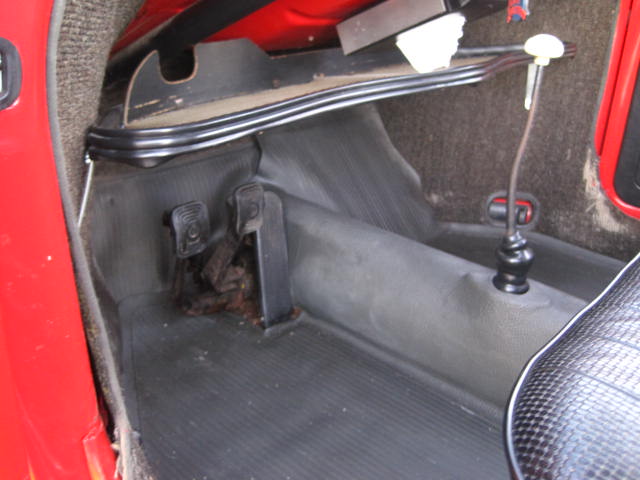 Nice shape!!
Hard to believe this is an original car and not restored...but it is true!!
Door panels look great.
Service sticker from 16 years ago showing the mileage at the time.
This small rip in the seat material has been repaired since these photos were taken...being in the middle of the fabric,
it was done with heat and a proper adhesive. The flaw is still visable but it is much better than it appears in this image.
seat back has the proper hardboard backing so often missing or covered over during restorations.
Rear luggage area material is in excellent shape.
Note the cloth binding on the material.
Small details such as these factory rivets helf confirm the originality of the top and headliner.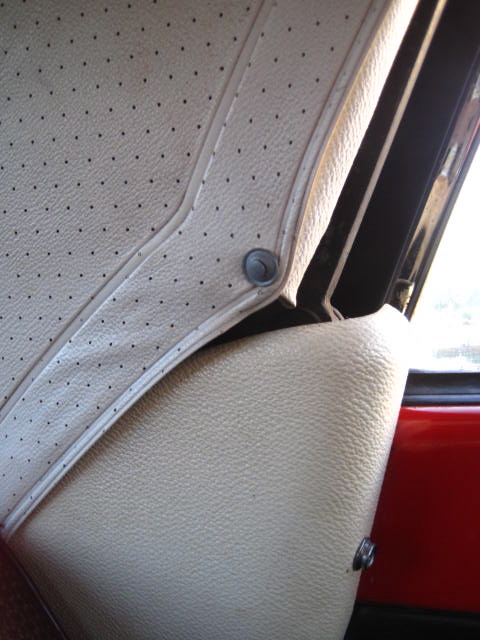 Same here...if replaced, this would most likely be a screw.
Passenger side door panel looks great and the door jams are very clean.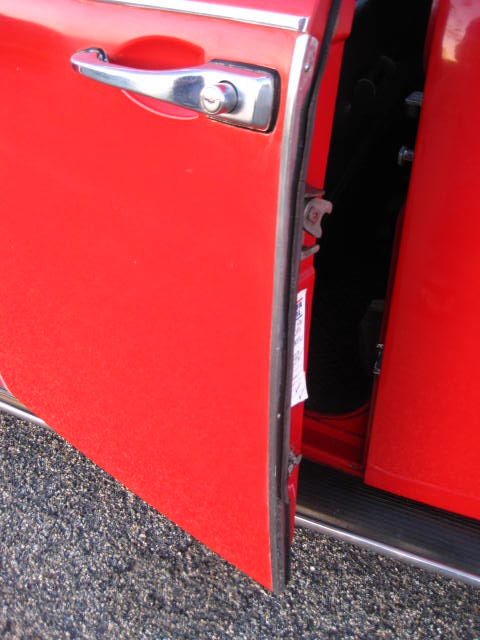 Accessory door edge guards.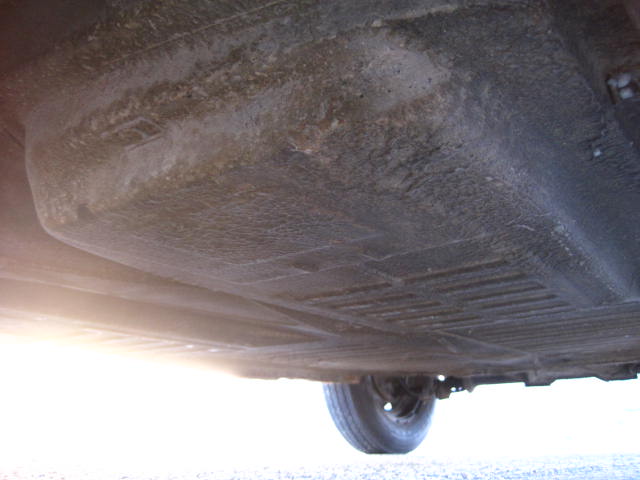 Floor pans are original and are superbly solid.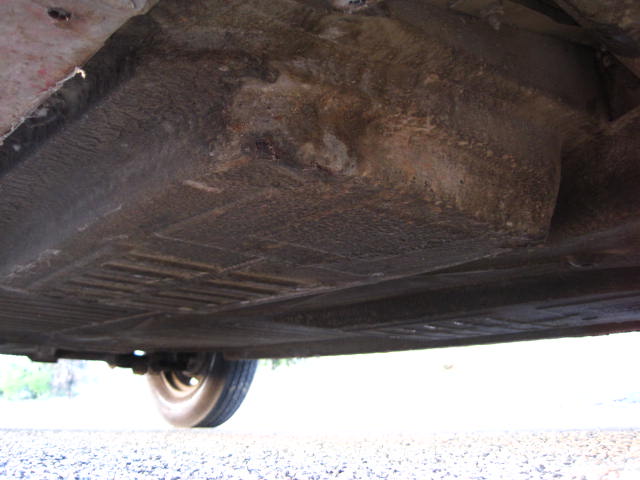 Very nice indeed.
When brought to California, a small amount of rust was identified in the support rails that run just inside the running board area.
This was professionally repaired and now looks fantastic...the only give-away that it was done is the fresher looking undercoating on thoise sections.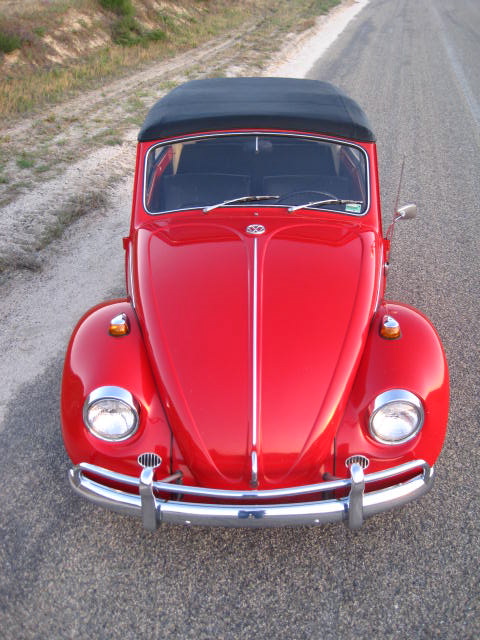 Wow...what a car!!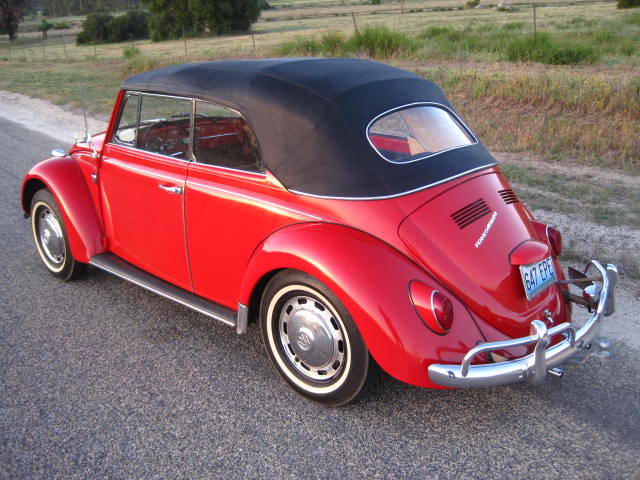 Gorgeous, just gorgeous.
This car recently won a 3rd place in it's class at the hige VW Classic event here in Southern California
in a field full of top show cars and fully restored examples.
In closing this really is an impressive survivor example of a very very desireable year and model, and the color is
just fantastic on the car. A wonderful addition to any collection around the world!!
SOLD
---
For More Info...CALL
951-767-1600
or email
oldbug@earthlink.net
---
---