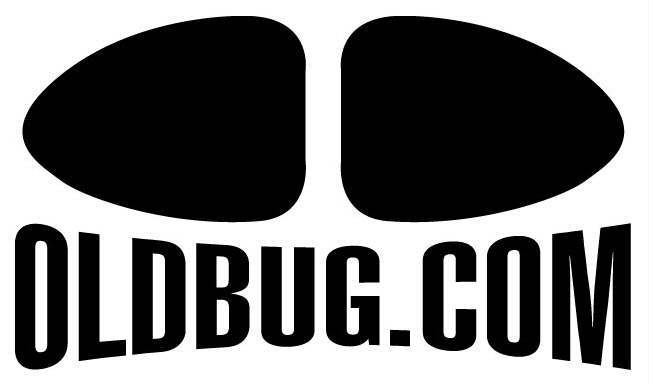 1961 VW Beetle Ragtop For Sale
---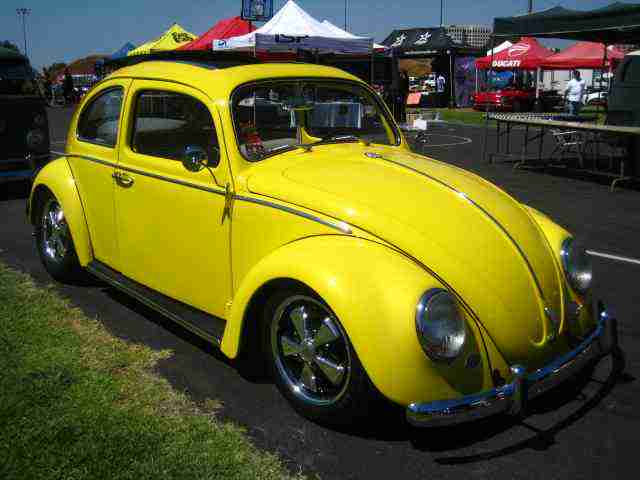 Ever see a color so bright that you just cant photograph it right?
Me neither...until I cam across this car.
Absolutely eye ripping bright yellow with a bit of pearl, this is a car that gets SEEN!!
Beautiful car inside and out too...this was a full body off, no expense spared build that is filled with hidden tricks.
and wonderful details. Really impressive up close...the more you look, the more you like.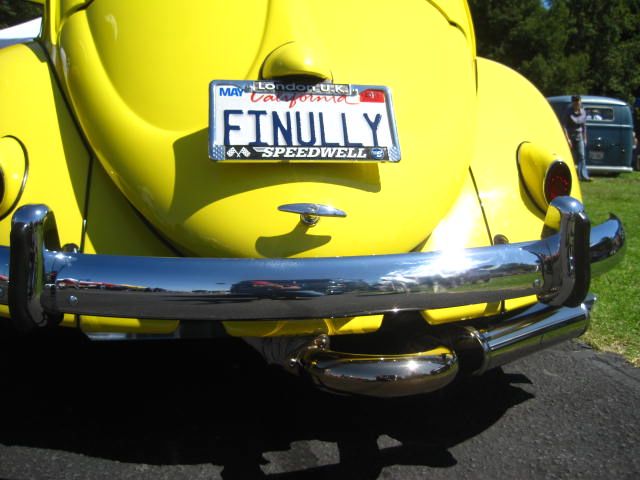 It was a long time build for the owner and the personalized plate sums it up perfectly.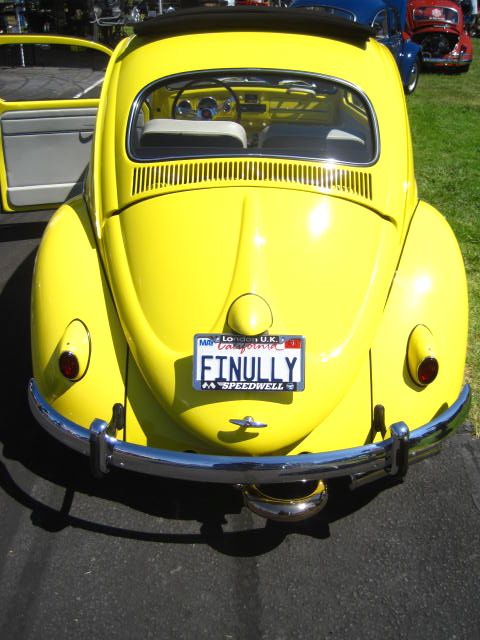 W decklid from an early 50's era Beetle is a nice change from stock.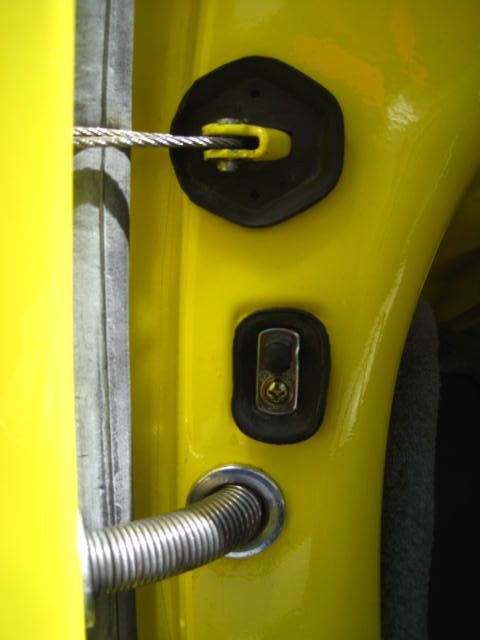 Excellent level of detail even in the spots most folks dont care about.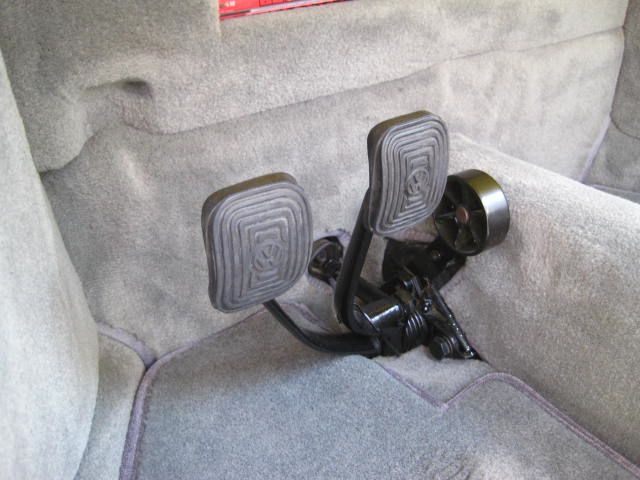 Excellent carpets, super detailed pedals.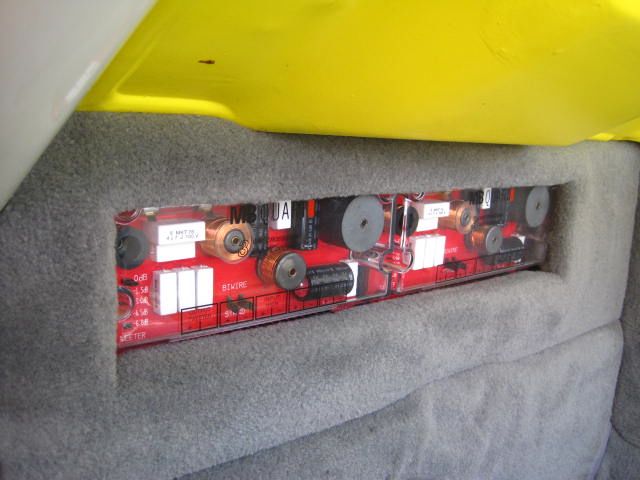 Audio crossovers mounted in a small panel under the dash.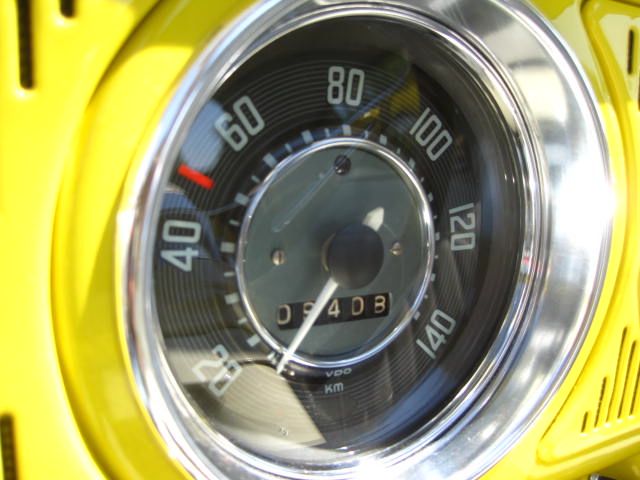 Kilometer speedometer is a nice little goodie not commonly seen in cars in the US.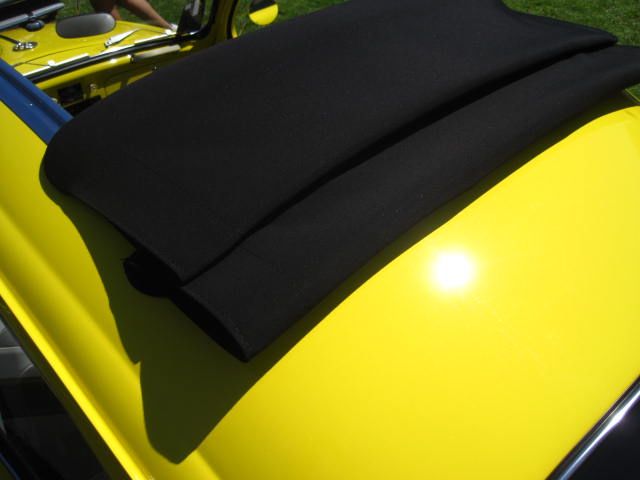 Black stayfast canvas sunroof cover.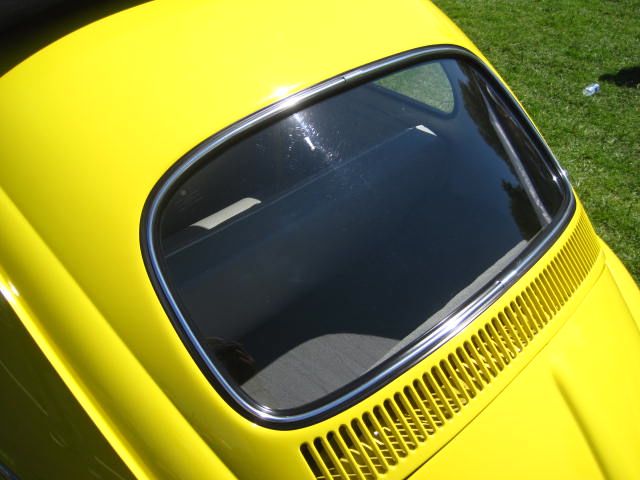 All glass is excellent, all rubber and trim is new.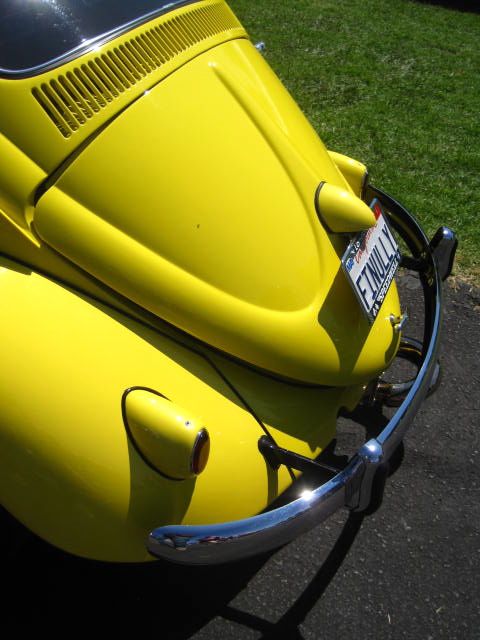 Decklid has a stand off on the bottom to allow for clearance of the engine.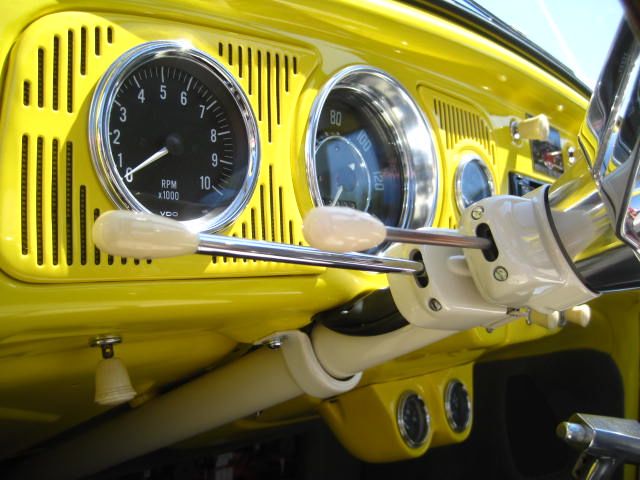 VDO tachometer is awesome.
Extremely rare accessory high beams switch.
Check out the custom color matched gauge housing below the dash and the rare round fuel gauge.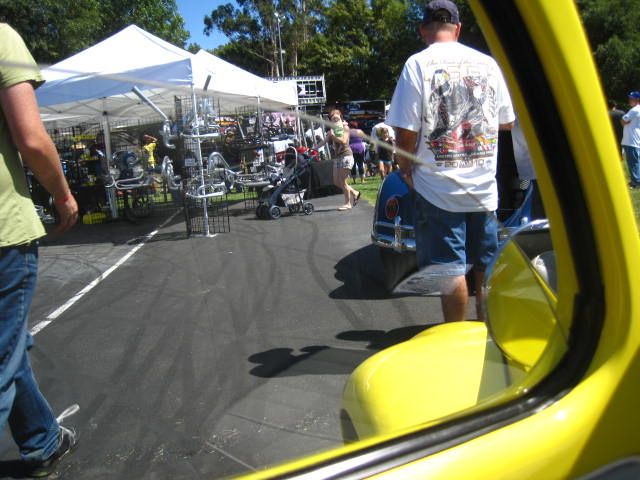 My favorite detail on the car is the power 1 pc windows that are operated by the stock window crank.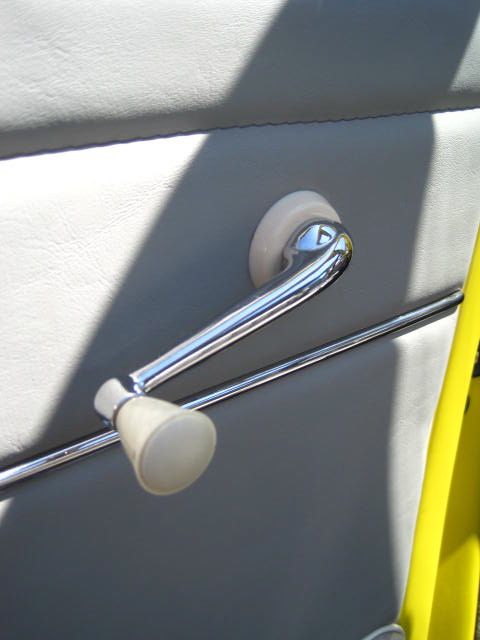 Looks stock... but if you lift up...the window goes up...push down and it goes down...and it sure worked smoothly!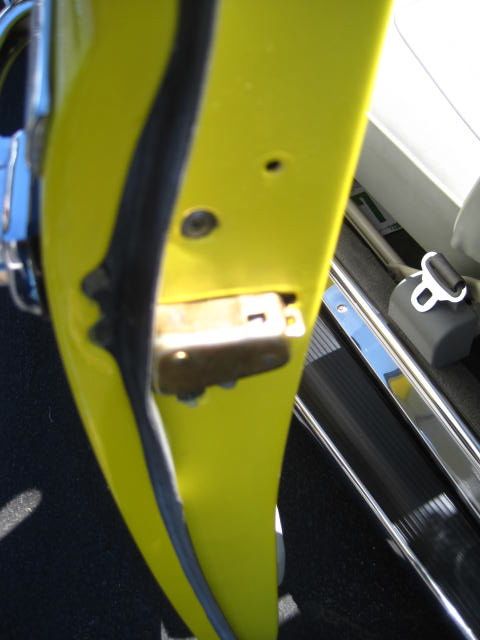 Nice detail in the door jams.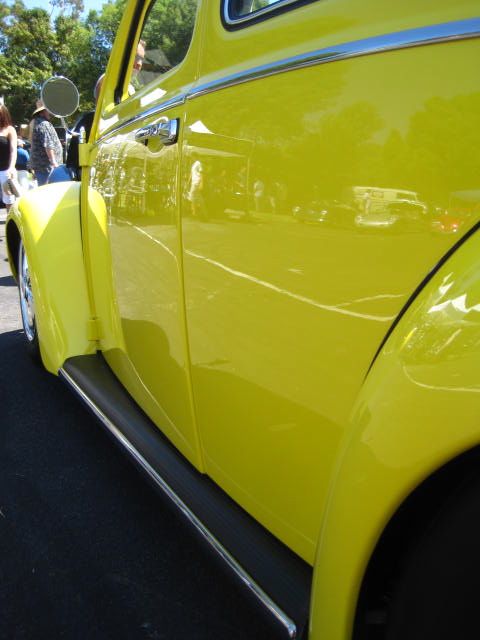 Stunning glassy paintjob and smooth bodywoprk.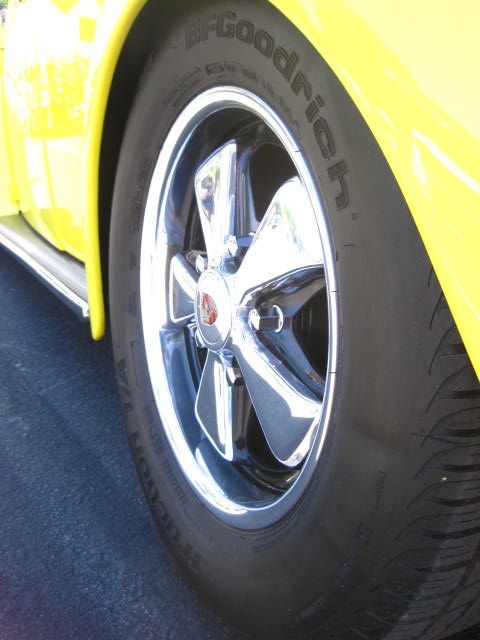 Polished and paint detailed Porsche alloys.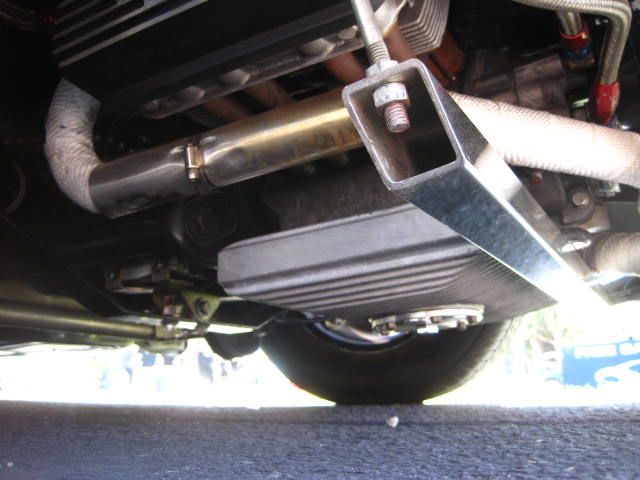 Underside of the engine very clean.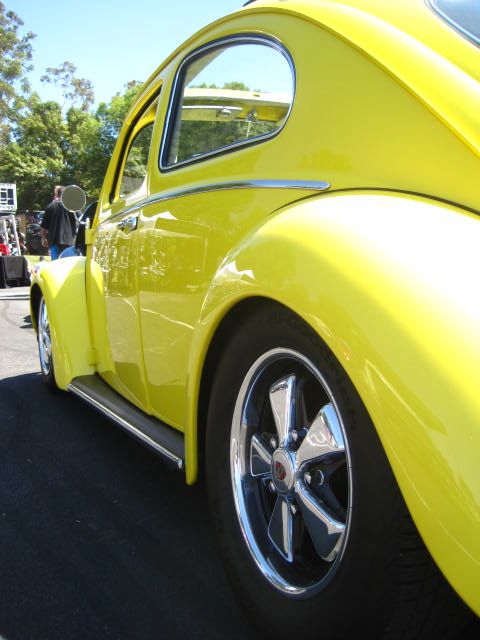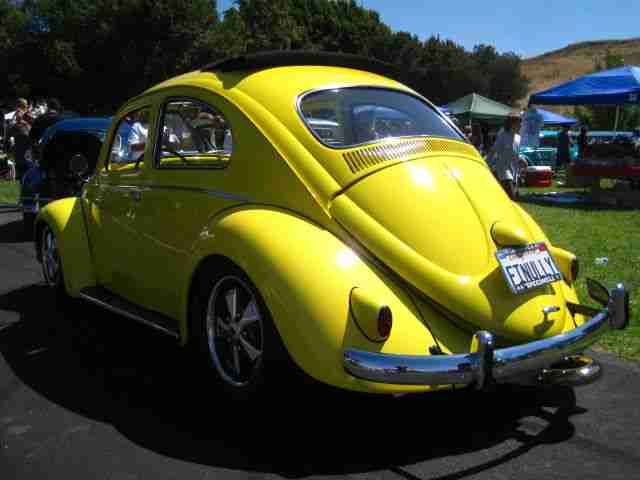 Cool look, great stance.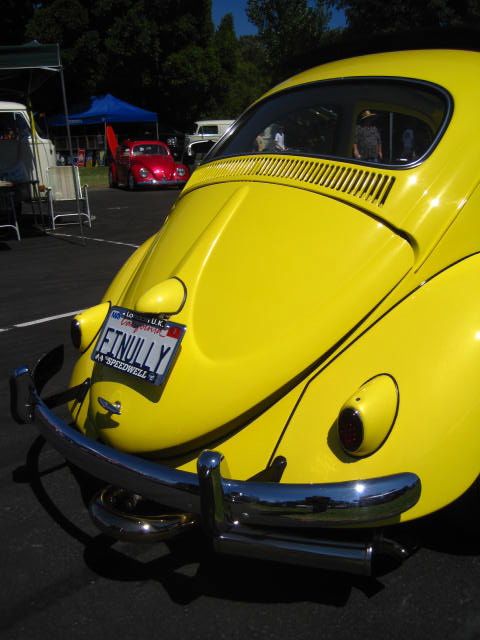 Love it!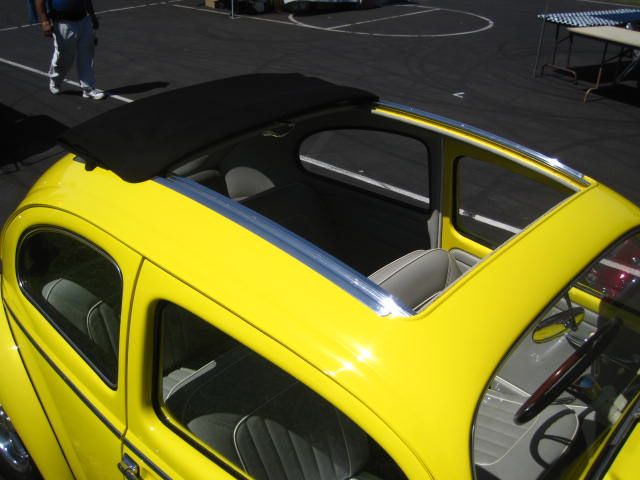 The ragtops are the most fun!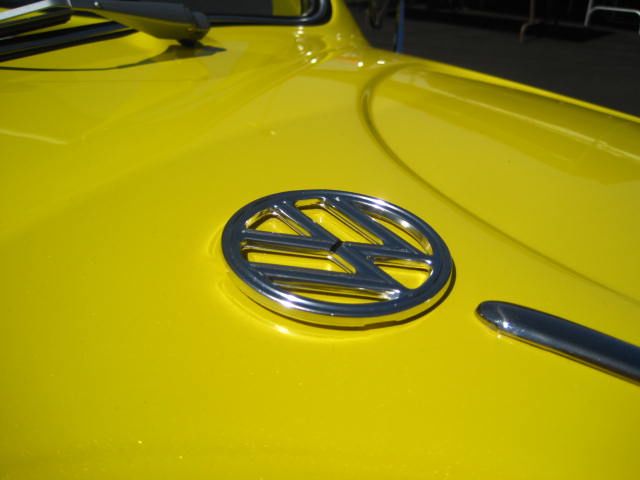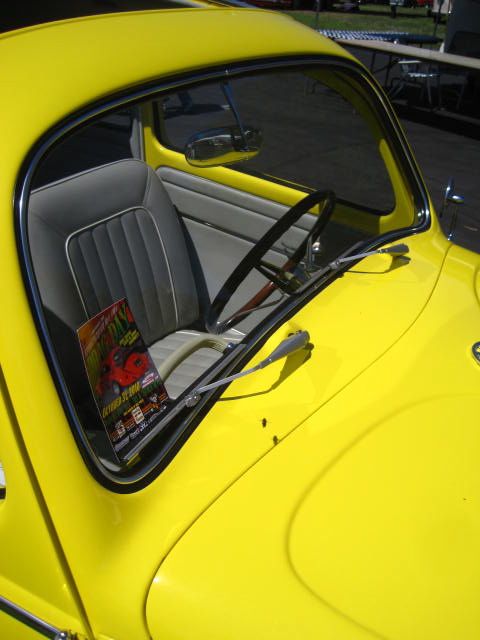 My favorite part of this photo is the bee hovering over the hood...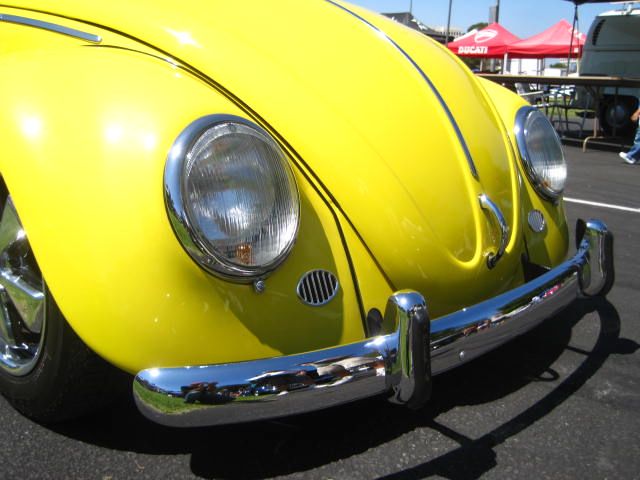 Chrome is excellent...bumper gaurds feature rare rubber trims.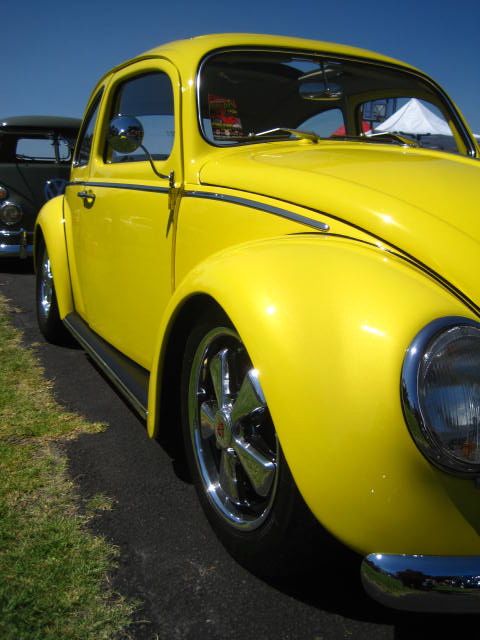 Sits "just right"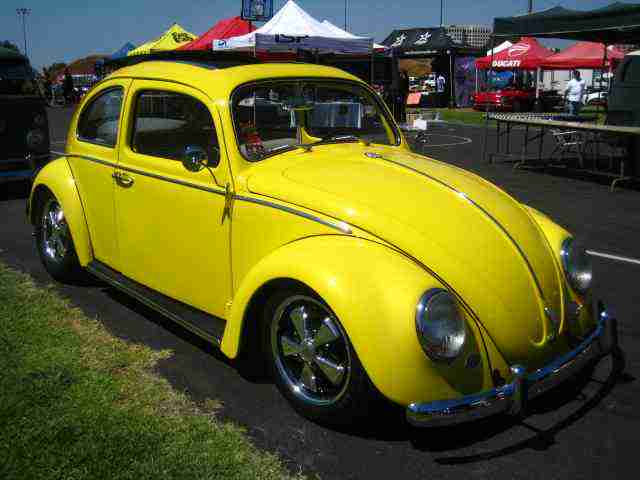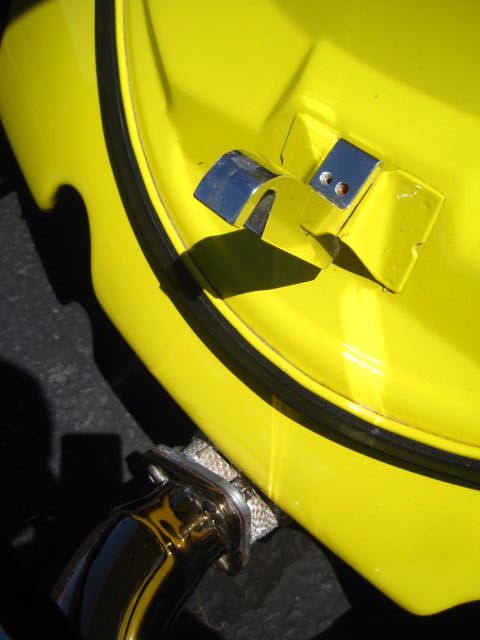 Here is the decklid stand off...the lid does latch to this, so it will not flop around.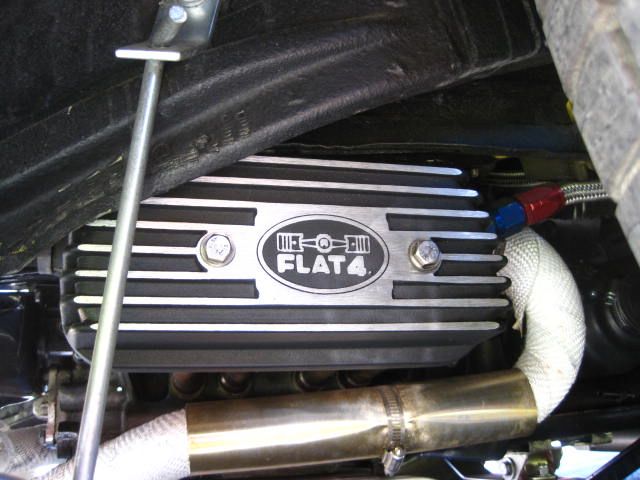 Stainless braided lines, flat 4 valve covers,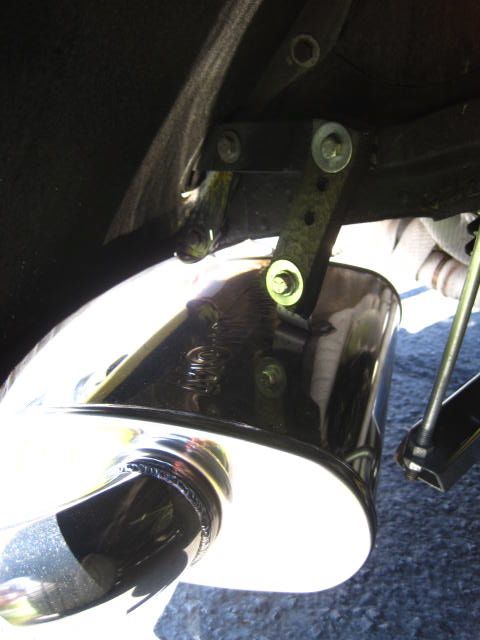 Magnaflow stainless exhaust.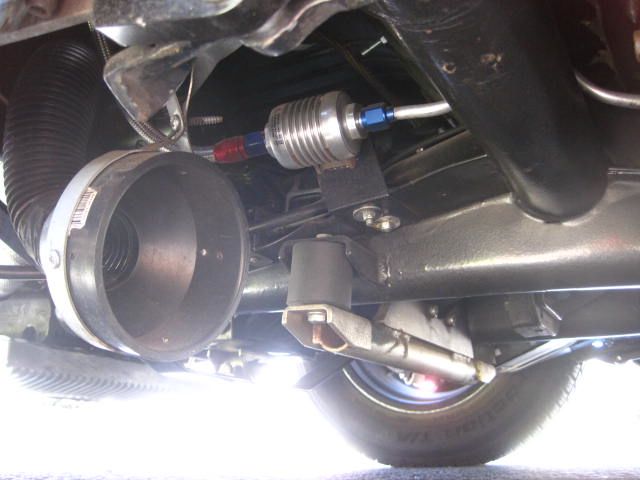 Hmmm... what is with the big tube you might ask?
Fresh air...and lots of it, and you know it works pretty sweetly!
Heavy duty trans in here too...
Tranny specs
Rancho Performance Pro-Street
4:12 ring & pinion 1st 3.78 -2nd 2.06-3rd-1.56 & 89 4th
Super diff
Aluminum side cover
Welded 3rd & 4th
Hardened keys steel shift forks Sway Away axles
Very clean and solid underneath.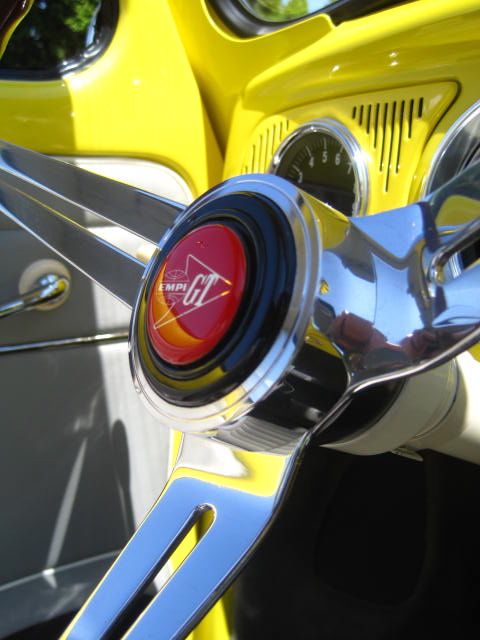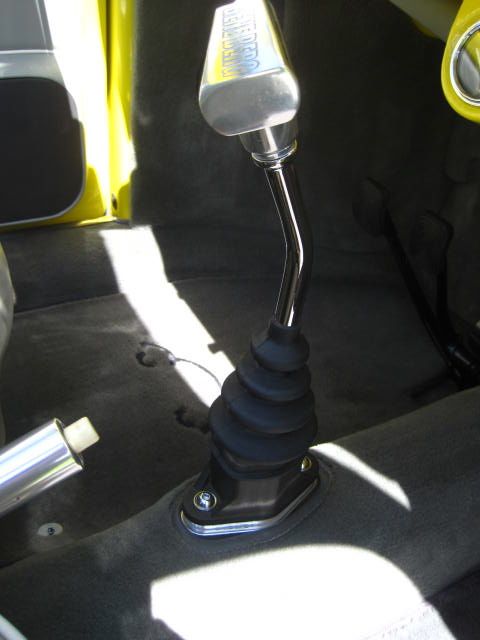 Gene Berg shifter.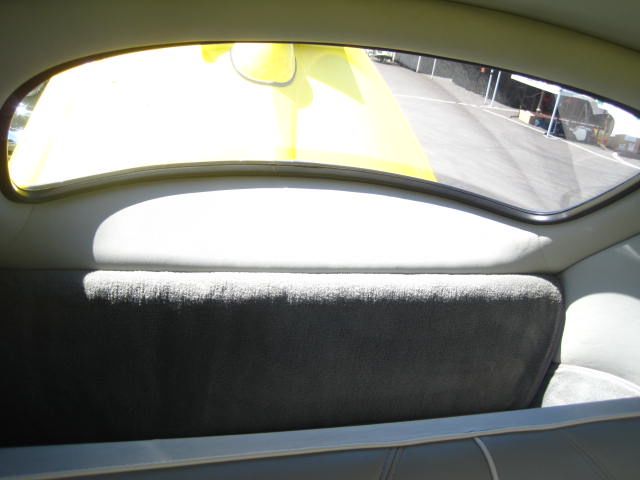 Hidden behind the back seat in a false floor are some of the many speakers for the audio system.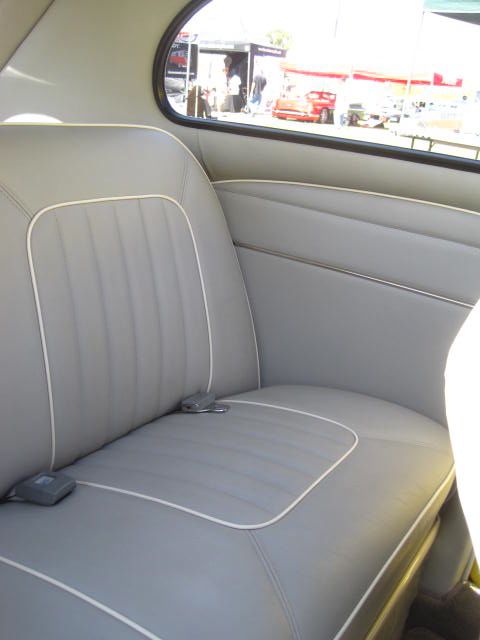 Upholstery is superb.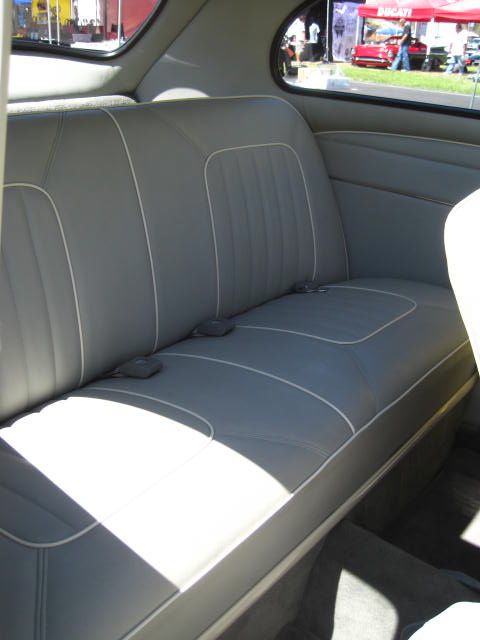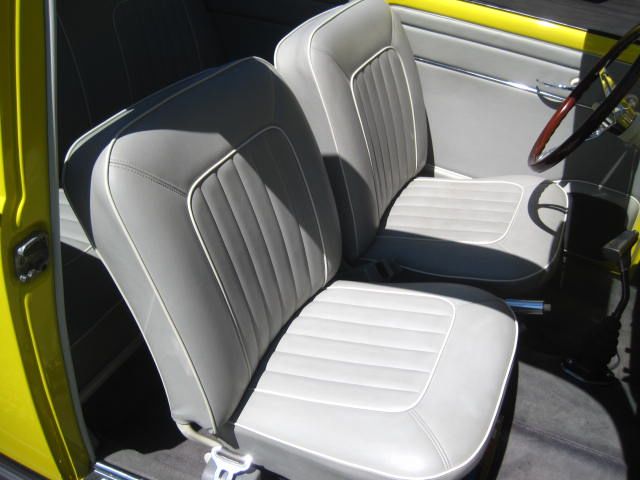 Really nice!!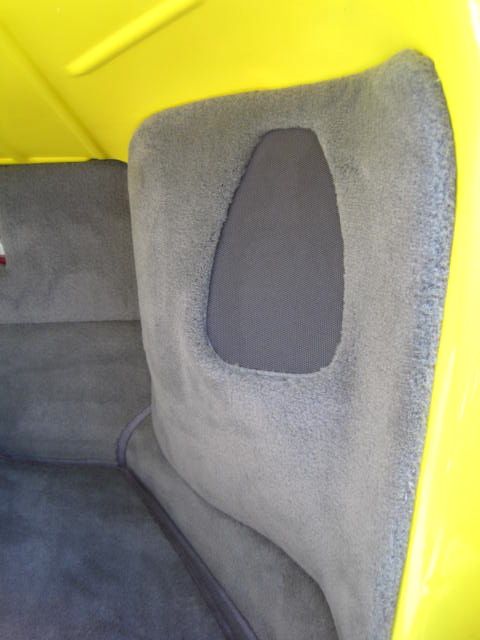 Front speakers are worked into special panels.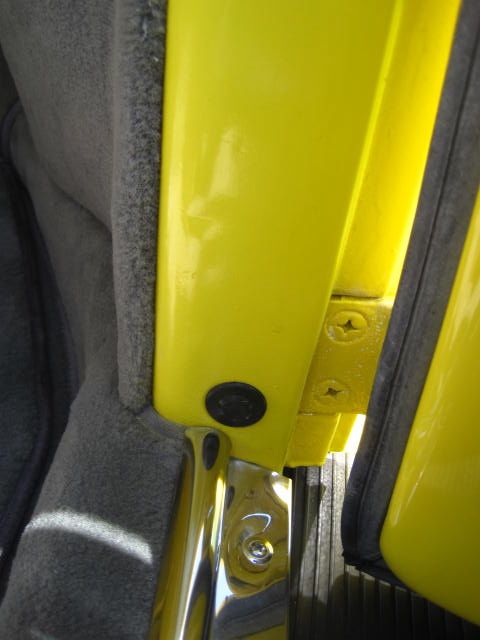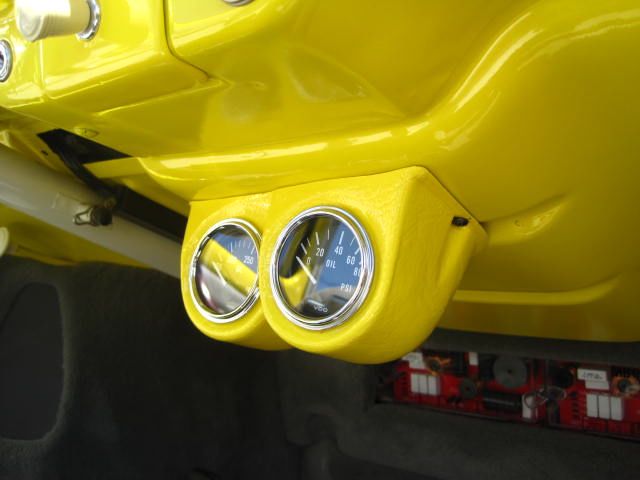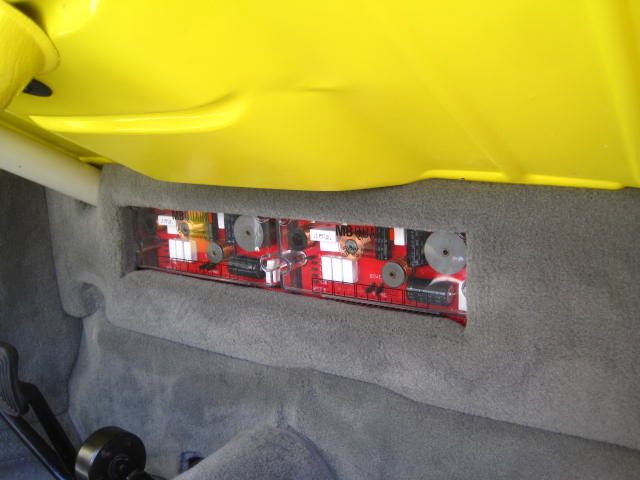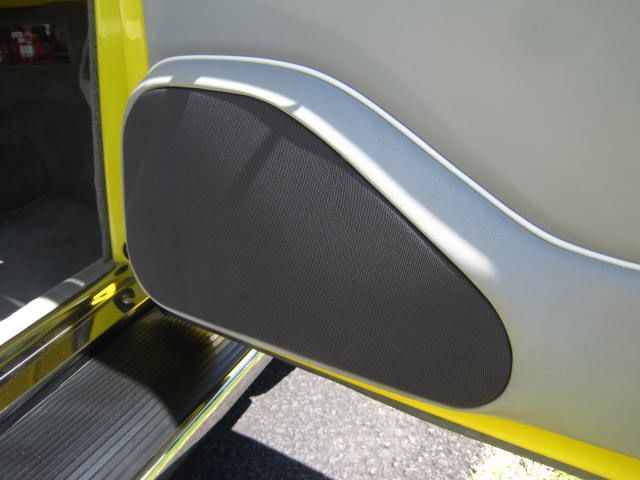 More speakers worked into the door panels.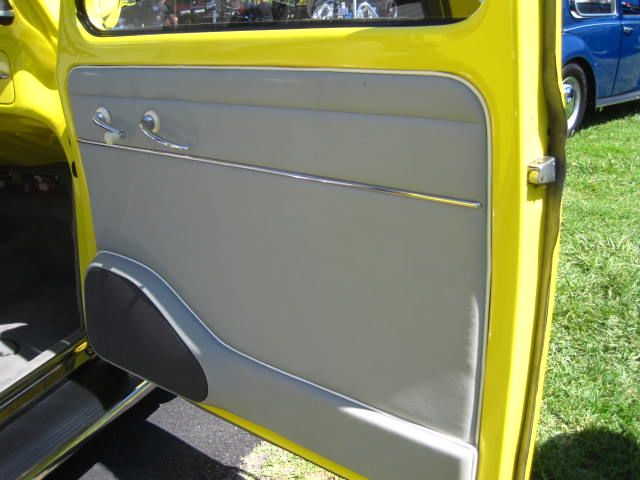 Slick install...modern yet retaining some vintage flair with the stitching, handles and chrome trim.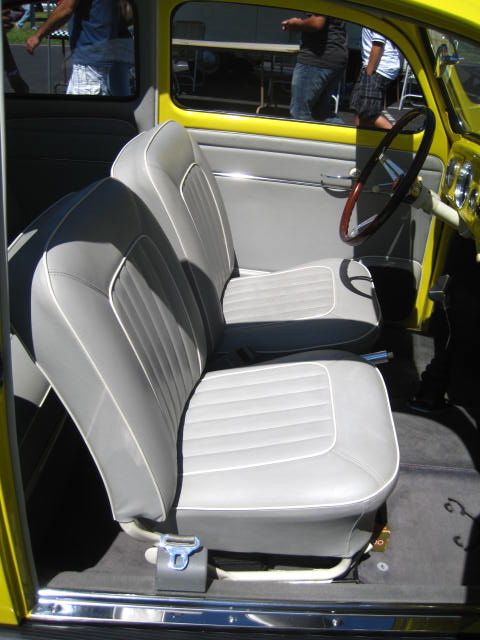 Suspension specs...
Front Beam 3" narrowed adjustable beam w/ 2" dropped spindles
Disc Brakes, narrowed, lowered sway away rollbar with KYB GR2 shocks
Rear- sway away adjustable spring plates
G.Serrano billet spring plate retainers
Sway away camber compensator & KYB gas-a-just shocks
CB Performance disc brakes (All brakes are 5-130 Porsche bolt pattern)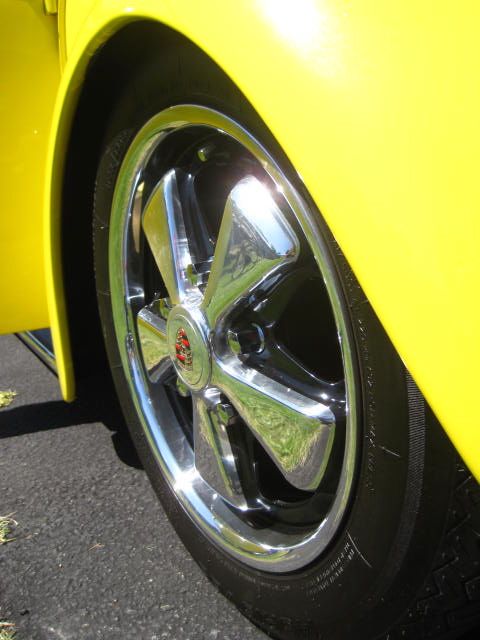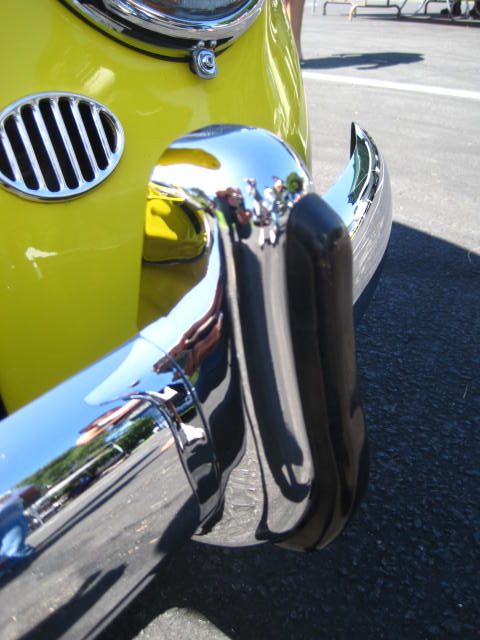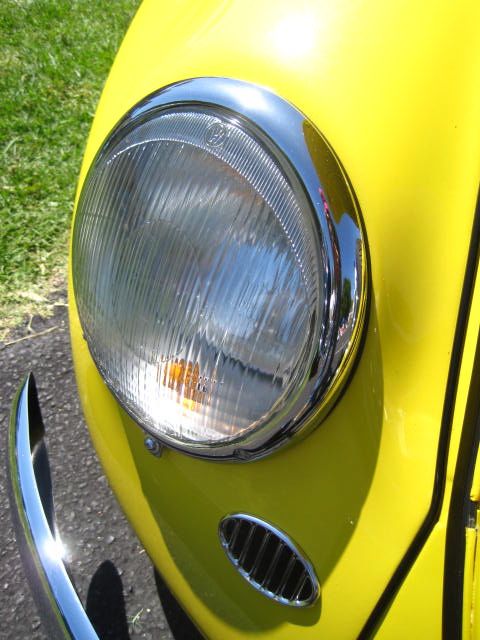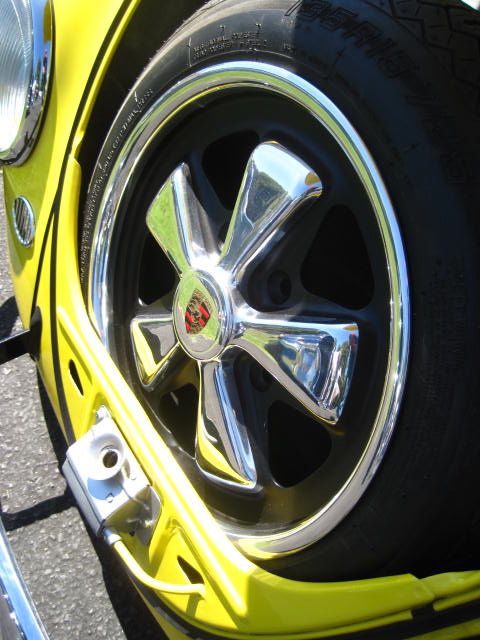 Matching spare wheel and tire.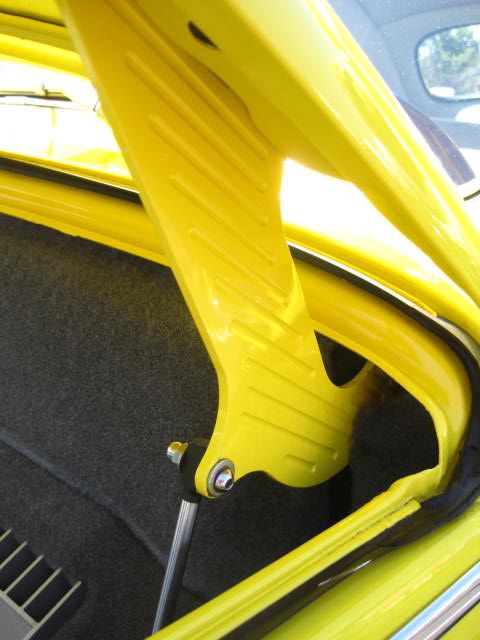 Billet ood hinges painted body color.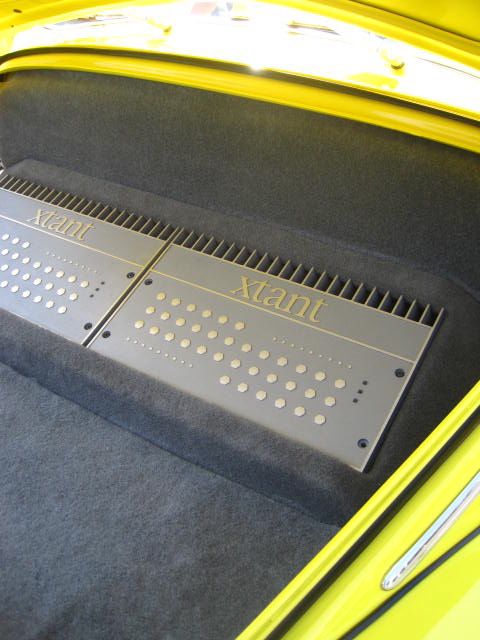 Amplifier rack tucked in neatly under the hood.
Here are the specs on the install.
Custom Audio:
Alpine head unit w/ 6 disc changer under passenger seat
2 X-Tant amps
3-way MB Quart mids & highs
4 & I" tweet in custom kick panels
6 1/2 mid bass in custom door pods
Crossovers mounted flushed in custom panels
Rear fill are 6 1/2 MB Quart 2 way coaxials on custom false floor on rear package tray
Carpeted & grill clothed to match interior
2 - 10" Diamond Audio subwoofers, located & mounted in 2 separate fiberglass enclosures under rear seat
Battery is a lifeline relocated in a battery tray under drivers rear torsion area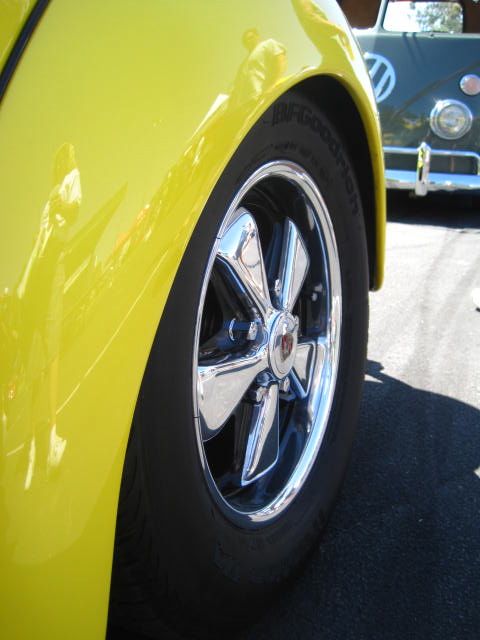 My favorite shot...the colors, the reflections, the backround.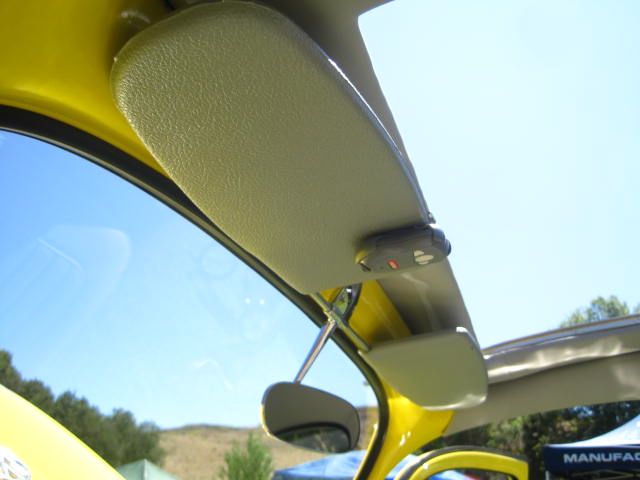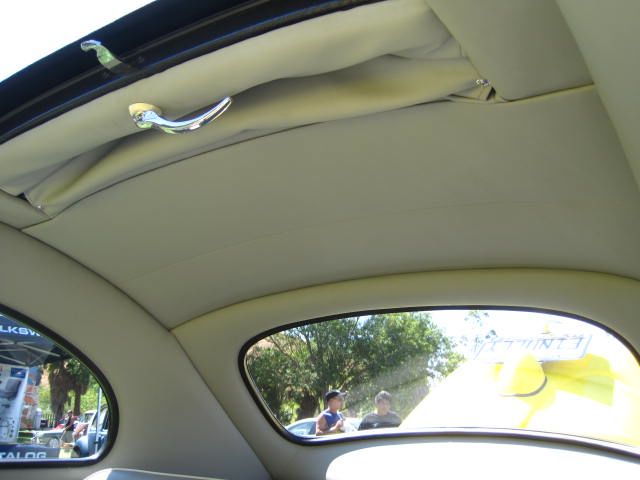 Headliner is excellent.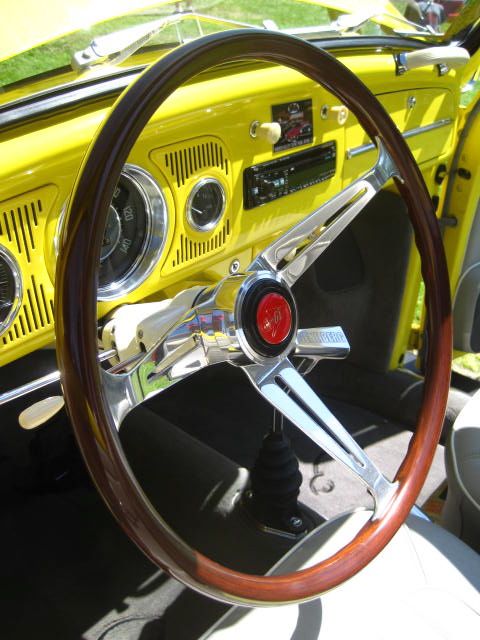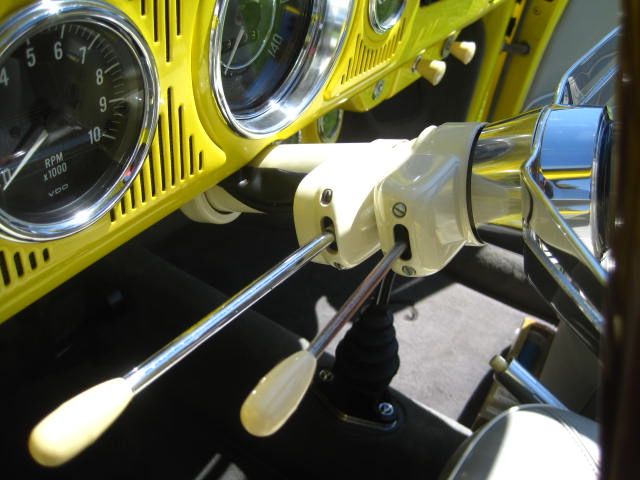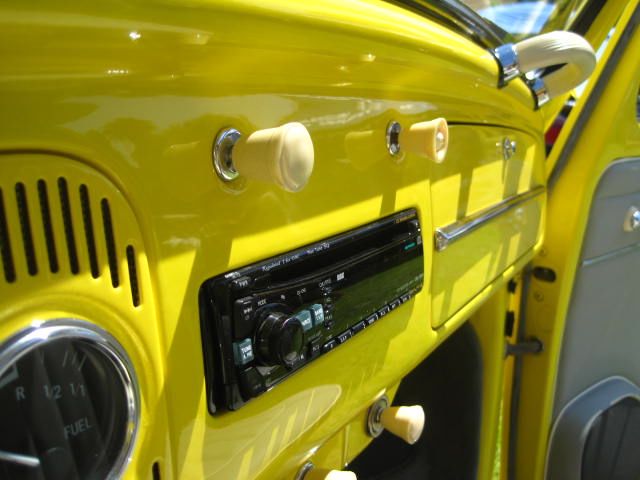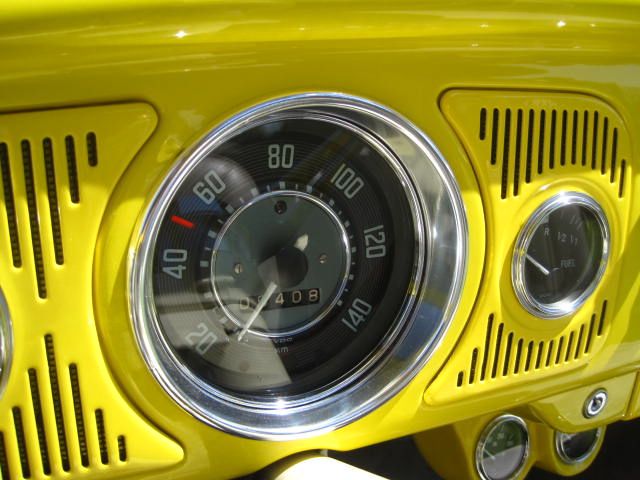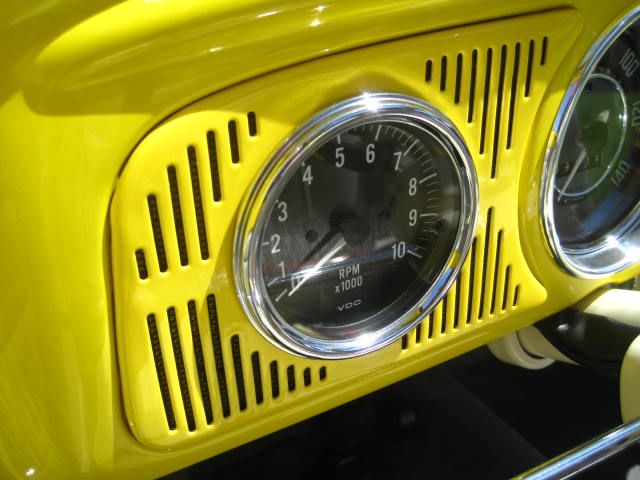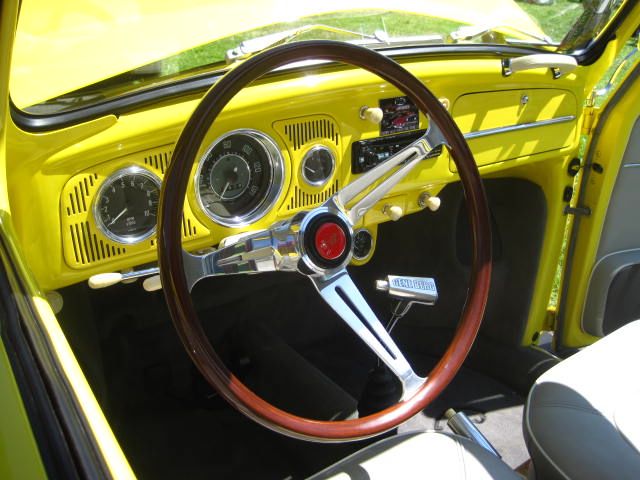 Empi GT steering wheel.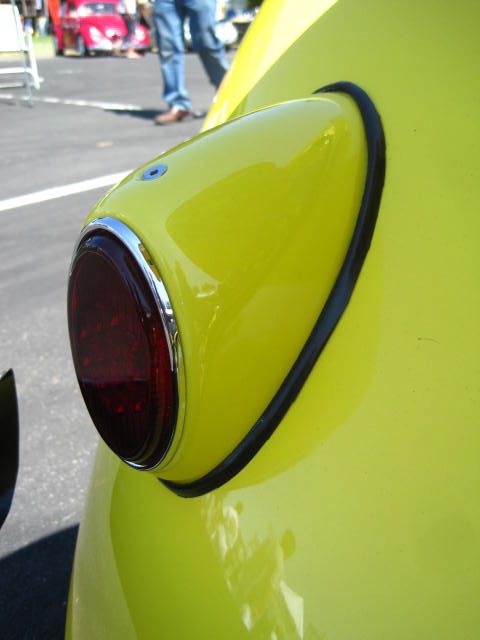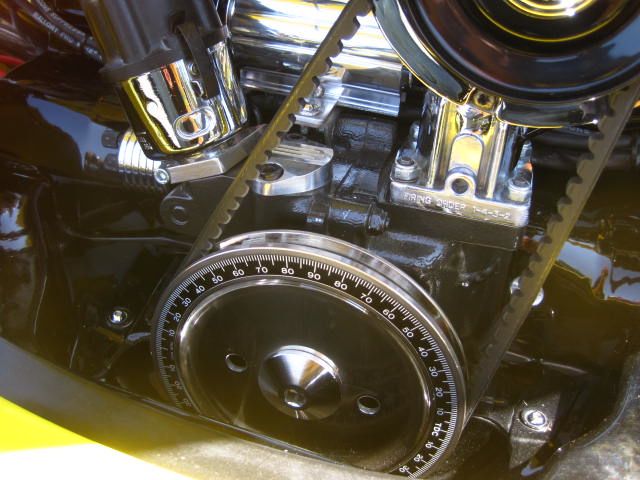 Like jewelry back here in the engine room.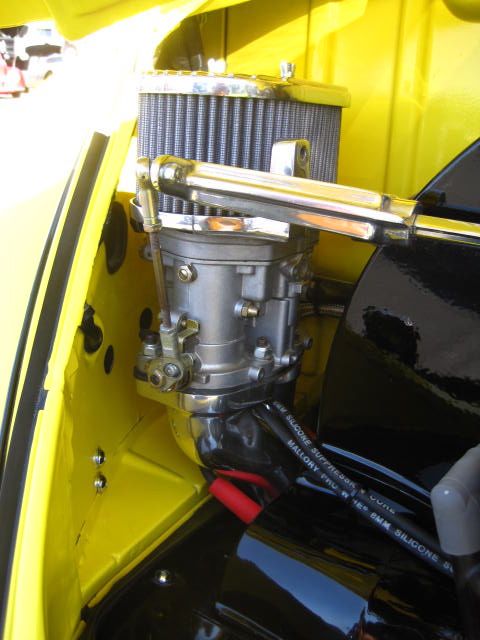 Dellorto carbs.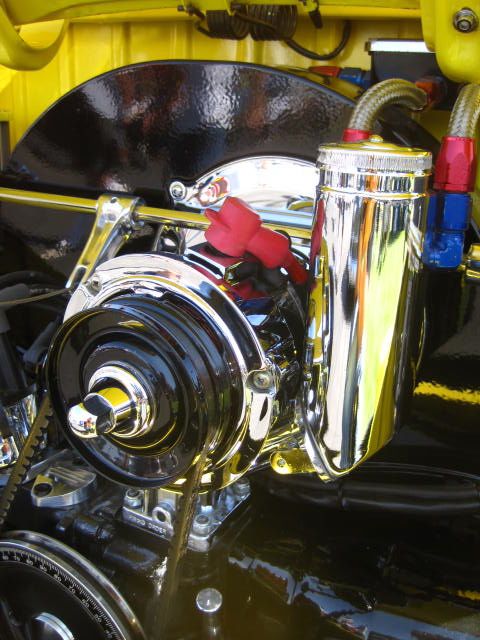 Nice detailing in the engine bay.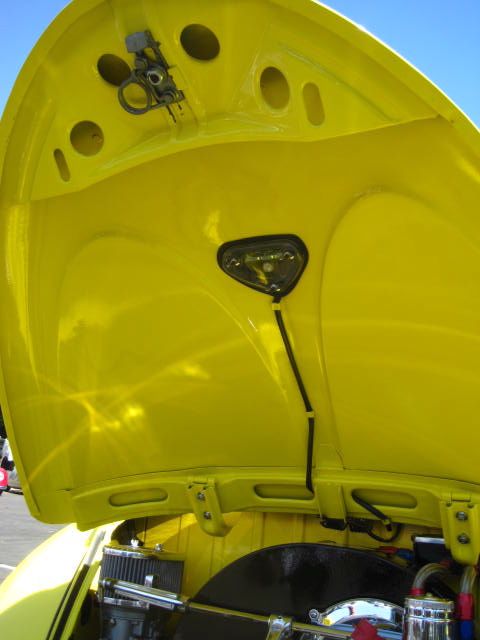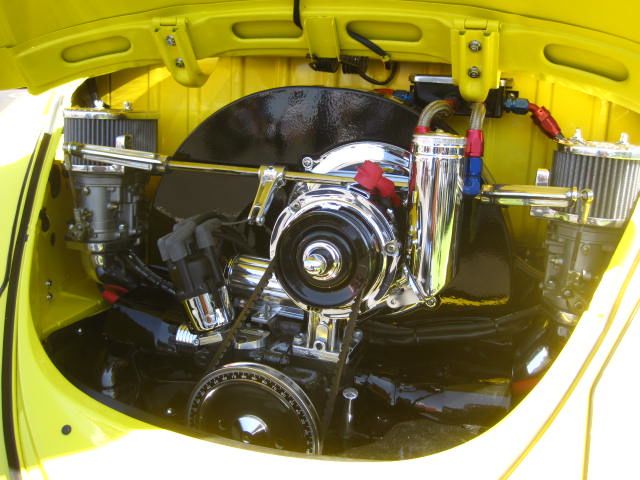 Engine specs...
2332cc
84mm wedgemated, fullcircle crank & flywheel
Eagle 5.7 H Beam rods
Forged 94mm Cima Pistons w/ total seal rings
120 Engle Cam, Scat lifter, 3/8 cromoly pushrods
Scat 1:25 ratio rockers
Heads: 043 44x37.5 fully ported & polished d ports
Exhaust: 15/8 ceramic coated merged by Al's header
Muffler: polished stainless magnaflow by A-1 muffler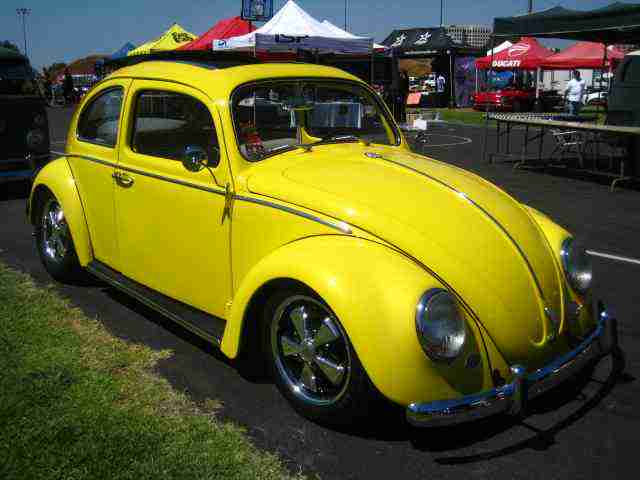 In closing this car is impreiive in many many ways.
First the color grabs you and sucks you in, then quality of the workmanship starts to grab you
and then as you investigate further you see the custom subtle touches and accessories and you fall in love.
This is a very cool car.
Asking
$29,950 obo
---
For More Info...CALL
951-767-1600
or email
oldbug@earthlink.net
---