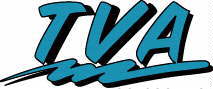 1957 Oval Window Ragtop ~ Oddity
---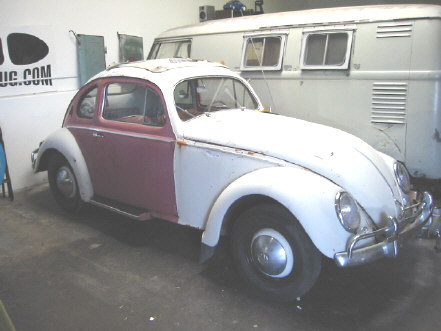 What the?
This extremely odd 1957 ragtop was a recent find and it was just too strange to pass up.
We knew nothing about it, and neither did the fellow we bought it from,
but an internet search of a name on a slip of
paper in the glove box ended up filling in the blanks amazingly well.
It seems it was owned and built by an eccentric artist and rennaissance man in the Bay area who was known
to design and wear his own clothing and hand build and play his own pianos (among other things)
It was built for driving back and forth to his beach house in Mexico, and after his death was donated
to the San Jose Museum of Art along with many of his artworks. The museum than sold the car to the infamous
"Sausage King" who murdered 3 meat inspectors and eventually died on death row.
The car was sold at auction to a San Jose based collector who then brought it down to us for the first "Freak Show"
event at the VW Classic...and it has stayed with us ever since.

The car is standard length, but the body shortened in back and stretched in front.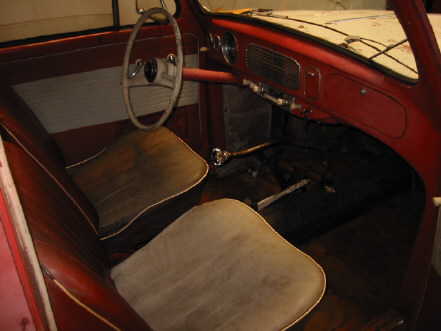 Pedals and steering wheel have been moved much closer
(original owner must have been a little guy)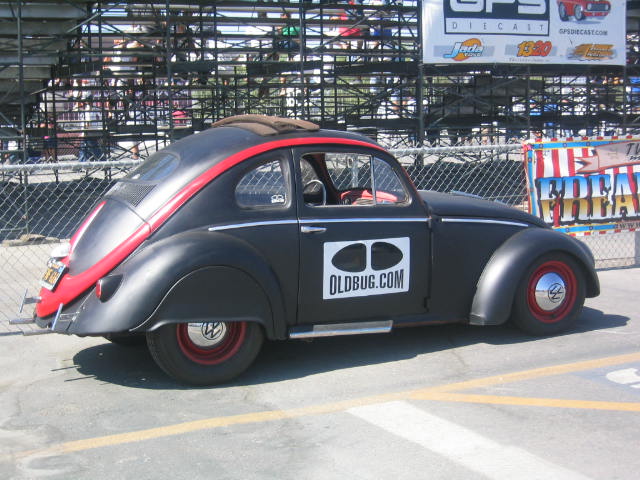 We decided to have a little fun with the car and sprayed it flat black with red stripes, bolted on fender skirts
and big and little wheels and tires and seriously lowered the front end. The ragtop canvas was replaced
with wire mesh and the seats redone in bare springs with rubber matting on top.

The car is now undergoing a full re-do and will emerge some day as something completely different.

Possibly a Bonneville Salt Flat Racer?
Let us know your thoughts!
EMAIL