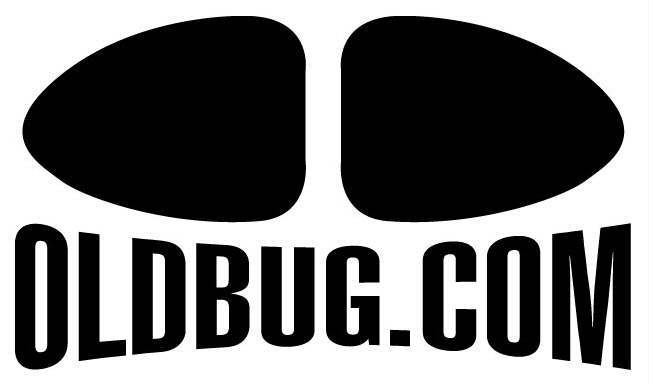 1967 Westfalia Camper For Sale
---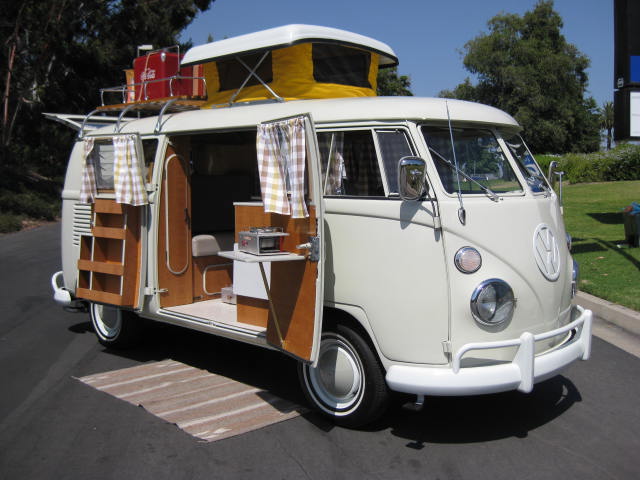 This is a 1967 Pop Top Walk Thru Westfalia Camper
One of the most desireable years and models of the VW Bus.
These "split screen" campers have been in high demand in recent years
and the values have been climbing steadily and reaching well into the levels that were
once only seen by the Deluxe Microbus. And it's little wonder why...they are truly
a wonderful set up, the best of both worlds...a cool old Bus as well as a mobile apartment and hang out spot.
This past weekend I was in Ocenside at the Beach and there were two Westy Campers parked side by side
and the families that were with them were truly the kings of the beach... They had the tops popped
and their surfboards out and everything they needed was tucked neatly in the Bus.
Get the right parking spot and you have a beach front condo for the day!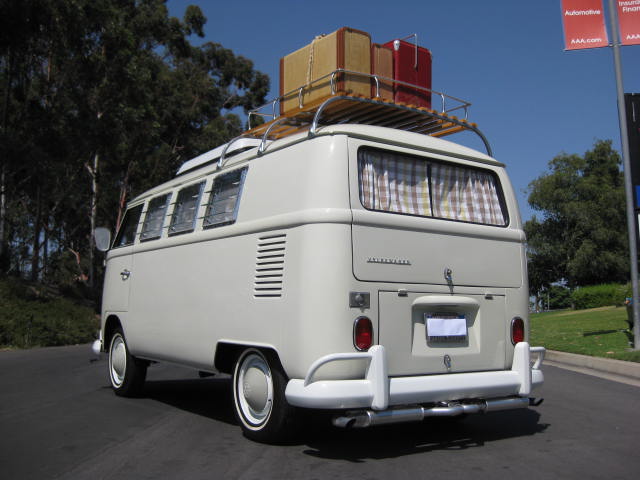 This particular example I came across at the VW Classic event here in Southern California where it won
first in class against some very stiff competition. At first glance it doesnt jump right out at you in it's subtle paint color and such
but when you do stop for a moment and look closer you realize that thisis no normal restoration...it is a work of art.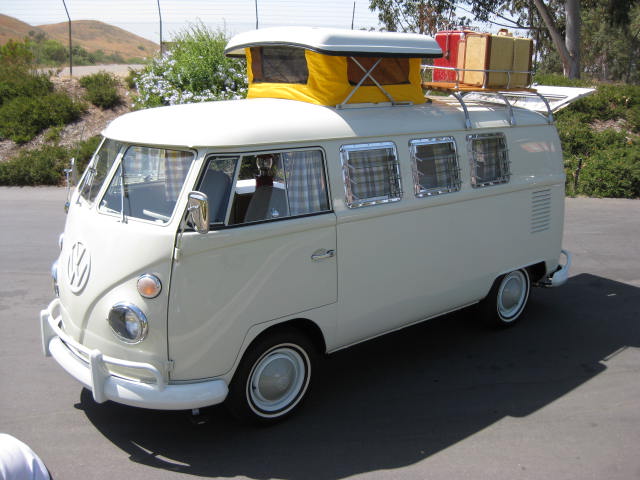 Its all in the details when it comes to the quality of a restoration, and this one has taken it to a new level for Campers.
This is a benchmark restoration in my eyes. Ive seen a ton of nice campers over the years but nothing as nice as this.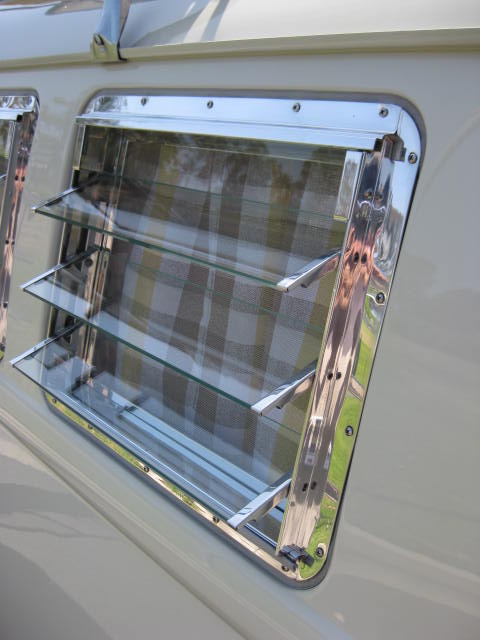 Here was the first thing that jumped out at me.
The absolutely amazing level of polishing on these windows is something I have never seen on an old
Camper like this...truly awesome. They look like jewelry. I will never look at another camper
window without thinking about these and just how nice they look.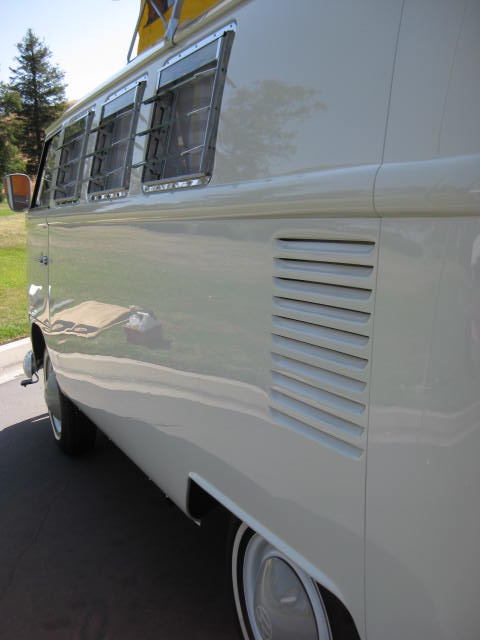 The quality of the paint and body is top notch as well.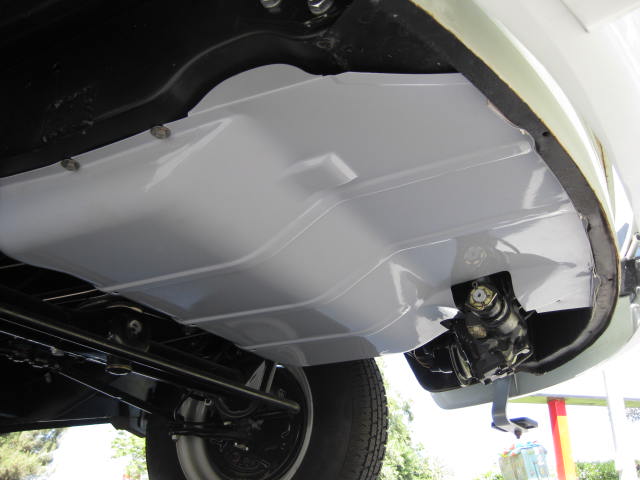 The underside of the Bus has also been detailed to a high level.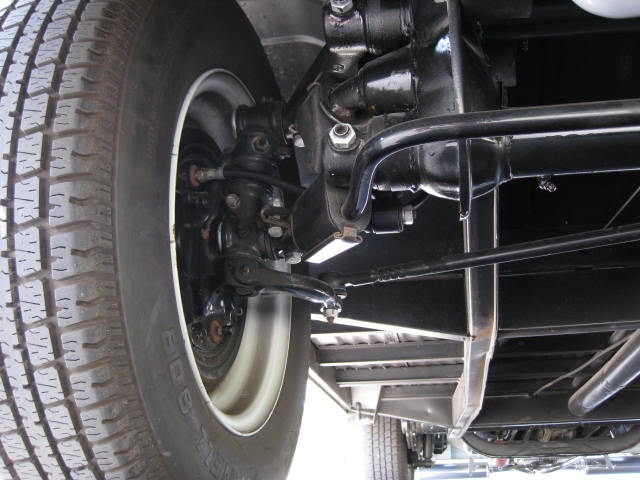 Not "over-restored" with chrome or uber-glossy finish, but back to factory as it should be.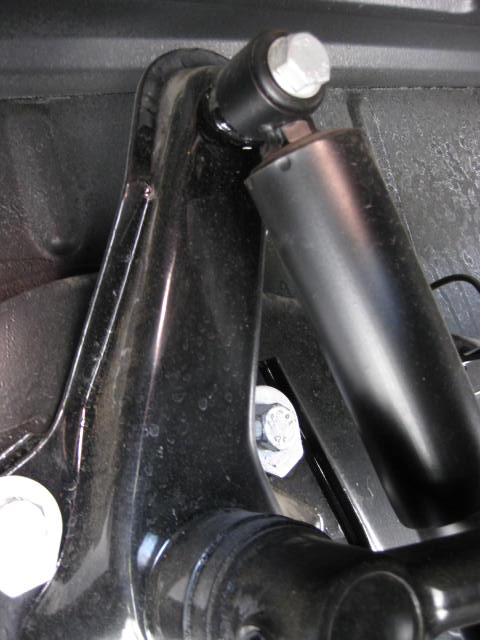 Nice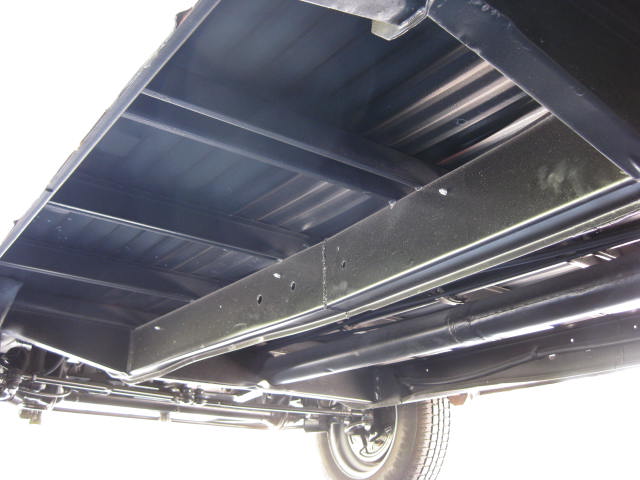 Wow.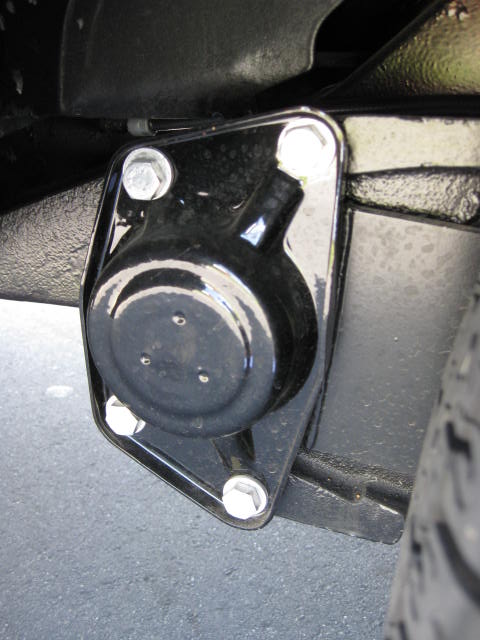 Water spots on the suspension? Blasphemous!!
and you call this a quality restoration... bahh!
(Im kidding obviously...)
Take a look closely at the head of the bolts here...yes, those are the original German Kamax
bolts that have been freshly cad-plated. It is this sort of detail that I have not seen on a Westy of this vintage before.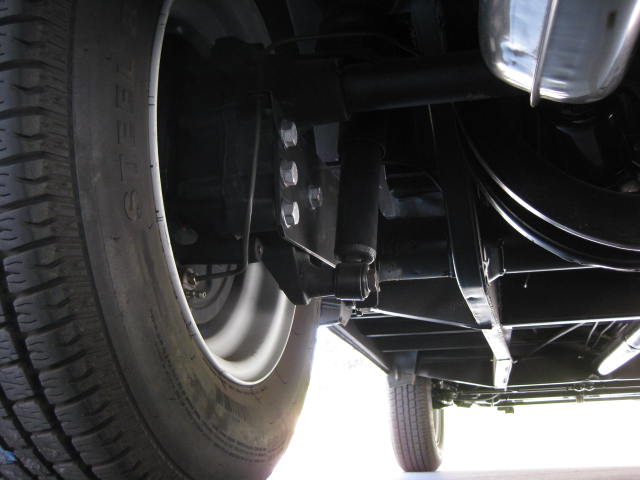 Pretty impressive.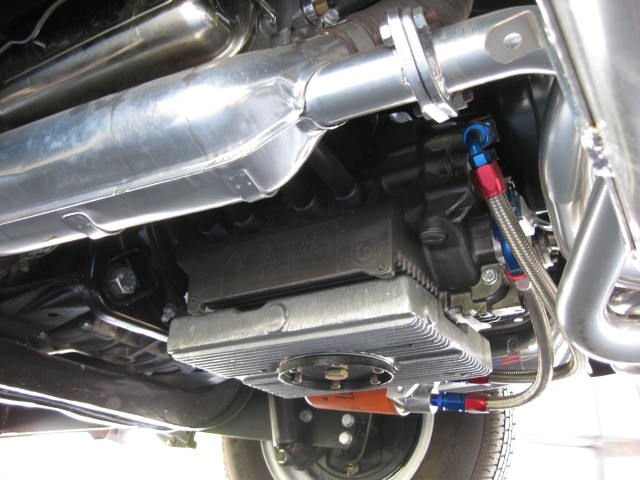 The engine is one diversion from stock on this Bus and a welcome diversion it is when it comes to actually using the Bus.
These old Campers are pretty heavy when they are all loaded down with the goodies and having a little extra horsepower
is a very good idea for today's highways.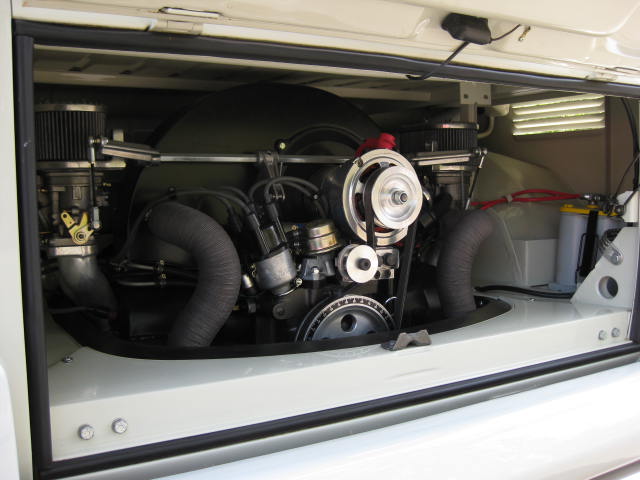 The engine room is extremely sanitary and displays the Dave Rhodes built 2110cc engine beautifully.
Note the Optima gel cell battery, the BMD pulley system and the understated assembly of the engine tins and trimmings.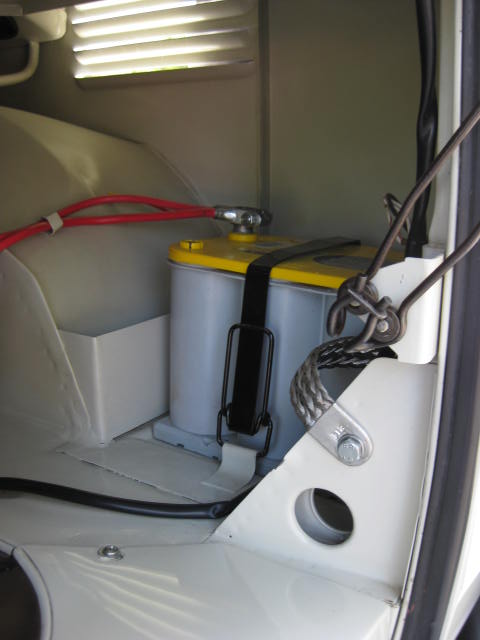 Battery hold down is in place..all new wiring throughout the Bus by the way.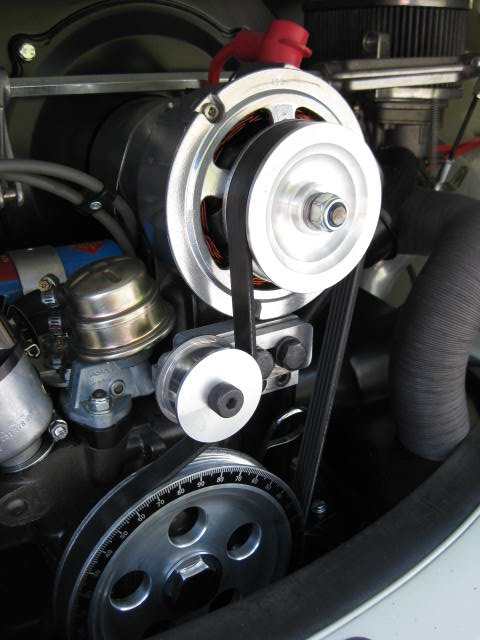 Detail of the pulley system.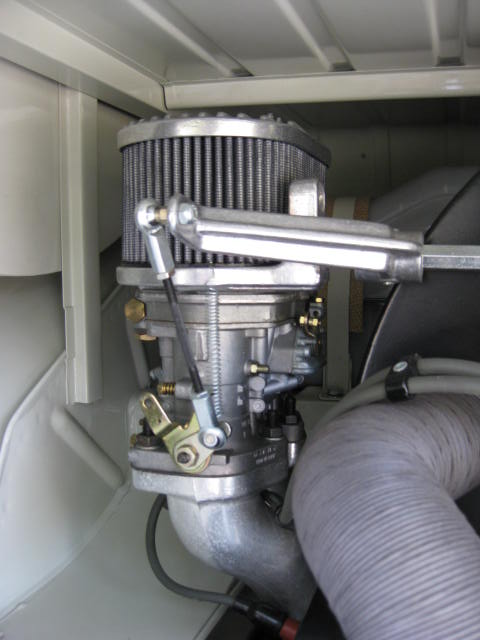 Weber 44 idf Carburators.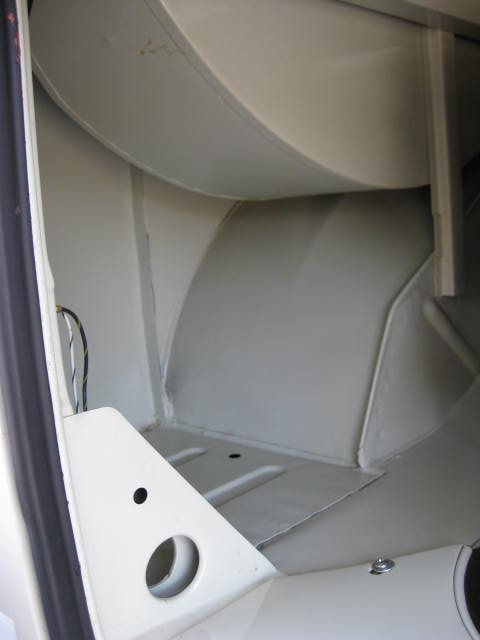 Hospital room clean in here...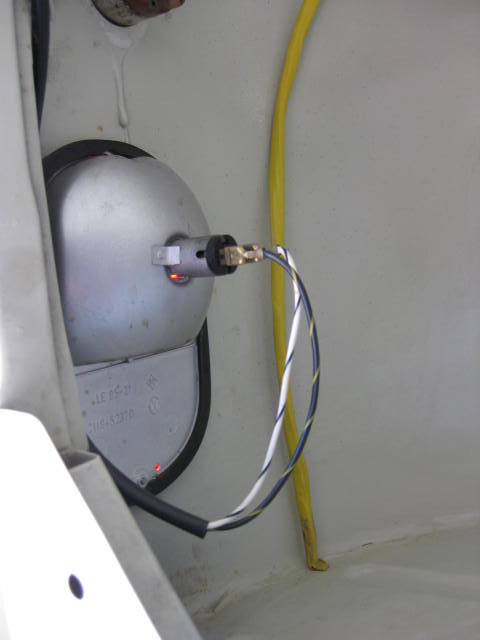 Even back where you cant stick your head...it looks sweet.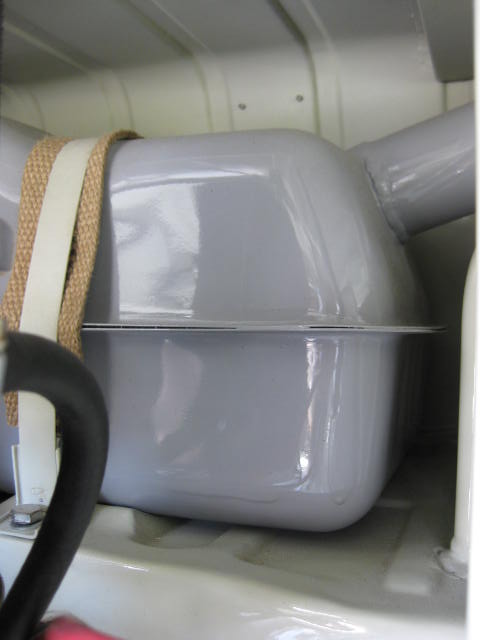 Fuel tank behind the engine detail...awesome.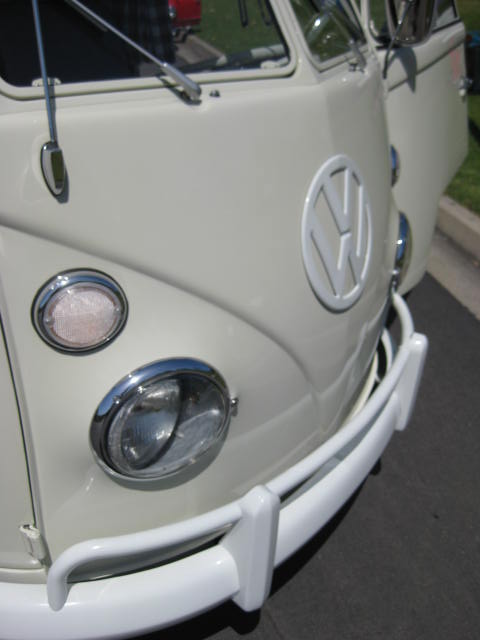 Perfect nose and bumpers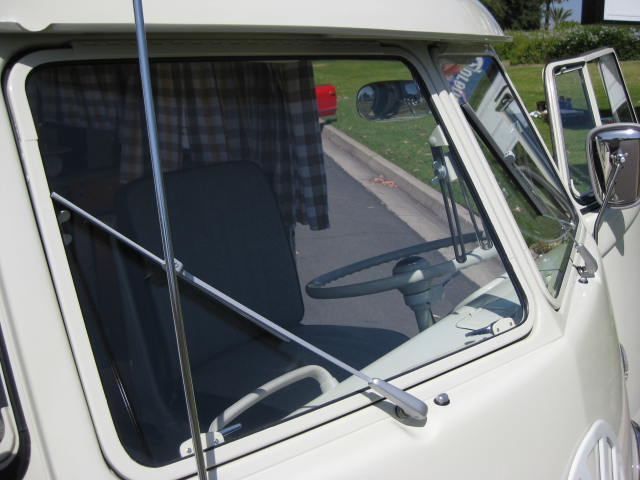 Safari windows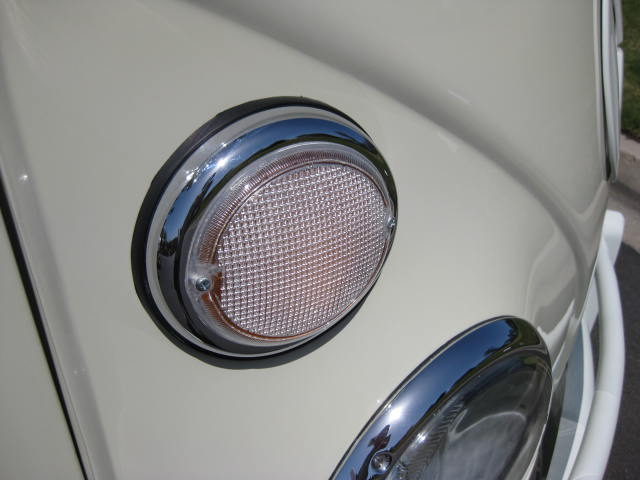 Turn signal lenses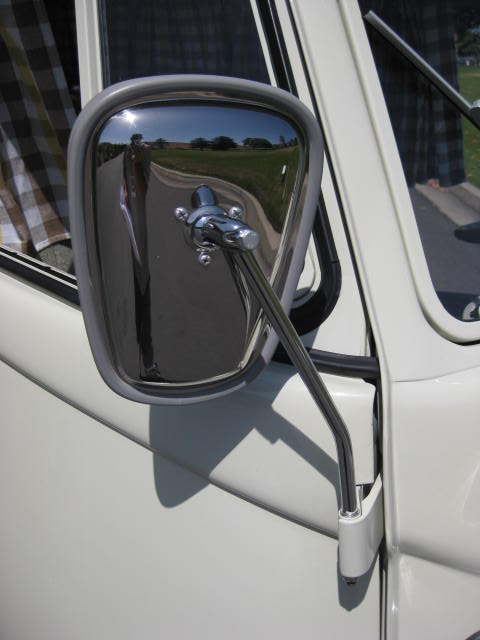 Mirrors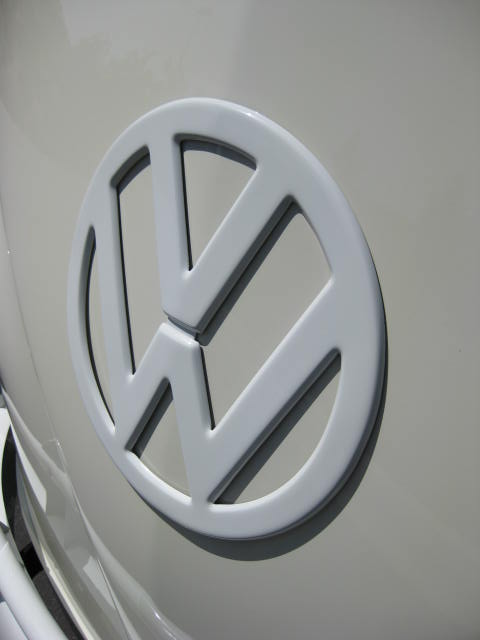 The VW emblem painted the proper silver-white in color to match the wheels and bumpers.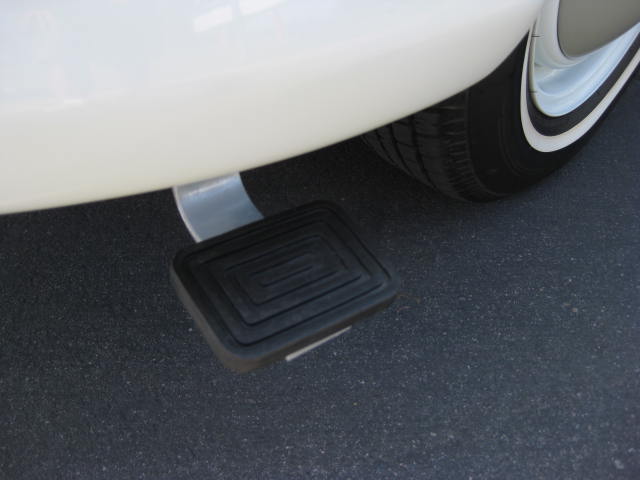 Accessory side steps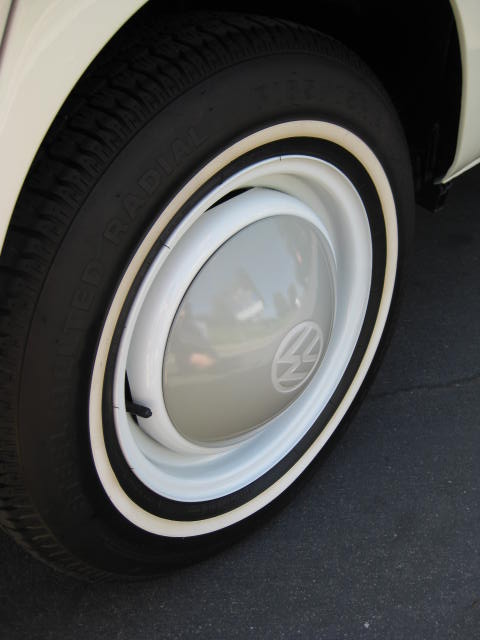 Painted hubcaps as original.
Excellent thin whitewall tires.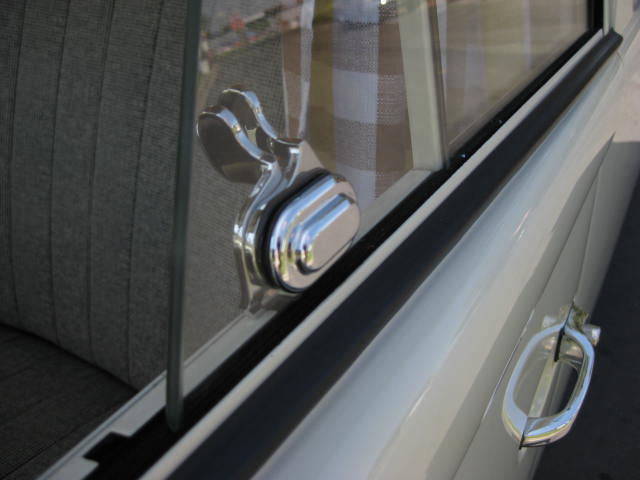 All new window rubber and felts.

Door handles are excellent.
(cant get in the door without one!)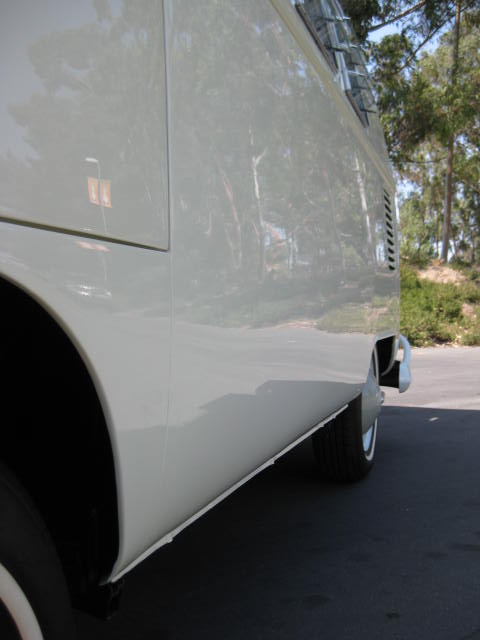 Very straight down the sides, super smooth rockers.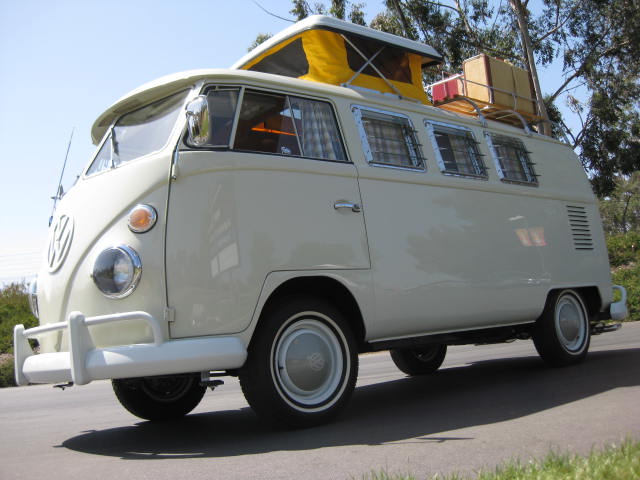 Fully loaded and ready for adverture!

Those gorgeous polished windows,.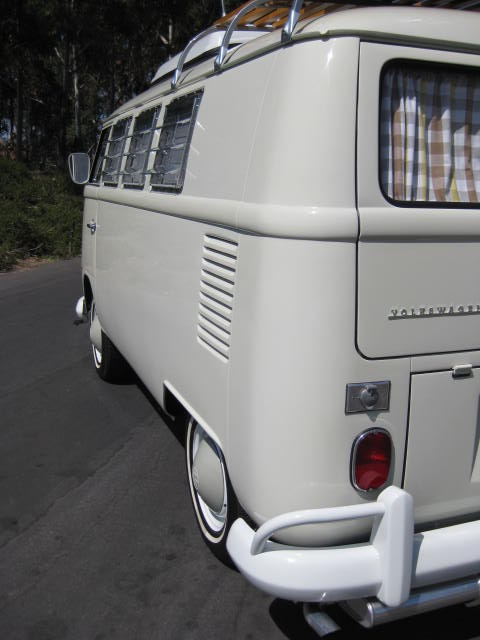 I would dare say that this Bus is better than new.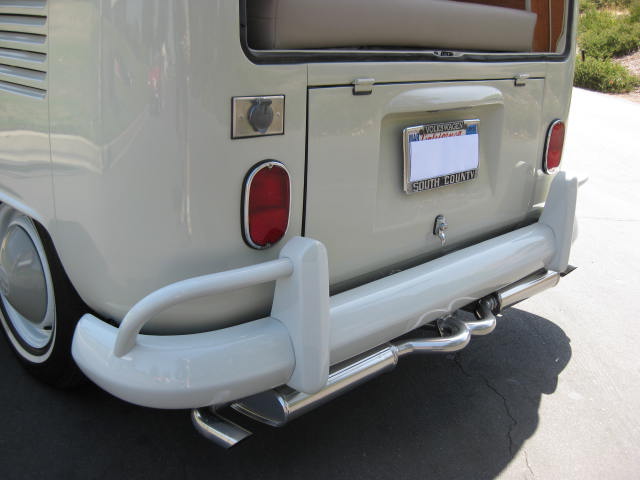 Performance exhaust hints at what is below the lid.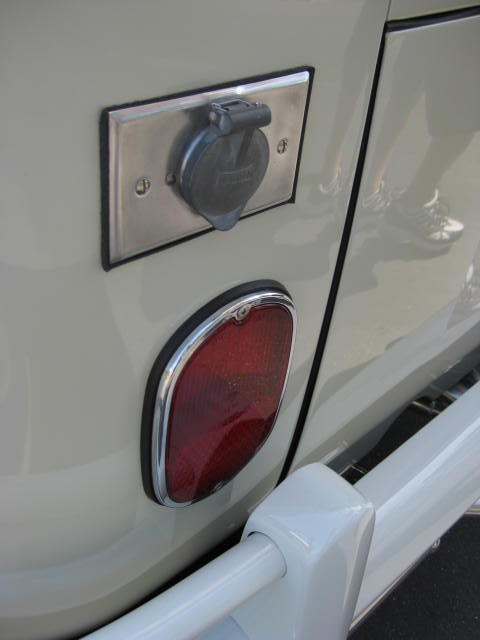 Power outlet plug and genuine Hella taillights.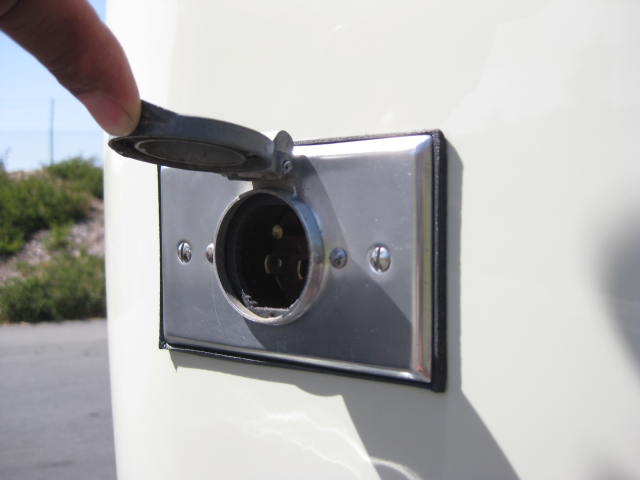 Just plug an extension cord in here and you have 110 power inside to run your goodies.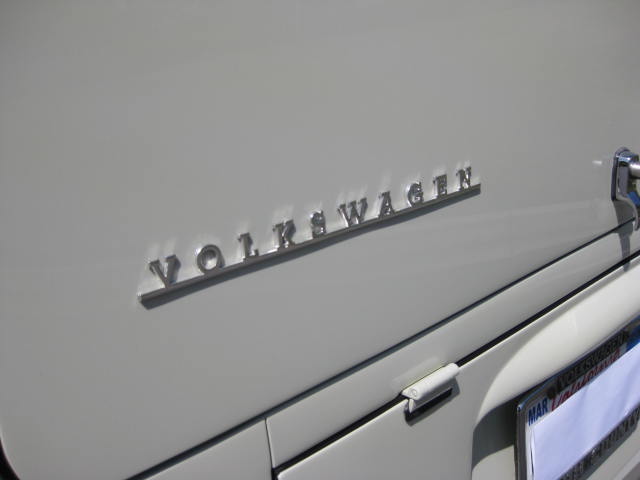 Volkswagen script emblem.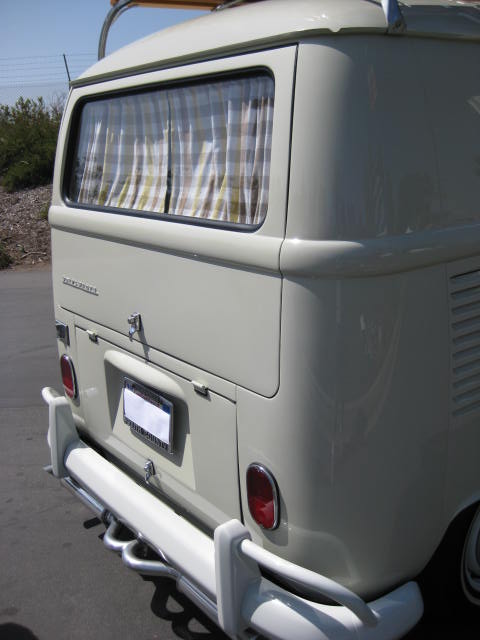 Nice fit and finish.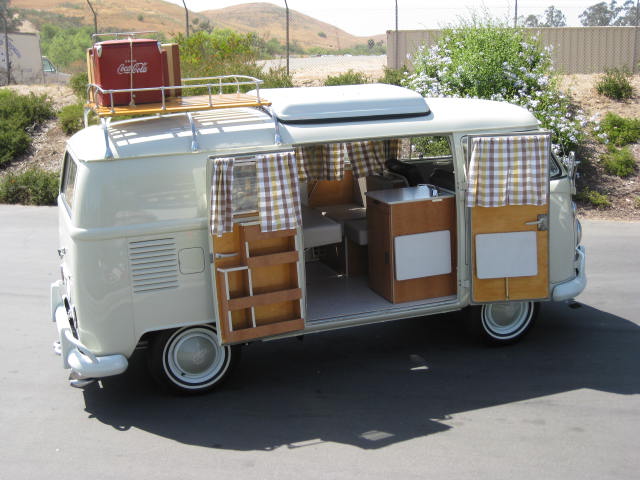 Gorgeous Bus.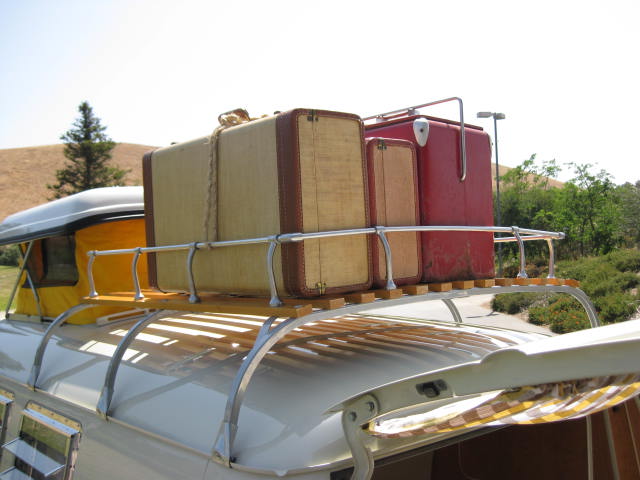 Wood slat roof rack with period luggage and ice chest.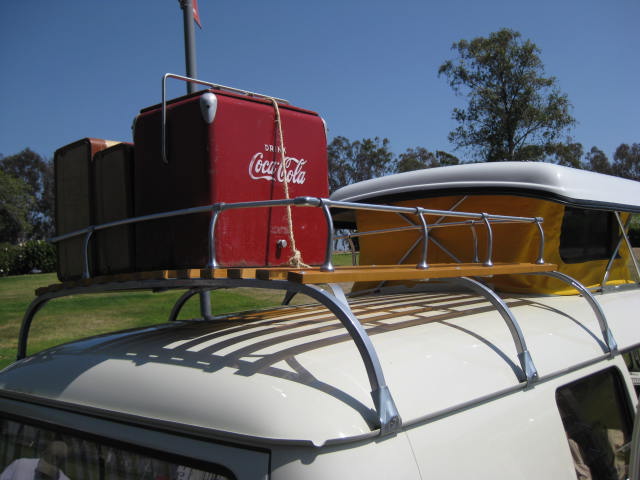 Coke cooler and other props are included in the sale if the price is right.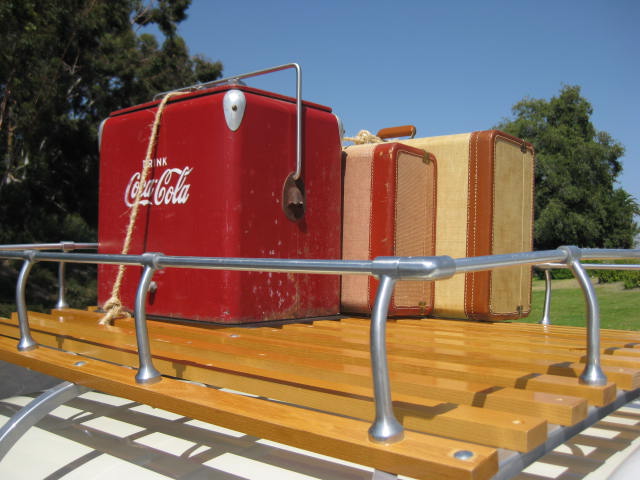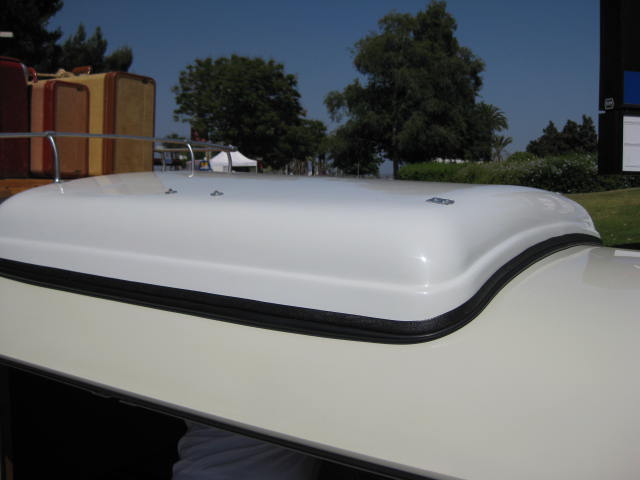 Pop top roof was completey restored and re-gel coated for an absolute factory finish.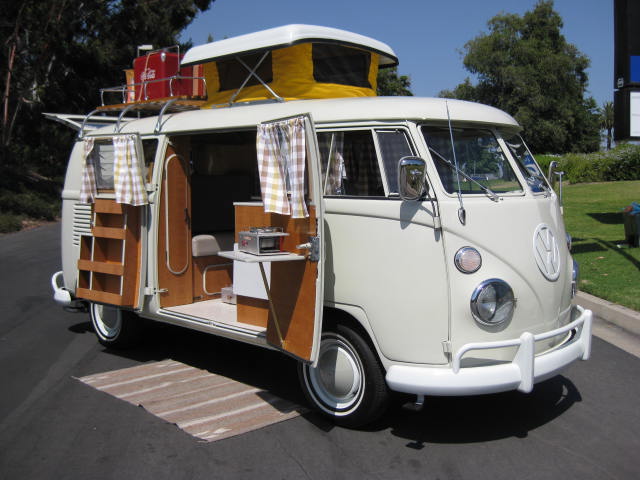 Ready to look inside?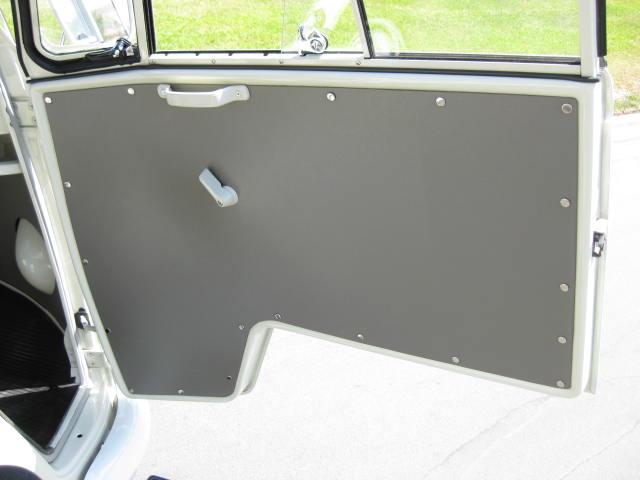 Standard grey door panels with proper clips.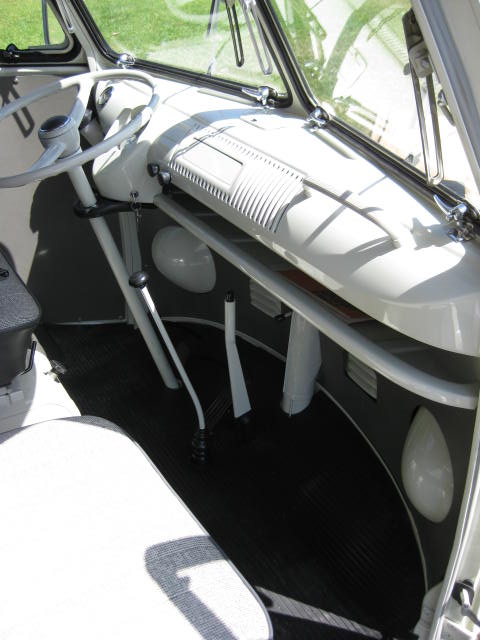 Super clean un-altered dash with the proper 1967 switches and such in place.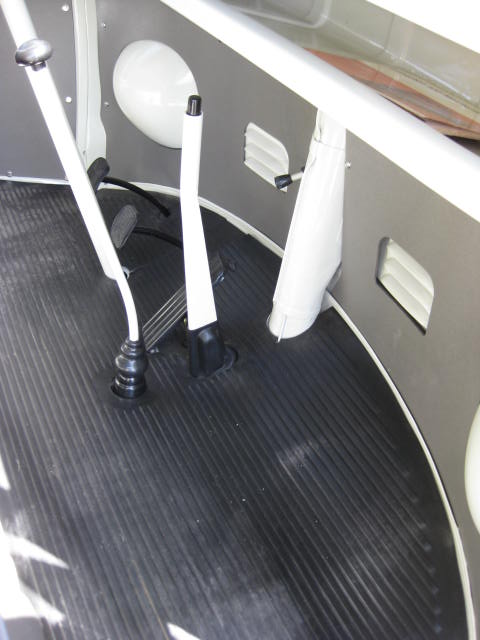 All fresh and perfect in here.

Walk through front seats are a desireable option and this little jump seat filler allows for more
seating room in the back and just pops out for easy access from front to rear.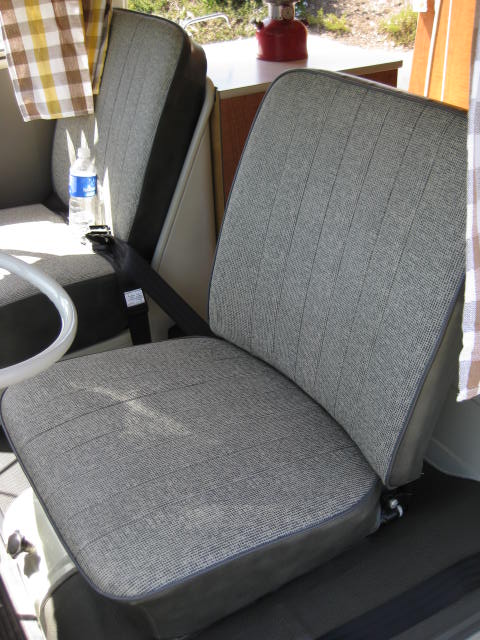 Front seats are done in the grey mesh vinyl as original.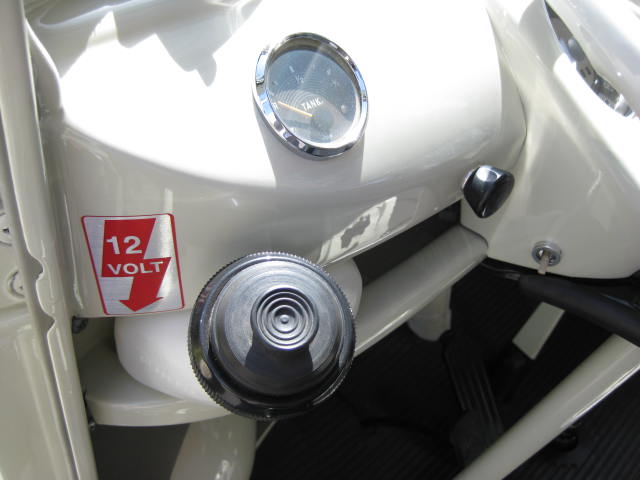 Windshield washer bottle in place.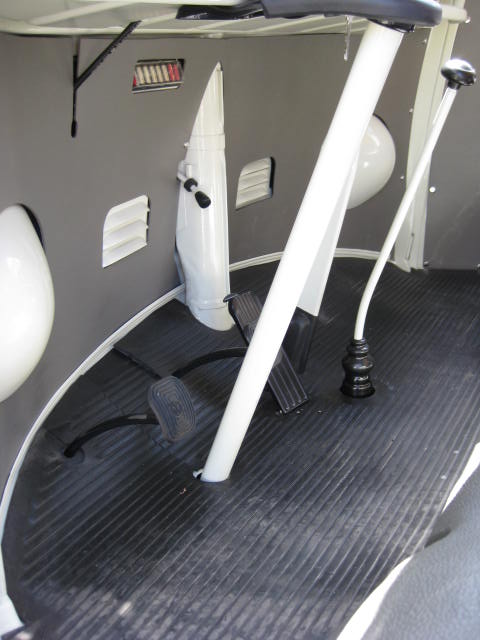 Another front floor shot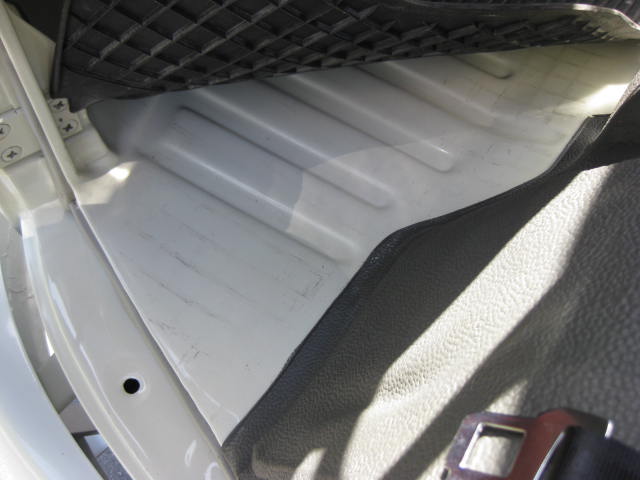 Under the mats is super clean.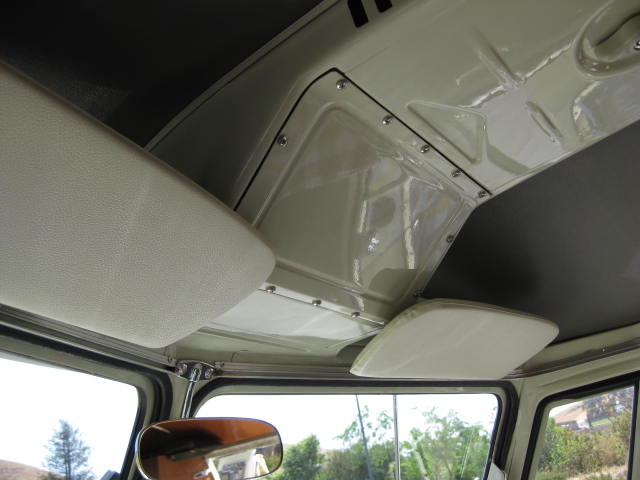 Visors and fresh air box are well detailed.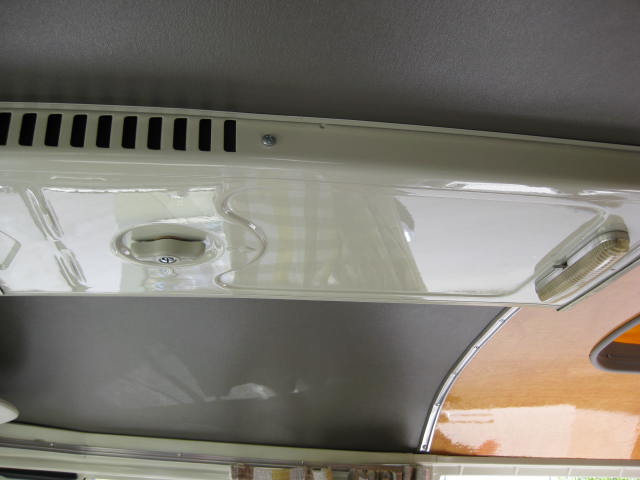 Nice paint quality in here and the proper headliner panels are in place.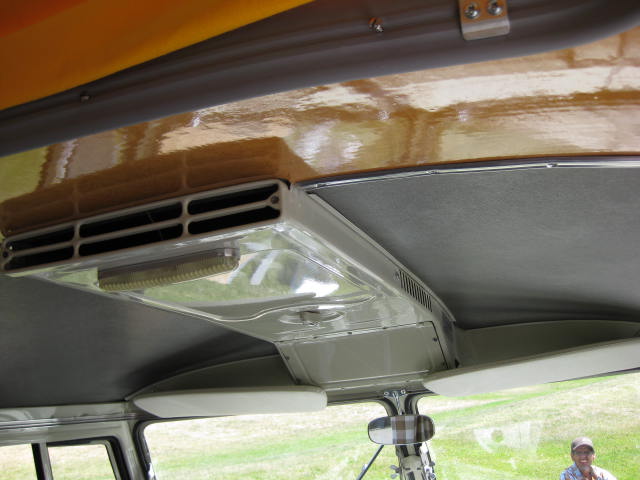 The finish quality on the woodwork is stunning.
Very very glossy and beautiful.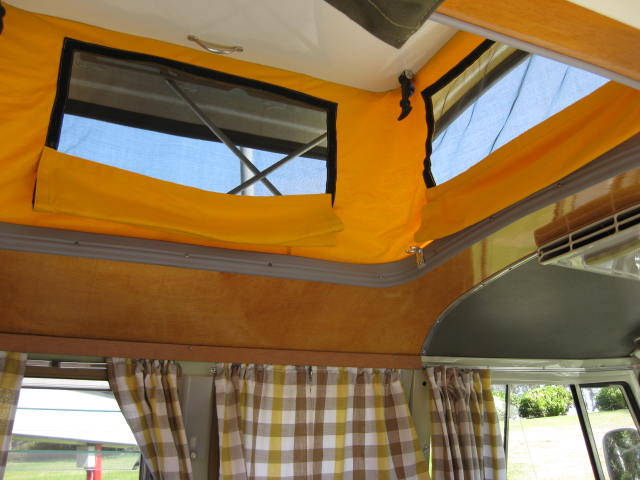 Pop top canvas is all new and well fitted.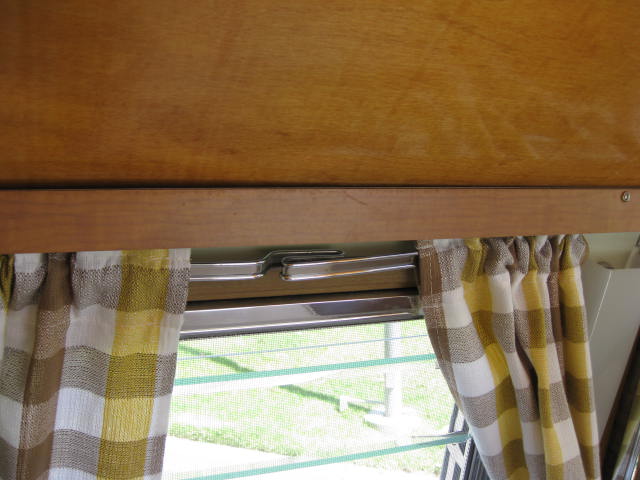 Curtain rods are also polished to a jewel shine.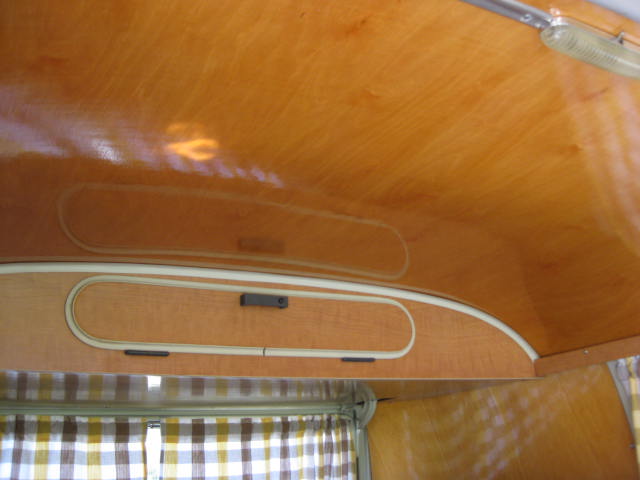 The woodwork is beautiful...look at that shine!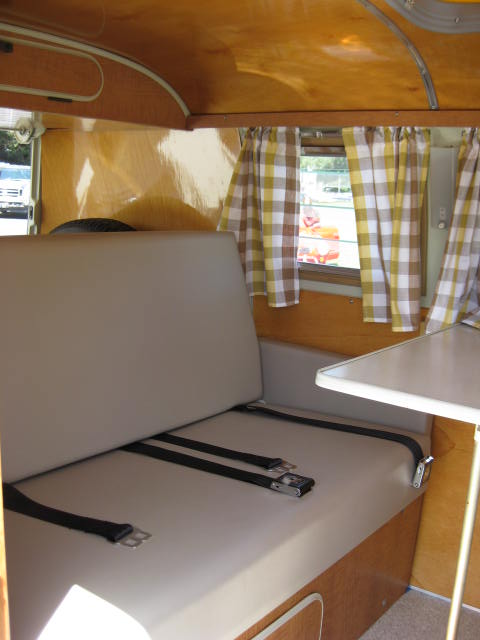 Rear seat / fold out bed with new seat belts in place.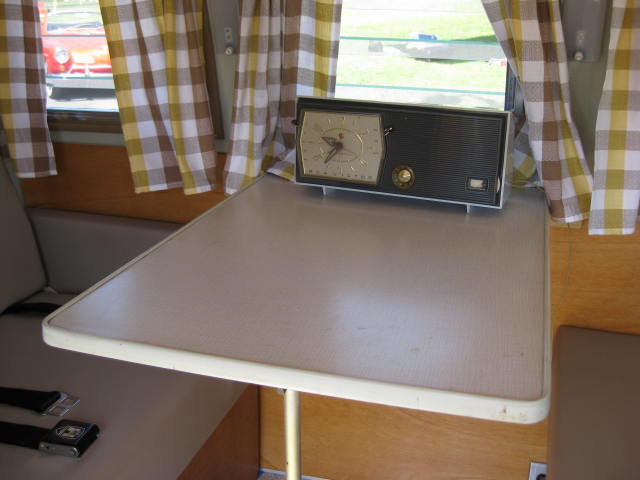 Flip up table with a period radio.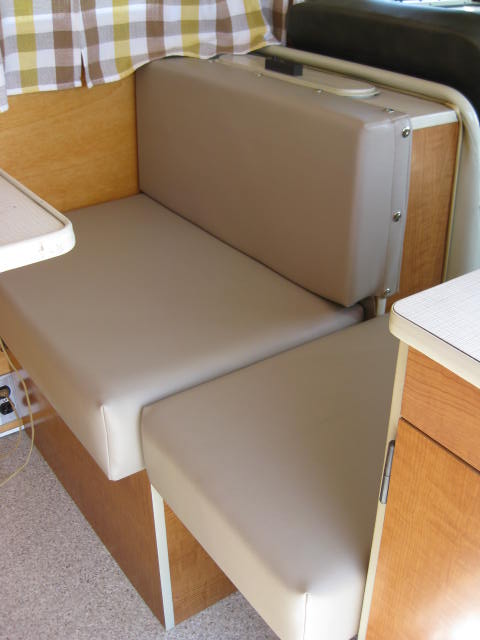 View of the seating and jump seat filler.
Note the power outlet near the floor.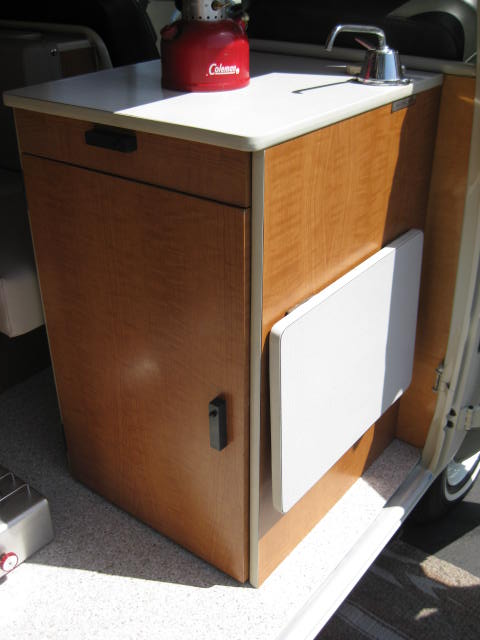 Ice box / dry sink with flip up side table.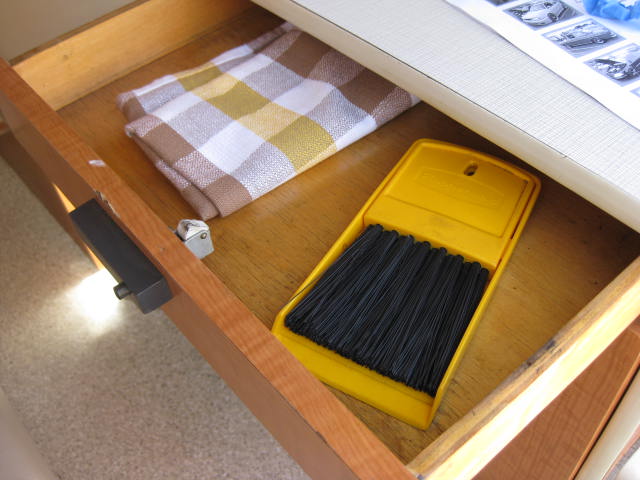 Small utensil drawer.

Ice box is very clean inside.
This is not a powered "fridge" it is basically an ice chest on it's side, but they do function well.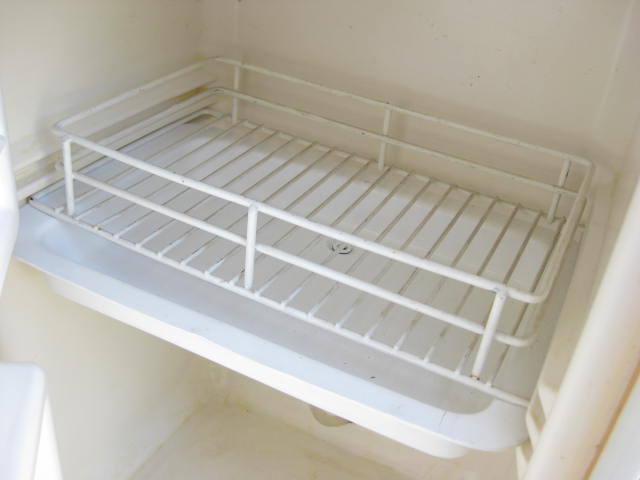 Very clean inside.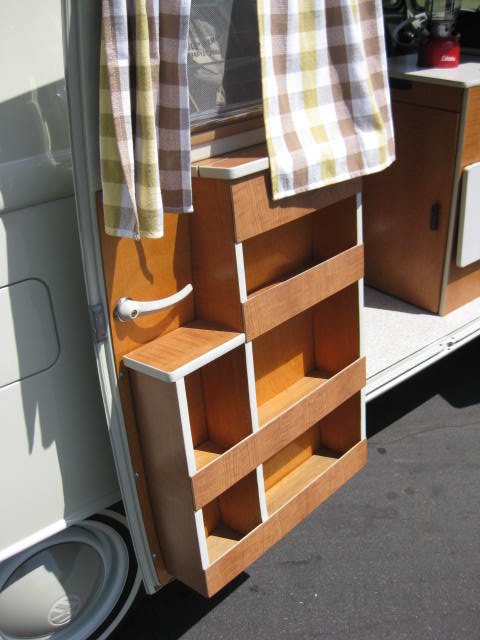 Spice rack on the rearward door is in excellent condition.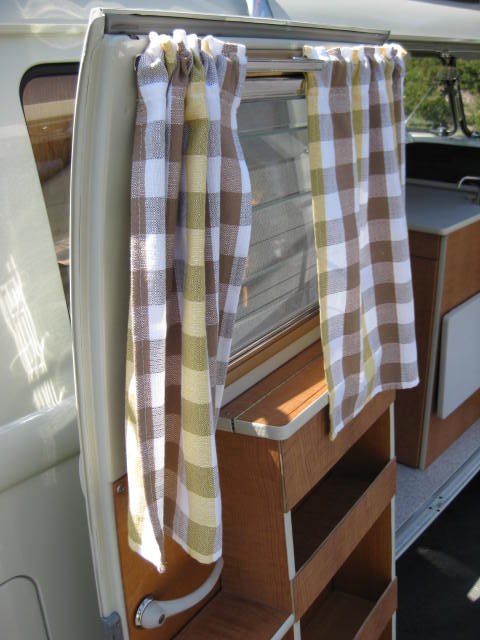 Proper Westfalia material for the curtains.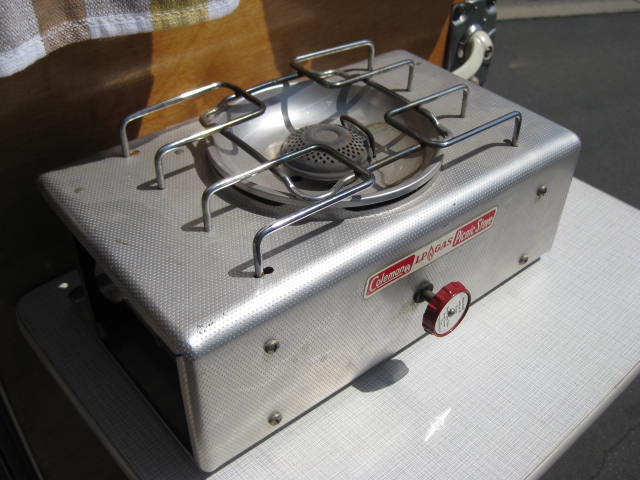 Small period Coleman sing burner camp stove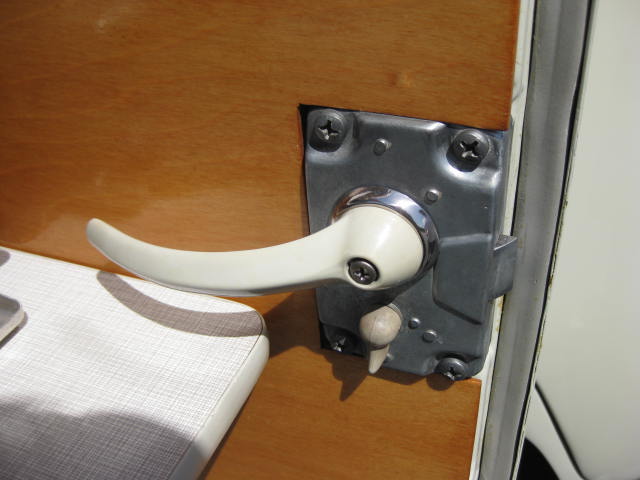 Nice detailing at the latches and in the deep corners.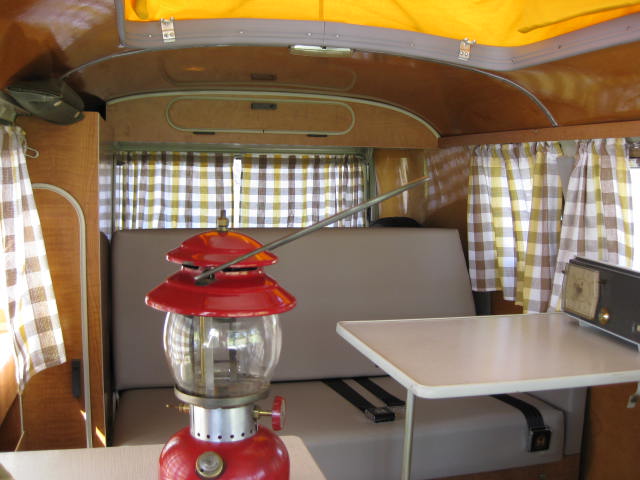 Beautiful space inside.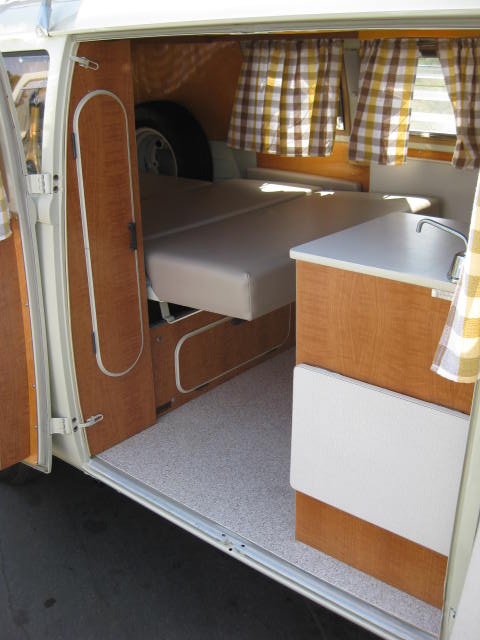 Rear seat flips out into a bed.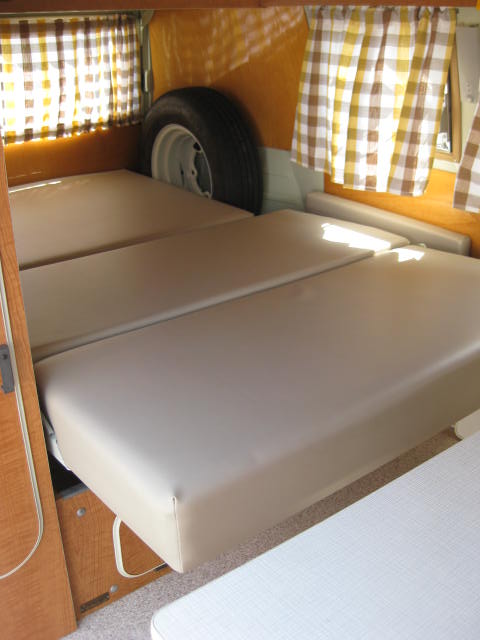 Quite a bit of space in here.
I will pick apart something here...with each car I feel like I need to find a fault somehow.
The material on the rear seating would have originally been a more mustard yellow color.
I agree with the owners choice to go with something more mellow...but in the eye of being 100% correct from factory...it is not.
But it is beautifully done.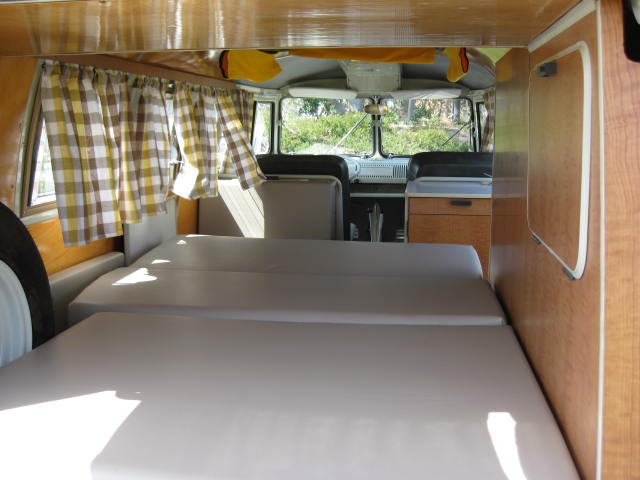 If this van's a rockin...dont bother knockin.... (did I just say that?...please accept my apologies...)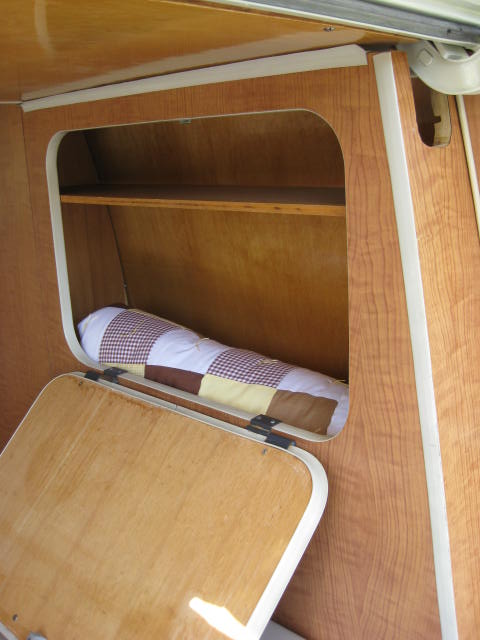 Storage everywhere, one of the great parts about these old Campers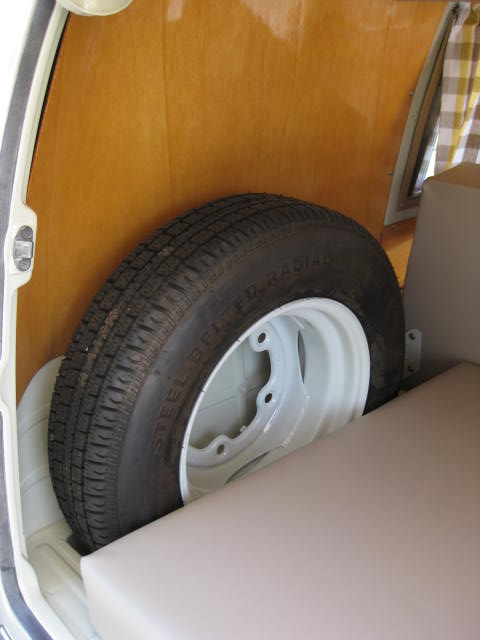 Spare wheel and tire.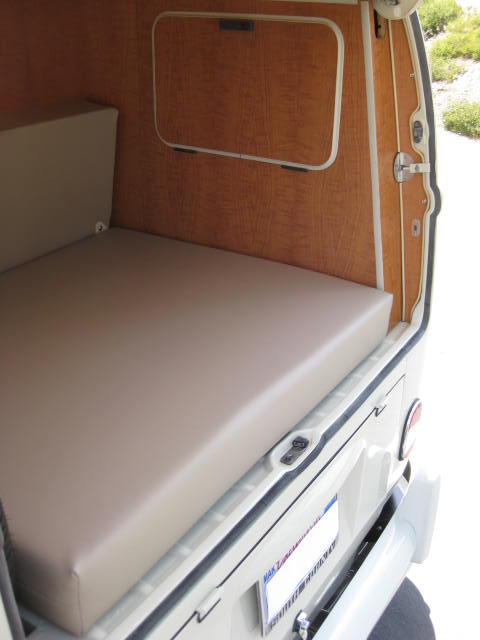 Showroom clean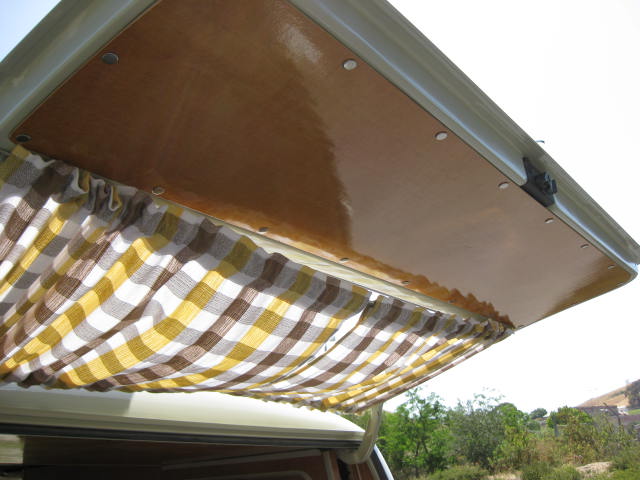 More beautiful woodwork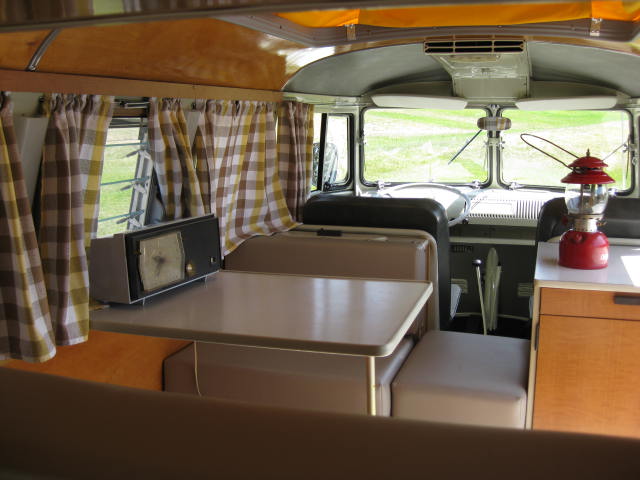 Picture yourself here...the view of the mountains or the ocean through the windows,
a gentle breeze, a cold beverage and your friends and family hanging out with you.

(and try to forget about the nasty traffic jam you just drove through and that your wife barked at you for not remembering her hair dryer...)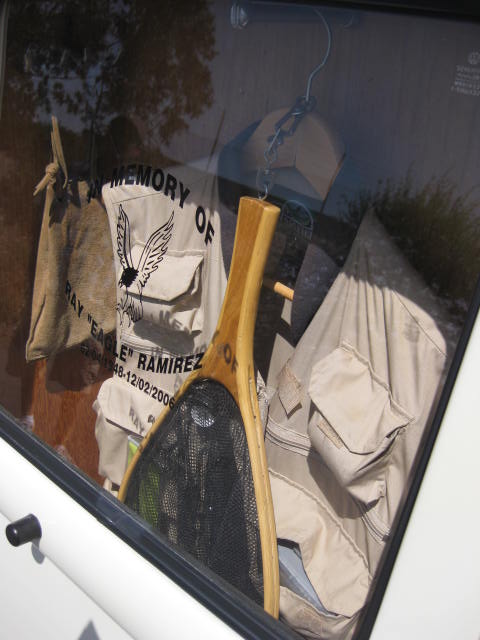 The little closet has even been decked out with fishing gear...this guy thought of everything!

Very cool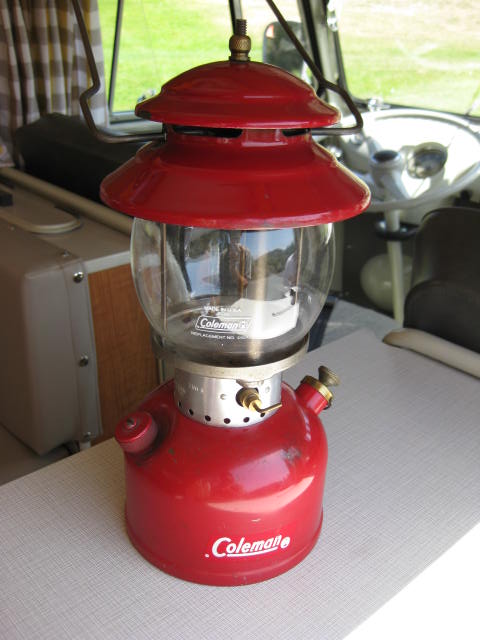 Do you see the light?
You will with this classic lantern by Coleman.
(insert game show applause here)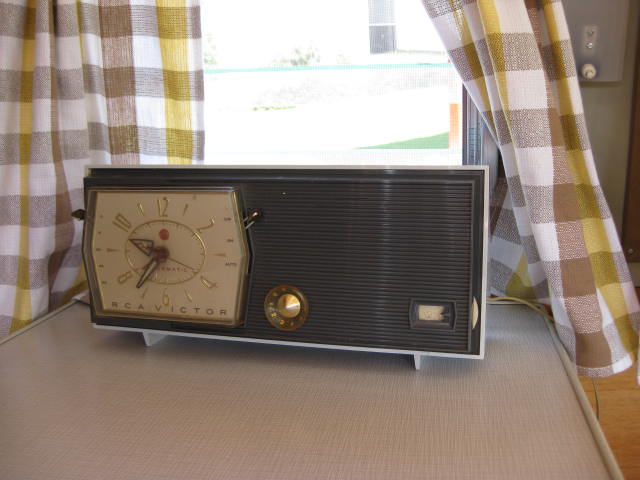 RCA Victor table radio is perhaps a little earlier than 67, but it fits right in.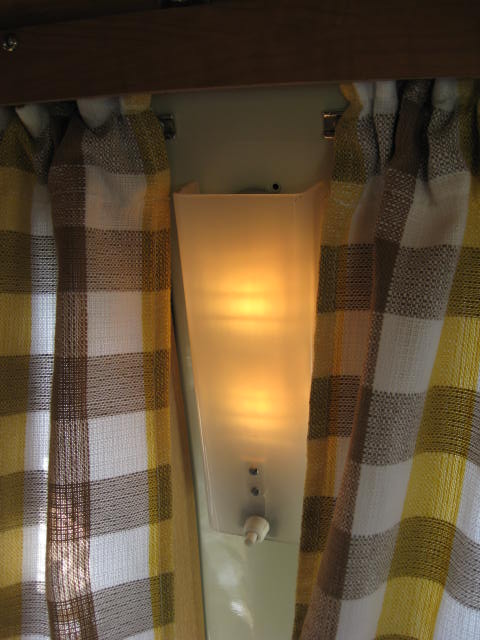 The interior lights work as well...and they give off a great warm glow.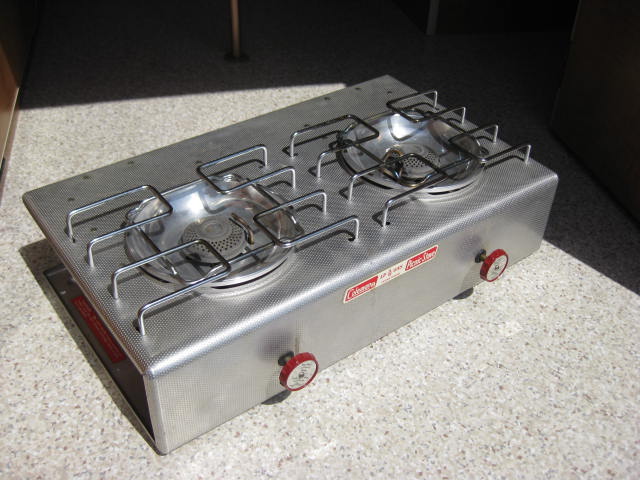 A larger two burner vintage Coleman picnic stove also comes with it.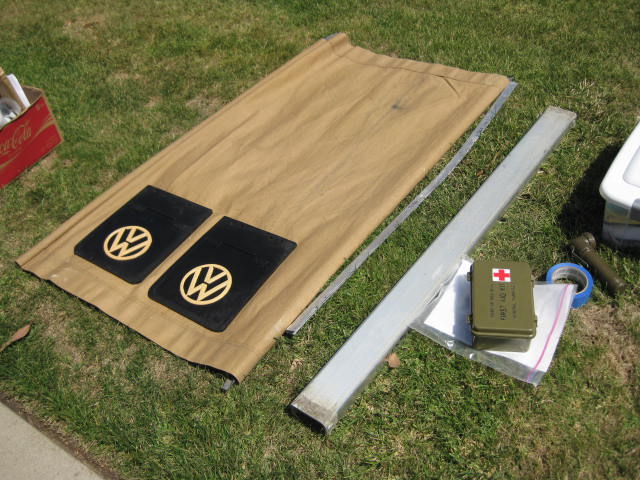 But wait...thats not all.
The owner has a few more goodies he has collected for the Bus but not yet installed.
The "kids cot", VW logo mudlfaps, aluminum side step...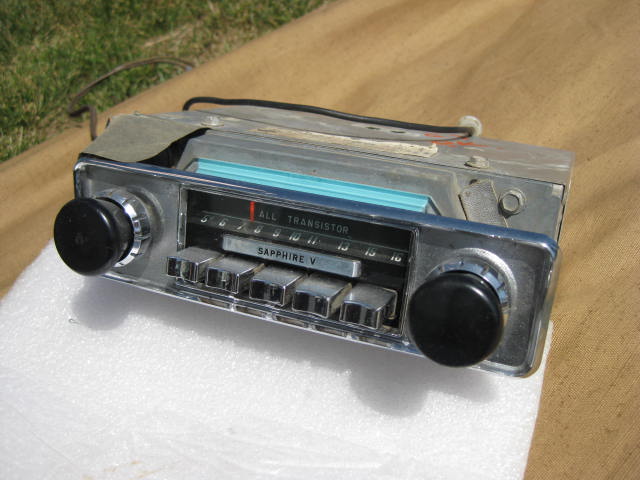 Proper Sapphire V radio with 67 only knobs.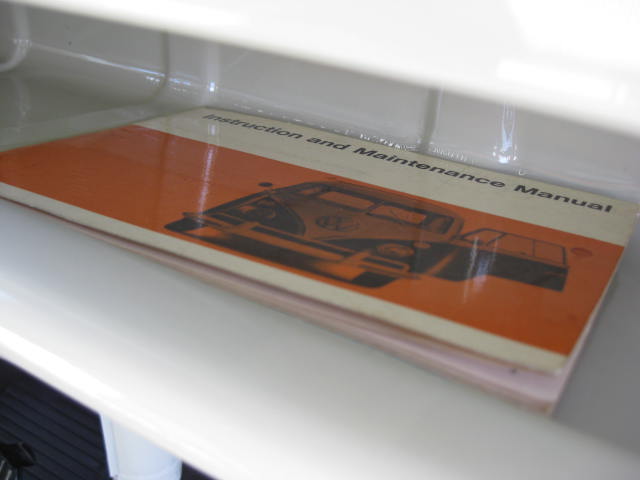 Mint original owners manual.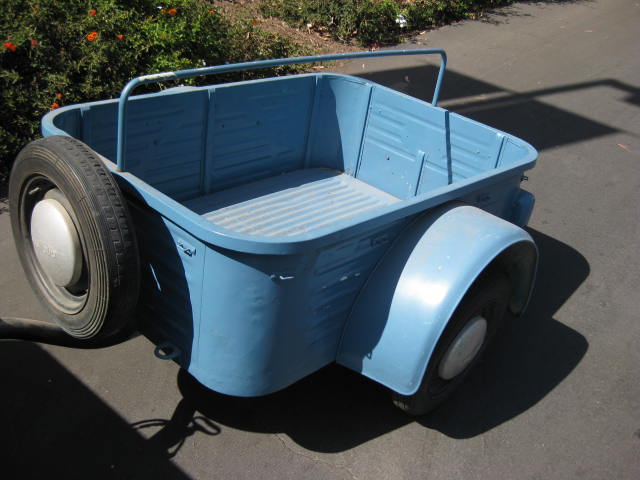 Also included in the sale (if desired) is this very rare original Westfalia trailer!
And an original Westfalia hitch to go along with it!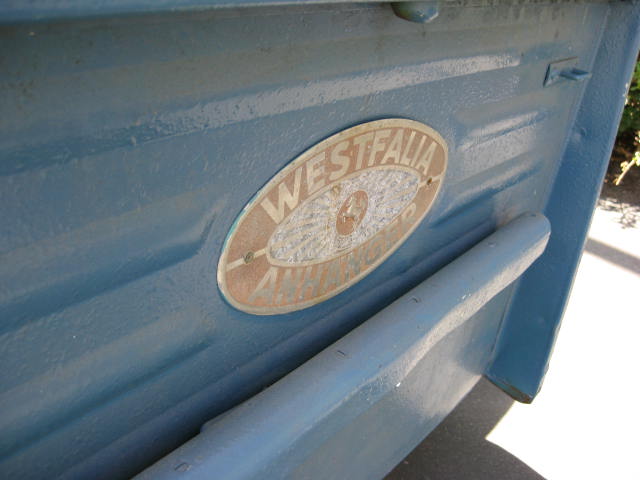 The trailer could use a quick restoration but is very solid and complete and in decent shape.
Picturing it painted to match the Bus and loaded with old camping gear...talk about cool !!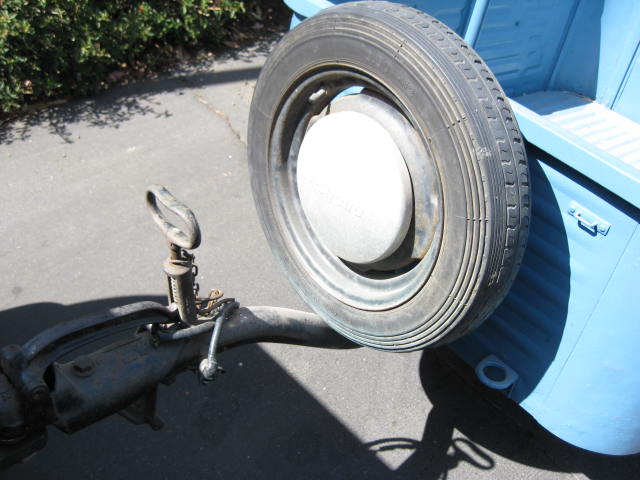 Genuine Westfalia stuff here.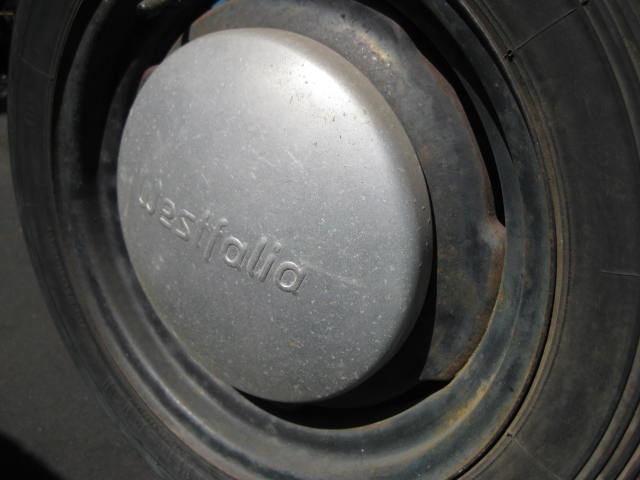 Even the Westfalia hubcaps!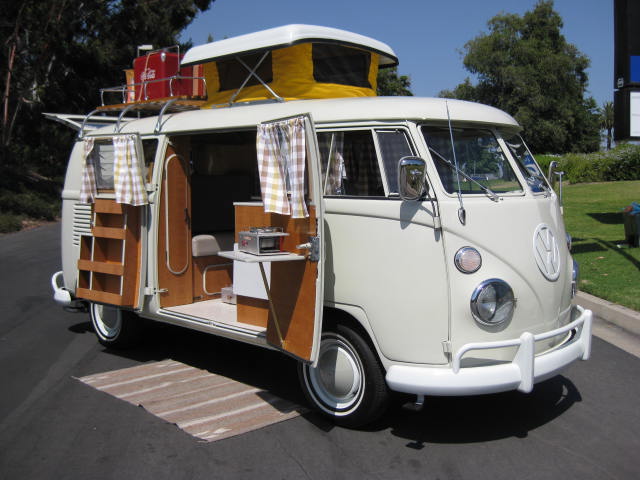 So there you have it.
Perhaps a few out there will dispute my claims that this may be the best quality Camper restoration yet,
and I welcome them to do that. But I cant possibly see anyone not being impressed with the quality
of what has been done here. It is a stunning Bus that is virtually brand new, and will be a prized
addition to any collection, large or small.
If you want the very best...this may just be your dream Bus.
Asking
$55,000 obo

---

For More Info...CALL
951-767-1600
or email bugnbox@earthlink.net

---