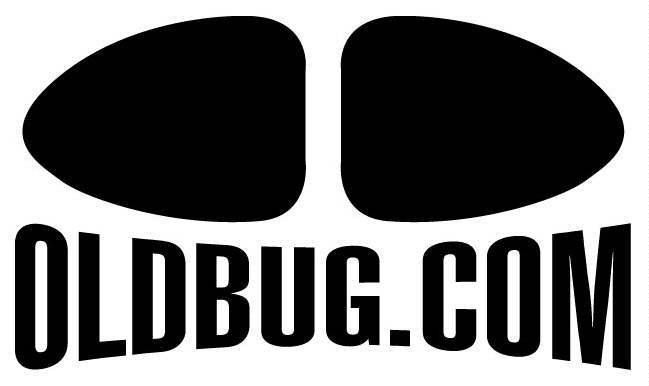 1957 Ragtop Beetle For Sale
---

This is an eye catcher!
Volksworld Magazine featured Resto Cal 57 is quite the show piece.
From it's eye burning color combo to it's hardcore dropped stance and clean performance drivetrain
it is a very slick ride indeed.

Factory ragtop car, Convertible "W" decklid
Great stance and loaded with cool accessories.

Excellent body and paintwork

A very fashionable custom and with the color there is little chance that you will blend in with the crowd
at the next VW show.

US spec bumpers with accessory push bars.
Three bar horn grilles, hood handle trim, fluted headlight lenses, Swan neck mirrors...

Very cool hood crest.

Genuine Bosch fluted lenses.
Amber parking lights looks sweet at night.

Has a set of our Swan neck mirrors on it...and carries them oh so well!

Glass is excellent, all the rubber and trimming is new.

Canvas sunroof cover in brown looks great against the body color. Nice accessory wind deflector is a rare bit as well.

This used to be a Foriegn Creations club car...now a member of the well respected D.B.K. Club here in So Cal.

Pop out rear quarter windows.

The convertible decklid looks great and helps with cooling the engine.

Mild performance engine is well detailed and color matched.
Engine specs are soon to come...

Proper H pattern rear apron.

No rain tray under the decklid...but very clean.

Underside of the engine has a bit of road grunge...

Chassis is very clean and solid though

Floor pans are the original ones to the car and are very very solid.

Fender wells are all painted body color...all quite clean and very solid.

Horn is currently not fitted...

The chromed "Deep 6's" look phenomenal on the car.
Tires are excellent.

Original 4.5 alloys up front shine like jewels.

Very nice pain detail on the center caps...disc brakes up front by the way.

Very smooth and straight down the sides and good reflections.

Cant get much more "California" than this!!

The interior in this car is awesome...great color choices and unique layout...really compliments the paint color well.

Kinda custom and kinda vintage at the same time...nice work.

Stock restored steering wheel features a rare full circle horn ring and button.

Perohaus dash clock is another very desireable accessory, as is the Blaupunkt radio.

Nice looking dash!

Bambus parcel tray looks great, as does the Gene Berg locking shifter.
German square weave carpets are well fitted, factory style rubber mats on the floor.

Nice stitche rub pad on the center tunnel.
Note the accessory dimmer switch pedal.

I love the two tone vinyl and the off white sitching to match the seat frames...very clean and just different enough
from the norm to draw your attention.

Rear seat of course done to match.

Headliner is well fit and in excellent condition.

Sunroof handle

Sun visors and mirror look fresh...the sunroof wind deflector is a very cool part not often seen.

A happy face to be sure...

Under the front hood is well detailed and quite clean.

Hood support arm is not in place, so you need to hold it open or prop it up.
Much preferred over kinking the hood accidentally like many have done...but that's up to you.

Nice and clean in the spare tire well.

Brake fluid resevoir is clean, body tag is in place.

Here's the hood prop the owner uses at the shows.

Hood latch

Vintage VWs look awesome in any color it seems...and the brighter the better if you want to stand out.

I mentioned the D.B.K. earlier...
Der Blitzkrieg Kafers Volkswagen Club is a very active group here in So Cal.
At any of the big events you will see a line up of impressive lookers from the club.

In closing this is a very clean and well done "Resto Custom" that is loaded with desireable accessories
and has "the look" down to a T, without being a total cookie cutter car.
The builder took some risks with color and materials, but in the end, that is what makes it so attractive in my opinion.
The owner has recently dropped the price down a HUGE amount... this is an amazing bargain for the price.
Grab it while you have the chance!!!

Asking
$25,000 obo
---

For More Info...CALL
951-767-1600
or email bugnbox@earthlink.net

---