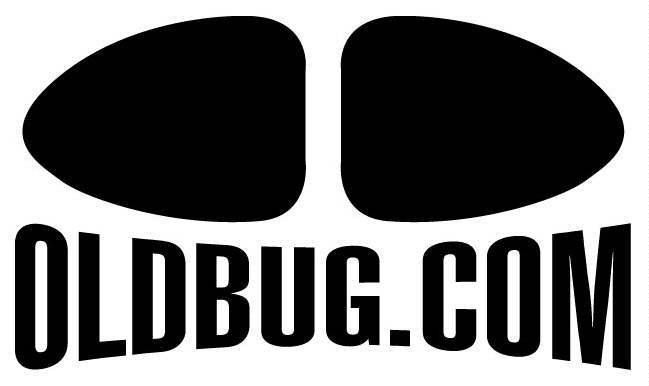 1958 European Beetle Sedan
---

This is a top notch show machine.
Not some quickie Cal Looker, but one that was done to a very extreme level
with no stone left unturned. It is one of the most recent builds from a German Folks Club builder
in Tempe Arizona, and boy is it awesome.

First of all it has the stance...the serious drop job, the nice rare accessories, the type of car that is
so in fashion with today's VW scene. And what is great about this look is that it is a timeless thing.
Should the hard drop job ever become a thing of the past...just raise it up and go.

This is a Euro model car with the semaphore turn signals.
The quality of the paint and bodywork is impressive and the attention to detail in the spots you dont normally see
really puts it into the next level.

Great panel fit, the 4 1/2" narrowed front beam tucks the 4.5 early alloys deep into the fender wells/

Euro headlights with bulb type reflectors and fluted lenses.
Correct short bumper guards.

Nice gravel guards on the back fenders and the "deep 6" Alloys tucked neatly in the rear.

Pop out quarter windows and the semaphore turn signals.
Check out the super rare split view side mirror!

The club logo in the back window.
Check out the nice chrome vent trims as well and the convertible style decklid with matching trims.

Bumper bars add a little flash as do the rubber bumpers on the bumper guards.
Arizona year of manufacture plates.

The alloys are real Porsche unit's not aftermarket and they are fully chromed and are wrapped with brand new rubber.

Correct taillights for 58.

Excellent smooth bodywork.

OK...it's a clean ride...but do you want to look a little closer and see just HOW clean it really is?

Ok, thets pop the hood and strt there shall we?

Excellent detailing wherever you look and arraow straight body panels.

Original jack has been restored and fitted, all new wiring harness, nicely detailed latches and more.

Super clean around the brake fluid resevoir.

Very clean wiring and backside of the dash...no corners cut here!

Proper H pattern front apron.

OK...it's a bit low.

Pop the lid and there is a serious performance drivetrain in this car and show detailed to the max.

Engine is a 2276cc displacement starting with a Bugpack super stock raised roof case that was de-burred and hand
finished inside. CB Performance 82mm chromoly crank, CB Performance 5.4 H beam rods, Mahle 94mm pistons
and cylinders with Total Seal gapless rings and nylon wrist pin buttons. The whole rotating assembly
was balanced by the legendary Competition Engineering. CB Performance straight cut cam gears on a Mike Fischer/ Pauter
custom grind camshaft, Scat lifters and custom length chromoly pushrods. CB Performance "Magnum" 044 big valve heads
with 44 X 37.5 stainless valves, titanium retainers ans springs. Heads were hemi-cut, ported and flow benched and the
compression ratio set at a pump-gas friendly 8.7 to 1.

New old stock fully polished Vertex magneto handles the spark.

Italian Weber 48 ida carbs with welded and polished old school shorty manifolds.
Competition Engineering firewall mounted breather tank and all stainless braided lines..

Schadeck 26mm full flow oil pump feeds a remote oil filter and feeds back to a Setrab remote single fan oil cooler.
Exhaust is a stainless and ceramic coated Tiger A-1 1/5/8" sidewinder.

Fender wells are fully detailed.

Transmission is a fully show detailed unit featuring 3.88 ring and pinion, super diff, HD side plates,
Super Beetle first gear and main shaft, close ratio 3rd. welded third and fourth gears, and a Bus nose cone.
CB performance 12lb flywheel, Kennedy 1700 stage 1 pressure plate and Copperhead disc.
Airspeed aluminum Renn Kafer Traction Bar and urethane mounts, KYB shocks.

Heres a shot showing the mounting location of the oil cooler and the level of detailing underneath.

Another fender well shot.

Front suspension features a Volksfab 4.5" narrowed adjustable beam with custom modified ball joint style KYB shocks
CB Performance welded drop spindles and disc brake set up. Stock type 1 master cylinder, DOT 5 silicone fluid throughout.

There is a wheel-scrub spot on the drivers side headlight bucket...thats about the only flaw I see with the car.

Gorgeously clean under here.

Stainless braided fuel lines..

Impressive eh?

Very clean indeed.

OK...now you see where Im going with this one...not your daddy's Beetle by far.

The interior is my favorite, not only because of the color, but becase of the materials.
The seats and panels are done in real leather, and the smell will knock your socks off.

Super sanitary stock dashboard with a few rare accessories.

Full circle horn ring is an awesome addition as is the Blaupunkt radio, trip clear needle speedometer and the Keinzle clock in the dash.
Barely visable in this shot is the red tipped Hella turn signal switch.

Leather door panels are simply gorgeous.

Excellent detailing in the door jams.

Passenger side panel with armrest.

Rear seat upholster is gorgeous as well.
Look at the stitching on the seats...nice work indeed.

Mohair headliner is very well fit.

Excellent.

More door jam detail...

So... what we have here is an absolutely stunning vehicle.
Extremely well built, loaded with rare accessories, and fitted with a serious performance drivetrain.
Restoring a car like this to this level is a very expensive proposition. Im sure when you look at the photos and details
above, you will agree with me that this car is one heck of a bargain. The owner needs to move out of state and the
car has got to go...hence the very realistic price. Grab it quick...you wlll be glad you did.

Asking
$26,500 obo
(car is located in Tempe Arizona)
---
For More Info...CALL
951-767-1600

Or email bugnbox@earthlink.net