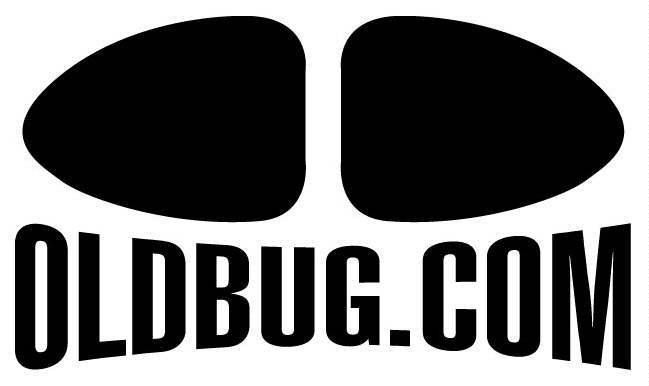 The Monster Beetle
---

And now for something completely different!
Tired of the trend of lowering your Beetle to levels that make sparks as you roll down the road?
Well then...the next direction to go has got to be up.

And this 1968 Beetle is about as high as you could ever dream of going.

The car is pretty wacky at first glance which is what makes it so fun.
But as you really look into it deeper, you realize that this was no hack-job back woods garage build.
This thing was professionally designed and constructed and the finish level is very high indeed.

Its extremely fresh looking from all angles and was just completed this summer.
It has minimal miles on it and is impeccable.

Fiberglass tilt front end.

Gorgeous quality paint and body...just phenomenal.

Front end tilts forward.

Very well thought out hinge and tilt mechanism with gas struts to assist with the job.

Here's where you start seeing the impressive fabrication involved with this car.

Fuel tabk, horn and brake fluid resevoir.

Incredible full tube frame under this thing.
The owner is an aircraft engineer and used his skills to lay out the whole design with his CAD knowledge
and programming that factors in stress and strength and the whole ball of wax.
So in the end it is built far stronger than it would ever need to be, and the quality of the fabrication itself is excellent.

Dis vront brakes help slow hose big wheels down.

Here's a shot of the front end frame and showing the heavy box frame sections under the body.

And back to the rear suspension.
This is wildly overbuilt...and you gotta love that.

Here's a better shot showing the torsion housing and framework.
Really sanitary work and its all super heavy duty.

The trans is a fresh Rancho "Pro Sand" gearbox with 4:86 ring and pinion and all the super duty
side plates and stuff so you can beat on it a bit.

IRS rear suspension of course, coil over shocks in rear.

1835cc engine is all new as well...the whole car has only about 500 miles on it.

12 volt electrics with alternator

"Kadron" carbs.

Auxillary oil filter set up.

"Dod house" fan shroud and oil cooler.

Since the engine sits down under the body...the builder made use of the space...a trunk!

All nicely carpeted...perfect for the groceries.

Nice paint finish in all the deep corners.

New everything.

Bumper bracket holes were filled and smoothed out.
Body chrome was shaved as well.

Just drop dead gorgeous paintwork.

Tires are massive 38" X 12.5" wide on nice polished aluminum 15" wheels.

What a beast!

And still it has that happy little Beetle face!

The inside is very clean and simple and is immaculate.

Stock highback seats are nicely covered in off white vinyl.

Headliner is excellent.

Rear seat.

Speakers tucked in behind the back seat.

All super clean

Seat belts of course...so the kids can go for rides.
Any holy crow does this thing draw the kids.
There were a bunch of em standing at the endge of the driveway with their jaws dropped open while
I was snapping the photos. This is a true crowd pleaser.

Smooth aluminum dashboard with no instrumentation.

Switches and warning lights are to the left of the wheel.
No speedometer or fuel gauge.
All new wiring and everything works.

CD stereo mounted in the dash.

Clean fresh carpet throughout.

Empi trigger shifter.

Super clean interior panels.
One of the really fun things about the inside of the car is that it is so clean and basic that it doesnt feel like you are
in some wild crazy monster when you are inside it. In fact it runs and drives suprisingly normal.

A good detail shot showing paint quality and the clean latches and details.

Nice side bars fit in tightly where the running boards would be.

Side steps are welded into the framework.

Side view...look at that reflection!

Yeee haw!
This is a really fun car.

The owner hasnt taken it off road yet...it just came out so incredibly clean he is afraid to do it and get it dirty.
Its certainly built strong so Im sure it would take a beating pretty well, but with the high center of gravity
you would have to be suoer careful not to flip it over.

As I mentioned earlier...it really runs and drives like a normal Beetle..it feels suprisingly tame.
This is a nod to the buider for the suspension design of course...he did it right.
You do need to be careful in the corners though...it feels a little unstable in the twisties to be sure.
But the suspension is not harsh and it motors down the road real nice.

Pretty soon the rage will catch on and everyone will have one in their driveway!
But for now...you will be the first!
(I love this photo...)



So...if you are after something that is truly unique, super well built and designed and something
that will provide lasting memories for every kid you come across...this is the one.
You couldnt have wiped the smile off my face with a belt sander as I crawled around this car...it is really cool!


SOLD!

But check out our other listings !
CLICK HERE!

---

For More Info...CALL
951-767-1600
Or email bugnbox@earthlink.net