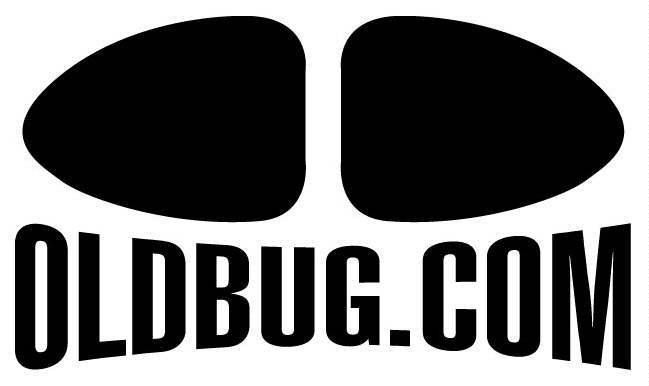 1951 Split Window Beetle Sedan For Sale
---

This is a pretty cool car. It was imported from Sweden to the US a few years back and has traded
hands a few times since it's arrival. The suspension has obviously been lowered a fair bit and it now sits
on the rare and desireable early Porsche alloys. All the modifications were bolt on things, so it would be very easy
to bring it back to stock if you desired.

The car other than the drop, is a pretty good solid example with a lot of originality to it.
The paintwork is old but obviously still presentable, the color is original to the car.

The body is overall nice and straight.

And it has a few nice choice accessories.

The proper grooved semaphore turn signals are working.

Proper hood handle.

Solid VW logo on the hood.

Correct VW logo Bosch headlights with the right logo headlight rings.

Correct round horn grilles.

Real Albert mirrors.

"Crotch Cooler" car!

Correct grooved trim.
Some smaller chrome bits have some pitting.
Door handle locks with the key.

The drivers side semaphore.

Included in the sale is a pair of unpainted steel "Foxcraft" fender skirts.

Squint a little and picture those painted body color...pretty smooth looker!

Nice fit and finish for the most part, everything lines up well.
The rear fenders are not original split window era parts, but the rest of the body panels appear to be.

The proper taillights.

Nice chrome on the grooved bumpers with painted inserts.
I like the Safety star bumper accessory too.

The correct "Popes Nose" license plate light.
Registered in California with a clean title and "Year of Manufacture" plates.
Note the cool vintage glass reflector and the proper decklid handle.

The engine is a later model 36 horse powerplant. The engine runs well and is pretty clean on the topside.
Still 6 volt electrics.

Has a decent stock look to it...but it is not 100% correct.
(originally the car would have a 25 horse engine)
The trans is the original split case "crashbox" trans.
It shifts smoothly through all gears but will pop out of third gear upon decelleration only.
Its pretty easy to get the hang of and to overcome, or rebuild it.

Backside of the decklid is smooth and clean.

Proper H pattern rear apron.

Cool Abarth style exhaust.

Bottom side of the engine is a slight bit leaky.

Heater channels look nice and solid.

Floorpans are smooth and sound.

Looks like a recent heavy undercoat to seal everything up well.

Inside the fender wells the undercoat continues.

Just forward of the torsion housing it looks like there may have been a little patching, it's hard to tell for sure
as it's covered over so well...but Im guessing that something was there...

Its dang low...careful cruising is a must.

Matching fully polished early alloy for a spare
(with "space saver" rubber just like what is on the front.)
Correct big cap flat top gas tank.



Wiring looks very intact and un-messed with.

Pretty straight up front.

Body tag has proper rivets.

Pretty straight on this side too.

Base of the spare tire well has a little bitty rust spot...very small

Apron looks to be the correct one.

Hood is proper and original with the right hinges.

Another tell-tale sign of the right hood is this triangle shaped support.

All good over here too.

There is a little stress crack in the hood.

Another good shot down the side.
Looks like new running boards with new stainless steel grooved trim.

Inside appears to be pretty darn original.
New carpet and floor mats, tattered original upholstery on the front seats.

Nice patina to the steering wheel and dash...has a very nice feel of originality.

Speedometer pod.

Clock.

Very very cool Saint Christopher badged ashtray,

Nice "Bambus" parcel tray.

Original headliner.

Not too bad looking considering it is 56 years old.

Heck even the dome light works when you open the door!

Back seat is original upholstery...showing it's age but quite intact.

Under the seat looks nice and clean.

Looking pretty solid!

Correct straight shifter with dimpled knob and "L" knobbed choke.
Very nicely fit German Square Weave carpets.

Pedal assembly looks proper.

Front seats are the originals... just a "little" wear and tear.

Looks like something out of a horror film...kinda cool in a way.
It is nice to see original material even if it is in this bad of shape.
Door panels are incorrect (obviously)

Some touch up in the door jam corners.
Looks like there has been some metal repair of sorts to the bottom of the passenger door.

Same kida repair on the back edge.

Drivers side looks much more solid.

Little stress bend at the lower hinge on the driver's door.

Step back and she's a dream machine!

The split rear window...my favorite part about these early cars.

OK...I tried...the windshield is the original glass with the large "Sekurit" logo.
I tried to get it to show in the photo...but no luck.
It is there though which is quite amazing.

So, there you have it. The photos do a pretty good joib of showing what this ride is all about.
I think it's a good hinest car to begin with which is ever so important with these early cars
and in the future it will be even more important. A great cruiser as it sits or a fantastic car to use as
the basis of a full restoration. Oh...two other quick things...the wipers are missing, as are the metal luggage rails behind the back seat.

There...I think I got it all.

Asking
$24,500 obo

---

For More Info...CALL
951-767-1600

Or Email bugnbox@earthlink.net