the FREAK SHOW
---
Every June at the VW Classic in Irvine California
we sponsor a section of the event called "The Freak Show".

This is the place for all the truly "different" VW's,
the cars built by folks that are perhaps just a bit "touched"
(if you catch my drift)

Being as I consider myself one of these "touched" individuals
I have a special interest in these vehicles and just cant pass one up.
The "Freak Show" gives me the reason to pursue them and
a place to show them off for the world to see.

Since not everybody can travel to California in June to see them live
we have built this web-page for the world to see...so enjoy!
---
Current Freaks in the Oldbug.com Collection

"Snoopy" a 1957 Beetle Ragtop. Shortened rear body..stretched front.
This car was built in the 1960's by a bohemian artist and architect from
the San Francisco area. After his death it was donated to an art musem
along with many of his works and was eventually auctioned off as it was too large
for the museum to exhibit. It was bought by a man known as "the Sausage King"
who several years ago killed a health inspector who came to his sausage factory.
Once incarcerated, the car, along with other vehicles were sold off and it was
bought by a prominant VW collector in San Jose. He brought it down to exhibit
at our very first "Freak Show" in 2002 and we negotiated a deal to purchase it.
Since it's purchase we lowered the front end and gave it the hoodlum "hot rod" look,
exhibited it at the second "Freak Show" in 2003 and have plans for a full serious re-do shortly.
Snoopy will make a return appearance at the 2004 Freak Show event as well.
.

"The Wedding Car" a 1968 Beetle. Body made of wrought iron.
This car was built in Mexico in 1968 for Volkswagen of Mexico by a talented metal artist employee
of the factory. It is thought to be one of the first two of it's kind built and was displayed at the
Olympic Games in Mexico City in 1968. The exposure of the first two cars prompted more to be
be built during the next few years. All told it appears that a total of 20 cars were produced in it's likeness
that were distributed to VW dealers in North America to be displayed in the showrooms.
This car's body was found abandoned in 1979 in Mexico and was brought to California in 1980.
It remained in the Los Angeles area since then and at the time of our aquisition, it was affixed to
a cut down Super Beetle chassis and was in need of some help. We have since located a proper
chassis and are assembling the parts needed to get it back to it's former glory.
.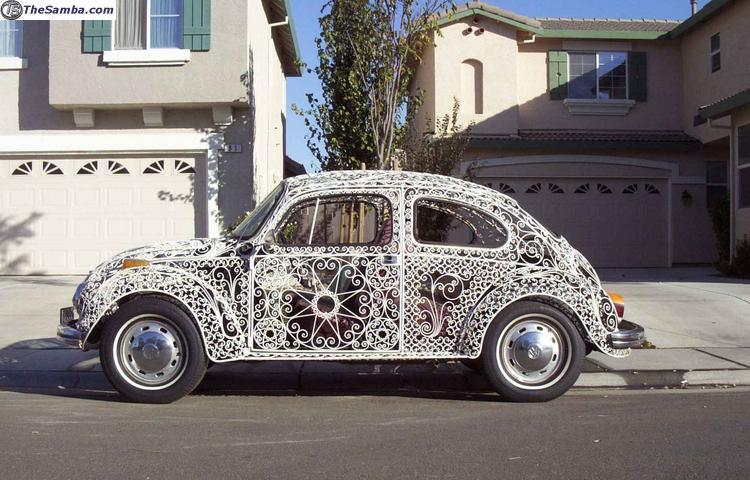 "Casa Linda Lace" a 1970's Beetle. Body made of wrought iron.
This car was built in 1985 by the same talented metal artist that built the "Wedding Cars" for VW of Mexico,
but this time here in California at the request of a long time friend of his from the Santa Barbara area.
Being that this was for a friend, the design was changed to make a car that was driveable and much more ornate
than the previous examples. The Super Beetle body shape was chosen to give it a more modern appearance
although it rests on a standard Beetle chassis. Four months of construction, 7000 welds, 2500 curly-cues
(each of which took approx 50 hammer blows to shape) and the car was finished. It was displayed for
many years in front of the Casa Linda Mexican food restaurant in Montecito California. It has been featured in
the book "Art Cars" by Harrod Blank as well as "Westways" Magazine. It was sold at one point
to a gentleman from the Bay area who used it for fun trips and play until his passing a short time ago.
We purchased it from his son and have been enjoying driving it around the streets of Orange County.
We have plans to freshen up it's appearance slightly, but thats about it. It will be displayed at the 2004 Freak Show.

.

"The Unknown Coachbuit" a 1955 Beetle Convertible.
While perhaps not a "Freak", this very unique Beetle was recently discovered on the East Coast
in a scrapyard. Based upon a 1955 Karmann Bodied Convertible, it appears to have been built in the 1950's.
At one point we thought this to be the last existing Maier coachbuilt, but that thought was recently dis-proved
after contacting the coachbuilding firm that built them (amazingly still in business today).
Obvious resemblance of the car to the
famed Hebmuller vehicles is certainly no coincidence.


The car is in need of a very extensive restoration
which we plan to give it. Hopefully someone out there can shed more light on it's history.
We are obviously trying hard to establish it's heritage.
Look for the car at the 2004 VW Classic where it will be proudly displayed in it's current state.
.

"The Mini-Microbus" a 1966 Deluxe Bus. Chopped and Shortened.
This car was recently purchased locally in the So Cal area and has been seen at several VW events
in the past few years. Extensive body modifications have been done and it has a very well
proportioned appearance. The bus has now been restored and customized into a School Bus
by the Oldbug.com crew just in time for display at the 2004 "Freak Show"
.

"The Rolls-Beetle" a 1966 Beetle. Rolls Royce Body Conversion.
The 70's brought along some very wild stuff as well as many different fiberglass automotive
products for all makes and models. The Beetle perhaps got the lion's share of this it seems.
This "Rolls Royce" inspired conversion was perhaps one of the wildest kits out there.
Ive seen a couple different versions, perhaps from different manufacturers but this is the most
extensive with full fender, hood and decklid replacement. This car was recently purchased out of Indiana
and is undergoing a cosmetic restoration with plans to exhibit the finished product at the 2004 Freak Show.
Colors will be silver and burgandy with wide whitwalls and a jar of Grey Poupon in the glove box.
.


"The Barris Phase 4 Fun Buggy"
Built by the world famous King of the Kustomisers George Barris,
this wild full length pan fiberglass buggy is thought to be one of only two known remaining examples.
An identical body was used as the basis for the "Bugaloos Buggy" from the 1970's kids show.
A shorter model was made as well and originally featured big bug-eye headlights and fat fenders.
This example was recently bought from a gentleman in Arizona and is now undergoing restoration
with a heavy Vintage California surf-themed look. As displayed at the 2004 event.
---
| | |
| --- | --- |
| PHOTOS FROM THE 2002 FREAK SHOW | PHOTOS FROM THE 2003 FREAK SHOW |
.


PHOTOS FROM THE 2004 FREAK SHOW
.

PHOTOS OF OTHER VW FREAKS
---
---


OLDBUG.COM
(a division of TVA)
2771 Saturn st Unit A
Brea CA 92821
714-290-0947
---